First Time Visitors
Perfect for first time nudists
Cypress Cove is one of the best nudist resorts in the world for first time nudists. We offer a wonderful balance of luxurious amenities, natural beauty, and top quality entertainment.
The resort is large and welcoming, with a lovely lakefront area where you may adjust at your own pace. Our facilities are modern and well maintained. We're family friendly, so you should always feel safe and comfortable, even on your first visit.
Take a free tour

Curious but not entirely sure you're ready? We completely understand. Visiting a nudist resort can be a little scary the first time. We've all been there too, so we invite you to take a complimentary tour of the resort before you make any decisions.
We'll go over basic nudist etiquette and show you first-hand our beautiful facilities. It's a quick tour and there's never any sales pitch or pressure to stay. If you choose to stay, your first visit will be half price with this coupon.
What to expect
Nudist resorts are often portrayed as rustic hippy communes in the movies and on TV. In reality, the resort is large and modern, and nudists are generally well educated, accomplished, and a lot of fun!
At first, the sight of other nude guests may be a little startling. However, you'll soon discover that nudists are amazingly comfortable in their own skin. Most guests stop noticing the nudity after about 15 minutes to an hour. It just seems so natural and normal when everyone is doing it.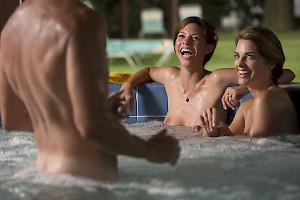 Nudists are eager to welcome new visitors
Once you relax and get comfortable, you'll really begin to enjoy yourself. You'll make new friends almost immediately. Nudists are very open and eager to welcome new visitors. The hot tub is always a great place to start up a conversation.
You'll dance the night away. We have professional DJ's, live bands and themed parties all year; and afternoon pool parties every weekend in the summer. You'll sunbathe and get rid of those tan lines. We have two large heated pools with comfort height lounge chairs. That's where our guests spend most of their time.
That's just the tip of the iceberg. Dine and drink at the Lakeside Restaurant, Scuttlebutts Lounge and Cheeks Pool Bar. Play sports like tennis and pickleball. Boat around our large private lake. Attend exercise and dance classes. Rent a golf cart. Get a massage or a makeover. Hit the gym. Nap in the hammocks by the lake. You'll be as active or as relaxed as you choose!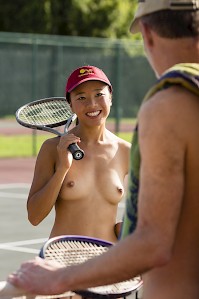 Traditional nudist values
Our culture and values at Cypress Cove are based on very simple principles; we promote family oriented nudism, which should be wholesome and respectful. If you choose to visit Cypress Cove, you are accepting these core principles and agreeing to abide by them.
We have great fun at our dances, but suggestive attire and/or dancing are not welcome. We appreciate a tender moment between two adults in love, but public displays of affection should be discreet and innocent. Adventures in the bedroom should always be kept private. Discussions of swinging and recruiting are definitely not welcome here.
Our goal is to maintain a safe, welcoming environment where our guests can truly relax and feel comfortable. If you agree, we hope to see you by the pool!
AANR has a couple of pages you may want to visit as well:
Frequently Asked Questions About Nude Recreation and
Nude Recreation From A Woman's Perspective.