Laugh of the Week
---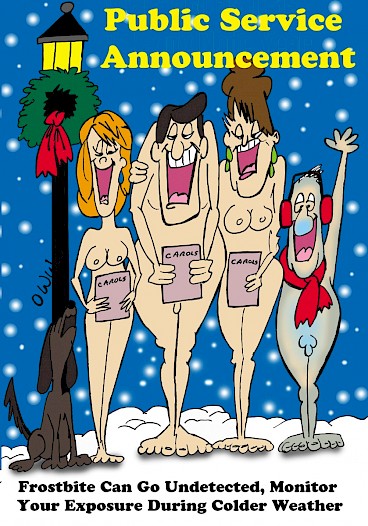 ---
Cove News  
---
Cypress Cove on YouTube
Cypress Cove's YouTube channel just heated up with a brand new promotional video targeting young adults! This video is extra special to us because everyone featured in it is a bonified nudist and either a member or regular visitor to Cypress Cove. It was produced by the Cove's own Dan Whicker in conjunction with filmmaker Juan Pantoja of Dolphin Image Studios. We're hoping this high-energy video will attract visitors to Cypress Cove while also showing the world the fun and relaxation that family-friendly social nudism can provide. Check it out HERE and be sure to send us your comments!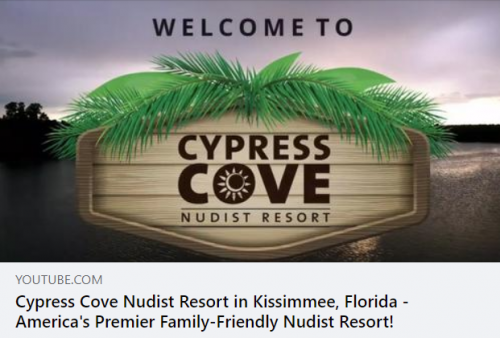 ---
Breakfast Makes a Comeback
You asked for it, we listened! Breakfast is back daily at Cheeks. Chef Michael has been hard at work making sure his guests enjoy the new menu. See you at breakfast, now being served daily from 8 am to 10:30 am.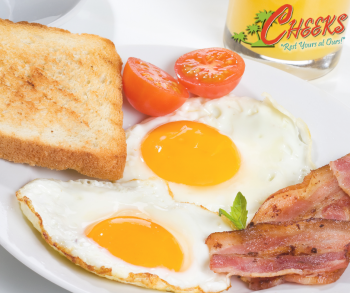 ---
OneBlood Visit January 23
If you are visiting Cypress Cove, OneBlood will be here at Cypress Cove on January 23. Help save a life! All donors will receive two Orlando Magic tickets and a OneBlood gift. Plus, a wellness checkup including blood pressure, pulse, temperature, iron count, and cholesterol screening. Schedule your appointment here!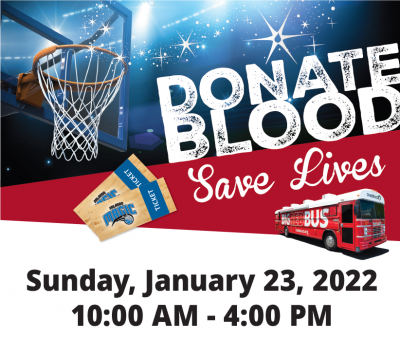 ---
Couples Manicures & Pedicures
Carol from Nature Hair has welcomed a second nail technician that will begin on January 6, making it possible for couples to get a manicure or pedicure. Schedule your girl's day or birthday celebration and get your nails done together. Give her a call at 407-870-5131 and schedule your appointment today.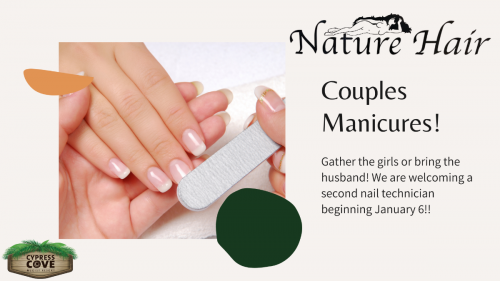 ---
Yacht Club Meets Again
Have you always admired those R/C boats out in the lake? Join the club to learn more about these miniature sailboats. The R/C Yacht club sails radio-controlled sailboats every 1st and 4th Sunday on Brown Lake at 1:00 PM. Guests are always welcome to experience the fun and friendship of R/C sailing.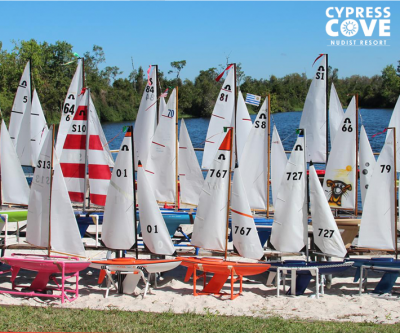 ---
New Cheeks Menus
Check out the new menus at Cheeks! Have you seen them? These new menus launched on January 3rd and are already being met with wonderful comments. Meet us for breakfast... it's happening daily!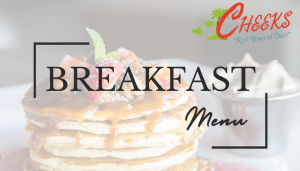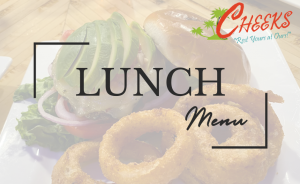 ---
Crazy Socks (Nude) Bowling 
Our friends at Crossed Oaks Haven have put together another nude bowling gathering at Orange Bowl Lanes in Kissimmee on January 16, 2022, from 10 am to 1 pm. Don't forget your crazy socks, you might just win a prize! The cost for this event is $20 for those over 35 years of age, $10 for 18-35 years, and free for those under 18. Please bring cash for the entry fee and sign in at the table with Crossed Oaks Haven staff. The fee includes the shoe rental and all the games you can bowl. 
Those with the highest cumulative score will take possession of the roving Nude Bowling Champion trophy. Available snacks include Popcorn, soft drinks, and chocolate chip cookies. See you at the lanes! For more information reach out to crossedoakshaven@aol.com.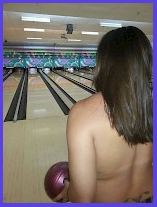 ---
Big Nude Boat 2022
The Big Nude Boat 2022 is right around the corner. Cypress Cove Nudist Resort is proud to serve as your pre- and post-cruise assistant. Why not fly into Orlando, stay at The Cove a few nights, let us tend to your luggage, and we'll even do the driving? Contact our office manager, Tiki, for more information or to reserve your seat on the bus. She can be contacted at tiki@cypresscoveresort.com. Don't miss out, seats are filling up very quickly!
Information on the Bare Necessities can be found here.
Information on staying with Cypress Cove can be found here.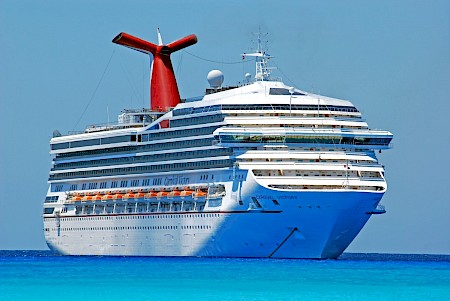 ---
Membership in the New Year
Here's to setting new goals for 2022. We know how much you love your naked time. Let's make this a priority in the New Year! If you're booking a stay for a month or more, make sure to get a membership! It will pay for itself during your stay. Reach out to Kelly and see if membership is an option for you.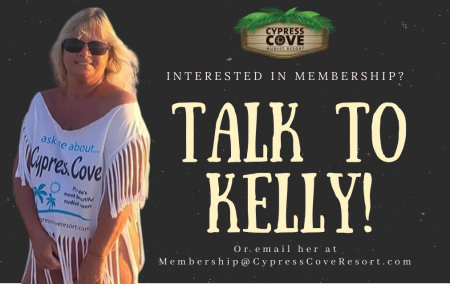 ---
Library Seeks Additional Volunteer Help 
Staffing needs at the American Nudist Research Library have changed over the last few weeks as volunteers have stepped forward. They could still use:
A treasurer.  Experience preferred.

Someone with people skills to be our Membership Chairperson.

One or more material scanners. (Could be a seasonal resident or visitor)

Someone to locate and physically paste in missing pages. (Could be seasonal)

Regular librarians to run the library one afternoon a week. (Resident or seasonal)
If you would like to help in a worthy cause, please pop into the library on a Tuesday afternoon to discuss your interests and time available with library president, Paul LeValley (paullevalley@peoplepc.com).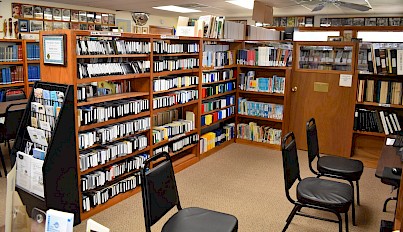 ---
News Outside the Cove
See what's making headlines in nudist news around the world. These things and more are being shared on our social media channels.
Follow us today to stay informed!






(Click one of these links to see the latest news!)
---
The Only Thing That Needs Rejuvenating Is the Way We Talk About Vaginas and Vulvas
Can cosmetic surgery be a form of body shame?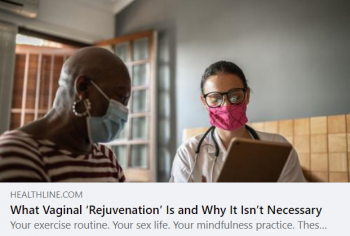 "...But you wouldn't know that with all the box "beautification" procedures gaining popularity — or the slogans being used to peddle over-the-counter (OTC) products. Below, an OB-GYN busts the myth that vaginas and vulvas need rejuvenating, and they offer answers to your top questions about vaginal rejuvenation." Read the full story HERE.
---
The Pros and Cons of Sleeping Naked, and Whether or Not It's Actually Good for Your Health
Another article about sleeping naked. If you don't, you need to try it.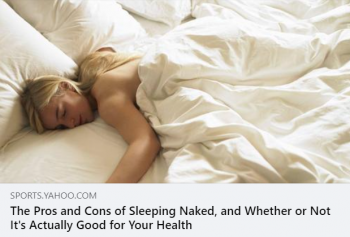 "If there is one domain of which you are undoubtedly the king (or queen, should you identify as such), it is undoubtedly your own bed. There, no one else is calling the shots, and you are as fully relaxed, fully yourself, and fully natural as can be. As such, it is only reasonable that every once in a while—or perhaps more often—you find yourself wanting to shed your cooling pajamas or fleece pajamas and sleep au naturel in your own bed. After all, why even bother when all you're doing is getting some shuteye?" Read the full story HERE.
---
Have You Seen Us Lately?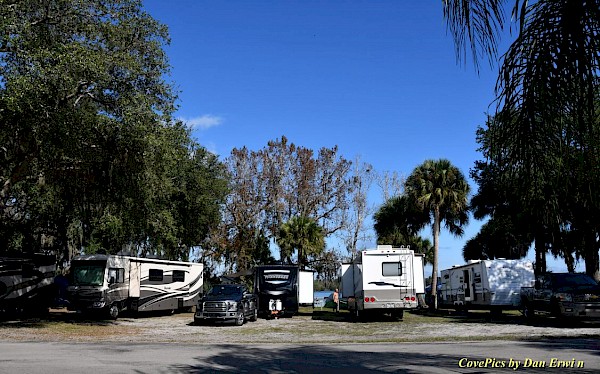 The campground was full, and the overflow was overflowing on the New Year weekend.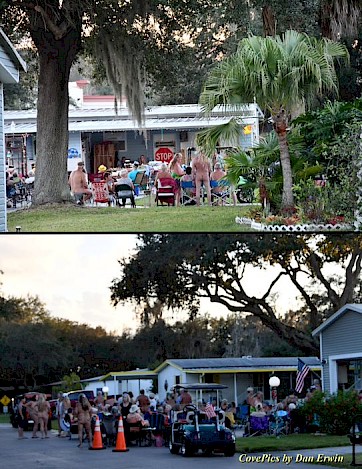 The weather was so great that driveway parties were popping up all over the Cove.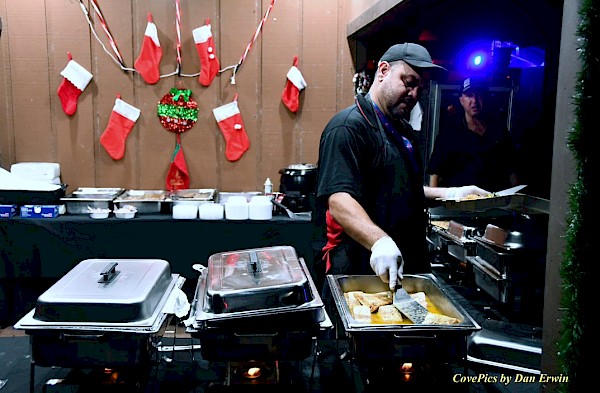 The barbeque specials at Cheeks were a huge success on New Year's Eve.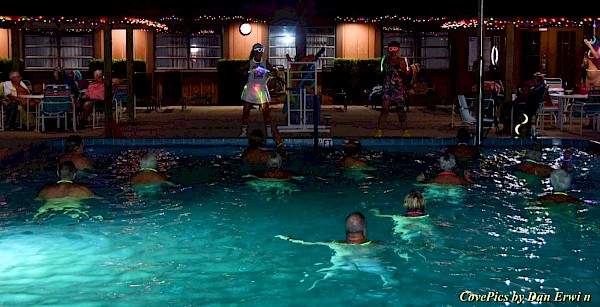 There was a fun Glow Aqua Zumba New Year's Eve "Glow into 2022" party at the east pool.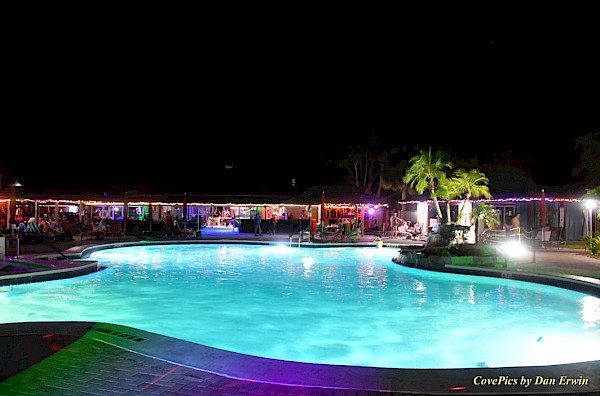 The west pool was the place to be on New Year's Eve.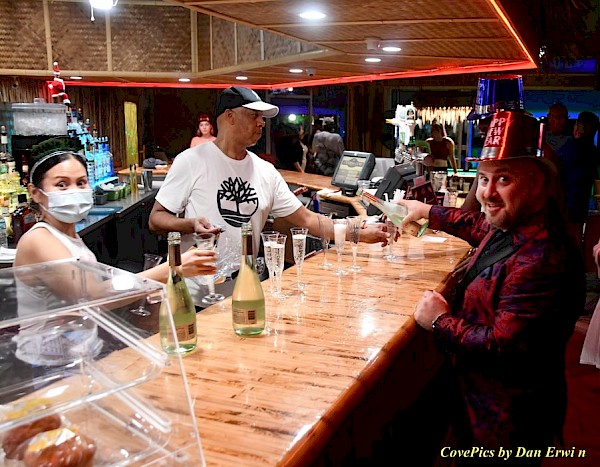 Pouring the champagne for the toast at midnight.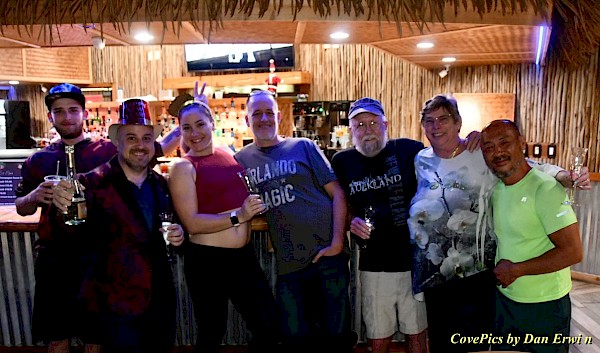 A big THANK YOU for another wonderful year at Cypress Cove.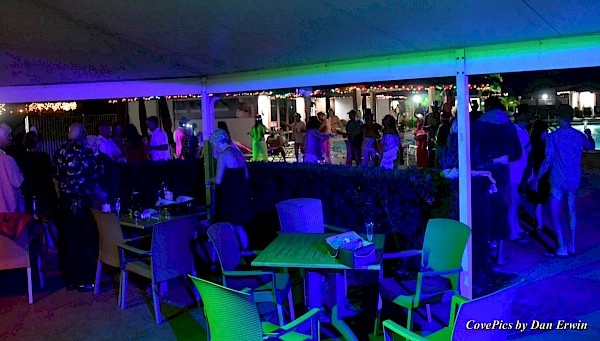 The party continued into 2022. Happy New Year!
---
"Where Have You
Taken the Cove?"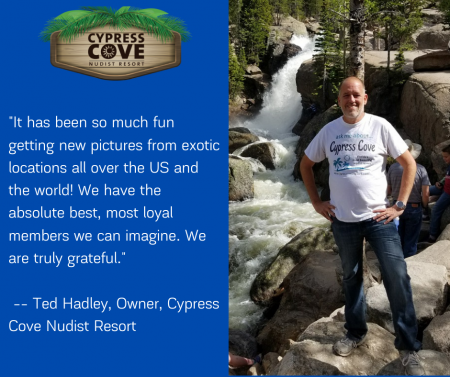 SEND US YOUR PHOTOS!!!
 We want to see where you have worn your Cypress Cove t-shirt, no matter which style it is! Wear it to town, to the grocery store, wear it while you are out and about, or at a national monument, and send us a photo! You will be featured in our newsletter or on one of our social media channels. 
Don't have a shirt yet? Purchase one at the main office or call and order one to show your pride in Cypress Cove! 
Call us at Toll-Free (888) 683-3140.

Send photos to Newsletter@CypressCoveResort.com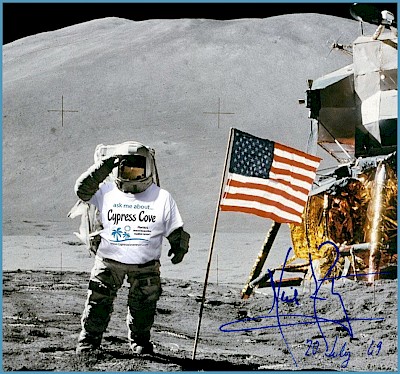 Do you have a Cypress Cove shirt? Where have you worn it? Send us your photo!

Where have you worn your Cypress Cove T-shirts?

Send us a photo!
---
Book a Room Today!
It's never been a better time to stay at Cypress Cove! Book Online, Email Reservations, or Call Reservations toll-free at 888-683-3140.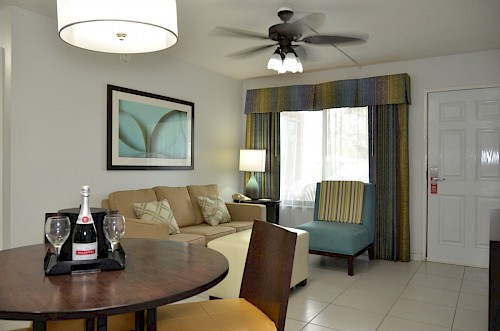 For Special Offers click HERE!
---
Every week we receive great reviews on TripAdvisor and Google; if you have visited or stayed with us, we would love to know about your experience. Click the logos below.