Laugh of the Week
---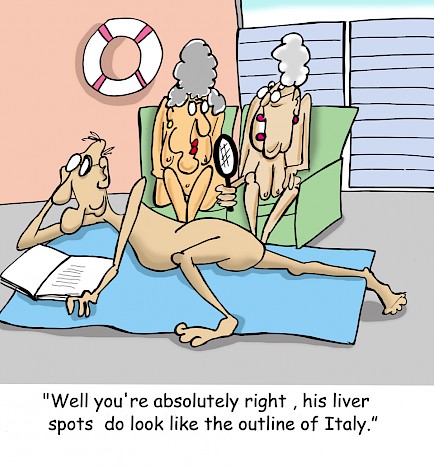 ---
Cove News  
---
Big Nude Boat 2023
If you are riding with us, please familiarize yourself with this page. Please make sure you are attending one of the informational meetings happening Saturday, February 11 at 5 pm and 5:30 pm at Scuttlebutts Lounge. This is where you will receive your information packet. Parking will begin on Saturday evening, 6 pm - 7 pm, and continue on Sunday beginning at 9 am. On Sunday morning, Cheeks will be serving our fabulous Breakfast Buffet starting at 7:30 AM until 10:30 AM. Click Here for the menu. The cost is $15.95 per person.
We are currently on a waitlist for the bus. If you'd like to be placed on the waitlist for the bus, please register with us by filling out this form and returning it to the front desk.
Information on the Bare Necessities nude cruise can be found here.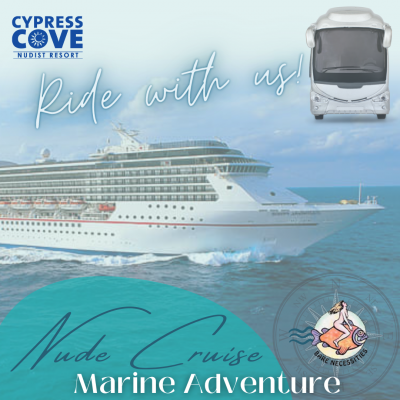 ---
Open Mic Night
We're excited to announce another Open Mic Night at Cypress Cove! This event will be hosted by DJ Conner and members of the RBT band will provide backup music and sound. Bring your instruments, best singing voice, or comedic styling. The mic is yours to showcase your talents. Happening Thursday, February 9 from 6:00-10:00 pm at Lakeside Restaurant. This is a family-friendly activity for all to enjoy, So come on out, grab a few drinks from our favorite bartenders, and enjoy the evening!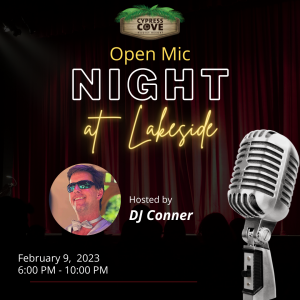 ---
A Beatles Tribute at Lakeside Restaurant
Join us at Lakeside as we welcome The Beatles on February 11 from 7 pm to 10 pm. Your favorite bartenders will be pouring drinks all night at Scuttlebutts bar. See you there!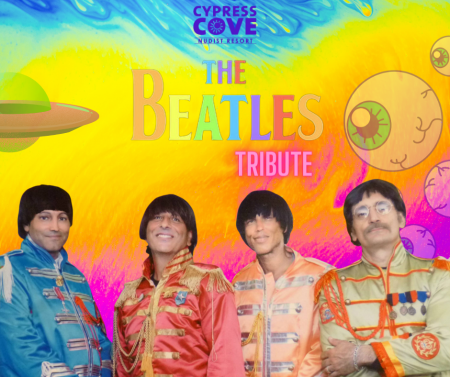 ---
Urban Sketching Meet
Mardi Gras and Valentine's Day are coming very soon, and holidays offer us many great sketching opportunities. We love lamp posts and other holiday decorations. They are prizes for the best Mardi Gras lamp posts and we hope that some will be decorated by February 12.  Meet at 1 PM at the shelter near the Petanque and Golf areas. We will have a discussion about drawing the decorations and then go out to draw some of the decorations that are up. If you have a golf cart or bike, bring it. Bring your favorite sketching materials. Materials are available if you need them. If needed, we will provide rides for those who do not have transportation.  

---
Super Bowl Watch Party
Cheeks will be broadcasting the big game this year! Gather around and see who is taking home the Lombardi Trophy on February 12 at 6:00 pm. Will it be the Kansas City Chiefs or the Philadelphia Eagles? Chef Jose has amazing game-day specials with Orange Glazed Thai Chili Chicken Wings and Sliders with Fries. Grab yourself a bucket of beer and relax.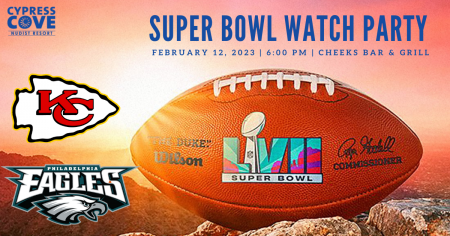 ---
Mardi Gras at Cypress Cove
February 21st is Fat Tuesday and we are planning on celebrating Big! It's time to vote for this year's King & Queen. You can find the Royal Nominations box and forms in the front office. Nominations close at 4 pm on February 17. The nominations will be judged by the write-up, so make it good. You can vote for more than one person but not the same person twice. 
Join us for the Royal Breakfast Buffet happening at Lakeside Restaurant from 8 am - 11 am. Check out the full menu HERE. Receive $1 off your breakfast buffet if you purchase in advance. Get your breakfast tickets at the front desk through Thursday! Don't miss the King & Queen Coronation at 10 am during breakfast. Coronation is open to everyone.
The Mardi Gras parade will take place at 1 pm led by our new King and Queen. Decorate your golf carts, cars, bikes, walkers, scooters, or your bodies, and join us in the parade. Please line up at the lakefront beginning at 12:30 pm. Dogs, cats, and drag queens & kings are all welcome! If you're watching the parade, jump on in when the parade passes by, and walk a block or two with us. Check out the PARADE ROUTE HERE. The parade will end at Cheeks where the Mardi Gras Celebration continues with A Taste of Love poolside at 2 pm.
Every hour, on the hour, starting at 3 pm, we will start the drawings for the great big CASH prizes plus lots of great door prizes as well.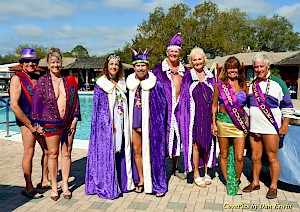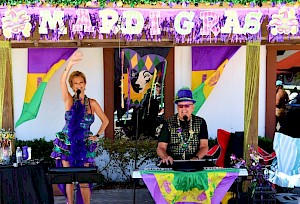 If you plan to participate in decorating a lamp post for the contest, make sure you sign up on the Activities door. The theme for this year is Heart of the Cove. The lamp post needs to be fully finished by noon on Monday, February 20. The judging will take place at that time.

Lamp Post Prizes: 
A sketch of your post by the Royal Artist &
First Place        $200 in Cove Coins
Second Place   $100 in Cove Coins
Third Place       $50 in Cove Coins 
Give it your all, and let's see those lamp posts! The winner will be announced at 4 pm at the West Pool. Please incorporate your number on your post for judging.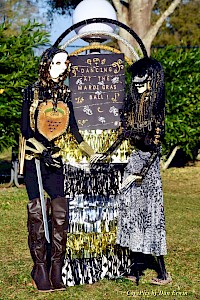 ---
Daytona 500 Viewing Party
Meet fellow stock car enthusiasts at Cheeks on Sunday, February 19 for The Great American Race! Coverage starts at 12:30, so grab a drink and have a seat.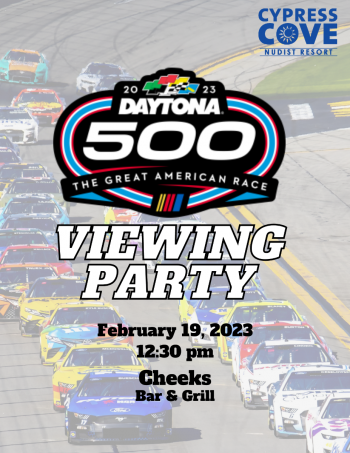 ---
Silver Lining Massage
A friendly reminder for our massage lovers. This is our busy season, so make sure you book early. We have 5 massage therapists to choose from, Tammy, Elizabeth, Monique, Virginia, and Cori. The kiosk is available outside the entrance to the massage studio, or you scan the QR code to book from your electronic device. Looking to book?
Click HERE and book your session now. 
We also want to introduce our newest massage therapist, Cori. She interned with silver lining massage in October and November. She received her certification in November and her Florida massage license in December. She is now working as an independent contractor with Silver Lining massage. Her passion for massage is undeniable. She's a wealth of knowledge on the anatomy of the body. She incorporates stretching in her massages. Book a massage with Cori in February and receive a $15 discount.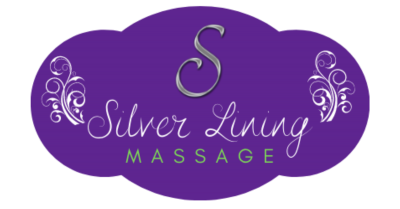 ---
News Outside the Cove
See what's making headlines in nudist news around the world. These things and more are being shared on our social media channels.

Follow us today to stay informed!






(Click one of these links to see the latest news!)
---
Fine Arts Nude Series Aims To Encourage People To Introspect Their Relationship With Their Bodies
It's all about realizing that every BODY is beautiful. There are no "beauty standards" here!

"The series Bodies: A Fine Art Nude Series was inspired by a series of events in her own life, as well as her own relationship and struggles with her body. "I knew I wasn't the only one who'd ever struggled to see myself, to accept wherever I was in my body journey, or to sit with the discomfort of it all. This inspired me to document people's journeys within themselves and their bodies," she shares. The series is a celebration of the body in all its flawed glory. "My aim with this photo series is to document each person in the present journey that they are on with their own bodies. It is a love letter in the form of a photo essay from each of the muses to themselves," she shares. Through the series, she aims to not only document, as authentically as possible, that relationship but also capture people in their truest element." Read the full story HERE.
---
Curvy influencer goes naked to slam 'society's unrealistic expectations'
Every BODY is beautiful! If you're struggling with body image issues, visit Cypress Cove. You will leave feeling like a new person.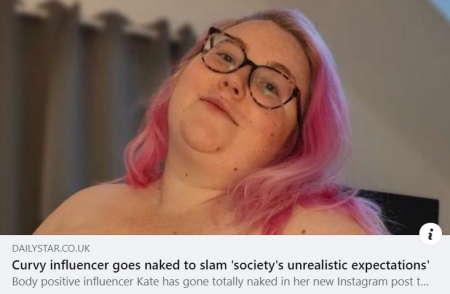 "An influencer has gone totally naked to protest against 'society's unrealistic expectations of beauty'. Kate, known as @fullplatekate on Instagram, is known for her body-positive posts. And in her latest, she stripped off as she encouraged fans to embrace their curves." Read the full story HERE.
---
Have You Seen Us Lately?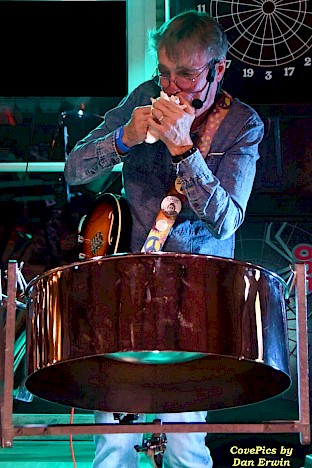 The Conch Man entertained us with steel drums, conch shells, guitar, and amazing vocals at Cheeks on Friday night.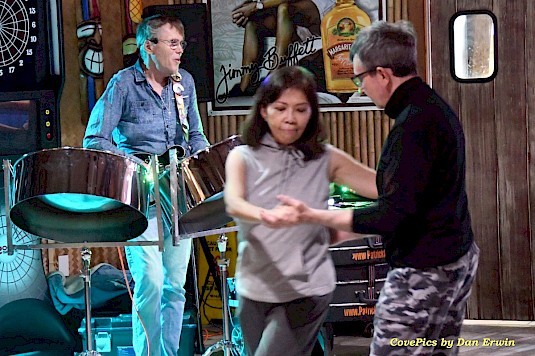 Dinner, drinks, great music & dancing. What could be more fun?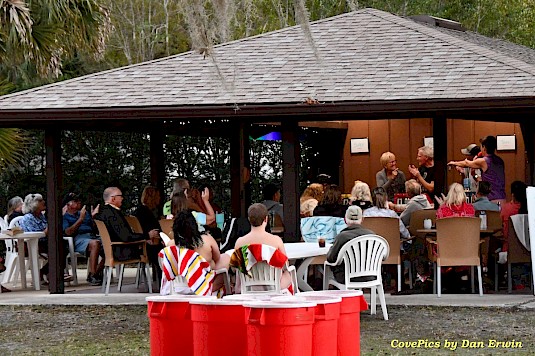 Super MEGA Trivia is always a fun event.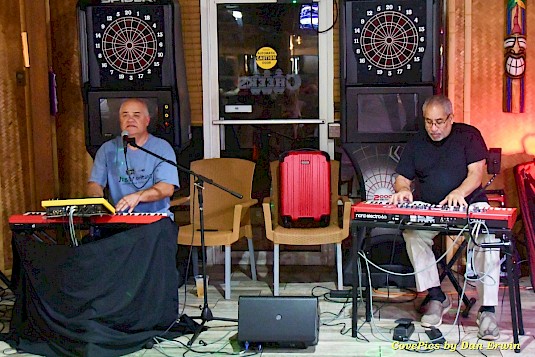 The Uptown Funk Band keeps the party going on Saturday night.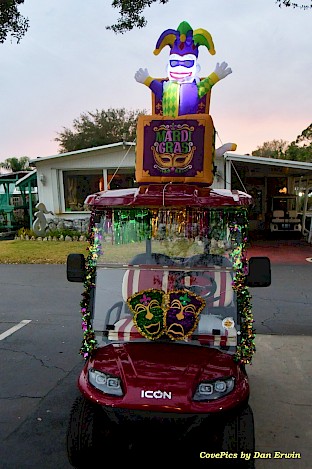 It is starting to look a lot like Mardi Gras. Mark your planners for Tuesday, February 21.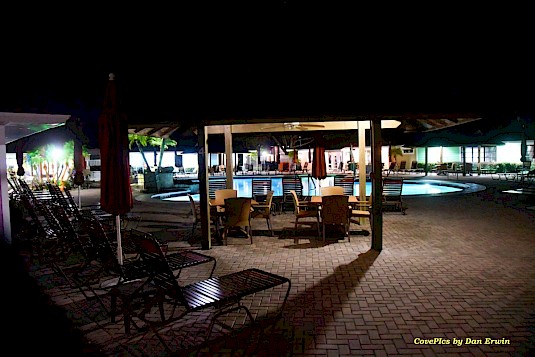 After a fun-filled day at Cypress Cove, some quiet time at the pool at night is more than enjoyable.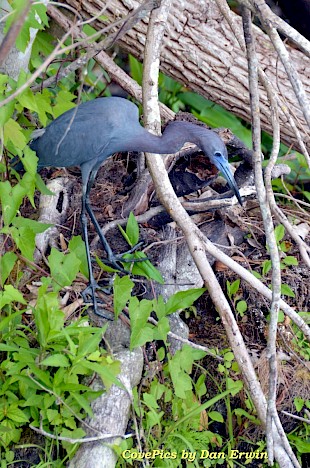 If you love nature & Florida wildlife, the nature area around Brown Lake is a wonderful place to spend some time.
---
"Where Have You
Taken the Cove?"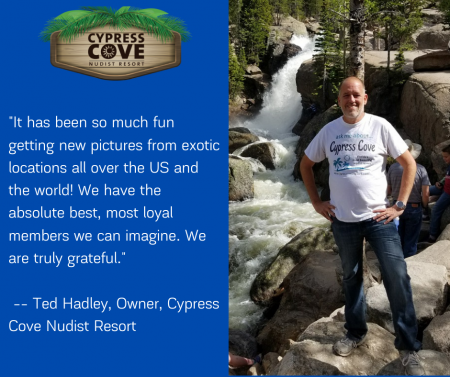 SEND US YOUR PHOTOS!!!
 We want to see where you have worn your Cypress Cove t-shirt, no matter which style it is! Wear it to town, the grocery store, while you are out and about, or at a national monument, and send us a photo! You will be featured in our newsletter or on our social media channels. 
Don't have a shirt yet? Purchase one at the main office or call and order one to show your pride in Cypress Cove! 
Call us at Toll-Free (888) 683-3140.

Send photos to Newsletter@CypressCoveResort.com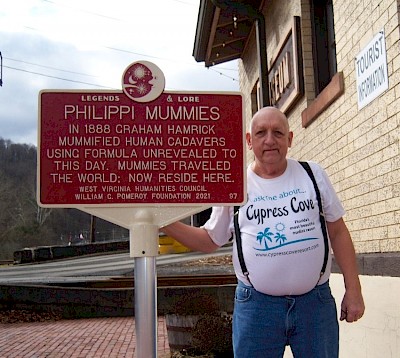 One of our visitors in Philippi, WV. The scene of the first land battle of the Civil War.
Thank you for sending that in Michael! 
 
Where have you worn your Cypress Cove T-shirts?
Send us a photo!
---
Book a Room Today!
It's never been a better time to stay at Cypress Cove! Book Online, Email Reservations, or Call Reservations toll-free at 888-683-3140.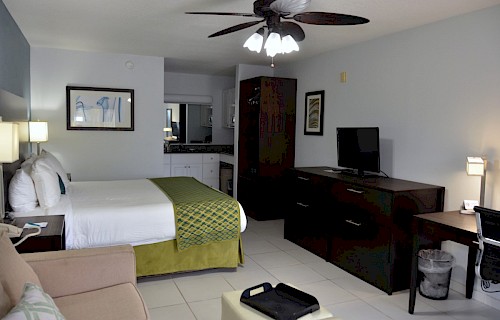 For Special Offers click HERE!
---
Every week we receive great reviews on TripAdvisor and Google; if you have visited or stayed with us, we would love to know about your experience. Click the logos below.