Laugh of the Week
---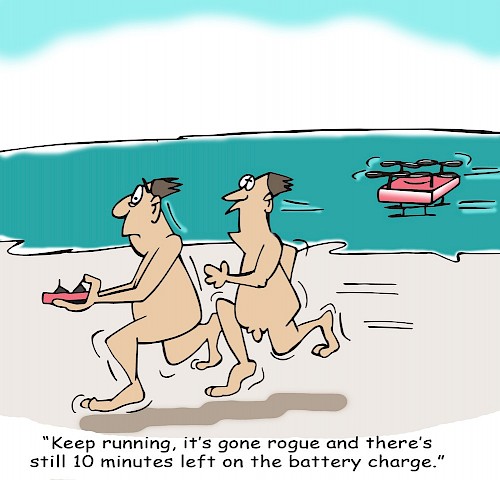 ---
Cove News  
---
Events this week:

---
Experimental aircraft landed in Lake Brown 
At about 12:30 pm on Thursday, an experimental aircraft landed in Cypress Cove's Lake Brown. After some help from a couple in a peddle boat, the office was alerted that the pilot, originally from Indiana, needed some assistance. After being towed ashore by Dean & Barbara Hadley, Armando, and Brian, we learned that the pilot made an emergency landing after getting turned around in the air. The popup storms caused the pilot to keep navigating around them and ultimately she lost her way. Cypress Cove made contact with her and welcomed her with open arms. After drying off and staying the night with us, she had her instructor fly the plane back to their original destination of Lake Wales Florida. The AirCam is a twin-engine open cockpit experimental amateur-built aircraft designed and engineered with safety, visibility, and versatility in mind. It was quite a bit of excitement for mid-week here at Cypress Cove. Cathy, the AirCam pilot, wants to extend a heartfelt thank you to those who assisted her and all of the Cypress Cove team.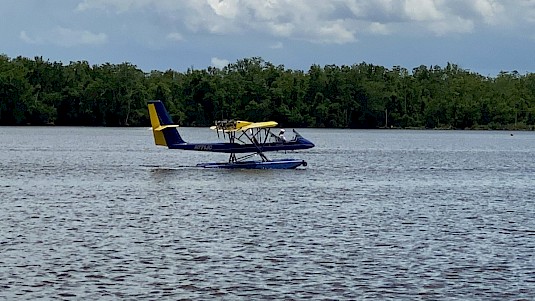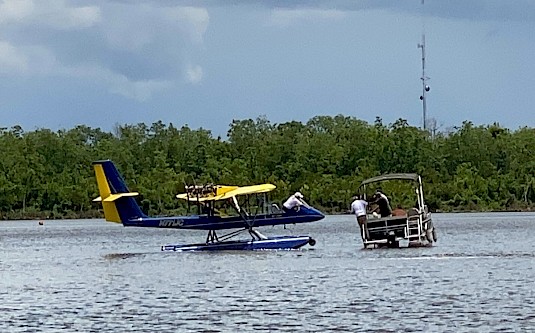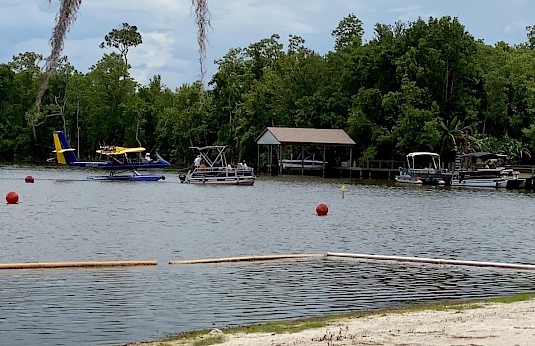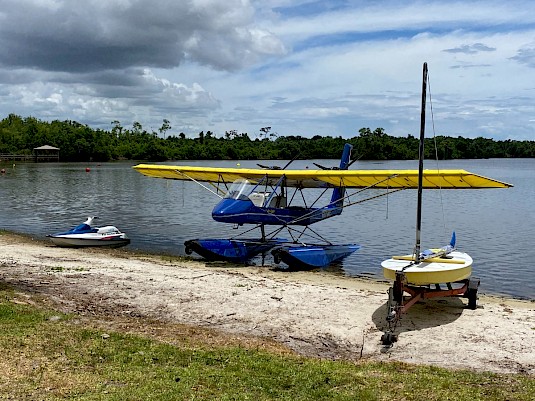 ---
Filming at Cypress Cove - June 15
We are welcoming a professional production team to Cypress Cove on Tuesday, June 15. They will be here shooting an upcoming commercial for Cypress Cove. We will be escorting this production team around and will be blocking areas off for filming. Currently, we expect to be filing the beach, on-the-lake activities, and a beach party scene beginning at 7 am lasting until about 11 am. Then, the production team will move to Cheeks and the West pool and will film from 11 am - 2 pm (times are approximate). If you do not wish to be filmed, please be aware of the areas of filming and position yourself behind the production crews. Thank you for always making our guests feel welcome at Cypress Cove.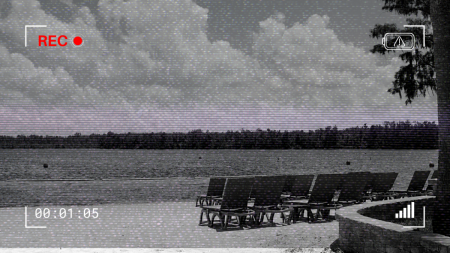 ---
Speaking of... Want to be in a commercial? 
We are seeking anyone from ages 18 to 35 to serve as background "dance scene" extras. We will also accept ages 35 - 45 if interested in participating (we already have a group of people over the age of 50 lined up). These extras are in addition to our actors coming in for this shoot. This commercial would be shot in both implied nude and nude, so please make sure you are OK with being filmed nude. If you are interested, please reach out to the Cypress Cove Director of Marketing, Dan Whicker at Marketing@CypressCoveResort.com. 

---
The Votes Are In!
Thank you everyone for your participation this month in the Spring Cleaning Contest! The votes are in and we are excited to announce the winners. 
Most Beautiful Lot, May Winner – Jeffrey and Pamela Justice - Lot 526: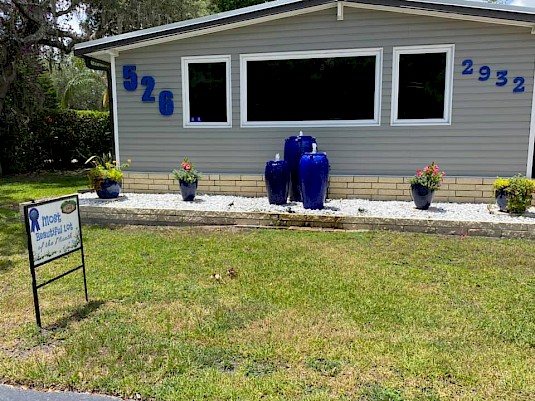 Most Improved Lot, May Winner – Marcia Jill Ellis – Lot 317: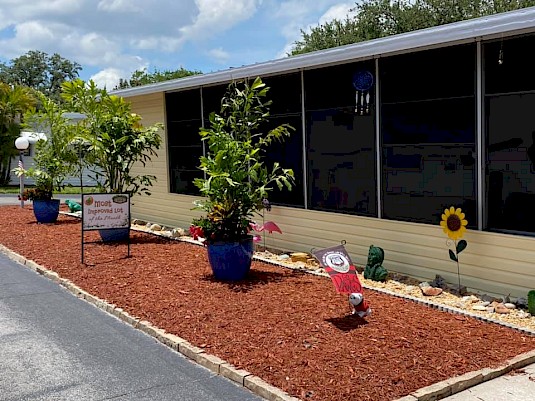 Keep those submissions and votes coming. This Spring Cleaning Contest is in full swing and we are looking at you. What are you doing to win that contest? Keep up the great work. For more information on how to take part, check out the info below.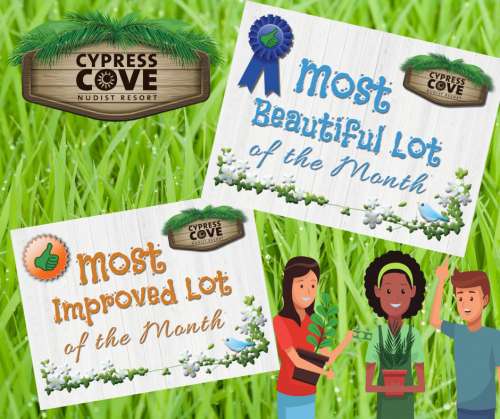 As we recently entered our spring season, what better time to run a friendly Spring Cleaning Contest, than now? Beginning April 1 thru June 30, 2021, residents of Cypress Cove Resort can submit photos to be considered for one of two categories. Those categories are Most Beautiful Lot and Most Improved Lot. You will also have the opportunity to vote for the category of Most Beautiful Lot to determine the winners and we will randomly select the winners of the Most Improved Lot, from the entries submitted to us. The winners of both categories will be announced and highlighted in the newsletter at the end of each of those three months (April, May, and June).
As an incentive, we will be awarding prizes to the winners of each of those categories. Each of the winners will receive one Lowes gift card worth $250, yes, a $250 Lowe's gift card! And a beautiful yard sign that you can proudly display on your lot during the month that you won.
Please send all photo submissions and votes to nominations@cypresscoveresort.com
Be sure to clearly include the lot number you are submitting or voting for. There will also be a small box located in the front office where you can write in your vote if you do not have email access. Please only vote once per lot. For helpful spring cleaning and Florida friendly landscape tips, please click on the links below:
We appreciate everyone's efforts in properly maintaining their lots and hope that this will further motivate everyone to continue taking pride in their homes and lots for the rest of the year.
---
2021 Hurricane Season is Here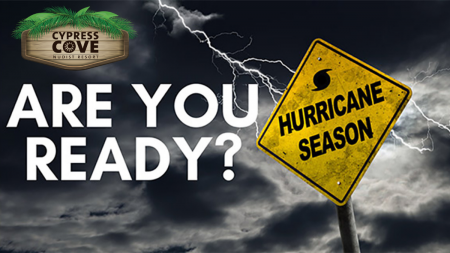 If you've lived in Florida for any length of time, it's no surprise that hurricane season is always around the corner. We've compiled some useful things to take some of the guesswork out of preparing.
What is in a Hurricane Prep Kit? 
Non-perishable food (enough to last at least 3 days)
Water (enough to last at least 3 days)
First-aid kit (include any prescription medication you may need)
Personal hygiene items and sanitation items
Flashlights (have extra batteries on hand)
Battery operated radio (again, have extra batteries)
Waterproof container with cash and important documents
Manual can opener
Lighter or matches
Books, magazines, games for recreation
Special needs items: pet supplies and baby supplies if applicable
Cooler and ice packs
A plan for evacuation and for if family members are separated
Facts About Hurricanes:
In the Atlantic, hurricane season starts June 1, while in the Pacific it starts May 15. Both end on November 30.

When they come onto land, the heavy rain, strong winds, and heavy waves can damage buildings, trees, and cars. The heavy waves are called a storm surge.

40% of the hurricanes that occur in the United States hit Florida.

The difference between a tropical storm and a hurricane is wind speed – tropical storms usually bring winds of 36 to 47 mph, whereas hurricane wind speeds are at least 74 mph.

Hurricanes rotate in a counter-clockwise direction around the eye. The rotating storm clouds create the "eyewall," which is the most destructive part of the storm.

Hurricanes are classified into 5 categories, based on their wind speeds and potential to cause damage. Names can be "retired" if a hurricane has been really big and destructive. Retired names include Katrina, Andrew, Mitch, and most recently Sandy.

When the National Hurricane Center began giving official names to storms in 1953, they were all female. This practice of using only women's names ended in 1978.

The costliest hurricane to make landfall was Hurricane Katrina, a Category 5 storm that slammed Louisiana in August of 2005. Damages cost an estimated $108 billion.
2021 Hurricane Names:
The National Hurricane Center's official list of Atlantic tropical cyclone names for 2021 is out, did your name make the cut this year? When the Atlantic hurricane season starts June 1, the sequence of names for 2021 will be: Ana, Bill, Claudette, Danny, Elsa, Fred, Grace, Henri, Ida, Julian, Kate, Larry, Mindy, Nicholas, Odette, Peter, Rose, Sam, Teresa, Victor, and Wanda.
Additional Resources: 
State of Florida.com: The Essential Guide to Hurricane Preparedness
---
We need books
We are running low on books in the Clubhouse lending library. The lending library was instituted by residents several years ago. If you take a book, please return it when finished or leave another one. If you are looking to get rid of your book stash, feel free to place them on the shelves in the clubhouse. This applies to our traveling guests as well; you are welcome to borrow a book during your stay.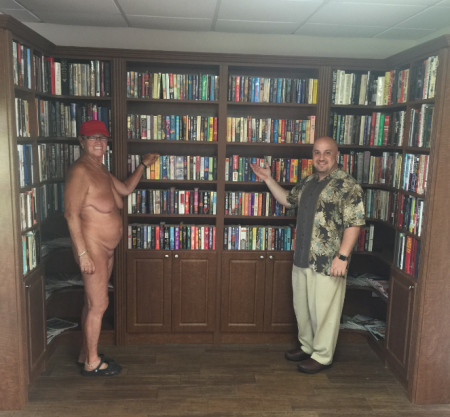 Taken June 25, 2016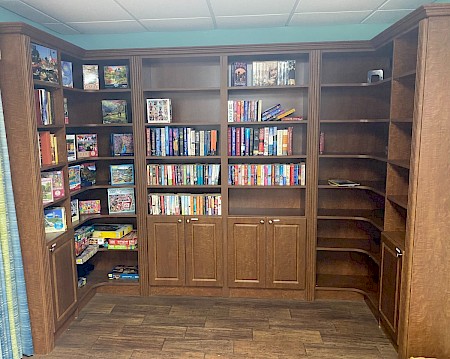 Taken May 26, 2021
---
It's Flamingo Adoption time!!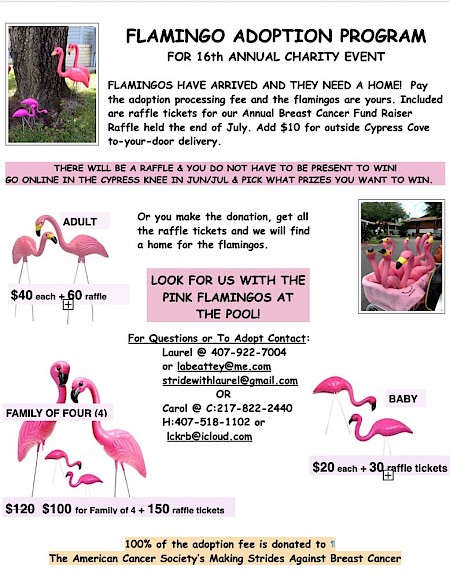 ---
RELAX! ... At Silver Lining 
We all could benefit from a soothing massage. Book some time at Silver Lining Massage today. Feel the stress melt away. Make your reservation today at 407-518-2603. 

---
Nature Hair - Stop in today!
Looking a little... shabby? It's time for a trim! Stop by for a manicure, pedicure, or haircut today. Please reach out to them at 407-870-5131 or ex 2613 from your villa room.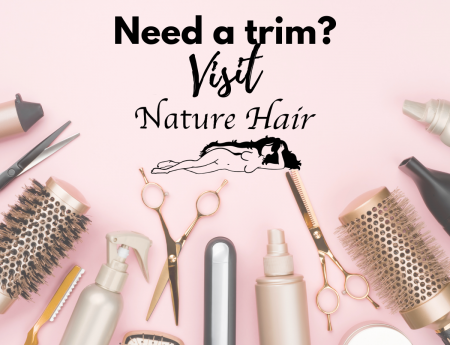 ---
News Outside the Cove
See what is making headlines in nudist news around the world. These things and more are being shared on our social media channels. Follow us today to stay informed!
---
THE PARABLE OF THE NAKED COMMERCIAL
Nudist commercials, properly done, can actually boost business!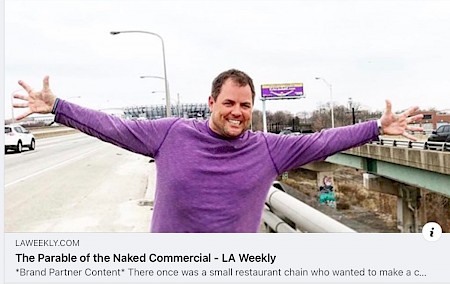 "There once was a small restaurant chain who wanted to make a commercial to advertise their new meal delivery service. This sounds very silly now, but this was a time long before Bite Squad, Doordash and Grubhub, and if you wanted anything delivered to you other than Asian food or pizza, you were largely out of luck. Based in the Midwest, their ad strategy up to this point had been fairly conservative. But then they were pitched an idea about nudists still wanting the restaurant's food, and needing a delivery service to make it possible. Surprisingly, the small restaurant chain bit." Read the full story HERE.
---
Nudist Comedy DISROBED Back for Online Encore
If you missed this at the film festival, keep a lookout online for when it comes around again.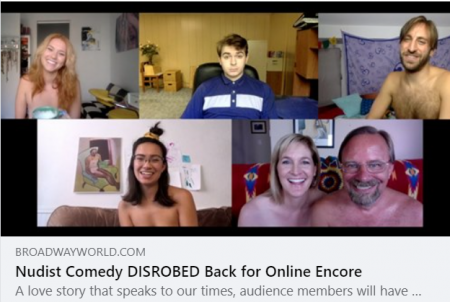 "After two successful virtual runs, the irreverent nudist comedy DISROBED - THE VIRTUAL EVENT will return for a third virtual run available on-demand from May 20th to May 23rd through the Big Sky Fringe festival. A love story that speaks to our times, audience members will have a chance to tune into a filmed performance of a hilarious quarantine love story with a very scant costume budget." Read the full story HERE.
---
Around the Cove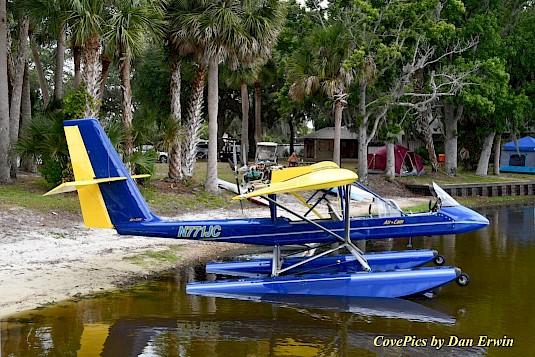 Bad weather forced this Sea Plane to land on Brown Lake. The pilot said she didn't know it was a Nudist Resort. She stayed overnight and said she enjoyed herself so much that she & her husband would be coming back for a weekend stay.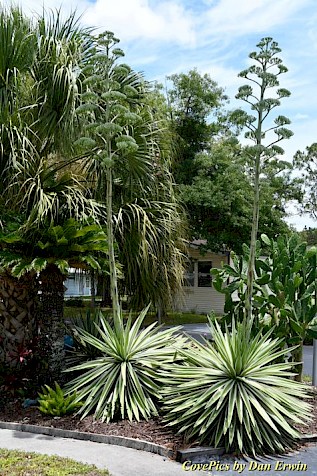 Three Century Cactus have driven their spike into the air on Eagle Point at the same time. Despite their name, most century plants do this after 30 years of growth and often die after flowering.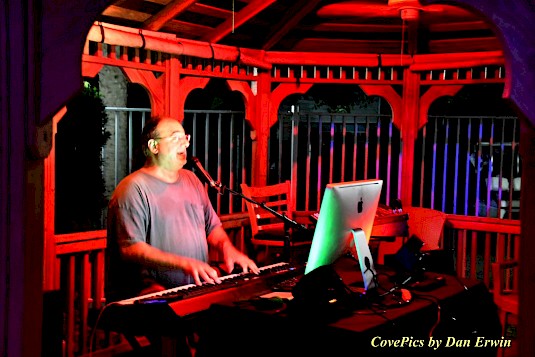 The amazing pool party was the place to be on Friday night.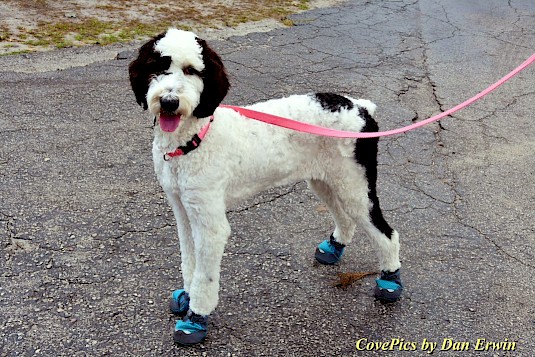 The black asphalt is very hot during the summer, so this smart puppy put on her pretty blue boots before going on her walk.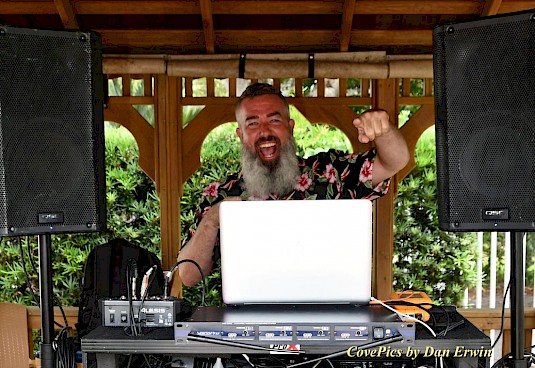 DJ "D" keeps the Saturday & Sunday afternoon Pool Parties rocking.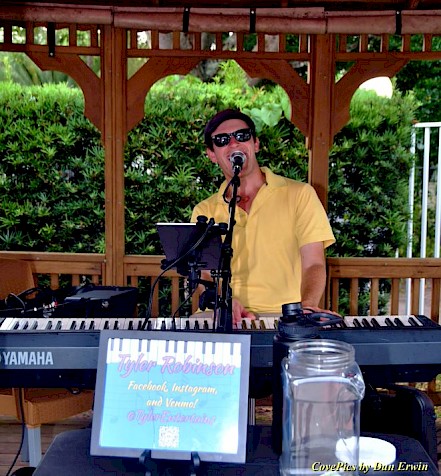 The Saturday Night Pool Party was Tyler Robinson's first visit to Cypress Cove. He had us dancing in the water and on the pool deck and even had some of us up on stage singing with him. A really great time was had by all.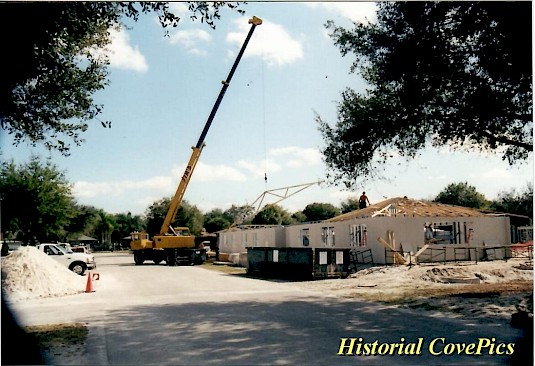 Building the West pool complex in 1999.
---
"Ask Me About Cypress Cove!"
Do you have your "Ask Me About Cypress Cove" t-shirt yet? They're priced at just $5 each, so we're not making any money on the shirts. We just want folks to use them to tell the world about Cypress Cove. Wear it to town, to the grocery store, or just wear it while you are out and about. Purchase your new t-shirt at the main office and show your pride in Cypress Cove!
SEND US YOUR PHOTOS!!! Do you have a photo of you in the "Ask Me About Cypress Cove" T-shirt? Send it in now! You could be featured in our newsletter. 
We have added this shirt AND the "Find Us On Social Media" T-shirt to our online store. Pick one up today and show us your photos.
Send them to Newsletter@CypressCoveResort.com   
Visit our online store by clicking HERE! 
Where have you worn your "Ask Me About Cypress Cove" or "Find Us on Social Media" T-shirt? Send us a photo!
"Thank you to everyone who has been doing this. It has been so much fun getting new pictures from exotic locations all over the US and the world! We have the absolute best, most loyal members we can imagine. We are truly grateful." -- Ted Hadley, Owner, Cypress Cove Nudist Resort
---
Book a Room Today!
It's never been a better time to stay at Cypress Cove! Book Online, Email Reservations, or Call Reservations toll-free at 888-683-3140.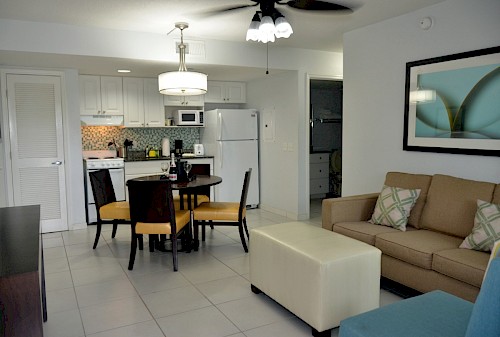 For Special Offers click HERE!
---
Every week we receive great reviews on TripAdvisor and Google; if you have visited or stayed with us, we would love to know about your experience. Click the logos below.
---

Do you have an item for the newsletter? 
Please send all requests for content to newsletter@cypresscoveresort.com.
Send us your photos of you wearing Cypress Cove apparel too!