Laugh of the Week
---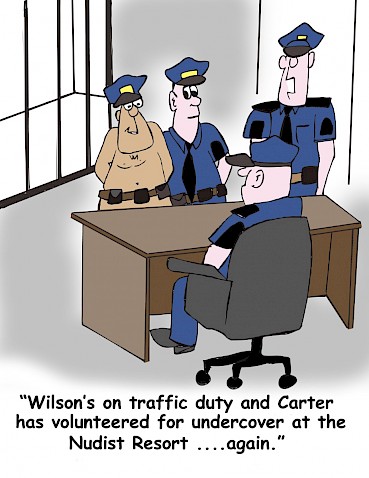 ---
Safety Moment
---

If you are driving a golf cart, please keep in mind the rules of the road here at Cypress Cove. Please observe the stop signs and our 10 MPH speed limit. We have an array of traffic that includes upright bicycles, low-sitting recumbent trikes, pedestrians, cars, service trucks, and delivery trucks. Help us keep this community safe.   
---
Cove News
---
Celebrating International Women's Day
We have partnered with The Naturist Action Committee to host Bodies and Souls: The Century Project photo exhibit sponsored by The Naturist Education Foundation. The exhibit showcases select photos and stories from Bodies and Souls: The Century Project by Frank Cordelle which took almost 25 years to complete. The Century Project "combines unconventionally stunning nude portraits" of women in all stages of life, "with highly personal written statements" designed to "effect change in societal attitudes towards women's bodies." This is the first time this exhibit has been seen since 2007. 
The exhibit will take place in the Clubhouse on March 6 & 7 from 10 am - 5 pm. Safety precautions are always at the top of our list. We will be requiring masks inside the clubhouse and there will be a hand sanitizing station located as you enter the exhibit. There will also be an individual sanitizing things as people move through the exhibit. The Bodies and Souls: The Century Project will be available in print for $25.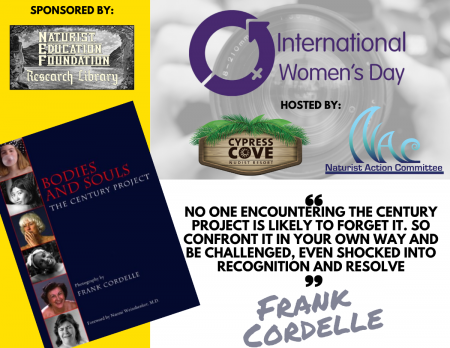 ---
Annual Fishing Tournament
Join us for the annual fishing tournament happening at Lake Brown on Saturday, March 13 beginning at 9 am until Noon. Registration will take place at the Lakefront between 8 & 9 am. The registration fee is $3. There will be great prizes for several categories. All participants will receive free chips and soda. This is a family-friendly event, so bring the kids and make it a family day! 
For more information, please reach out to Mike at 812-291-0006 or Gary at 419-564-5431.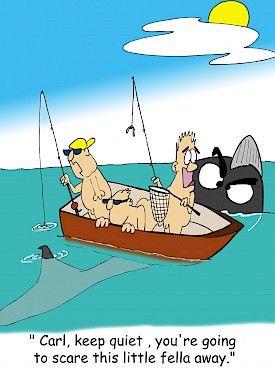 ---
Spring Pickleball Tournament
The Cove Pickleball Club will be hosting the Eighth Annual Spring Pickleball Tournament coming up on March 19-21, 2021. There are three full days of fun events and competitions planned. It's the biggest sports tournament of any kind at Cypress Cove all year! Cypress Cove boasts six dedicated pickleball courts and a large contingent of pickleball fanatics who play every day, year-round. The tournament is the highlight of the year for the Cove Pickleball Club, and you can join in the fun! Best of all, you can play and compete in the most natural and comfortable way possible, inside a tropical garden paradise!
No pre-registration is required, and there are events open to all skill levels. Everyone is welcome to participate, compete and WIN! For more information, email pickleball@me.com.
See you on the courts!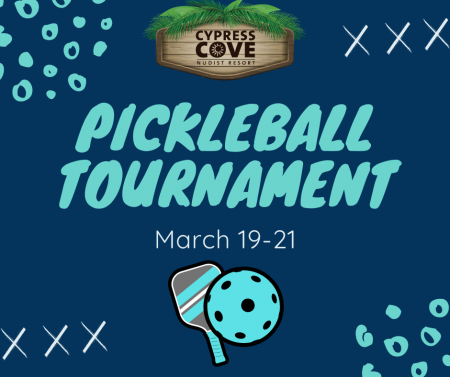 ---
B.E.A.C.H.E.S  - Free Beach Unity Raffle
Have you heard about this amazing raffle? The revenue generated from B.E.A.C.H.E.S. Unity Raffle will help the opportunity to fulfill the legislative initiative they started in 2019 to right a wrong and clear the legal path to reclaim former clothing-optional beaches and establishing newly designated beach sites on state parklands in Florida. For a full list of prizes, please visit BeachesFoundation.org.

---
Fig Leaf Boutique - Closed
Fig Leaf is CLOSED for renovations. Stay tuned for some exciting updates! 



---
RELAX! ... At Silver Lining 
We all could benefit from a soothing massage. Book some time at Silver Lining Massage today. Feel the stress melt away. Make your reservation today at 407-518-2603. 

---
Nature Hair - Stop in today!
Looking a little... shabby? It's time for a trim! Stop by for a manicure, pedicure, or haircut today.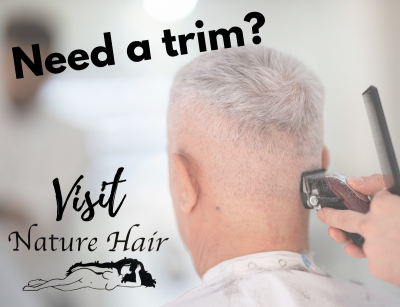 ---
Cypress Cove First-Time Visitor & Membership Questions? Ask Tom!
Membership Q & A:
Hi Tom,
Me and my husband recently visited the Cove with some friends and fell in love with the resort. We live about an hour away and want to visit more. What type of membership should we get?
-Nekkid Newbies
Dear Nekkid,
Thanks for your note and kind words. If you plan on visiting at least 2 days per month then the full membership is perfect for you! We have a monthly payment plan that is easy to set up. Just contact me or Vickie Johnson and we will take care of you!
Tom,
My wife and I are "After-5 Members." We have some friends who have been to the Cove and want to come with us next time we visit. Can they come as guests and how much is it? Thanx!
-Tan-em-bums
Tan,
We welcome your guests! In your case, they would pay the After 5 fee of $15.05 per person. All members of Cypress Cove may bring first-time guests to the club for one introductory visit at no charge, provided they meet the criteria for membership. All guests must be registered at the office upon arrival.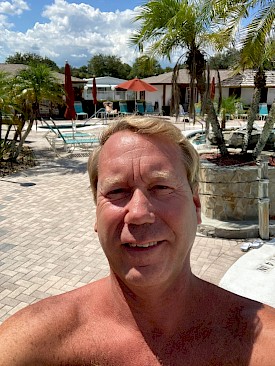 Tom is your go-to for all things membership. Reach out to him and ask your questions today. He is standing by to help you decide which membership would make sense for you and help you through your first-time experience. You can reach Tom at membership@cypresscoveresort.com or stop in for a tour. 
---
Additional Nudist Resources & Nonprofit Groups
For the next few weeks, we will be featuring a nudist organization out there working hard to bring awareness, change laws, and educate the masses. This week we are looking at International Naturist Federation. The International Naturist Federation (INF-FNI) is an organization consisting of member federations, correspondents, and extraordinary members in over forty countries. Together with other interested parties involved in naturist activities, the INF-FNI works to enhance and improve the naturist experience and the naturist business climate by promoting the benefits of naturism to the general public. Learn more about INF by visiting here.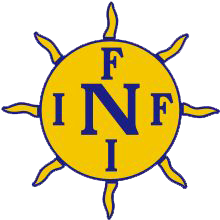 ---
News Outside the Cove
See what is making headlines in nudist news around the world. These things and more are being shared on our social media channels. Follow us today to stay informed!
---
Traveling to the US? 
If you're making plans to come see us here at Cypress Cove from outside the United States, make sure you are up to date on the latest travel information. The U.S. Centers for Disease Control and Prevention (CDC) Director has signed an order requiring all airline passengers traveling to the United States, including U.S. citizens and Lawful Permanent Residents (LPRs), to provide proof of a negative COVID-19 viral test or recovery from COVID-19. For more information on this, please visit here. 

---
Finding Acceptance—and Self-Love—in a Naturist Community
Beautiful! It's all about acceptance.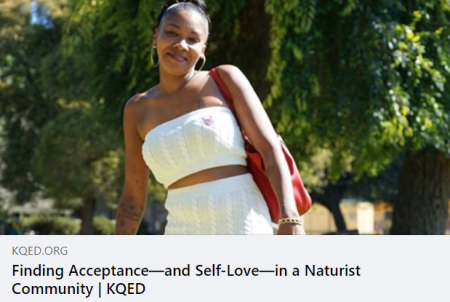 "We're both lovers of camping; time spent in nature actually helped solidify our relationship. We decided to find a place to enjoy the outdoors during the shelter-in-place orders. But most campsites were closed. And then we found a place that was unlike any other: Lupin Lodge. This is a community that welcomes newcomers with open arms. We started going in August and we've been back every weekend, just because of the love we feel. The first day we were there, people invited us to eat with them, and asked if we needed anything. They even recited poems just to help us relax in a new environment. It was amazing." Read the full story HERE.
---
'Gender-neutral' laws would make topless women legal
What do YOU think? Would you give up gender to gain top-freedom?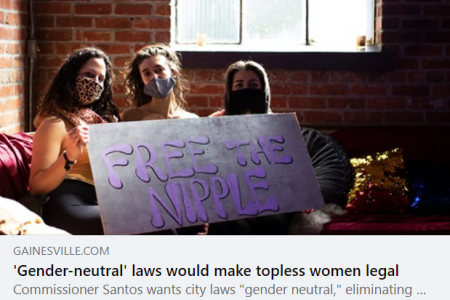 "Hayes-Santos said the topless issue is only one facet of the proposal. He said the city's codes are full of wording that single out a particular sex, and it's time for that to change. 'There are multiple portions of the code where we are using 'his' and 'her,' or we are using or 'he' and 'him,' or 'husband' or 'wife,' and things like that,' Hayes-Santos said. 'There are multiple examples of that.'  He said his proposal would in essence take gender out of city rules. 'Any gender would be allowed to have same rights that a man has, which is currently that you don't have to wear a shirt (in public),' Hayes-Santos said." Read the full story HERE.
---
Around the Cove
---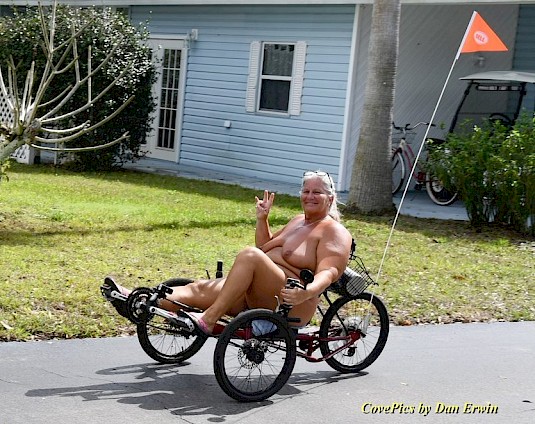 3-wheel bikes of all kinds have become very popular at the Cove. A great way to get some exercise and some fresh air at the same time.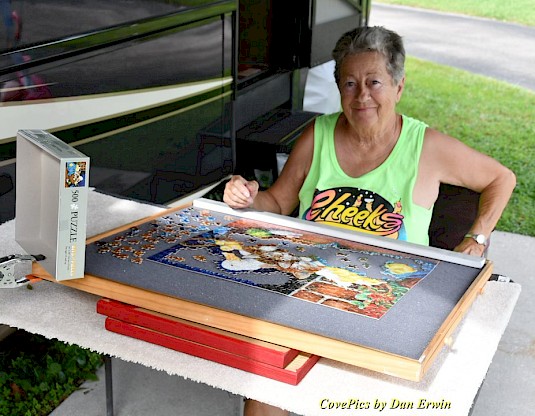 What a fun way to spend an afternoon. Doing a puzzle while getting some Florida sun and chatting with people as they pass by.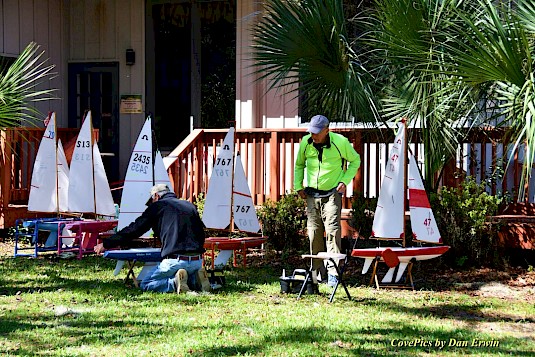 Members of the Cypress Cove Radio Controlled Yacht Club getting their boats ready for the Mini Regatta on Saturday.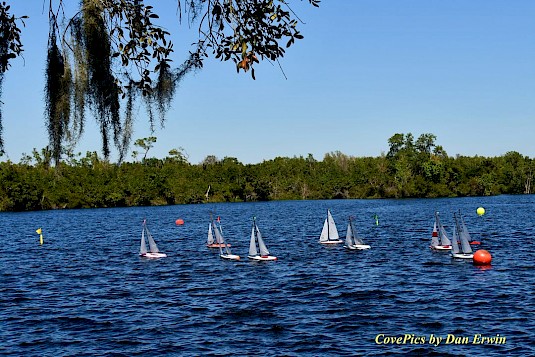 Heavy winds and a beautiful sunny day made the sailing fun and challenging for the RCYC members.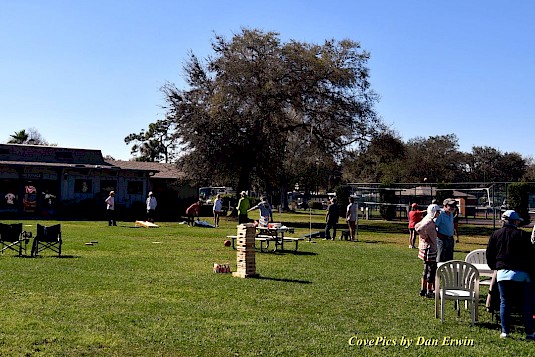 The sunning lawn is a great place to have some fun in the sun while being outdoors and maintaining social distancing.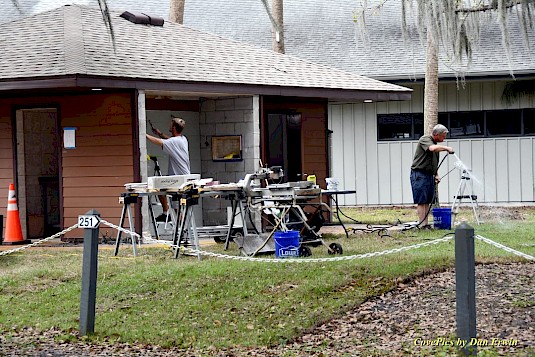 Over the last few months, the washrooms/showers in the tenting area have been completely remodeled.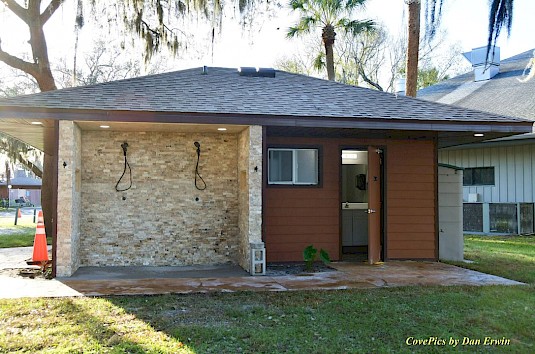 The shower was retiled over the weekend and it looks wonderful. Drop over and take a closer look.
---
"Ask Me About Cypress Cove!"
Do you have your "Ask Me About Cypress Cove" t-shirt yet? They're priced at just $5 each, so we're not making any money on the shirts. We just want folks to use them to tell the world about Cypress Cove. Wear it to town, to the grocery store, or just wear it while you are out and about. Purchase your new t-shirt at the main office and show your pride in Cypress Cove!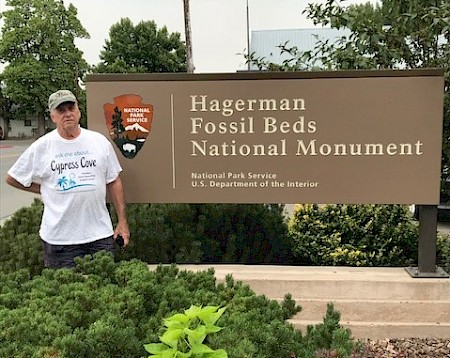 One of our members at the Hagerman Fossil Beds National Monument.

SEND US YOUR PHOTOS!!! Do you have a photo of you in the "Ask Me About Cypress Cove" T-shirt? Send it in now! You could be featured in our newsletter. 
We have added this shirt AND the "Find Us On Social Media" T-shirt to our online store. Pick one up today and show us your photos.
Send them to Newsletter@CypressCoveResort.com   
Visit our online store by clicking HERE! 
Where have you worn your "Ask Me About Cypress Cove" or "Find Us on Social Media" T-shirt? Send us a photo!
"Thank you to everyone who has been doing this. It has been so much fun getting new pictures from exotic locations all over the US and the world! We have the absolute best, most loyal members we can imagine. We are truly grateful." -- Ted Hadley, Owner, Cypress Cove Nudist Resort
---
Book a Room Today!
It's never been a better time to stay at Cypress Cove! Book Online, Email Reservations, or Call Reservations toll-free at 888-683-3140.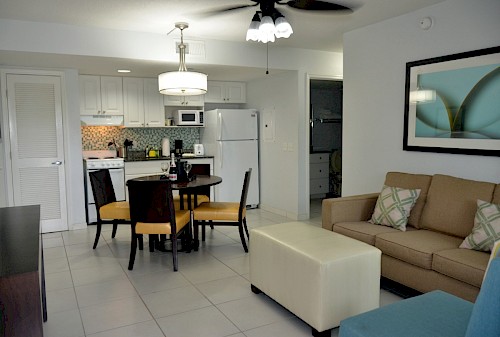 For Special Offers click HERE!
---
Every week we receive great reviews on TripAdvisor and Google; if you have visited or stayed with us, we would love to know about your experience. Click the logos below.
---

Do you have an item for the newsletter? 
Please send all requests for content to newsletter@cypresscoveresort.com.
Send us your photos of you wearing Cypress Cove apparel too!