Laugh of the Week
---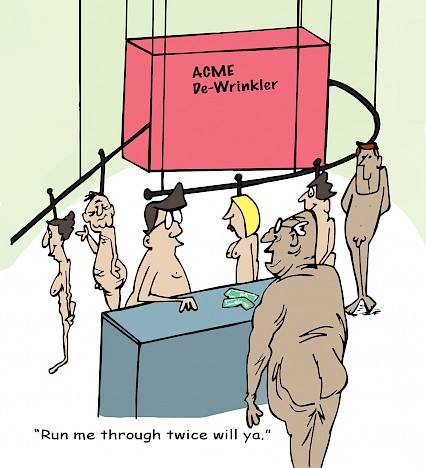 ---
Cove News  
---
Lakeside Announcement
Dear Friends,
Through the years, Lakeside Restaurant has been a place where so many memories have been made. Where new friends and old friends joined together to enjoy the comradery that is unique to Cypress Cove Nudist Resort.  A place where we've been entertained by our own residents, members, and guests. A place where magicians worked wonders and rock bands instantly transported us to another era. It's been 2 years, 9 months, and 12 days since Lakeside Restaurant has been open publicly, and today I'm pleased to announce a reopening beginning with A Tribute to Elvis this Saturday, December 3rd.
Though this will be a soft reopening, I invite you to come celebrate this wonderful occasion. Your favorite bartenders will be taking your drink orders at Scuttlebutts Lounge as you dance the night away to your favorite Elvis hits.
Seating will be available on a first-come, first-served basis. Though food will not be available at this time, we will begin to offer a small menu in the coming weeks, then expand as we gain our sea legs again.
Keep an eye on the newsletter for other events planned for Lakeside Restaurant this month including scheduled opening days/times.
I hope to see you there!

Peter Sewall
General Manager, Cypress Cove Nudist Resort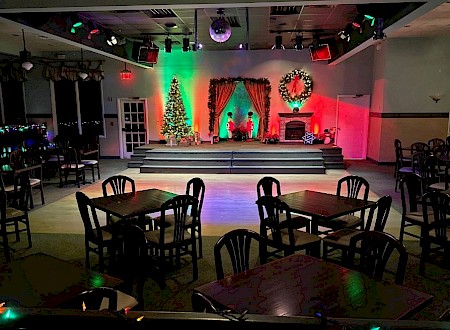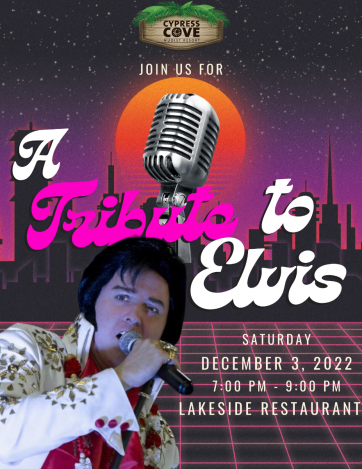 ---
Goodies for the Staff
Around this time each year, Tiki's desk is buried beneath a mountain of gifts offered by our amazing members, guests, and residents for staff members to enjoy. These gifts are handed out during our annual holiday party. Many of you have asked if our amazing staff will be having a holiday gathering. The answer is... ABSOLUTELY!
On December 14th, team members will partake in a casual luncheon where gifts will be exchanged alongside other Cove "goodies." For those of you here at The Cove, our front office is happy to receive your gifts. I've also made a link available in our online store (click here) for those who'd rather we purchase something on your behalf, or for those who are between Cove stays.
I cannot express the gratitude I have for all of you who have shown my team so much love and generosity through the years. Cove family is the greatest!

Peter Sewall
General Manager, Cypress Cove Nudist Resort
---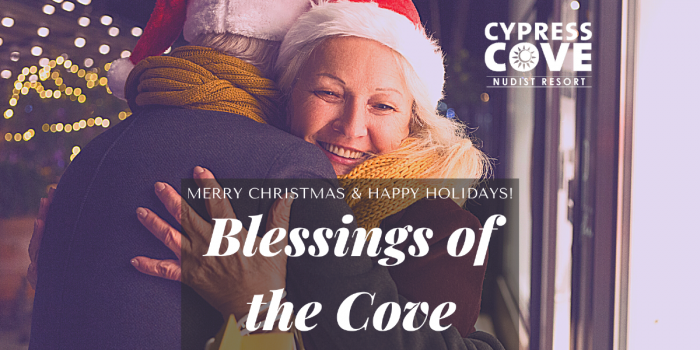 As we round the bend capping off yet another year, we are about to enter a season of gratitude and giving. It is in this spirit that Cypress Cove would like to re-introduce a Holiday countdown of sorts, affectionately dubbed "Blessings of The Cove"— a period of supporting those in our nudist family who have the greatest need in consideration of trying times.
Through the end of the year, we are inviting Cypress Cove residents and members to write to us and tell us of your need. What do you think would help you most during this difficult time? Each week, we will choose a letter and will respond with assistance and support. You can either drop off a letter to the Main Office, care of Peter Sewall or email Peter at CoveBlessings@cypresscoveresort.com.
Cypress Cove has enjoyed a long history of community support both participating in and spearheading, various events ranging in size and reach. It is the members of our naturist community that has enabled growth and success through the years. As such, we thought it was important to finish the year with full focus on this community—those of you "inside the gate." It can be hard to ask for help, but please let us know if you have an exceptional need. It is our goal to make your holiday season a little bit brighter.
We already know that the Cypress Cove nudist community has a big heart and a philanthropic spirit, so we'd encourage those of you who are not in need to lend support to your friends and neighbors during this time. If you'd like to help us expand our efforts, you may do so at this link; simply select Blessings of The Cove Donation. We want "Blessings of The Cove" to spill over into all corners of our amazing community.
With thanks and gratitude, 
Peter Sewall
General Manager, Cypress Cove Nudist Resort
---
Golf Cart Shop Announcement
I'd like to take this opportunity to thank Carol Kirby for her many years of service to the Cypress Cove community. Those of you who know Carol know that she was very passionate about her business as owner of Kirby's Carts, the golf cart shop that operated onsite for many years. On November 15th, Carol decided to retire (again) with November 30th being her final day.  Please join me in congratulating her as she enters the next phase of her life.
The golf cart shop had provided the community and our guests with an important service; one that we felt was imperative to continue. As such, beginning December 1st, Cypress Cove will provide golf cart rental, repairs, and routine service agreements, as well as limited upgrades. Now, you will be able to reserve a golf cart in the same way you'd reserve a room or RV space.  Our front desk team will take your reservation, input it in the computer, and send you a confirmation page.
Those with existing reservations for golf carts and those with existing service contracts will be honored through Cypress Cove. Watch this space for additional information on service offerings, etc.
Cypress Cove is excited about building this amenity into a seamless portfolio of offerings for our residents, members, and guests. We look forward to serving you as the need arises.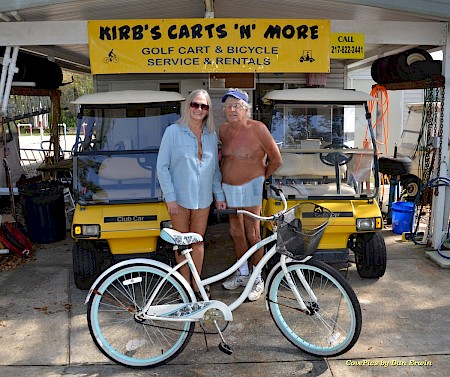 ---
Cypress Cove Limited Edition Ornaments
Pick up one of these special limited edition Cypress Cove ornaments today! You can pick one up in the main office or at our online store. They are $9.95 each and would make a perfect stocking stuffer for the nudist in your life.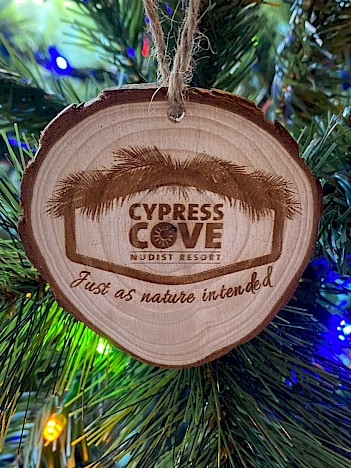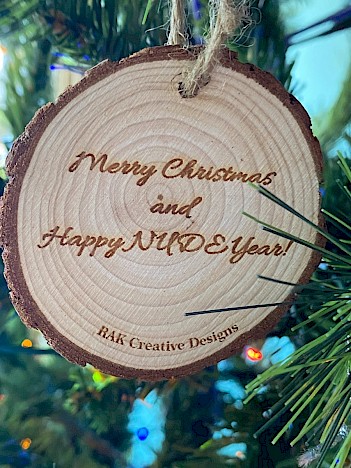 ---
Improvements at the Cove
New fans outside Cheeks
Jason and his team have been checking things off their list. They have installed 4 fans outside of Cheeks for your comfort.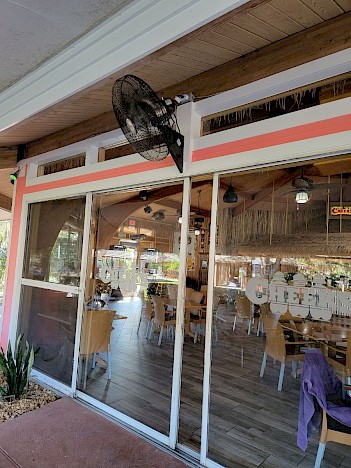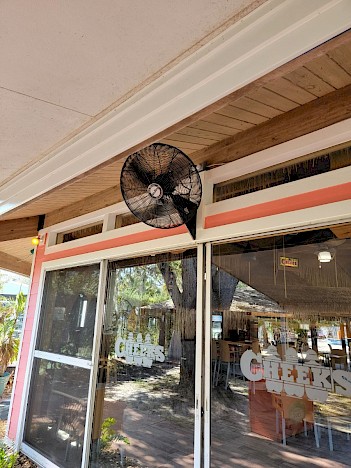 Indoor Hot Tub 
The indoor hot tub is currently closed for repairs, and we apologize for the inconvenience. In the meantime, please enjoy a nice soak in the outdoor hot tub in front of BodyWorks Gym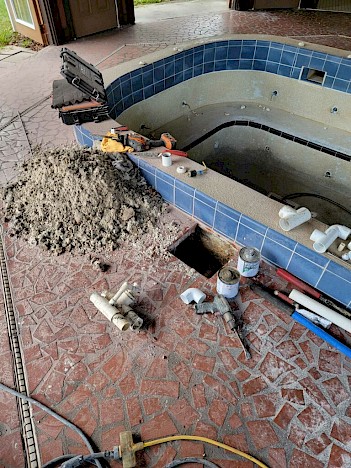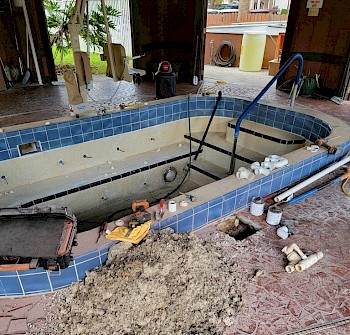 ---
6th Annual Hey Nude Volleyball & Spikeball Tournament
Nude volleyball action returns to Cypress Cove on the weekend of December 3-4, with the Hey Nude Volleyball Tournament. More information is forthcoming, but get this event on your calendar now. Whether a participant or a spectator, you're invited to join in the fun of a sport that may not have been so popular if it weren't for nudists! Watch this newsletter and our social media channels for details.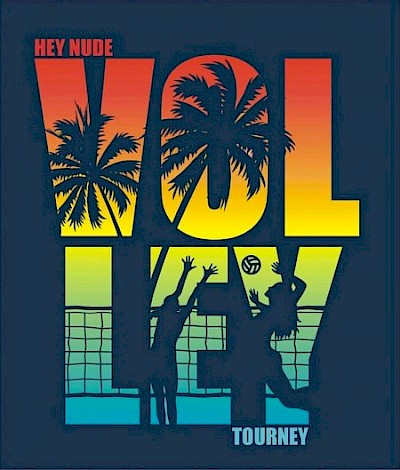 ---
The Notables
The Notables (the Cove's auditioned singing group) will perform their annual Holiday Concert on Thursday, December 8th at 3:00 p.m. in Lakeside featuring Sopranos Joy Bromell, Jamie Lynn Williams and Maureen Trider, Altos Dori Harvey, Jona Seifert and Pat Mack, and Baritones Jim Seifert, Mike McPherson and Brad Wahlberg. They are directed and accompanied by Pam Howitt. They are excited to be singing all new Holiday Music.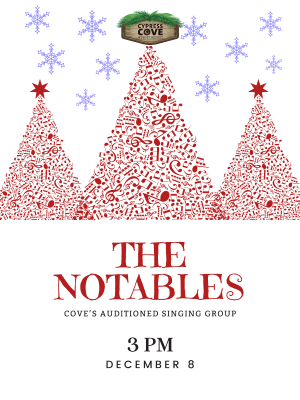 ---
The Sounds of Cypress
Join the Sounds of Cypress on December 15 at 3:00 pm for the annual Sounds of Cypress Holiday program at Lakeside Restaurnat. If you're not familiar with the group, it is a community choir made up of Cypress Cove members. We are not professionals, we are volunteers. This year we have 15 enthusiastic singers and two great choir directors with over 70 years of experience between them.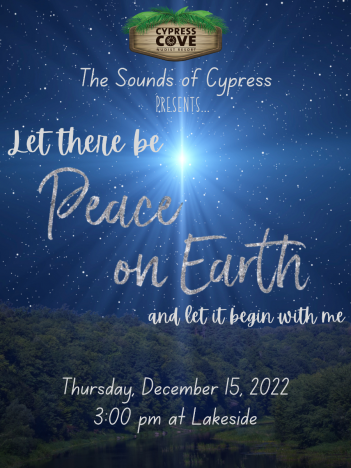 ---
Winter Craft Fair
Save your gas and do your Christmas shopping right here in the Cove. On Saturday, December 10 from 9 am to 2 pm. We are breaking records this time. Not only is the clubhouse full of wonderful crafters, but the area under Old Cheeks is also full! There is something for everyone, so come and experience a craft fair like no other in Cypress Cove's history. In addition to the crafters, Trisha will be at Old Cheeks collecting for Toys for Tots. Please bring an unwrapped toy for her cause. See you all on December 10!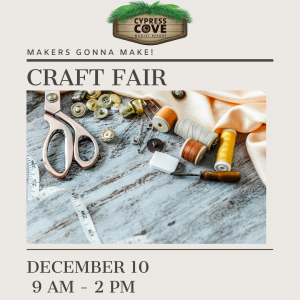 ---
News Outside the Cove
See what's making headlines in nudist news around the world. These things and more are being shared on our social media channels.
Follow us today to stay informed!






(Click one of these links to see the latest news!)
---
17 Celebrity Women Over 40 Who Have Posed For Gorgeous Nude Photoshoots
Everyone should do it! Who cares!!!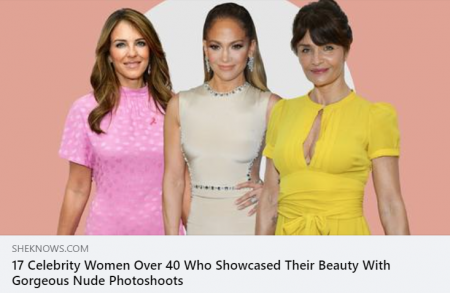 "Thanks in large part to Kim Kardashian and the rest of her intrepid family, nude photos are not nearly so scandalous or rare as they used to be. And yet — we're a long way away from women being able to rejoice in their naked bodies without judgment, particularly if the woman in question dares to be anything other than 20 years old and a size zero. Heck, even those women can't catch a break: If you show off your naked body when you're young and conventionally attractive, you're criticized as promiscuous and attention-seeking; if you pose nude when you're over 40 (or fat, for that matter), you're shamed outright and told to cover up, to show some decency." Read the full story HERE.
---
Hundreds pose nude on Australian beach to raise awareness for skin cancer
Spencer, you always do great work!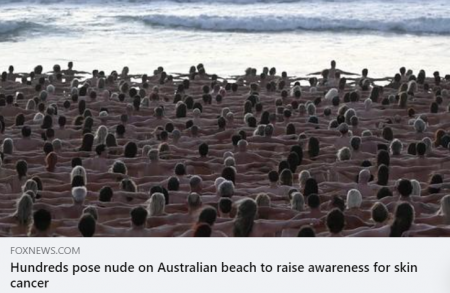 "Some 2,500 people took off their clothes on Saturday to pose for U.S. photographic artist Spencer Tunick at Sydney's Bondi Beach in an effort to raise awareness about skin cancer. Tunick, known for staging mass nude photo shoots at world landmarks, used a megaphone to direct attendees into several poses on the beach before many took a naked dip in the ocean. The New York-based artist collaborated with a charity on the naked art installation in a bid to raise awareness about melanoma, Australia's fourth most common form of cancer." Read the full story HERE.
---
Have You Seen Us Lately?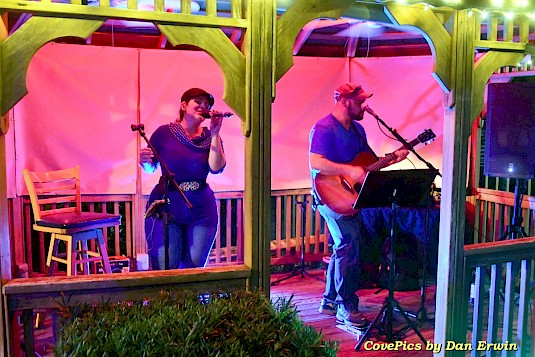 Live music poolside by "More Than Venus" on Friday night was the place to be.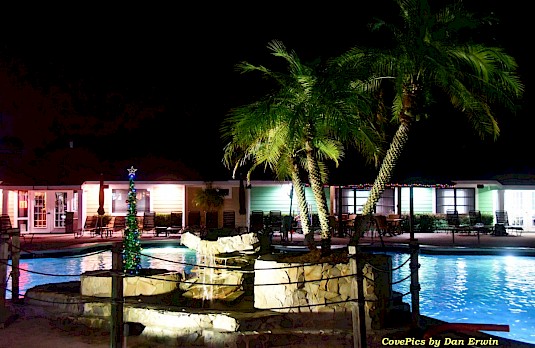 There is something magical about spending time at the pool at night.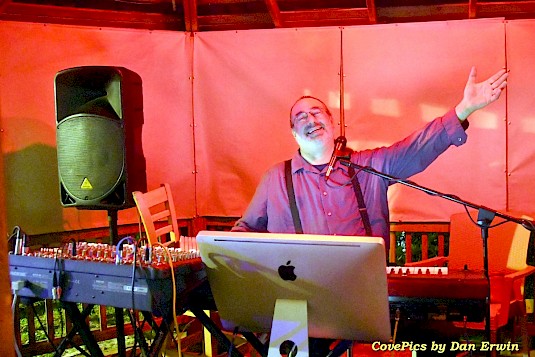 Lonnie kept the party going on Saturday night with more great music.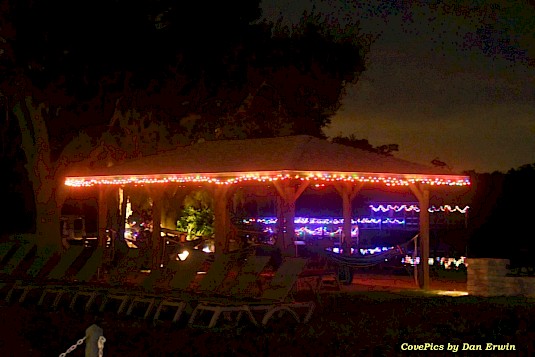 Even Brown Lake is magical.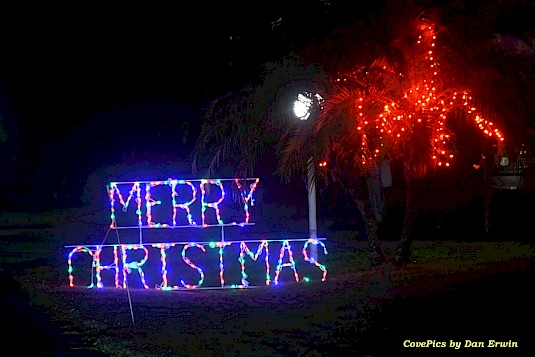 The Holliday Season is special at Cypress Cove. A walk/ride around the Cove is a wonderful adventure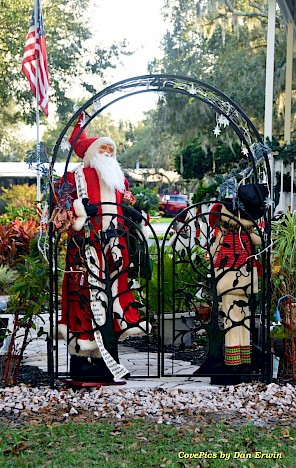 Santa is waiting just outside the gate for the Christmas fun to begin.

Make sure a visit to Cypress Cove is part of your holiday plans.
---
"Where Have You
Taken the Cove?"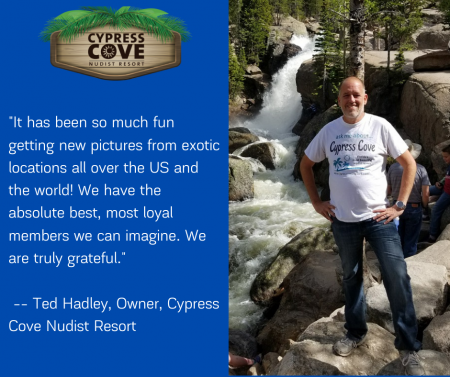 SEND US YOUR PHOTOS!!!
 We want to see where you have worn your Cypress Cove t-shirt, no matter which style it is! Wear it to town, the grocery store, while you are out and about, or at a national monument, and send us a photo! You will be featured in our newsletter or on our social media channels. 
Don't have a shirt yet? Purchase one at the main office or call and order one to show your pride in Cypress Cove! 
Call us at Toll-Free (888) 683-3140.

Send photos to Newsletter@CypressCoveResort.com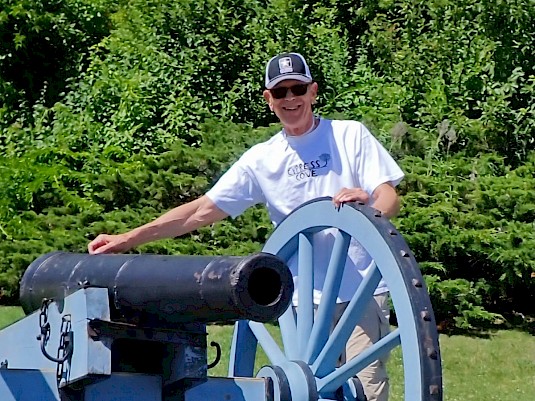 One of our members just off the American Queen Steamship Voyager near Fort Mackinac.
Thanks for sending that in John! 

Where have you worn your Cypress Cove T-shirts?
Send us a photo!
---
Book a Room Today!
It's never been a better time to stay at Cypress Cove! Book Online, Email Reservations, or Call Reservations toll-free at 888-683-3140.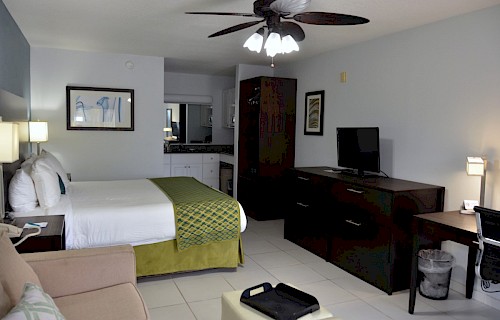 For Special Offers click HERE!
---
Every week we receive great reviews on TripAdvisor and Google; if you have visited or stayed with us, we would love to know about your experience. Click the logos below.