Laugh of the Week
---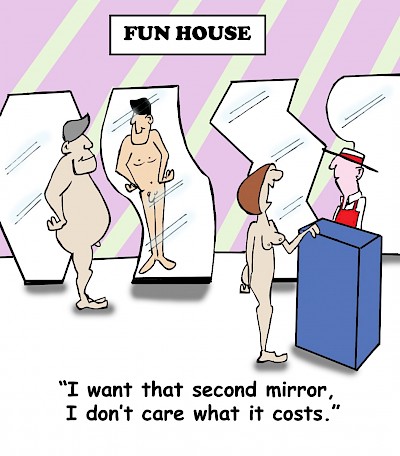 ---
Cove News  
---
Vote for Cypress Cove!!
We have done it again, fellow naked friends. We have been nominated for Orlando Weekly's Best of Orlando® 2022 Series. You will find us under Best Attraction That's Not a Theme Park. (<-- Click there to vote!) Just register your email address (used only to prevent voting multiple times) and cast your vote. Once you've cast your vote, send us an email at Newsletter@CypressCoveResort.com for a special photo for you to share on your own social media. Show your Cypress Cove pride!! Anyone can vote, so let's show some love to the Cove.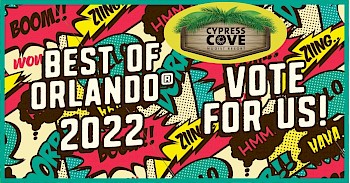 ---
Clothing Independence Day Pickleball Tournament!
Celebrate your freedom from textiles and independence from tan lines with a quick & fun morning of pickleball competition at the Cypress Cove Pickleball Club's Clothing Independence Day Pickleball Tournament! Happening on Monday, July 4, 2022, at the courts.
Check-in will begin at 8 am and play will start at 8:30 am SHARP, as we try to beat the heat in the middle of summer. Our "quickie" tournament format should let us finish the competition well before Noon. You DO NOT NEED A PARTNER, and the event is free and open to everyone of all skill levels. 
For more information, email info@covepickleballclub.com or join the Club email list at CovePickleballClub.com.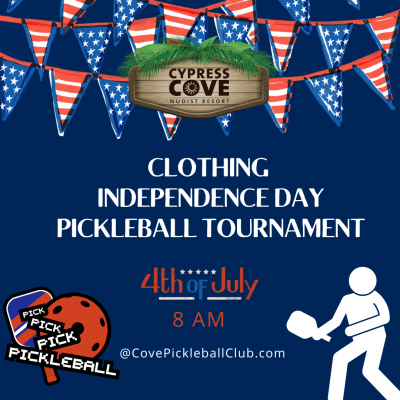 ---
Open House 
BRING YOUR FIRST-TIME FRIENDS AND FAMILY!!!!
As part of Nude Recreation Week —yes, there is a national week for that—Cypress Cove is opening its doors to first-time visitors for an Open House event on Saturday, July 9 from Noon until 4:00 p.m. What happens at a nudist resort open house? Simply put, Cypress Cove invites first-time visitors so they can see how much fun au natural recreation can be. With complimentary resort tours, music by the pool, and access to all resort amenities, you can bring your curious family and friends to FINALLY introduce them to Cypress Cove. Stick around and grab dinner & drinks at our poolside bar & grill. Find the menu here. 
If you are a frequent visitor, resident, or member of Cypress Cove, we are currently seeking volunteer tour guides. If you are interested, leave your information with the front desk or email Newsletter@CypressCoveResort.com. 

---
Name That Car
Check out the Cypress Cove Camera Club's display in the Game Room and test your memory. Their recent photo contest winners are still on display there, too. So, when you need to cool off, why not pop in, have a look around, and enjoy a round of table tennis or play a board game?

---
PARROTHEAD WEEKEND
Ahhhhh, Parrothead Weekend ... THE PARTY event of the year at Cypress Cove Nudist Resort! So much fun that we had to extend the weekend to begin on Thursday in order to fit it all in! What's a Parrothead? Parrotheads love Jimmy Buffett music. Parrotheads love that laid-back island culture... and Parrotheads love to PARTY! Are you READY? This event sells VERY quickly, so make plans to attend now!

---
Labor Day 5K
Registration is already open for Cypress Cove's Labor Day 5K! Come out and streak with us at the 9th annual clothing-optional run at Cypress Cove Nudist Resort on Saturday, September 3, 2022. Wear as little (or as much) as you like as you run/ walk around the beautiful 300-acre property. Day fees are included with your race registration and all preregistered runners are guaranteed commemorative race swag with their race packet so sign up early to be guaranteed one. The race starts at 8:30 am with check-in/ late registration from 7:15-8:15 am. Join us for the race after-party around the pool for music, awards, great food, and drink specials. To register for this year's race visit here. Prices increase after July 1, 2022.

---
Floaty Pens!
Get an exclusive Cypress Cove Floaty Pen before they're gone! These retro-styled pens have been making a comeback, and our version is the BEST! Commissioned exclusively for Cypress Cove, these animated pens feature art by the famous cartoonist Ron Warne. There is a female and a male design of the pen, but why not buy a pair? They're perfect for a souvenir, keepsake, or special gift. If you live at Cypress Cove or are planning a visit soon pick one up in the main office. Give us a call to have one shipped to your house. 407-933-5870. Get one for $7.99 or two for $15. 

---
News Outside the Cove
See what's making headlines in nudist news around the world. These things and more are being shared on our social media channels.
Follow us today to stay informed!






(Click one of these links to see the latest news!)
---
Nude Pickleball Is Taking Off
What the pickleball!? Check it out this article featuring Cypress Cove!!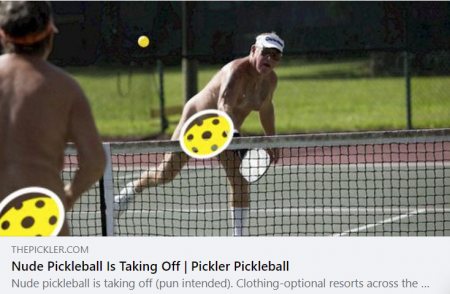 "Nude pickleball is … er, um … busting out all over. Naturist resorts from coast to coast are finding out that nudists want more pickleball – just like the majority of people who don't do their dinking in the raw. Nude pickleball is beating the pants off its competition. Clothing-optional resorts are advertising their pickleball facilities, holding tournaments, and putting in more courts to meet the demand. Mike Sullivan is a USA Pickleball ambassador and a resident of Cypress Cove Nudist Resort in Kissimmee, Florida. 'Pickleball is the biggest sport here by five times,' Sullivan said. Pickleball at Cypress Cove began modestly 14 years ago when a couple visiting from England drew chalk lines on the two tennis courts there." Read the full story HERE.
---
The Private Lens Empowers Women to Feel Good About Their Bodies Through Fine Art Nude Photography
"When you choose to be part of a fine art nude photoshoot,…you're telling the world that you're happy with your body and don't mind showing it off tastefully." Do you agree or disagree?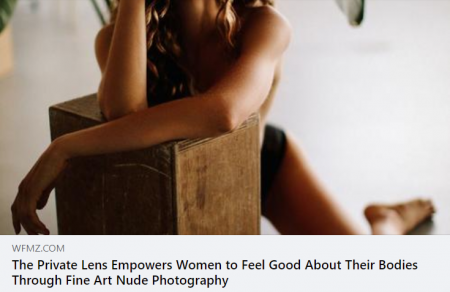 "For the last five years, boudoir and fine art nude photography digital magazine, The Private Lens, has been empowering women around the world and helping them build confidence by feeling good about themselves and their bodies. 'The Private Lens is a members-only weekly magazine of fine art and nude photos. Many models have stories on how the website has empowered their lives to help build confidence,' said The Private Lens founder and fine art nude and portrait photographer Oliver Dominguez." Read the full story HERE.
---
Have You Seen Us Lately?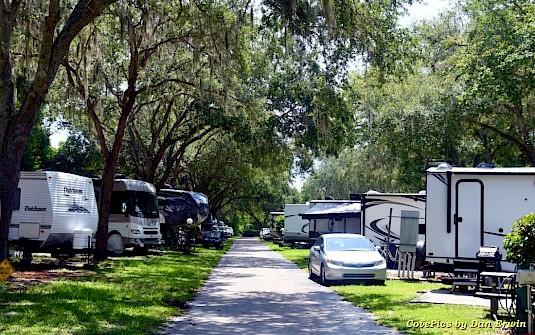 Summer Time and the living is easy at Cypress Cove.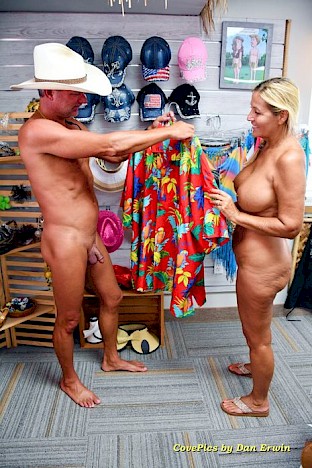 There are lots of 4th of July and Parrothead fashions at the Fig Leaf Boutique and you don't have to get dressed to do your shopping.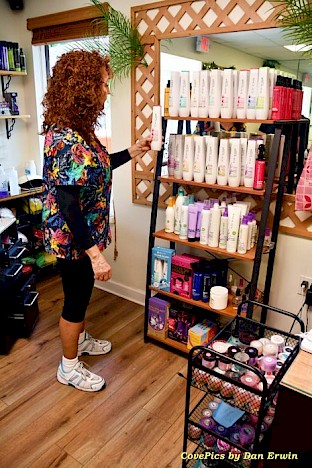 Carol at Nature Hair can help you pick out the perfect products for your hair & skin care.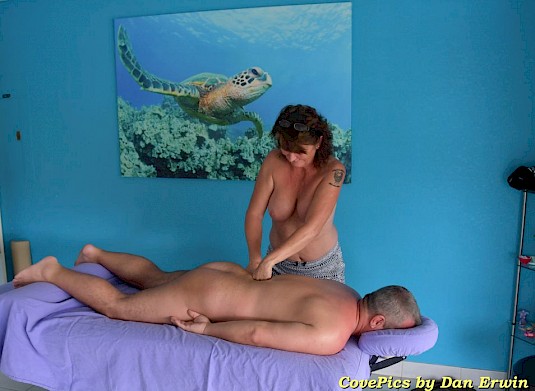 What could be more relaxing than a wonderful massage at Silver Lining Massage?
(Therapists work nude at their discretion and in accordance with the comfortability of the client.)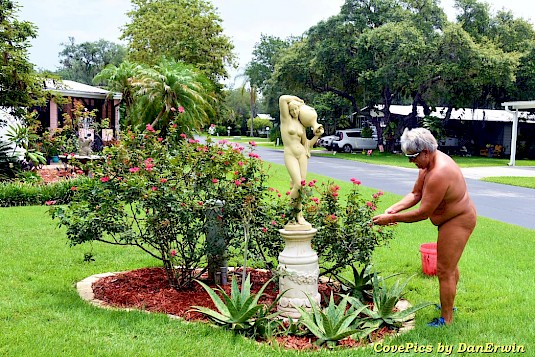 You can garden in the nude in your front yard at Cypress Cove.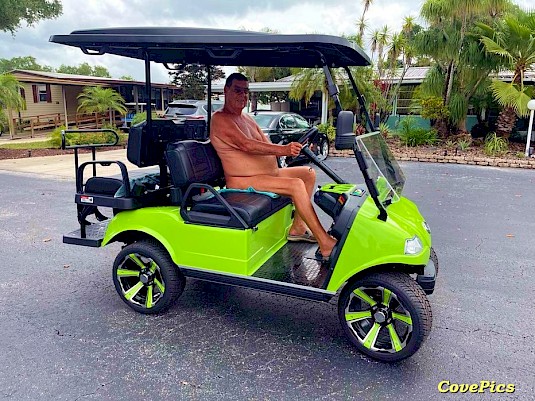 It looks like the golf carts at the Cove are also getting into the Parrothead colors.
---
"Where Have You
Taken the Cove?"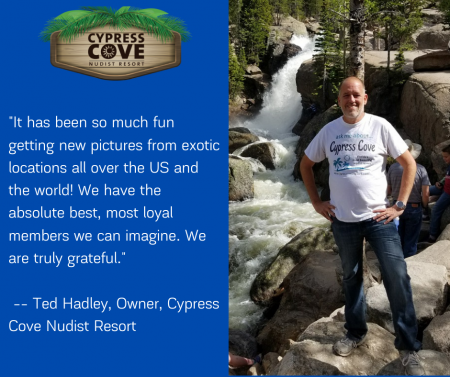 SEND US YOUR PHOTOS!!!
 We want to see where you have worn your Cypress Cove t-shirt, no matter which style it is! Wear it to town, to the grocery store, wear it while you are out and about, or at a national monument, and send us a photo! You will be featured in our newsletter or on one of our social media channels. 
Don't have a shirt yet? Purchase one at the main office or call and order one to show your pride in Cypress Cove! 
Call us at Toll-Free (888) 683-3140.

Send photos to Newsletter@CypressCoveResort.com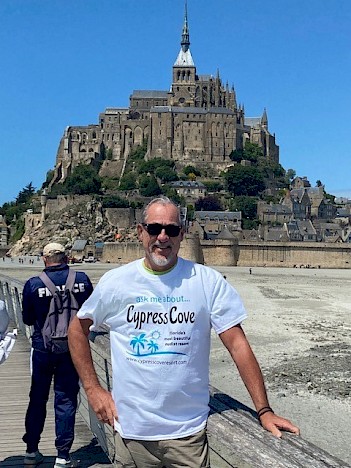 Mike in Normandy France with the tidal island Le Mont Saint-Michel behind him.
Thanks for sending this to us, Mike!! 

Where have you worn your Cypress Cove T-shirts?
Send us a photo!
---
Book a Room Today!
It's never been a better time to stay at Cypress Cove! Book Online, Email Reservations, or Call Reservations toll-free at 888-683-3140.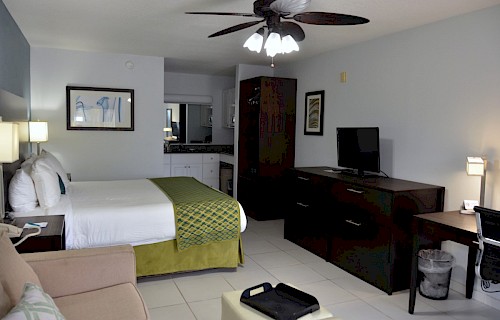 For Special Offers click HERE!
---
Every week we receive great reviews on TripAdvisor and Google; if you have visited or stayed with us, we would love to know about your experience. Click the logos below.