Plan Ahead 
---
Blues Weekend
April 26 - 28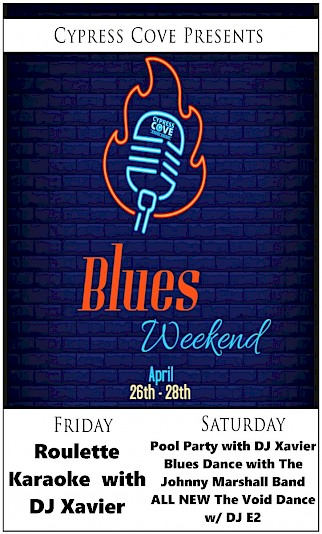 DJ Xavier kicks off this weekend with Roulette Karaoke on Friday night. He is back again the next day to host your Saturday afternoon pool party. Later Saturday evening join the Johnny Marshall Band for the Blues Dance. The party always continues at The all-new VOID Dance! 
---
Kentucky Derby Weekend
May 3 - 5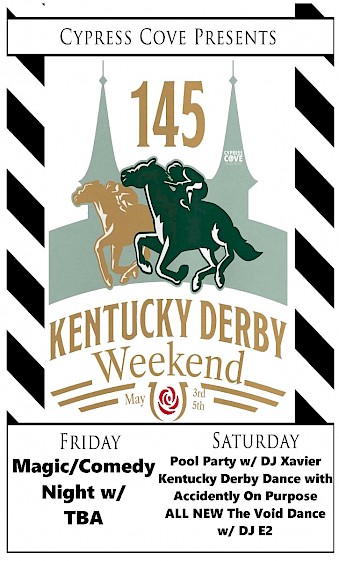 Friday is Magic Comedy Night at Lakeside. DJ Xavier will be playing your favorite hits at the Saturday pool party. Come sit by the pool and enjoy the day. Join us for the Kentucky Derby Dance with entertainment by Accidentally On Purpose. The VOID awaits you for one great late night party. Join the VOID! 
---
Classic Rock Weekend 
May 10 - 12

DJ Shawn is kicking off this Classic Rock weekend with Streak at Cheeks. DJ Xavier keeps will be spinning your favorite hits on Saturday poolside at noon. Join us at Lakeside for the Classic Rock Dance with Reunion on Saturday evening. DJ Greg has you itching to jump into The VOID where he will be playing high energy dance music till you drop. 
---
Body Sacred - Naked Yoga Retreat
May 17 - 19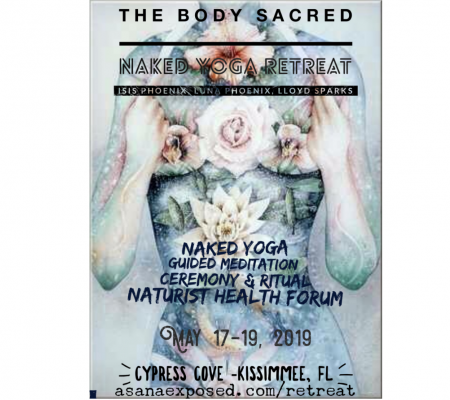 We are filling up for The Body Sacred Naked Yoga Retreat. Do you have your spot reserved? Are your accommodations booked? We have added a few more options for those of you looking to drop-in for just a class or those wanting to come for Saturday only. Are you a Cypress Cove member or resident? We have a special for you as well. For a detailed schedule of the weekend's events click here.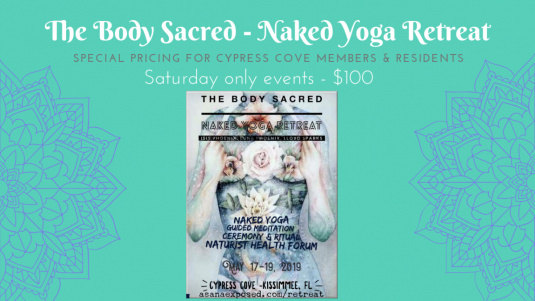 Visit the Naked Yoga Retreat page on the website for more information and to purchase tickets. 
---
Memorial Weekend
May 24 - 27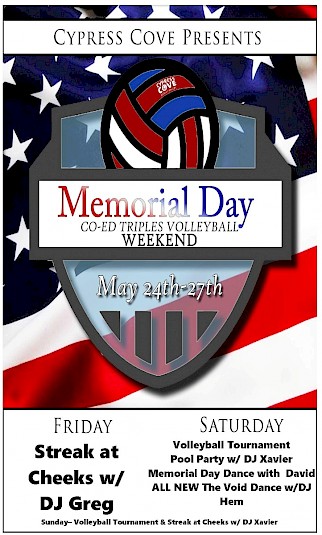 Join us Friday evening for Streak at Cheeks with DJ Greg. Gather on the Sunning Yard for a Saturday volleyball tournament. For a more relaxing atmosphere head over to the west pool where DJ Xavier will be playing your favorite hits poolside. Grab a drink from Cheeks and sit by the pool. Don't forget dinner at Lakeside on Saturday. The Memorial Day Dance with David is sure to please. DJ Hem is calling you into The VOID. Join this high energy dance at Cheeks at 9 pm. 
---
Outside the Cove...
See what is making headlines in nudist news around the world. These things and more are being shared on our social media channels. Follow us today to stay informed!
---
"100 People Will Pose Nude in NYC to Challenge Instagram and Facebook's Censorship"
"Artist Spencer Tunick has battled Facebook and Instagram over its stringent "community guidelines" banning nudity for half a decade. Tunick, who organizes and photographs large groups of nude people around the world, first had his Facebook page disabled in 2014 after posting a carefully pixelated image of 75 women in Portugal. Apparently, the color gradiations in the nipples were too visible. Since then, it's been a push and pull of meticulously censoring his artwork in hopes the images won't be removed—or worse, his account deactivated. But now, he's sending a powerful message directly to those social media platforms. On June 2, between 100 and 200 people will gather in New York City, posing naked to challenge Instagram and Facebook's nudity policies. Tunick and the National Coalition Against Censorship are organizing the project, called #WeTheNipple, with the goal of convincing the social platforms to allow artistic photographic nudity." Click here to read the full story.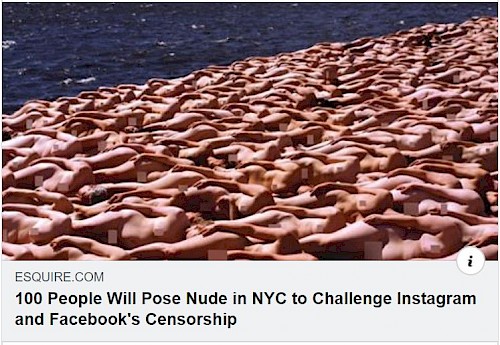 ---
"The Benefits of Naturist Travel" 
"Preparing for your next trip? Perhaps your well-deserved vacation is coming up and you wish to spend it by the sea. Would you like to try something new that will suppose a plus of enjoyment for those relaxing days of leisure? Well, we have something very special and simple to propose to you: say goodbye to the swimsuit and enjoy your next vacations naked, while taking full advantage of all the benefits naturist travel has to offer. Whether it's spending time on the beach or on a naturist cruise, one thing's for sure. You'll have a blast because such travel is not only fun but also very healthy. Here are the benefits of naturist travel."  Click here to read the full story.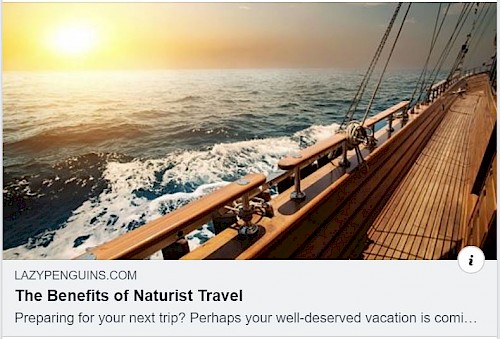 ---
Around the Cove this Week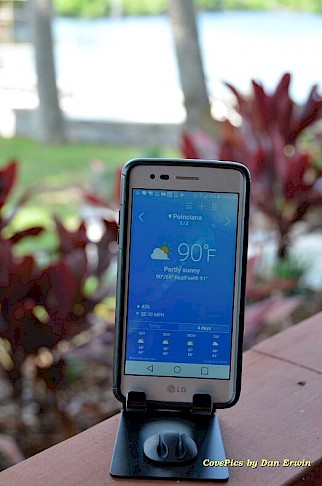 The 1st official 90-degree day in 2019 at Cypress Cove was Friday, April 12. Many more to follow!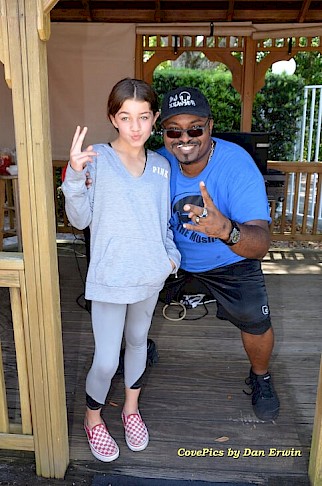 The Saturday Pool Parties with DJ Xavier are the very best place to be on the hot days of summer.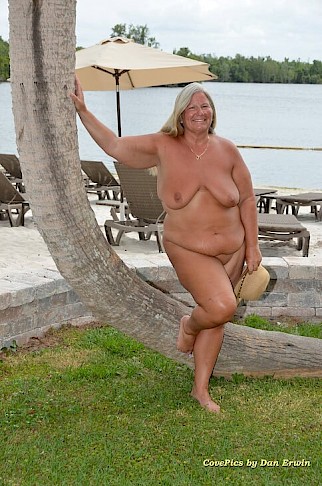 I wonder how many people have had their pictures taken beside Cypress Cove's famous bent tree over the last 55 years?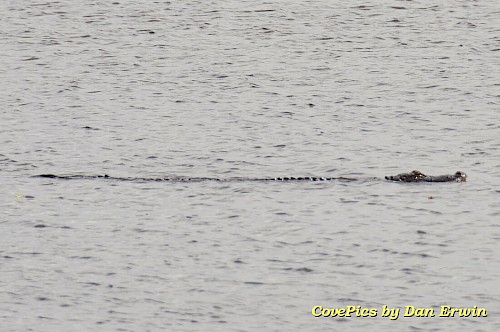 Be aware: Feeding alligators is illegal! Harassing, injuring or killing alligators is illegal! Take a picture & then just leave them alone.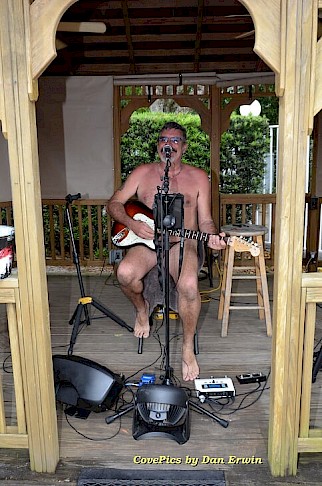 Sunday Music at the Pool is such fun. This week is was Del and he was great.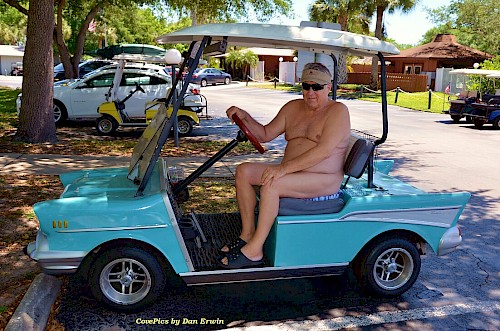 Fun golf cart of the week: A 1957 Chevy Bel-Air look alike in the original color.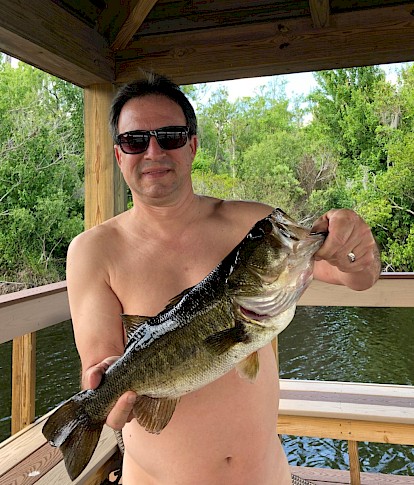 Jeff had a great day at the lake.
---
"Ask Me About Cypress Cove!"
Do you have your "Ask Me About Cypress Cove" t-shirt yet? They're priced at just $5 each, so we're not making any money on the shirts. We just want folks to use them to tell the world about Cypress Cove. Wear it to town, to the grocery store, or just wear it while you are out and about. Purchase your new t-shirt at the main office and show your pride in Cypress Cove!
The new additions to the "Ask Me About Cypress Cove" T-shirts are available at the Cypress Cove main office and the online store. If you have already picked up your "Find Us On Social Media" T-shirt, send your photos to newsletter@cypresscoveresort.com. Get yours today for $9.95!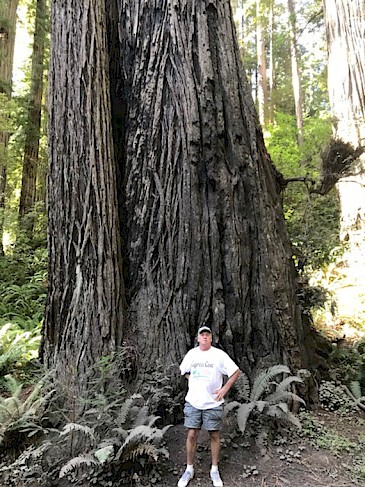 One of our members at the Redwoods National Park near Crescent City, CA.
SEND US YOUR PHOTOS!!! Do you have a photo of you in the "Ask Me About Cypress Cove" T-shirt? Send it in now! You could be featured in our newsletter. 
We have added this shirt AND the "Find Us On Social Media" T-shirt to our online store. Pick one up today and show us your photos. Send them to Newsletter@CypressCoveResort.com  
Visit our online store by clicking Here! 
Where have you worn your "Ask Me About Cypress Cove" or "Find Us on Social Media" T-shirt? Send us a photo!
"Thank you to everyone who has been doing this. It has been so much fun getting new pictures from exotic locations all over the US and the world! We have the absolute best, most loyal members we can imagine. We are truly grateful." -- Ted Hadley, Owner, Cypress Cove Nudist Resort
---
Book a Room Today!
It's never been a better time to stay at Cypress Cove! Book Online, Email Reservations, or Call Reservations toll-free at 888-683-3140.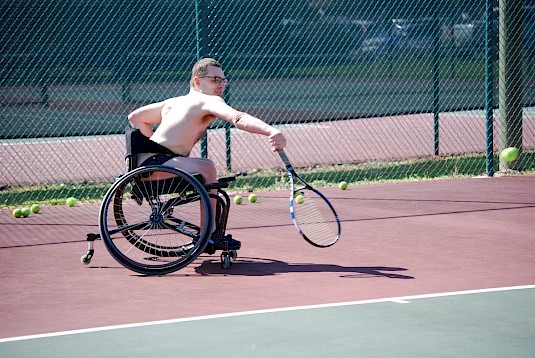 For Special Offers click here!
---
Every week we receive great reviews on TripAdvisor and Google; if you have visited or stayed with us, we would love to know about your experience. Click the logos below.