Laugh of the Week
---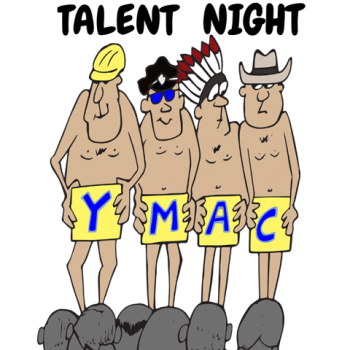 ---
Safety Moment
---
If you are using outside showers here at cypress cove, please make sure to pick up your razors. We are a family-friendly resort and have children often playing in the campgrounds.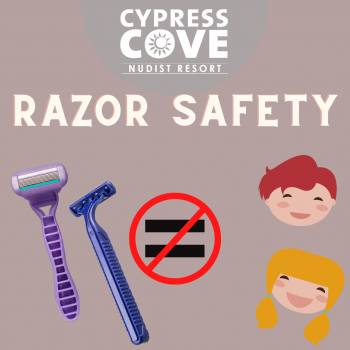 ---
Cove News
---
Cheesecakes Everywhere!
The Ribbon Ridders has been an amazing partner charity for the past few years following the sunset of Rock Pink in 2018. For those who aren't familiar with the Ribbon Riders, they provide emergency relief to women and men fighting breast cancer by providing direct financial assistance and emotional support. The Ribbon Riders help patients focus more on getting well and less on making ends meet. Whether it's groceries, gas and travel expenses for clinical appointments, or utility bills, rent/mortgage payments, monthly insurance premiums, and co-pays for medication – the Ribbon Riders do all they can to help. I have been informed that 2020 has been a particularly difficult year for the Ribbon Riders, which comes as no surprise. Unfortunately, their program is on hold at this time given a lack of funding. Nude-A-Palooza has traditionally been a boon for the charity, however, with no ticket sales, there isn't a sizable donation to be realized in 2020. Enter Herman... Herman has come forward, pink tights and all, asking for an opportunity to continue his part of the tradition… and we've decided to help him go all in. 
Pre-orders are over, but Herman will be at Cheeks all day Wednesday, October 28, 2020, for you to talk to if you missed placing your order. 
Herman will be set up in the Clubhouse from Noon to 6 pm on Friday, October 30, 2020, for you to pick up your cheesecake slices. They are $4 per piece. This is a charity bake sale so come out and support Ribbon Riders.
The following is a list that will be available for purchase for $4 per piece:
Apple Cinnamon
White Chocolate Raspberry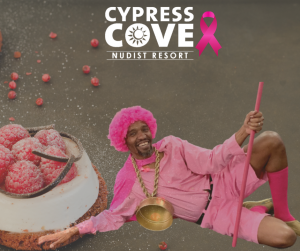 Key Lime
Blueberry
Chocolate Peanut Butter
Triple Chocolate
Turtle (Chocolate, Pecan, & Pecans)
Other Baked Goods Available for $2 per piece:
Sweet Potato Pie
Pumpkin Pie
Pumpkin Bread
Chocolate Chip Bars
Oatmeal Raisin Bars
Chocolate Hazelnut Cake
If you are away from the cove or are watching your weight, check out our virtual bake sale guilt-free. Visit our online store to make your contribution to this amazing cause.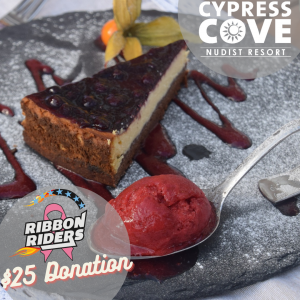 ---
Trick or Treat Saturday
For residents and those staying in the RV park or in a Villa on Saturday, October 31st, please contact Tiki at the front office or email relax@cypresscoveresort.com no later than Wednesday, October 28th if you wish to be added as a trick-or-treat stop for our young naturists and their parents. We anticipate quite a few children this year.
Both trick-or-treaters and trick-or-treat hosts are asked to consider this page from the CDC.
For the parents and children of our community, you are invited to show off your Halloween best next Saturday, October 31st no earlier than 6:00 pm and no later than 9:00 pm. We will have a map available for pickup at the front office and at the front gate on Thursday, October 29th, depicting participating lots, campsites, and villas. We encourage you to have fun and be creative (especially with masks), but please mind your distances and consider all sanitizing protocols. Stay safe!

---
Cornhole Time Change 
Sunday afternoon Cornhole at the Cove continues to grow in popularity.  In October we have averaged 30 players for the weekly free blind draw double-elimination tournament.  When Florida switches to Eastern Stand Time on November 1, we will "fall back" to a start time of 2:00 pm rather than the current 3:00 pm. 
Mark your calendars and schedules for Cornhole starting at 2:00 pm with sign-up starting at 1:30 beginning November 1, 2020.
 Generally, we try to set up the boards an hour prior to start time to allow for practice and to teach anyone with interest how the game is played.  We have a number of players who compete each week and are more than happy to explain the scoring and bag tossing techniques.  The past few weeks all of the boards have been busy with practice/warmups right up to start time.
Please join us.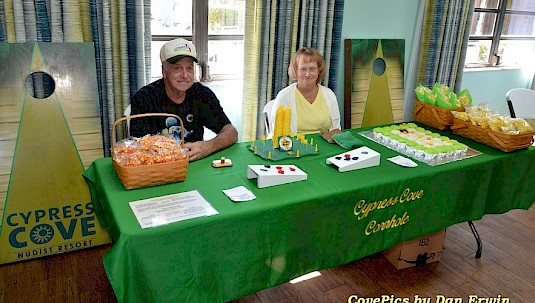 ---
ANRL October Book Recommendation
Co-ed Naked Philosophy is ANRL's book recommendation for October 2020.
Bruce Willis, who writes under the pen name Will Forest, has donated his novel to the ANRL (found here on Amazon). An upbeat, quirky novel about taking off clothes to take on social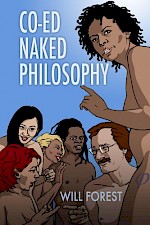 conventions! Co-ed Naked Philosophy is the story of Christopher Ross, an edgy young philosophy professor at Gulf Coast University. Students adore him for his controversial course topics. His department needs him to keep bolstering enrollment. But after an arrest for trespassing at an unofficial nude beach, he faces losing his job. Between brash and desperate, Professor Ross enlists the help of his students and colleagues to set off a revolution in body attitudes that forges unexpected alliances among the campus, the media, and the community. Please send a review to ANRL when you finish reading the book. 
---
Cypress Cove - First-Time Visitor & Membership Questions?
Cypress Cove is open to members and non-members* for a day visit, an extended villa stay, RV sites, or camping. Come out and get rid of those tan lines. The sun is shining, so let the warmth envelop you. Talk to Tom in the office and learn how to become a member today!
Tom has been a nudist for years and understands our way of life. He is more than happy to answer questions that you may have regarding membership or your first visit here. Reach out to him directly at 407-518-2605 or email him at membership@cypresscoveresort.com.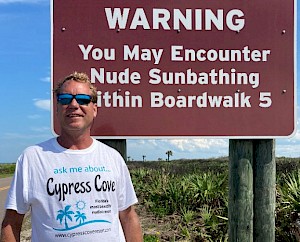 *Subject to health screening & location restrictions.
---
For Cypress Cove COVID-19 Updates: 
We want to make sure you are always kept up to date with information about how operations are running at Cypress Cove. Please visit HERE for current information. 
---
News Outside the Cove
See what is making headlines in nudist news around the world. These things and more are being shared on our social media channels. Follow us today to stay informed!
---
Keeping you updated on the Coronavirus: 
Make sure you are keeping up with the latest developments on this virus. Keeping your hands washed is the number one defense. Click HERE for up to the minute information from the Florida Health Department. 
---
'Penis-shaped' statues of leaping fish are torn down in Morocco after furious locals brand them 'pornographic'
Another victim of the cancel-culture?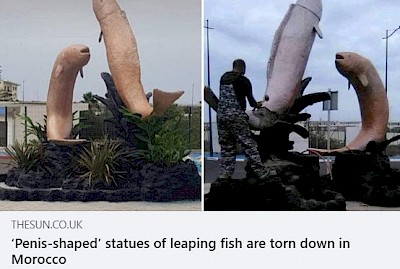 "Work to bring down the statue began on Thursday after residents complained about the fish. One said the fish were 'pornographic', while others said the money spent on the statue could've been used elsewhere. One social media user posted: 'People in Kenitra (province) and Mehdia told authorities they want reforms in the city. And authorities bring them these statues. Another said: 'Pornographic fish. People in Kenitra asked for reforms, authorities [gave them this].' Mehdia is in Kenitra province, but not in the city of Kenitra. Some furious social media users complained to Kenitra city officials, who responded on Facebook. Read the full story HERE.
---
It's the nude renaissance: Why lockdown is a great time to get your kit off
A lot of places are still under lock-down type restrictions, but that's not stopping them from getting some freedom.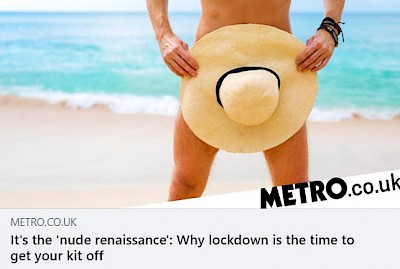 "I'm talking about stripping off and getting naked – one of the biggest spikes in behavior (other than boozing) during the lockdown. According to British Naturism, new nude members have tripled since March. Even before then, figures show that one in four people have sunbathed and/or swam naked and at least 1.2 million people describe themselves as a naturist. And yes – confession time. Getting naked on a public beach is easily the most thrilling thing I've done since the start of lockdown. Thanks to my enforced hiatus from traveling this year, I've missed the heady rush of endorphins that exploring a new country brings." Read the full story HERE.
---
Around the Cove
---
Halloween from years gone by: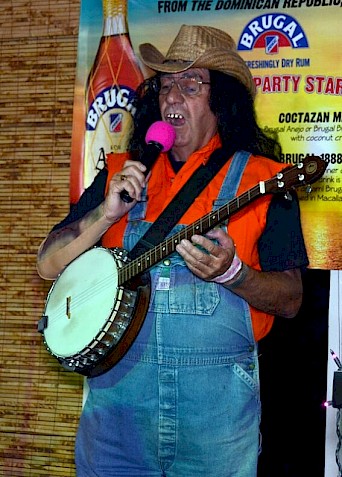 In 2013, the Halloween Karaoke Party featured Cousin Dan and his banjo.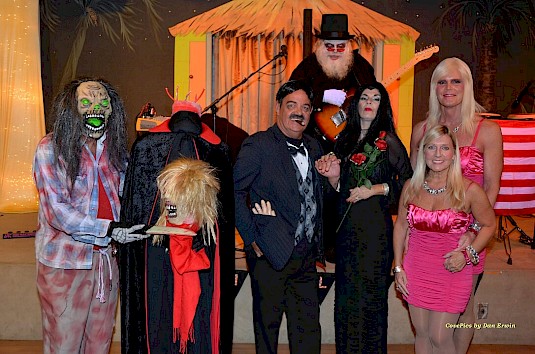 In 2014, the winners of the Halloween Costume Party were amazing as always.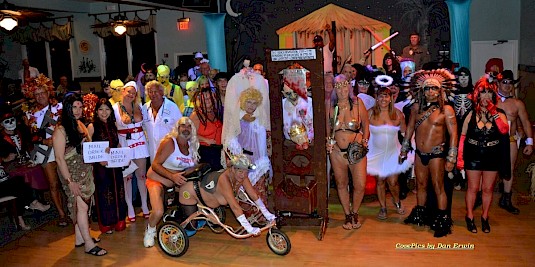 In 2015, we had so many great Halloween costumes at the party.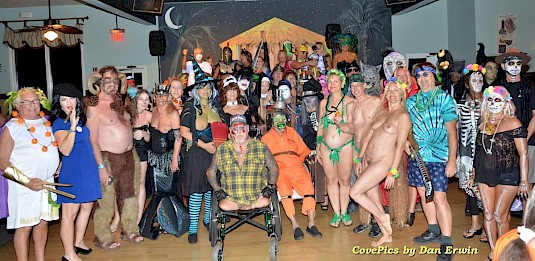 In 2016, we had one of the largest Halloween parties ever.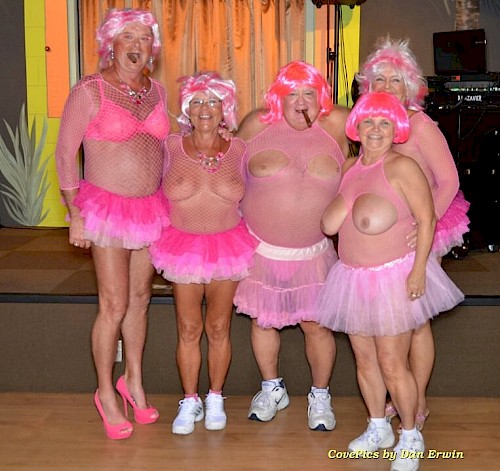 In 2017, the winners of the Halloween costume party were pretty in pink.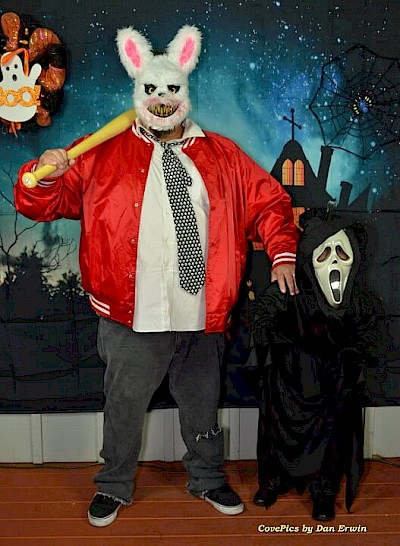 In 2018, the Scary Rabbit and his little friend Scream.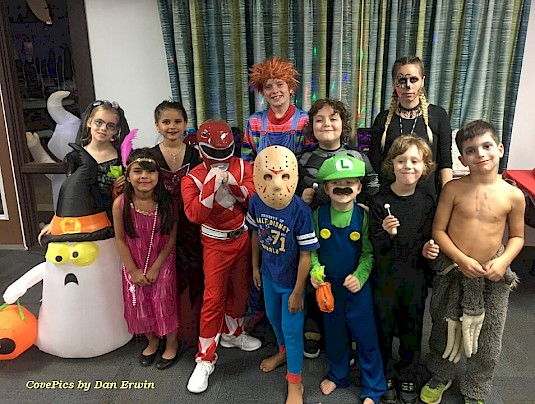 In 2019, the kid's Halloween party was so much fun, as always.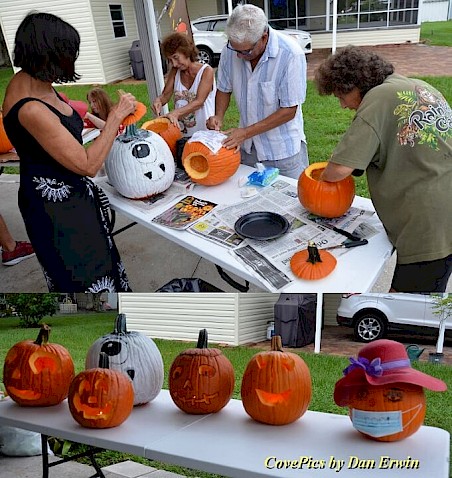 In 2020, a pumpkin carving party was a fun way to have safe Halloween fun.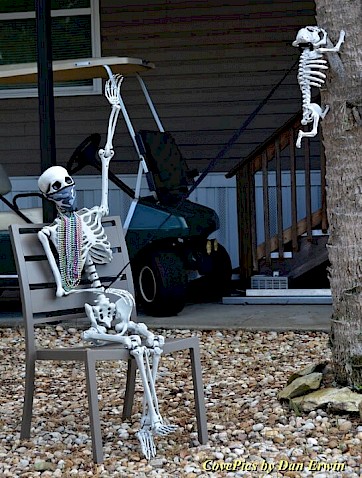 Cypress Cove has always been very pet friendly, even at Halloween.
---
Favorite Memory
"Parrot head, world skinny-dipping day competition, but my absolute favorite is the professional body painting competition! And just being happy and healthy and safe and surrounded by good friends!" -Kevin Dykes
"Scuttlebutt's weekend trivia" - Joe DeAbi
"Our first visit about 7 years ago, we decided to go for a day visit to check it out. We had no idea but it was Parrothead! We were like 'Is it like this every day?' LOL! We love every time we come there. See ya Monday!!!" - Susan Poirier
---
"Ask Me About Cypress Cove!"
Do you have your "Ask Me About Cypress Cove" t-shirt yet? They're priced at just $5 each, so we're not making any money on the shirts. We just want folks to use them to tell the world about Cypress Cove. Wear it to town, to the grocery store, or just wear it while you are out and about. Purchase your new t-shirt at the main office and show your pride in Cypress Cove!
The new additions to the "Ask Me About Cypress Cove" T-shirts are available at the Cypress Cove main office and the online store. If you have already picked up your "Find Us On Social Media" T-shirt, send your photos to newsletter@cypresscoveresort.com.
Get yours today for $9.95!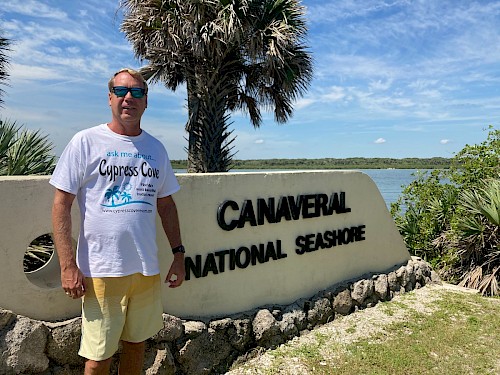 Membership Specialist Tom at Canaveral Seashore.

SEND US YOUR PHOTOS!!! Do you have a photo of you in the "Ask Me About Cypress Cove" T-shirt? Send it in now! You could be featured in our newsletter. 
We have added this shirt AND the "Find Us On Social Media" T-shirt to our online store. Pick one up today and show us your photos. Send them to Newsletter@CypressCoveResort.com   
Visit our online store by clicking HERE! 
Where have you worn your "Ask Me About Cypress Cove" or "Find Us on Social Media" T-shirt? Send us a photo!
"Thank you to everyone who has been doing this. It has been so much fun getting new pictures from exotic locations all over the US and the world! We have the absolute best, most loyal members we can imagine. We are truly grateful." -- Ted Hadley, Owner, Cypress Cove Nudist Resort
---
Book a Room Today!
It's never been a better time to stay at Cypress Cove! Book Online, Email Reservations, or Call Reservations toll-free at 888-683-3140.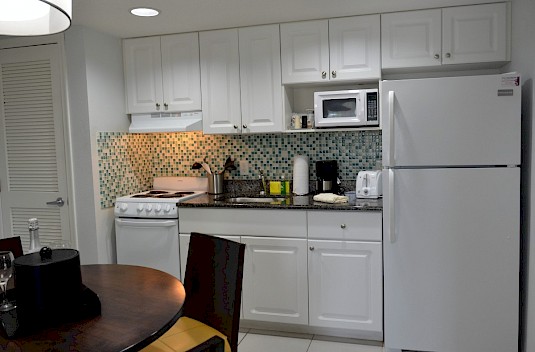 For Special Offers click HERE!
---
Every week we receive great reviews on TripAdvisor and Google; if you have visited or stayed with us, we would love to know about your experience. Click the logos below.
---

Do you have an item for the newsletter? 
Please send all requests for content to newsletter@cypresscoveresort.com.
Send us your photos of you wearing Cypress Cove apparel too!