Plan Ahead 
---
Labor Day and 5K Run Weekend
Aug 30 - Sep 2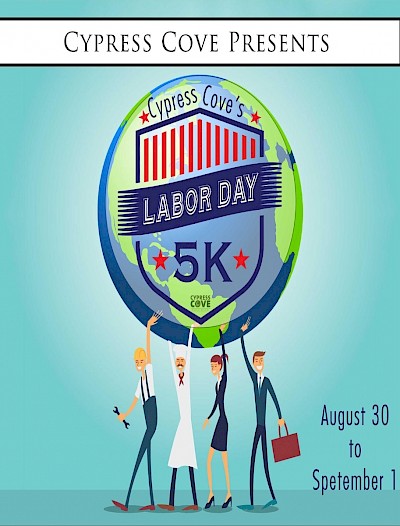 Labor Day usually marks the end of summer, but here in Florida, we know the summer continues almost year-round. Nevertheless, it is still a holiday to be celebrated with style. Join us as we have the Labor Day 5K here at Cypress Cove. It's time to run off all those hotdogs and hamburgers from your summer cookouts. 
Have you ever wanted to strip down and take a run in the buff? Come out and streak with us at the 8th annual clothing-optional run at Cypress Cove Nudist Resort on Saturday, August 31, 2019. Wear as little (or as much) as you like as you run or walk around the beautiful 300-acre property. Day fees are included with your race registration, so you can stay and enjoy the resort all day! 
The race starts at 8:30 am with check-in/late registration from 7:15 - 8:15 am. Join us for the race after-party around the pool for music, awards, great food, and drink specials.
Why not make a weekend of it? Cypress Cove is offering a special rate to runners and families/friends. The $30 per person rate includes your grounds fees for the entire weekend (Friday - Monday) as well as free lakeside camping. You can take advantage of our onsite villa hotel/apartment rooms or our full-service campground and RV park. Call (888) 683-3140 to set up reservations. Mention the coupon code "John Babbitt 8-19" to take advantage of the $30 weekend rate and for a discount on accommodations!
Are you new to nude runs? Cypress Cove is one of the best nudist resorts in the world for first-timers. We offer a wonderful balance of luxurious amenities, natural beauty, and top-quality entertainment in a safe and judgment-free environment. First-time visitors often discover how liberating it can be to not worry about how they look or dress. Nudists are carefree, fun, and welcoming. So come on and give it a try!
Entry Fee Registration: $25 Masters and under 35; Pre Registered (by 8/12/19)- $40; $30 Masters & under 35 Late/ Day of Registration- $45; $35 Masters & under 35
---
Back to the '60s Weekend
Sep 6 - 8
We are flashing back to the psychedelic '60s. Friday night kicks the weekend off with Magic Comedy Night featuring Tom Wright. Don't miss the totally stellar pool party hosted by DJ Xavier on Saturday at noon. I hope you reserved your table at Lakeside for the Back to the '60s Dance happening on Saturday evening with live entertainment from the Astronomics. When the clock strikes 9 pm THE VOID is where the happening party will gather. The music is loud, the drinks are flowing and the energy is high.
---
Funk Weekend
September 13 - 14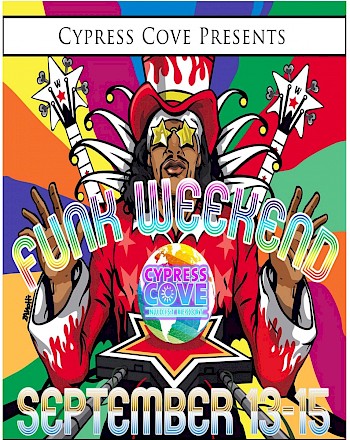 It's time to get down and get funky! Mr. Breezz kicks off this funky Friday night with a Karaoke Party at Scuttlebutts. Join us on Saturday for a groovy Pool Party with DJ Xavier at Noon. Don't forget your Lakeside reservations for the Funk Dance featuring live entertainment by Get The Funk Band. When the Funk slows at Lakeside pop over to the happening disco at The VOID high energy dance with DJ Greg. 
---
Nude-A-Palooza
October 19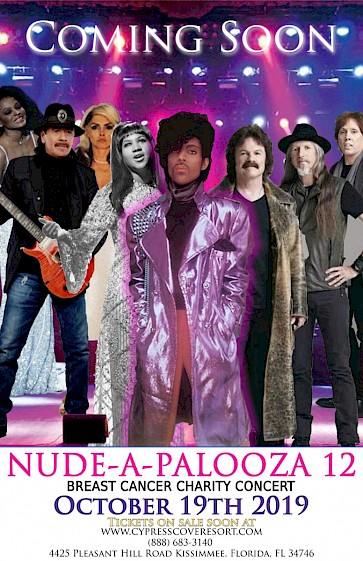 Are you ready for Nude-A-Palooza 2019? Stay tuned for BRAND NEW experiences and offerings. 
The official line up is: Aretha Franklin, Donna Summer, Blondie, Santana, Doobie Brothers, & Prince
Tickets will be on sale soon for this MUCH anticipated event. For more information and up to the minute releases, please visit the Nude-A-Palooza page on our website. 
---
Cove News
---
Renovations

Please stay tuned to Cypress Cove social media, newsletter, or our new renovations webpage for updates.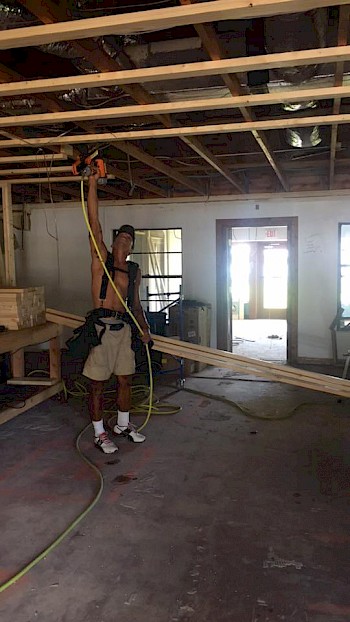 Sneak peek into the front door of the office.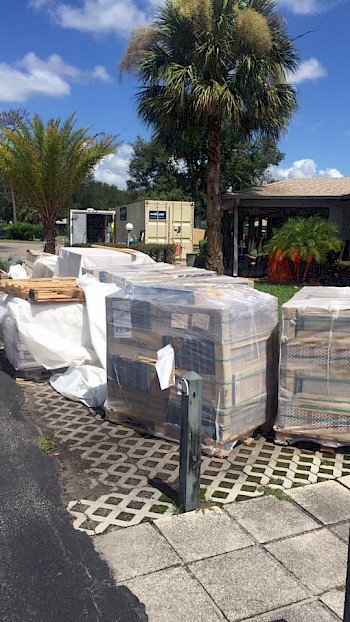 Lots of new materials arrived.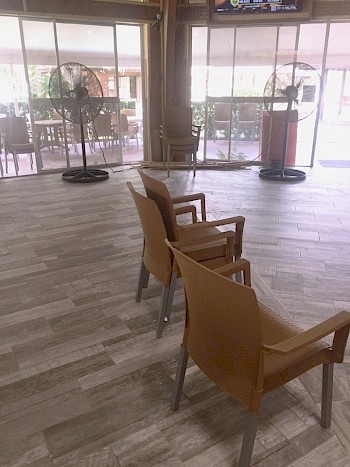 The floor is all done and ready for its final polishing and furniture moved into place.

Click to see additional photos and updates. 
---
National Convention Clean Sweep
As you all know, Peter was at the national convention this past week representing Cypress Cove as well as the interest of the Florida Region. We were pleasantly surprised when we caught wind of the multiple awards that were presented to Cypress Cove's Marketing and Activities departments. Please join me in congratulating Sales and Marketing Director Dan Whicker, Digital Marketing Coordinator Stephanie Rutherford, and Activities Director Regis Pearch for their hard work, dedication to the success of Cypress Cove, and the worldwide recognition Cypress Cove deserves. We took home a total of 4 awards. The first was a TV Media Award for the RTL German Television segment which can be viewed on our YouTube channel. The second, a Magazine Article Award for RSW Living Magazine (pgs. 46 - 49) found on Jet Blue flights. The third award was for the Most Outstanding Publicity Event of the Year for Nude-A-Palooza. 
The last and most prestigious award was Best Newspaper Article Award for The New York Times article titled And the Bride Wore, Um, Nothing (the Groom, Too), which we shared with Green Valley Family Naturist Park and Wildwood Naturist's Resort, but more importantly, Cypress Cove's Carolyn Hawkins.
---
News Outside the Cove
See what is making headlines in nudist news around the world. These things and more are being shared on our social media channels. Follow us today to stay informed!
---
Rochelle Humes talks body confidence as she poses nude on cover of Women's Health
"I don't really care about what people think anymore. And I'm so happy with my body because now I know what it can do. I'm in a happy place, so why the hell not? Stretch marks and all, here I am." Way to go, Rochelle!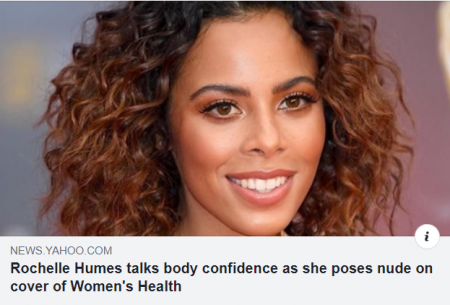 "Rochelle Humes has spoken out about how motherhood has boosted her body confidence as she poses nude on the cover of Women's Health. The singer and TV presenter, who has two daughters with husband Marvin Humes, explained how she's happier with her body now than ever before. 'I don't really care about what people think anymore,' Humes told the publication as she stars on the cover of its annual 'Naked Issue'. 'And I'm so happy with my body because now I know what it can do. I'm in a happy place, so why the hell not? Stretch marks and all, here I am.' Humes revealed how she's taught her six-year-old daughter Alaia-May to embrace her naturally curly hair, which the child initially resented because it didn't look like her friends' hair. 'Alaia began saying that she didn't like her naturally curly hair, because it wasn't straight and swishy like her friends' or the princesses' in the books she read,' Humes told the publication." Read the full story HERE. 
---
Kate Hudson Reflects on Her Controversial Nude InStyle Cover: 'I Like Being Naked — Always Have!'
"To be honest, it doesn't take a lot for me to take my clothes off. People can say whatever they want, but I like being naked. Always have!" Way to go, Kate!

"A lot has changed in Kate Hudson's life since she posed nude for InStyle magazine's 2001 cover. She had three children, starred in a number of films and launched an athleisure empire. But one thing remains the same. She still feels amazing naked. In honor of InStyle's 25th-anniversary cover, the 40-year-old actress, along with 14 other stars including Halle Berry, Gwyneth Paltrow, and Cameron Diaz, reflected on her eight InStyle covers – specifically her controversial 2001 cover where she posed naked. 'This got banned from certain 'shops' or 'establishments' because it was deemed 'inappropriate,'' the actress says in the video. 'Whatever, we sold a whole bunch of them.'  The cover features Hudson at age 22, a year after she starred in Almost Famous, with chain mail 'strategically placed' to make her appear naked. But Hudson doesn't regret the risqué cover. 'To be honest, it doesn't take a lot for me to take my clothes off,' Hudson describes. 'People can say whatever they want, but I like being naked. Always have!'" Read the full story HERE.
---
Around the Cove
---
The 2019 Professional Body Painting Contest was so much fun. We had 13 artists/model and the theme was "glow-in-the-dark," The full-body painting took 7 hours to complete and the walk around at Lakeside Restaurant was enjoyed by an overflow crowd, who were in awe of the unbelievable beauty of this art form. I think we all agree that Cypress Cove is the perfect place for the amazing event.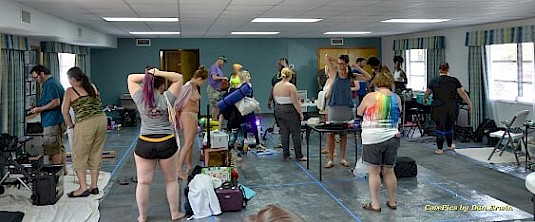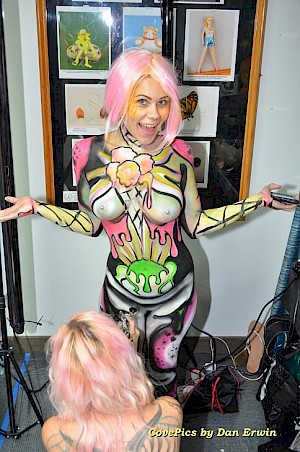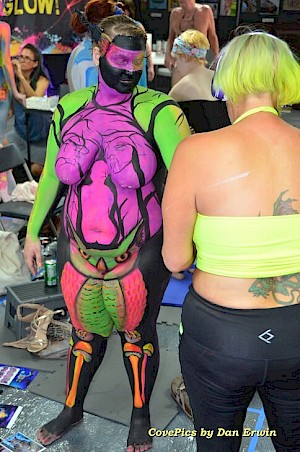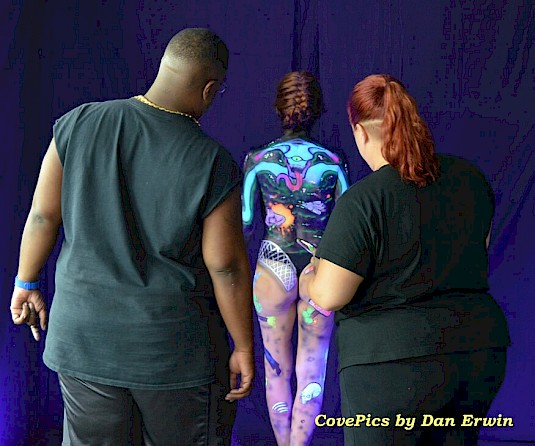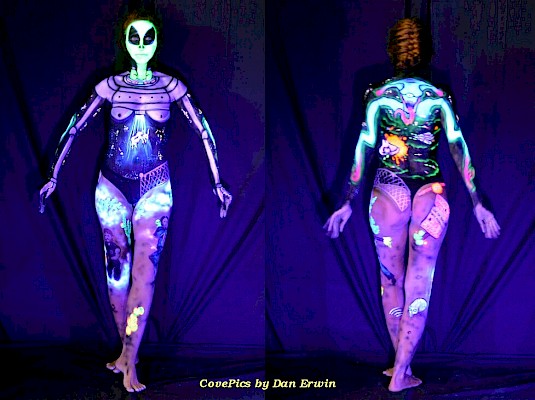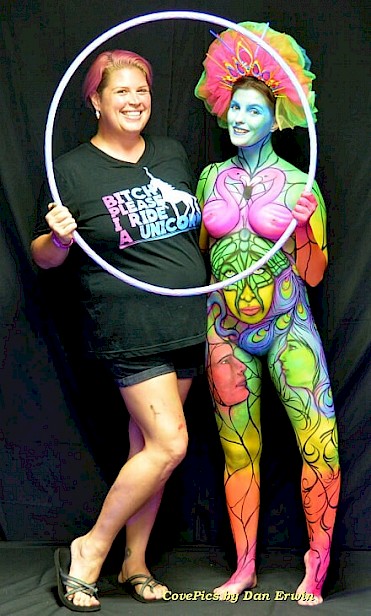 Third Place Winner & Model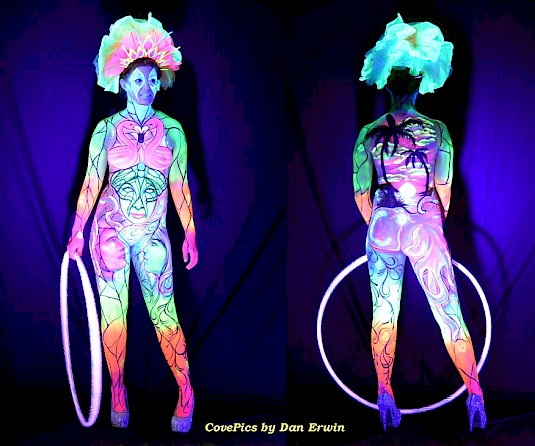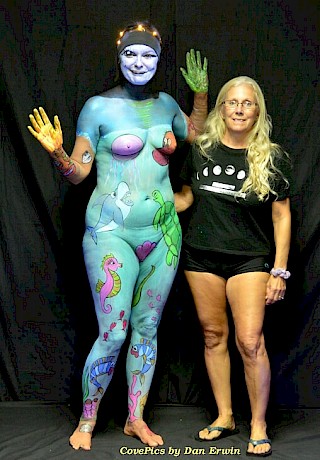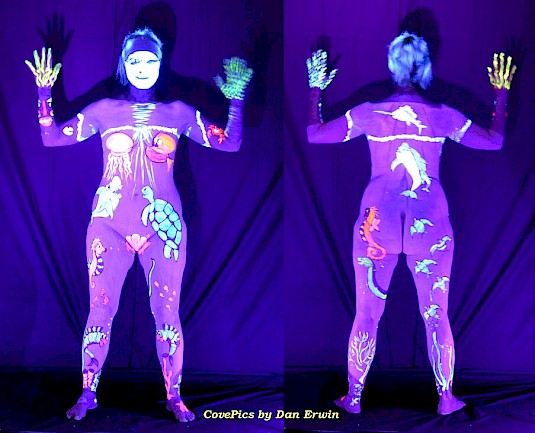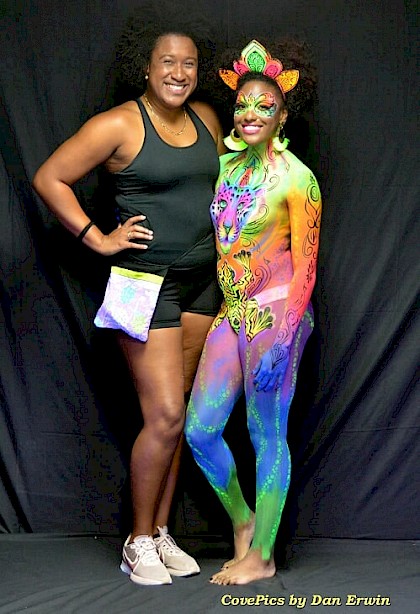 First Place Winner and Model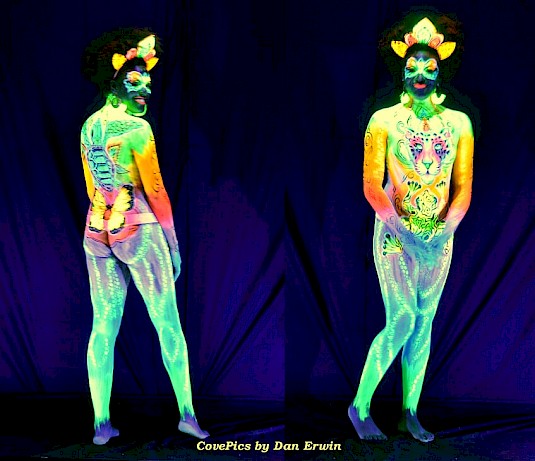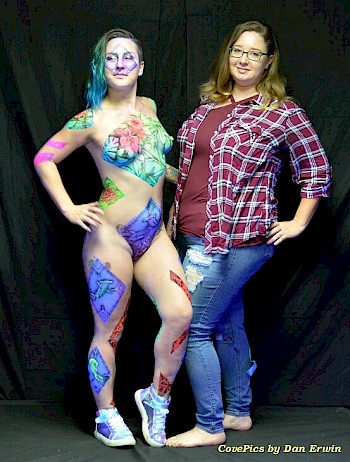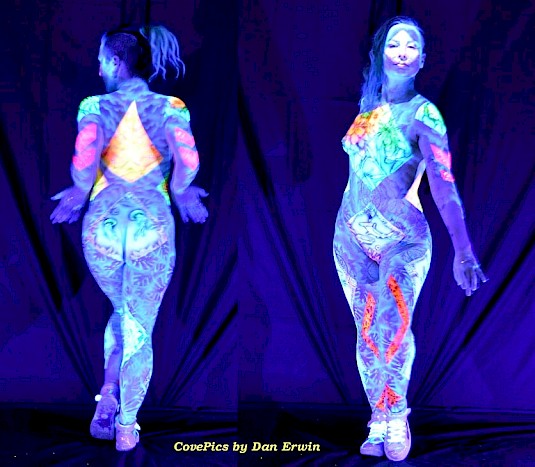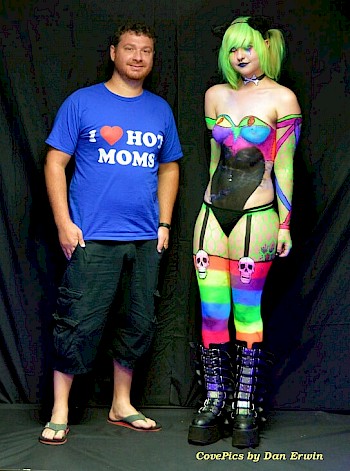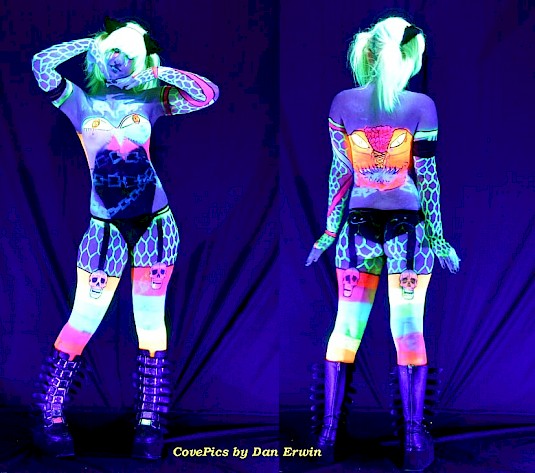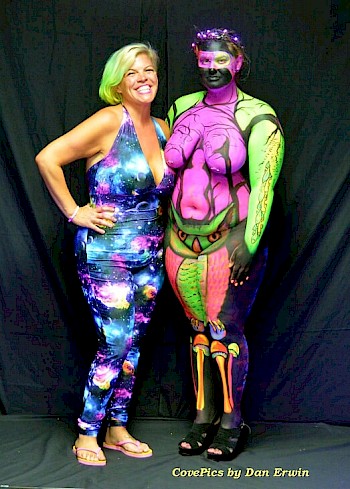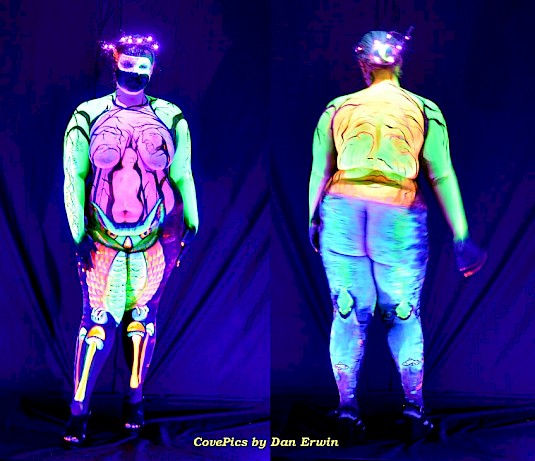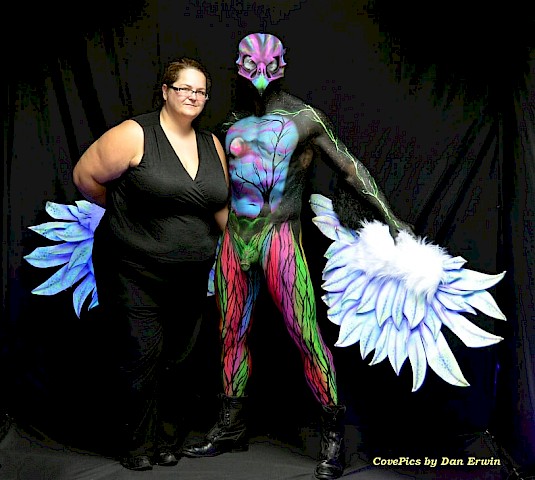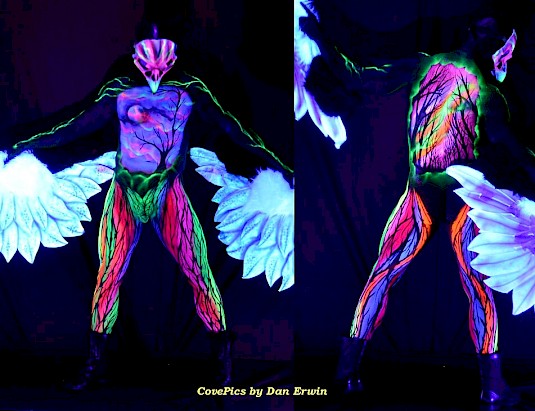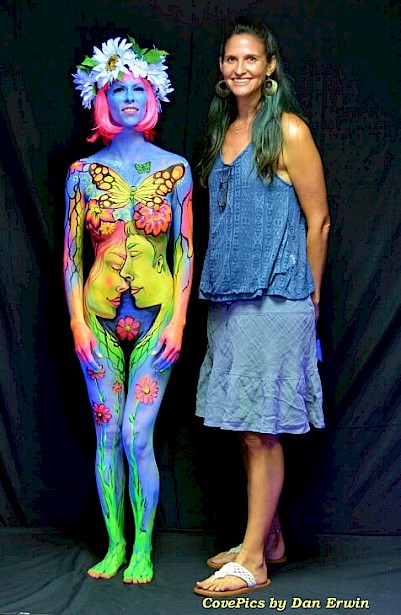 Second Place Winner & Model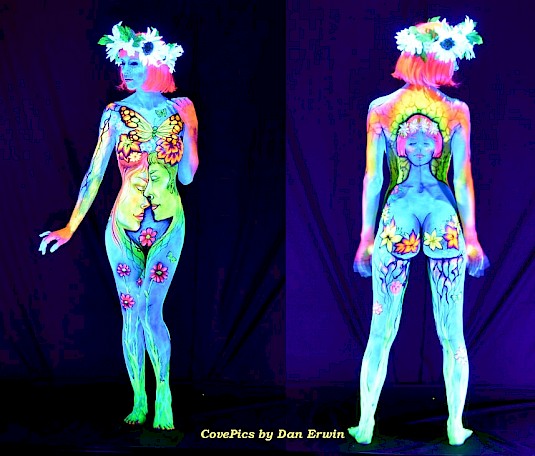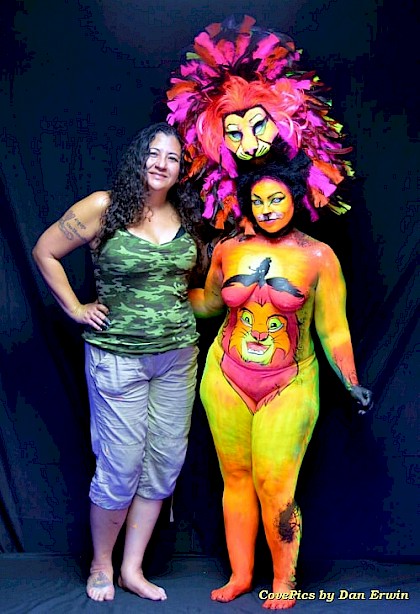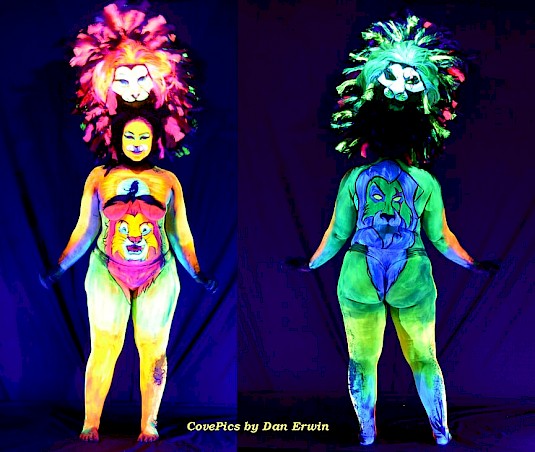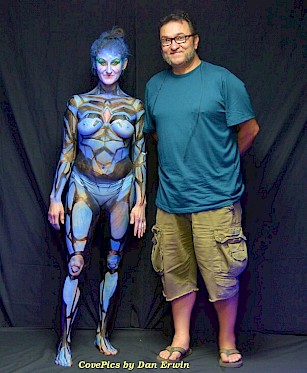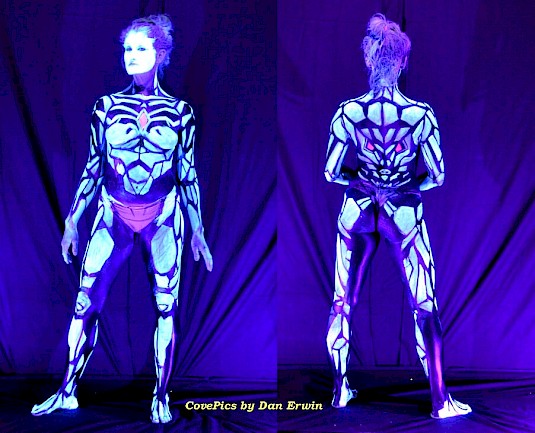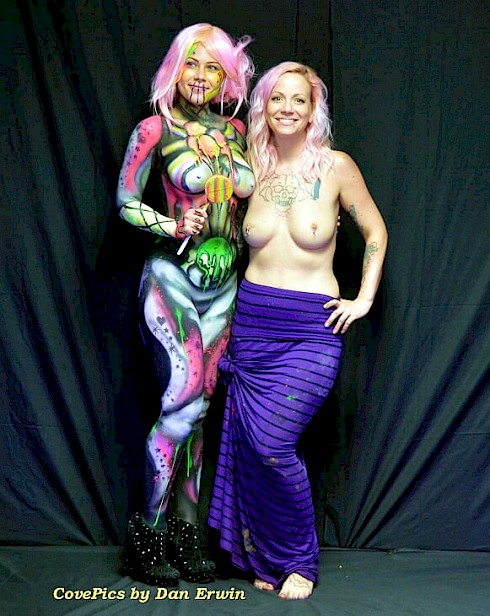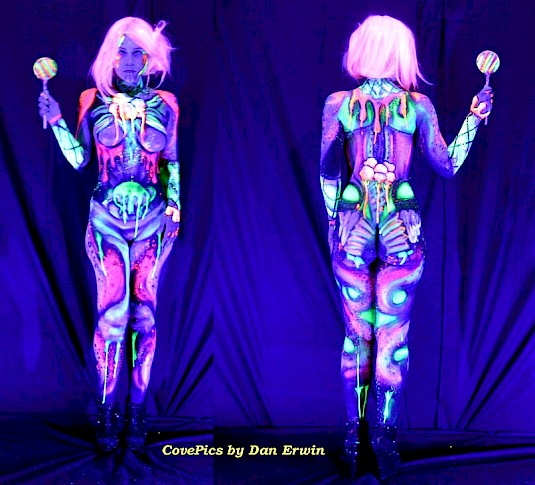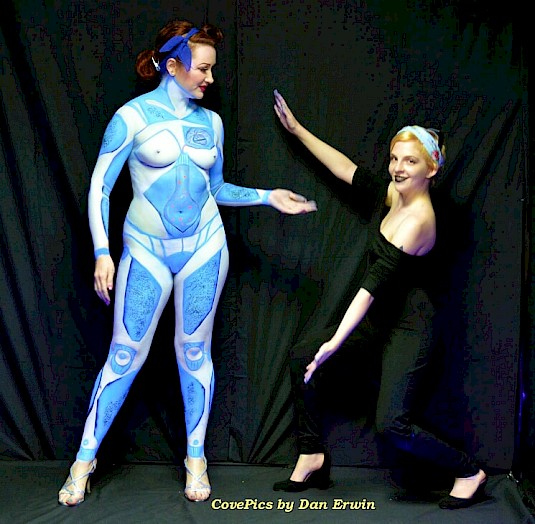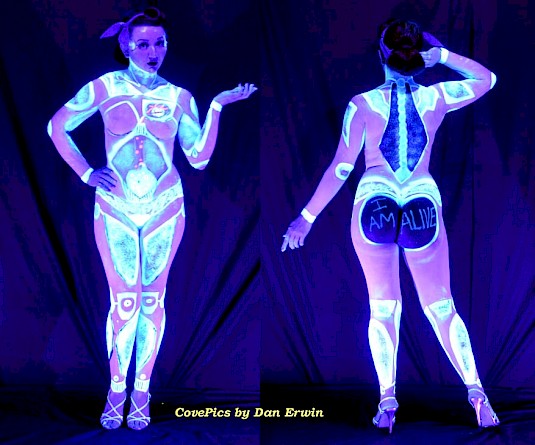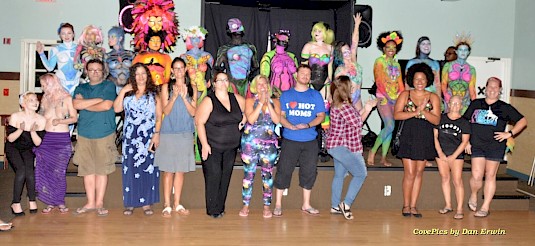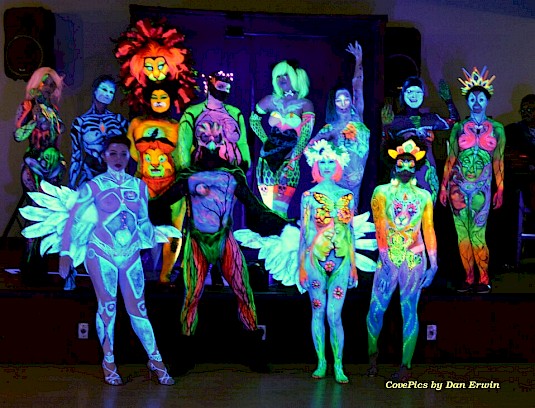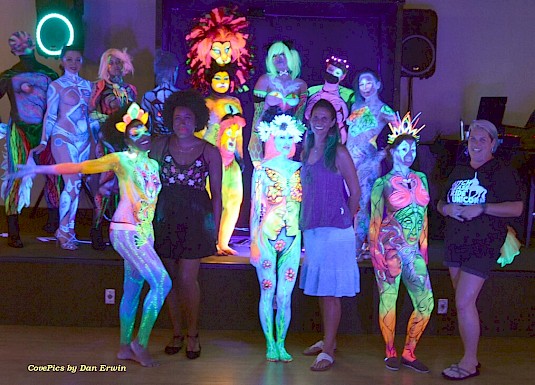 ---
"Ask Me About Cypress Cove!"
Do you have your "Ask Me About Cypress Cove" t-shirt yet? They're priced at just $5 each, so we're not making any money on the shirts. We just want folks to use them to tell the world about Cypress Cove. Wear it to town, to the grocery store, or just wear it while you are out and about. Purchase your new t-shirt at the main office and show your pride in Cypress Cove!
The new additions to the "Ask Me About Cypress Cove" T-shirts are available at the Cypress Cove main office and the online store. If you have already picked up your "Find Us On Social Media" T-shirt, send your photos to newsletter@cypresscoveresort.com. Get yours today for $9.95!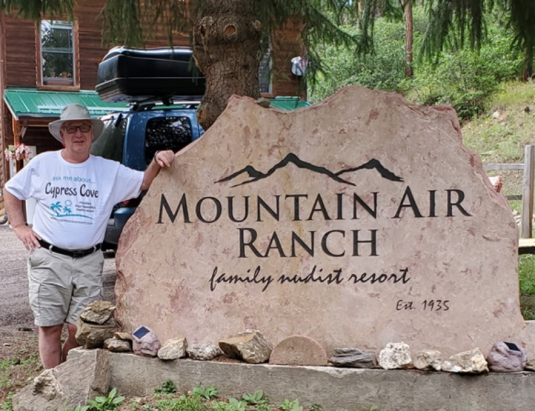 Drew Elliott at the Mountain Air Ranch in Littleton, CO
SEND US YOUR PHOTOS!!! Do you have a photo of you in the "Ask Me About Cypress Cove" T-shirt? Send it in now! You could be featured in our newsletter. 
We have added this shirt AND the "Find Us On Social Media" T-shirt to our online store. Pick one up today and show us your photos. Send them to Newsletter@CypressCoveResort.com  
Visit our online store by clicking HERE! 
Where have you worn your "Ask Me About Cypress Cove" or "Find Us on Social Media" T-shirt? Send us a photo!
"Thank you to everyone who has been doing this. It has been so much fun getting new pictures from exotic locations all over the US and the world! We have the absolute best, most loyal members we can imagine. We are truly grateful." -- Ted Hadley, Owner, Cypress Cove Nudist Resort
---
Book a Room Today!
It's never been a better time to stay at Cypress Cove! Book Online, Email Reservations, or Call Reservations toll-free at 888-683-3140.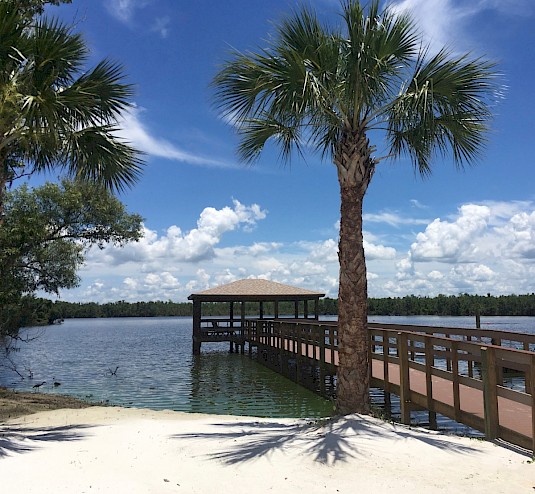 For Special Offers click HERE!
---
Every week we receive great reviews on TripAdvisor and Google; if you have visited or stayed with us, we would love to know about your experience. Click the logos below.