Weekend Spotlight
---
Valentine's Day Dinner featuring entertainment by Mike C
Thursday, February 14, at 5:00 pm - Lakeside Restaurant
Bring your loved one to Lakeside for a special Valentine's Day Dinner and Show. It's an evening of romantic love songs coupled with a beautiful dinner from Chef Michael. Reserve your table now by calling 407-933-3588.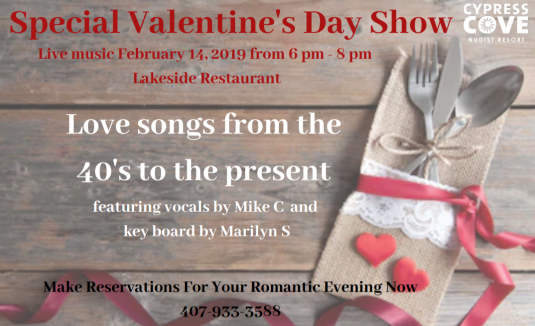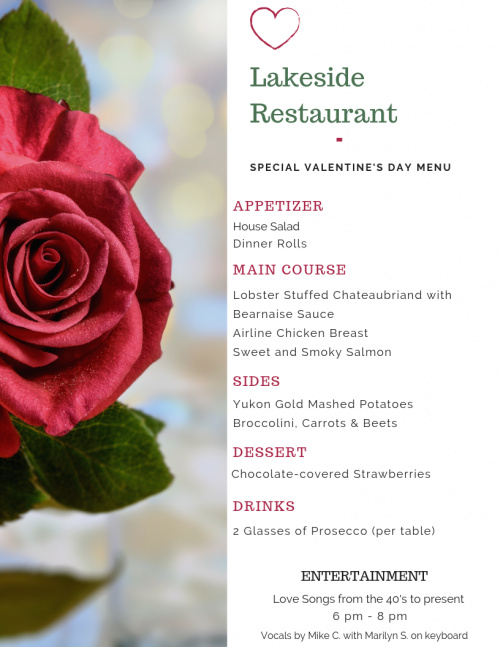 (Click to view larger)
---
Welcome Beach Party with DJ Shawn
Friday, February 15, at 2:00 pm
The sun will be out and the high will be 79 degrees. Meet DJ Shawn at the beach as he spins hits from yesterday and today. Grab a cocktail from Scuttlebutts and enjoy the company. 

---
Bar Trivia Round 1 & Round 2
Friday, February 15, at 6:00 pm - Scuttlebutts 
Challenge your friends to a round of Bar Trivia. Stop by Scuttlebutts for an evening of fun & specialty-made cocktails. Do you think you have what it takes to win bar trivia?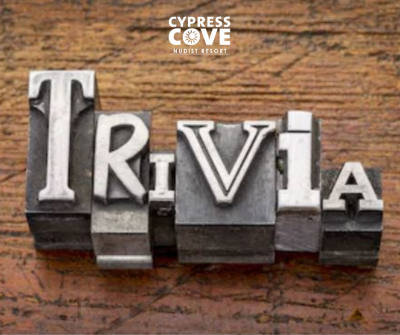 ---
Karaoke Party with Mr. Breezz
Friday, February 15, at 7:00 pm - Scuttlebutts
Mr. Breezz has all your favorite hits. Bring the gang and join him at scuttlebutts for a Karaoke Party.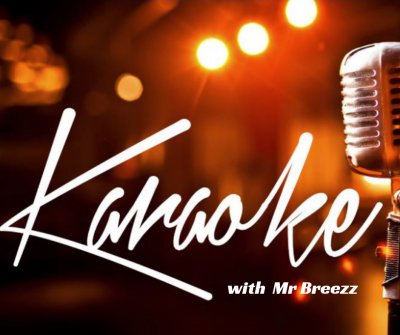 ---
Parrothead Lite Pool Party with DJ Xavier
Saturday, February 16, 12:00 pm - West Pool
It's Parrothead Lite which means this pool party is THE place to be! Join DJ Xavier at the West Pool as he brings you one happening pool party. 

---
Super MEGA Trivia 3000
Saturday, February 16, 5:00 pm - Scuttlebutts
All that trivia is NOT useless! Show us what you've got. Join us at Scuttlebutts for the ultimate in trivia competition. Do you have what it takes to defeat them all?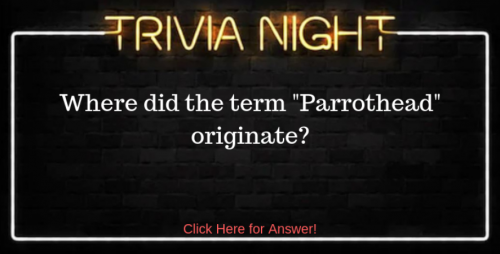 ---
Parrothead Lite Dance featuring The Conch Man Band 
Saturday, February 16, 6:00 pm - Lakeside Restaurant
Grab a margarita and join the gang on the dance floor. The Conch Man Band is setting the perfect mood for this Parrothead Lite Dance.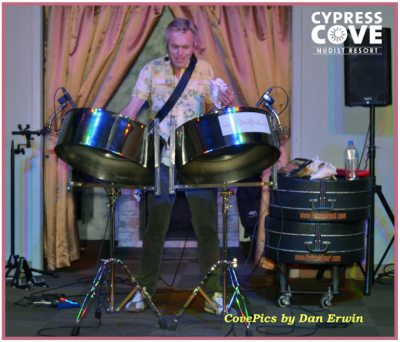 ---
Late Night Streak at Cheeks with DJ Ty
Saturday, February 16, at 10:00 pm
When one party ends, another begins! DJ Ty will be spinning your dance favorites and the bar will be hopping.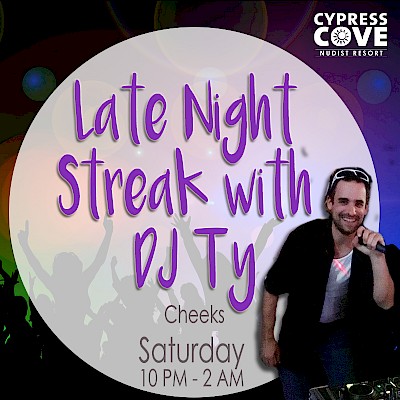 ---
News You Can Use...
---
IT'S HAPPENING ... Naked Yoga Retreat at Cypress Cove!! 
Ladies and gentlemen, you asked for it! Here it is...Cypress Cove is welcoming the top nude yoga instructors across the United States to bring you a NUDE YOGA RETREAT! Tickets are on sale now. The Body Sacred ~ Naked Yoga Retreat is facilitated by yoga teachers Isis Phoenix and Luna Phoenix with talks on holistic health, nutrition, and ageless living with Dr.Lloyd Sparks.
Visit the Naked Yoga Retreat page on the website for more information. 

---
Outside the Cove...
See what is making headlines in nudist news around the world. These things and more are being shared on our social media channels. Follow us today to stay informed!
---
"Letter of Recommendation: Naturism"
"In the Canadian city where I used to live, there was a nude beach where I spent a lot of time. It was no rare occurrence to find, near the beach's northern boundary, a small but fervent cohort of nude baby boomers distributing Naturism 101 pamphlets. In an outsize font on an ancient webpage they'd set up, the beach naturists dared visitors to "!!BE NATURAL AND FEEL THE FREEDOM!!" They outlined etiquette (no come-ons, no sex) and suggested recreational pursuits (flag football, a potluck). The naturists could be a little doctrinaire — once, someone wearing nothing but a Tilley hat chided me for my bikini bottom, bellowing, "Way to be clothed!" — but they would usually feign tolerance at the beachgoing public's ignorance of their framing principles. " Click here to read the full story.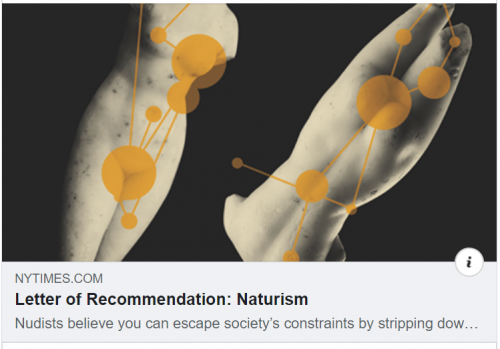 ---
"Eating nude: Couple bring business The Naked Dinner from London to Auckland"
"While many Aucklanders get dressed up to head out for dinner, a new event is asking attendees to dress down - in fact, take it all off - for their dining experience. The Naked Dinner is taking place in Auckland's Grey Lynn for the first time, the founders having moved over from London early this year. One half of the duo running the show, Lisa McMillan, markets it as a "supper club with a twist", that explores the idea of platonic nudity. "Something that I really like is that everyone comes and quickly gets the realization that everyone has the same bits, but looks completely different," she said."  Click here to read the full story.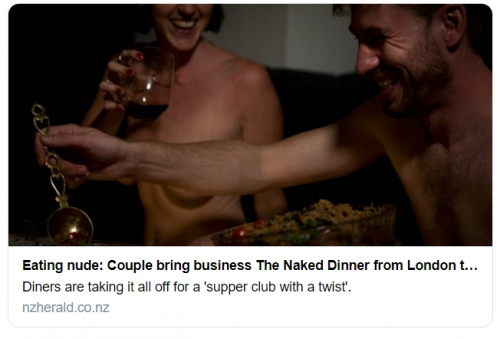 ---
Plan Ahead...
---
WINR Meeting 
Sunday, February 17, 12:00 pm - Clubhouse 
Hello naturist women! We'd like to invite you to bring your lunch and share some "girl talk" with us on Sunday, February 17th. Some discussions might be about body acceptance (do we ever appreciate our own bodies?), tattoos, body piercings, and maybe even a few controversial topics (but NOT politics or religion).
We'll be meeting at noon in the clubhouse. Bring your own beverage and a sandwich or salad (I'll bring the chocolate!). Everyone is welcome - Members, visitors, and friends (as long as they are female since our group is Women in Nude Recreation).
Hope to see you there!

---
Live Music Poolside with Jimmy
Sunday, February 17, 12:00 pm - West Pool
Live Music Poolside with Jimmy is the perfect way to spend your Sunday afternoon. Float around the pool while enjoying the entertainment and let Cheeks take care of your food & drink needs.

---
Music Monday with Bob & Xavier  
Monday, February 18, 7:00 pm - Lakeside Restaurant
Join us at Lakeside Restaurant for Music Monday. Call and reserve your table now. Reservations can be made by calling 407-933-3588.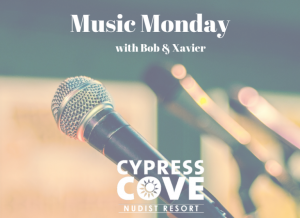 ---
Live Music with David
Wednesday, February 20, at 6:00 pm - Cheeks
Join the gang at Cheeks for a drink and some live music with David. A beautiful way to spend a Wednesday evening.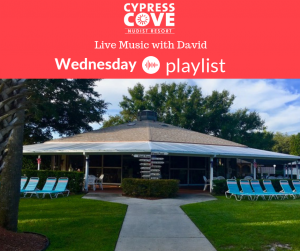 ---
Mardi Gras' Festivities
Mardi Gras 2019 is on track to be a big event this year. Please stay tuned for updates as we approach the festivities.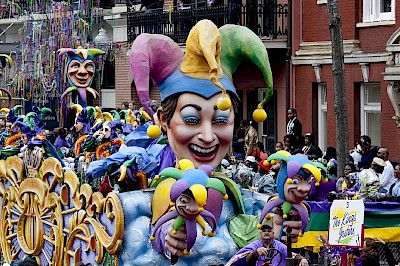 Lamp Post Contest:
Residents it's that time again! Register your lamp post in the annual Lamp Post Contest. Only registered lamp posts will be judged so please make sure to register with Suzan Hartman at 949-300-2830. Registration will end March 1st and judging will take place on March 2nd.
Lamp Post Contest Prizes:
1st place: Dinner for 2 and 10 Cove Coins
2nd place: 10 Cove Coins
3rd place: 5 Cove Coins
*Note: Cove Coins have a $5 value, for use in Cypress Cove only*
Masquerade Coronation Ball:
Please join us for an evening of fun, games, and giveaways on Monday, March 4, at 7 pm for the Masquerade Coronation Ball happening at Lakeside Restaurant. Join us for dancing as The Music Makers provide the perfect backdrop to this masquerade. In addition, we will be transferring power from the reigning King and Queen to the new 2019 King and Queen. Make sure to cast your vote in the main office no later than 4 pm on February 22. Attire is black tie optional or come as you are.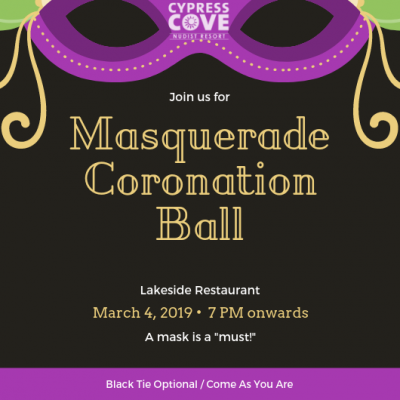 Great Mardi Gras Parade: 
The parade starts at 1 pm on Tuesday, March 5. We encourage float participation with any golf cart, bicycle, or vintage cars. All clubs and organizations, as well as employees, are welcome to join in on the fun. For questions or to sign up please contact Suzan Hartman at 949-300-2830. Ribbons and trophies to be presented at the parade!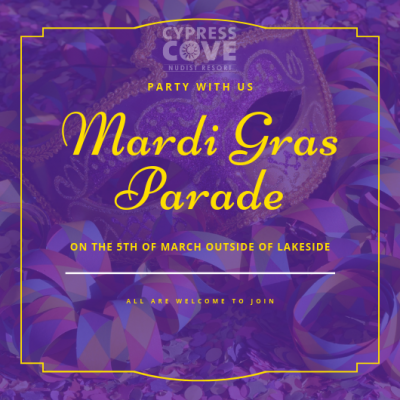 Pool Party:
Jay and the Two Tones will be keeping you entertained at this happening pool party. Join us at 2 pm as we welcome Drag Kings in addition to the Drag Queens. The Drag Kings and Queens will strut their stuff around the pool where you get to decide who will take the crown for Drag King and Queen 2019. There will also be a cash prize drawing at this time. Additional cash prize drawings will be held at 3 pm and 4 pm. Door prizes will be handed out between 4:15 and 4:45 followed by our mega cash drawing. Staging for the Drag Show participants will begin at noon in the game room. Participants, please sign up with Chuck Gouin at 315-523-4339.

Drag King and Queen Prizes:
1st place: Dinner for 2 and 10 Cove Coins
2nd place: 10 Cove Coins
3rd place: 5 Cove Coins
*Note: Cove Coins have a $5 value, for use in Cypress Cove only*
Mardi Gras Buffet Menu:
Chef Jose and Chef Michael always have something creative up their sleeves. The team has been working on developing a menu that transports you back to Bourbon Street where you can smell the Beignets & Jambalaya rice. See what fresh selections Lakeside will be serving. To secure your reservation please call 407-933-3588 now.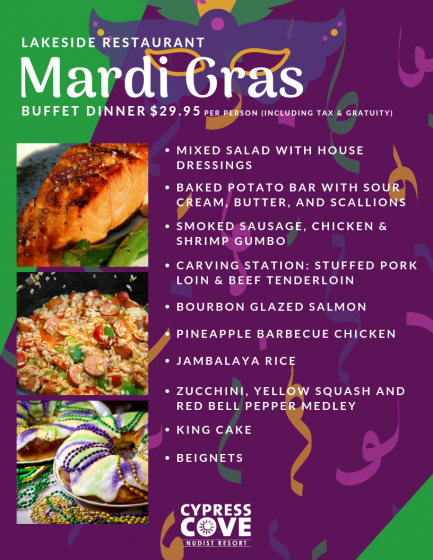 ---
Around the Cove this Week
---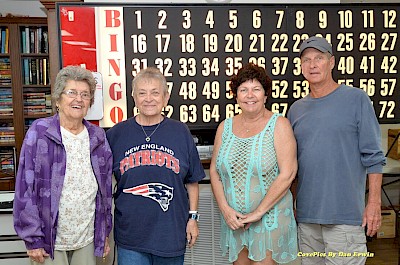 The Tuesday night Bingo party is extremely popular with as many as 100 people having fun and making friends each week.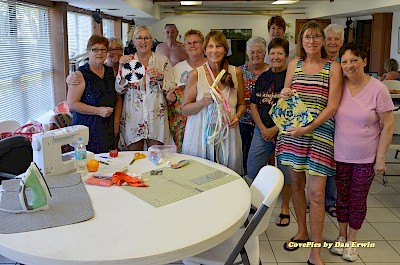 The Quilt Club is a great place to share quilting knowledge and make friends while having lots of fun.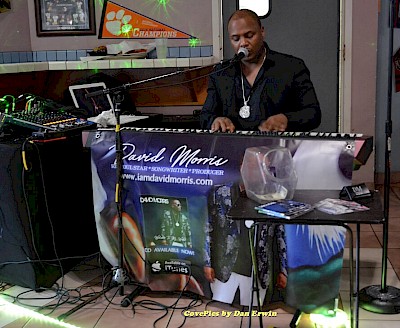 Live Music with David at Cheeks on Wednesday night is a wonderful way to celebrate the middle of the week.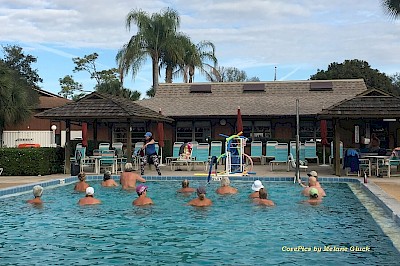 The Zumba Water Exercise Class is a fun way to get in shape and enjoy the wonderful pool weather at the same time.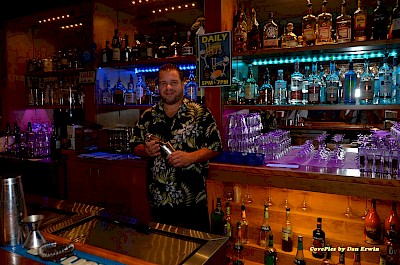 Kevin - one of our great bartenders.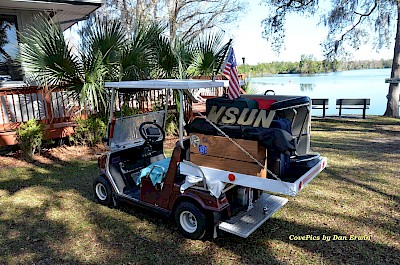 Big Dan "trucking" his equipment over to Lakeside Restaurant for the WSUN Radio Show on Thursday night.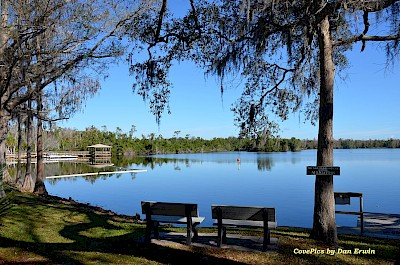 Another beautiful day at Cypress Cove.
---
"Ask Me About Cypress Cove!"
Do you have your "Ask Me About Cypress Cove" t-shirt yet? They're priced at just $5 each, so we're not making any money on the shirts. We just want folks to use them to tell the world about Cypress Cove. Wear it to town, to the grocery store, or just wear it while you are out and about. Purchase your new t-shirt at the main office and show your pride in Cypress Cove!
The new additions to the "Ask Me About Cypress Cove" T-shirts are available at the Cypress Cove main office and are coming soon to the online store. If you have already picked up your "Find Us On Social Media" T-shirt, send your photos to newsletter@cypresscoveresort.com. Get yours today for $9.95!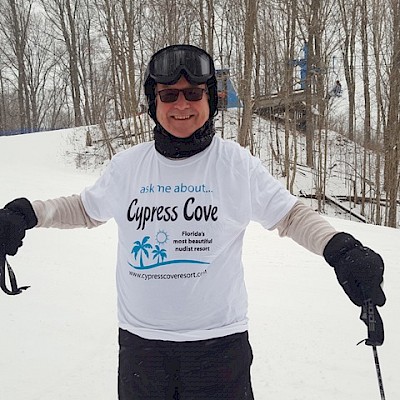 Timber Ridge Ski Area in Michigan 
Where have you worn your "Ask Me About Cypress Cove" or "Find Us on Social Media" T-shirt? Send us a photo!
"Thank you to everyone who has been doing this. It has been so much fun getting new pictures from exotic locations all over the US and the world! We have the absolute best, most loyal members we can imagine. We are truly grateful." -- Ted Hadley, Owner, Cypress Cove Nudist Resort
---
Book a Room Today!
It's never been a better time to stay at Cypress Cove! Book Online, Email Reservations, or Call Reservations toll-free at 888-683-3140.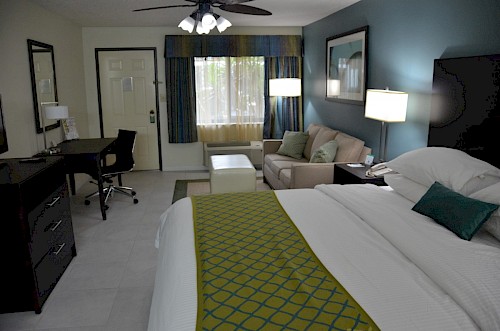 For Special Offers click here!
---
Every week we receive great reviews on TripAdvisor and Google; if you have visited or stayed with us, we would love to know about your experience. Click the logos below.