Laugh of the Week
---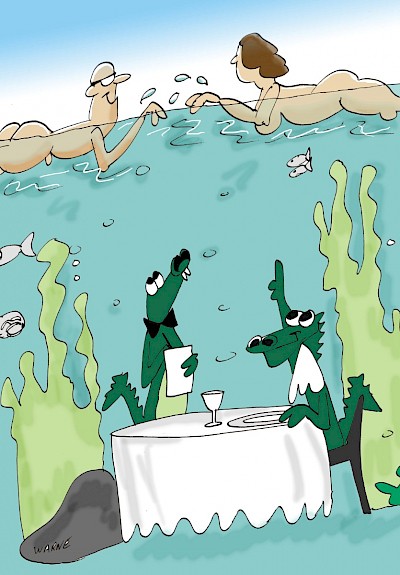 ---
Safety Moment
---

(Click to Enlarge)
---
Cove News
---
Laurel & Ric extend a heartfelt THANK YOU to the Cove!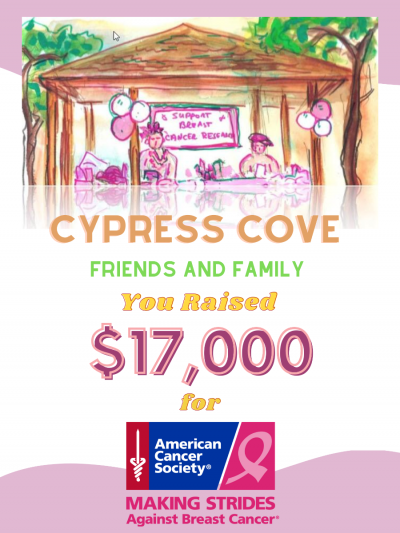 ---
Visit Nature Hair Salon
You deserve a good hair day! Treat yourself to a manicure and haircut today. 

---
Cypress Cove - Membership Questions?
Cypress Cove is now open to day visits by both members and non-members*. Come out and get rid of those tan lines. The sun is shining, so let the warmth envelop you. Become a member today!
Tom has been a nudist for years and really understands the lifestyle. He is more than happy to answer questions that you may have regarding membership or your first visit here. Reach out to him directly at 407-518-2605.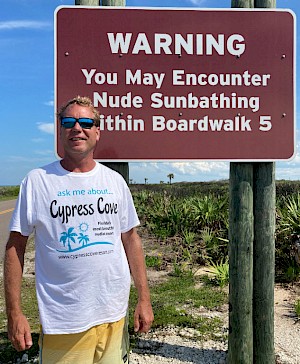 *Subject to health screening & location restrictions.
---
Silver Lining Massage is Evolving as COVID-19 Evolves!
We continue to provide enhanced sanitization with our EPA approved sanitizer as well as a HEPA filter air purifier with UV light. The massage tables are spaced 8 feet apart to ensure social distancing. We will provide outdoor massage if you would like more distance. 
This is super important - cloth face coverings are required to enter the building. We will provide one if you forget yours. Once you are settled on the massage table face down, you may remove your facecover. When you are laying faceup you will need to have a face cover over your nose and mouth. We value you as a client. We want everyone to remain healthy. 
Effective August 10th hours of operation are changing. We will be closed on Tuesday and Wednesday. 
Monday: Elizabeth & Monique
Thursday: Elizabeth & Tammy
Friday: Monique & Tammy (if needed)
Saturday & Sunday: Rotation of Elizabeth, Monique, David, & Tammy
As we are open 5 days a week insteadof 7 it's advantage to book ahead. We have allowed time between clients to sanitize so we lose approximately 1.5 hours a day of hands on message time. 
Now accepting "Cash App" as a form of payment. Credit cards, cash, personal checks also accepted. 
We look forward to seeing you soon!

---
For Cypress Cove COVID-19 Updates: 
We want to make sure you are always kept up to date with information about how operations are running at Cypress Cove. Please visit HERE for up to the minute information. 
---
News Outside the Cove
See what is making headlines in nudist news around the world. These things and more are being shared on our social media channels. Follow us today to stay informed!
---
Keeping you updated on the Coronavirus: 
Make sure you are keeping up with the latest developments on this virus. Keeping your hands washed is the number one defense. Click HERE for up to the minute information from the Florida Health Department. 
---
Disney Plus Leaves Hugh Jackman's Butt Uncensored For 'X-Men: Days of Future Past'
Are uncovered, movie derrieres family-friendly? What do you think?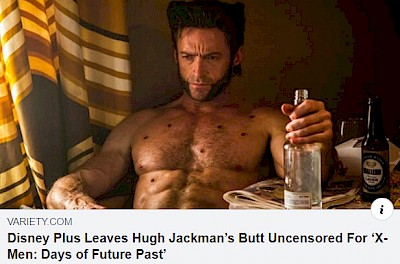 "'X-Men: Days of Future Past' has arrived on family-friendly Disney Plus completely uncensored – a scene featuring Hugh Jackman's behind is left in full view. In contrast, the streaming service showed an edited version of "Splash" in April with CGI hair covering Daryl Hannah's posterior. Jackman, who plays mutant Wolverine in the franchise, shared a post on his Instagram with a still of his butt (covered by an emoji), saying, 'Days Of Future Past becomes the first movie to air on Disney+ uncensored. That was my future but let's be honest … it's more like my past.' 'Deadpool" actor Ryan Reynolds commented on the post, 'Excited for them to do the same for Deadpool. It's time children knew.'" Read the full story HERE.
---
'Skin' Trailer: New Documentary Uncovers the History of Nudity in Movies
Could be interesting…maybe.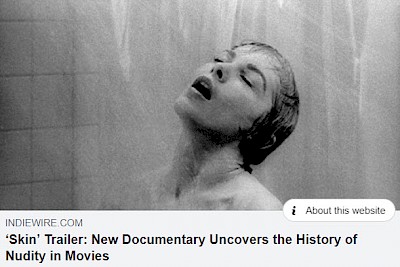 "A new documentary centered on the history of nudity in the movies, beginning with the silent film era all the way through present day, "Skin" examines the changes of morality over time that encouraged, or prohibited, the use of nudity in movies. The film, directed by Danny Wolf, also emphasizes the political, sociological, and artistic changes that allowed nudity to happen, or not, in the first place. Check out the first trailer below for the film, which hits VOD from Quiver Distribution on August 18." Read the full story HERE.
---
Around the Cove
---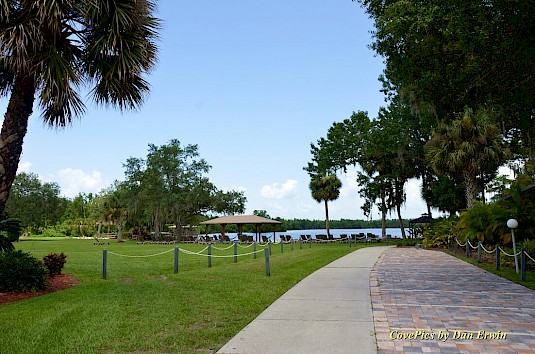 The calm before the storm, which we are very happy to report, never came our way.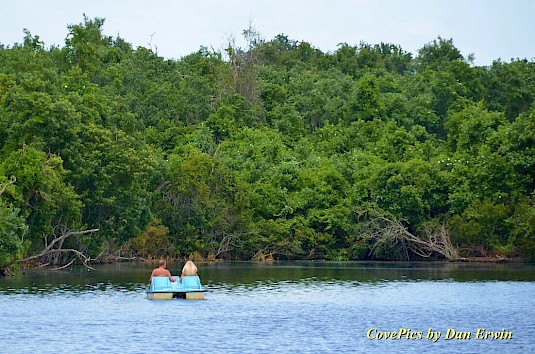 The peddleboats are a great way to enjoy brown lake and get a little exercise at the same time.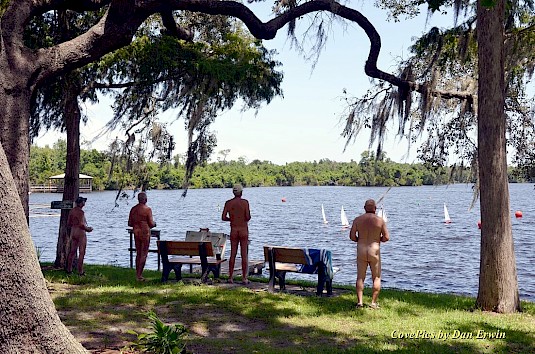 The R/C Yacht Club is such a fun activity. Racing on the 1st & 3rd Saturdays at 1 pm.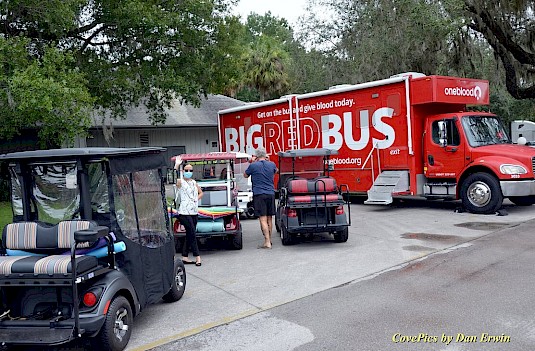 Rain didn't stop our great Cove members from filling the Big Red Bus with blood donners on Sunday. Cypress Cove is consistently one of their very best donation locations.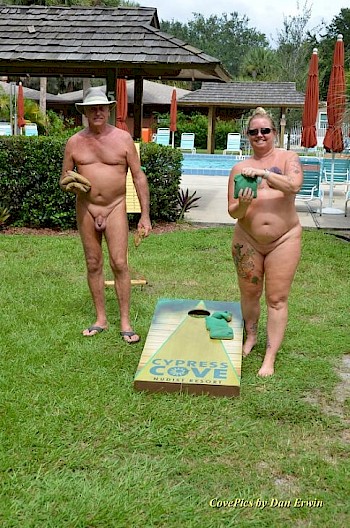 Cornhole is very popular at the Cove. Join them on Wednesdays & Sundays at Old Cheeks at 3 pm.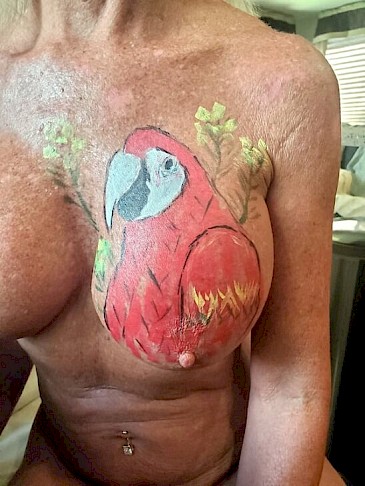 If you are bored on a rainy afternoon, why not try body painting a parrot using your wife as the perfect canvas.
---
"Ask Me About Cypress Cove!"
Do you have your "Ask Me About Cypress Cove" t-shirt yet? They're priced at just $5 each, so we're not making any money on the shirts. We just want folks to use them to tell the world about Cypress Cove. Wear it to town, to the grocery store, or just wear it while you are out and about. Purchase your new t-shirt at the main office and show your pride in Cypress Cove!
The new additions to the "Ask Me About Cypress Cove" T-shirts are available at the Cypress Cove main office and the online store. If you have already picked up your "Find Us On Social Media" T-shirt, send your photos to newsletter@cypresscoveresort.com. Get yours today for $9.95!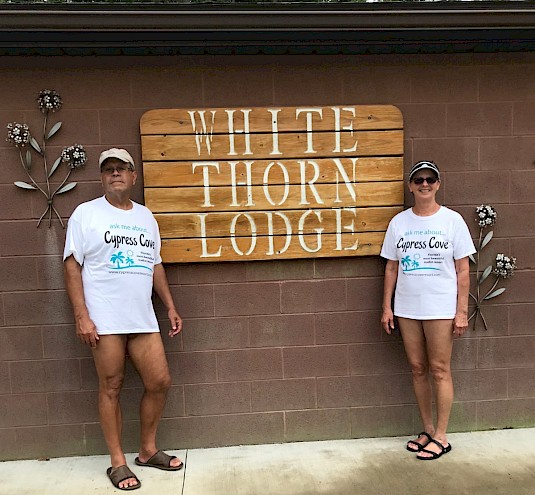 A few members at White Thorn Lodge. 
SEND US YOUR PHOTOS!!! Do you have a photo of you in the "Ask Me About Cypress Cove" T-shirt? Send it in now! You could be featured in our newsletter. 
We have added this shirt AND the "Find Us On Social Media" T-shirt to our online store. Pick one up today and show us your photos. Send them to Newsletter@CypressCoveResort.com   
Visit our online store by clicking HERE! 
Where have you worn your "Ask Me About Cypress Cove" or "Find Us on Social Media" T-shirt? Send us a photo!
"Thank you to everyone who has been doing this. It has been so much fun getting new pictures from exotic locations all over the US and the world! We have the absolute best, most loyal members we can imagine. We are truly grateful." -- Ted Hadley, Owner, Cypress Cove Nudist Resort
---
Book a Room Today!
It's never been a better time to stay at Cypress Cove! Book Online, Email Reservations, or Call Reservations toll-free at 888-683-3140.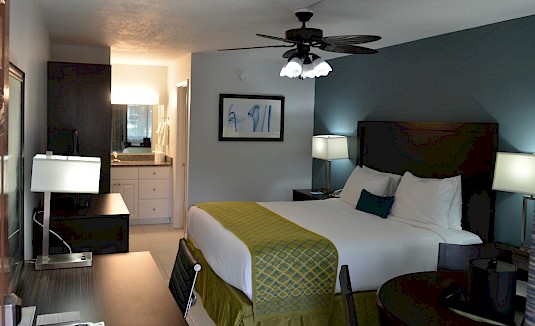 For Special Offers click HERE!
---
Every week we receive great reviews on TripAdvisor and Google; if you have visited or stayed with us, we would love to know about your experience. Click the logos below.