Laugh of the Week
---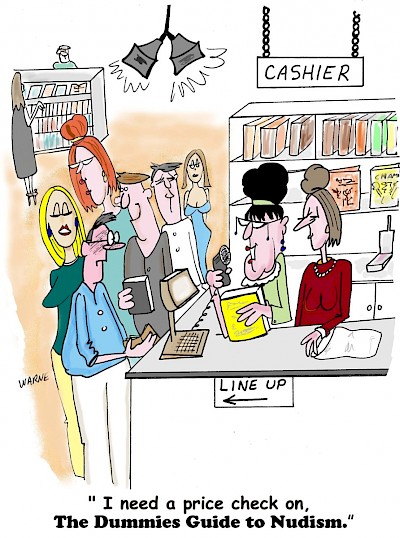 ---
Cove News  
---
Feeling Smart? - Introducing New Trivia
Giving you more to do on vacation... we've had Saturday night trivia, but we are adding MORE! Join us for trivia with Dave on Friday evenings at 6 pm. Stick around for movie trivia with Dave at 8 pm on Friday as well. Saturday trivia is being moved to East Pool and will be hosted by Dave. Join us and show us your useless knowledge!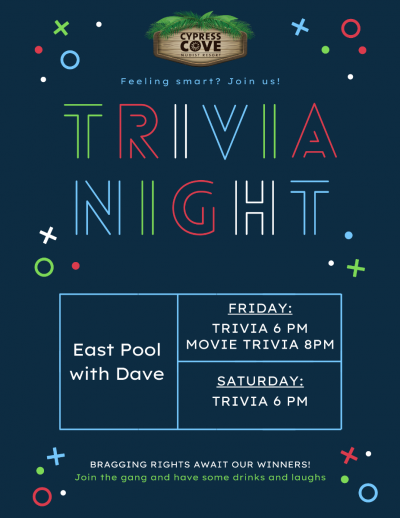 ---
Friday Night Dive-In Movie
You asked for it, we listened! Friday evenings at 8:30 pm we will be showing a movie on the big screen at the East Pool. Dive-in and watch with us!
We want to hear from you! What movies would you like to see while you're here at Cypress Cove? Planning a vacation and want to see something special? We can't make any promises, but we definitely want to hear what movies you'd like to see. Send Regis, Cypress Cove's Activities Director, an email at Regis@CypressCoveResort.com and let him know what you want to see.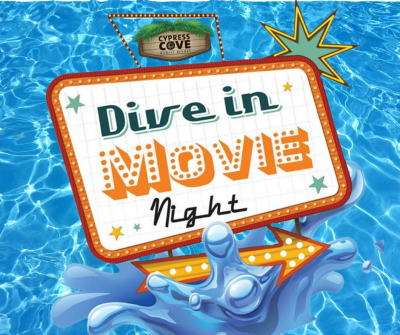 ---
Cypress Cove Welcomes Single Nudist of Central Florida
Cypress Cove is welcoming Single Nudists of Central Florida on October 3 from 11 am - 6 pm. If you are a single nudist, check out the Facebook group & meet some new people. Day fees will apply for non-Cove members (approx $26.88). All singles welcome! For more information on rates visit here. Cypress Cove Members can attend for no additional costs. This is a meet & greet, mix & mingle activity. Take a peddleboat out on the lake and chat with a new friend. Head to the bar and grab some drinks. Have lunch with some new people. Play cornhole and get competitive. The day is yours. Come enjoy the influx of singles looking to meet like-minded people. For any first-time visitors, please make sure you are aware of our rules and etiquette and for single males, please make sure you are aware of our policy. Please have your photo ID with you when registering at the front desk for the day.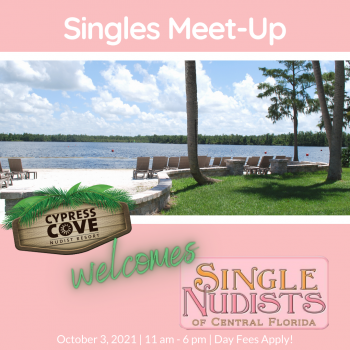 ---
Updated Office Hours
We are extending our office hours to assist you with your vacation needs! Our staff is ready and willing to help you book a reservation, check-in, give you a tour, or assist in your purchase of drinks, ice, or merchandise. Sunday through Thursday the office will be open until 8 pm and on Friday and Saturday, they will be open until 11 pm. Don't worry about a late check-in or even a late-night stop-in for an ice cream from our new selection. We are here for you!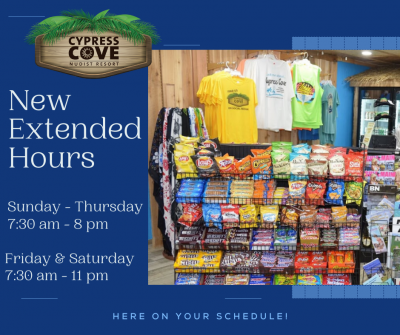 ---
Online Booking Portal Glitch
We know you are sitting at your desk anxiously trying to make reservations for the best nudist resort around. If you have tried to book online, you may have seen that it appears all dates are booked. We are having some technical issues with our online service, so please be sure to call the office for assistance in booking a stay with us. With our new extended hours, we should be available when you need us! Please give us a call Toll-Free at (888) 683-3140. We hope to see you soon!

---
Tickets are on sale!! 
Will you be attending Nude-A-Palooza 2021? Get your tickets now if you want to avoid the October 1 price increase! While you're at it, don't forget to buy some tickets for chances to win great prizes (proceeds go to breast cancer charity). All tickets can be purchased online or in person at our main office. Please note that there will no VIP seating or VIP tickets this year due to COVID-19 precautions. Ready for the all-day concert extravaganza? Purchase tickets here!  

---
Membership Makes Sense! 
Are you a frequent vacationer to Cypress Cove? Spending the season with us? Live around the corner? Membership might make sense for you! 
 
---
News Outside the Cove
See what is making headlines in nudist news around the world. These things and more are being shared on our social media channels. Follow us today to stay informed!
---
Fifty years of getting naked on Cornwall's first official nudist beach
There are many nudist anniversaries this year. Send us your story!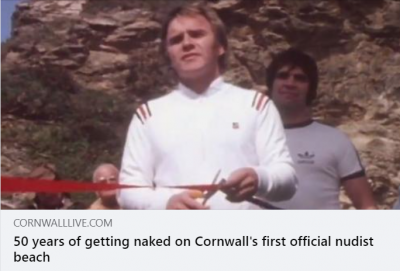 "1971 - a year when you could catch a mini steam train across the sand and watch the country's most popular comedian declare a Cornish nudist beach open. That naturist beach - Cornwall's first official nudist spot - celebrates 50 years of allowing sun-worshippers to let it all out. In a sign of the times though, the number of people going starkers on Polgaver Beach, near St Austell, has drooped in recent years due to the long-mooted redevelopment of the Carlyon Beach area." Read the full story HERE.
---
Nudist beach 'could attract more tourists
"We are all the same underneath." Great message, Andrew!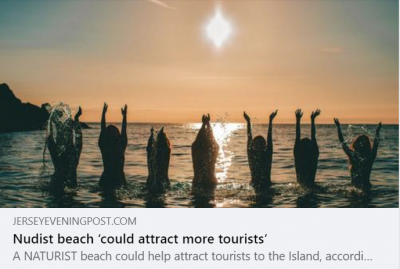 "Andrew Welch, a spokesman for British Naturism, said Jersey was 'potentially behind the pack as far as social nudity is concerned'. He added that 'a lot more people' might visit Jersey if there was a beach available where people could go nude bathing. 'We are all born naked, every single person in the world,' said Mr. Welch, adding that this applied to the Pope, the Queen, and everyone in Jersey's government." Read the full story HERE.
---
Have you seen us lately?
September through the years...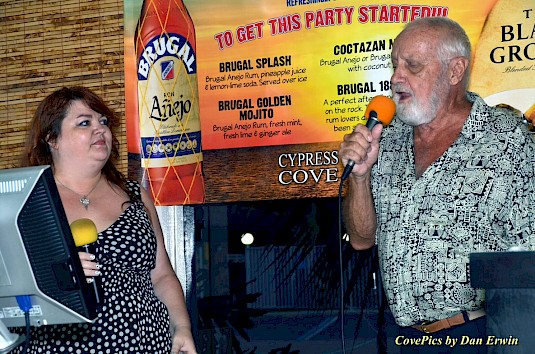 In September 2013, this picture of Rolland singing Karaoke was the 1st 'CovePics by Dan Erwin" printed in the newsletter.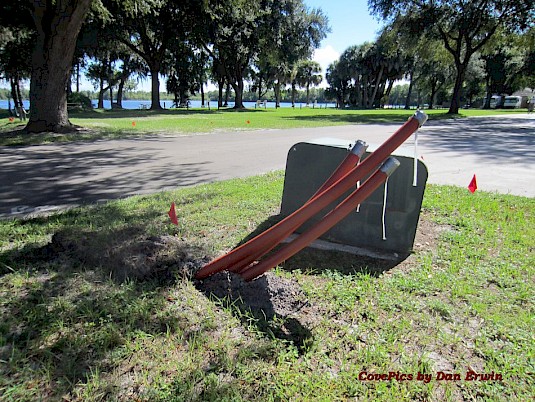 In September 2014, the electrical system in the campground was upgraded.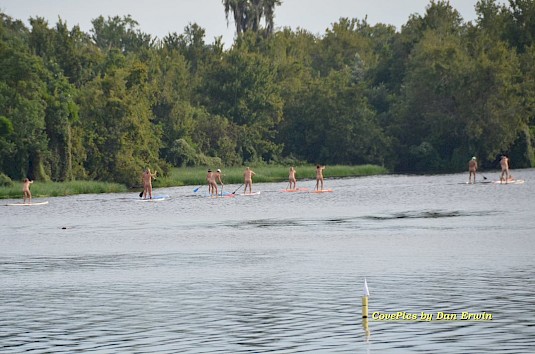 In September 2015, a standup paddleboard race introduced many of us to this exciting new sport.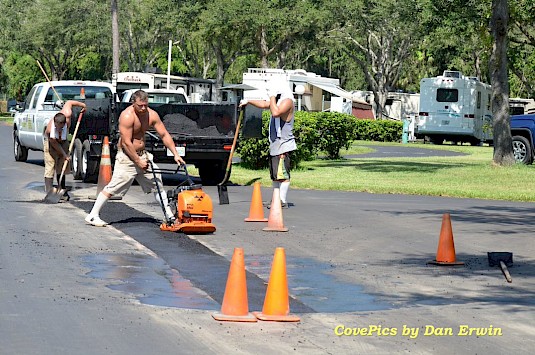 In September 2016, the streets of Cypress Cove were repaired and refinished.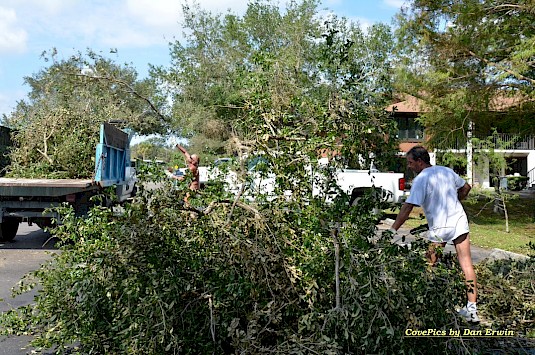 In September 2017, the cleanup after Hurricane Irma was job #1.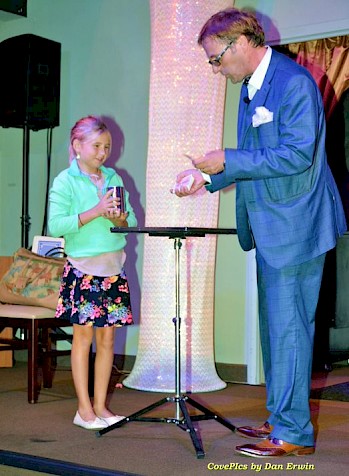 In September 2018, Master Magician Steve Marshall from Tokyo, Japan entertained us.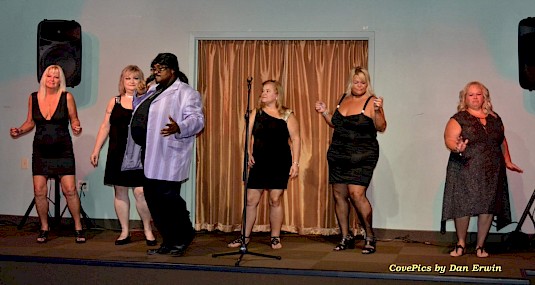 In September 2019, Xavier and his beautiful backup dancers had Lakeside Restaurant jumping.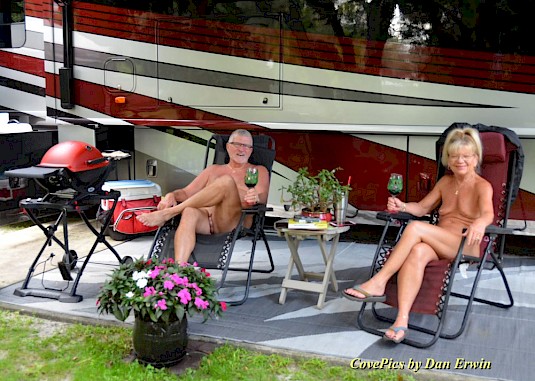 In September 2020, living the good life in the Cypress Cove campground.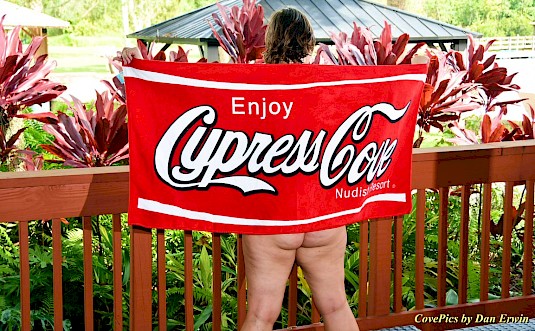 In September 2021, the Cypress Cove Camera Club had a fun photoshoot and was able to promote the Cove at the same time.
---
"Where Have You
Taken the Cove?"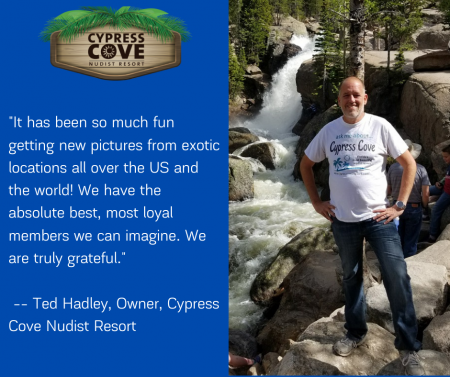 SEND US YOUR PHOTOS!!!
 We want to see where you have worn your Cypress Cove t-shirt, no matter which style it is! Wear it to town, to the grocery store, wear it while you are out and about, or at a national monument, and send us a photo! You will be featured in our newsletter or on one of our social media channels. 
Don't have a shirt yet? We have a few different styles for you to choose from. Purchase one at the main office or online and show your pride in Cypress Cove! 
Visit our online store by clicking HERE!

Send photos to Newsletter@CypressCoveResort.com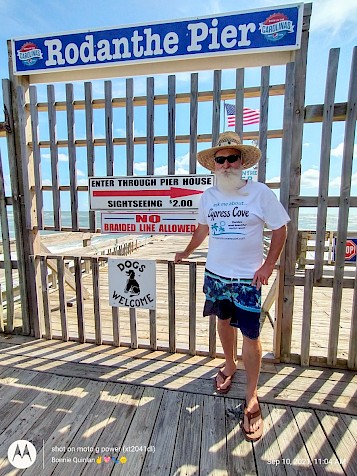 Ray Quinlan beaching it at the Rodanthe Pier, NC ️
Where have you worn your Cypress Cove T-shirts?
Send us a photo!
---
Book a Room Today!
It's never been a better time to stay at Cypress Cove! Book Online, Email Reservations, or Call Reservations toll-free at 888-683-3140.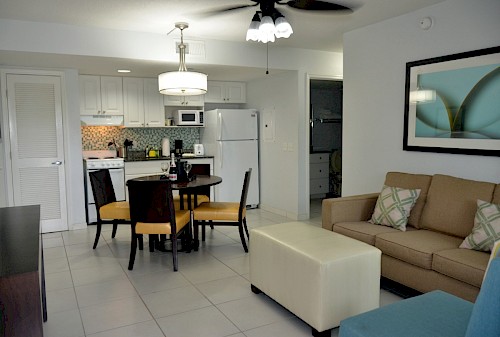 For Special Offers click HERE!
---
Every week we receive great reviews on TripAdvisor and Google; if you have visited or stayed with us, we would love to know about your experience. Click the logos below.