Laugh of the Week
---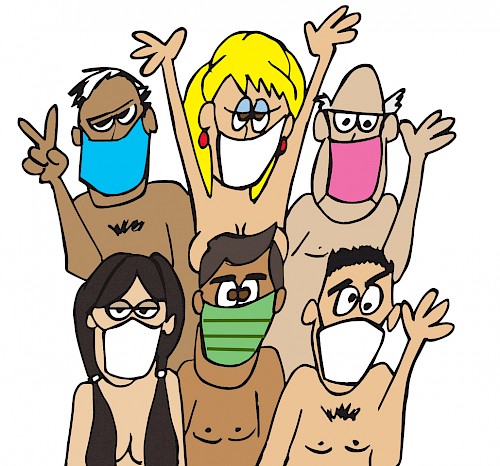 ---
Safety Moment
---

---
Cove News
---
Blood Drive with COVID-19 Antibody testing
Join us on May 31 from 11 am to 4 pm (originally scheduled for 10 am - 3 pm, but had to be moved) for a blood drive! They are now testing blood donations for the COVID-19 antibodies. Appointments can be made by going to www.oneblood.org or by calling 1-888-9DONATE. Each donor will be able to see if their immune system has produced antibodies to COVID-19, regardless of whether the donor has ever shown symptoms for the virus, and be able to donate it as convalescent plasma. Transfusing the plasma that contains the antibodies into a person still fighting the virus can provide a boost to the patient's immune system and potentially help them recover. Read the press release here.

---
Fig Leaf Boutique Hours Memorial Weekend
Please join us at the boutique this weekend Friday, Saturday & Sunday from 11 am to 5 pm. Come out and see the new styles and say hello to Edda. She is eager to welcome all of her shoppers.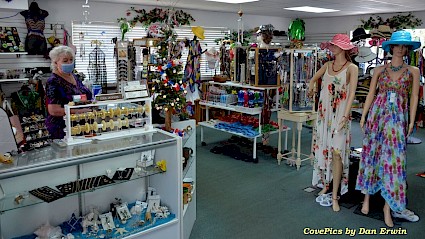 ---
Every Body Kneads a Massage! Silver Lining Opens Thursday, May 21
We have missed all our clients! 
We have adjusted our protocols and procedures to meet the necessary guidelines. You will see the different hours and days available. You will see tape on the patio and inside the studio for distancing.  There will be flyers posted to guide you. If you arrive early for your appointment please wait on the patio.
Call or Text Tammy to make an appointment. 407-461-9738. There is going to be limited space for a few weeks.
We have an infrared no-touch thermometer. We ask if you feel sick in any way to reschedule your appointment. Wearing a mask is necessary. We will provide a disposable mask if you do not have your own mask. We hope you understand at this time payment methods are limited to checks, cash, or credit card. As a tiny (as I have learned recently) business, we are trying to keep expenses to a minimum.
We look forward to seeing all your smiling faces. 

---
Flamingo Adoption Raffle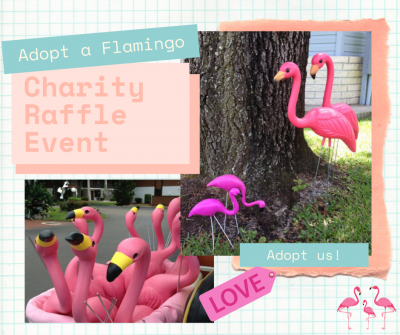 FLAMINGOS HAVE ARRIVED AND THEY NEED A HOME! Pay the adoption processing fee and the flamingos are yours. 100% of the adoption fee is donated to The American Cancer Society's Making Strides Against Breast Cancer. Included are raffle tickets for our Annual Breast Cancer Fund Raiser Raffle held at the end of July. Add $10 for to-your-door delivery (free if delivered inside Cypress Cove.) If you want to participate in the fundraiser but not take on the responsibility of raising an adopted flamingo, you can. You make the donation, get all the raffle tickets and we will find a home for the flamingos. You do not need to be present to win. For more information click here. 
Adult - $40 Each = 60 Raffle Tickets
Baby - $20 Each = 30 Raffle Tickets
Family of 4 - $100 = 150 Raffle Tickets 
For Questions or To Adopt Contact: 
Laurel at 407-922-7004 or email at labeattey@me.com
Carol at 217-822-2440 or email at lckrb863@gmail.com
---
BodyWorks Gym
Body Works Gym at Cypress Cove will remain closed until further notice. We know you are eager to get back to your workouts, but we want to make sure your gym is safe and sanitized to the high standards you have come to know and love from Cypress Cove. Thank you for your patience.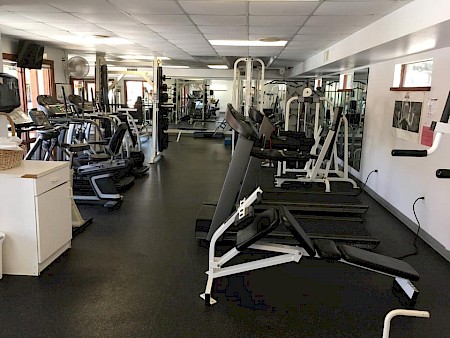 ---
Cypress Cove Membership
Cypress Cove is now open to day visits by Members. Get back to your favorite clothes-free resort quicker by considering one of our various levels of Cypress Cove membership. We have a level for every budget, we offer payment plans, and we can show you the special values that membership brings. Become a member today and get back to your social naked time sooner! Please reach out to Tom at 407-933-3526.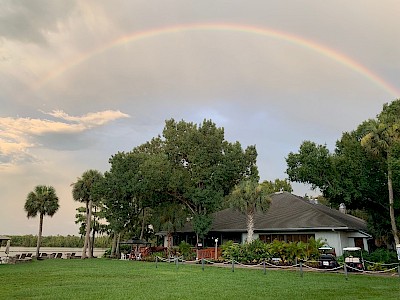 ---
A Great Time to Get Social
Many individuals are choosing to stay home during phase 1 of reopening. Come be a part of our online community while still social distancing. Have you checked out our social media channels? If not, you are missing out on an active community of like-minded individuals. We share important up to the minute Cove & nudist news, funny memes, and nudist related content. We have videos posted to our YouTube channel, so head over there and subscribe. There are more great videos to come. 
        
---
American Nudist Research Library
After being closed for 7 weeks, the American Nudist Research Library will experiment with partially reopening during regular hours on Thursdays and Saturdays, only.  The library reserves the right to scale back this plan if nobody shows up, and librarians feel they are wasting their time.
New Rules
No sick people allowed inside.
Maximum of 3 visitors at a time.
Masks, like all clothes, are optional.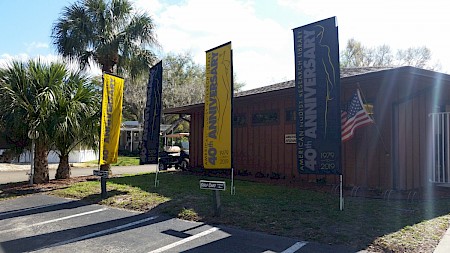 ---
For Cypress Cove COVID-19 Updates: 
We want to make sure you are always kept up to date with information about how operations are running at Cypress Cove. Please visit HERE for up to minute information. 
---
News Outside the Cove
See what is making headlines in nudist news around the world. These things and more are being shared on our social media channels. Follow us today to stay informed!
---
Keeping you updated on the Coronavirus: 
Make sure you are keeping up with the latest developments on this virus. Keeping your hands washed is the number one defense. Click HERE for up to minute information from the Florida Health Department. 
---
Doctors In Germany Are Stripping Down To Their Stethoscopes To Protest A Facemask Shortage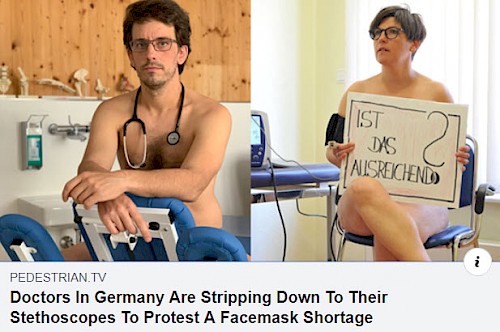 "German doctors treating coronavirus patients are sharing nudes in huge numbers to protest the lack of facemasks and other personal protective equipment (PPE) available to them. In an online campaign called Blanke Bedenken, or Bare Concerns, doctors and nurses are stripping down to their stethoscopes and… not much else. 'The nudity is a symbol of how vulnerable we are without protection,' GP Ruben Bernau told a German medical newspaper. Another doctor said she was "trained to sew up wounds" before asking: 'Why am I now having to sew my own face mask?' The healthcare workers made clear that while they want to continue treating coronavirus patients, they don't have the right equipment to protect themselves during the pandemic." Join in on the conversation HERE. 
---
VIRTUAL NATURISM: HOW BRITISH NUDISTS ARE PRACTICING THEIR CRAFT IN THE ERA OF COVID
British Naturism continues to be on the cutting edge, especially with their virtual special events.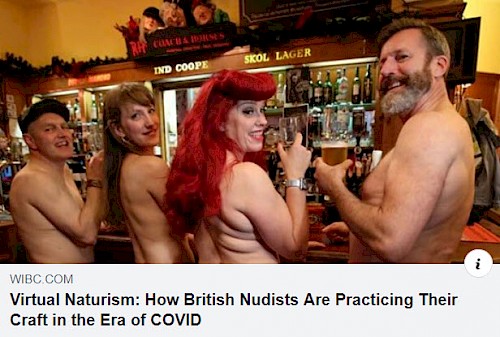 "What do yoga, preparing food, and TSA screenings all have in common? Each one is an activity best accomplished in the nude. But with social-distancing guidelines run amok, where does one go to enjoy the simple, innocent pleasure of voyeurism and nudity with close friends and family? British Naturism, an organization that promotes "naturism" (being 'nekked,' as the Southern Baptists say) in the UK, is doing its part to provide safe, sanitary, non-sexual workouts to interested parties via their free virtual yoga sessions! What does virtual yoga in the nude look like? Imagine all the least-flattering and very worst angles in porn but on purpose! There have also been nude drinkers enjoying its 'Naked Pub', and baking fans logging in for the 'Naked Kitchen.'" Read the full story HERE.
---
Around the Cove
---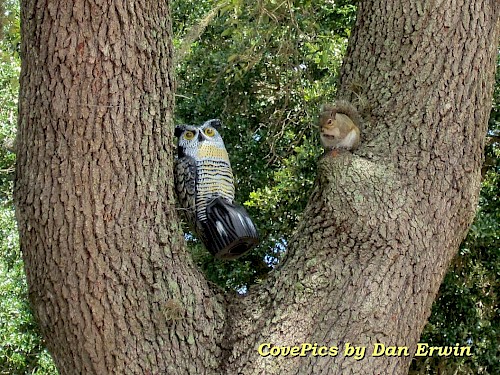 I see something unusual every time I go for a ride around the Cove. This week, I saw this squirrel talking to plastic owl over near the lake - LOL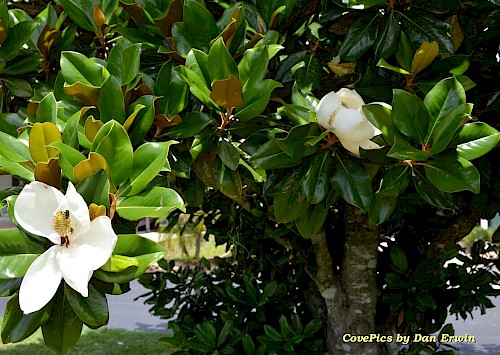 The Magnolia trees around the Cove are in full bloom and smell wonderful.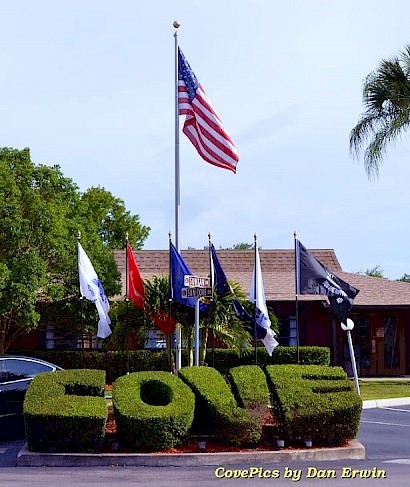 Honoring the great men & women, who are or have bravely served our country in our military.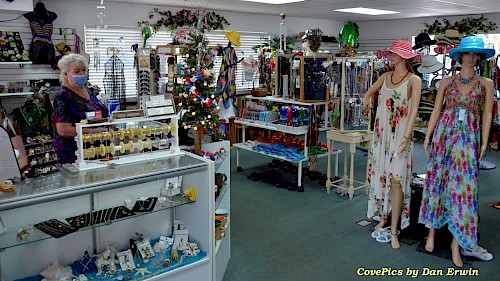 The Fig Leaf Boutique is open on the weekends for a safe & enjoyable shopping experience.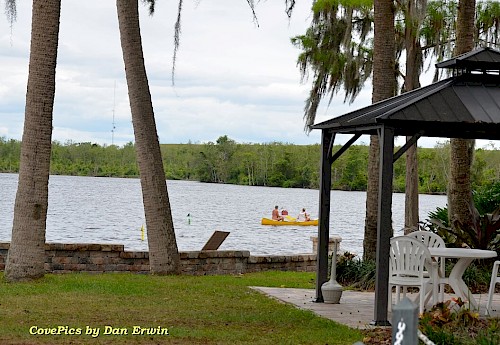 Paddleboats, Kayaks, and Canoes are available & free for you to enjoy an afternoon on beautiful Brown Lake.
---
"Ask Me About Cypress Cove!"
Do you have your "Ask Me About Cypress Cove" t-shirt yet? They're priced at just $5 each, so we're not making any money on the shirts. We just want folks to use them to tell the world about Cypress Cove. Wear it to town, to the grocery store, or just wear it while you are out and about. Purchase your new t-shirt at the main office and show your pride in Cypress Cove!
The new additions to the "Ask Me About Cypress Cove" T-shirts are available at the Cypress Cove main office and the online store. If you have already picked up your "Find Us On Social Media" T-shirt, send your photos to newsletter@cypresscoveresort.com. Get yours today for $9.95!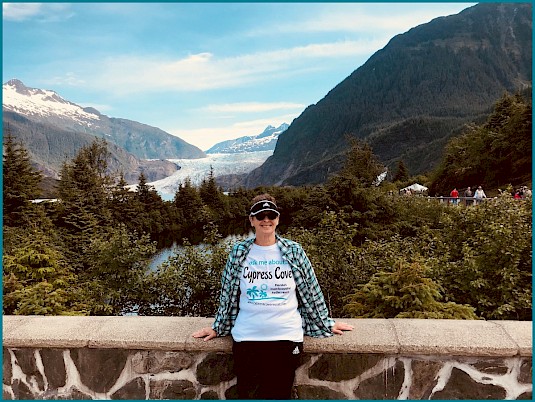 Juneau, AK
SEND US YOUR PHOTOS!!! Do you have a photo of you in the "Ask Me About Cypress Cove" T-shirt? Send it in now! You could be featured in our newsletter. 
We have added this shirt AND the "Find Us On Social Media" T-shirt to our online store. Pick one up today and show us your photos. Send them to Newsletter@CypressCoveResort.com  
Visit our online store by clicking HERE! 
Where have you worn your "Ask Me About Cypress Cove" or "Find Us on Social Media" T-shirt? Send us a photo!
"Thank you to everyone who has been doing this. It has been so much fun getting new pictures from exotic locations all over the US and the world! We have the absolute best, most loyal members we can imagine. We are truly grateful." -- Ted Hadley, Owner, Cypress Cove Nudist Resort
---
Looking forward to having you back soon!
We know you are eager to get back to your nude time when you have some time off work and are looking to reconnect with nature. Be on the lookout for announcements on opening to the public and when we do, book Online, email Reservations, or call reservations toll-free at 888-683-3140. We are looking forward to seeing you all soon.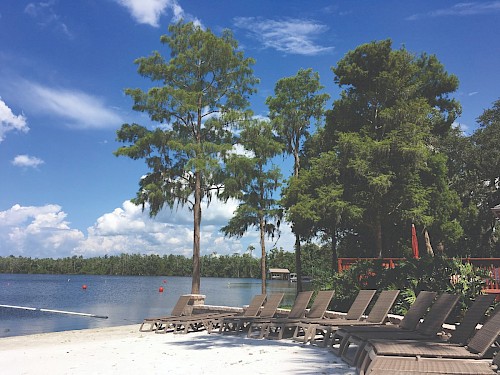 For Special Offers click HERE!
---
Every week we receive great reviews on TripAdvisor and Google; if you have visited or stayed with us, we would love to know about your experience. Click the logos below.