Plan Ahead 
---
Thanksgiving Weekend
November 29 - December 1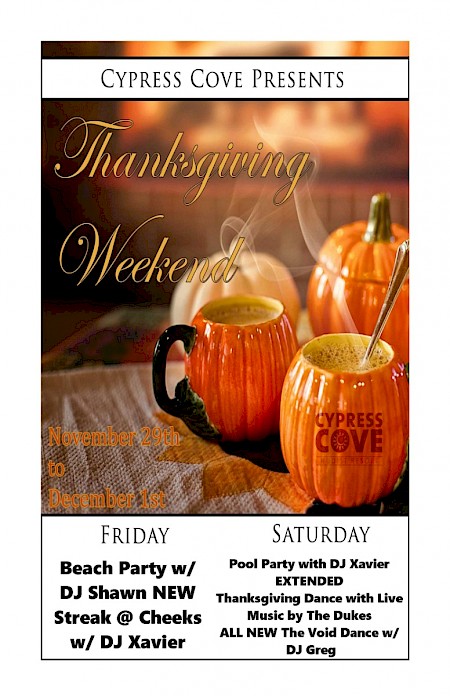 ---
Beatles Hey Nude Weekend
December 6 - 8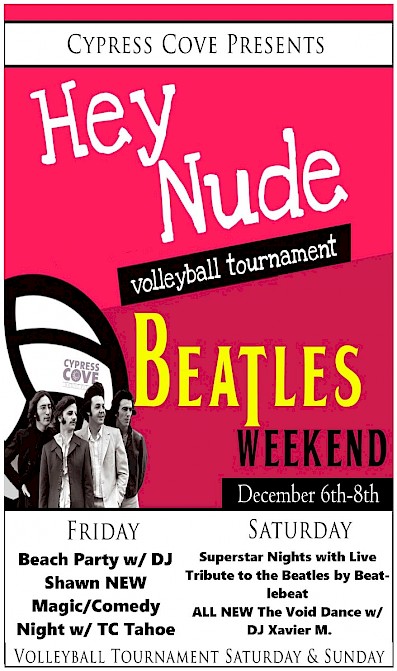 ---
Happy Holidays Weekend
December 13 - 15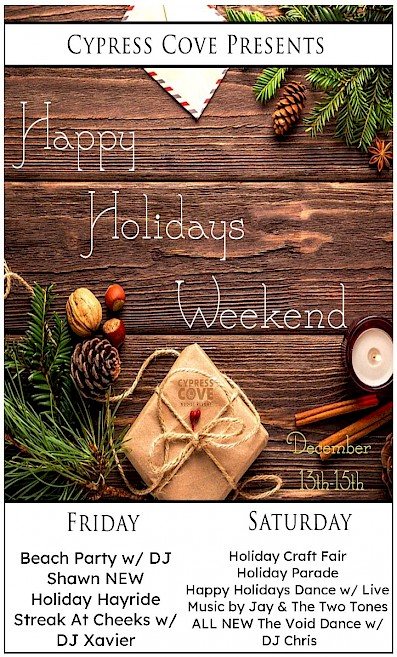 ---
Christmas Weekend
December 20 - 22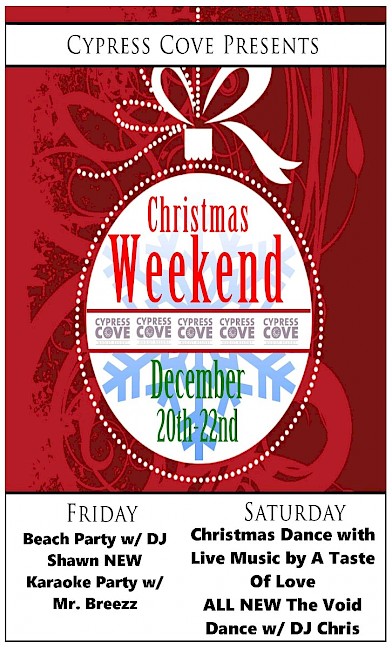 ---
Laugh of the Week
---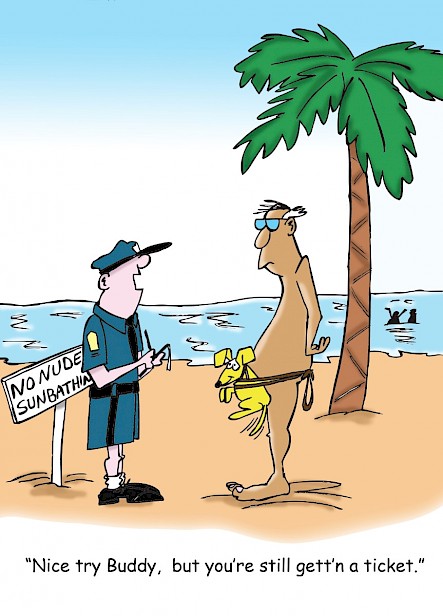 ---
Cove News
---
UPDATED New Documentary TV Series Filming at Cypress Cove: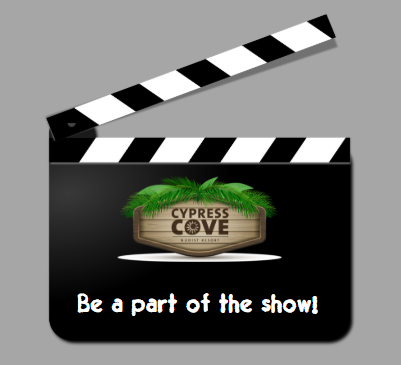 A new documentary series by an acclaimed documentary filmmaker for a premium streaming service is looking for dynamic stories exploring the human and emotional connection to clothing and the stories behind them. We want to talk to people who choose or have chosen to leave clothing behind. The theme of the episode is "beginnings."
We are looking for people who will be spending New Year's Eve weekend at Cypress Cove.
Are you planning on beginning your new year at Cypress Cove? If so, we would like to hear from you! We are planning to film our episode during New Year's weekend. Whether you are new to nudism or a well-seasoned nudist, we want to hear about your experiences.
Please email your full name, contact information, and a brief story of why you want to be a part of this film project to: tallie@jackalopeprods.com.
---
Nature Hair Christmas/New Year Special:

Free Eye Mask with every Pedicure!
From December 1 through January 31, visit Nature Hair for a pedicure and receive a complimentary eye mask. Moisturizing, collagen-based eye masks are perfect for treating wrinkles, puffiness, and dark circles around the eyes.  
Looking for a great gift idea? A pedicure makes a great gift, so give that special person a Gift Certificate from Nature Hair! Stop in today or call 407-870-5131 for more info.
---
Message from Silver Lining: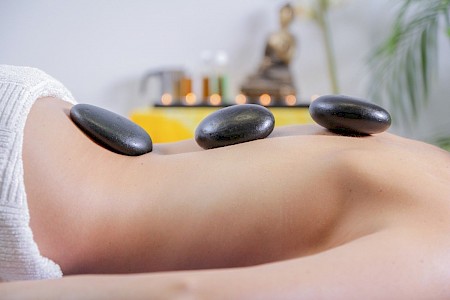 We are back in our usual area and would love for you to come check out the updates to our building. As of November 21, we will be open seven days a week. If you'd like an appointment before 11 am or after 4 pm please inquire. There will be an additional massage area this season. If you have any questions please contact Tammy at 407-461-9738.
We want to welcome back Virginia! David will be back in mid-December. Monique is our newest member and is getting repeat clients. Don't forget the rest of the team as well, Elizabeth, Jeri, Kat, and Tammy. 
License #MM18714                                                  INDEPENDENTLY OWNED AND OPERATED      
---
Breakfast at Lakeside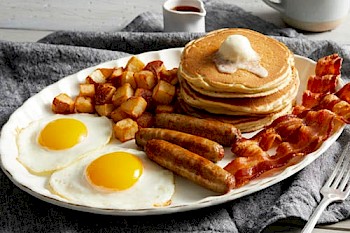 Breakfast will be at Lakeside until further notice. We are improving our Cheeks kitchen to accommodate the increase in guests. Thank you for your patience while we make this improvement to your future Cypress Cove experience. 
---
Glass Recycling

Osceola County is no longer taking glass of any kind in the recycling. For more information, please visit the Advanced Disposal website or this page regarding glass. We have added signs to the recycling bins to remind you, but please make sure you are complying. 
---
Day Room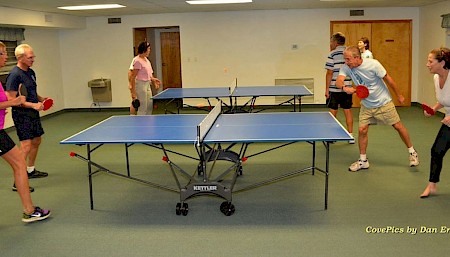 The Gameroom has a new name! We will be referring to this room as the Day Room. You will notice we are shuffling things around a bit to make it easier for our clubs to utilize the space they meet in. In addition, we are making it easier to sit back and relax, as we have moved the furniture from the Gameroom onto the Terrace. 
Ping Pong tables will continue to be in the Day Room.
---
Bikes at the Gate Reminder: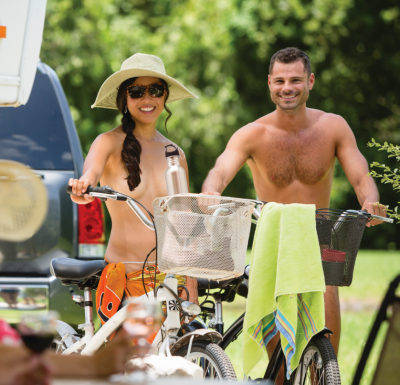 If you ride your bike out of the Cove, please remember to stop at the gate window on the way back in and let them know who you are and where you are going. We need to make sure everyone coming through our gate belongs on the property. When someone rides through the gate without stopping we have to go through extra security measures to ensure the safety of our guests and residents.  
---
Catch up on Cypress Cove Renovations: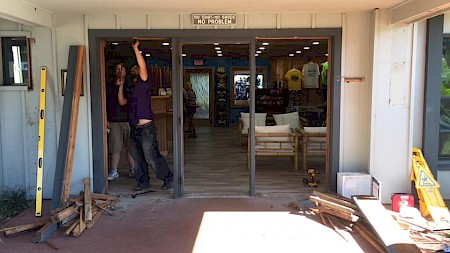 See the latest updates to our renovations page by visiting here. 
---
News Outside the Cove
See what is making headlines in nudist news around the world. These things and more are being shared on our social media channels. Follow us today to stay informed!
---
Bumping along nicely!
Why must a simple nude pose of an expecting mother be called "racy?" Is it just because she is a model? What do you think?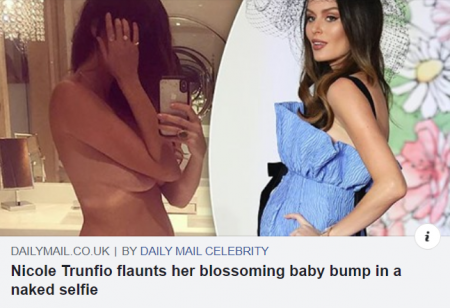 "She's due to give birth to her third child with husband Gary Clark Jr. in early 2020. And on Wednesday, supermodel Nicole Trunfio showed off her growing baby bump as she posed in the nude ahead of her due date. Taking to Instagram, the 33-year-old shared a racy selfie of herself posing in front of a mirror while naked. The pregnant model touched her face with one hand while she held her phone in the other. Her hair was straight and covered her face in the photo which was captioned: 'Girl or Boy?' Nicole first announced that she's expecting her third child in an interview with Gary, 35, published in the October issue of Elle Australia magazine." Read the full story HERE. 
---
The Stigma of Going Braless
So why is no one asking nudists about "nipple equality" when we are the subject matter experts regarding normal, wholesome nudity? And why no action from our nudist spokespeople?

"What comes in pairs, is beloved by babies, but hated by the media? Nipples! In the age of the #MeToo movement and feminism, women are taking ownership of their bodies, including their nipples. When females' breasts begin to grow, they are expected to strap on a bra to hide them. More specifically, girls are expected to hide their nipples. As a woman, I can confirm bras can be uncomfortable. After wearing them over and over, day after day, sometimes when you just want to give your breasts a break. People view the protruding outline of women's nipples as overly sexual. However, there's no issue with the outline of men's nipples. " Read the full story HERE.
---
Around the Cove
---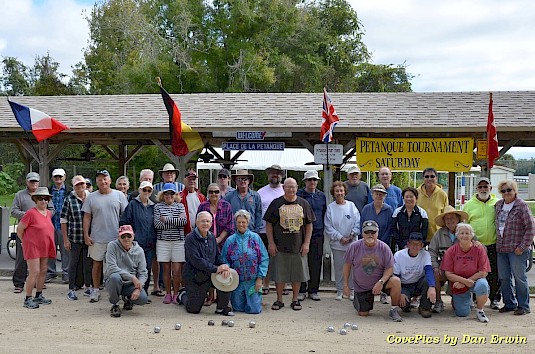 The Petanque Tournament was a lot of fun. The "Place de la Petanque" with 6 courts and its central pavilion is just perfect for a fun day of Petanque.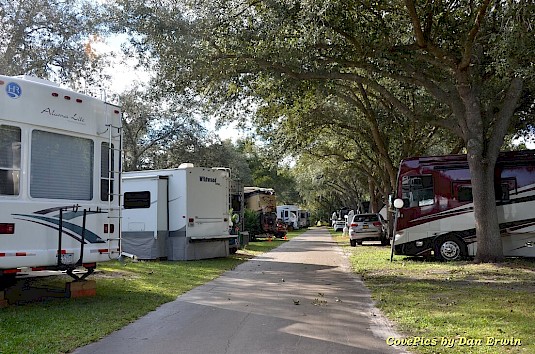 The snowbirds have returned and the campground is full of fun.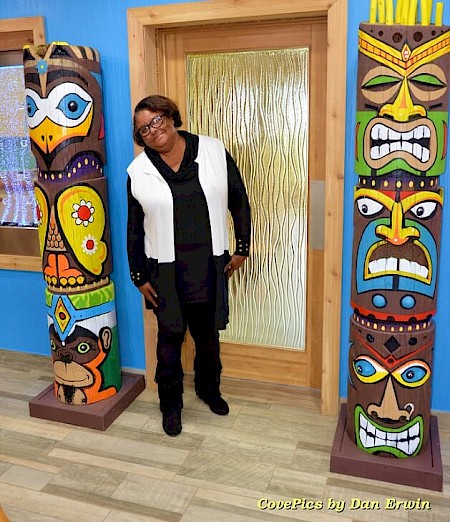 Will the real Tiki please stand up!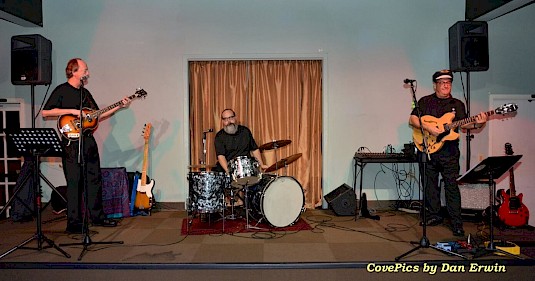 The Astronomics filled Lakeside Restaurant with great '50s & '60s Rock & Roll on Saturday night.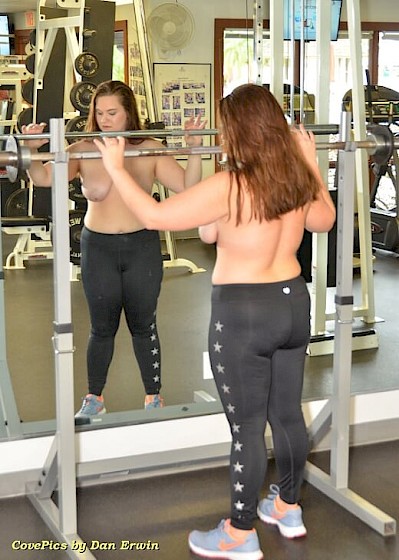 The Gym is a great place to spend an afternoon at the Cove on a "Florida cold" day.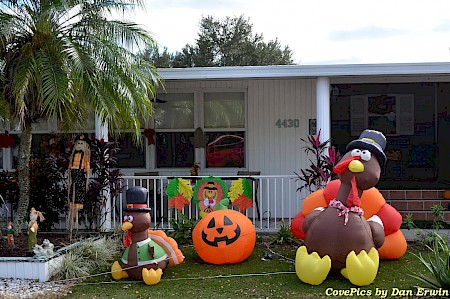 Some of the residents are getting ready for the big Thanksgiving weekend.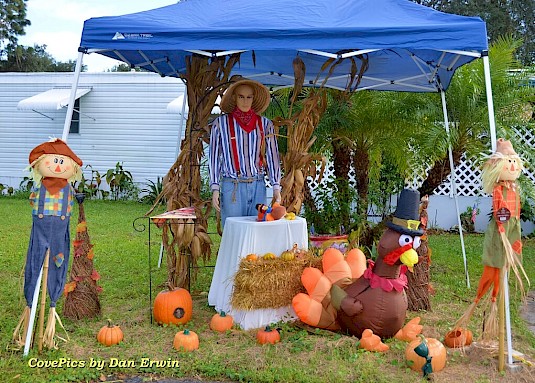 More Thanksgiving fun.
---
"Ask Me About Cypress Cove!"
Do you have your "Ask Me About Cypress Cove" t-shirt yet? They're priced at just $5 each, so we're not making any money on the shirts. We just want folks to use them to tell the world about Cypress Cove. Wear it to town, to the grocery store, or just wear it while you are out and about. Purchase your new t-shirt at the main office and show your pride in Cypress Cove!
The new additions to the "Ask Me About Cypress Cove" T-shirts are available at the Cypress Cove main office and the online store. If you have already picked up your "Find Us On Social Media" T-shirt, send your photos to newsletter@cypresscoveresort.com. Get yours today for $9.95!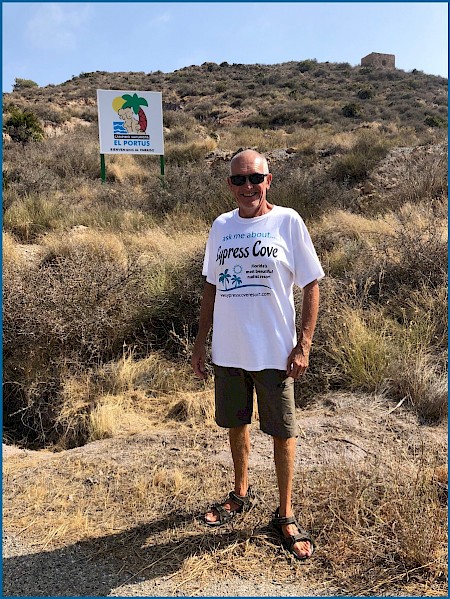 One of our members in Costa Blanca, Spain
SEND US YOUR PHOTOS!!! Do you have a photo of you in the "Ask Me About Cypress Cove" T-shirt? Send it in now! You could be featured in our newsletter. 
We have added this shirt AND the "Find Us On Social Media" T-shirt to our online store. Pick one up today and show us your photos. Send them to Newsletter@CypressCoveResort.com  
Visit our online store by clicking HERE! 
Where have you worn your "Ask Me About Cypress Cove" or "Find Us on Social Media" T-shirt? Send us a photo!
"Thank you to everyone who has been doing this. It has been so much fun getting new pictures from exotic locations all over the US and the world! We have the absolute best, most loyal members we can imagine. We are truly grateful." -- Ted Hadley, Owner, Cypress Cove Nudist Resort
---
Book a Room Today!
It's never been a better time to stay at Cypress Cove! Book Online, Email Reservations, or Call Reservations toll-free at 888-683-3140.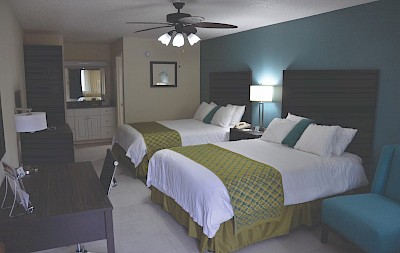 For Special Offers click HERE!
---
Every week we receive great reviews on TripAdvisor and Google; if you have visited or stayed with us, we would love to know about your experience. Click the logos below.