Laugh of the Week
---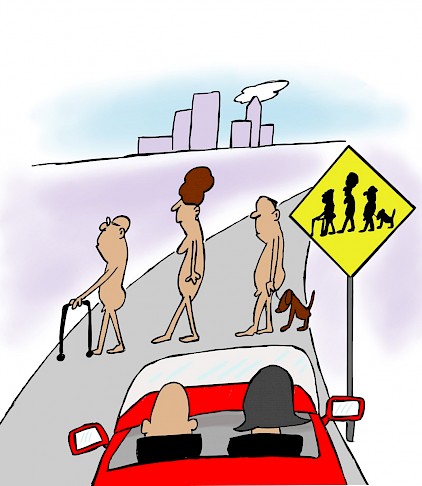 ---
Safety Moment
---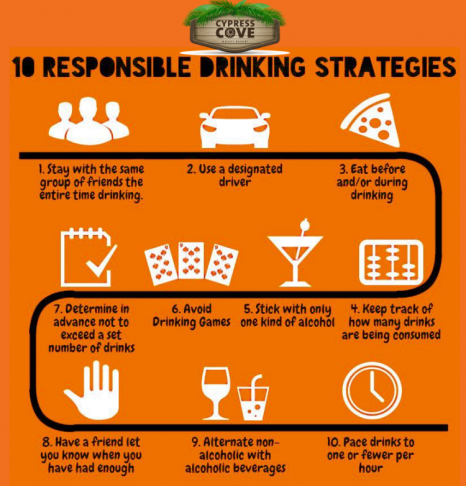 (Click to Enlarge)
---
Cove News
---
Online EXCLUSIVE!! Cypress Cove Floaty Nude Pen!!
Get an exclusive Cypress Cove Floaty Pen before they're gone! These retro-styled pens have been making a comeback, and our version is the BEST! Commissioned exclusively for Cypress Cove, these animated pens feature art by the famous cartoonist Ron Warne. There is a female and a male version of the pen, but why not buy a pair? They're perfect for a souvenir, keepsake, or special gift.
Purchase your pen by clicking here.  If you live at Cypress Cove or are planning a visit soon, also select a pick-up option.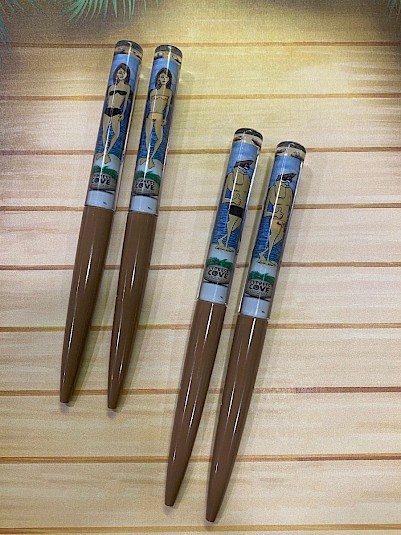 ---
Visit Nature Hair Salon
You deserve a good hair day! Treat yourself to a beauty treatment today. 

---
Cypress Cove - Membership Questions?
Cypress Cove is now open to day visits by both members and non-members*. Come out and get rid of those tan lines. The sun is shining, so let the warmth envelop you. Become a member today!
Tom has been a nudist for years and really understands the lifestyle. He is more than happy to answer questions that you may have regarding membership or your first visit here. Reach out to him directly at 407-518-2605.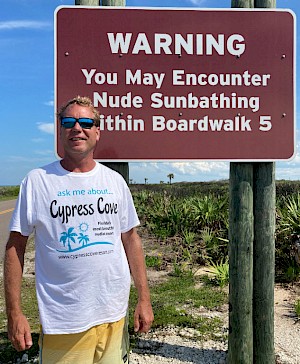 *Subject to health screening & location restrictions.
---
Silver Lining Massage is Evolving as COVID-19 Evolves!
We continue to provide enhanced sanitization with our EPA approved sanitizer as well as a HEPA filter air purifier with UV light. The massage tables are spaced 8 feet apart to ensure social distancing. We will provide outdoor massage if you would like more distance. 
This is super important - cloth face coverings are required to enter the building. We will provide one if you forget yours. Once you are settled on the massage table face down, you may remove your facecover. When you are laying faceup you will need to have a face cover over your nose and mouth. We value you as a client. We want everyone to remain healthy. 
Effective August 10th, hours of operation are changing. We will be closed on Tuesday and Wednesday. 
Monday: Elizabeth & Monique
Thursday: Elizabeth & Tammy
Friday: Monique & Tammy (if needed)
Saturday & Sunday: Rotation of Elizabeth, Monique, David, & Tammy
As we are open 5 days a week instead of 7, it's to your advantage to book ahead. We have allowed time between clients to sanitize, so we lose approximately 1.5 hours prer day of hands-on message time. 
We are now accepting "Cash App" as a form of payment. Credit cards, cash, and personal checks also accepted. 
We look forward to seeing you soon!

---
For Cypress Cove COVID-19 Updates: 
We want to make sure you are always kept up to date with information about how operations are running at Cypress Cove. Please visit HERE for up to the minute information. 
---
News Outside the Cove
See what is making headlines in nudist news around the world. These things and more are being shared on our social media channels. Follow us today to stay informed!
---
Keeping you updated on the Coronavirus: 
Make sure you are keeping up with the latest developments on this virus. Keeping your hands washed is the number one defense. Click HERE for up to the minute information from the Florida Health Department. 
---
The Irish Times nude cover that never saw the light of day
Interesting nudist history from Ireland!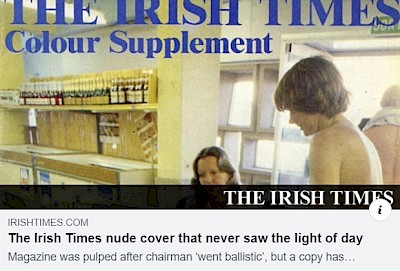 "The year is 1981. The month is August. On the cover of what is meant to be the precursor to The Irish Times' now-familiar Saturday colour supplement are two bare bottoms. They belong to two people shopping in a supermarket in Cap d'Agde, a naturist resort in France, which was then the largest such resort in Europe. The name of the magazine is The Irish Times Colour Supplement. The cover story, about the "naturist movement", which features said unclothed posteriors, was by journalist Jeananne Crowley, with photographs by Tom Lawlor." Read the full story HERE.
---
The untold story of Yugoslavia's naturist paradise
More nudist history. This time related to Yugoslavia!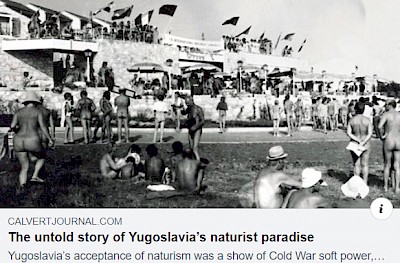 "In August 1972, the International Naturist Federation held its 13th Congress in Koversada, a city-sized camping resort on Croatia's Istrian coast. More than 250 journalists flocked to the region — then part of Yugoslavia — to mark the first time such a meeting had been held in a communist country. An estimated 400 celebrants attended the opening ceremony, at which the Naturist Federation's flag was hoisted to the strains of Yugoslav national anthem Hej Slaveni (Hey You Slavs!). For the next seven days, delegates discussed everything from relations with nudist groups in other communist countries, to the dangers to the movement posed by pornographic magazines. Sessions took place in the courtyard of a palatial villa originally built for German Count Lichtenberg." Read the full story HERE.
---
Around the Cove
---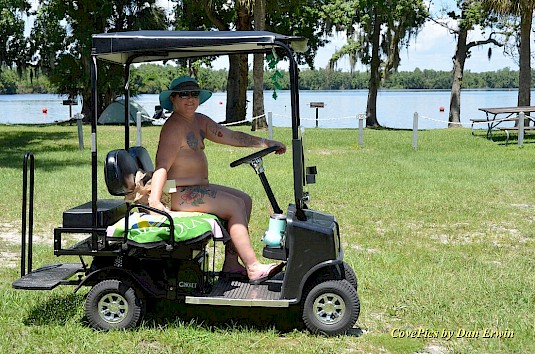 Golf carts around the Cove come in all shapes and sizes.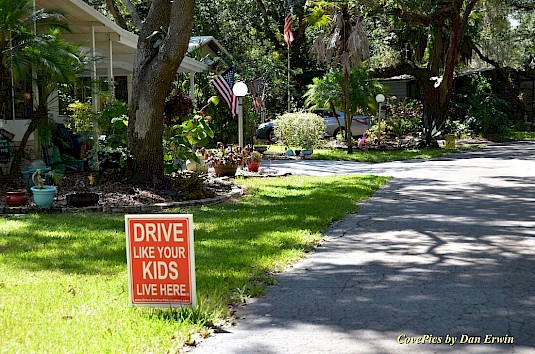 A great reminder that it is important to drive safely and keep your speed to 10 mph while driving in the Cove.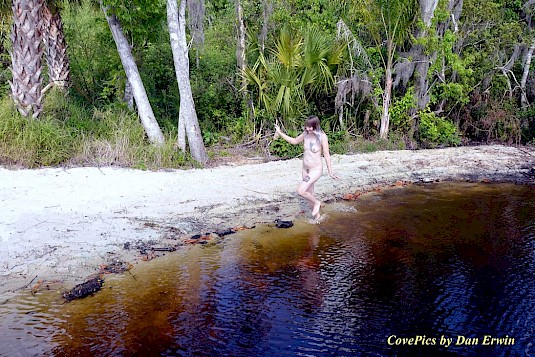 Sometimes you just have to put your toes in the water and enjoy life.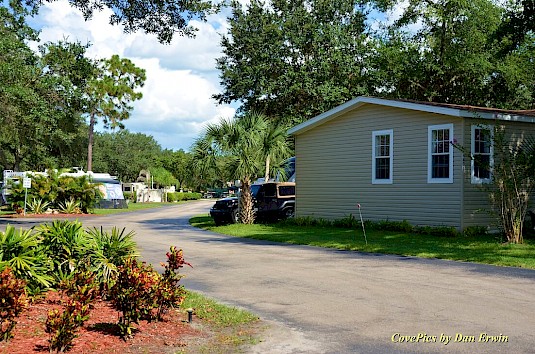 This street leads to a great summer afternoon in the pool.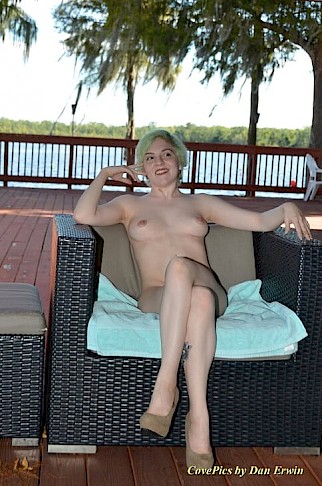 Some quiet time on the deck at Lakeside is just what the doctor ordered.
---
Favorite Memory at Cypress Cove
Thank you to those who sent in your favorite memory at Cypress Cove. We have received so many comments from social media and email. We are excited to share these memories with you.
"First visit there on Honeymoon. Got a nice first time visit slash congratulations basket. The photo shoot our second time there was fun."  -Rob Gravlin
" Playing football with my son and another dad and his sons on the sunning lawn. We had so much fun and the kids really enjoyed playing nude. Then, head over to the pool for some more fun swimming!" -Chas Andrews 
"A kid's Easter egg hunt probably close to 30 years ago. There must have been 50 kids. It was so much fun, organized chaos, and it seemed like the kids all had a good time, also!" - Kendall Wheeler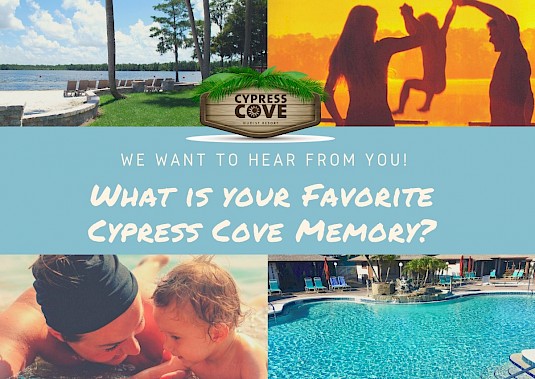 ---
"Ask Me About Cypress Cove!"
Do you have your "Ask Me About Cypress Cove" t-shirt yet? They're priced at just $5 each, so we're not making any money on the shirts. We just want folks to use them to tell the world about Cypress Cove. Wear it to town, to the grocery store, or just wear it while you are out and about. Purchase your new t-shirt at the main office and show your pride in Cypress Cove!
The new additions to the "Ask Me About Cypress Cove" T-shirts are available at the Cypress Cove main office and the online store. If you have already picked up your "Find Us On Social Media" T-shirt, send your photos to newsletter@cypresscoveresort.com. Get yours today for $9.95!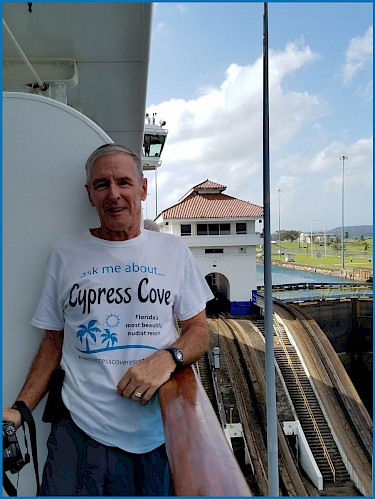 One of our members at the Panama Canal, Gatun Locks. 
SEND US YOUR PHOTOS!!! Do you have a photo of you in the "Ask Me About Cypress Cove" T-shirt? Send it in now! You could be featured in our newsletter. 
We have added this shirt AND the "Find Us On Social Media" T-shirt to our online store. Pick one up today and show us your photos. Send them to Newsletter@CypressCoveResort.com   
Visit our online store by clicking HERE! 
Where have you worn your "Ask Me About Cypress Cove" or "Find Us on Social Media" T-shirt? Send us a photo!
"Thank you to everyone who has been doing this. It has been so much fun getting new pictures from exotic locations all over the US and the world! We have the absolute best, most loyal members we can imagine. We are truly grateful." -- Ted Hadley, Owner, Cypress Cove Nudist Resort
---
Book a Room Today!
It's never been a better time to stay at Cypress Cove! Book Online, Email Reservations, or Call Reservations toll-free at 888-683-3140.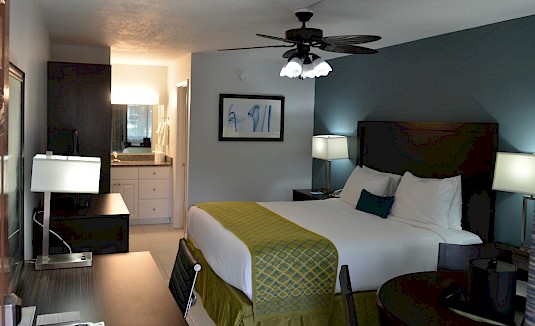 For Special Offers click HERE!
---
Every week we receive great reviews on TripAdvisor and Google; if you have visited or stayed with us, we would love to know about your experience. Click the logos below.