Plan Ahead 
---
Welcome Back Summer Weekend
June 21-23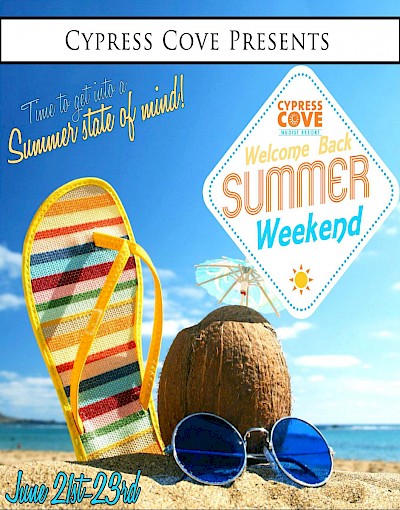 Join DJ Shawn for a Streak at Cheeks dance party on Friday evening at Cheeks. Shawn returns on Saturday poolside with lunch from Cheeks and an afternoon Pool Party. Soulfire will be entertaining you on Saturday at 6 pm at the Welcome Back Summer Dance at Lakeside. Not done dancing? Head over to The VOID dance at Cheeks. DJ Greg will be playing high energy, Top 40 dance music late into the night!
---
Back to the 70s Weekend
June 28-30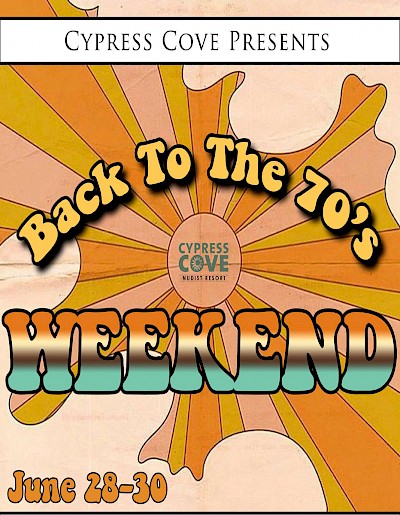 Dig out your bell bottoms and corduroy, it's Back to the 70s at Cypress Cove! DJ Xavier will be hosting Roulette Karaoke on Friday night at Scuttlebutts. On Saturday, hang by the pool with DJ Shawn, grab lunch at Cheeks, and enjoy a pool party. Then, plan for dinner and dancing at Lakeside starting at 6 pm with live music and a tribute to Blondie! The music and dancing never stop when the band packs up; we've got The Void dance party over at Cheeks later with high-energy, Top 40 hits in our very own nighclub experience. What a groovy weekend!
---
Independence Day/Elvis Weekend
July 5-7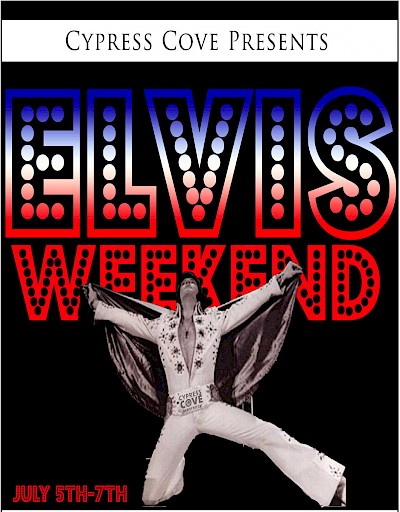 Celebrate your independence with Elvis! We've got a partiotic weekend lined up for you, including a special dance party on Saturday night with Elvis! First, start your weekend on Friday night with a fantastic magic/comedy show at Lakeside. On Saturday, relax by the pool with DJ Xavier's Pool Party. Later that evening, get ready to dance like there's a Roman candle in your pants! Elvis will have you on the dance floor to work off that awesome dinner you just ate at Lakeside. Afterward, don't let that dancing spirit fade away. Get on over to Cheeks for our Saturday night dance at THE VOID with high-energy music by DJ Greg! Hubba, hubba!
---
Open House Weekend
July 12-14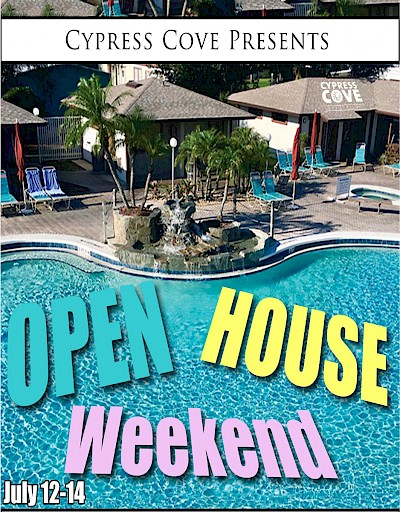 The Open House is a Cypress Cove tradition where guests can visit the resort at no cost and get a first-hand experience with no pressure to be nude. Stay clothed and relax by the lake or bring a towel, shed your clothes, and beat the heat on the beach. We also will host a pool party, complete with a DJ and an atmosphere of complete acceptance and relaxation. It is our hope that once you see all the great things that Cypress Cove has to offer, you will want to come back again... and again. 
On Friday night, we'll have a karoke party with Mr. Breezz and give you a chance to be a star! On Saturday, visit the Club Expo where our Cypress Cove clubs will showcase all the fun things they do. Then, relax by the pool at DJ Xavier's Pool Party. Later, get over to Lakeside for a great meal, cocktails, and dancing as David entertains you during our Open House Dance Party. Not enough dancing and partying? THE VOID dance party starts at 9 pm at Cheeks with high energy music until the wee hours. What a weekend!
---
Cove News
---
Don't Let the Rain Keep You from Your Naked Time!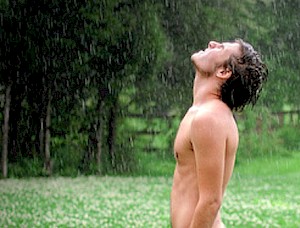 Whether you're planning a trip to Cypress Cove for a day, a weekend, a week, or longer, don't let the possibility of rain keep you away from having your much needed naked time! There is always something fun to do at Cypress Cove...even if it's raining. With two restaurants, a covered hot tub, billiards, darts, table tennis, the American Nudist Research Library, a day room, a clubhouse, covered lounging spaces, special themed events, and live music and entertainment, you can wait out a shower or two and still have a great time au naturale! So, although the Florida sun is great, don't discount how fun it can still be to run around naked in the rain.
---
Cheeks Gets a Facelift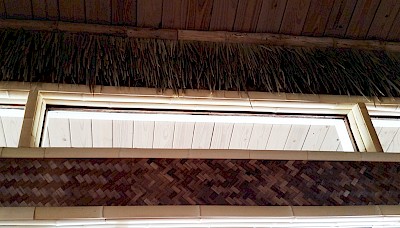 Here's a little teaser of how Cheeks is coming along. Can you guess what you're looking at? We'll give you a hint: it's the view you have while you're gulping down your drink!
The light renovation project at Cheeks Bar & Grill is going well. The crew is now working on the bar area and we can't wait to see how they are going to change it from a "sports bar" theme to an "island tiki" theme. A temporary bar has been set up inside Cheeks, so it's still open for business. Thank you, residents and visitors, for "baring" with us during this process. You're going to love the new look!
---
Breakfast Location Change During Cheeks Renovation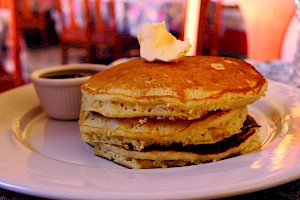 Beginning June 10, breakfast will be served at Lakeside Restaurant from 7:30-10:30 am while the Cheeks renovation project is underway. We expect lunch to still be served at Cheeks at the usual time of 11 am, but there may be a few interruptions. Watch these newsletters for updates.
---
Cypress Cove Club Expo
Saturday, July 13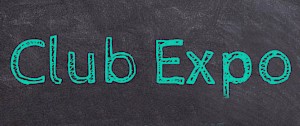 12 pm - 4 pm in the Clubhouse. Calling all Club/Groups/Sports organizers! Looking for a chance to share what your club is all about? Looking to increase your club's membership? This is the day you will be able to share information with everyone about your club and what you do. Half tables are available at no charge; we only ask that you have someone present for the entire time of the event and sign up a week in advance. Prizes awarded for the best decorated space: $250 will go to the first place winner, $150 for second place, and $50 for third place. For more information, contact Melanie in the Activities office at melanie@cypresscoveresort.com.
---
June Massage Specials from Silver Lining Massage

Silver Lining Massage, located at the West Pool, wants to make sure that your summer starts out healthy! Come in during the month of June and receive:
15% OFF your 25-Minute Massage
(Cannot be used in conjunction with other discounts)
Make your appointment now! Call 407-518-2603, or dial ext. 2603 from your hotel room, or walk over and sign up on the outside board, or text 407-319-8728.
License #MM18714
Pomegranate Ginger Full Body Scrub
Limited Time Offer, Only $45!
Includes a take-home sample of the scrub (while supplies last)
This blend of pomegranate and ginger is delectable! We think it should be an alcoholic beverage!  
Make your appointment now! Call 407-518-2603, or dial ext. 2603 from your hotel room, or walk over and sign up on the outside board, or text 407-319-8728.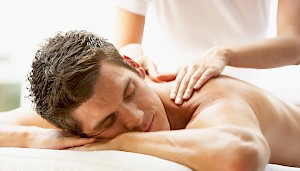 Introducing...Weekend Summer Hours for Your Massage!
As most everyone knows, there is music every Saturday and Sunday on the West Pool deck and Silver Lining Massage is located next to the gazebo where the music is performed. We love the vibe of the summer music, but we also realize that our clients may want a more tranquil massage. So, beginning June 15, we will open at 10 am on Saturdays and Sundays. If you would like a quiet massage, just book the 10 am and 11 am slots. These times will fill quickly, so book in advance by calling 407-518-2603, or text 407-319-8728, or email massage_at_the_cove@yahoo.com.
---
News Outside the Cove
See what is making headlines in nudist news around the world. These things and more are being shared on our social media channels. Follow us today to stay informed!
---
"Facebook to meet #WeTheNipple campaigners amid nudity censorship row"
Though far from getting Facebook to CHANGE or MODIFY their anti-nudity policy, forcing a serious meeting with them was a great start. Way to go, Spencer! Thank you for forcing a very important conversation!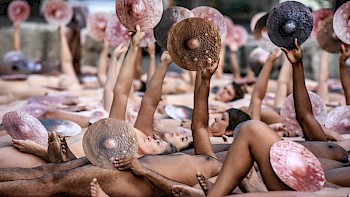 "Facebook has agreed to meet with anti-censorship campaigners and figures from the art world amid a growing row over its policy regarding artistic nudity. The media giant's announcement comes days after a nude protest outside its New York headquarters under the banner #WeTheNipple, co-organized by the National Coalition Against Censorship (NCAC) and renowned American artist Spencer Tunick." Read the full story HERE.
---
Introducing Women to the Joys of Nude Swimming
"Intro to Nude Swimming." What a great idea! Kudos to our naturist friends in the UK!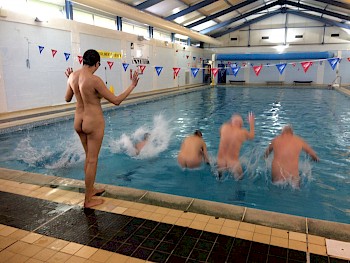 "A naturist swimming club in Leicestershire is running a month-long campaign to encourage more women to try clothes-free swimming. Desford Swim is running a "Women Go Free" month during May and June, in which women wanting to test the waters of nude swimming can join in for free with the group's regular mixed-gender clothes-free swimming sessions every Sunday morning." Read the full story HERE.
---
Around the Cove th
is Week
---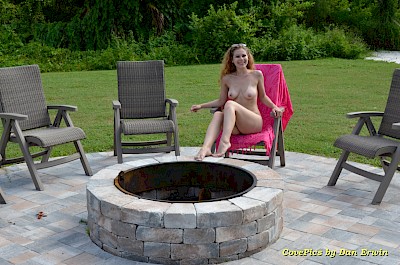 The beachfront is a great way to enjoy a quiet afternoon of sunbathing.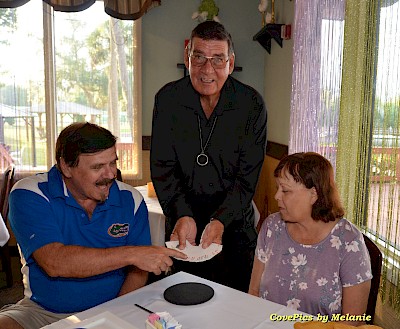 Magician Big Dan the Magic Man went from table to table on Friday night doing some pre-show, up-close magic.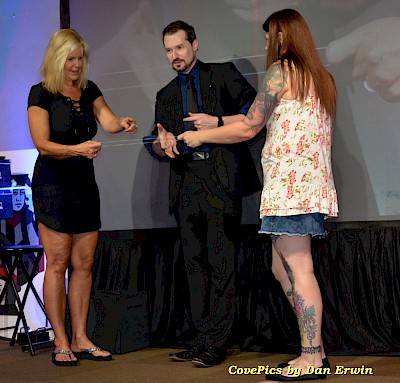 Magician Phillip Kaiser helped us celebrate our 50th "1st Friday Magic Show" by blowing our minds with amazing magic.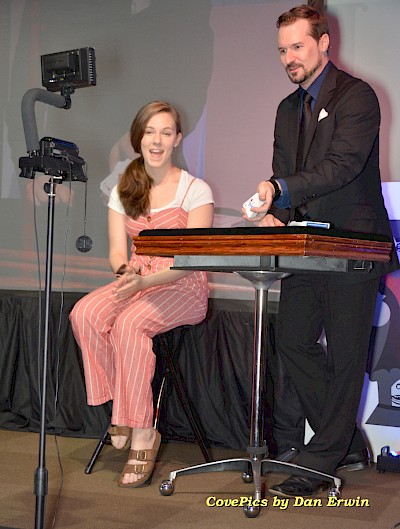 Magician Phillip Kaiser brought the camera/viewing screens that he uses on the Cruise Ships, so everyone could see every move as if they were right on stage with him.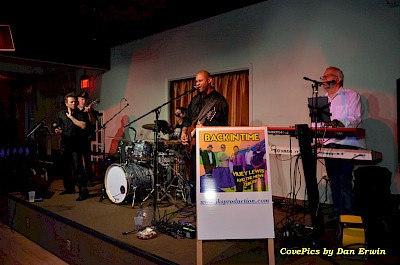 Lakeside Restaurant customers enjoyed the "Back in Time" band do their Huey Lewis and the News Tribute on Saturday night.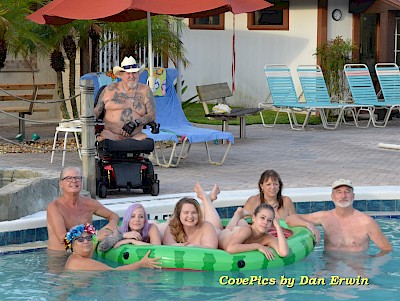 The annual Cypress Cove Camera Club early morning pool shoot on Sunday was so much fun for the photographers and the models.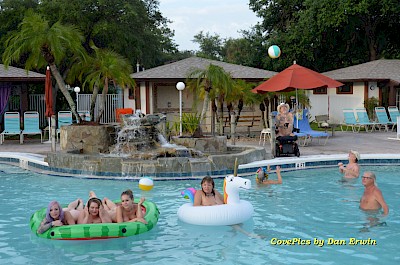 Floats are not allowed in the pool normally, but they sure made the Camera Club Photo Shoot more colorful & interesting.
---
"Ask Me About Cypress Cove!"
Do you have your "Ask Me About Cypress Cove" t-shirt yet? They're priced at just $5 each, so we're not making any money on the shirts. We just want folks to use them to tell the world about Cypress Cove. Wear it to town, to the grocery store, or just wear it while you are out and about. Purchase your new t-shirt at the main office and show your pride in Cypress Cove!
The new additions to the "Ask Me About Cypress Cove" T-shirts are available at the Cypress Cove main office and the online store. If you have already picked up your "Find Us On Social Media" T-shirt, send your photos to newsletter@cypresscoveresort.com. Get yours today for $9.95!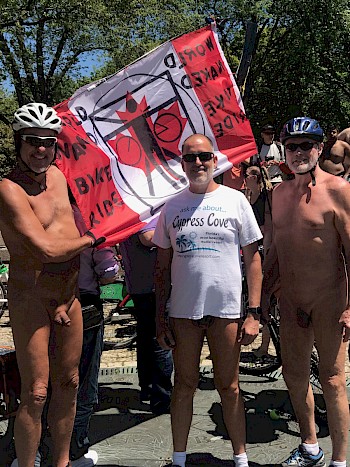 Our very own Ted Hadley met some Cypress Cove members at the World Naked Bike ride!
SEND US YOUR PHOTOS!!! Do you have a photo of you in the "Ask Me About Cypress Cove" T-shirt? Send it in now! You could be featured in our newsletter. 
We have added this shirt AND the "Find Us On Social Media" T-shirt to our online store. Pick one up today and show us your photos. Send them to Newsletter@CypressCoveResort.com  
Visit our online store by clicking HERE! 
Where have you worn your "Ask Me About Cypress Cove" or "Find Us on Social Media" T-shirt? Send us a photo!
"Thank you to everyone who has been doing this. It has been so much fun getting new pictures from exotic locations all over the US and the world! We have the absolute best, most loyal members we can imagine. We are truly grateful." -- Ted Hadley, Owner, Cypress Cove Nudist Resort
---
Book a Room Today!
It's never been a better time to stay at Cypress Cove! Book Online, Email Reservations, or Call Reservations toll-free at 888-683-3140.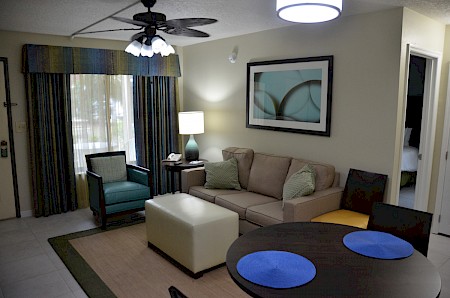 For Special Offers click HERE!
---
Every week we receive great reviews on TripAdvisor and Google; if you have visited or stayed with us, we would love to know about your experience. Click the logos below.