Laugh of the Week
---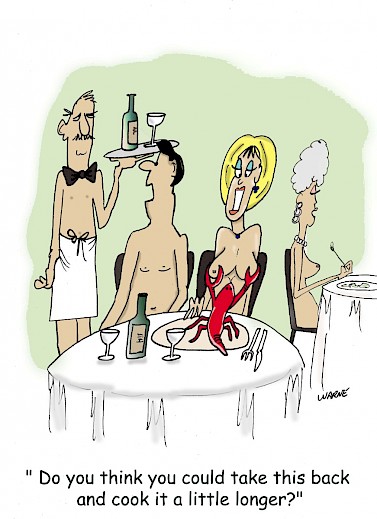 ---
Cove News   
---
Exciting News from Nature Hair Salon!
Discover the latest addition to our luxurious offerings at Nature Hair Salon, nestled within our picturesque resort. We are thrilled to announce that our talented technician is now certified in microblading, bringing you an unparalleled level of expertise and precision.
What is microblading, you ask? It's the art of creating natural-looking, beautifully defined eyebrows that perfectly complement your unique features. Our state-certified technicians are here to help you achieve the brows you've always dreamed of!
But that's not all! To celebrate this exciting addition, we have a special treat for you during the months of October and November. When you indulge in our acrylic services, you'll receive a complimentary gift, along with the chance to flaunt your style with complementary nail art on one finger. It's our way of saying thank you for choosing Nature Hair Salon for your beauty needs.
Treat yourself to a day of pampering and refinement at Nature Hair Salon, where your beauty meets nature's serenity. Book your appointment today and experience the difference.
Your journey to beauty begins at Nature Hair Salon.

---
More Exciting News: New & Improved Bingo Night at Cypress Cove!
Get ready to mark your calendars and join us for an exhilarating evening of fun, prizes, and camaraderie at our all-new and improved Bingo Night, starting on September 12th!
Here's what you can expect:
Doors Open at 5:00 PM: Arrive early to secure your lucky seat and mingle with fellow nudist resort enthusiasts. The Cypress Cove Pavilion will be buzzing with excitement and anticipation.
Pre-game Warm-Up at 6:50 PM: Kickstart the evening with a pre-game session that will set the mood and get those bingo brains warmed up. Be sure to grab your cards and join the action!
Bingo Extravaganza at 7:00 PM: The main event starts promptly at 7:00 PM, so be prepared for a night filled with thrilling rounds, fantastic prizes, and unforgettable moments. We've added some exciting twists to make this Bingo Night better than ever!
Whether you're a seasoned bingo pro or a newbie looking for a great time, Cypress Cove's Bingo Night is the place to be on September 12th. Bring your good luck charms and your competitive spirit – it's going to be a blast!
Don't miss out on this fantastic opportunity to connect with your fellow resort residents, win exciting prizes, and enjoy the delightful ambiance of Cypress Cove. We can't wait to see you there!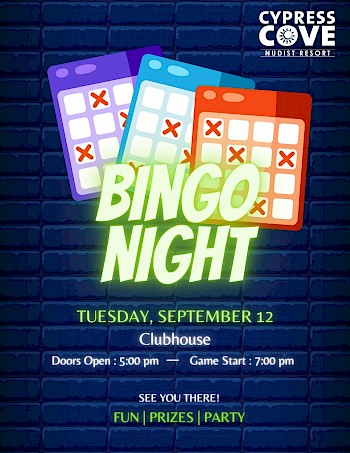 ---
Fall Volleyball at the Cove
It's that time of year again when volleyball lovers from all over come together and play some nude volleyball. The volleyball is great and the fun times and parties off the court are EPIC! This is the best clothing-optional tournament in the country at the greatest resort around. If you have never been come check it out and see why this is one event you won't ever want to miss!
Pre-registration is not required but would be greatly appreciated, so we know how many teams to expect!!! Send an email to VBSwing@aol.com with your team name, roster & division. If you are an orphan looking to play let us know as well. For room reservations, give us a call at (407)933-5870.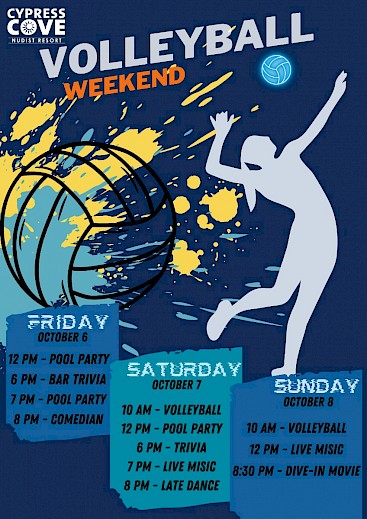 ---
Cypress Cove Craft Fair
Get ready to be amazed by the incredible talents of our local crafters, woodworkers, and sewers at the upcoming Craft Fair! Join us for a delightful day of handcrafted wonders that showcase the heart and soul of our community.
Indulge in a wide array of unique and handmade treasures, each thoughtfully created by our skilled artisans. From intricately carved wooden masterpieces to exquisitely sewn textiles, you'll find something truly special that speaks to your style and sensibilities.
Not only will you have the chance to acquire one-of-a-kind items, but you'll also be supporting the passion and dedication of our talented neighbors. Whether you're searching for the perfect gift or hoping to adorn your own living space with artisanal charm, the Community Craft Fair promises an unforgettable experience.
Mark your calendars and join us Saturday, October 7 from 9 am - 2 pm at the Clubhouse to celebrate the art of craftsmanship and the spirit of our community. Don't miss this opportunity to connect with local artisans and take home a piece of their creative brilliance!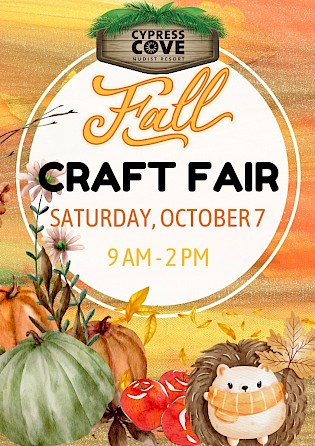 ---
Cheesecake Bakesale
Herman is baking his heart out for this year's annual cheesecake bakesale. All proceeds go to benefit a breast cancer charity. He will be located in the Gameroom on Saturday, October 14 from Noon to 4 pm. Cash preferred, account charges available. Make sure you check out the raffle that Herman has set up. He is raffling off this TV and much more. If you'd like to donate something to be raffled, please get with Herman at Cheeks. All proceeds go straight to charity.
If you can't join us in person but still want to help this amazing cause, purchase a virtual cheesecake here!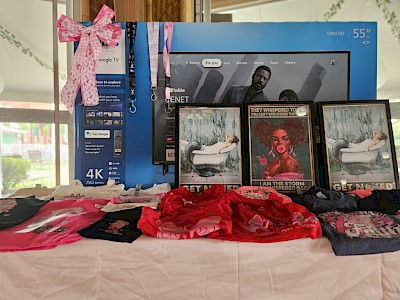 ---
Nude-A-Palooza 2023 TICKETS ON SALE!!!
Here is the official line-up for Nude-A-Palooza 2023 happening on October 21, 2023... It's time to get your tickets! Villa guests will receive up to two event tickets at half-price. This is a change from previous years so that we can maximize charitable donations.

Tickets are officially on sale and can be purchased HERE. Don't forget to book your stay for this big event. We might have last-minute reservation cancelations, so make sure you give us a call!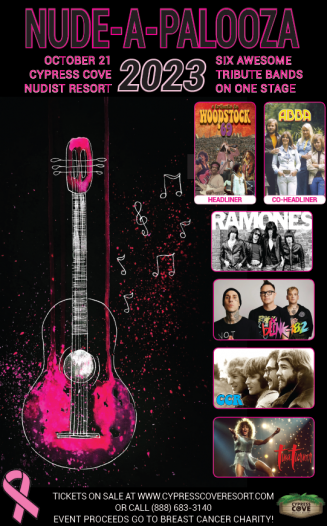 ---
News Outside the Cove
See what's making headlines in nudist news around the world. These things and more are being shared on our social media channels.

Follow us today to stay informed!






(Click one of these links to see the latest news!)
---
'Tastefully nude' calendar challenges aging stereotypes, empowers 'fierce and fabulous' women
Nude is beautiful at any age. Way to go to these lovely ladies for shedding the layers and embracing their true beauty. That is what it is all about!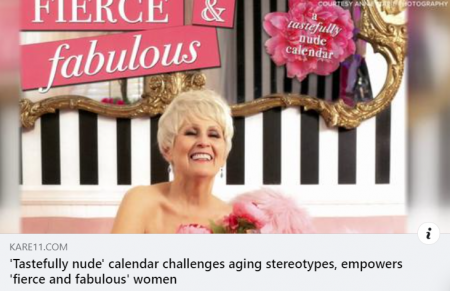 "With strategically placed limbs and flowers "tastefully" concealing some aspects of the women, the photos intentionally still reveal the testaments of time. Wearing big earrings, bright red lipstick and a blue hat to match her shirt, Ketcham knows how to age both gracefully… and dangerously. In 2008, Ketcham co-founded Aging But Dangerous, a company dedicated to helping women age with information, events, and laughter." Read the full story HERE.
---
Actress felt no shame filming nude scenes
That's amazing to hear! You should never feel any shame when it comes to your body. Everyone is beautiful! It's natural.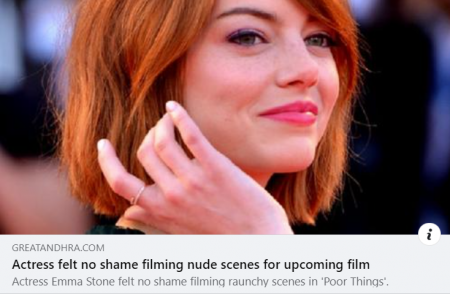 "The actress takes on the lead role of Yorgos Lanthimos' surreal new movie and the filmmaker was grateful for the effort she put into her alter ego Bella Baxter's intimate sequences in the adaptation of Alasdair Grey's novel, reports aceshowbiz.com.'It's a shame that Emma could not be here to speak more about it, because it will all be coming from me. First of all, sex is an intrinsic part of the novel itself, her freedom about everything including sexuality,' Yorgos said at the Venice Film Festival, where 'Poor Things' premiered with none of the cast in attendance due to the ongoing SAG-AFTRA strike." Read the full story HERE.
---
Have You Seen Us Lately?
Cypress Cove through the lens of our visitors.
This week's photos are brought to you by... YOU! You took the photos. You posted the photos. So we are sharing the photos. Our residents, guests & visitors take some of the most beautiful shots of Cypress Cove. Check it out!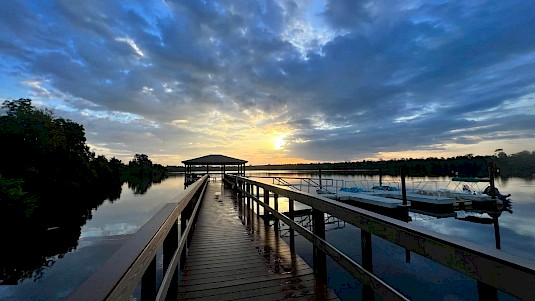 The Dock
Photo Cred: Lisa G.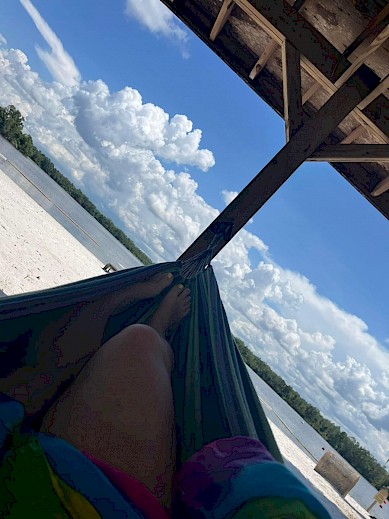 Beachside Relax
Photo Cred: Anna O.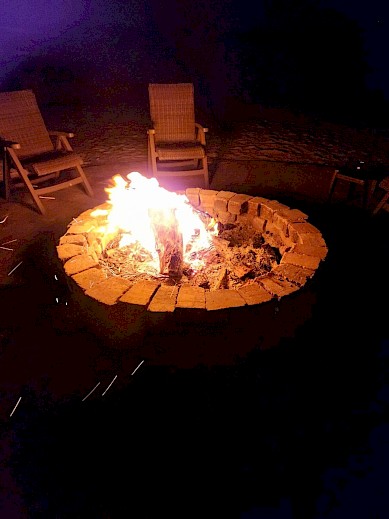 Fireside
Photo Cred: Jefferson T.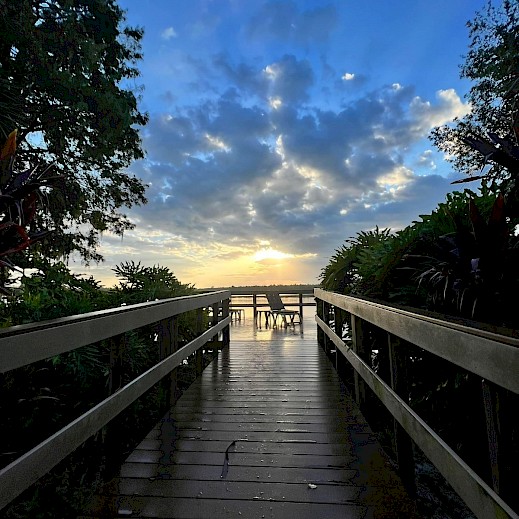 Short Dock
Photo Cred: Lisa G.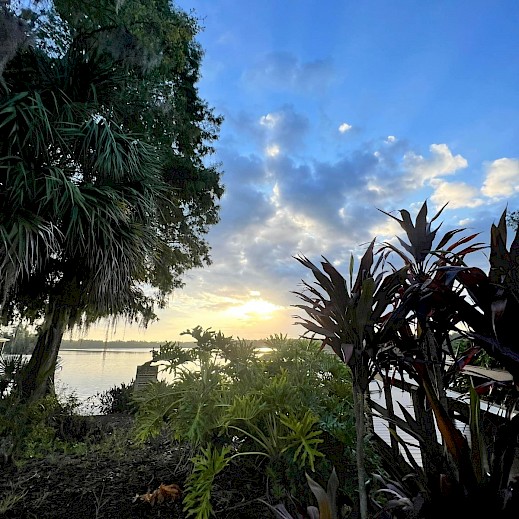 Sunrise on Brown Lake
Photo Cred: Lisa G.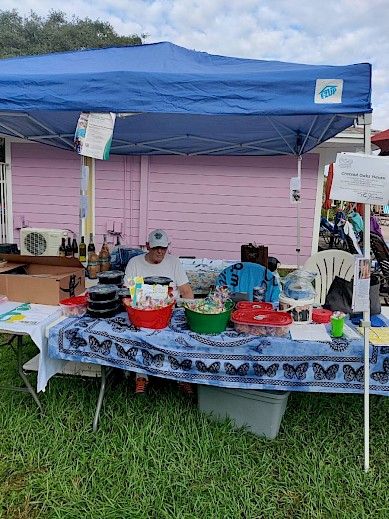 Wigs for Kids event
Photo Cred: Patti S.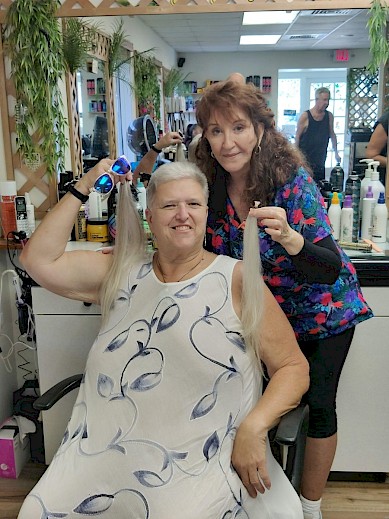 Goodbye locks
Photo Cred: Patti S.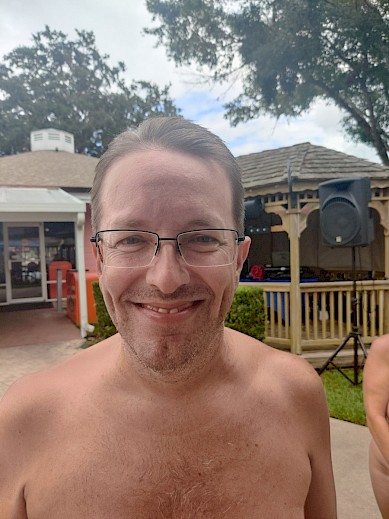 Donated Hair
Photo Cred: Patti S.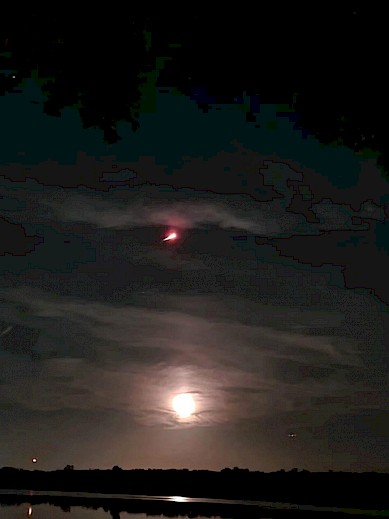 SpaceX Falcon 9 Launch
Photo Cred: Ann W.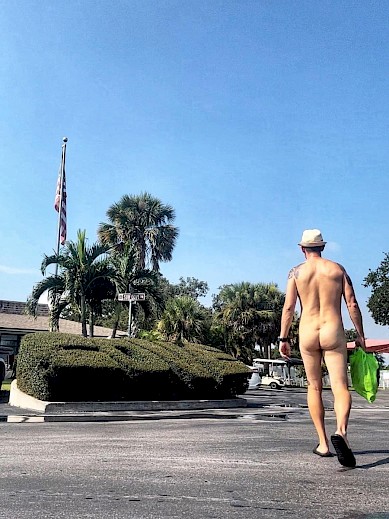 Walk in the Park
Photo Cred: Kris W.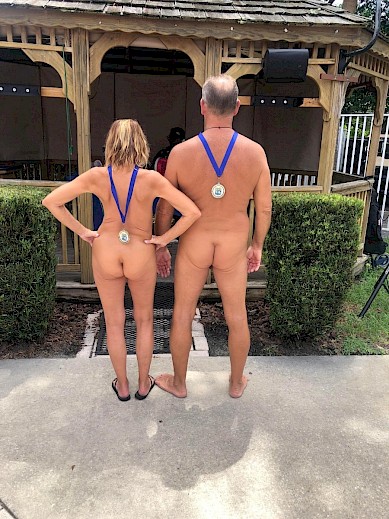 Bonnie & Henry's First 5K Medals
Photo Cred: Bonnie & Henry
---
"Where Have You
Taken the Cove?"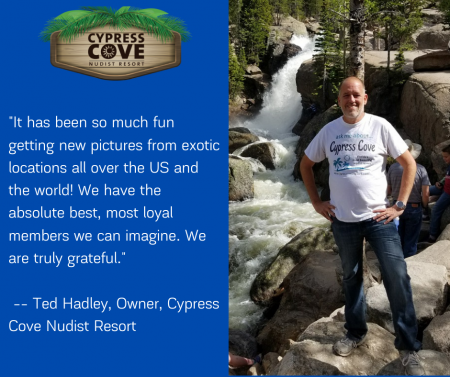 SEND US YOUR PHOTOS!!!
 We want to see where you have worn your Cypress Cove t-shirt, no matter which style it is! Wear it to town, the grocery store, while you are out and about, or at a national monument, and send us a photo! You will be featured in our newsletter or on our social media channels. 
Don't have a shirt yet? Purchase one at the main office or call and order one to show your pride in Cypress Cove! 
Call us at Toll-Free (888) 683-3140.

Send photos to Newsletter@CypressCoveResort.com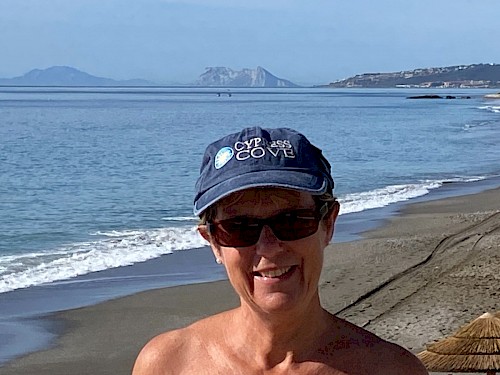 A guest that has been visiting since 1986! Photo taken at Costa Natura Naturist Resort and Beach in southern Spain. A beautiful view of 3 countries: the Spanish coast, The Rock of Gibraltar (British), and to the left are the Atlas Mountains of Morocco in Africa. 
Thank you for sending it in, Kate!

Where have you worn your Cypress Cove T-shirts?
Please send us a photo!
---
Book a Room Today!
It's never been a better time to stay at Cypress Cove! Book Online, Email Reservations, or Call Reservations toll-free at 888-683-3140.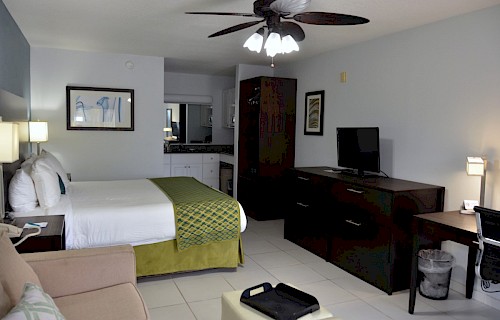 For Special Offers click HERE!
---
Every week we receive great reviews on TripAdvisor and Google; if you have visited or stayed with us, we would love to know about your experience. Click the logos below.