Laugh of the Week
---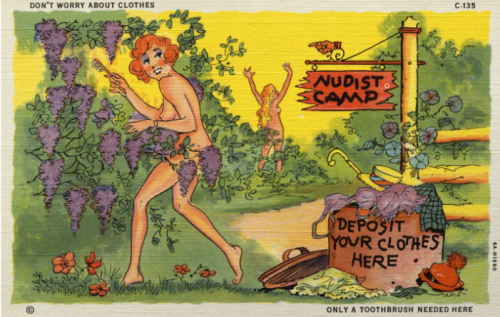 Vintage Nudist Cartoon
---
Cove News   
---
Fall Volleyball at the Cove
It's that time of year again when volleyball lovers from all over come together and play some nude volleyball. The volleyball is great and the fun times and parties off the court are EPIC! This is the best clothing-optional tournament in the country at the greatest resort around. If you have never been come check it out and see why this is one event you won't ever want to miss! Happening October 7 & 8 at 10 am. 
Pre-registration is not required but would be greatly appreciated, so we know how many teams to expect!!! Send an email to VBSwing@aol.com with your team name, roster & division. If you are an orphan looking to play let us know as well. For room reservations, give us a call at (407)933-5870.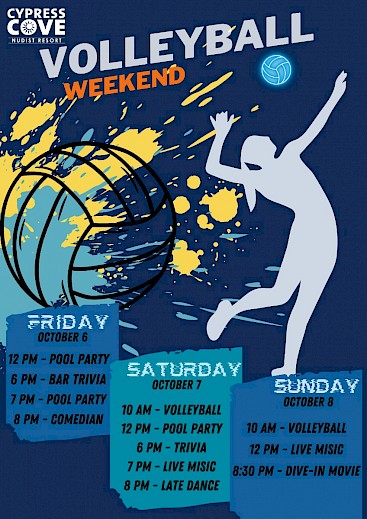 ---
Cypress Cove Craft Fair
Get ready to be amazed by the incredible talents of our local crafters, woodworkers, and sewers at the upcoming Craft Fair! Join us for a delightful day of handcrafted wonders that showcase the heart and soul of our community.
Indulge in a wide array of unique and handmade treasures, each thoughtfully created by our skilled artisans. From intricately carved wooden masterpieces to exquisitely sewn textiles, you'll find something truly special that speaks to your style and sensibilities.
Not only will you have the chance to acquire one-of-a-kind items, but you'll also be supporting the passion and dedication of our talented neighbors. Whether you're searching for the perfect gift or hoping to adorn your own living space with artisanal charm, the Community Craft Fair promises an unforgettable experience.
Mark your calendars and join us Saturday, October 7 from 9 am - 2 pm at the Clubhouse to celebrate the art of craftsmanship and the spirit of our community. Don't miss this opportunity to connect with local artisans and take home a piece of their creative brilliance!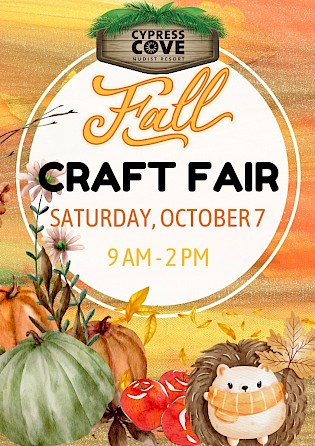 ---
Sweet Cause at Cypress Cove's Annual Charity Cheesecake Bake Sale
Get ready for a scrumptious treat that's sure to warm your heart! Our beloved bartender, Herman, is gearing up for his annual cheesecake bake sale in support of a great cause. Mark your calendars for Saturday, October 14, from Noon to 4 pm, as Herman takes over the Gameroom with his delectable homemade cheesecakes.
Herman has been busy baking his heart out, and trust us, you won't want to miss out on these mouthwatering flavored cheesecakes, lovingly crafted from scratch. Cash is preferred for your cheesecake purchases, but don't worry – we also offer Cove account charges for your convenience.
But that's not all! Herman has gone above and beyond this year by setting up an exciting raffle, featuring fantastic prizes such as a TV, shirts, bags, and so much more. And here's the best part – all proceeds from both the cheesecake sales and the raffle will go directly to benefit a breast cancer charity.
Want to contribute to this incredible cause?
If you'd like to donate something for the raffle, please don't hesitate to reach out to Herman at Cheeks. Every donation, big or small, will make a difference in supporting breast cancer awareness and research.
Join us in spreading love, hope, and cheesecake joy at Cypress Cove's annual charity cheesecake bake sale. Indulge your sweet tooth and help make a difference on Saturday, October 14th. Let's come together as a community to support this worthy cause.
Thank you for your continued support, and we look forward to seeing you there!
Can't join us in person but still want to help this amazing cause?
Purchase a virtual cheesecake here! 

---
Get Ready for Nude-A-Palooza 2023: A Music Festival for a Cause!
Mark your calendars for October 21, because Nude-A-Palooza is back and bigger than ever! This all-day charity music festival is the most anticipated event of the year at Cypress Cove, and it's all for a fantastic cause. We're proud to announce that 100% of ticket proceeds sales will be donated to the Florida Cancer Specialist Foundation.
Tribute Artists Extravaganza!
Prepare to be amazed as our talented Tribute Artists take the stage. Past years have brought us incredible performances from The Beatles, Rolling Stones, Eagles, Beach Boys, Adele, Aerosmith, and many more. This year's lineup includes Tina Turner, CCR, Blink 182, Ramones, Abba (Co-headliner), and Woodstock '69 (Headliner) - it's a musical journey you won't want to miss!
Exclusive Offer for Villa Guests.
As a special thank you to our Villa guests, we're offering up to two event tickets at half-price! This is a change from previous years, as it allows us to maximize charitable donations while ensuring our valued guests have a fantastic experience.
Full Resort Access Included.
When you purchase a ticket, you'll not only gain access to the incredible concert but also full resort use for the day. That means there are no grounds fees to worry about - it's all included in your admission!
Open to the Public.
Nude-A-Palooza is open to the public, so our usual entry qualifications are waived for the day. Invite your friends and family to join in the fun and support a great cause!
Shopping and Delicious Eats.
We'll have merchandise tents set up where you can snag some fantastic souvenirs. And don't forget to refuel with delicious food and drinks available throughout the day.
After Party on the Property.
The excitement doesn't end with the concert! Stick around for our fabulous After Party right here on property at the West Pool with DJ Damon. It's the perfect way to cap off an amazing day.
Nude-A-Palooza is a one-of-a-kind event that combines music, charity, and the Cypress Cove experience like no other. We can't wait to see you on October 21st for a day filled with music, fun, and giving back to the community. Let's make this year's Nude-A-Palooza the best one yet!
Tickets are officially on sale and can be purchased HERE. 
Schedule:
11:30 am - Gates Open
12:00 pm - Nude-A-Plooza Begins
12:00 pm - 12:45 pm-Tina Turner
1:15 pm - 2:00 pm - CCR
2:30 pm - 3:15 pm - Blink 182
3:45 pm - 4:30 pm - The Ramones
5:00 pm - 6:00 pm - ABBA
6:30 pm - 8:00 pm - Woodstock 69 Tribute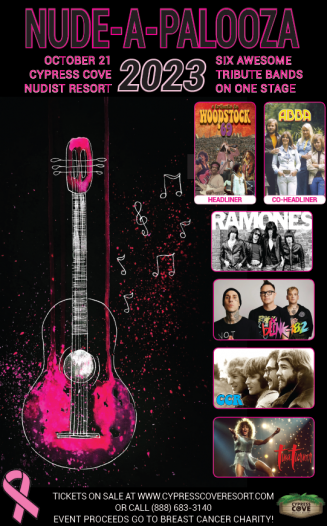 ---
Important Water Safety Reminder: No Wake Zones on Brown Lake
We'd like to emphasize an essential safety measure to ensure the well-being and enjoyment of all at Cypress Cove Resort. Please take note of the designated No Wake Zones within our beautiful retreat:
Beach Swimming Area
Marina
Boat Launch
Docks
RC Boat Course
Additionally, it is imperative that all watercraft maintain a minimum distance of 25 yards (75 feet) from these areas at all times. This courtesy exists to prioritize safety and preserve the serene atmosphere of our cherished community.
We appreciate your cooperation in observing aquatic etiquette, contributing to a safer, more enjoyable experience for everyone at Brown Lake. Thank you for your ongoing commitment to maintaining this wonderful environment.

---
Exciting News! The Quilt-N-Arts Club is Back in Action!
Hey there, fellow naturist enthusiasts!
They're thrilled to announce that the Quilt-N-Arts Club is back in full swing, and we've got some creative and crafty fun in store for you! Mark your calendars for a fantastic gathering on September 28th (Thursday) at 1:00 pm right here in our cozy Club House.
Their talented organizer, Jean, is all fired up to bring you a wonderful session you won't want to miss. And guess what? After receiving countless requests, They've got a special treat for you this time!
Gonny is here to share her plastic crochet art secrets!
So, here's what you need to bring to this class:
Plastic Bags: Gather as many as you can find, especially those trusty old grocery bags. We're recycling in style!
Scissors: You'll need these to trim and shape your plastic masterpieces.
#5 (H) Crochet Hook: Don't forget to bring this essential tool for your creative journey.
This session promises to be a blend of eco-friendliness and artistic flair as we transform ordinary plastic bags into beautiful, functional art. Plus, it's a fantastic opportunity to bond with fellow nudists and get those creative juices flowing.
Whether you're a seasoned pro or a total newbie, all are welcome. Let's make this gathering a colorful and crafty success!
Can't wait to see you all there, so join us in the Club House on September 28th at 1:00 P.M. for a nudist-friendly, artsy adventure you won't want to miss.
See you soon, and let's get those creative vibes flowing together!

---
Dive into Fun at the 11th Annual Cypress Cove Turkey Smash Pickleball Tournament! 
Get ready for an exhilarating four-day extravaganza of pickleball action at the stunning Cypress Cove Nudist Resort from November 17 to November 19. Join us for the 11th Annual Cypress Cove Turkey Smash Pickleball Tournament, featuring ten exciting pickleball events played on our six newly resurfaced, pristine courts.
The weekend is packed with nine competition events, a chance to win amazing prizes in our giant prize raffle, and a lively and informal kickoff event to set the tone for the festivities. Bask in the Florida sunshine as you engage in friendly competition and a whole lot of fun on the courts.
Whether you're a seasoned pickleball pro or a newcomer to the sport, everyone is welcome to participate! No pre-registration is required for any event, so simply mark your calendars and be prepared for a fantastic weekend of pickleball excitement.
For all the event details and the complete schedule, please click HERE or email info@covepickleballclub.com. Don't miss out on this unforgettable pickleball experience at the 11th Annual Cypress Cove Turkey Smash Pickleball Tournament!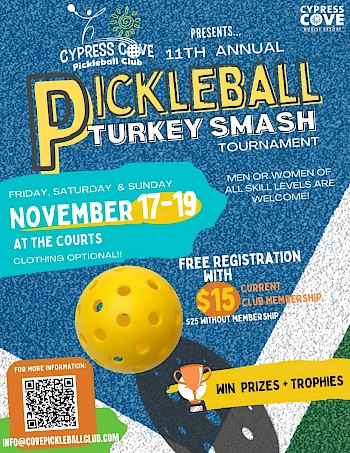 ---
Hop on the Beach Bus to Blissful Adventures at Blind Creek Nude Beach!
Get ready for a sun-soaked escapade to the stunning Blind Creek Beach in Fort Pierce with your nudist community! Leave the hassle behind as we board a luxury motor coach departing from Cypress Cove on Sunday, November 12, 2023.
Trip Details:
Date: Sunday, November 12, 2023
Departure Location: Cypress Cove Resort
Destination: Blind Creek Beach, Fort Pierce
Departure Time: [To be confirmed]
Return Time: [To be confirmed]
Embrace the tranquility of the still-warm Atlantic waters at Florida's newest and most beautiful nude beach, just 2 hours and 15 minutes from the gate at Cypress Cove. Forget about the stresses of driving, traffic, parking, tolls, and fuel costs—we've got it all covered!
Ticket Information:
Ticket Price: $45 per person
Ticket Sales End: October 31, 2023
Don't miss out on this extraordinary adventure! Secure your spot by purchasing your ticket today. Click HERE or email BeachBus@Fastmail.com for more information.
Let's make waves and soak up the sun in good company!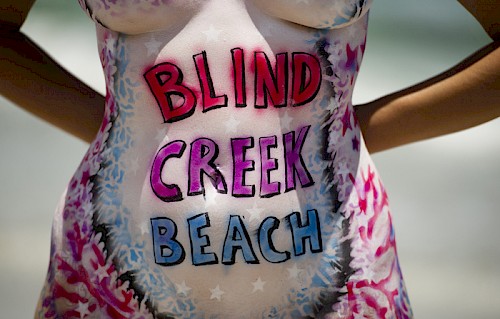 ---
News Outside the Cove
See what's making headlines in nudist news around the world. These things and more are being shared on our social media channels.

Follow us today to stay informed!






(Click one of these links to see the latest news!)
---
UK Couple Opens Nudist Hotel on a Boat
Bravo!!! Check out the floating nudist hotel.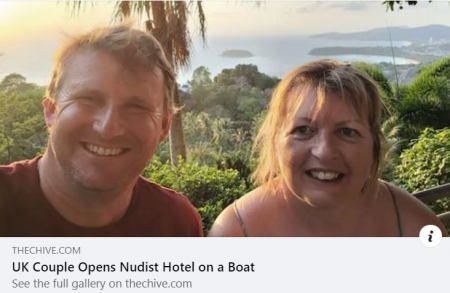 "I personally can't even count the number of times that I've daydreamed about dropping everything and moving somewhere off-grid to live off the land. It seems so tempting… until I think about how much I'd miss Taco Bell. This couple, however, took the leap and ran with it. Last year, 54-year-old Fiona Discombe, and her 51-year-old Husband, Michael decided to sell their home in the UK. They used the money to buy a van and travel across Europe visiting as many nudist-friendly hot-spots as possible." Read the full story HERE.
---
I take naked pics of women of all body types — I'm trained to make you feel beautiful
"They're stripping the shame away" What a lovely quote from the post. We love to see people strip away their insecurities and express their true beauty.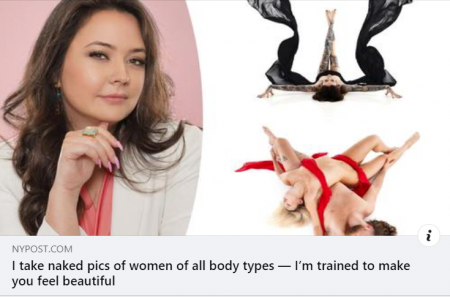 "They're stripping the shame away. Women plagued with body insecurities tend to fear the camera lens on them — let alone while completely nude. But a skillful NSFW photographer says shutter-bugging in the buff has helped her previously modest clients build up their self-esteem. 'Nudity channels your inner rebel and allows people to become comfortable with their vulnerability,' pro snapper Catherine Théorêt, who's captured clothes-free frames of folks of all shapes, sizes, ages and colors since 2017, told Jam Press. 'They are able to see strength in it.'" Read the full story HERE.
---
Have You Seen Us Lately?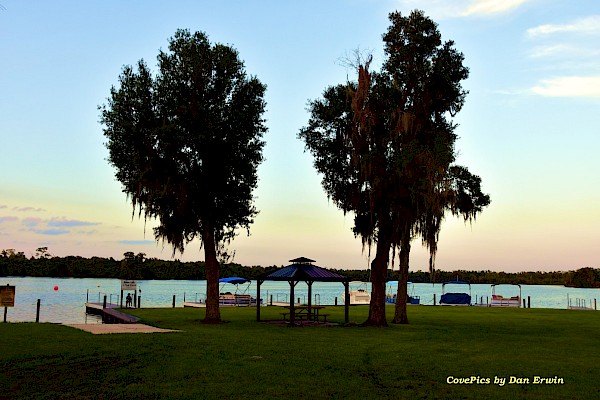 The first day of fall at Cypress Cove.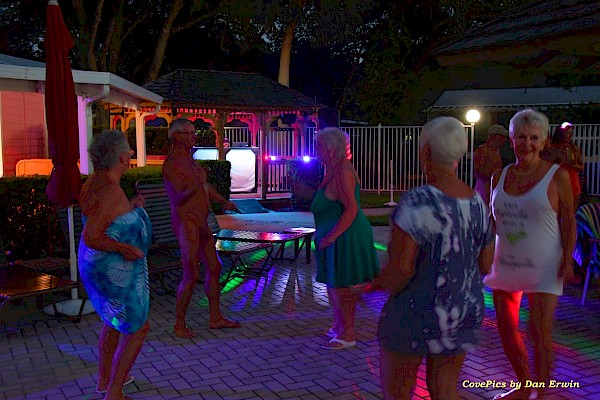 Friday night pool party. Dancing under the moonlight.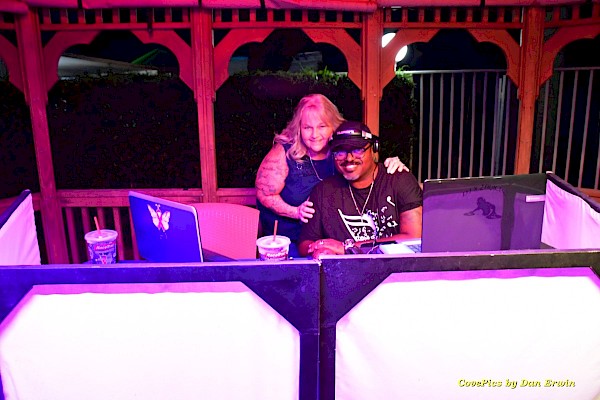 DJ Xavier spinning great music at the West Pool late into the night.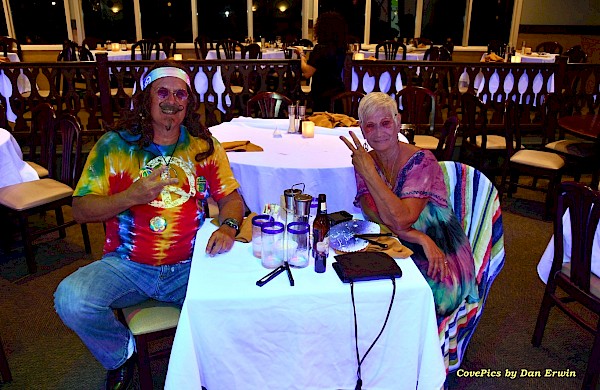 Dressed for the 60's Dinner & Dance at Lakeside Restaurant on Saturday night.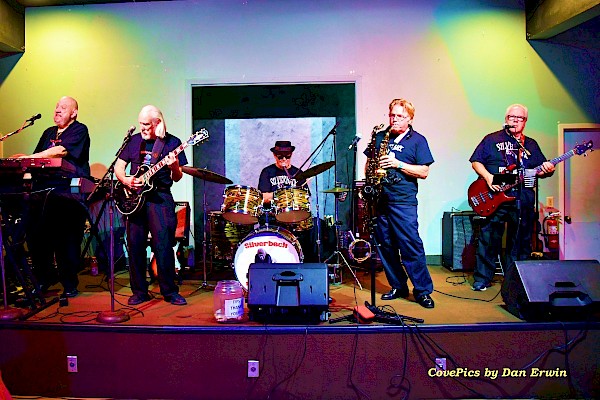 Live Music by Silverback Rock n' Roll Band on the stage at Lakeside Restaurant.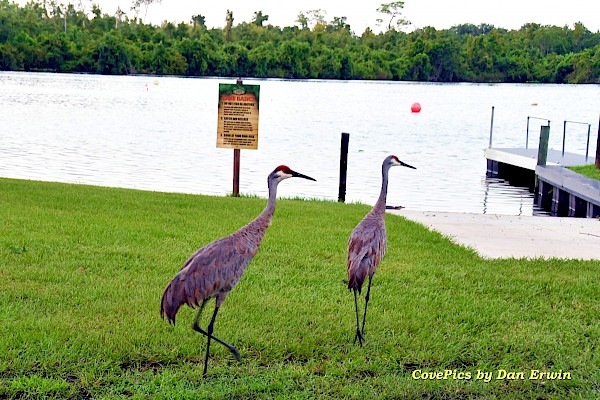 Our Sandhill Cranes enjoying the beautiful waterfront of Brown Lake.
---
"Where Have You
Taken the Cove?"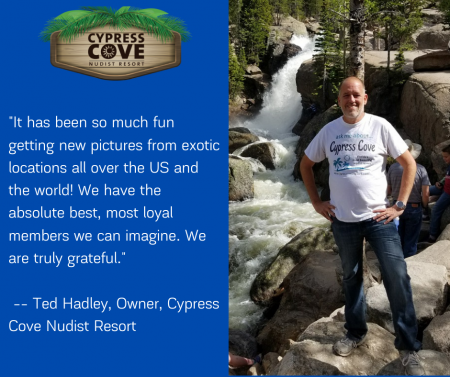 SEND US YOUR PHOTOS!!!
 We want to see where you have worn your Cypress Cove t-shirt, no matter which style it is! Wear it to town, the grocery store, while you are out and about, or at a national monument, and send us a photo! You will be featured in our newsletter or on our social media channels. 
Don't have a shirt yet? Purchase one at the main office or call and order one to show your pride in Cypress Cove! 
Call us at Toll-Free (888) 683-3140.

Send photos to Newsletter@CypressCoveResort.com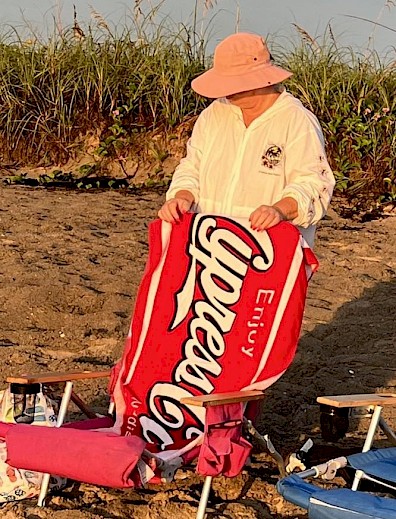 Our towel made it to Skinny Dip Day at Blind Creek Beach!! 
Thank you for sending it in, Kelly!

Where have you worn your Cypress Cove T-shirts?
Please send us a photo!
---
Book a Room Today!
It's never been a better time to stay at Cypress Cove! Book Online, Email Reservations, or Call Reservations toll-free at 888-683-3140.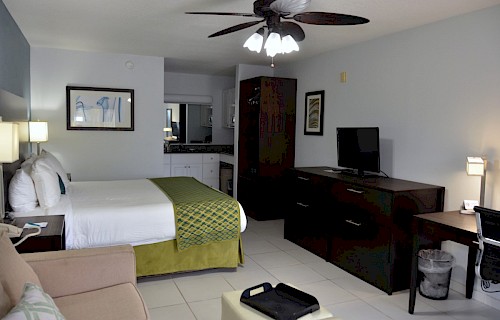 For Special Offers click HERE!
---
Every week we receive great reviews on TripAdvisor and Google; if you have visited or stayed with us, we would love to know about your experience. Click the logos below.