Laugh of the Week
---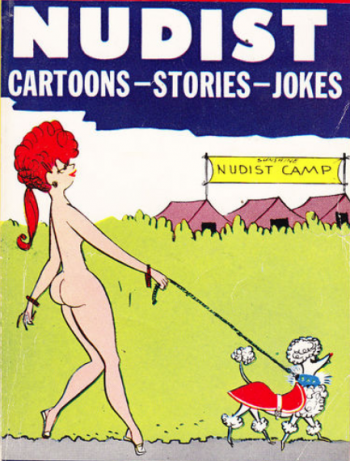 ---
Cove News   
---
Fall Volleyball at the Cove
It's that time of year again when volleyball lovers from all over come together and play some nude volleyball. The volleyball is great and the fun times and parties off the court are EPIC! This is the best clothing-optional tournament in the country at the greatest resort around. If you have never been come check it out and see why this is one event you won't ever want to miss! Happening October 7 & 8 at 10 am. 
Pre-registration is not required but would be greatly appreciated, so we know how many teams to expect!!! Send an email to VBSwing@aol.com with your team name, roster & division. If you are an orphan looking to play let us know as well. For room reservations, give us a call at (407)933-5870.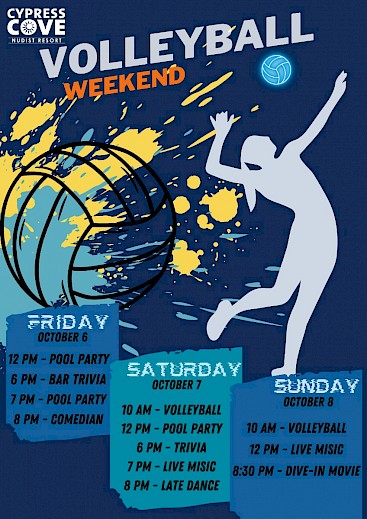 ---
Cypress Cove Craft Fair
Get ready to be amazed by the incredible talents of our local crafters, woodworkers, and sewers at the upcoming Craft Fair! Join us for a delightful day of handcrafted wonders that showcase the heart and soul of our community.
Indulge in a wide array of unique and handmade treasures, each thoughtfully created by our skilled artisans. From intricately carved wooden masterpieces to exquisitely sewn textiles, you'll find something truly special that speaks to your style and sensibilities.
Not only will you have the chance to acquire one-of-a-kind items, but you'll also be supporting the passion and dedication of our talented neighbors. Whether you're searching for the perfect gift or hoping to adorn your own living space with artisanal charm, the Community Craft Fair promises an unforgettable experience.
Mark your calendars and join us Saturday, October 7 from 9 am - 2 pm at the Clubhouse to celebrate the art of craftsmanship and the spirit of our community. Don't miss this opportunity to connect with local artisans and take home a piece of their creative brilliance!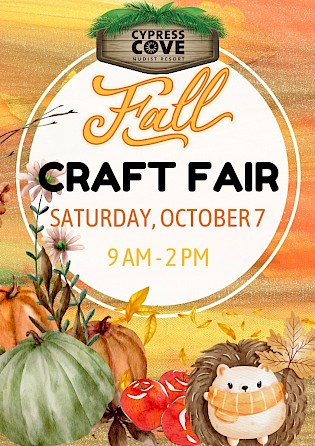 ---
The Haunted Illuminations Spectacle Hayride!
Get ready to embrace the enchantment of Halloween at Cypress Cove with our spectacular event: the Haunted Illuminations Spectacle! Join us for a night of spine-tingling Halloween fun on Friday, October 27, 2023, at 7 pm, as we venture through the resort on a mesmerizing Halloween Hayride. Be prepared to witness the bewitching decorations put up by our creative residents, transforming our community into a Halloween wonderland!
Halloween Lights Display Contest:
The Haunted Illuminations Spectacle features a frightfully fun Halloween Lights Display Contest, showcasing the incredible creativity of our residents. As you traverse the resort during the hayride, take in the spooky sights and cast your votes for the most hauntingly decorated house!
The house with the most hair-raising display, as voted by you, our esteemed Halloween Hayride guests, will win a spooktacular prize—the coveted "Boos Basket," filled with a variety of alcohol valued at $300. It's the ultimate treat for the spirits in you! Bring your phone with you, as this is how you will cast your vote.
Judging Criteria:
Creativity (30%): How innovative and imaginative is the display?
Spookiness (25%): How well does the display capture the Halloween spirit and send shivers down your spine?
Community Involvement (20%): Does the display involve and engage fellow residents in the Halloween excitement?
Execution (25%): How well is the display put together and presented?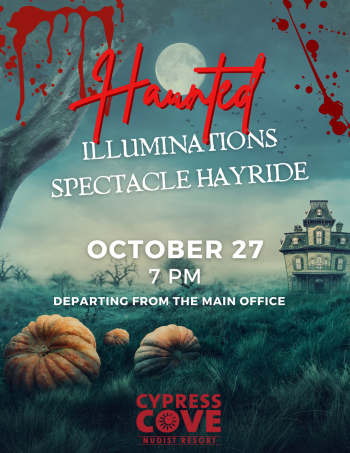 *Residents who wish to participate, click here to sign up.
---
Sweet Cause at Cypress Cove's Annual Charity Cheesecake Bake Sale
Get ready for a scrumptious treat that's sure to warm your heart! Our beloved bartender, Herman, is gearing up for his annual cheesecake bake sale in support of a great cause. Mark your calendars for Saturday, October 14, from Noon to 4 pm, as Herman takes over the Gameroom with his delectable homemade cheesecakes.
Herman has been busy baking his heart out, and trust us, you won't want to miss out on these mouthwatering flavored cheesecakes, lovingly crafted from scratch. Cash is preferred for your cheesecake purchases, but don't worry – we also offer Cove account charges for your convenience.
But that's not all! Herman has gone above and beyond this year by setting up an exciting raffle, featuring fantastic prizes such as a TV, shirts, bags, and so much more. And here's the best part – all proceeds from both the cheesecake sales and the raffle will go directly to benefit a breast cancer charity.
Want to contribute to this incredible cause?
If you'd like to donate something for the raffle, please don't hesitate to reach out to Herman at Cheeks. Every donation, big or small, will make a difference in supporting breast cancer awareness and research.
Join us in spreading love, hope, and cheesecake joy at Cypress Cove's annual charity cheesecake bake sale. Indulge your sweet tooth and help make a difference on Saturday, October 14th. Let's come together as a community to support this worthy cause.
Thank you for your continued support, and we look forward to seeing you there!
Can't join us in person but still want to help this amazing cause?
Purchase a virtual cheesecake here! 

---
Get Ready for Nude-A-Palooza 2023: A Music Festival for a Cause!
Mark your calendars for October 21, because Nude-A-Palooza is back and bigger than ever! This all-day charity music festival is the most anticipated event of the year at Cypress Cove, and it's all for a fantastic cause. We're proud to announce that 100% of ticket proceeds sales will be donated to the Florida Cancer Specialist Foundation.
Tribute Artists Extravaganza!
Prepare to be amazed as our talented Tribute Artists take the stage. Past years have brought us incredible performances from The Beatles, Rolling Stones, Eagles, Beach Boys, Adele, Aerosmith, and many more. This year's lineup includes Tina Turner, CCR, Blink 182, Ramones, Abba (Co-headliner), and Woodstock '69 (Headliner) - it's a musical journey you won't want to miss!
Exclusive Offer for Villa Guests.
As a special thank you to our Villa guests, we're offering up to two event tickets at half-price! This is a change from previous years, as it allows us to maximize charitable donations while ensuring our valued guests have a fantastic experience.
Full Resort Access Included.
When you purchase a ticket, you'll not only gain access to the incredible concert but also full resort use for the day. That means there are no grounds fees to worry about - it's all included in your admission!
Open to the Public.
Nude-A-Palooza is open to the public, so our usual entry qualifications are waived for the day. Invite your friends and family to join in the fun and support a great cause!
Shopping and Delicious Eats.
We'll have merchandise tents set up where you can snag some fantastic souvenirs. And don't forget to refuel with delicious food and drinks available throughout the day.
After Party on the Property.
The excitement doesn't end with the concert! Stick around for our fabulous After Party right here on property at the West Pool with DJ Damon. It's the perfect way to cap off an amazing day.
Nude-A-Palooza is a one-of-a-kind event that combines music, charity, and the Cypress Cove experience like no other. We can't wait to see you on October 21st for a day filled with music, fun, and giving back to the community. Let's make this year's Nude-A-Palooza the best one yet!
Tickets are officially on sale and can be purchased HERE. 
Schedule:
11:30 am - Gates Open
12:00 pm - Nude-A-Plooza Begins
12:00 pm - 12:45 pm-Tina Turner
1:15 pm - 2:00 pm - CCR
2:30 pm - 3:15 pm - Blink 182
3:45 pm - 4:30 pm - The Ramones
5:00 pm - 6:00 pm - ABBA
6:30 pm - 8:00 pm - Woodstock 69 Tribute
*Line-Up Subject to Change*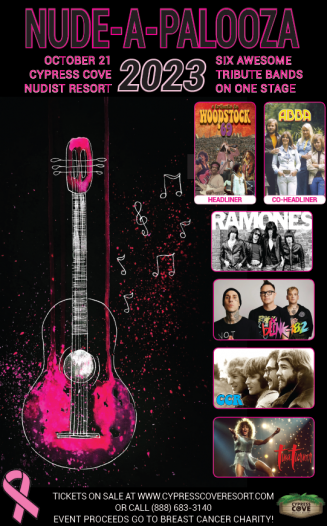 ---
Important Water Safety Reminder: No Wake Zones on Brown Lake
We'd like to emphasize an essential safety measure to ensure the well-being and enjoyment of all at Cypress Cove Resort. Please take note of the designated No Wake Zones within our beautiful retreat:
Beach Swimming Area
Marina
Boat Launch
Docks
RC Boat Course
Additionally, it is imperative that all watercraft maintain a minimum distance of 25 yards (75 feet) from these areas at all times. This courtesy exists to prioritize safety and preserve the serene atmosphere of our cherished community.
We appreciate your cooperation in observing aquatic etiquette, contributing to a safer, more enjoyable experience for everyone at Brown Lake. Thank you for your ongoing commitment to maintaining this wonderful environment.

---
Dive into Fun at the 11th Annual Cypress Cove Turkey Smash Pickleball Tournament! 
Get ready for an exhilarating four-day extravaganza of pickleball action at the stunning Cypress Cove Nudist Resort from November 17 to November 19. Join us for the 11th Annual Cypress Cove Turkey Smash Pickleball Tournament, featuring ten exciting pickleball events played on our six newly resurfaced, pristine courts.
The weekend is packed with nine competition events, a chance to win amazing prizes in our giant prize raffle, and a lively and informal kickoff event to set the tone for the festivities. Bask in the Florida sunshine as you engage in friendly competition and a whole lot of fun on the courts.
Whether you're a seasoned pickleball pro or a newcomer to the sport, everyone is welcome to participate! No pre-registration is required for any event, so simply mark your calendars and be prepared for a fantastic weekend of pickleball excitement.
For all the event details and the complete schedule, please click HERE or email info@covepickleballclub.com. Don't miss out on this unforgettable pickleball experience at the 11th Annual Cypress Cove Turkey Smash Pickleball Tournament!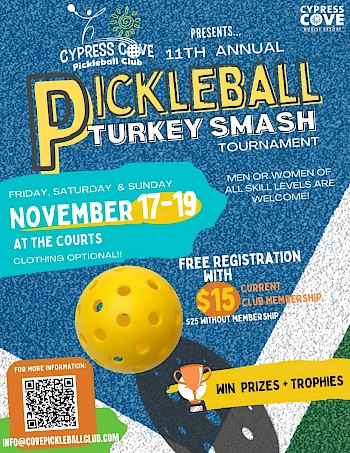 ---
Hop on the Beach Bus to Blissful Adventures at Blind Creek Nude Beach!
Get ready for a sun-soaked escapade to the stunning Blind Creek Beach in Fort Pierce with your nudist community! Leave the hassle behind as we board a luxury motor coach departing from Cypress Cove on Sunday, November 12, 2023.
Trip Details:
Date: Sunday, November 12, 2023
Departure Location: Cypress Cove Resort
Destination: Blind Creek Beach, Fort Pierce
Departure Time: [To be confirmed]
Return Time: [To be confirmed]
Embrace the tranquility of the still-warm Atlantic waters at Florida's newest and most beautiful nude beach, just 2 hours and 15 minutes from the gate at Cypress Cove. Forget about the stresses of driving, traffic, parking, tolls, and fuel costs—we've got it all covered!
Ticket Information:
Ticket Price: $45 per person
Ticket Sales End: October 31, 2023
Don't miss out on this extraordinary adventure! Secure your spot by purchasing your ticket today. Click HERE or email BeachBus@Fastmail.com for more information.
Let's make waves and soak up the sun in good company!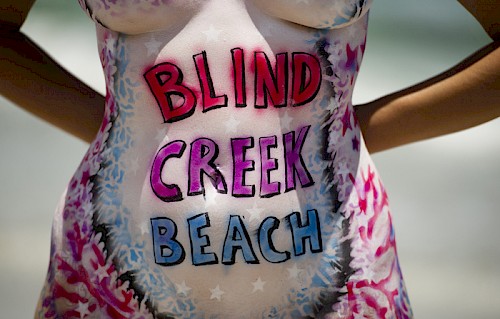 ---
News Outside the Cove
See what's making headlines in nudist news around the world. These things and more are being shared on our social media channels.

Follow us today to stay informed!






(Click one of these links to see the latest news!)
---
Why is no one else worried about being sandwiched between naked people?
An interesting article made headlines for an interesting reason!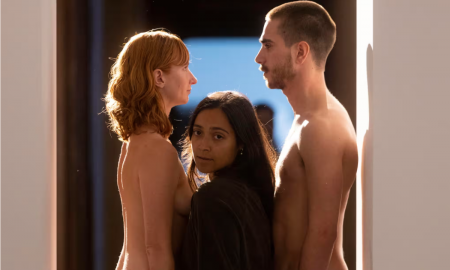 "There has been a lot of buzz about the recently opened Marina Abramović exhibition at the Royal Academy. 'Terrifying and vital' was Adrian Searle's verdict on the Serbian performance artist's retrospective. Well, as it happens, I have tickets to go this week and I am definitely terrified." Read the full story HERE.
---
13 Things You Should Know Before Taking A Nude Cruise
It's never too early to plan for the nude cruise!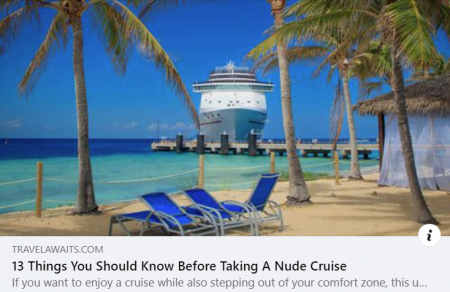 Cruises have become big business over the last few decades, with ever-larger ships and cruise lines introducing novel ways to fill them. Offering the very best in entertainment, dining, and onboard activities, along with cool shore excursions, cruise lines now also offer "themed" charters catering to special interest groups… or in other words, like-minded people. Read the full story HERE.
---
Have You Seen Us Lately?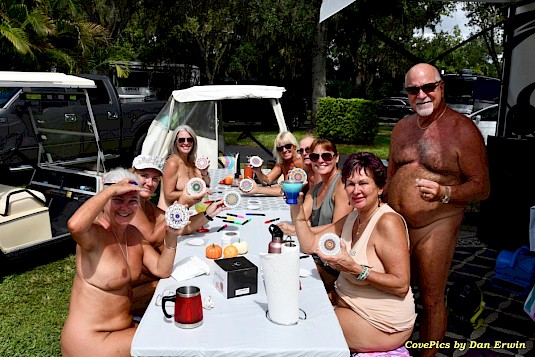 What could be more fun than inviting friends over for an afternoon of Crafts and maybe a drink or two?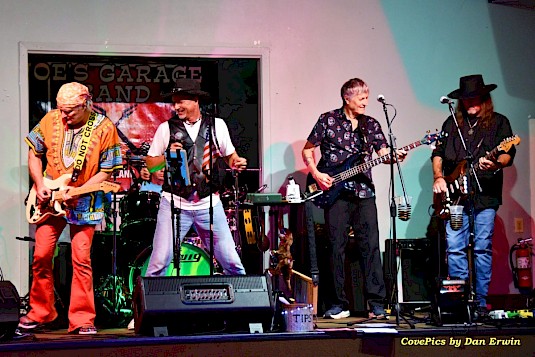 Joe's Garage Band kept Lakeside Restaurant rockin' on Saturday night.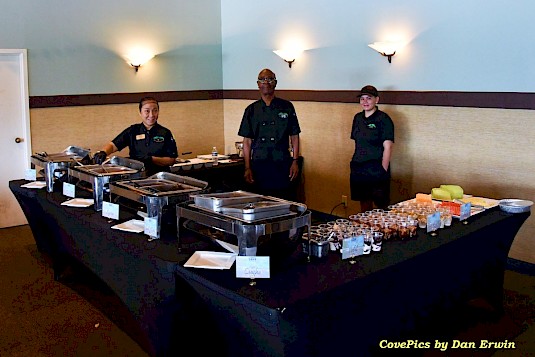 The 1st Sunday of the Month Brunch at Lakeside Restaurant.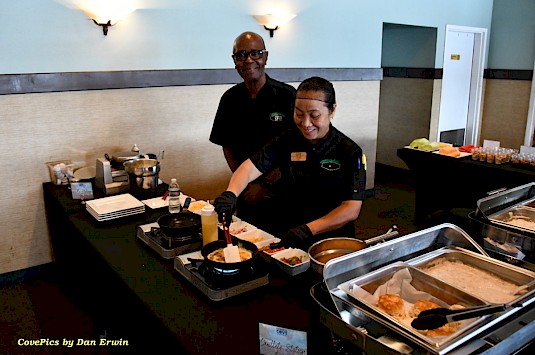 The custom-cooked egg station was very popular and this omelette was delicious.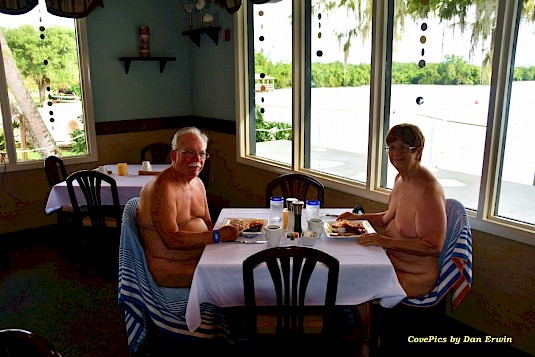 Enjoying a wonderful breakfast and the beauty of Brown Lake is the perfect way to enjoy a Sunday morning.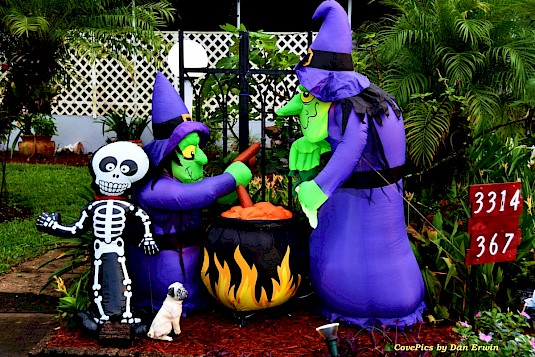 It is that time of the year again. Witches and Ghosts are starting to appear all around the Cove.
---
"Where Have You
Taken the Cove?"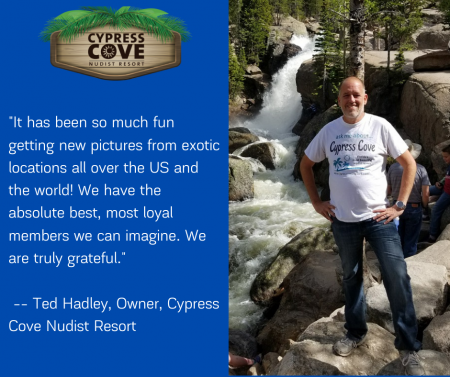 SEND US YOUR PHOTOS!!!
 We want to see where you have worn your Cypress Cove t-shirt, no matter which style it is! Wear it to town, the grocery store, while you are out and about, or at a national monument, and send us a photo! You will be featured in our newsletter or on our social media channels. 
Don't have a shirt yet? Purchase one at the main office or call and order one to show your pride in Cypress Cove! 
Call us at Toll-Free (888) 683-3140.

Send photos to Newsletter@CypressCoveResort.com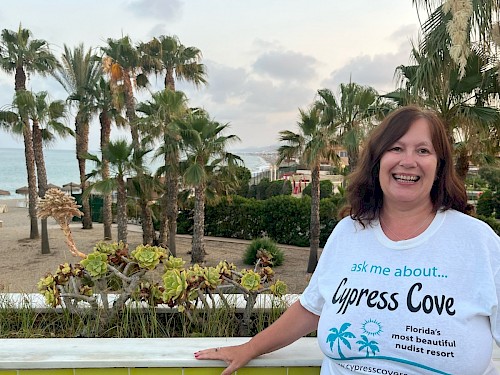 Laura at Vera Playa in Almería, Spain.
Thank you for sending it in, Laura!

Where have you worn your Cypress Cove T-shirts?
Please send us a photo!
---
Book a Room Today!
It's never been a better time to stay at Cypress Cove! Book Online, Email Reservations, or Call Reservations toll-free at 888-683-3140.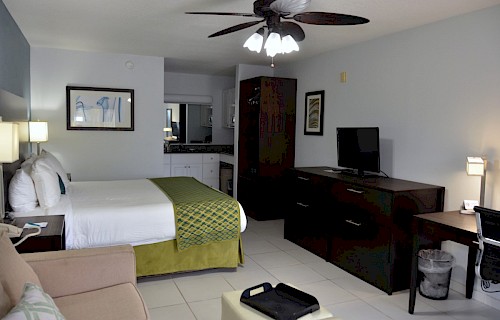 For Special Offers click HERE!
---
Every week we receive great reviews on TripAdvisor and Google; if you have visited or stayed with us, we would love to know about your experience. Click the logos below.