Laugh of the Week
---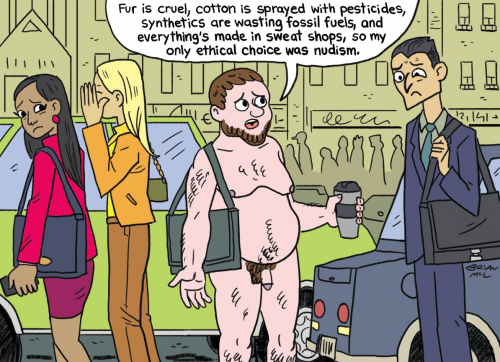 ---
Cove News   
---
A Word from Cypress Cove's General Manager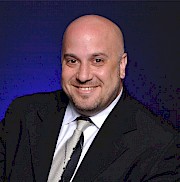 Nude-A-Palooza: A Decade of Music, Community, and Compassion
As the General Manager of Cypress Cove Nudist Resort in Central Florida, I am thrilled to share the remarkable success of our annual event, Nude-A-Palooza. This one-day tribute concert series, dedicated to celebrating the joy of music and community, has consistently proven its philanthropic power year after year.
The two most recent installments of Nude-A-Palooza were particularly heartwarming, as we had the privilege of contributing to a cause close to our hearts—the Florida Cancer Specialist Foundation. This year, together, with the collective efforts of our generous guests, donors, and the welcoming residents of Cypress Cove, we raised an impressive $22,157.
However, this year's accomplishment is not a standalone success; it is part of a journey that began in 2008. Since its inception, Nude-A-Palooza has been instrumental in channeling support to various charitable organizations, raising an awe-inspiring total of $332,240. This incredible sum embodies the compassion, unity, and philanthropic spirit that are at the heart of Nude-A-Palooza.
We owe our deepest gratitude to the many people who have made this remarkable achievement possible. Our cherished guests, who travel from near and far, bring with them not only their love for music but also their unwavering commitment to making a difference. We are thankful to our generous donors whose contributions have consistently fueled the success of this event and have touched the lives of countless individuals.
Equally deserving of our appreciation are the residents of Cypress Cove. We recognize the unique synergy that comes from welcoming an event like Nude-A-Palooza into our own backyard. Your open hearts and warm embrace of this tradition have helped build a bridge between our community and the causes we hold dear.
Let's not forget the dedicated Cypress Cove teams who work tirelessly behind the scenes to make Nude-A-Palooza a reality. Countless hours are spent planning, organizing, and ensuring the smooth operation of this event, and their commitment is truly inspiring.
In addition to the incredible generosity of our guests, donors, and the Cypress Cove community, I would like to extend heartfelt gratitude to a few remarkable contributors. Bare Necessities, for their outstanding support, gifted us a week-long cruise that added a truly unforgettable dimension to our fundraising efforts. SouthState Bank, your amazing gift basket was a delightful surprise that added joy to our event.
The Spa Oasis at Cypress Cove, Nature Hair, and Cloudpoint Hospitality also deserve special recognition for their donations to our raffle, which not only enhanced the event's excitement but also enriched the lives of those who participated. Your kindness and commitment to our cause have touched our hearts deeply, and we look forward to continuing our partnership in creating a brighter future for our chosen charities. 
As we celebrate a decade of giving through Nude-A-Palooza, we are reminded of the positive change that can be achieved when we come together as a community. This event showcases the transformative power of music, love, and unity, and we are excited to continue this remarkable journey in the years to come.
Thank you to all who have been a part of this incredible endeavor. Your contributions, in all forms, have not only made Nude-A-Palooza a success but have also made a profound impact on those in need. Together, we have proven that music, charity, and the spirit of giving can truly change lives.
Peter Sewall
General Manager

---
Herman's Cheesecakes for a Cause - A Sweet Success!
With deep appreciation, we extend our warmest thanks to our cherished residents and guests who played a pivotal role in making our charity cheesecake bake sale an extraordinary success. Herman, our beloved bartender and a true maestro in the art of crafting cheesecakes surpassed all expectations with his delectable homemade creations. It brings us immense joy to share that this event stands as a record-breaking achievement in our fundraising journey.
The outpouring of support was nothing short of astounding. Herman's tantalizing assortment of flavored cheesecakes was a crowd-pleaser, leaving everyone yearning for more. What truly warms our hearts is the remarkable generosity exhibited by our community, as together we raised a grand total of $4,082! These funds, when combined with the proceeds from Nude-A-Palooza, will be channeled toward the noble cause of the Florida Cancer Specialist Foundation. By doing so, we directly contribute to easing the financial burdens faced by cancer patients.
But that's not all; Herman went the extra mile by organizing an exhilarating raffle featuring an array of fantastic prizes, from TVs to shirts, bags, and various breast cancer-related items. The raffle not only added to the event's festive spirit but also provided an opportunity for everyone to partake in this admirable cause.
For those who were unable to join us in person, virtual cheesecake purchases proved to be a fantastic way to contribute. Our heartfelt thanks go out to all who participated, whether on-site or from afar, for showing their unwavering support.
We are thrilled to share that the total amount raised through Herman's exceptional cheesecake efforts has now reached an impressive $29,419. Herman's dedication and love, not only for his craft but for our community, have been truly outstanding.
Every contribution, regardless of its size, plays a significant role in making a difference, and collectively, your efforts have had a profound impact on the fight against breast cancer.
Cypress Cove is immensely grateful for your involvement in this remarkable journey of spreading love, hope, and the sheer joy of cheesecake. Your continued support holds immense value, and we are eager to continue making an even greater impact in the future.
Together, we can and will make a difference!

---
Halloween Extravaganza at Cypress Cove!
Get ready for a spooktacular Halloween experience at Cypress Cove! We've conjured up a bewitching weekend full of ghoulish delights that will send shivers down your spine. From haunted hayrides to costume contests and trick-or-treating, we've got something for everyone. Here's a glimpse of the eerie festivities:
Haunted Illuminations Spectacle Hayride:  
When: Friday, October 27, 2023, From 7 pm - 8 pm 
What: Join us for a mesmerizing Halloween Hayride through our transformed resort, adorned with enchanting Halloween decorations. Experience the magical and spooky atmosphere as our creative residents bring the spirit of Halloween to life!
Halloween Lights Display Contest:  
What: Participate in the Halloween Lights Display Contest during the Haunted Illuminations Spectacle Hayride. Cast your votes for the best house decorations that stand a chance to win the coveted "Boos Basket," filled with spirits valued at $350. 
Click HERE to vote for your favorite decorated house! 
Costume Party and Contest:  
When: Saturday, October 28, 2023, in the evening  
What: Dress to impress in your scariest, funniest, or most creative costume! Join us at Lakeside Restaurant for a thrilling costume party and contest. The best-dressed individuals can win a chance for a free villa stay at Cypress Cove! 
Costume Contest Prizes:
Scariest: Dinner for 2 at Cheeks
Funniest: Dinner for 2 at Cheeks
Best Overall: Villa Stay at Cypress Cove Resort
Trick-or-Treating Adventure:  
When: Saturday, October 28, 2023, from 5 pm to 7 pm  
What: Bring out the kids for an evening of delightful candy hunts. Trick-or-treat through the community and fill your goodie bags with treats! Residents, if you'd like to join in the fun by handing out candy, sign up at the front office and be added to the trick-or-treating map.
We can't wait to share the spooktacular festivities with you all. Stay tuned for more updates and be prepared for a hauntingly good time at Cypress Cove this Halloween!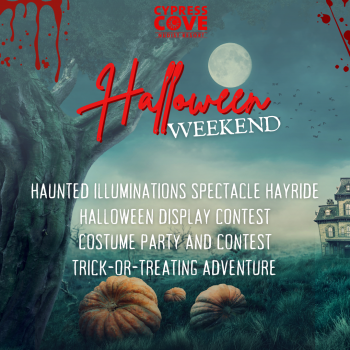 ---
Brunch at Lakeside
Don't miss out on our highly anticipated monthly brunch at Lakeside Restaurant here at Cypress Cove on Sunday, November 5 from 8 am to 2 pm! Nestled by the picturesque Brown Lake, this special event offers not only a delicious dining experience but also the chance to revel in stunning, tranquil views. Savor exquisite cuisine, connect with friends, and take in the breathtaking vistas of Brown Lake that make Lakeside Restaurant a truly unique setting. Our amazing Food & Beverage team, led by Director José Matos, works tirelessly to ensure your dining experience is exceptional, with a menu that never fails to delight.

---
Donate for Life: Blood Drive at Cypress Cove!
Get ready for a day of health, heart, and Halloween fun at Cypress Cove on Sunday, October 29 from 11 am - 4 pm! We're excited to announce our upcoming Blood Drive, a vital event to support our community's well-being. Here's what you'll receive as a token of our appreciation for your lifesaving donation:
All Donors Receive:
Your generosity in donating blood not only supports a crucial cause but also provides an opportunity to celebrate the spirit of Halloween. Save the date, and let's unite to make a lasting impact on the lives of others and our community's health.
Appointments are suggested! Click here to schedule your appointment now. Thank you for being a part of our caring and compassionate community. For more information click here.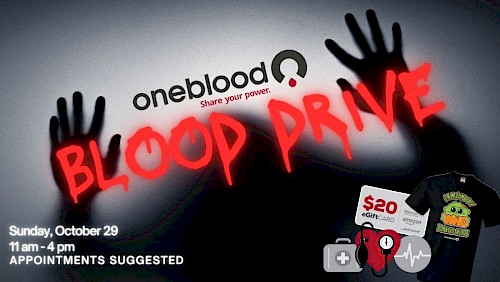 ---
Don't Forget About the ANRL
What if your favorite nudist resort vanished? What if you were denied access to a clothing-optional beach? What if you could not own a nudist magazine? What if there were no American Nudist Research Library?
The ANRL preserves the stories of those who were arrested for being nude or topless on beaches.  On the shelves are tales of people such as Maurice Parmalee who was stopped at customs for bringing in five copies of his own book, because the book contained several unretouched nude photographs. The library has a copy of Russel Knutson's fourth application for parole after he was imprisoned for selling nudist magazines through the U.S. Mail. The library also contains histories of nudist resorts, such as Cypress Cove.
Freedom is never to be taken for granted. Thankfully, we have the ANRL, so we can learn and remember how our freedom to enjoy the lifestyle we love was obtained. To experience, enjoy, and support this effort, become a friend of the library. For more information drop by the library.
-Mark Silverstein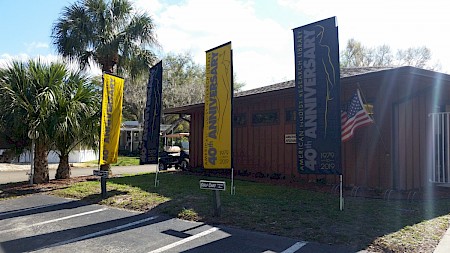 ---
Dive into Fitness with HIIT Water Aerobics at the East Pool!
We're thrilled to introduce a fitness experience that's making waves at Cypress Cove - High-Intensity Interval Training (HIIT) Water Aerobics! Join Instructor Pam H. every Monday through Friday at 9:30 AM at East Pool for a refreshing and invigorating workout session.
HIIT Water Aerobics combines the benefits of high-intensity interval training with the soothing properties of water, resulting in an effective and enjoyable fitness routine. Pam will guide you through a dynamic workout designed to enhance cardiovascular endurance, build strength, and boost your energy levels, all while immersing yourself in the serene atmosphere of our naturist-friendly resort.
Details:
When: Monday through Friday
Time: 9:30 AM
Where: East Pool
Come and make a splash with us as you take your fitness journey to new depths under the guidance of Instructor Pam H., all while enjoying the beautiful surroundings of East Pool. We can't wait to see you there!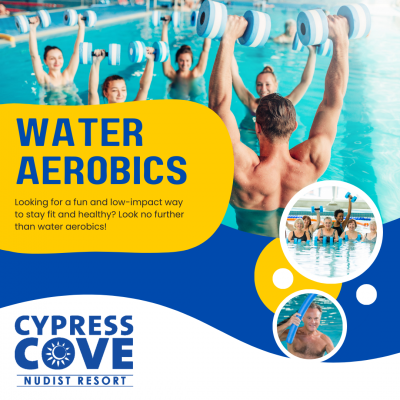 ---
Dive into Fun at the 11th Annual Cypress Cove Turkey Smash Pickleball Tournament! 
Get ready for an exhilarating four-day extravaganza of pickleball action at the stunning Cypress Cove Nudist Resort from November 17 to November 19. Join us for the 11th Annual Cypress Cove Turkey Smash Pickleball Tournament, featuring ten exciting pickleball events played on our six newly resurfaced, pristine courts.
The weekend is packed with nine competition events, a chance to win amazing prizes in our giant prize raffle, and a lively and informal kickoff event to set the tone for the festivities. Bask in the Florida sunshine as you engage in friendly competition and a whole lot of fun on the courts.
Whether you're a seasoned pickleball pro or a newcomer to the sport, everyone is welcome to participate! No pre-registration is required for any event, so simply mark your calendars and be prepared for a fantastic weekend of pickleball excitement.
Check out all the event details and the complete schedule, or for questions, email info@covepickleballclub.com. Don't miss out on this unforgettable pickleball experience at the 11th Annual Cypress Cove Turkey Smash Pickleball Tournament!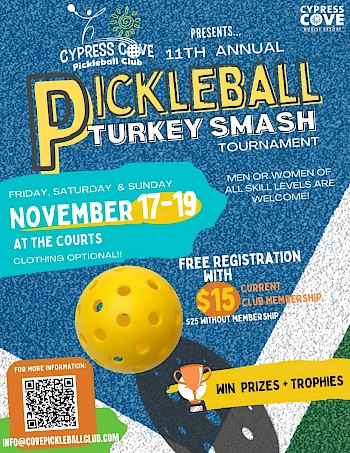 ---
Resident Coordinated Bus Charter
Hop on the Beach Bus to Blissful Adventures at Blind Creek Nude Beach!
Get ready for a sun-soaked escapade to the stunning Blind Creek Beach in Fort Pierce with your fellow nudist community! Leave the hassle behind as we board a luxury motor coach chartered by fellow residents& guests departing from Cypress Cove on Sunday, November 12, 2023.
Trip Details:
Date: Sunday, November 12, 2023
Departure Location: Cypress Cove Resort Office
Destination: Blind Creek Beach, Fort Pierce
Departure Time: 8:30 am SHARP arriving at Blind Creek Beach at approximately 11:00 am.
Return Time: The bus leaves the beach parking lot at 5 pm SHARP returning to the Cove by approximately 7:30 pm.
Embrace the tranquility of the still-warm Atlantic waters at Florida's newest and most beautiful nude beach, just 2 hours and 15 minutes from the gate at Cypress Cove. Forget about the stresses of driving, traffic, parking, tolls, and fuel costs—we've got it all covered!
Ticket Information:
Ticket Price: $45 per person
Ticket Sales End: October 31, 2023
Don't miss out on this extraordinary adventure! Secure your spot by purchasing your ticket today. Click HERE or email BeachBus@Fastmail.com for more information. 
Let's make waves and soak up the sun in good company!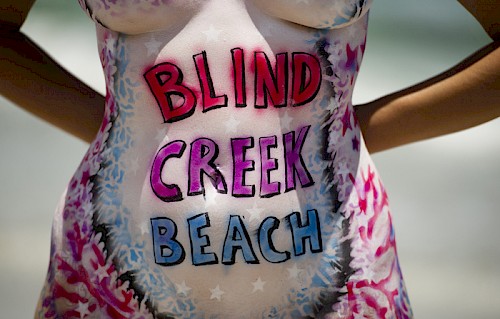 Disclaimer: 
This bus trip to Blind Creek Beach on Sunday, November 12, 2023, is organized and coordinated independently and is not affiliated with or endorsed by Cypress Cove Nudist Resort. Cypress Cove Nudist Resort is not involved in the coordination, organization, or operation of this trip, and they assume no responsibility or liability for any aspect of the trip, including but not limited to its safety, logistics, ticketing, scheduling, or any other related matters. All inquiries, concerns, and issues regarding this trip should be directed to the organizers of the trip, who can be contacted at BeachBus@Fastmail.com. Participants are encouraged to exercise due diligence and make informed decisions before participating in this trip.
---
News Outside the Cove
See what's making headlines in nudist news around the world. These things and more are being shared on our social media channels.

Follow us today to stay informed!






(Click one of these links to see the latest news!)
---
Have You Seen Us Lately?
That's a Wrap! Nude-A-Palooza 2023!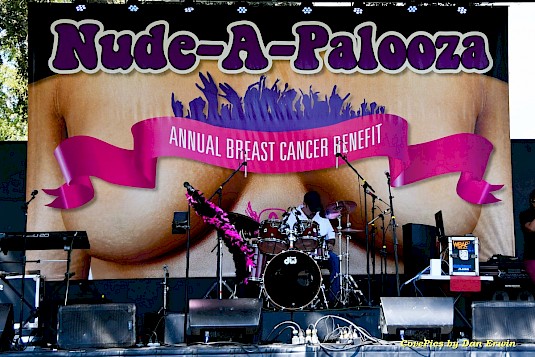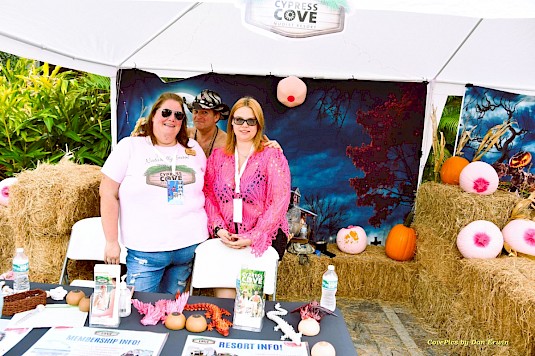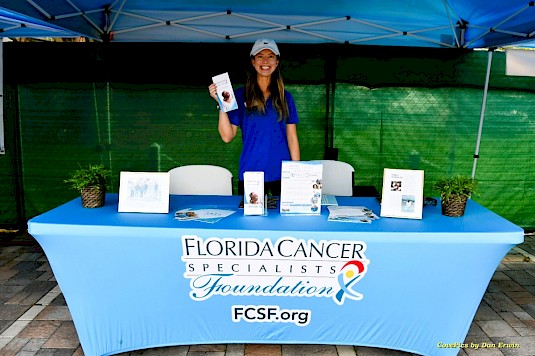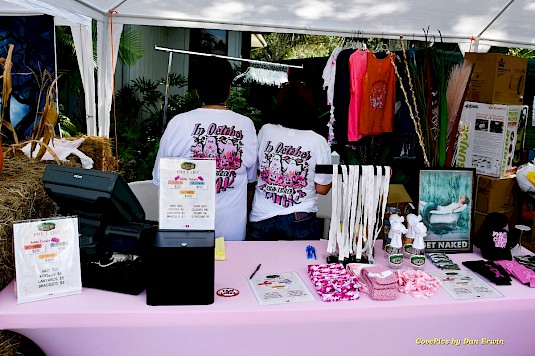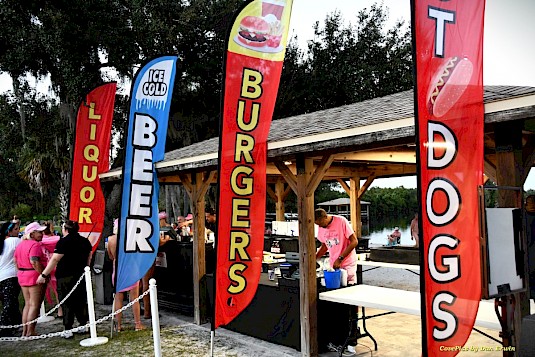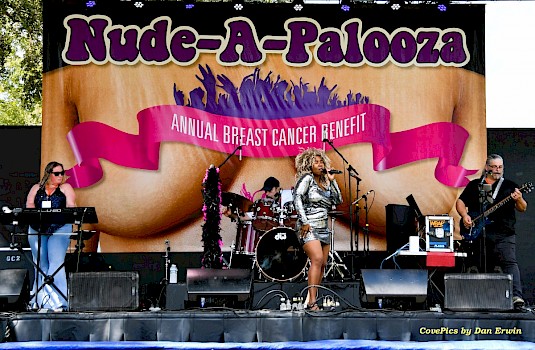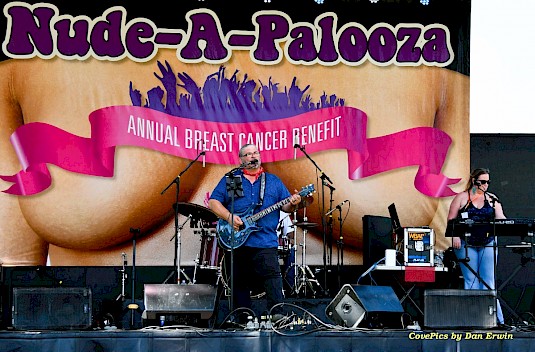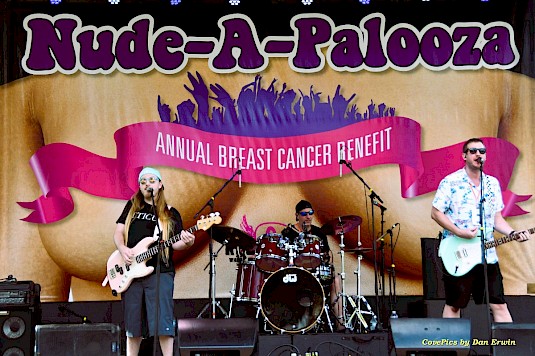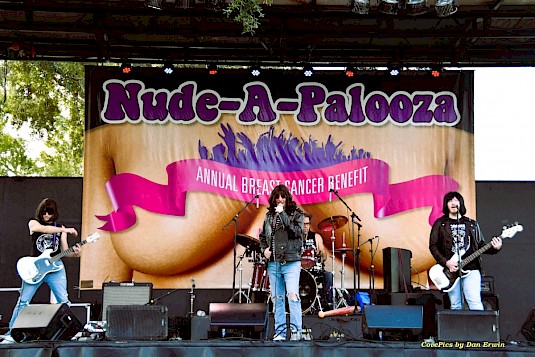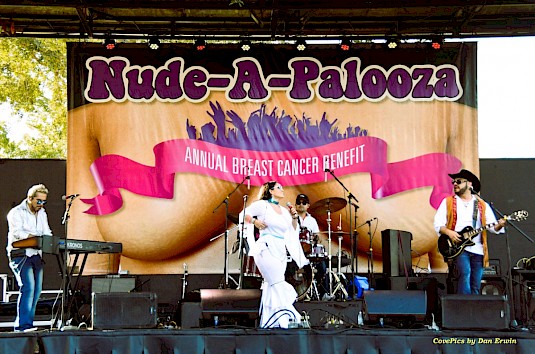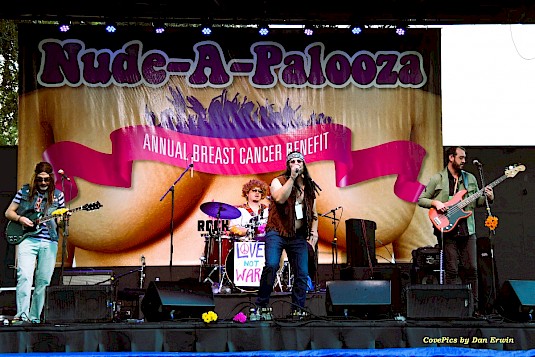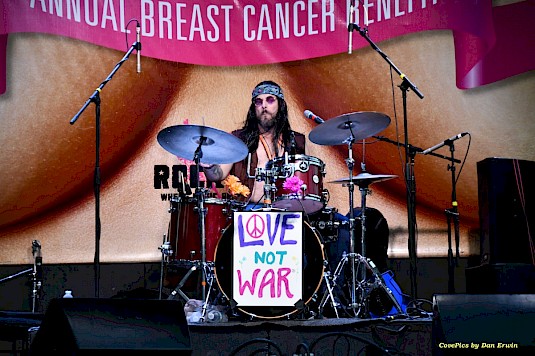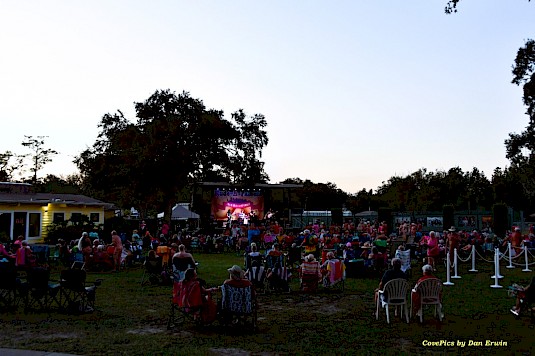 ---
"Where Have You
Taken the Cove?"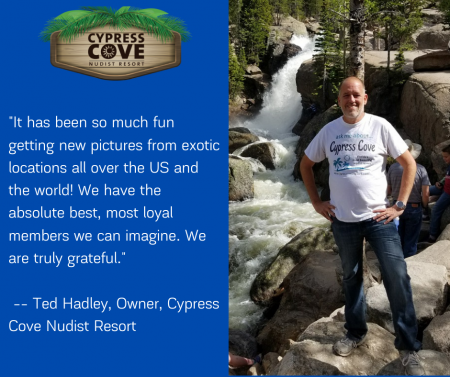 SEND US YOUR PHOTOS!!!
 We want to see where you have worn your Cypress Cove t-shirt, no matter which style it is! Wear it to town, the grocery store, while you are out and about, or at a national monument, and send us a photo! You will be featured in our newsletter or on our social media channels. 
Don't have a shirt yet? Purchase one at the main office or call and order one to show your pride in Cypress Cove! 
Call us at Toll-Free (888) 683-3140.

Send photos to Newsletter@CypressCoveResort.com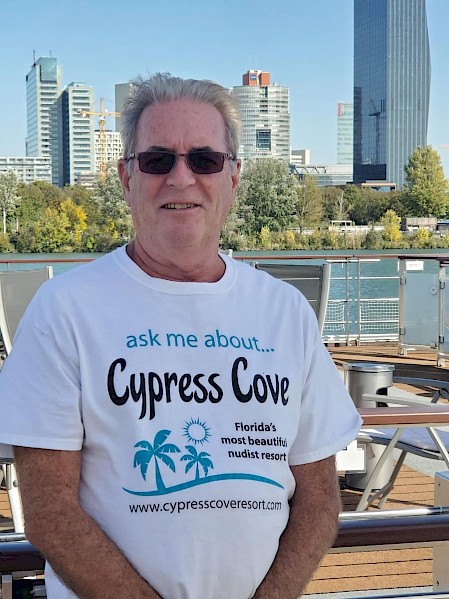 Cypress Cove takes to the streets in Vienna Austria. 
Thanks for sending it in, Shari!

Where have you worn your Cypress Cove T-shirts?
Please send us a photo!
---
Book a Room Today!
It's never been a better time to stay at Cypress Cove! Book Online, Email Reservations, or Call Reservations toll-free at 888-683-3140.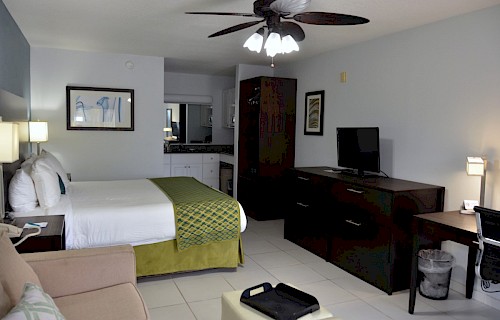 For Special Offers click HERE!
---
Every week we receive great reviews on TripAdvisor and Google; if you have visited or stayed with us, we would love to know about your experience. Click the logos below.