Laugh of the Week
---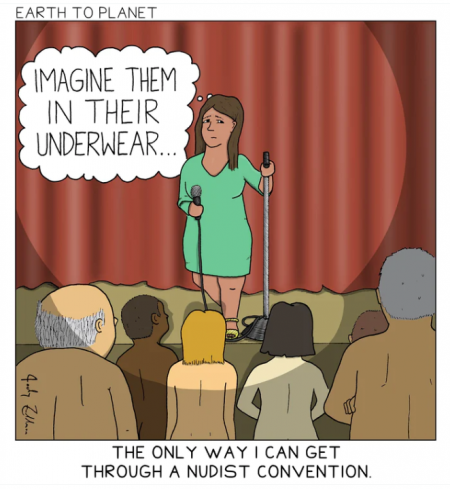 ---
Cove News   
---
Raffle Prizes Unveiled! Secure Your Raffle Tickets for Nude-A-Palooza 2023
Excitement is building for Nude-A-Palooza 2023: A Music Festival for a Cause on October 21st at Cypress Cove! Brace yourself for an incredible lineup of tribute artists and a day-long music festival right by the lake. And guess what? We've just revealed our amazing raffle prizes!
Raffle Grand Prize: Set Sail on a Bare Necessities Nude Cruise Adventure! Imagine cruising nude, making waves of unforgettable memories on a fantastic adventure, thanks to Bare Necessities! This could be YOUR grand prize! A huge shoutout to our incredible sponsor, Bare Necessities, for donating a nude cruise adventure that promises waves of unforgettable memories! Bare Necessities, a beacon of generosity and adventure, is renowned for curating extraordinary nude cruises that embody freedom, relaxation, and camaraderie. They've stepped up to support our cause and elevate the excitement at Nude-A-Palooza 2023 by offering the grand prize of a nude cruise adventure. Aboard their cruises, clothing is optional, and the thrill of adventure is guaranteed. It's the epitome of embracing life, and we're incredibly grateful for their support.
 More Incredible Prizes Await You: 
Brand new 65" TV

Cozy Patio Heater

Sleek electric Scooter
This raffle adds an extra layer of excitement to Nude-A-Palooza 2023, giving you a chance to win fabulous prizes while supporting a meaningful cause. Raffle tickets will be available for purchase at the event, so don't miss out - grab yours and secure your chance to win! Even if you can't make the concert, there's no better way to support both the event and the cause, because you don't have to be present to win!
Join us for a day of fantastic music, mouthwatering food, and a shot at incredible prizes, all while supporting the Florida Cancer Specialist Foundation. Your ticket and raffle purchases will not only grant you an amazing event experience but also contribute to a cause close to our hearts.
Act Now: Purchase your event tickets and raffle tickets here to be part of this unforgettable event!
See you at Nude-A-Palooza 2023, where music and generosity unite for charity! 
---
Get Ready for Nude-A-Palooza 2023: A Music Festival for a Cause!
Mark your calendars for October 21, because Nude-A-Palooza is back and bigger than ever! This all-day charity music festival is the most anticipated event of the year at Cypress Cove, and it's all for a fantastic cause. Proceeds will be donated to the Florida Cancer Specialist Foundation.
Tribute Artists Extravaganza!
Prepare to be amazed as our talented Tribute Artists take the stage. Past years have brought us incredible performances from The Beatles, Rolling Stones, Eagles, Beach Boys, Adele, Aerosmith, and many more. This year's lineup includes Tina Turner, CCR, Blink 182, Ramones, ABBA (Co-headliner), and a Woodstock '69 Tribute (Headliner) - it's a musical journey you won't want to miss!
Exclusive Offer for Villa Guests.
As a special thank you to our Villa guests, we're offering up to two event tickets at half-price! This is a change from previous years, as it allows us to maximize charitable donations while ensuring our valued guests have a fantastic experience.
Full Resort Access Included.
When you purchase a ticket, you'll not only gain access to the incredible concert but also full resort use for the day. That means there are no grounds fees to worry about - it's all included in your admission!
Open to the Public.
Nude-A-Palooza is open to the public, so our usual entry qualifications are waived for the day. Invite your friends and family to join in the fun and support a great cause!
Shopping and Delicious Eats.
We'll have merchandise tents set up where you can snag some fantastic souvenirs. And don't forget to refuel with delicious food and drinks available throughout the day.
After Party on the Property.
The excitement doesn't end with the concert! Stick around for our fabulous After Party right here on property at the West Pool with DJ Damon. It's the perfect way to cap off an amazing day.
Nude-A-Palooza is a one-of-a-kind event that combines music, charity, and the Cypress Cove experience like no other. We can't wait to see you on October 21st for a day filled with music, fun, and giving back to the community. Let's make this year's Nude-A-Palooza the best one yet!
Tickets are officially on sale and can be purchased HERE. 
Schedule:
11:30 am - Gates Open
12:00 pm - Nude-A-Palooza Begins
12:00 pm - 12:45 pm-Tina Turner
1:15 pm - 2:00 pm - CCR
2:30 pm - 3:15 pm - Blink 182
3:45 pm - 4:30 pm - The Ramones
5:00 pm - 6:00 pm - ABBA
6:30 pm - 8:00 pm - Woodstock '69 Tribute
*Line-Up Subject to Change*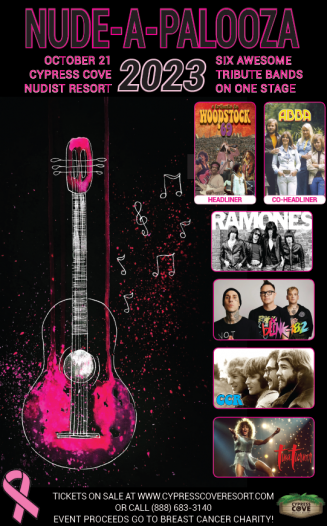 ---
Herman's Cheesecakes for a Cause - A Sweet Success!
A heartfelt thank you to all our wonderful residents and guests who made the charity cheesecake bake sale an incredible success! Herman, our beloved bartender and master cheesecake creator, outdid himself with his delicious homemade cheesecakes. We're thrilled to announce that this event was a record-breaking affair.
The turnout was astounding, and the support for this cause was truly overwhelming. Herman's scrumptious flavored cheesecakes were a hit, leaving everyone craving more. The generosity of our community was on full display, as we raised a grand total of $4,082! These funds will be added to the generous proceeds from Nude-A-Palooza and will be donated to the Florida Cancer Specialist Foundation, helping directly support the financial needs of cancer patients.
In addition to the cheesecake delights, Herman organized an exciting raffle with fantastic prizes, including a TV, shirts, bags, and various breast cancer-related items. The raffle added to the joy and excitement of the day, providing an opportunity for everyone to contribute to this noble cause.
For those unable to attend in person but still wanting to support this amazing cause, virtual cheesecake purchases were a fantastic way to contribute. We extend our gratitude to all who participated and showed their support, whether in person or virtually.
A special thanks to Herman for his hard work, dedication, and the love he poured into his cheesecakes and the event organization. Every donation, big or small, makes a difference, and your collective efforts have truly made an impact in the fight against breast cancer.
Thank you for being a part of this incredible journey of spreading love, hope, and cheesecake joy at Cypress Cove. Your continued support means the world to us, and we look forward to making an even greater impact in the future.
Together, we can make a difference!

---
Halloween Extravaganza at Cypress Cove!
Get ready for a spooktacular Halloween experience at Cypress Cove! We've conjured up a bewitching weekend full of ghoulish delights that will send shivers down your spine. From haunted hayrides to costume contests and trick-or-treating, we've got something for everyone. Here's a glimpse of the eerie festivities:
Haunted Illuminations Spectacle Hayride:  
When: Friday, October 27, 2023, at 7 pm  
What: Join us for a mesmerizing Halloween Hayride through our transformed resort, adorned with enchanting Halloween decorations. Experience the magical and spooky atmosphere as our creative residents bring the spirit of Halloween to life!
Halloween Lights Display Contest:  
What: Participate in the Halloween Lights Display Contest during the Haunted Illuminations Spectacle Hayride. Cast your votes for the best house decorations that stand a chance to win the coveted "Boos Basket," filled with spirits valued at $350. Remember to bring your phone to cast your vote! 
*Residents who wish to participate for a chance to win a "Boos Basket", click here to sign up.
Costume Party and Contest:  
When: Saturday, October 28, 2023, in the evening  
What: Dress to impress in your scariest, funniest, or most creative costume! Join us at Lakeside Restaurant for a thrilling costume party and contest. The best-dressed individuals can win a chance for a free villa stay at Cypress Cove!
Trick-or-Treating Adventure:  
When: Saturday, October 28, 2023, from 5 pm to 7 pm  
What: Bring out the kids for an evening of delightful candy hunts. Trick-or-treat through the community and fill your goodie bags with treats! Residents, if you'd like to join in the fun by handing out candy, sign up at the front office and be added to the trick-or-treating map.
We can't wait to share the spooktacular festivities with you all. Stay tuned for more updates and be prepared for a hauntingly good time at Cypress Cove this Halloween!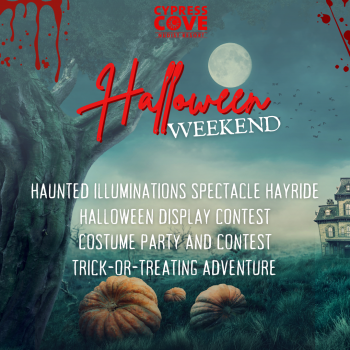 ---
Donate for Life: Blood Drive at Cypress Cove!
Get ready for a day of health, heart, and Halloween fun at Cypress Cove on Sunday, October 29 from 11 am - 4 pm! We're excited to announce our upcoming Blood Drive, a vital event to support our community's well-being. Here's what you'll receive as a token of our appreciation for your lifesaving donation:
All Donors Receive:
Your generosity in donating blood not only supports a crucial cause but also provides an opportunity to celebrate the spirit of Halloween. Save the date, and let's unite to make a lasting impact on the lives of others and our community's health.
Appointments are suggested! Click here to schedule your appointment now. Thank you for being a part of our caring and compassionate community. For more information click here.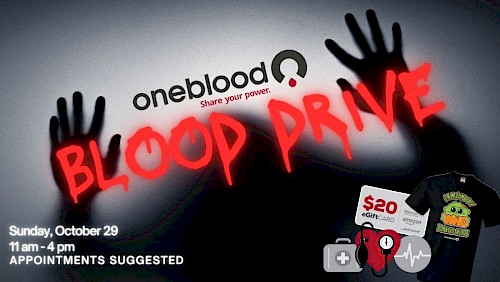 ---
Dive into Fitness with HIIT Water Aerobics at the East Pool!
We're thrilled to introduce a fitness experience that's making waves at Cypress Cove - High-Intensity Interval Training (HIIT) Water Aerobics! Join Instructor Pam H. every Monday through Friday at 9:30 AM at East Pool for a refreshing and invigorating workout session.
HIIT Water Aerobics combines the benefits of high-intensity interval training with the soothing properties of water, resulting in an effective and enjoyable fitness routine. Pam will guide you through a dynamic workout designed to enhance cardiovascular endurance, build strength, and boost your energy levels, all while immersing yourself in the serene atmosphere of our naturist-friendly resort.
Details:
When: Monday through Friday
Time: 9:30 AM
Where: East Pool
Come and make a splash with us as you take your fitness journey to new depths under the guidance of Instructor Pam H., all while enjoying the beautiful surroundings of East Pool. We can't wait to see you there!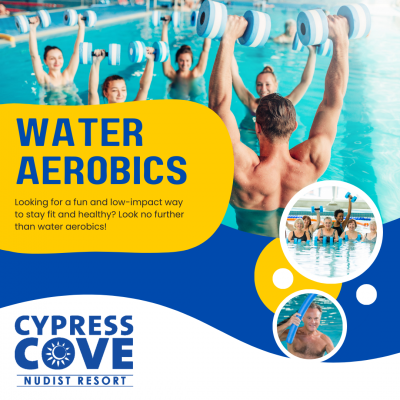 ---
Dive into Fun at the 11th Annual Cypress Cove Turkey Smash Pickleball Tournament! 
Get ready for an exhilarating four-day extravaganza of pickleball action at the stunning Cypress Cove Nudist Resort from November 17 to November 19. Join us for the 11th Annual Cypress Cove Turkey Smash Pickleball Tournament, featuring ten exciting pickleball events played on our six newly resurfaced, pristine courts.
The weekend is packed with nine competition events, a chance to win amazing prizes in our giant prize raffle, and a lively and informal kickoff event to set the tone for the festivities. Bask in the Florida sunshine as you engage in friendly competition and a whole lot of fun on the courts.
Whether you're a seasoned pickleball pro or a newcomer to the sport, everyone is welcome to participate! No pre-registration is required for any event, so simply mark your calendars and be prepared for a fantastic weekend of pickleball excitement.
For all the event details and the complete schedule, please click HERE or email info@covepickleballclub.com. Don't miss out on this unforgettable pickleball experience at the 11th Annual Cypress Cove Turkey Smash Pickleball Tournament!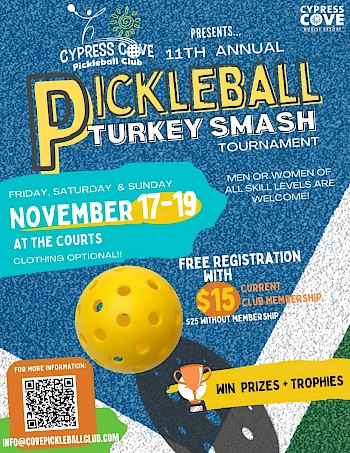 ---
Resident Coordinated Bus Charter
Hop on the Beach Bus to Blissful Adventures at Blind Creek Nude Beach!
Get ready for a sun-soaked escapade to the stunning Blind Creek Beach in Fort Pierce with your fellow nudist community! Leave the hassle behind as we board a luxury motor coach chartered by fellow residents& guests departing from Cypress Cove on Sunday, November 12, 2023.
Trip Details:
Date: Sunday, November 12, 2023
Departure Location: Cypress Cove Resort
Destination: Blind Creek Beach, Fort Pierce
Departure Time: [To be confirmed]
Return Time: [To be confirmed]
Embrace the tranquility of the still-warm Atlantic waters at Florida's newest and most beautiful nude beach, just 2 hours and 15 minutes from the gate at Cypress Cove. Forget about the stresses of driving, traffic, parking, tolls, and fuel costs—we've got it all covered!
Ticket Information:
Ticket Price: $45 per person
Ticket Sales End: October 31, 2023
Don't miss out on this extraordinary adventure! Secure your spot by purchasing your ticket today. Click HERE or email BeachBus@Fastmail.com for more information. 
Let's make waves and soak up the sun in good company!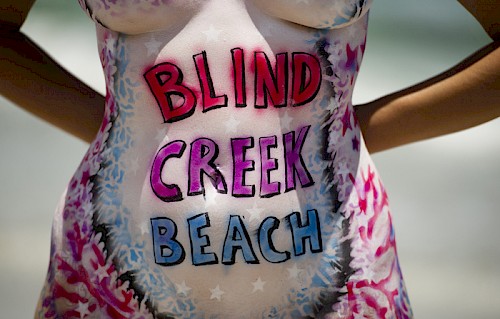 Disclaimer: 
This bus trip to Blind Creek Beach on Sunday, November 12, 2023, is organized and coordinated independently and is not affiliated with or endorsed by Cypress Cove Nudist Resort. Cypress Cove Nudist Resort is not involved in the coordination, organization, or operation of this trip, and they assume no responsibility or liability for any aspect of the trip, including but not limited to its safety, logistics, ticketing, scheduling, or any other related matters. All inquiries, concerns, and issues regarding this trip should be directed to the organizers of the trip, who can be contacted at BeachBus@Fastmail.com. Participants are encouraged to exercise due diligence and make informed decisions before participating in this trip.
---
News Outside the Cove
See what's making headlines in nudist news around the world. These things and more are being shared on our social media channels.

Follow us today to stay informed!






(Click one of these links to see the latest news!)
---
Martha Stewart admits guests swam nude at her country home in the 1970s
Feeling free and one with nature - that's what swimming nude in a pool is all about! This recent confession from Martha Stewart just goes to show that it's not about being scandalous, it's about embracing our natural selves. Who else is up for a refreshing dip in the buff?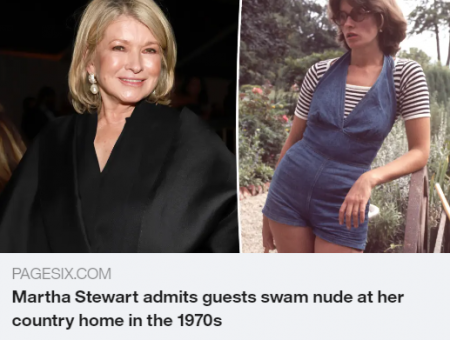 "Sounds like Martha Stewart showed off more than her hydrangeas when guests visited her Connecticut home. The national treasure kinda sorta denied a long-running rumor that she hosted nude swimming parties there 1970s — in a way that mostly made it sound as if it was true." Read the full story HERE.
---
Kim Cattrall on posing near nude at 67: 'I want to celebrate these years that I have'
Way to go, Kim! You look absolutely stunning in these photos and we love how confident and comfortable you are in your own skin. Keep shining and inspiring others to embrace their bodies just the way they are. We are so proud of you!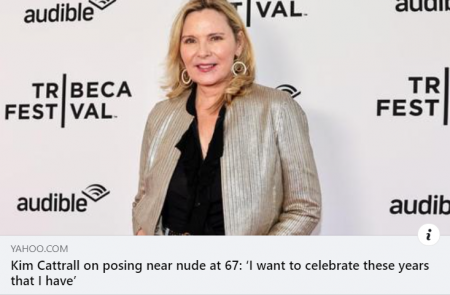 "Kim Cattrall, in a series of curve-hugging shapewear, exudes full Samantha Jones energy for her appearance in Kim Kardashian's latest Skims campaign – although she wants people to know she's actually not channeling Samantha at all. Instead, as she told the Hollywood Reporter, she's simply being herself. Her comments are empowering because she wants fans to know that it's actually Kim, the person, who brings the power and confidence to the character of Samantha, and not the other way round." Read the full story HERE.
---
Have You Seen Us Lately?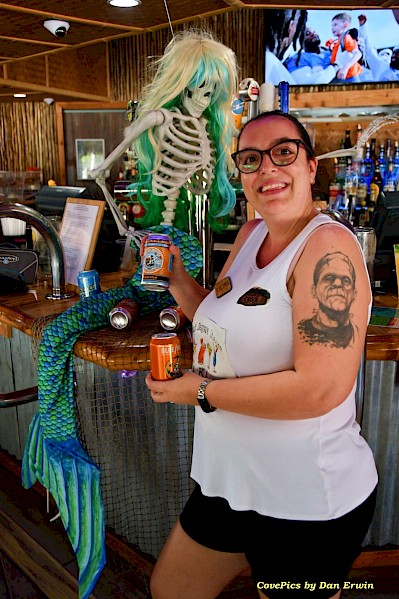 The 9th annual BEER-FEST Weekend.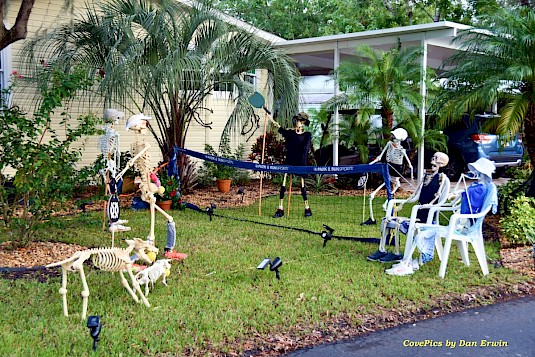 You are never too old to play Pickleball.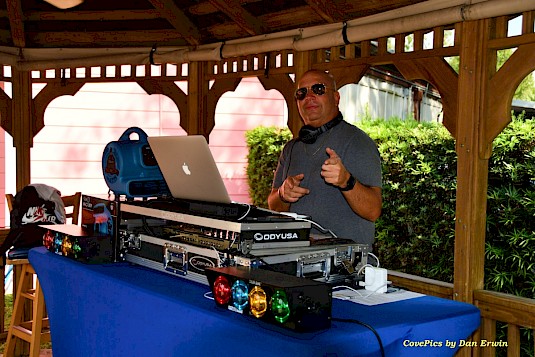 DJ Damon keeps the music going at the West Pool with themed Pool Parties.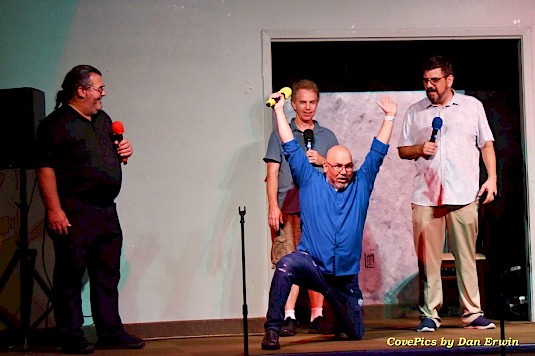 Our first Improv Comedy Show at Lakeside on Friday Night.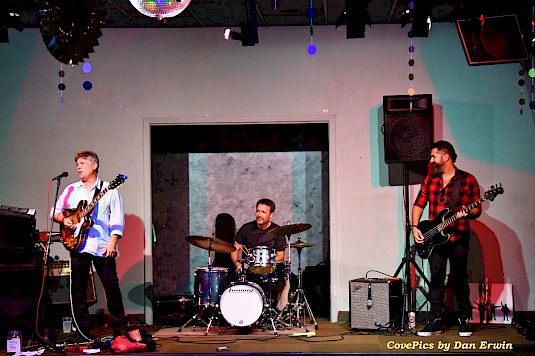 A new band The Rollables kept the dance floor full at Lakeside on Saturday Night with great Rock N' Roll music.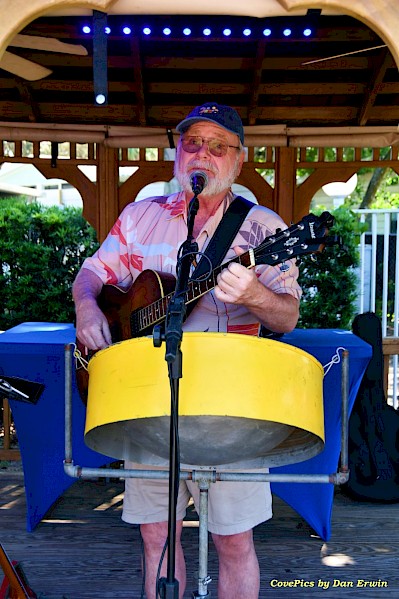 Live music poolside with The Island Sounds of Jimmy on Sunday afternoon.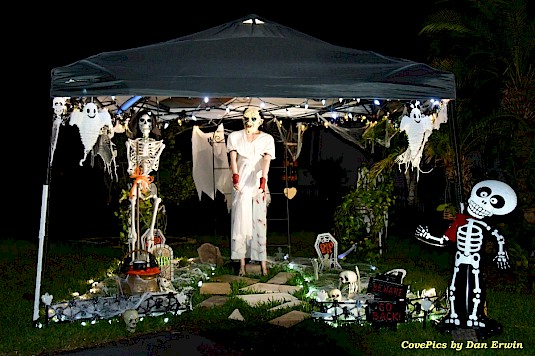 It's a Scary time of the year at Cypress Cove.
---
"Where Have You
Taken the Cove?"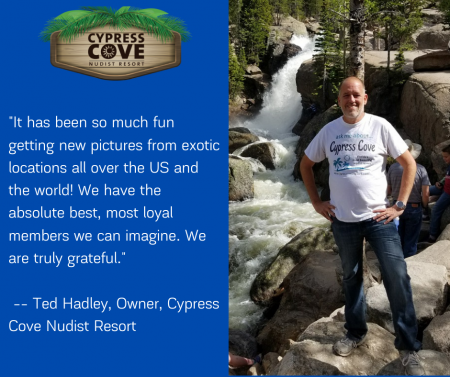 SEND US YOUR PHOTOS!!!
 We want to see where you have worn your Cypress Cove t-shirt, no matter which style it is! Wear it to town, the grocery store, while you are out and about, or at a national monument, and send us a photo! You will be featured in our newsletter or on our social media channels. 
Don't have a shirt yet? Purchase one at the main office or call and order one to show your pride in Cypress Cove! 
Call us at Toll-Free (888) 683-3140.

Send photos to Newsletter@CypressCoveResort.com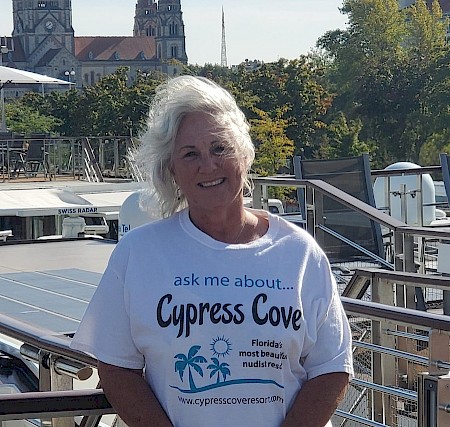 Shari wears Cypress Cove in Vienna Austria. 
Thanks for sending it in, Shari!

Where have you worn your Cypress Cove T-shirts?
Please send us a photo!
---
Book a Room Today!
It's never been a better time to stay at Cypress Cove! Book Online, Email Reservations, or Call Reservations toll-free at 888-683-3140.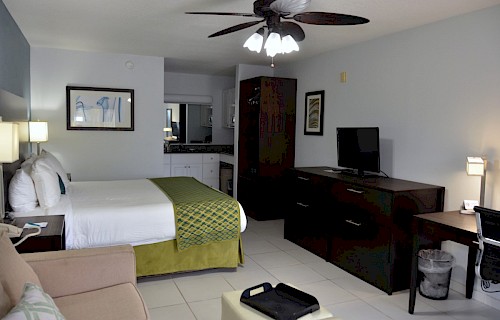 For Special Offers click HERE!
---
Every week we receive great reviews on TripAdvisor and Google; if you have visited or stayed with us, we would love to know about your experience. Click the logos below.