Cove News   
---
Veterans Day Tribute
On Saturday, November 11, we cordially invite you to join us in commemorating Veterans Day at Cypress Cove Nudist Resort. This special event is dedicated to honoring veterans, their cherished family members, and all those who hold the Armed Services close to their hearts.
We request the pleasure of your company at 4:00 pm as we come together by the flagpole to pay our heartfelt tribute to the valiant individuals who have selflessly served in the United States Armed Forces. Cypress Cove's Veterans Day presentation promises to be an unforgettable celebration, shining a well-deserved spotlight on the men and women who have made incredible sacrifices for our nation.
As we embark on the season of Thanksgiving, let us commence by expressing our profound gratitude to these heroic members of our military. Your presence and support would be greatly appreciated as we come together to honor their dedication and service.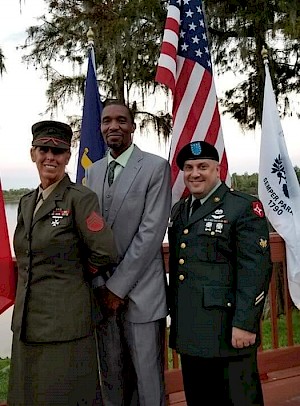 Herman needs YOU!
Our exceptional bartender and dedicated philanthropic leader is seeking your assistance in a heartfelt endeavor. We kindly request that you search through your photo collections and send us any images of service members who were once part of the Cove community.
Please forward these photos, along with the name and branch of the military of the individuals featured, to the provided email address. This initiative is in preparation for our upcoming Veterans Day commemoration, so your prompt response in sharing these photos is highly encouraged. Additionally, you are welcome to include anyone you would like to honor as part of this special memorial.
---
Community Garage Sale
Join us for the Cypress Cove Nudist Resort Community Garage Sale on Sunday, November 12th, starting at 8 am! Find hidden treasures in your favorite naturist community. Whether you're a resident or just visiting the Cove for the day, everyone is welcome to explore our fantastic selection of pre-loved items. Day Fees will apply for non-members, so come ready to enjoy the day! Don't miss this annual opportunity to shop, socialize, and soak up the sun at Cypress Cove.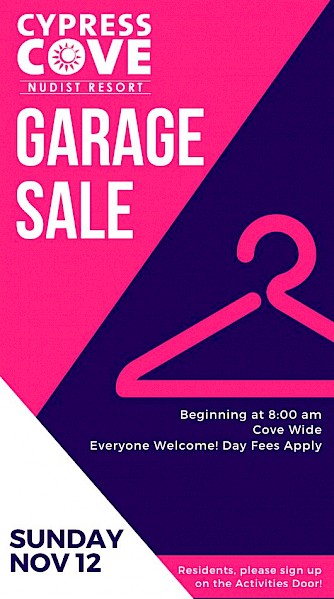 ---
Dive into Fun at the 11th Annual Cypress Cove Turkey Smash Pickleball Tournament! 
Get ready for an exhilarating four-day extravaganza of pickleball action at the stunning Cypress Cove Nudist Resort from November 17 to November 19. Join us for the 11th Annual Cypress Cove Turkey Smash Pickleball Tournament, featuring ten exciting pickleball events played on our six newly resurfaced, pristine courts.
The weekend is packed with nine competition events, a chance to win amazing prizes in our giant prize raffle, and a lively and informal kickoff event to set the tone for the festivities. Bask in the Florida sunshine as you engage in friendly competition and a whole lot of fun on the courts.
Whether you're a seasoned pickleball pro or a newcomer to the sport, everyone is welcome to participate! No pre-registration is required for any event, so simply mark your calendars and be prepared for a fantastic weekend of pickleball excitement.
Check out all the event details and the complete schedule, or for questions, email info@covepickleballclub.com. Don't miss out on this unforgettable pickleball experience at the 11th Annual Cypress Cove Turkey Smash Pickleball Tournament!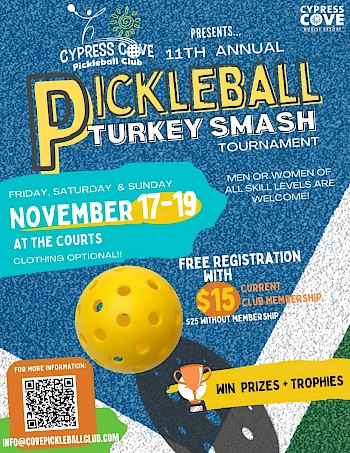 ---
Grey Cup Viewing Party! 
Join us for a touchdown of fun and camaraderie at Cypress Cove Nudist Resort's Grey Cup Viewing Party! Get ready to cheer on your favorite team in the ultimate game of the year, all while enjoying the relaxed and welcoming atmosphere of Cheeks Bar & Grill.
Date: Sunday, November 19 Time: 6:00 PM
Whether you're a die-hard football fan or just looking for a unique and exciting way to spend your evening, this event promises a fantastic time for everyone. Our friendly staff and fellow nudist enthusiasts will make you feel right at home, and with great food, refreshing drinks, and the big game on the screen, it's an experience you won't want to miss.
So, mark your calendar, grab your jersey (or not!), and come on down to Cheeks Bar & Grill to be a part of the excitement. Let's make this Grey Cup Viewing Party a touchdown celebration to remember!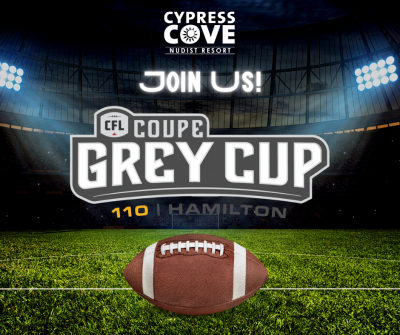 ---
Thanksgiving at Lakeside Restaurant
Join us at Cypress Cove Nudist Resort's Lakeside Restaurant this Thanksgiving Day for a memorable holiday feast! From 3 pm to 7 pm, we'll be serving up a delectable spread of all your traditional favorites. 
The mouthwatering details of our offerings are here! Take a look at the menu and call for your reservation today. It's a perfect opportunity to gather with friends and family, savor the flavors of the season, and give thanks together. We can't wait to share this special day with you!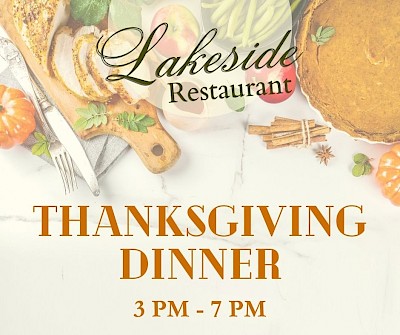 (Click image for menu & price)
---
The Notables Christmas Concert
Get ready to be enchanted by the harmonious voices of The Notables at Cypress Cove Nudist Resort's annual Christmas Concert! This talented, auditioned singing group is set to fill our hearts with holiday cheer on a delightful December afternoon.
Date: Sunday, December 19 Time: 3:00 PM, Lakeside Restaurant
Join us for an afternoon of festive melodies and joyful spirits as The Notables serenade you with a beautiful selection of classic Christmas songs and seasonal favorites. It's the perfect way to get into the holiday spirit and celebrate the season with your nudist community.
Mark your calendars for this enchanting event. We can't wait to see you on December 19th at 3:00 PM for The Notables' Christmas Concert – a perfect way to make your holiday season bright!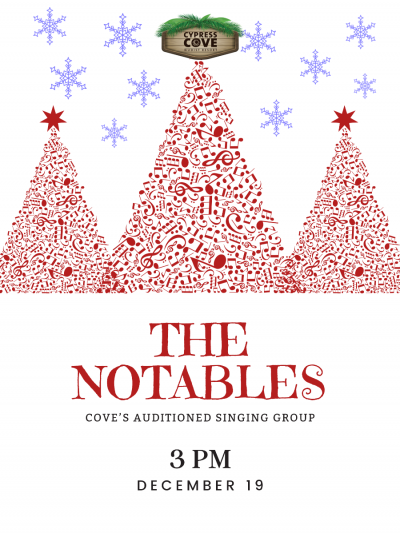 ---
Embrace Nudism Beyond Cypress Cove
At Cypress Cove Nudist Resort, we understand that the desire to enjoy the freedom of being in your natural state doesn't end when you leave our beautiful grounds. That's why we're excited to bring you this informative content in this newsletter, dedicated to helping you fully embrace the nudist way of life, no matter where you are. Whether you're looking for unique spots to shed your clothes, tips to transform your yard or apartment patio into a nude-sunbathing haven, advice on nude boating and hiking, or even guidance on hosting nudist house parties and collaborating with local attractions for nude nights – we've got you covered. Stay tuned for expert insights and inspiration on how to be a nudist, no matter where your journey takes you.
________________________________________________
Embrace Nature: Nude Boating and Hiking for the Naturist Adventurer
Are you a passionate naturist looking for opportunities to connect with nature beyond the walls of your favorite nudist resort, Cypress Cove? If so, you're in for a treat because there are countless ways to enjoy the freedom and exhilaration of going nude in the great outdoors, and two of the most liberating activities are nude boating and hiking.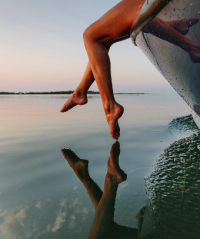 Nude Boating: Sailing the Seas of Freedom
Nude boating is a fantastic way to experience the serenity of the open water while feeling the gentle caress of the sun and breeze on your bare skin. Whether you're an experienced sailor or just looking for a new adventure, here's how you can get started:
Choose Your Vessel: If you already own a boat, you're all set! If not, consider renting one for a day or a weekend from a local marina. Look for boats with a private deck to maintain your privacy.

Find Nude-Friendly Spots: Research your local waterways to find nude-friendly areas. Many naturists enjoy sailing in secluded coves, where they can drop anchor and enjoy the privacy of nature.

Prepare Properly: Make sure to bring essentials like sunscreen, hats, and plenty of water. And, of course, don't forget your flotation devices and all necessary safety equipment.

Respect the Environment: Be mindful of your surroundings and follow Leave No Trace principles. Dispose of waste properly and protect the natural beauty of the waterways.

Connect with Local Naturist Groups: Join local naturist groups or forums to find like-minded individuals who may have tips on the best places to go nude boating in your area.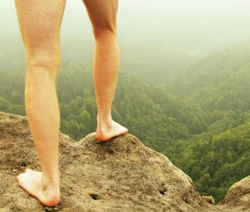 Nude Hiking: Trekking in the Buff
Nude hiking allows you to immerse yourself in the great outdoors without the confines of clothing. Here's how to embark on a clothing-optional hiking adventure:
Research Nude-Friendly Trails: Look for hiking trails that are known for being nude-friendly. Some naturist organizations provide guides to such trails.

Check Local Laws: Be sure to check local regulations regarding nudity to ensure you're hiking within the boundaries of the law.

Timing is Everything: Opt for less crowded times and trails. Early mornings or weekdays often provide a quieter, more secluded experience.

Respect Others: While you may be comfortable hiking in the nude, it's essential to be considerate of others you may encounter on the trail. Carry a sarong or lightweight cover-up that you can slip on when necessary.

Carry the Essentials: Just like any hike, bring essentials like water, a map, a first-aid kit, and appropriate footwear. Don't forget sunscreen!

Share the Experience: If you enjoy your nude hiking adventures, consider documenting your experiences and sharing them with other naturists to inspire and educate the community.
Nude boating and hiking can be transformative experiences that connect you with nature and your naturist spirit. They offer a unique way to celebrate the beauty of the great outdoors and the freedom of being clothing-free. So, explore your local opportunities, respect the environment, and remember to savor every moment of your nude adventures until your next trip to Cypress Cove.
---
Nudist News Outside the Cove
See what's making headlines in nudist news around the world. Check out our social media channels to see what's happening.

Follow us today to stay informed!
---
Have You Seen Us Lately?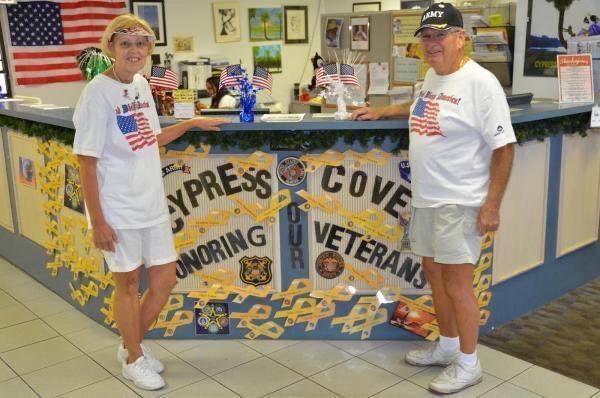 Flashback Photo Veterans Day 2014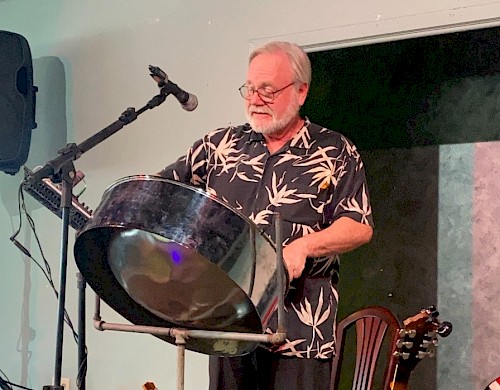 Island Music with Jimmy at Lakeside on Friday night.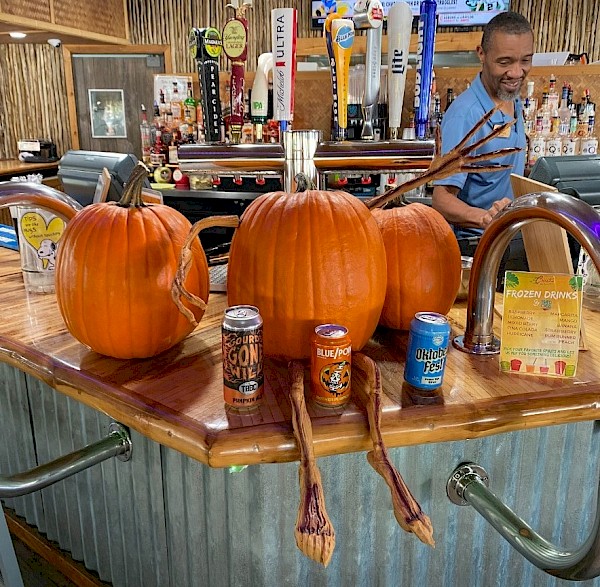 Cheeks is celebrating fall. Stop by for a seasonal craft beer.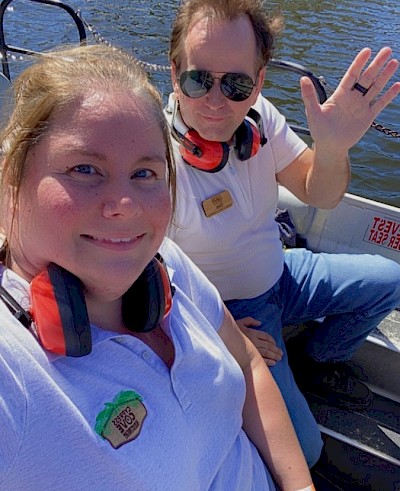 Cypress Cove Director of Sales & Marketing, Dan, and Digital Marketing & Communications Manager, Stephanie visited our neighbors at Boggy Creek Airboat Rides to discuss co-marketing opportunities. They treated them to an airboat ride!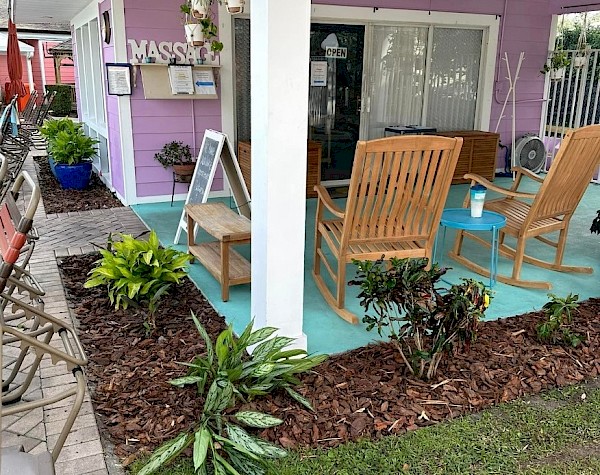 Spa Oasis at the Cove received some beautiful gardening.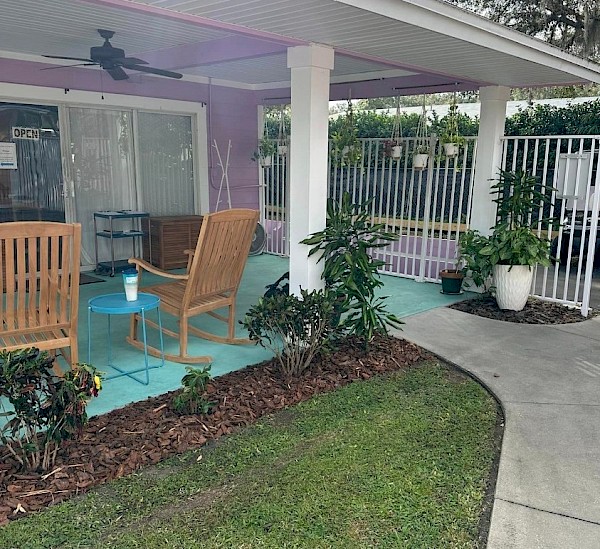 The space is even more inviting.
---
"Where Have You
Taken the Cove?"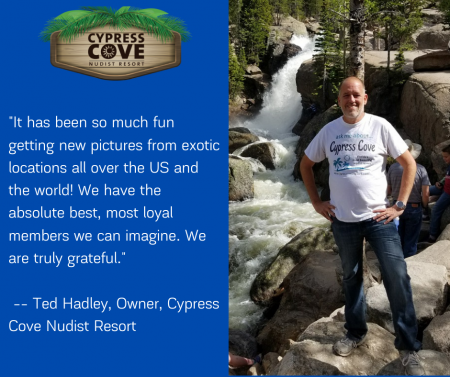 SEND US YOUR PHOTOS!!!
 We want to see where you have worn your Cypress Cove t-shirt, no matter which style it is! Wear it to town, the grocery store, while you are out and about, or at a national monument, and send us a photo! You will be featured in our newsletter or on our social media channels. 
Don't have a shirt yet? Purchase one at the main office or call and order one to show your pride in Cypress Cove! 
Call us at Toll-Free (888) 683-3140.

Send photos to Newsletter@CypressCoveResort.com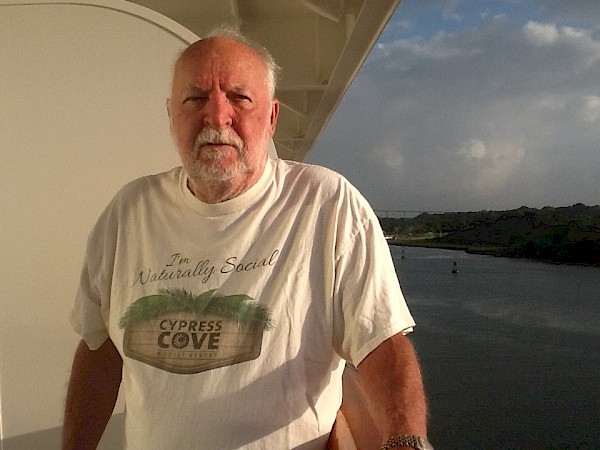 Stephen was sporting Cypress Cove at the Panama Canal
Thanks for sending it in!

Where have you worn your Cypress Cove T-shirts?
Please send us a photo!
---
Book a Room Today!
It's never been a better time to stay at Cypress Cove! Book Online, Email Reservations, or Call Reservations toll-free at 888-683-3140.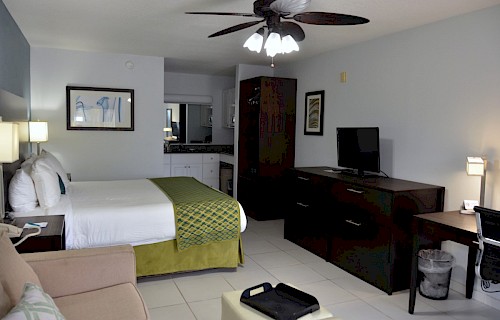 For Special Offers click HERE!
---
Every week we receive great reviews on TripAdvisor and Google; if you have visited or stayed with us, we would love to know about your experience. Click the logos below.