Laugh of the Week
---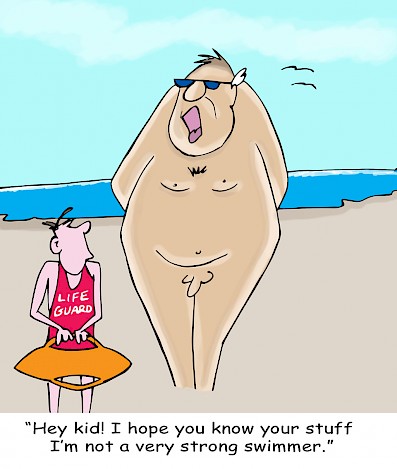 ---
Cove News  
---
Cypress Cove Garage Sale
Join us this Sunday for a day of treasure hunting! Cypress Cove will be hosting a garage sale on November 6 beginning at 8 am. Stop by the office and pick up a map of those participating in the sale. Day fees apply for those visiting. For residents looking to participate in the sale, please make sure you sign up on the activities door.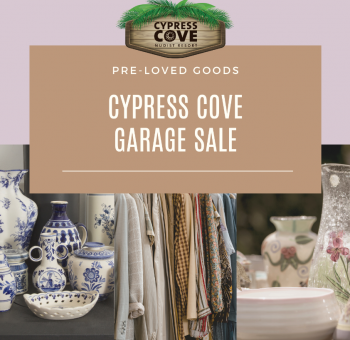 ---
Naked Astronomy
Join Bob as he discusses what's happening in the stars and various topics in astronomy this Sunday, November 6 at 11 am in the clubhouse. Naked Astronomy brings the science of astronomy and the pleasure of stargazing to the general public. Join us to find out What's Up in the Sky this month, learn the constellations, get updates on current space missions, and more.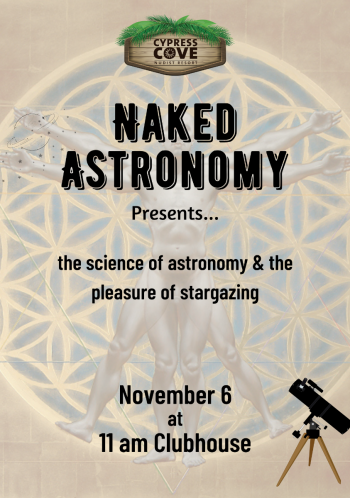 ---
Full Moon Gatherings Return!
Join your friends at the fire pit on November 8 for the Full Beaver Moon. The gathering begins at 5:30 pm. The moon rises at 5:49 pm after the sun sets at 5:36 pm. This is the Full Beaver Moon because this was the time when beavers finished preparations for winter and retreated into their lodges. In the 1760s, Captain Jonathan Carver heard this Native American term during his travels.
The Full Moon Gathering will be held on the shores of Lake Brown at Cypress Cove at the campfire near the beach. Come join us to celebrate a once-a-month celestial event. Newcomers are welcome to the event and are encouraged to participate by joining us with their favorite musical instrument. The goal is to expand the circle for all those who love nature and yearn to listen to the native rhythms that fill our souls with happiness and joy. Help is welcome to get the fire started before the event, depending on the weather conditions.

---
Chili/Soup Cook-Off
Join the Fishing Club as they hold a chili/soup cook-off on Saturday, November 12 from Noon to 2 pm. There will be a 50-50 drawing. Samples will be sold for $1.00 each. Bowls of Chili/Soup will be sold for $5.00 each after 1 pm. Desserts will be $2.00. All votes must be cast by 1 pm and a winner will be announced at 1:30 pm.
Place: Boat ramp area
Beverages: Bring your own!
Proceeds for this cook-off go to feeding the fish of Brown Lake via the automatic fish feeder. Additional donations will be accepted on behalf of the fish. Hope to see you there!
If you would like to enter the competition there is a $10.00 entry fee. The first place prize is $100. Contact Mike at 545 Red Fox Run or text or call 812-291-0006 to enter. You must be signed up by Friday, November 11. If you would like to donate desserts please contact Susan at 812-291-0007. Spoons, forks, tables, electricity, sample containers, bowls and tablecloths will be provided.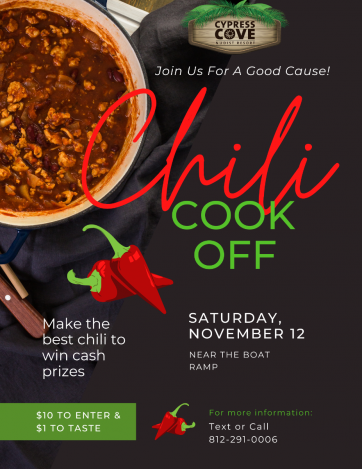 ---
10th Annual Turkey Smash Pickleball Tournament
Make plans now to be at beautiful Cypress Cove for the Tenth Annual Cypress Cove Turkey Smash Pickleball Tournament happening November 18 - 20! Playing on the six beautiful, newly-resurfaced courts, we have a full weekend of fun and competition planned, with five competition events, a giant prize raffle, and hours of pickleball fun under Florida's delightfully warm sun.
No pre-registration is required, and everyone is welcome. For the full schedule of events, click here or email info@covepickleballclub.com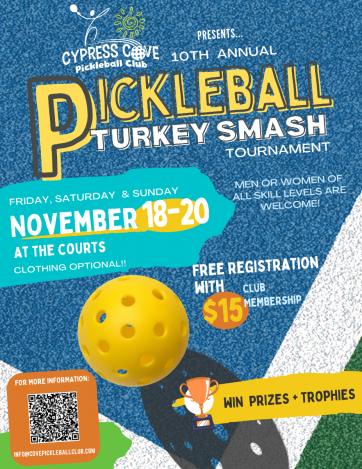 ---
News Outside the Cove
See what's making headlines in nudist news around the world. These things and more are being shared on our social media channels.
Follow us today to stay informed!






(Click one of these links to see the latest news!)
---
Woman's 'nude' gym attire turns heads: 'I thought she had no pants on'
Ha! You should see OUR gym! No clothing required: Bodyworks Gym at Cypress Cove Nudist Resort.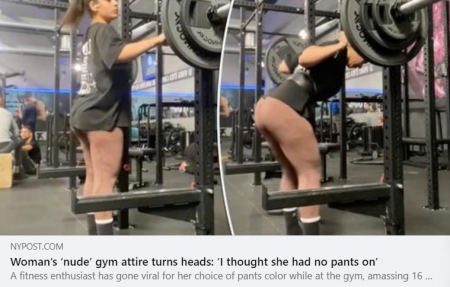 "She was caught in the nude — leggings, that is. A fitness buff has gone viral for her choice of pants color while at the gym, amassing 16 million views on the clip showing her squatting in what looks like no bottoms at all. TikTok user @_toupoouu1 posted the video online along with numerous others donning the same flesh-toned outfit, all of which drew countless comments questioning her attire. Touting more than 15,000 followers, she regularly posts workout videos at the gym, but this one caught more attention than she bargained for." Read the full story HERE.
---
Heatwave sparks increased interest in Lincolnshire nudist group, says founder
The heat will definitely make you want to strip off and cool down!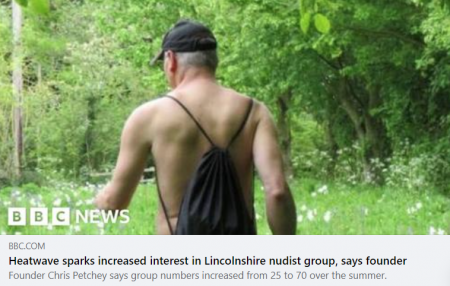 "A nudist group says this summer's record-breaking temperatures have seen its membership almost triple. Naked Lincolnshire said group numbers had gone from 25 to 70 in recent months. Group founder Chris Petchey said: 'The heatwave has been great for us. People are much more inclined to shed clothes when the sun is shining.' Mr. Petchey revealed he was already lining up indoor events for the autumn in a bid to retain the group's numbers." Read the full story HERE.
---
Have You Seen Us Lately?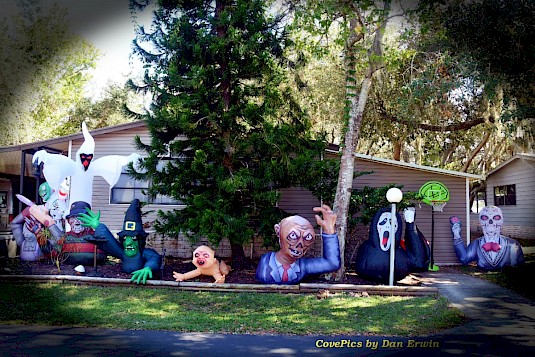 Halloween is fun at Cypress Cove. Very strange creatures seem to be crawling out of the ground just to attend the Halloween party.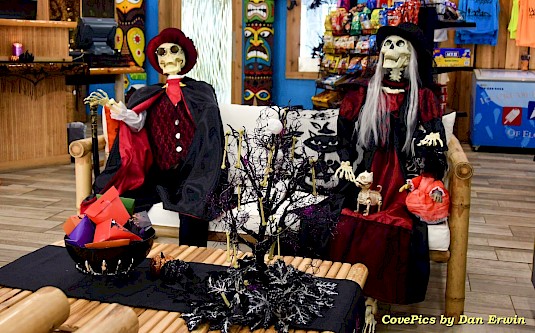 These folks have been waiting in the office for the party to start for a long time.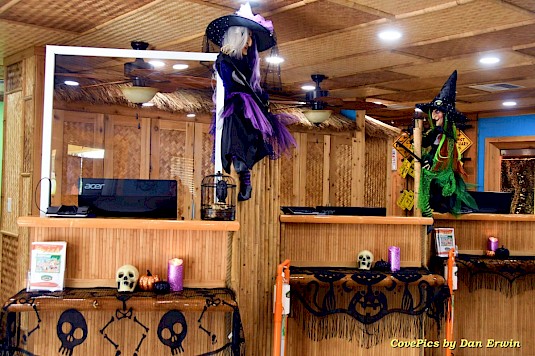 May we help you? The office brought in some extra "staff" for the busy weekend.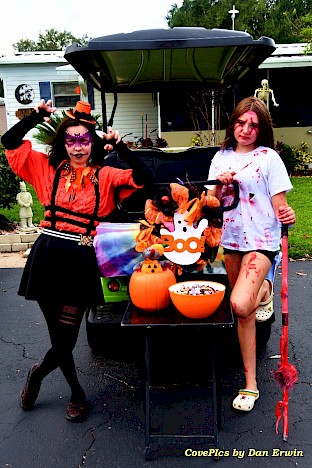 The party started with "Trick or Treat".  Lots of "scary" kids were out & about.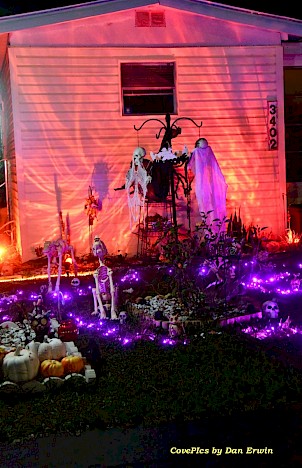 As it got darker, things got a lot scarier.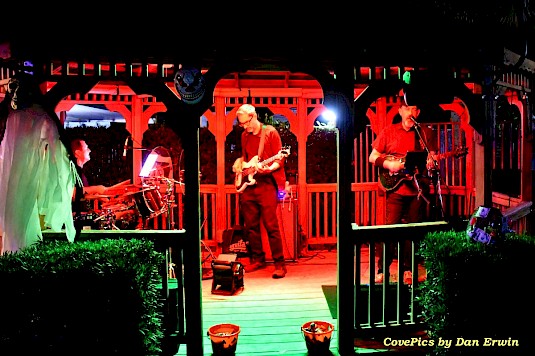 The Hacksaw Hamlin band got the party started.

This nerdy guy found a beautiful cheerleader in Cheeks and it looks like they hit it off.

That is one scary guy!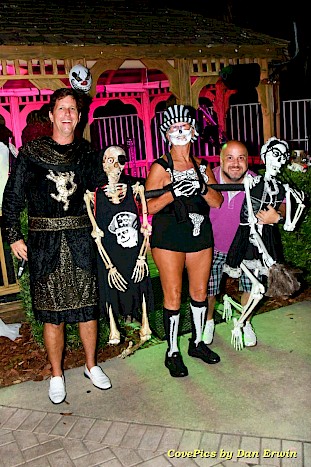 This beautiful young lady spent the night dancing with two very thin guys.
Costume Contest Winners: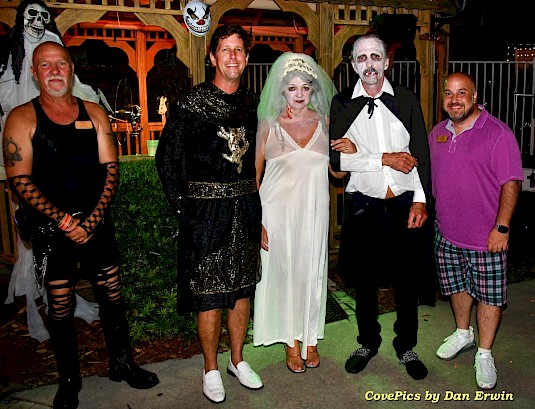 Scariest Costume: The forever bride & groom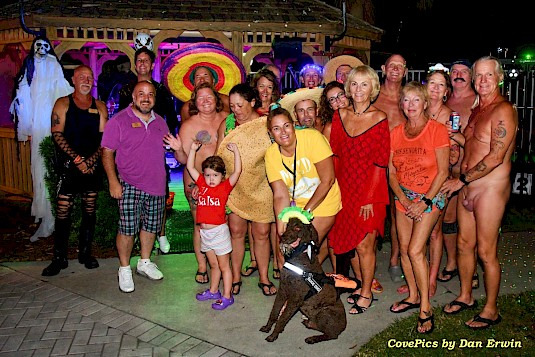 Funniest Costume: Taco Party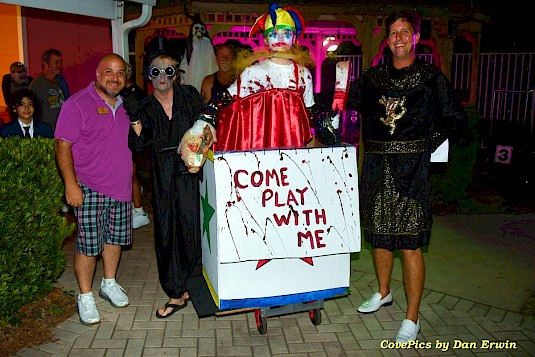 Best Overall Costume: Jack-in-the-Box
---
"Where Have You
Taken the Cove?"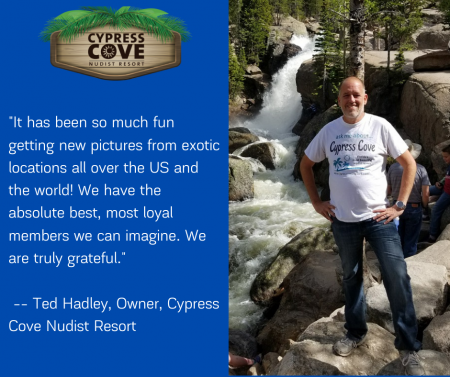 SEND US YOUR PHOTOS!!!
 We want to see where you have worn your Cypress Cove t-shirt, no matter which style it is! Wear it to town, to the grocery store, wear it while you are out and about, or at a national monument, and send us a photo! You will be featured in our newsletter or on one of our social media channels. 
Don't have a shirt yet? Purchase one at the main office or call and order one to show your pride in Cypress Cove! 
Call us at Toll-Free (888) 683-3140.

Send photos to Newsletter@CypressCoveResort.com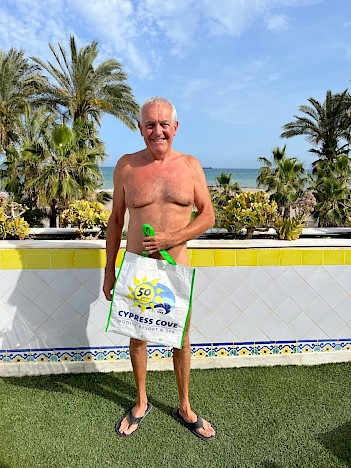 Harry from Scotland UK at Vera Playa​​​​​​.
Thanks for sending it to us, Harry!

Where have you worn your Cypress Cove T-shirts?
Send us a photo!
---
Book a Room Today!
It's never been a better time to stay at Cypress Cove! Book Online, Email Reservations, or Call Reservations toll-free at 888-683-3140.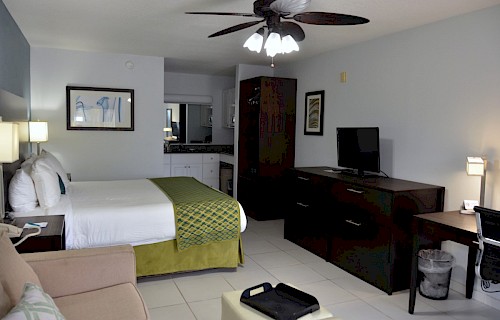 For Special Offers click HERE!
---
Every week we receive great reviews on TripAdvisor and Google; if you have visited or stayed with us, we would love to know about your experience. Click the logos below.