Laugh of the Week
---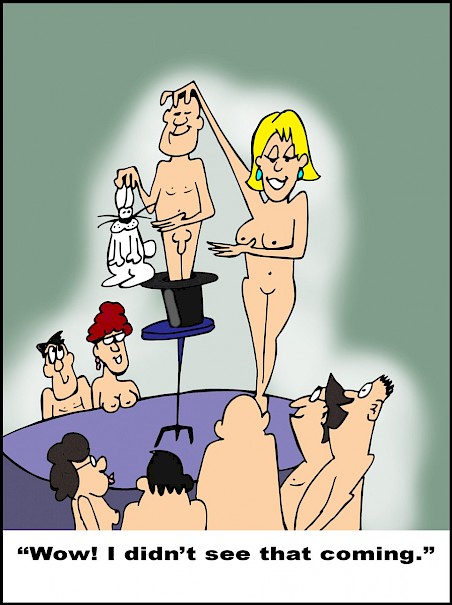 ---
Cove News  
---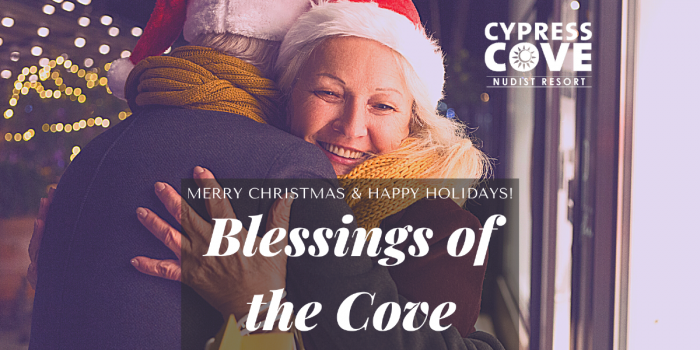 As we round the bend capping off yet another year, we are about to enter a season of gratitude and giving. It is in this spirit that Cypress Cove would like to re-introduce a Holiday countdown of sorts, affectionately dubbed "Blessings of The Cove"— a period of supporting those in our nudist family who have the greatest need in consideration of trying times.
Through the end of the year, we are inviting Cypress Cove residents and members to write to us and tell us of your need. What do you think would help you most during this difficult time? Each week, we will choose a letter and will respond with assistance and support. You can either drop off a letter to the Main Office, care of Peter Sewall or email Peter at CoveBlessings@cypresscoveresort.com.
Cypress Cove has enjoyed a long history of community support both participating in and spearheading, various events ranging in size and reach. It is the members of our naturist community that has enabled growth and success through the years. As such, we thought it was important to finish the year with full focus on this community—those of you "inside the gate." It can be hard to ask for help, but please let us know if you have an exceptional need. It is our goal to make your holiday season a little bit brighter.
We already know that the Cypress Cove nudist community has a big heart and a philanthropic spirit, so we'd encourage those of you who are not in need to lend support to your friends and neighbors during this time. If you'd like to help us expand our efforts, you may do so at this link; simply select Blessings of The Cove Donation. We want "Blessings of The Cove" to spill over into all corners of our amazing community.
With thanks and gratitude, 
Peter Sewall
General Manager
---
Thanksgiving Meal
Cheeks will be preparing a Thanksgiving meal on November 24. For those interested in the meal, please call Cheeks at 407-933-3529 to give them your headcount. This will not reserve your meal, but rather assist them in making sure there is enough for everyone. We will begin serving at 12 pm on a first-come, first-served basis until we run out. Let us do the cooking and cleaning! Cheeks will be closing at 6 pm on Thanksgiving Day to allow staff to be with their families. 
Menu:
Roasted Butternut Squash Soup
White and Dark Turkey Meat with Gravy
Homestyle Stuffing
Green Beans & Baby Carrots Casserole
Garlic Mashed Potatoes
Candied Yam with Marshmallows
Glazed Ham
Price: $18.95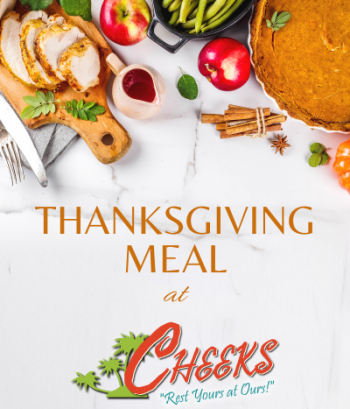 ---
Improvements at the Cove
Cypress Cove Mail Stop
The mailbox pavilion is looking vibrant these days. Check out the new bulletin boards, paint color, and foliage!!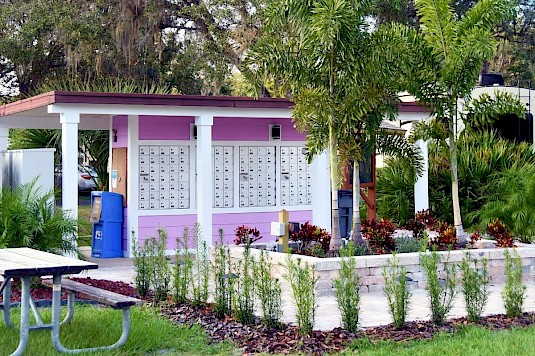 New Guardrails in the Pool Complex Alleyway
These new guardrails are protecting the new siding on the buildings. They will soon be painted the same color as their adjacent building. The best part about these new guardrails is that they are made from the recycled boards of Cypress Coves picnic tables.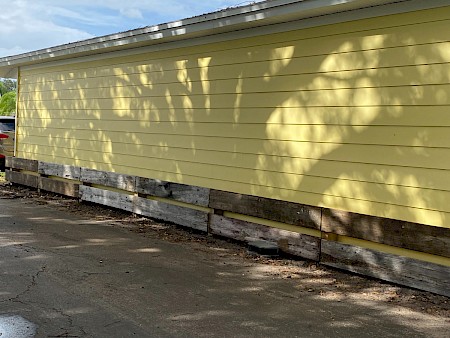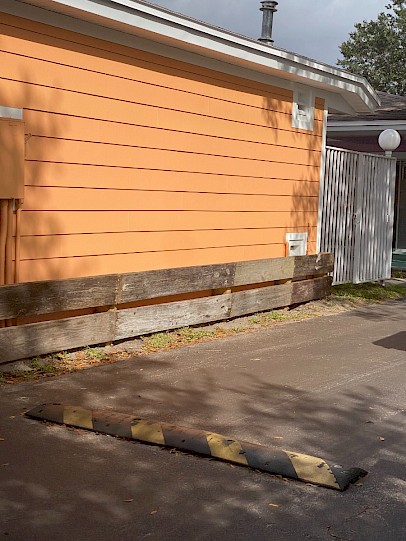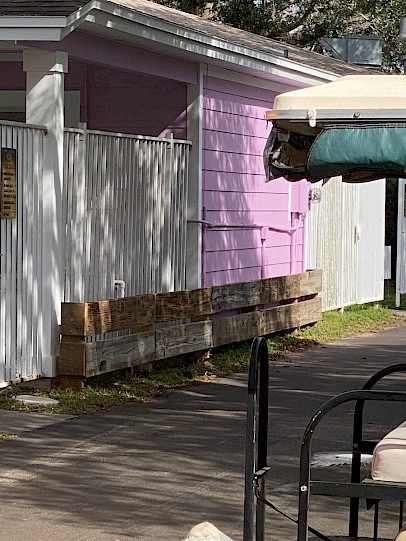 ---
10th Annual Turkey Smash Pickleball Tournament
Make plans now to be at beautiful Cypress Cove for the Tenth Annual Cypress Cove Turkey Smash Pickleball Tournament happening November 18 - 20! Playing on the six beautiful, newly-resurfaced courts, we have a full weekend of fun and competition planned, with five competition events, a giant prize raffle, and hours of pickleball fun under Florida's delightfully warm sun.
No pre-registration is required, and everyone is welcome. For the full schedule of events, click here or email info@covepickleballclub.com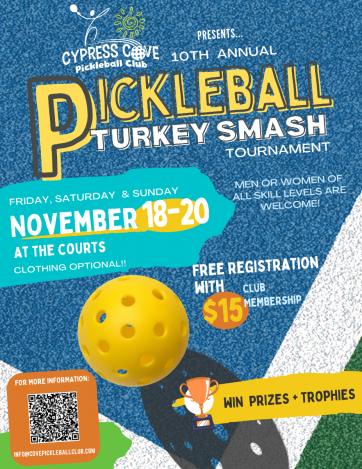 ---
Grey Cup
Join your Canadian friends Sunday, November 20 at 6 pm at Cheeks for the Grey Cup! Chef Michael will be making some hometown favorites so you can watch the game and feel right at home. Regis will be giving out a few halftime prizes including dinner for 2, a free villa stay, and a free drink pack! Look for drink specials too!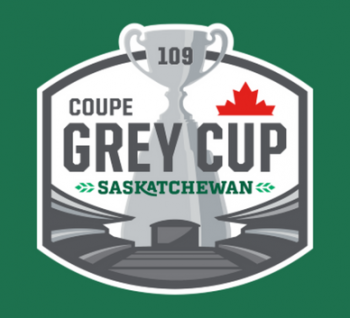 ---
6th Annual Hey Nude Volleyball & Spikeball Tournament
Nude volleyball action returns to Cypress Cove on the weekend of December 3-4, with the Hey Nude Volleyball Tournament. More information is forthcoming, but get this event on your calendar now. Whether a participant or a spectator, you're invited to join in the fun of a sport that may not have been so popular if it weren't for nudists! Watch this newsletter and our social media channels for details.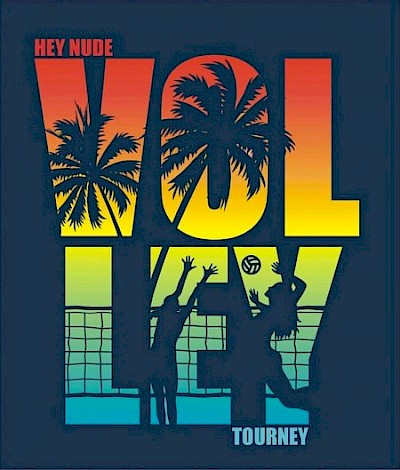 ---
Goodies for the Staff
Around this time each year, Tiki's desk is buried beneath a mountain of gifts offered by our amazing members, guests, and residents for staff members to enjoy. These gifts are handed out during our annual holiday party. Many of you have asked if our amazing staff will be having a holiday gathering. The answer is... ABSOLUTELY!
Next month team members will partake in a casual luncheon where gifts will be exchanged alongside other Cove "goodies." For those of you here at The Cove, our front office is happy to receive your gifts. I've also made a link available in our online store (click here) for those who'd rather we purchase something on your behalf, or for those who are between Cove stays.
I cannot express the gratitude I have for all of you who have shown my team so much love and generosity through this difficult year. Cove family is the greatest!

Peter Sewall
General Manager
---
News Outside the Cove
See what's making headlines in nudist news around the world. These things and more are being shared on our social media channels.
Follow us today to stay informed!






(Click one of these links to see the latest news!)
---
Jason Momoa Bares Butt While Stripping Down to Hawaiian Malo: I 'Don't Like Wearing Clothes Anymore'
 It's a relaxing, non-sexual, family resort. Be among others that feel the same way.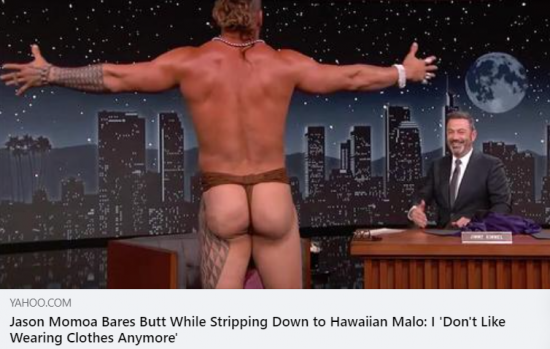 "During the Aquaman actor's appearance on Jimmy Kimmel Live Wednesday, host Jimmy Kimmel took a moment to show Momoa and his audience a photograph that the 43-year-old recently shared on Instagram showing himself wearing a beige thong-like piece of clothing during a fishing trip." Read the full story HERE.
---
Generation Z: The Role of Nudity in Improving Mental Health
Great article about Generation Z discovering naturism! Kudos to British Naturism for its EveryBody initiative!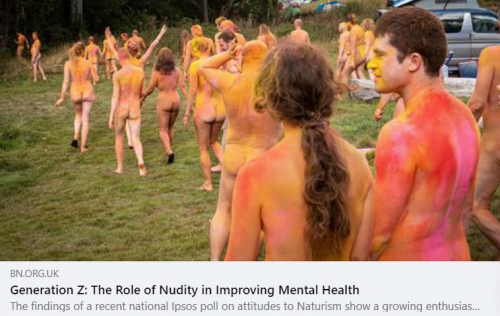 "The findings of a recent national Ipsos poll on attitudes to Naturism show a growing enthusiasm for nude recreation amongst 16–24-year-olds, with 55% having participated in such activities as skinny dipping, nude sunbathing or visiting a Naturist beach/resort. Almost half (47%) of all 16–24-year-olds said they had been naked in the company of others in the past year (excluding partners, family, and healthcare settings), and 23% describe themselves as Naturist or nudist.  When similar statistics are examined in older age groups, they are much lower. For example, 4% of 45–75-year-olds describe themselves as Naturist or nudist and only 6% of 45–75-year-olds have been naked in the company of others in the past year." Read the full story HERE.
---
Have You Seen Us Lately?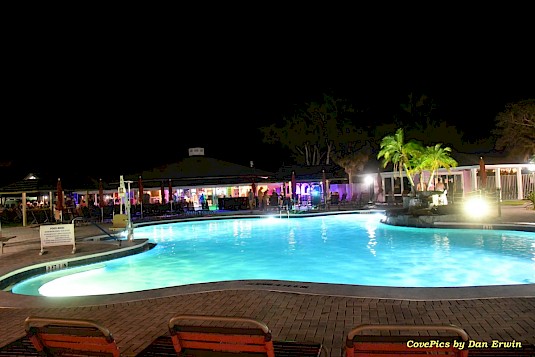 Our hard-working staff had everything back to "Cove Beautiful" just hours after the hurricane.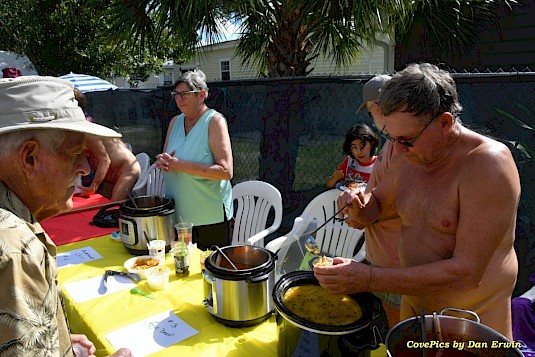 The Chili Cook-Off was a huge success and a lot of fun.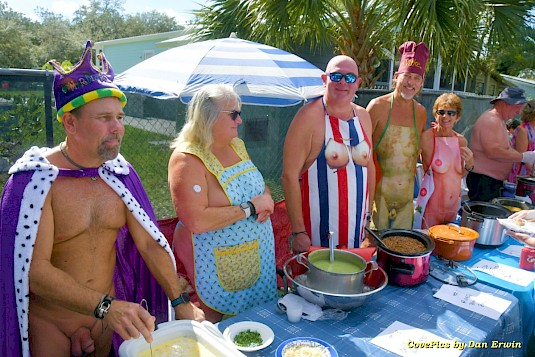 At Cypress Cove, even a fundraiser by the fishing club to purchase fish food for the automatic feeders turns into a fun party.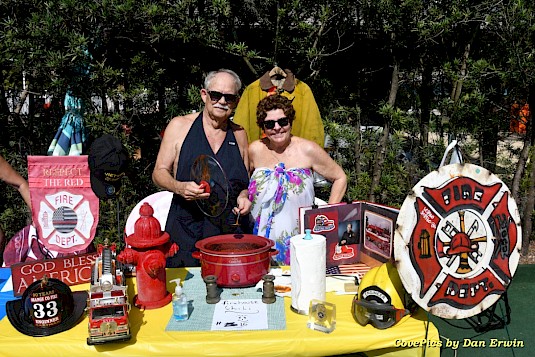 Great Firehouse Chili was available and an opportunity to honor our firefighters at the same time.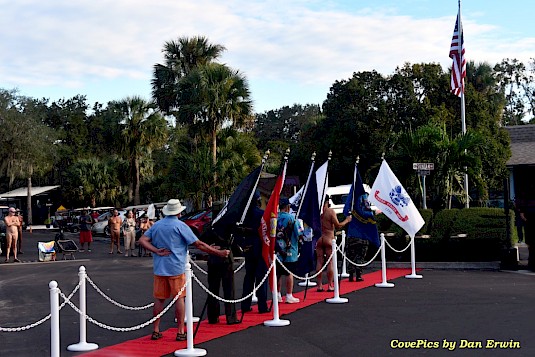 Our Veterans Day Tribute was such a wonderful celebration of our heroes who served in the Armed Forces.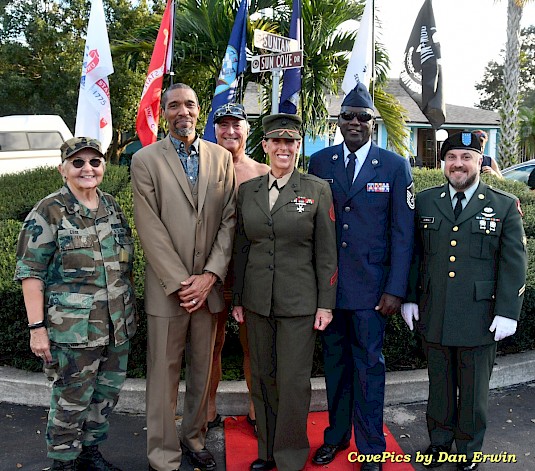 We are so proud to have so many of our members who served in the Armed Services.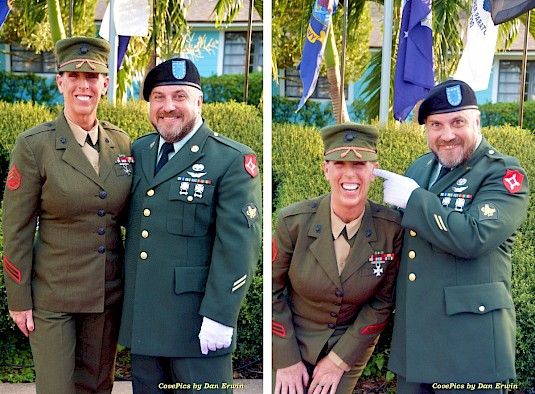 When you get this many military veterans in one place, there will always be some fun stuff going on.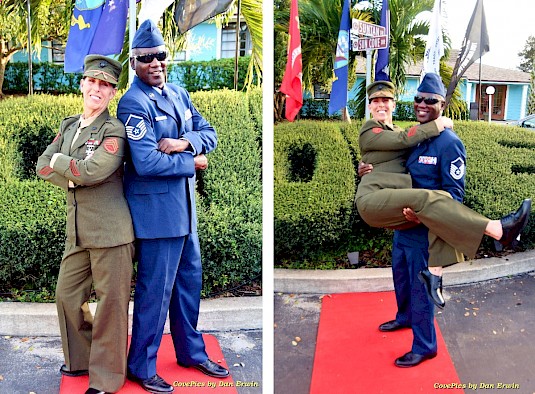 I was told that the Air Force carries the Marines. This picture proves it.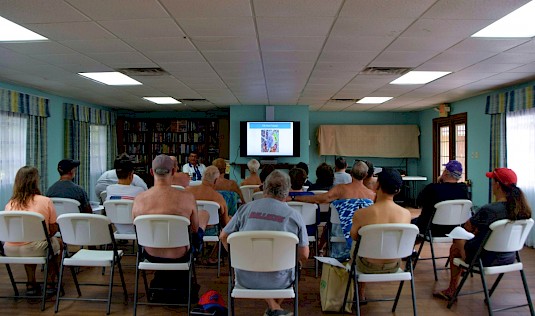 The Camera Club & all the other Cove Clubs are so happy to have the snowbirds back for their activities & meetings.
---
"Where Have You
Taken the Cove?"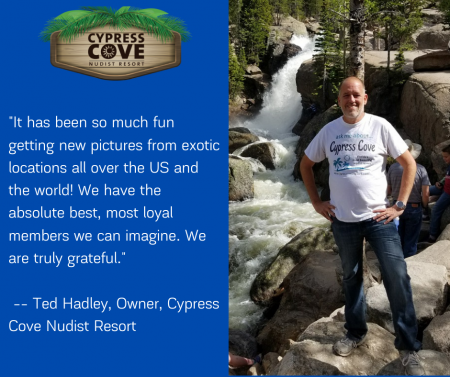 SEND US YOUR PHOTOS!!!
 We want to see where you have worn your Cypress Cove t-shirt, no matter which style it is! Wear it to town, to the grocery store, wear it while you are out and about, or at a national monument, and send us a photo! You will be featured in our newsletter or on one of our social media channels. 
Don't have a shirt yet? Purchase one at the main office or call and order one to show your pride in Cypress Cove! 
Call us at Toll-Free (888) 683-3140.

Send photos to Newsletter@CypressCoveResort.com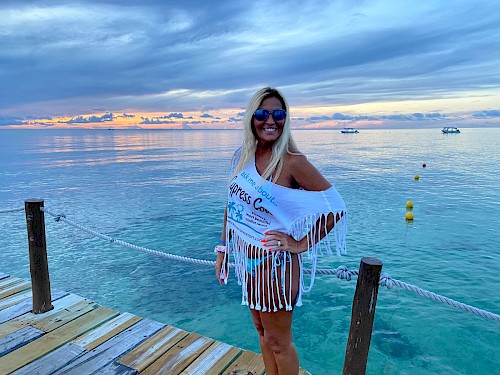 Vickie on their diving trip to Cozumel Mexico!
Thank you for sending it, Vickie & Jason!!

Where have you worn your Cypress Cove T-shirts?
Send us a photo!
---
Book a Room Today!
It's never been a better time to stay at Cypress Cove! Book Online, Email Reservations, or Call Reservations toll-free at 888-683-3140.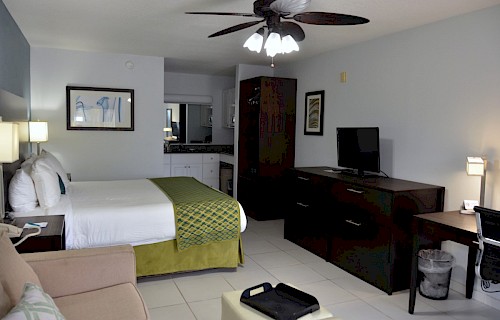 For Special Offers click HERE!
---
Every week we receive great reviews on TripAdvisor and Google; if you have visited or stayed with us, we would love to know about your experience. Click the logos below.