Laugh of the Week
---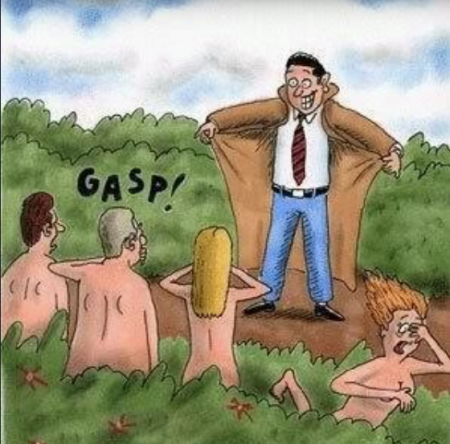 Nudist Community Flashers
---
Cove News   
---
A Word from Cypress Cove's General Manager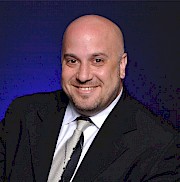 Nude-A-Palooza: A Decade of Music, Community, and Compassion
As the General Manager of Cypress Cove Nudist Resort in Central Florida, I am thrilled to share the remarkable success of our annual event, Nude-A-Palooza. This one-day tribute concert series, dedicated to celebrating the joy of music and community, has consistently proven its philanthropic power year after year.
The two most recent installments of Nude-A-Palooza were particularly heartwarming, as we had the privilege of contributing to a cause close to our hearts—the Florida Cancer Specialist Foundation. This year, together, with the collective efforts of our generous guests, donors, and the welcoming residents of Cypress Cove, we raised an impressive $22,157.
However, this year's accomplishment is not a standalone success; it is part of a journey that began in 2008. Since its inception, Nude-A-Palooza has been instrumental in channeling support to various charitable organizations, raising an awe-inspiring total of $332,240. This incredible sum embodies the compassion, unity, and philanthropic spirit that are at the heart of Nude-A-Palooza.
We owe our deepest gratitude to the many people who have made this remarkable achievement possible. Our cherished guests, who travel from near and far, bring with them not only their love for music but also their unwavering commitment to making a difference. We are thankful to our generous donors whose contributions have consistently fueled the success of this event and have touched the lives of countless individuals.
Equally deserving of our appreciation are the residents of Cypress Cove. We recognize the unique synergy that comes from welcoming an event like Nude-A-Palooza into our own backyard. Your open hearts and warm embrace of this tradition have helped build a bridge between our community and the causes we hold dear.
Let's not forget the dedicated Cypress Cove teams who work tirelessly behind the scenes to make Nude-A-Palooza a reality. Countless hours are spent planning, organizing, and ensuring the smooth operation of this event, and their commitment is truly inspiring.
In addition to the incredible generosity of our guests, donors, and the Cypress Cove community, I would like to extend heartfelt gratitude to a few remarkable contributors. Bare Necessities, for their outstanding support, gifted us a week-long cruise that added a truly unforgettable dimension to our fundraising efforts. SouthState Bank, your amazing gift basket was a delightful surprise that added joy to our event.
The Spa Oasis at Cypress Cove, Nature Hair, and Cloudpoint Hospitality also deserve special recognition for their donations to our raffle, which not only enhanced the event's excitement but also enriched the lives of those who participated. Your kindness and commitment to our cause have touched our hearts deeply, and we look forward to continuing our partnership in creating a brighter future for our chosen charities. 
As we celebrate a decade of giving through Nude-A-Palooza, we are reminded of the positive change that can be achieved when we come together as a community. This event showcases the transformative power of music, love, and unity, and we are excited to continue this remarkable journey in the years to come.
Thank you to all who have been a part of this incredible endeavor. Your contributions, in all forms, have not only made Nude-A-Palooza a success but have also made a profound impact on those in need. Together, we have proven that music, charity, and the spirit of giving can truly change lives.
Peter Sewall
General Manager

---
Nude-A-Palooza Raffle Winners
Check those tickets! We have the list of raffle winners here. Your prize could be waiting for you. 
Grand Prize Winner: Ticket Number 273556 
Cordless Drill and Impact Driver Power Tool: Ticket Number 272895 
SouthState Gift Basket: Ticket Number 273008 
All of these amazing prizes have been claimed:
65" LED 4K Smart TV: Ticket Number 0120035 (CLAIMED)
Segway Ninebot Electric Kick Scooter: Ticket Number 272356 (CLAIMED)
Steel Umbrella Propane Patio Heater: Ticket Number 479609 (CLAIMED)
Electric High-Pressure Washer: Ticket Number 0120639 (CLAIMED)
Cypress Cove Gift Basket: Ticket Number 479727 (CLAIMED)
Wireless Bluetooth Speaker: Ticket Number 272174 (CLAIMED)
BISSELL SpotClean Pet Pro: Ticket Number 0120380 (CLAIMED)
Igloo BMX 72 Quart Cooler: Ticket Number 272591 (CLAIMED)
Ninja AF101 Air Fryer: Ticket Number 0120614 (CLAIMED)
Solar Pathway Lights 8-pack: Ticket 479575 (CLAIMED)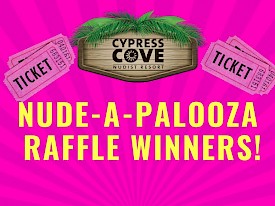 ---
Banner Silent Auction Winners
There was some spirited bidding with this year's banners. Here are the winners. If you haven't already done so, come to the office to claim yours. 
Nude-A-Palooza 2023 Banner: 
Coronary: Wendy $25
The Fuzz: Charles $75
Alanis Morissette: P.P. $25
Tina Turner: Doug $25 
CCR: G.D. $60
Blink 182: Wendy $25
Ramones: Wendy $50
Woodstock 69': George $125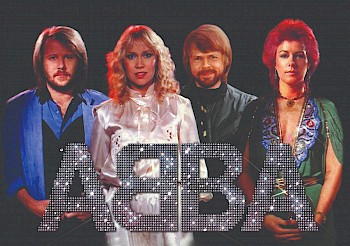 ---
Celebrating the Spooktacular Success of the Haunted Hayride!
As the crisp autumn air settled in, our spirited community came together for a spine-tingling adventure on the recent Haunted Hayride. It was an event to remember, and we're thrilled to share the thrilling highlights with you all!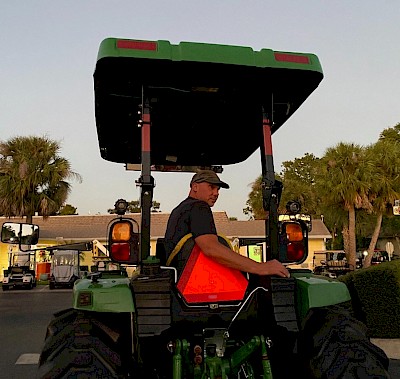 The Haunted Hayride, a bewitching journey through our residential area, showcased the incredible talents of our residents. In the spirit of Halloween, they went all out, transforming their homes into eerie, enchanting spectacles. To make things even more exciting, we announced a tantalizing prize – a Boos Basket valued at $350 – for the most haunted house! And boy, did our residents rise to the challenge.
This year, we had three loads of riders, ensuring that everyone had a chance to experience the spooky wonders on display. It's safe to say that there were plenty of hair-raising moments and heart-pounding surprises throughout the night.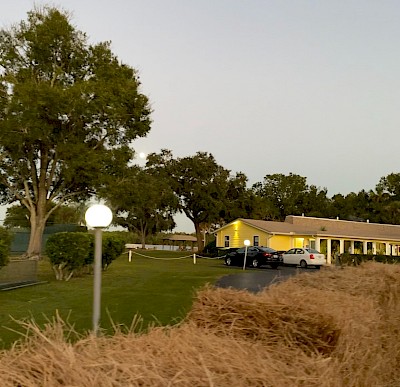 A massive round of applause goes out to the wonderful volunteers from our community who contributed their time and talent as "Scare-actors." Your dedication to bringing the spooky magic to life did not go unnoticed, and we sincerely thank you for making the Haunted Hayride an unforgettable experience.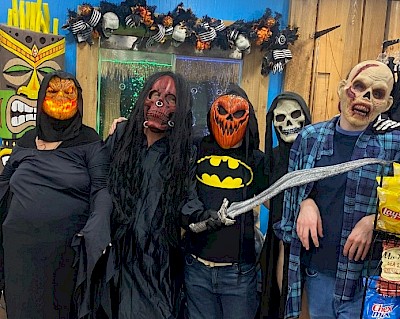 But the heart of this event was our incredible residents, who embraced the Halloween spirit with open arms. Their creativity and ingenuity were on full display, turning our neighborhood into a ghostly wonderland. The way they incorporated the hayride participants into the scares and surprises was nothing short of phenomenal.
Now, let's give a bone-chilling congratulations to the winners of the Residential Haunted Illuminations Spectacle contest – Frank and Joann from House Number 1! Their spooky, yet imaginative setup featuring a witch swooping across the graveyard left everyone in awe. Not only did they create a breathtaking display, but they also interacted with our hayride participants, sending shivers down their spines and making this year's event an absolute hit.
In recognition of their incredible effort, Frank and Joann will be taking home the coveted Boos Basket valued at $350. A prize well-deserved!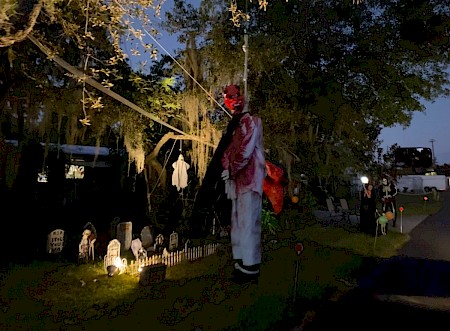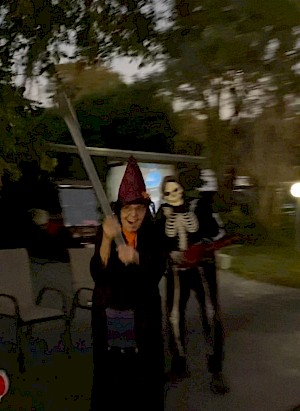 We couldn't be prouder of our community, and we hope that this event brought a touch of magic to your Halloween season. Thanks to everyone who participated and made the Haunted Hayride a night to remember. We're already looking forward to next year's spine-tingling adventure!
Until next time, check out these pictures, stay spirited and spooktacular!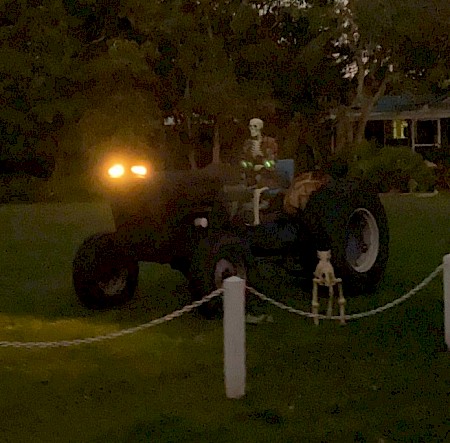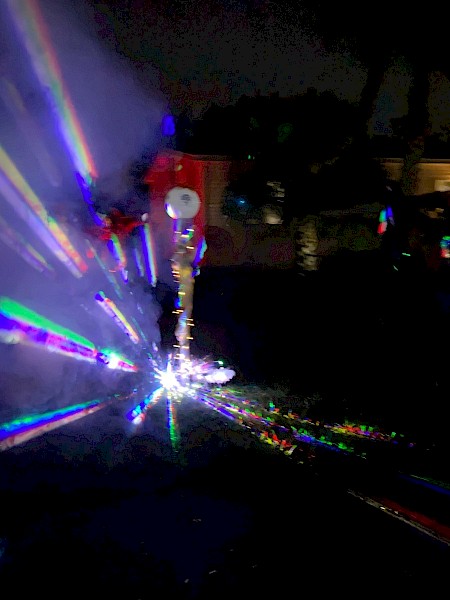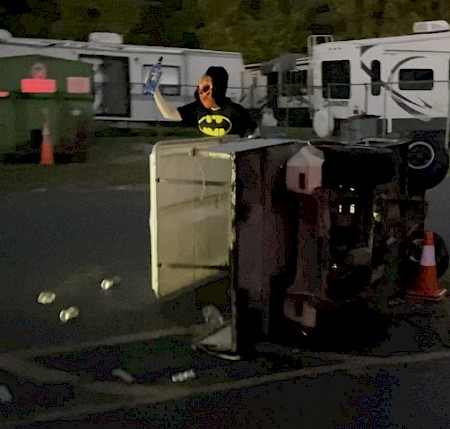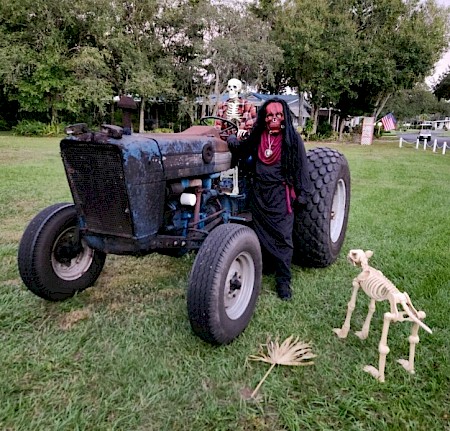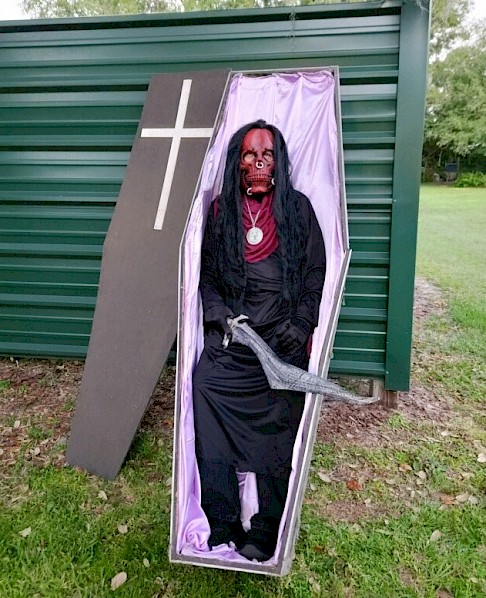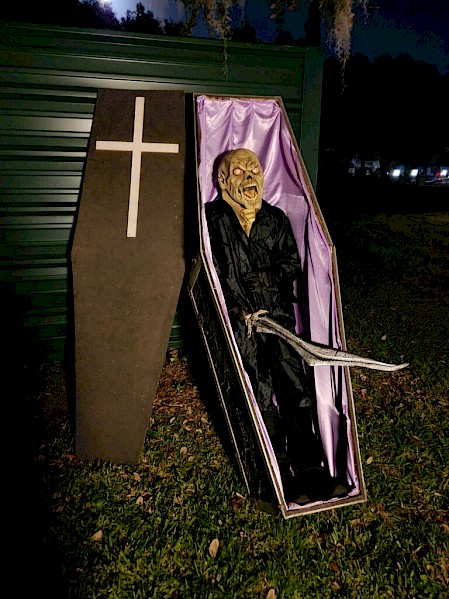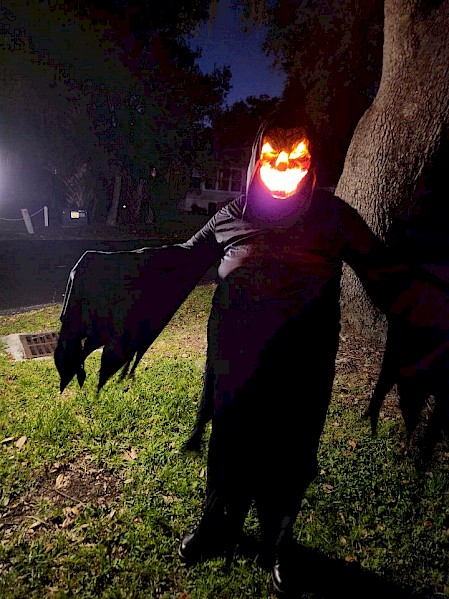 ---
Brunch at Lakeside
Don't miss out on our highly anticipated monthly brunch at Lakeside Restaurant here at Cypress Cove on Sunday, November 5 from 8 am to 2 pm! Nestled by the picturesque Brown Lake, this special event offers not only a delicious dining experience but also the chance to revel in stunning, tranquil views. Savor exquisite cuisine, connect with friends, and take in the breathtaking vistas of Brown Lake that make Lakeside Restaurant a truly unique setting. Our amazing Food & Beverage team, led by Director José Matos, works tirelessly to ensure your dining experience is exceptional, with a menu that never fails to delight.

---
Veterans Day Tribute
On Saturday, November 11, we cordially invite you to join us in commemorating Veterans Day at Cypress Cove Nudist Resort. This special event is dedicated to honoring veterans, their cherished family members, and all those who hold the Armed Services close to their hearts.
We request the pleasure of your company at 4:00 pm as we come together by the flagpole to pay our heartfelt tribute to the valiant individuals who have selflessly served in the United States Armed Forces. Cypress Cove's Veterans Day presentation promises to be an unforgettable celebration, shining a well-deserved spotlight on the men and women who have made incredible sacrifices for our nation.
As we embark on the season of Thanksgiving, let us commence by expressing our profound gratitude to these heroic members of our military. Your presence and support would be greatly appreciated as we come together to honor their dedication and service.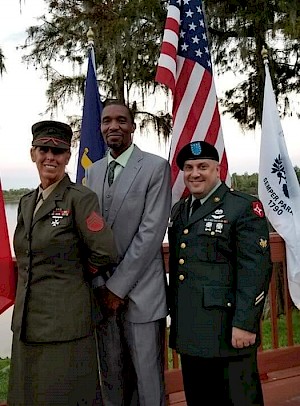 Herman needs YOU!
Our exceptional bartender and dedicated philanthropic leader is seeking your assistance in a heartfelt endeavor. We kindly request that you search through your photo collections and send us any images of service members who were once part of the Cove community. Specifically, if you happen to have a photo of Jim Hadley in his uniform, we would greatly appreciate it.
Please forward these photos, along with the name and branch of the military of the individuals featured, to the provided email address. This initiative is in preparation for our upcoming Veterans Day commemoration, so your prompt response in sharing these photos is highly encouraged. Additionally, you are welcome to include anyone you would like to honor as part of this special memorial.
---
Community Garage Sale
Join us for the Cypress Cove Nudist Resort Community Garage Sale on Sunday, November 12th, starting at 8 am! Find hidden treasures in your favorite naturist community. Whether you're a resident or just passing by, everyone is welcome to explore our fantastic selection of pre-loved items. Day Fees will apply for non-members, so come ready to enjoy the day! Don't miss this unique opportunity to shop, socialize, and soak up the sun at Cypress Cove.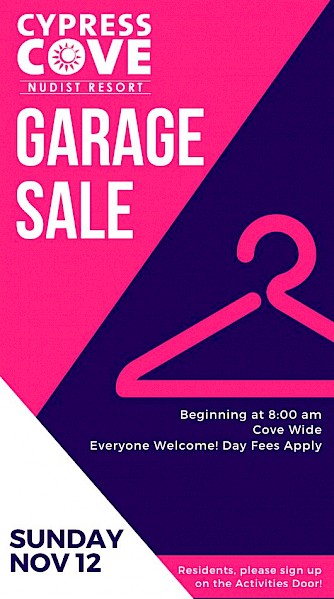 ---
Dive into Fun at the 11th Annual Cypress Cove Turkey Smash Pickleball Tournament! 
Get ready for an exhilarating four-day extravaganza of pickleball action at the stunning Cypress Cove Nudist Resort from November 17 to November 19. Join us for the 11th Annual Cypress Cove Turkey Smash Pickleball Tournament, featuring ten exciting pickleball events played on our six newly resurfaced, pristine courts.
The weekend is packed with nine competition events, a chance to win amazing prizes in our giant prize raffle, and a lively and informal kickoff event to set the tone for the festivities. Bask in the Florida sunshine as you engage in friendly competition and a whole lot of fun on the courts.
Whether you're a seasoned pickleball pro or a newcomer to the sport, everyone is welcome to participate! No pre-registration is required for any event, so simply mark your calendars and be prepared for a fantastic weekend of pickleball excitement.
Check out all the event details and the complete schedule, or for questions, email info@covepickleballclub.com. Don't miss out on this unforgettable pickleball experience at the 11th Annual Cypress Cove Turkey Smash Pickleball Tournament!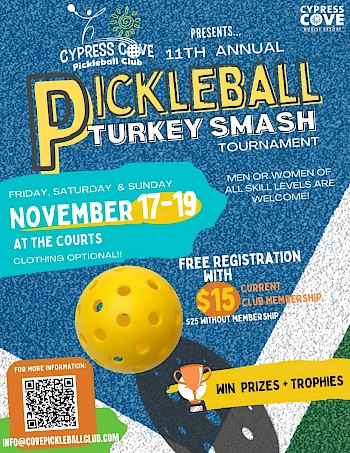 ---
Thanksgiving at Lakeside Restaurant
Join us at Cypress Cove Nudist Resort's Lakeside restaurant this Thanksgiving Day for a memorable holiday feast! From 3 pm to 7 pm, we'll be serving up a delectable spread of all your traditional favorites. 
Stay tuned for the upcoming release of our Thanksgiving dinner menu and pricing, where we'll reveal the mouthwatering details of our offerings. It's a perfect opportunity to gather with friends and family, savor the flavors of the season, and give thanks together. We can't wait to share this special day with you!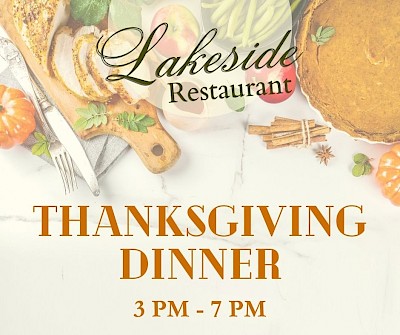 ---
Embrace the Nudist Lifestyle Beyond Cypress Cove
At Cypress Cove Nudist Resort, we understand that the desire to enjoy the freedom of being in your natural state doesn't end when you leave our beautiful grounds. That's why we're excited to bring you this informative content in this newsletter, dedicated to helping you fully embrace the nudist lifestyle, no matter where you are. Whether you're looking for unique spots to shed your clothes, tips to transform your yard or apartment patio into a nude-sunbathing haven, advice on nude boating and hiking, or even guidance on hosting nudist house parties and collaborating with local attractions for nude nights – we've got you covered. Stay tuned for expert insights and inspiration on how to be a nudist, no matter where your journey takes you.
________________________________________________
Creating Your Private Nudist Oasis: Easy Ways to Make Your Yard or Apartment Patio Nude-Sunbathing-Friendly
Have you ever longed for the freedom of sunbathing in the nude, right in the comfort of your own space? We're here to tell you that it's entirely possible to create a private nudist oasis in your yard or apartment patio. Whether you have a spacious backyard or a cozy balcony, we've got easy, practical tips to help you transform your outdoor space into a tranquil retreat where you can soak up the sun without a care in the world. In this article, we'll explore everything from setting up the perfect nudist-friendly environment to ensuring your privacy, so you can fully embrace the nudist lifestyle from the convenience of your own home. Let's get started on your journey to comfortable and carefree nude sunbathing.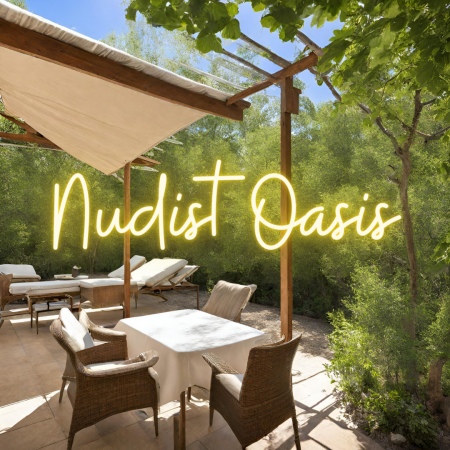 Step 1: Establishing the Right Atmosphere
Creating a nudist-friendly space starts with the ambiance. Consider these essential elements:
Privacy: Ensure that your area is shielded from prying eyes. Use tall plants, fences, or partitions to create a secluded environment. You might also explore outdoor curtains or bamboo screens for added privacy.

Comfortable Seating: Invest in comfortable outdoor furniture. Loungers, hammocks, or even a simple beach towel can be your best friends during sunbathing sessions.

Natural Elements: Add some natural elements like potted plants, flowers, or even a small water feature to create a serene and aesthetically pleasing environment.

Shade Options: While sunbathing is delightful, having some shade is essential. Consider a parasol or outdoor umbrella to protect yourself from harsh sunlight.
Step 2: Legal and Community Considerations
Before baring it all, it's crucial to be aware of local laws and community guidelines. Not all areas permit public nudity, so make sure you're in compliance with local regulations and respectful of your neighbors.
Step 3: Personal Comfort and Convenience
To make your nudist experience truly relaxing, consider the following:
Storage: Keep necessities like sunscreen, water, and towels within easy reach to avoid unnecessary clothing during your sunbathing session.

Outdoor Shower: Install a simple outdoor shower or hose for a quick rinse before and after sunbathing.

Nude Etiquette: If you're in an apartment building, be mindful of any rules and regulations in your lease agreement. Ensure that your nudist lifestyle does not infringe on the comfort of your neighbors.
Step 4: Time and Routine
Develop a routine for your nude sunbathing. Whether it's early morning, late afternoon, or the weekend, having a consistent schedule will help you get the most out of your nudist time.
Step 5: Confidence and Mindfulness
Finally, remember that embracing the nudist lifestyle is all about confidence and mindfulness. You're in control of your environment and your comfort. Be confident in your choices, and be mindful of how this lifestyle positively impacts your well-being.
With these easy steps, you can transform your yard or apartment patio into a nude sunbathing haven. Enjoy the liberating experience of feeling the sun and breeze on your skin while being in your own private paradise. Happy nudist sunbathing!
---
News Outside the Cove
See what's making headlines in nudist news around the world.

Follow us today to stay informed!
---
Have You Seen Us Lately?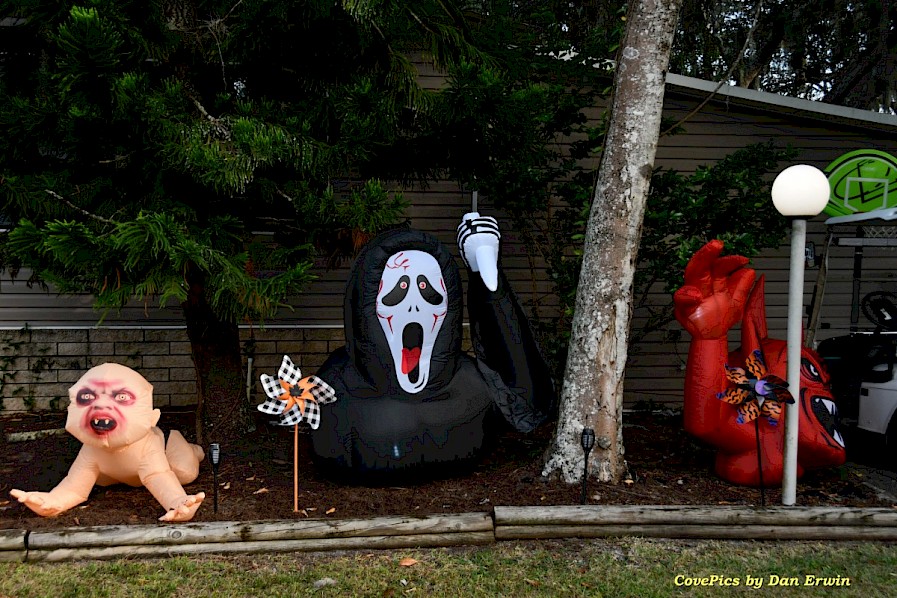 Our Cove family loves Halloween and makes it fun with decorations, costumes, and parties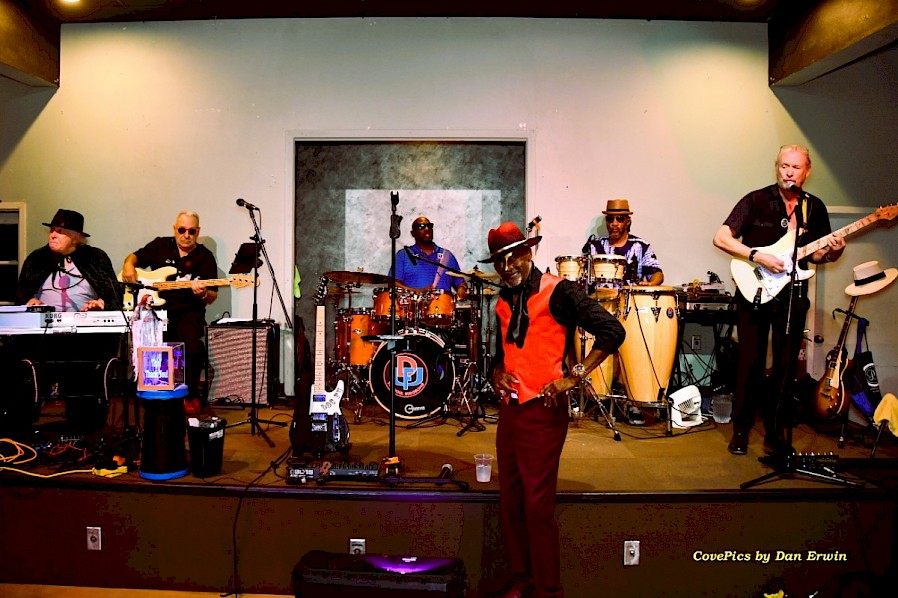 Doc Fu & The Soul Surgeons kept the music coming & the dance floor full at the Halloween Party at Lakeside Restaurant on Saturday night.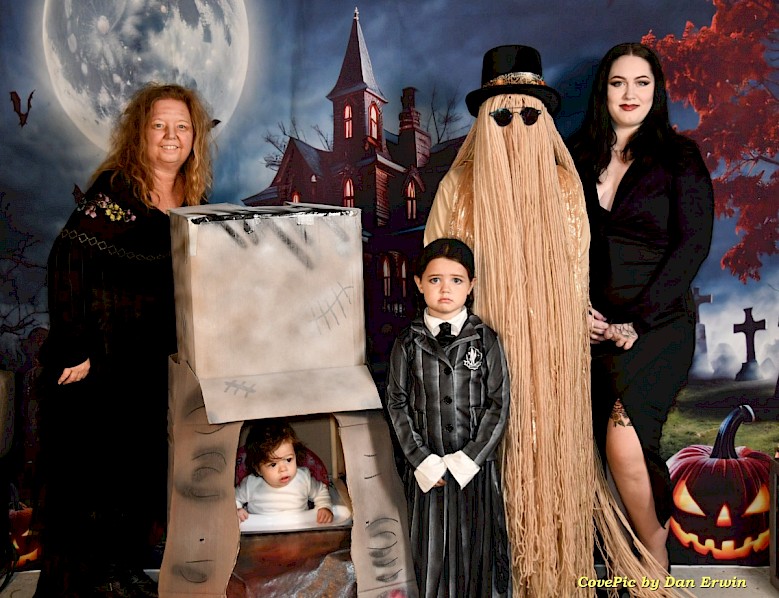 Halloween is a family event at the Cove. In this case, the Adams family.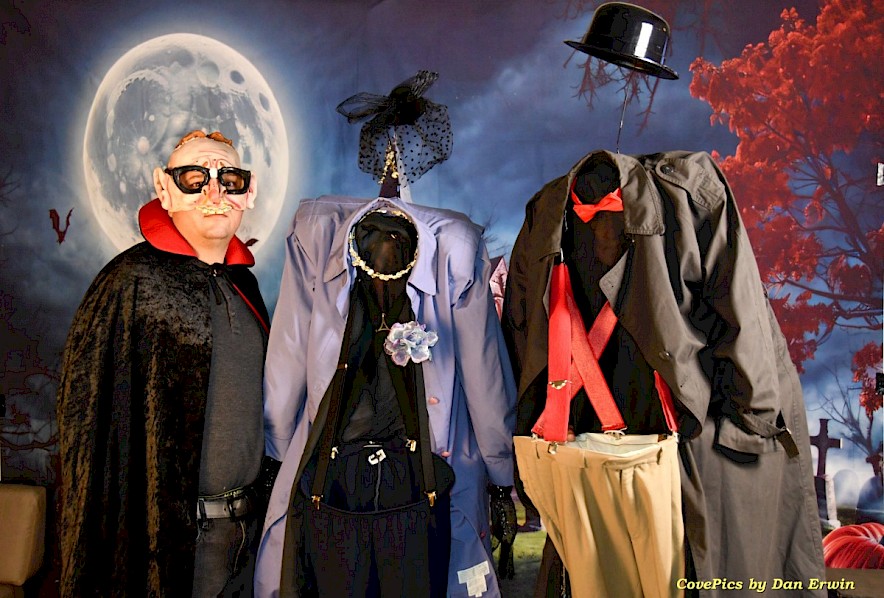 The invisible man and his lovey wife made an appearance at the party.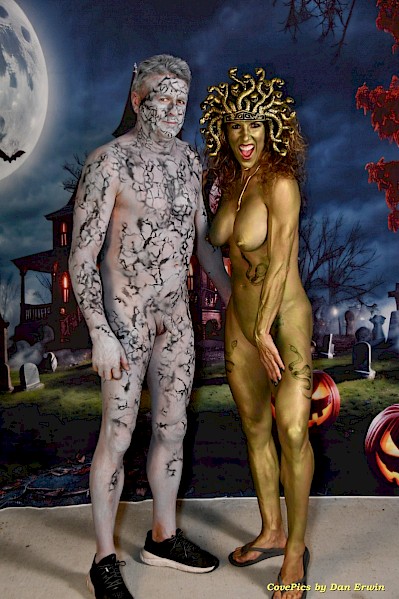 There were 40 entries in the Costume Contest. The Winner for the Scariest was Medusa Turns Man into Stone.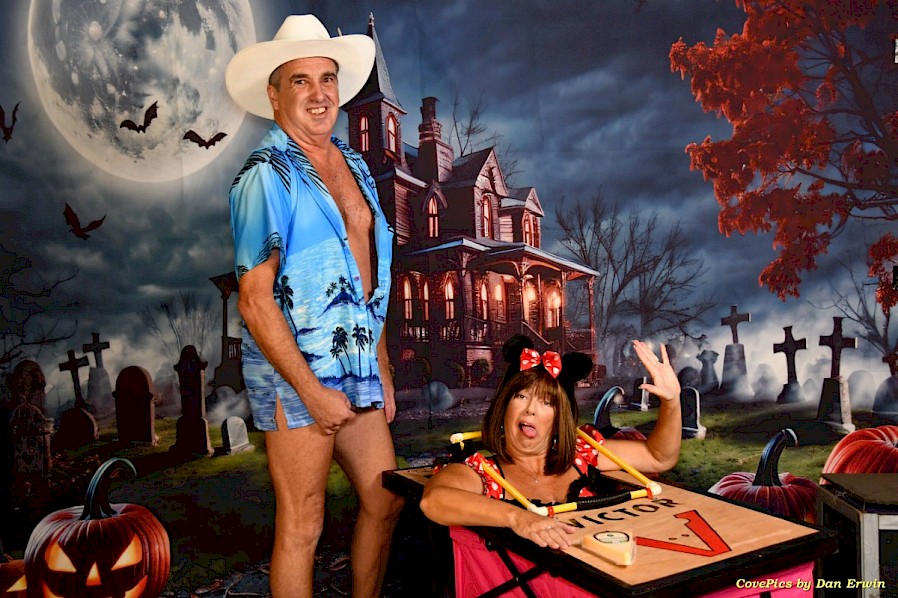 The winner for Funniest was this beautiful Mouse Caught in a Mouse Trap.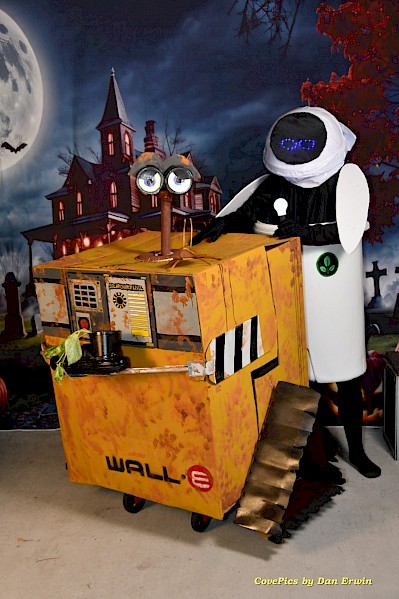 The winner for Best Overall was Wall-E and Eve.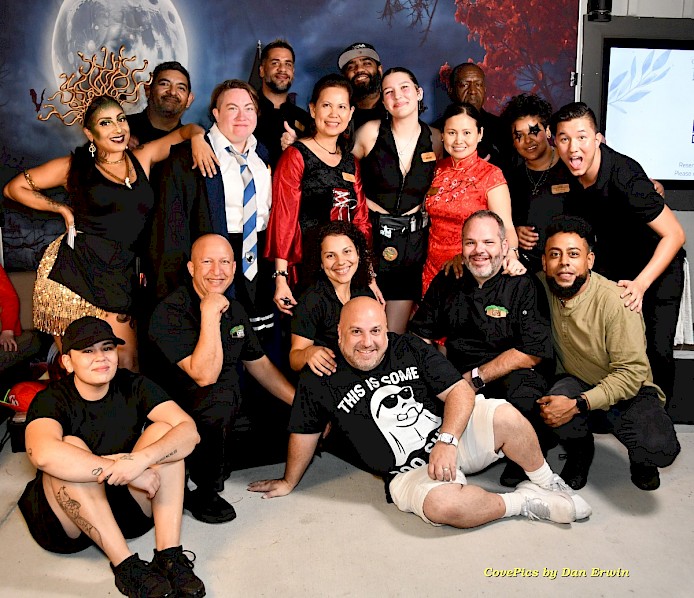 Our wonderful staff at Lakeside Restaurant. They made the party happen with food & drinks all night long.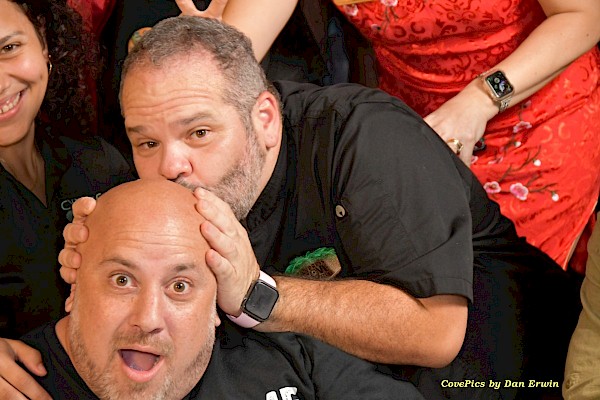 They say if you kiss the Halloween Pumpkin, you will have good luck for the rest of the year.
---
"Where Have You
Taken the Cove?"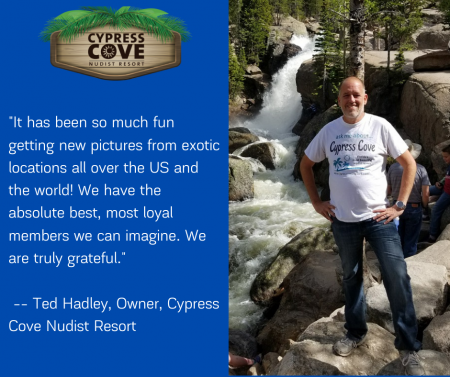 SEND US YOUR PHOTOS!!!
 We want to see where you have worn your Cypress Cove t-shirt, no matter which style it is! Wear it to town, the grocery store, while you are out and about, or at a national monument, and send us a photo! You will be featured in our newsletter or on our social media channels. 
Don't have a shirt yet? Purchase one at the main office or call and order one to show your pride in Cypress Cove! 
Call us at Toll-Free (888) 683-3140.

Send photos to Newsletter@CypressCoveResort.com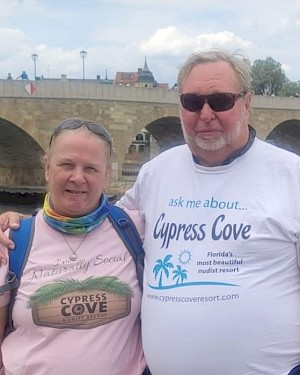 Where have you worn your Cypress Cove T-shirts?
Please send us a photo!
---
Book a Room Today!
It's never been a better time to stay at Cypress Cove! Book Online, Email Reservations, or Call Reservations toll-free at 888-683-3140.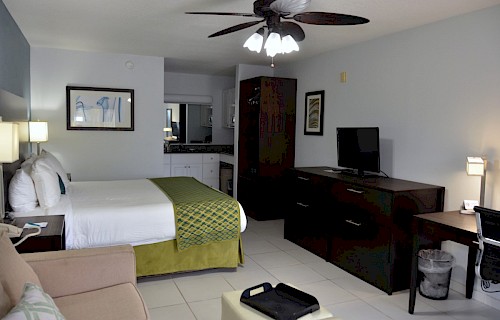 For Special Offers click HERE!
---
Every week we receive great reviews on TripAdvisor and Google; if you have visited or stayed with us, we would love to know about your experience. Click the logos below.