Laugh of the Week
---
---
Cove News  
---
The Residential Spring Contest Winners
If you're visiting us from afar, please take a moment to stroll the streets and see the beautiful landscapes that our residents have worked so hard to beautify. We are pleased to announce the much-anticipated winners for the month of April. The winners are (drum roll)…
The Most Beautiful Lot of the Month:
John and Amy Kornhaus – Lot 373 Cypress Mill Rd.
The Most Improved Lot of the Month:
Mark and Vivian Decker - Lot 319 Happy Place.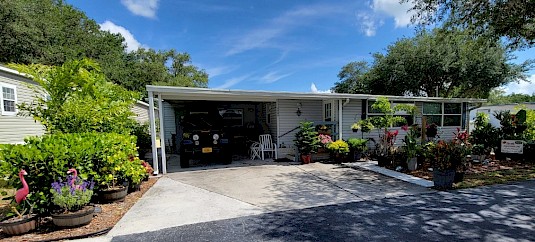 Please do not enter these lots but feel free to pass by and admire from afar, the great work that these residents have done!
---
Cypress Cove Featured in NY Post Spring Travel Guide
We did it again! Yet another barrier-breaking advertising. Cypress Cove continues to break barriers by placing advertisements in well-known non-nudist publications. Check out our ad in the Spring 2022 NY Post Travel Guide. We are giving you a copy for FREE... Download the Spring Travel Guide here. 

---
Weddings at Cypress Cove
"Sometimes you don't even have to stress over the wedding attire and whether it's going to be what you imagined." Getting married at Cypress Cove is as easy as you want it to be. Just the two of you at sunset on the beach to a full-blown wedding event--we've got it all. Here is a recent couple that renewed their vows on our beautiful beachfront at Cypress Cove. Congratulations from all of us here at Cypress Cove.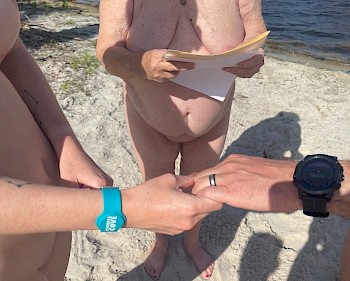 ---
New Paddle Boards & Inflatable Kayaks
Have you been out to Lake Brown and seen our new paddleboards and inflatable kayaks? it's time to jump on one of these amazing things and hit the water. We have even seen nude paddleboard yoga on our lake! What an exciting adventure in the middle of the lake. It's time to try something new. Book your next stay with us and head out to Lake Brown for some adventure. 

---
New Docks are Open
Slips are now available for rent through the front desk. There, our seasonal guests, hotel guests, and even day guests will be able to reserve spaces in much the same way you'd make a reservation for a hotel room.
The landing will serve as yet another amenity for the enjoyment of our naturist community. It will encourage regular use of Brown Lake, keeping it aerated, alive, and thriving for future generations to come. It will continue to solidify Cypress Cove's place amongst the top destination resorts for naturists worldwide. Bring the boat and have a family picnic on the water.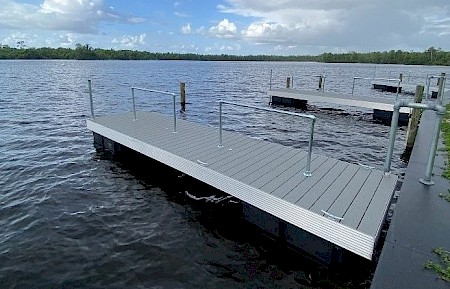 ---
Lending Library Book Drive
Nudists Love to Read!
What can be better than grabbing a nice book and getting lost in another world while laying naked on the beach, by the pool, or just at home? That's why Cypress Cove has a Lending Library. Housed in our clubhouse building, the Lending Library is where you can borrow and donate used books. Feel free to borrow a book at any time. If you'd like to keep it, just donate another book in its place. This will ensure full shelves and variety for everyone.
The Lending Library is overseen by our members and is based on the honor system. Please do not abuse this wonderful service by taking books without replacing them. The Lending Library is also not a place to collect books for resale (Who would do that, anyway? That's rude!)
It's Time for a Book Drive!
Over the years, the Lending Library has been a beloved feature for residents and guests alike. Help us bring it back to its former glory by going through your shelves, garages, or storage and donating your used books to this cause. All types of books are welcome. Please donate all books to the front desk. We'll place a big sticker on every book cover to show that it's from the Cove's Lending Library. That way, everyone can read with pride! 
Current Books on Lend:
Please RETURN the book to the front desk when you are finished with it!
Questions? Send an email to Cypress Cove general manager Peter Sewall at Peter@CypressCoveResort.com. And thanks in advance for your book donations!

---
Fig Leaf Memorial Day Fashion Show
Fig Leaf Boutique's annual Memorial Day Fashion Show has returned! Please join us Saturday, May 28 at 2 pm at the West Pool as we debut this season's most popular fashions. For those times when you absolutely must wear clothing, we have the most stylish pieces around. Come support your fellow nudist family business at this loved annual event.
If you are interested in modeling in this year's show, please see Edda at the boutique. Sign-up is no later than Sunday, May 8. We are looking for volunteer couples and singles of all sizes. Doesn't matter if you are short or tall; large or small; young or just young-at-heart… everyone is welcome. Limited slots are available for first-time models. Mark your calendars!

---
News Outside the Cove
See what's making headlines in nudist news around the world. These things and more are being shared on our social media channels.
Follow us today to stay informed!






(Click one of these links to see the latest news!)
---
NO MORE NUDITY: KEY WEST OFFICIALS EXPECT CHANGES TO FANTASY FEST
Change to Fantasy Fest means a ban on nudity?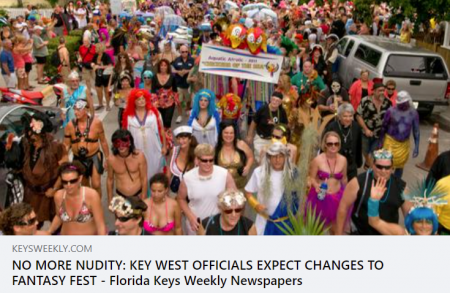 "No nudity. No Fantasy Zone. Fines for inappropriate body painting. 'Family hours' during which inappropriate costumes are prohibited. More widespread economic benefits to businesses islandwide. Increase the focus on culture, history, and natural resources of Key West. Key West's annual Fantasy Fest is about to change. City leaders decided at a December 2021 Leadership Retreat they want to 'transform the event into a positive, clean festival enjoyed by both residents and visitors.'" Read the full story HERE.
---
"For They Hold The Very Seeds Of Life Itself!" Testicles Take Pride Of Place In Slightly NSFW Campaign For Undies Brand
Some companies will go pretty far to sell underwear. Our view? Why bother!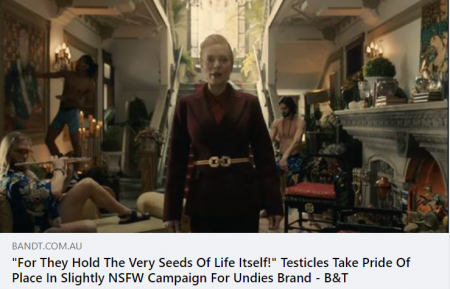 "The series of ads are set to appear in the US market and has the lead female protagonist ask the big question: 'If your balls are flopping around all willy nilly, then you treat your manhood merely like a man. A gentleman nurtures his balls with a fine undergarment that perches them in a pillowy pouch. For they hold the very seeds of life itself.' The campaign is via the equally oddly named creative agency, the Chicago-based Quality Meats, and is saved by its slightly blobby male actor/models and the star of the show, Dutch actress Nina Bergman, who delivers the clever soliloquies to the camera." Read the full story HERE.
---
Have You Seen Us Lately?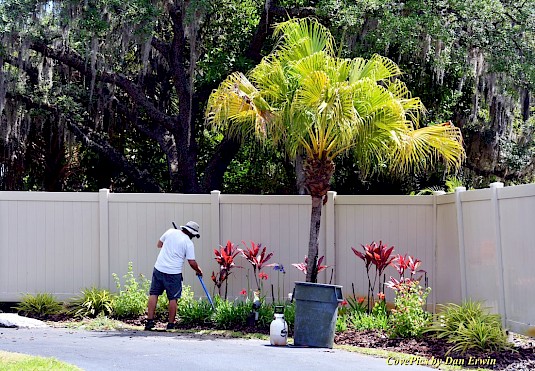 April showers bring May flowers, but not without some work.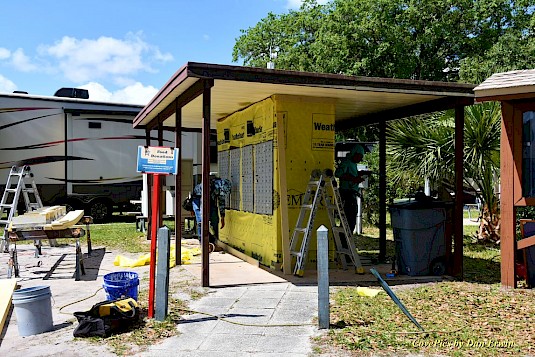 Even the mailboxes are getting a spring make-over.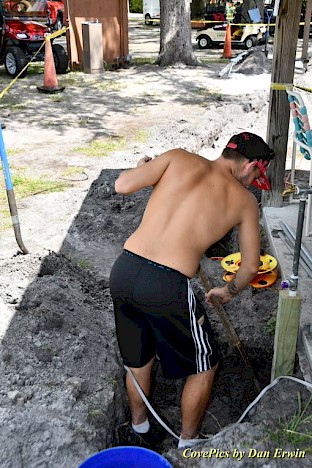 Before the improvements, a lot of hard work must be done to get everything just right.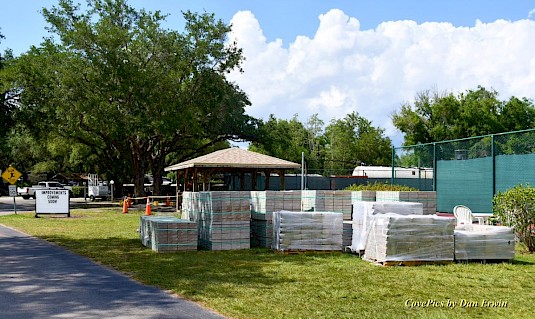 Patio Paving Stones for the front of the Pickle Ball courts.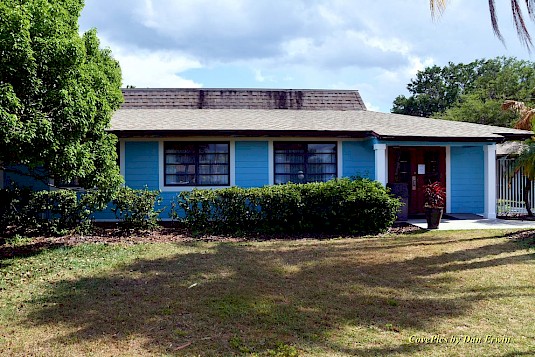 It is going to be easier to give directions: The clubhouse is the blue building in front of the East Pool.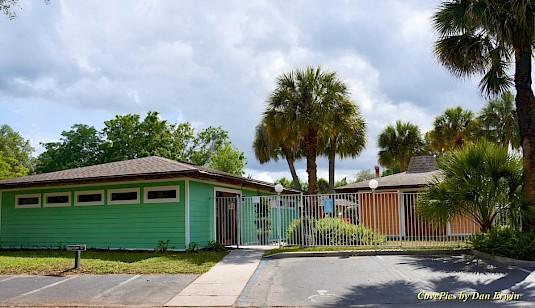 The American Nudist Research Library & the East Pool Restroom & Showers.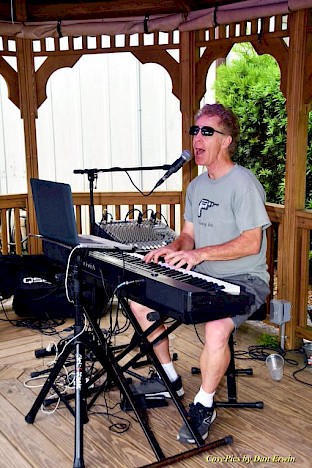 Sunday afternoon is a great time to enjoy the West Pool entertainment.
---
"Where Have You
Taken the Cove?"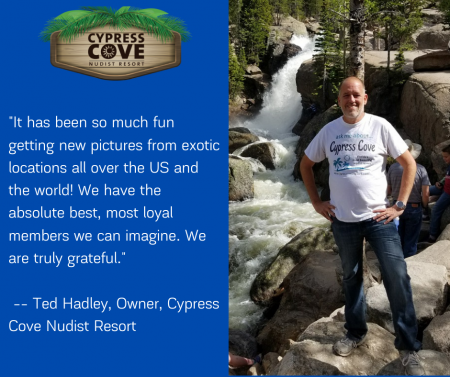 SEND US YOUR PHOTOS!!!
 We want to see where you have worn your Cypress Cove t-shirt, no matter which style it is! Wear it to town, to the grocery store, wear it while you are out and about, or at a national monument, and send us a photo! You will be featured in our newsletter or on one of our social media channels. 
Don't have a shirt yet? Purchase one at the main office or call and order one to show your pride in Cypress Cove! 
Call us at Toll-Free (888) 683-3140.

Send photos to Newsletter@CypressCoveResort.com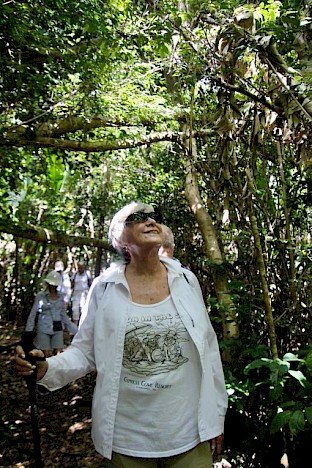 Cheri in the Cove "Bacon in the Sun," on the trail at Sage Mountain Park on Tortola in the British Virgin Islands.

Where have you worn your Cypress Cove T-shirts?
Send us a photo!
---
Book a Room Today!
It's never been a better time to stay at Cypress Cove! Book Online, Email Reservations, or Call Reservations toll-free at 888-683-3140.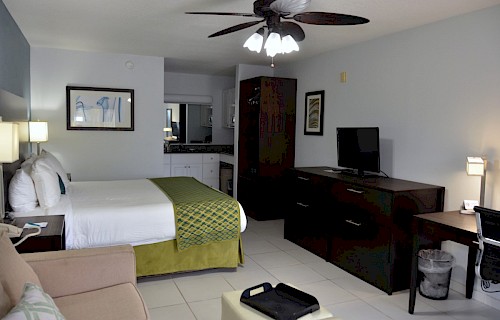 For Special Offers click HERE!
---
Every week we receive great reviews on TripAdvisor and Google; if you have visited or stayed with us, we would love to know about your experience. Click the logos below.