Laugh of the Week
---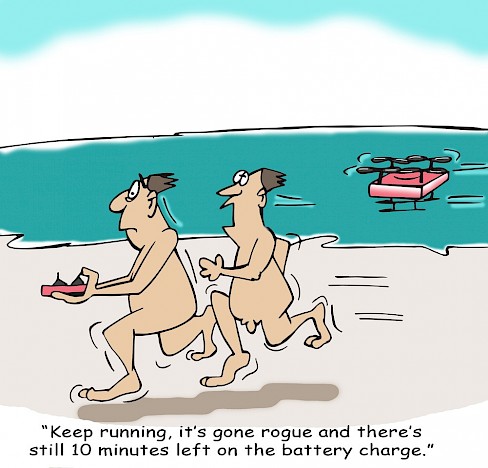 ---
Cove News  
---
PRE-Parrothead Raffle:
In addition to the BIG raffle that happens at Parrothead, there is also a pre-Parrothead raffle. This pre-Parrothead raffle (white tickets) is for tent spaces, rolling coolers of goodies, and reserved parking all to be utilized during Parrothead Weekend...
It's HAPPENING Friday & Saturday, July 15 & 16, from 11 am to 2 pm (Under The Pink Tent Near Cheeks). For this drawing, you MUST be present to win. Drawing will take place Saturday, July 16 at 2:15 by DJ Xavier. For more information and a list of prizes, click HERE.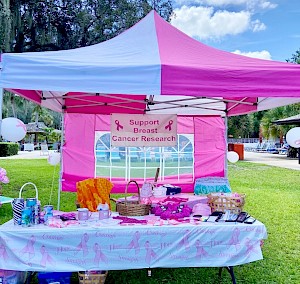 ---
PARROTHEAD 2022
Ahhhhh, Parrothead... THE PARTY event of the year at Cypress Cove Nudist Resort! So much fun that it begins on Thursday in order to fit it all in! What's a Parrothead? Parrotheads love Jimmy Buffett music. Parrotheads love that laid-back island culture... and Parrotheads love to PARTY! Are you READY?
Make sure you start each morning with a special breakfast buffet that will set you up for a great day of partying. Breakfast Buffet Selections
This year's contests are AMAZING! The ParrotHUT Contest & ParrotHAT Contest could yield you a FREE WEEKEND STAY in the villas! Get creative and have your hut & hat finished to show off at Parrothead. For a full list of rules and prize information click HERE. Join the Family Scavenger Hunt and the Jell-O Shots contests for more fun prizes. Find all your information HERE. 
Please click here for your full Parrothead info packet.
Parrothead really packs a crowd! The grassy area between two pools is in the heart of all the action but can only accommodate a limited number of canopies. So, we have devised a drawing for the spots. That way, everyone has a fair shot at renting one. Please make sure you know the tent rules and terms for the drawing found HERE. The drawing for a spot will take place at the playground on Thursday, July 21st at 4:00 pm.
If you still need a room, call now! There is a handful of rooms left for the Cove's biggest party.
(A 3-night minimum.)

---
17th Annual Cypress Cove Parrothead Breast Cancer Fundraiser
The raffle drawing (pink tickets) will take place at 2:30 p.m. on Sunday, July 24 at Old Cheeks. You do not have to be present to win! Tickets should be filled out with your first name, last initial, and contact information (Lot or Phone #)
Raffle Prizes can be viewed at your own leisure. Photos of the prizes are currently in the Game Room on the Photo Shoot Wall. Photos and inventories of prizes/baskets are also available online HERE. You will be able to see them displayed in the clubhouse and bid with your raffle tickets on July 21 - July 24 from 11 am until 2 pm.
Tickets may be purchased Friday & Saturday, July 15 & 16, and Friday & Saturday, July 22 & 23 from 11 am - 2 pm and Sunday, July 24 from 11 am - 1 pm (strict deadline) at Old Cheeks. You can also contact Laurel Beattey at 407-922-7004 or labeattey@me.com.
**Please Note: The Clubhouse will be closed from July 21 - July 24 for this event. If you have a club that meets in this room, please make other arrangements for your club's activities on these days. Thank you so much for your cooperation during this important charity event. 
ALL DONATIONS WILL BE GIVEN TO THE AMERICAN CANCER SOCIETY'S MAKING STRIDES AGAINST BREAST CANCER (MSABC) FOR BREAST CANCER RESEARCH AND AWARENESS

---
Updates to Pickleball & Tennis Courts
Nude pickleball and tennis are really taking off (pun intended) and our courts are well-loved. So beginning the week of August 1, the pickleball and tennis courts will be closed for maintenance for approximately 7-10 days (weather permitting). The areas will be repaired, resurfaced, and repainted. Stay tuned for more updates.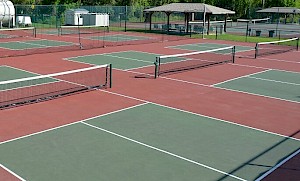 ---
Vote for Cypress Cove!!
We have done it again, fellow naked friends. We have been nominated for Orlando Weekly's Best of Orlando® 2022 Series. You will find us under Best Attraction That's Not a Theme Park. (<-- Click there to vote!) Just register your email address (used only to prevent voting multiple times) and cast your vote. Once you've cast your vote, send us an email at Newsletter@CypressCoveResort.com for a special photo for you to share on your own social media. Show your Cypress Cove pride!! Anyone can vote, so let's show some love to the Cove.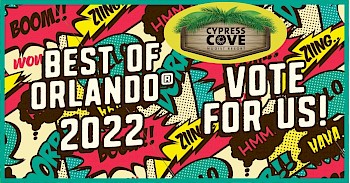 ---
Property Improvements
Pickleball & Tennis Courts
Nude pickleball and tennis are really taking off (pun intended) and our courts are well loved. So beginning the week of August 1, the pickleball and tennis courts will be closed for maintenance (weather permitting). The areas will be repaired, resurfaced, and repainted. Stay tuned for more updates. 
The Indoor Hot Tub
While we await a new heater for the indoor hot tub, we are converting the sanitizing system from bromine to full chlorine in advance of state regulatory changes. We anticipate the hot tub being unavailable for use for at least 8 weeks while these improvements are being made. We appreciate your patience and encourage you to make use of the outdoor hot tub for your soaking needs.
BodyWorks Treadmill
For you fitness buffs that have been waiting for the number 2 treadmill in BodyWorks to be repaired, we appreciate your patience. We have been waiting for the back-ordered parts to arrive, and are hoping it won't be much longer. In the meantime, thanks for sharing the other treadmill, and remember that the exercycles are also a great way to get in your cardio.
Playground Sunshade
You might have noticed that the sunshade above the playground has been pressure washed. Things are really looking good around the pools.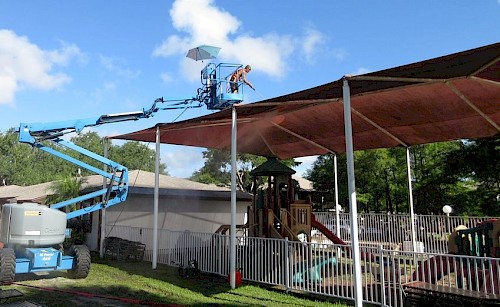 ---
Labor Day 5K
Registration is already open for Cypress Cove's Labor Day 5K! Come out and streak with us at the 9th annual clothing-optional run at Cypress Cove Nudist Resort on Saturday, September 3, 2022. Wear as little (or as much) as you like as you run/ walk around the beautiful 300-acre property. Day fees are included with your race registration and all preregistered runners are guaranteed commemorative race swag with their race packet so sign up early to be guaranteed one. The race starts at 8:30 am with check-in/ late registration from 7:15-8:15 am. Join us for the race after-party around the pool for music, awards, great food, and drink specials. To register for this year's race visit here.

---
News Outside the Cove
See what's making headlines in nudist news around the world. These things and more are being shared on our social media channels.
Follow us today to stay informed!






(Click one of these links to see the latest news!)
---
Six rules that could land holidaymakers in Spain a fine - including wearing bikinis
No bikinis around here! Consider this an invitation to all Spaniards—Cypress Cove welcomes you!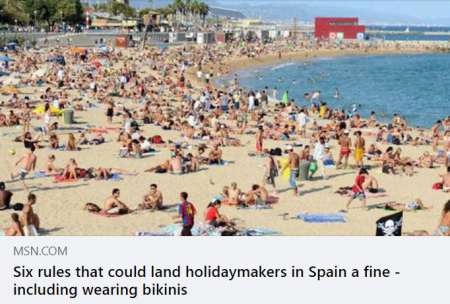 "Holidays are for relaxing, enjoying the sun, and taking some time away from the daily grind. But your break could end up costing you more than anticipated if you don't keep an eye on what is - and is not - allowed in your destination of choice. Holidaymakers jetting off to Spain need to be aware of six rules that could result in a fine of up to £2,500 if they are not followed. Taking a shirt off or wearing a bikini off the beach are among the rules tourists are being asked to be aware of before their travels. Others include information about alcohol consumption, smoking, and using shampoo, Chronicle Live reports. Not all rules will apply in every part of Spain - so check before you travel in case any of them affect your plans." Read the full story HERE.
---
Austin Filmmakers Take Nudist Documentary Naked Gardens to Tribeca
We're hoping the documentary paints an accurate picture of nudism. Did anyone see it?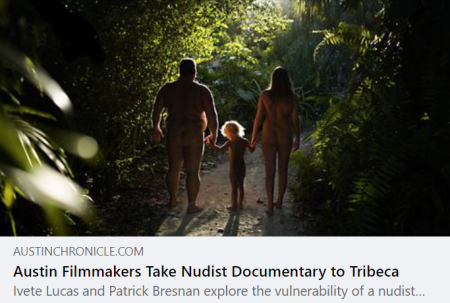 "When Austin-based filmmakers Ivete Lucas and Patrick Bresnan embarked on their latest project – documenting a season at a Florida nudist resort – they were aware that in order to make the film they wanted, they had to adopt the local dress code. 'There's no way you can show up with a camera and your clothes on and make a film,' Lucas said. 'I remember looking at Patrick at one point during shooting and being like, 'Well, it's time to take our clothes off.'"Read the full story HERE.
---
Have You Seen Us Lately?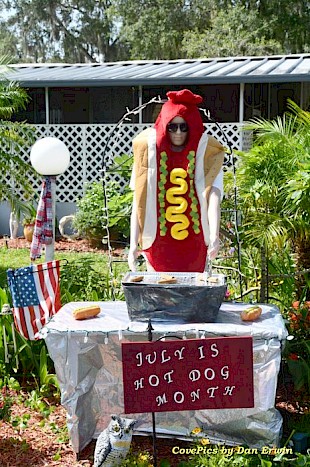 It is official, July is Hotdog Month at Cypress Cove. The hotdog man said so.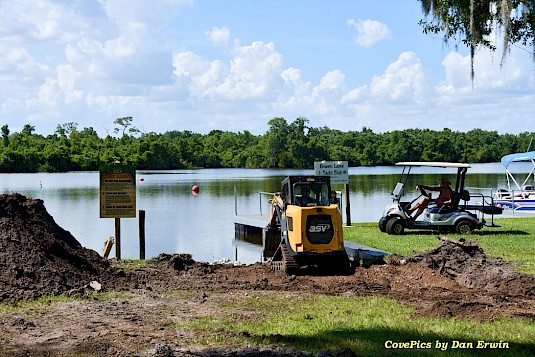 The boat launch is being upgraded. Out with the old.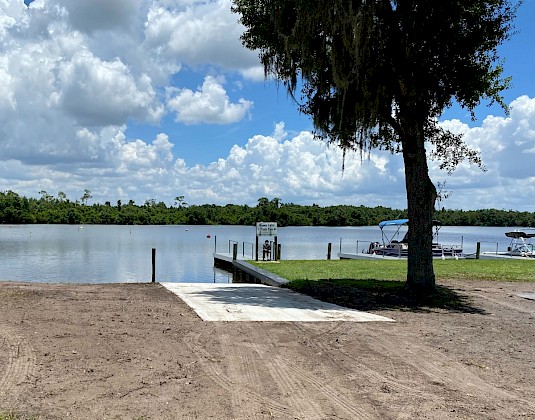 And just like that, the new cement was poured.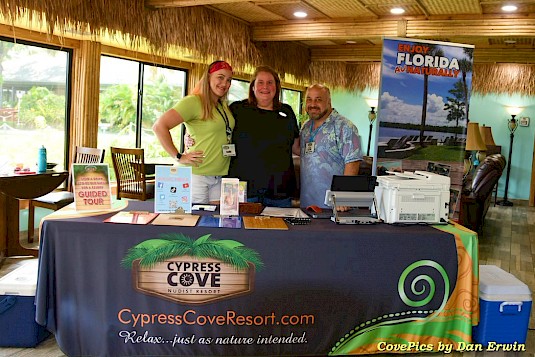 All set up to welcome people to the Cove Open House on Saturday. Another successful event.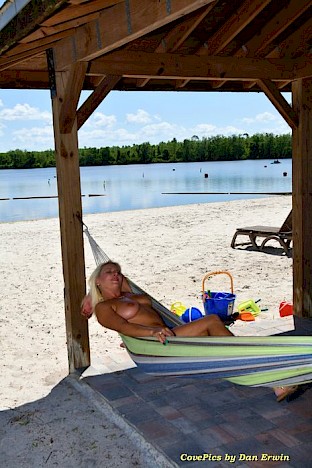 Some quiet time in a hammock is another wonderful way to enjoy the beach.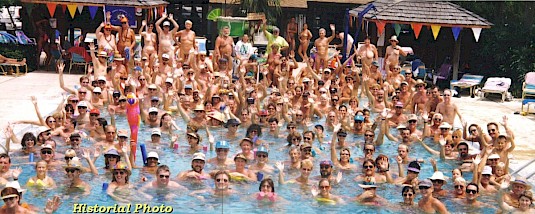 A Parrothead Photo was taken at the East Pool (before there was a west pool ) about 25 years ago.
---
"Where Have You
Taken the Cove?"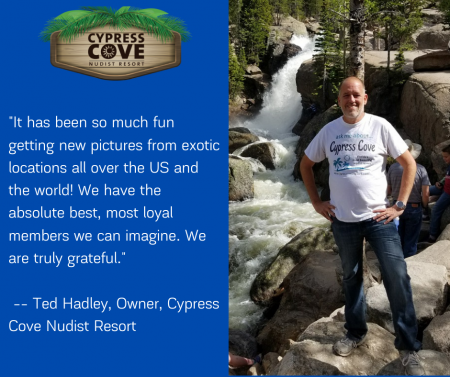 SEND US YOUR PHOTOS!!!
 We want to see where you have worn your Cypress Cove t-shirt, no matter which style it is! Wear it to town, to the grocery store, wear it while you are out and about, or at a national monument, and send us a photo! You will be featured in our newsletter or on one of our social media channels. 
Don't have a shirt yet? Purchase one at the main office or call and order one to show your pride in Cypress Cove! 
Call us at Toll-Free (888) 683-3140.

Send photos to Newsletter@CypressCoveResort.com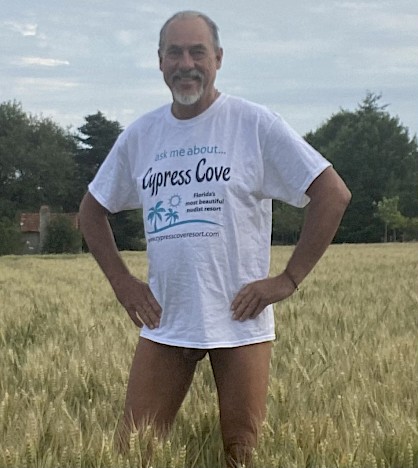 Mike in the countryside of Northern France.
Thanks for sending us your photo, Mike!

Where have you worn your Cypress Cove T-shirts?
Send us a photo!
---
Book a Room Today!
It's never been a better time to stay at Cypress Cove! Book Online, Email Reservations, or Call Reservations toll-free at 888-683-3140.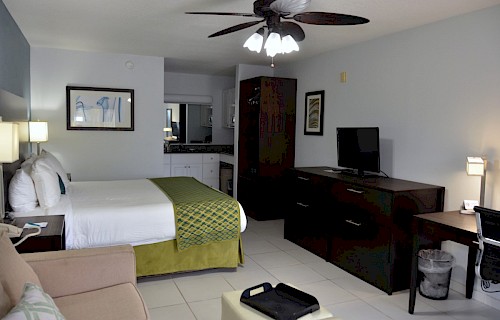 For Special Offers click HERE!
---
Every week we receive great reviews on TripAdvisor and Google; if you have visited or stayed with us, we would love to know about your experience. Click the logos below.