Laugh of the Week
---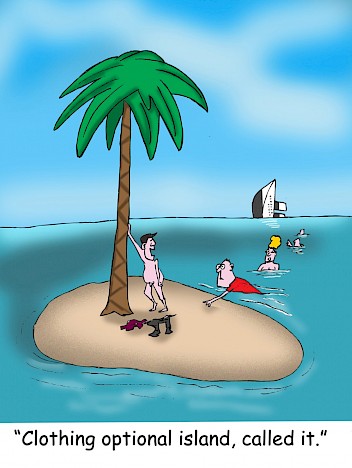 ---
Cove News  
---
New Paddle Boards & Inflatable Kayaks
Have you been out to Lake Brown and seen our new paddleboards and inflatable kayaks? it's time to jump on one of these amazing things and hit the water. We have seen nude paddleboard yoga on our lake! What an exciting adventure in the middle of the lake. It's time to try something new. Book your next stay with us and head out to Lake Brown for some adventure. 

---
New Docks are Open
All the boxes have been checked, the t's crossed and the i's dotted. We're pleased to report that the Lake Brown dock project is now complete and we're ready to begin leasing slips.
Residents of Cypress Cove Nudist Resort will have the first opportunity to lease one of the 11 new spaces available beginning April 24 through Sunday, May 1. Slips not leased by our residents will be available for rent through the front desk. There, our seasonal guests, hotel guests, and even day guests will be able to reserve spaces in much the same way you'd make a reservation for a hotel room.
The landing will serve as yet another amenity for the enjoyment of our naturist community. It will encourage regular use of Brown Lake, keeping it aerated, alive, and thriving for future generations to come. It will continue to solidify Cypress Cove's place amongst the top destination resorts for naturists worldwide.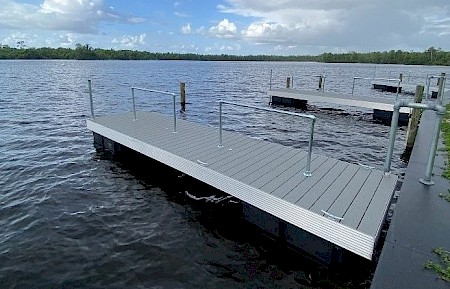 ---
Lending Library Book Drive
Nudists Love to Read!
What can be better than grabbing a nice book and getting lost in another world while laying naked on the beach, by the pool, or just at home? That's why Cypress Cove has a Lending Library. Housed in our clubhouse building, the Lending Library is where you can borrow and donate used books. Feel free to borrow a book at any time. If you'd like to keep it, just donate another book in its place. This will ensure full shelves and variety for everyone.
The Lending Library is overseen by our members and is based on the honor system. Please do not abuse this wonderful service by taking books without replacing them. The Lending Library is also not a place to collect books for resale (Who would do that, anyway? That's rude!)
It's Time for a Book Drive!
Over the years, the Lending Library has been a beloved feature for residents and guests alike. Help us bring it back to its former glory by going through your shelves, garages, or storage and donating your used books to this cause. All types of books are welcome. Please donate all books to the front desk. We'll place a big sticker on every book cover to show that it's from the Cove's Lending Library. That way, everyone can read with pride! 
Current Books on Lend:
Please RETURN the book to the front desk when you are finished with it!
Questions? Send an email to Cypress Cove general manager Peter Sewall at Peter@CypressCoveResort.com. And thanks in advance for your book donations!

---
Fig Leaf Memorial Day Fashion Show
Fig Leaf Boutique's annual Memorial Day Fashion Show has returned! Please join us Saturday, May 28 at 2 pm at the West Pool as we debut this season's most popular fashions. For those times when you absolutely must wear clothing, we have the most stylish pieces around. Come support your fellow nudist family business at this loved annual event.
If you are interested in modeling in this year's show, please see Edda at the boutique. Sign-up is no later than Sunday, May 8. We are looking for volunteer couples and singles of all sizes. Doesn't matter if you are short or tall; large or small; young or just young-at-heart… everyone is welcome. Limited slots are available for first-time models. Mark your calendars!

---
NEW Barstools at Cheeks!
These new barstools match the new furniture currently in Cheeks. Our regular patrons are excited to see these new additions and are happy to have convenient access to our amazing bartenders. Have you seen them yet? Make yourself at home with these BRAND NEW comfortable barstools. They're waiting on you...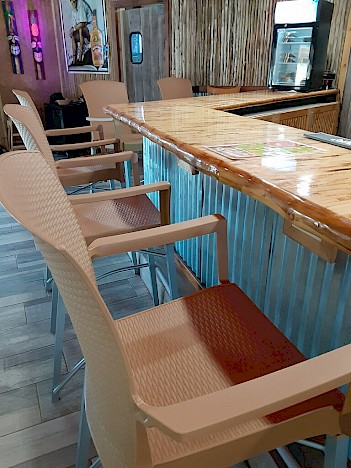 ---
News Outside the Cove
See what's making headlines in nudist news around the world. These things and more are being shared on our social media channels.
Follow us today to stay informed!






(Click one of these links to see the latest news!)
---
A Museum Is Using Its Erotic Ceramics Collection for Cancer Prevention
Touching art to educate about cancer: "The aim is to bring closer the knowledge of our ancestors about the human body, expressed through these ceramic vessels that we call the Erotic Huacos." Do you think it will work?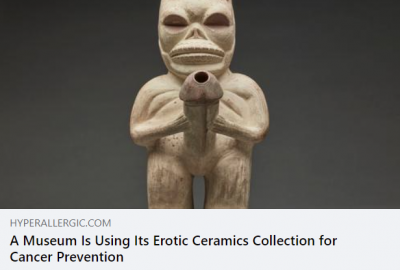 "There are many takes on the healing power of art, but a new initiative at Lima's Museo Larco is taking things past second base. The Museo Larco's permanent collection holds a vast array of pre-Columbian Andean art, and recently the Peruvian arm of an international cancer prevention group, League Against Cancer, has been using ancient erotic statuary to encourage men to check themselves for signs of prostate and testicular cancer. Not to put too fine a point on it, last month's event was called "Touch the Genitals of the Mochicas," and men in attendance were prompted to explore the business of several clay sculpture replicas to learn how to perform a cancer self-test on their testicles and penis." Read the full story HERE.
---
'Nude on Park' returns to Warren
Very cool idea for an art event. Maybe your nudist club could sponsor one?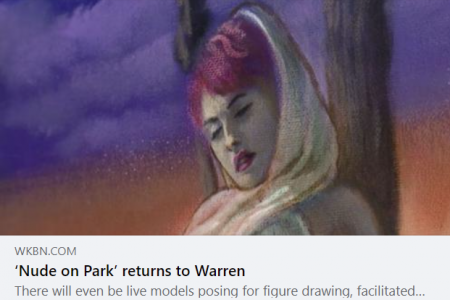 "An upcoming exhibit at Art on Park bares it all. Saturday, for one night only, Nude on Park returns to the gallery on North Park Avenue in Warren. It's the fifth year for the event. It was canceled last year because of the pandemic. The exhibit features artwork from more than 25 artists in the area and as far away as Cleveland and Columbus. There will even be live models posing for figure drawing, facilitated by the Lotus Art Center on Elm Road. Curator David Wheeler says it is Art on Park's best-attended event. He said he expects more than 100 people will come to view the nude artwork." Read the full story HERE.
---
Have You Seen Us Lately?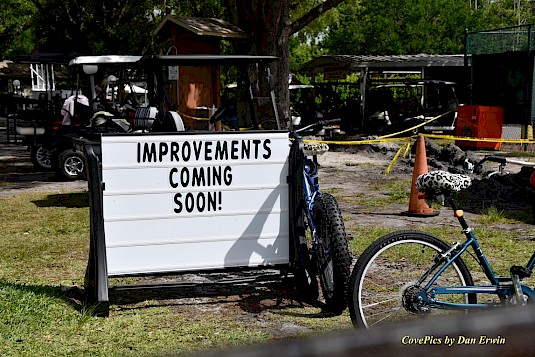 Improvements are happening all over Cypress Cove making our wonderful facilities even better.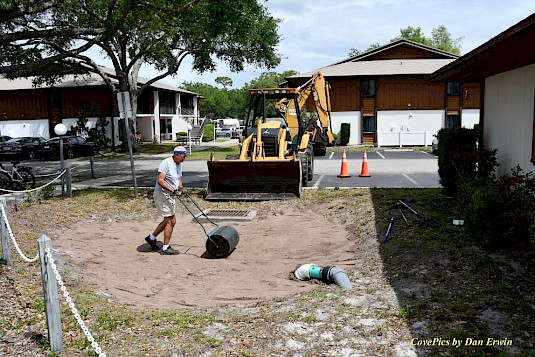 A collection point for stormwater pipes was completely redesigned and a low spot that could be home to mosquitos was filled in.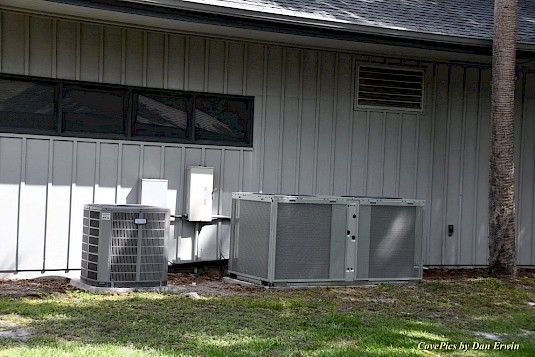 New A/C units at Lakeside.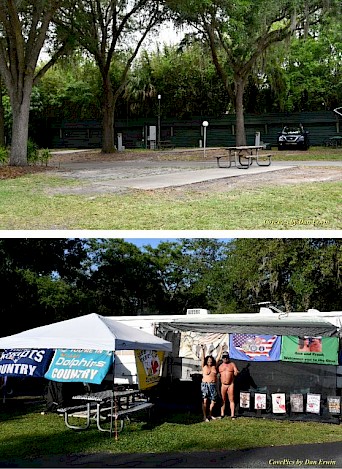 In April, our northern friends head back home and our summer friends start arriving.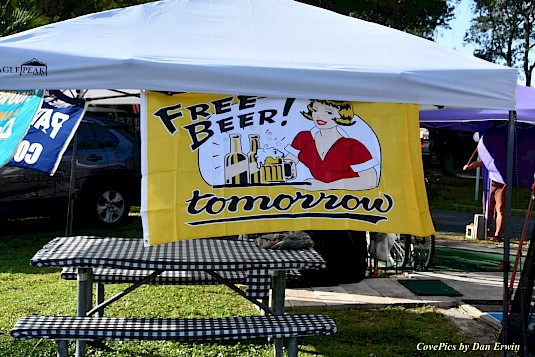 What a deal!! FREE BEER but tomorrow is always just another day away.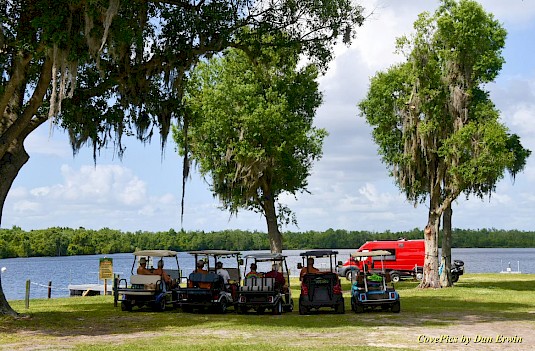 Brown Lake is so beautiful, a great place to join friends for an afternoon chat and to appreciate all the beauty in our life.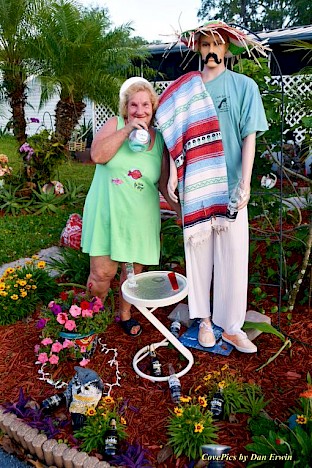 Happy Cinco de Mayo. The unofficial start to all kinds of summer fun at Cypress Cove.
---
"Where Have You
Taken the Cove?"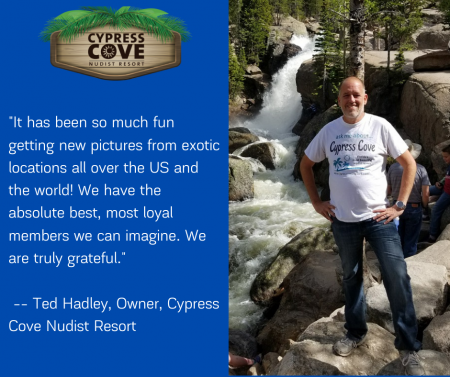 SEND US YOUR PHOTOS!!!
 We want to see where you have worn your Cypress Cove t-shirt, no matter which style it is! Wear it to town, to the grocery store, wear it while you are out and about, or at a national monument, and send us a photo! You will be featured in our newsletter or on one of our social media channels. 
Don't have a shirt yet? Purchase one at the main office or call and order one to show your pride in Cypress Cove! 
Call us at Toll-Free (888) 683-3140.

Send photos to Newsletter@CypressCoveResort.com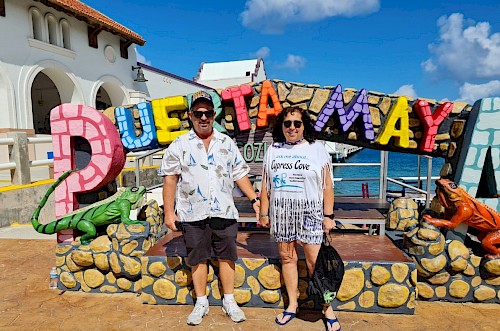 Our friends Ann & Frank in Cozumel. Thanks for sending it our way!!


Where have you worn your Cypress Cove T-shirts?
Send us a photo!
---
Book a Room Today!
It's never been a better time to stay at Cypress Cove! Book Online, Email Reservations, or Call Reservations toll-free at 888-683-3140.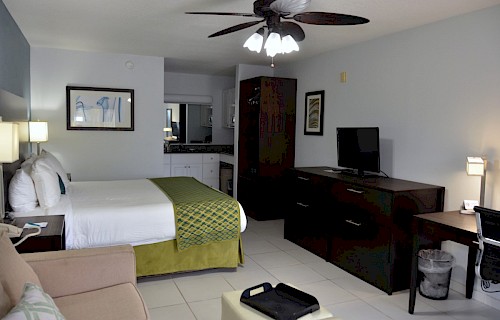 For Special Offers click HERE!
---
Every week we receive great reviews on TripAdvisor and Google; if you have visited or stayed with us, we would love to know about your experience. Click the logos below.