Laugh of the Week
---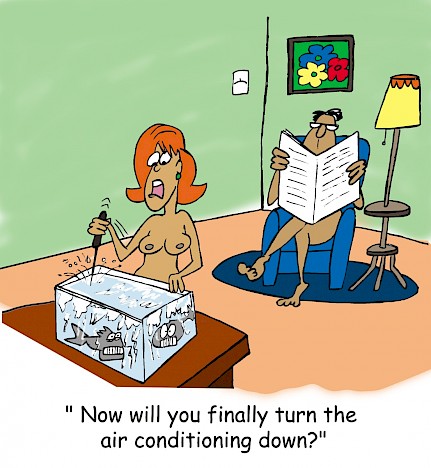 ---
Cove News  
---
The Return of Streak at Cheeks 
Streak at Cheeks is back! Join your favorite DJ at Cheeks every Thursday evening from 6 pm to 10 pm. DJ Xavier is spinning your favorite hits as you dance the night away. Come out to Streak at Cheeks this Thursday as they serve Cypress Loaded Poutine Fries or 2 Colombian Empanadas (choice of beef, chicken, pizza, or kale/mushroom). Don't miss out on their drink special of a Bay Breeze made with Deep Eddy Cranberry Vodka, cranberry juice, and pineapple juice. 

---
Children's Easter Egg Hunt
Are you staying on property with the kids? Head over to the Sunning Yard for an old-fashioned Easter egg hunt! Candy and prizes abound. The hunt starts at 10 am so make sure you are there on time. Resident and guest kids are welcome!

---
Bingo Needs Residential Volunteers
Bingo is a well attended and much-loved activity at Cypress Cove and they are looking for residential volunteers to help bring it back. If you live in the Cove and are interested in volunteering with bingo please contact Suz Hartman. She can be contacted at 3201 Oak Park or you can text her at 949-300-2830.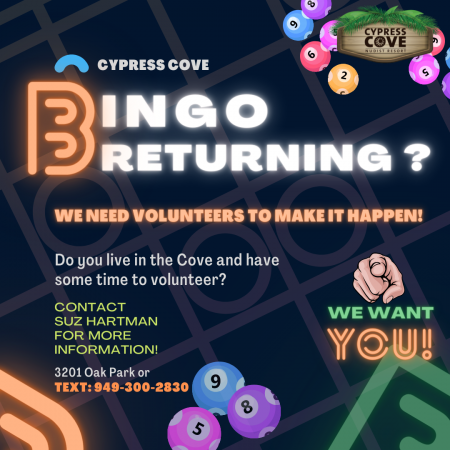 ---
Full Moon Gathering
This full moon gathering will be of the Full Pink Moon. The gathering begins at 7:45 pm. The moon rises at 8:00 pm before the sun sets at 7:51 pm. This Moon heralded the appearance of the "moss pink" (Phlox subulata), also called wild ground phlox or creeping phlox—one of the first spring wildflowers.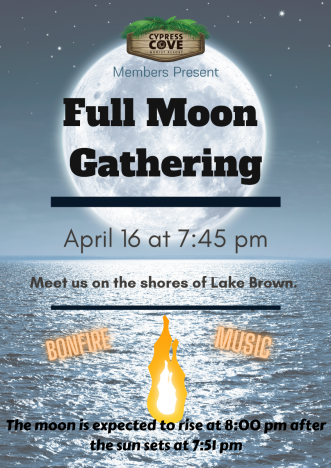 ---
Hacksaw Hamlin Friday, April 22
Join us next Friday at Cheeks for some drinks and live entertainment by the Hacksaw Hamlin Band. Tim Hamlin is a lifelong musician that began his professional career at the age of 15 playing clubs and private events. Rapidly becoming one of Orlando's most popular singer/guitarists, Tim is a true live performer cutting his teeth as a Metro Detroit freelancer. Tim's soothing voice and his extraordinary talent captivate his listeners as he takes them along on what has been best described as an "unparalleled musical excursion."  As musical director for fortune 500 clients, Tim has teamed up with some of Detroit's finest talent to perform at large-scale corporate events in Las Vegas. Tim's smooth vocal style and friendly rapport always leaves his audience with lasting memories.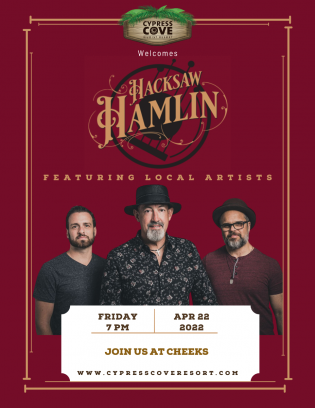 ---
The Residential Spring Contest is BACK
We are heading into the spring season again. What better way to celebrate than with our residential spring clean-up contest? Beginning April 1 thru June 30, 2022, residents of Cypress Cove Resort can submit photos to be considered for one of two categories. Those categories are Most Beautiful Lot and Most Improved Lot. You will also have the opportunity to vote for the category of Most Beautiful Lot to determine the winners. The winners of both categories will be announced and highlighted in the newsletter at the end of each of those three months (April, May, and June).
As an incentive, we will be awarding prizes to the winners of each of those categories. Each of the winners will receive one Lowes gift card worth $250, yes, a $250 Lowe's gift card! And a beautiful yard sign that you can proudly display on your lot during the month that you won.
Please send all photo submissions and votes to nominations@cypresscoveresort.com.
Be sure to clearly include the lot number you are submitting or voting for. There will also be a small box located in the front office where you can write in your vote if you do not have email access. Please only vote once per lot. For helpful spring cleaning and Florida friendly landscape tips, please click on the links below:
We appreciate everyone's efforts in properly maintaining their lots and hope that this will further motivate everyone to continue taking pride in their homes and lots for the rest of the year.
If you're visiting us from afar, please take a moment to stroll the streets and see the beautiful landscapes that our residents have worked so hard for. 

---
News Outside the Cove
See what's making headlines in nudist news around the world. These things and more are being shared on our social media channels.
Follow us today to stay informed!






(Click one of these links to see the latest news!)
---
Grab Your Skis for an All-Women's Naked Ski Lap
Great way to celebrate Women's History Month, ladies! Well done!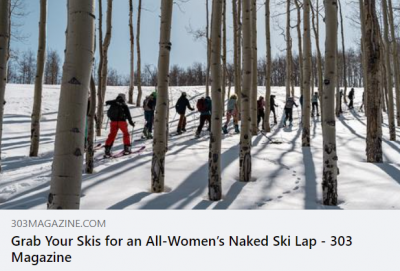 "Strip off your ski suit and bare it all during an all-women's naked ski lap. Wild Barn Coffee and Bluebird Backcountry are teaming up to host the Boot Tan Fest in celebration of women's bodies and the love of backcountry skiing, just in time for Women's History Month. On March 15, if you are a woman or a femme-leaning non-binary individual, you can embrace your body for a chilly ski around the mountain with over 300 other women. But don't worry if you aren't feeling a strip in the winter's breeze – you can also just take part in the fest at the base." Read the full story HERE.
---
Is Sleeping Naked Really Warmer?
Being nude in a sleeping bag—not necessarily warmer, but healthy and natural? Oh, yes!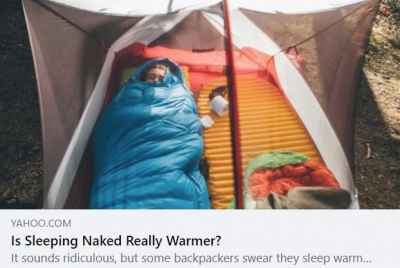 "Question: Dear Kristin, I've been told that when using a down sleeping bag, sleeping in the buff will keep you warmer than sleeping in clothing. Is this true? (I've yet to do my own experimenting, as I like to wear long underwear to bed in order to keep my bag cleaner.) Submitted by – Heidi, Seattle, WA
Answer: Your instincts are right, Heidi: As your common sense is telling you, sleeping with clothes on is warmer than sleeping without clothes on. But I think I know where that old myth stems from: It is true that if you wear too much clothing to bed, you can over-compress the insulation so the bag can't do its thing. You want a little bit of space between you and the bag-this air warms up and creates a nice little microenvironment for you." Read the full story HERE.
---
Have You Seen Us Lately?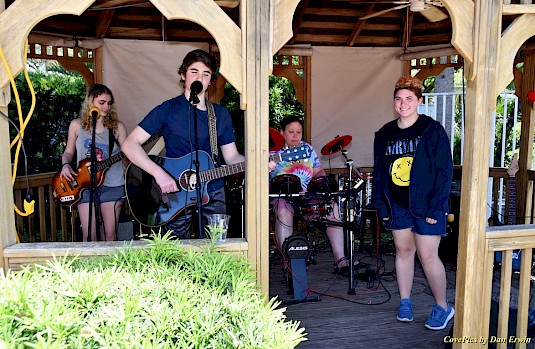 The Green Planet Band, a nudist family band entertained at the West Pool on Sunday afternoon.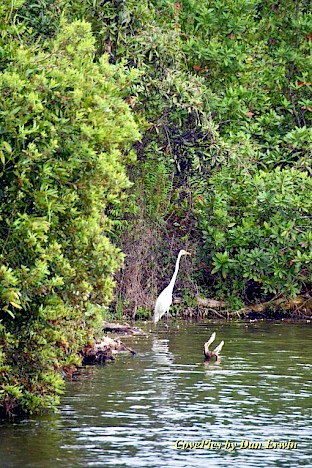 There is such an abundance of wildlife on and around Brown Lake.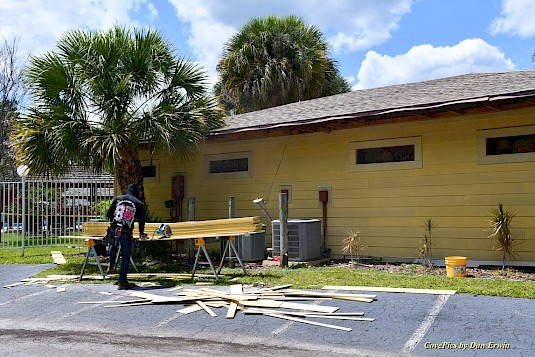 The clubhouse, library, and east pool washrooms are getting a beautiful facelift.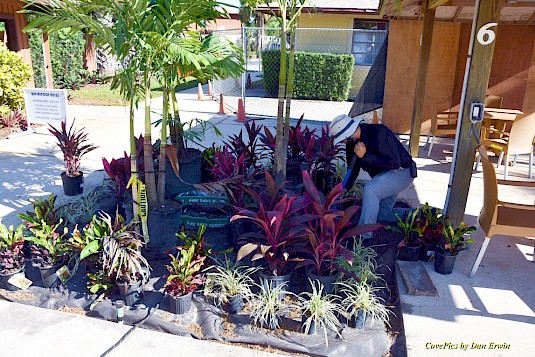 The gardens around the east pool are being totally replanted.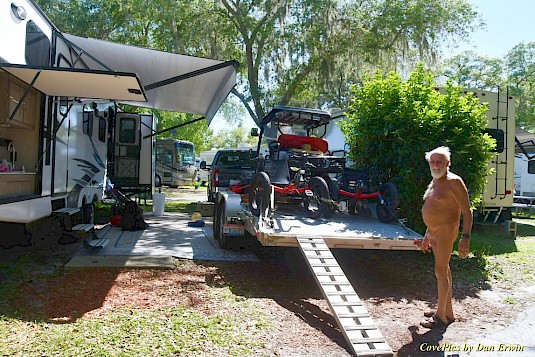 The snow-birds are packing for the long trip back north.
---
"Where Have You
Taken the Cove?"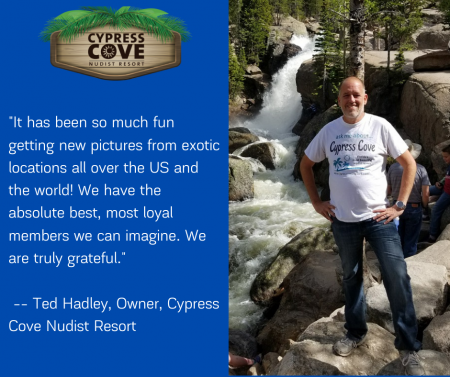 SEND US YOUR PHOTOS!!!
 We want to see where you have worn your Cypress Cove t-shirt, no matter which style it is! Wear it to town, to the grocery store, wear it while you are out and about, or at a national monument, and send us a photo! You will be featured in our newsletter or on one of our social media channels. 
Don't have a shirt yet? Purchase one at the main office or call and order one to show your pride in Cypress Cove! 
Call us at Toll-Free (888) 683-3140.

Send photos to Newsletter@CypressCoveResort.com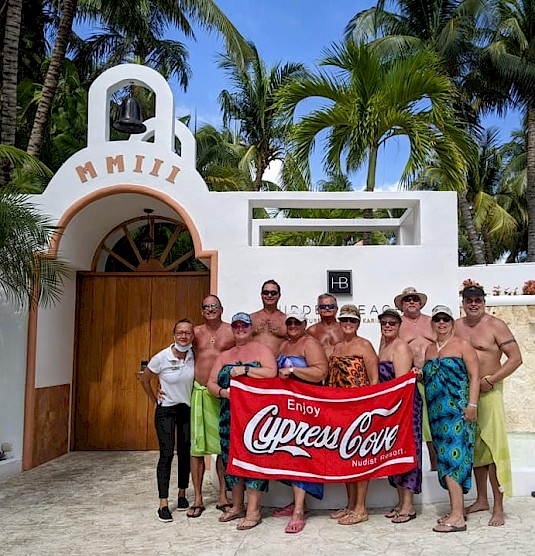 Some of our awesome members at Hidden Beach in Mexico.
Thank you for the picture guys!!

Where have you worn your Cypress Cove T-shirts?
Send us a photo!
---
Book a Room Today!
It's never been a better time to stay at Cypress Cove! Book Online, Email Reservations, or Call Reservations toll-free at 888-683-3140.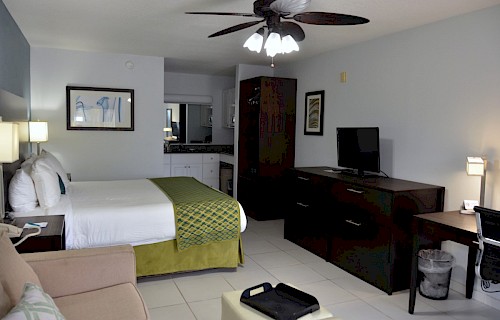 For Special Offers click HERE!
---
Every week we receive great reviews on TripAdvisor and Google; if you have visited or stayed with us, we would love to know about your experience. Click the logos below.