Laugh of the Week
---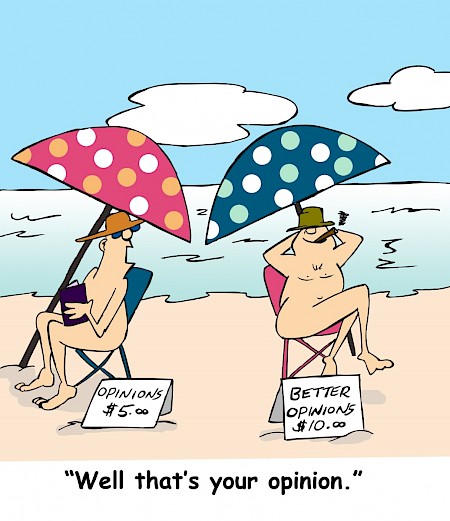 ---
Cove News   
---
DON'T MISS
Memorial Weekend Entertainment!
Cheeks will be setting up a BBQ tent poolside and DJ Dave will be hosting your Memorial weekend kick-off pool party. Stop at Cheeks for some drinks and let's start summer off right. Here is a full list of entertainment and happenings this weekend. 
Thursday 5/25: 
6:00 pm Karaoke Party with More Than Venus, West Pool 
Friday 5/26:  DJ DAVE RETURNS FULL TIME TO CYPRESS COVE!!!!
12:00 pm - Weekend Kickoff Pool Party with DJ Dave 
6:00 pm - Trivia with Dave at Old Cheeks
7:00 pm - Streak @ Cheeks with DJ Xavier
Saturday 5/27:
10:00 am - Volleyball Tournament
11:00 am - 5:00 pm Cheeks Poolside BBQ Grill 
12:00 pm - Missing Man Ceremony at the West Pool
12:15 pm - Pool Party with DJ Xavier
2:00 pm - Fig Leaf Boutique Fashion Show
6:00 pm - Super MEGA Trivia 3000
7:00 pm - Dance at Lakeside with More Than Venus
8:00 pm - Late Night Streak @ Cheeks with DJ DAVE
Sunday 5/28: 
10:00 am - Volleyball Tournament 
12:00 pm - Live Music Poolside with Tim
8:30 pm - Dive-in Move
Monday 5/29:
8:15 am - Memorial Day Pickleball Tournament
12:00 pm - Memorial Day Pool Party with DJ Dave Recording Artist Kristie De Luca (well wishes for Dave's family member)
7:00 pm - Gameshow Night featuring Family Feud with DJ Xavier
---
Cheeks Poolside BBQ Grill 
Don't miss the Cheeks Poolside Grill on Saturday from 11 am until 5 pm serving your Memorial Day favorites! Check out the menu below and start planning your Saturday BBQ.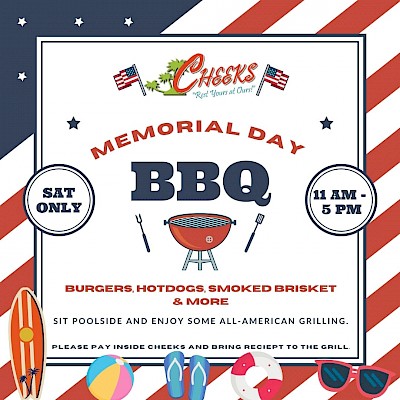 ---
Fig Leaf Boutique 10th Annual Memorial Weekend Fashion Show, May 27
Mark your calendars for Saturday, May 27 at 2 pm around the West Pool for this year's Memorial Weekend fashion show. This year marks 10 years of fashion fun, so come out and see what Fig Leaf has to offer. For those times when you absolutely must wear clothing, we have the most stylish pieces around. Come support your fellow nudist family business at this loved annual event.
NEW HOURS!!
Fig Leaf Boutique is now open Thursday, Friday, Saturday, & Sunday for your Florida wardrobe needs. Stop in and shop!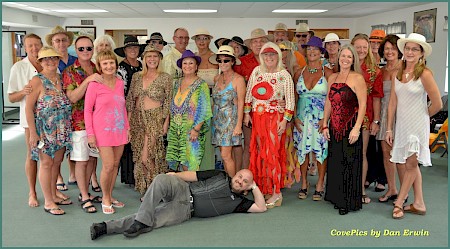 ---
Memorial Weekend Volleyball Tournament, May 26 - 29
Who's ready to kick some grass!? Cypress Cove sponsors this great Co-Ed Triples Volleyball Tournament. Join us on Memorial Day Weekend. The tournament features OPEN/ AA; A; BB; B; Rec divisions. There is a Round Robin on Saturday and Double Elimination on Sunday. The cost is $50 per person which includes day fees for up to 3 days (Fri-Sun) with optional tent camping on the lakefront. Children stay free. Tournament shirts will be available for purchase, order details will be posted on the event page. If you want to sign up for this event please email Jon at eventsnaturally@gmail.com. This is a fun, competitive tournament. We hope to see you there! 
Fun off the court includes:
*** Spikeball
*** Inflatable Slip & Slide
*** Bourbon Slushees
*** Saturday Night Pool Party!!!
*** Bonfire
*** Huge Lake with activities (paddle boats and canoes available)
*** 2 large pools & 2 hot tubs
*** 2 bars (including one poolside)
*** Pool tables, ping pong tables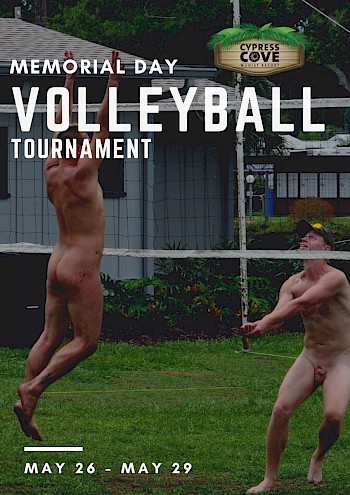 ---
Memorial Day Pickleball Tournament, May 29
It's the official start of summer with the fourth annual Cypress Cove Pickleball Tournament, set for Monday, May 29, starting at 8:15 am.
The event is free and open to all players, and you do not need a partner to enter. Just check in before 8:45 and compete in this coed, round-robin 90-minute tournament, where you'll play every game with a different partner and against different opponents.
For full details, click here or send an email to info@covepickleballclub.com.
See you on the courts!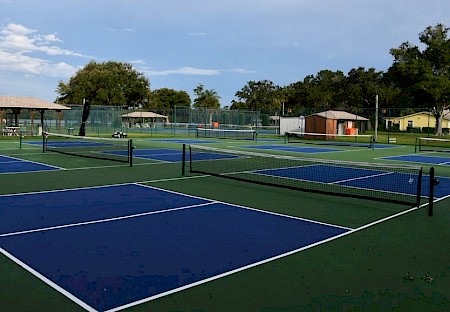 ---
Flamingo Adoptions
If you're new to Cypress Cove, you might be wondering what the hoopla is about with pink flamingos all over the place. Every year, a resident-run fundraiser, benefitting the American Cancer Society Making Strides Against Breast Cancer, takes place between Memorial Day weekend and Parrothead weekend. Flamingos are adopted by donors and proudly displayed around the Cove to show support. When you adopt a flamingo, you receive raffle tickets for the PARROTHEAD RAFFLE. These prizes range from things like gift baskets to party wagons full of spirits. 
So, show your support for this great cause by adopting a bird. If you can't display the flamingo, we will find a suitable place for it at Cypress Cove. Be on the lookout for the pink flamingos at the pool complex! This is where you can donate and pick up your tickets. You can also donate here if you'd like.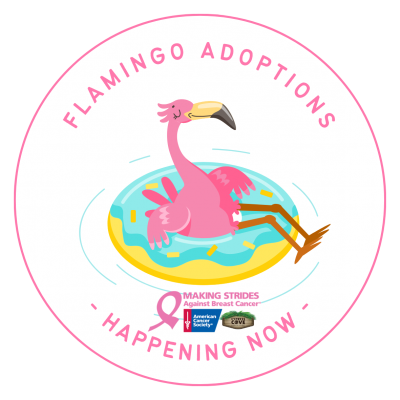 ---
Residential Spring Contest
Don't forget, residents of Cypress Cove Resort can submit photos to be considered for one of two categories. Those categories are Most Beautiful Lot and Most Improved Lot. You will also have the opportunity to vote for the category of Most Beautiful Lot to determine the winners. The winners of both categories will be announced and highlighted in the newsletter at the end of each of those three months (April, May, and June).
As an incentive, we will be awarding prizes to the winners of each of those categories. Each of the winners will receive one Lowes gift card worth $250, yes, a $250 Lowe's gift card! And a beautiful yard sign that you can proudly display on your lot during the month that you won.
Please send all photo submissions and votes to nominations@cypresscoveresort.com.
Be sure to clearly include the lot number you are submitting or voting for. There will also be a small box located in the front office where you can write in your vote if you do not have email access. Please only vote once per lot.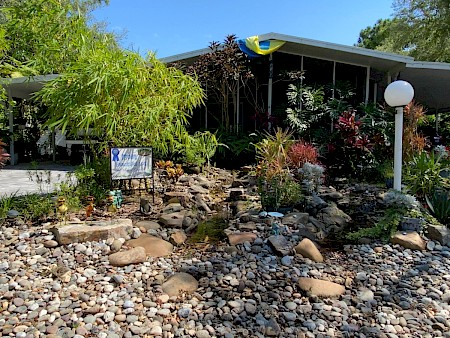 ---
News Outside the Cove
See what's making headlines in nudist news around the world. These things and more are being shared on our social media channels.

Follow us today to stay informed!






(Click one of these links to see the latest news!)
---
Nude Beach Ranked Among NJ's Best Secret Beaches
We've heard about the Jersey Shore, but have you been to any of these? Let's not forget Cypress Cove's beach—the only nude beach in Central Florida!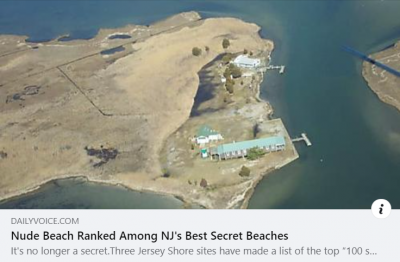 "Three Jersey Shore sites have made a list of the top '100 secret beaches" in the United States, according to the Family Destinations Guide. And you probably won't want to bring children to one of them: It's New Jersey's only nudist beach. The Guide said it surveyed 3,000 families nationwide to compose a list of hidden beaches that people liked the most. Ranked 5th on the list is Sedge Island, which the Guide calls "a truly exclusive destination.'" Read the full story & his response HERE.
---
Naked Stand-Up Comedy: Everything You Imagine, but Oh So Much More
"Do you wear shoes onstage? What's it like to bomb while nude? And, ahem, where do you keep your notes? But the shows often sell out."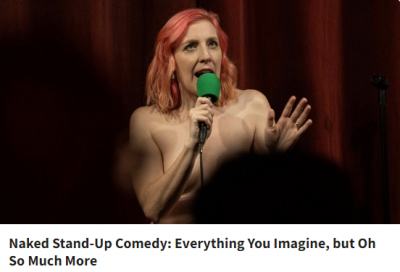 "For as long as she can remember, the stand-up comic Carolyn Bergier has had a recurring nightmare where she's onstage, partly nude. It's scary, and then she wakes up. The difference this time is that she is entirely naked — and this is no dream. It's real life, or at least as close as you can get in a Bushwick, Brooklyn, basement. Last month, Bergier, the kind of person who changes in the locker room as quickly and discreetly as possible, walked onstage with no clothes on, looked out at a sold-out crowd of 75 people, a red neon sign behind them showing two rabbits having sex, and realized she had made a big mistake: She forgot to take the hair tie off her wrist." Read the full story HERE.
---
Have You Seen Us Lately?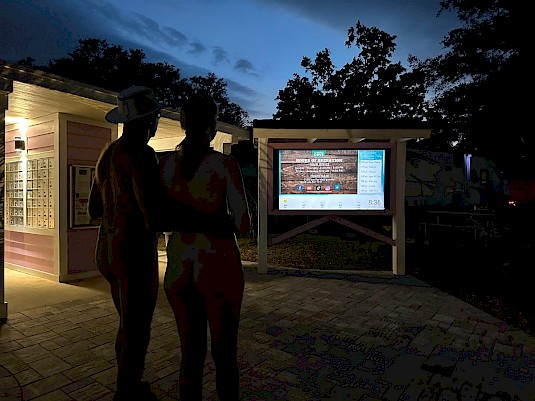 A couple stands together to read our informational digital board.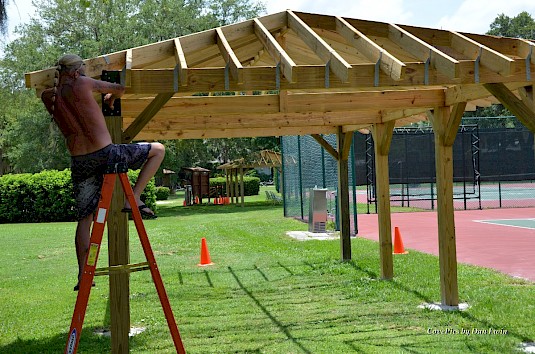 In May 2014, building shelters around the sports areas was a big project.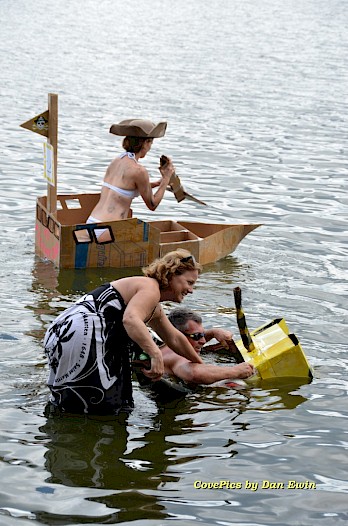 In May 2015, the cardboard boat races were crazy fun to watch.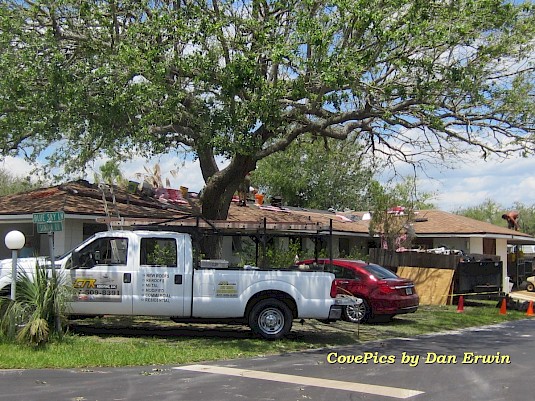 In May 2016, new roofs were installed on a number of Cove buildings.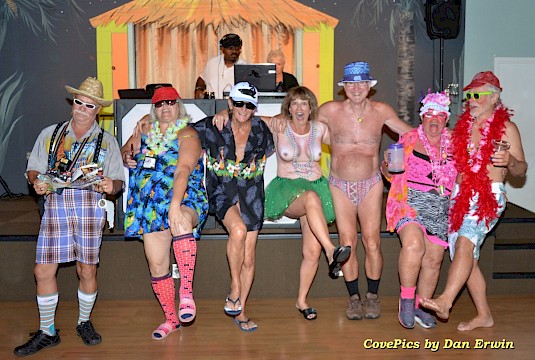 In May 2017, the Tacky Tourist Weekend was the place to be.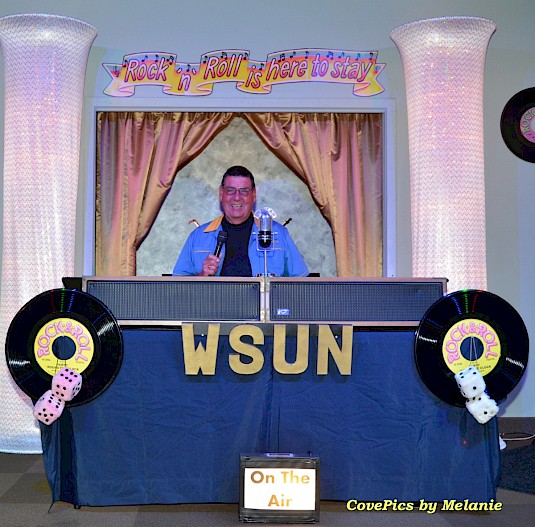 In May 2018, it was Big Dan on WSUN radio bringing you the hits of the 1st decade of Rock & Roll.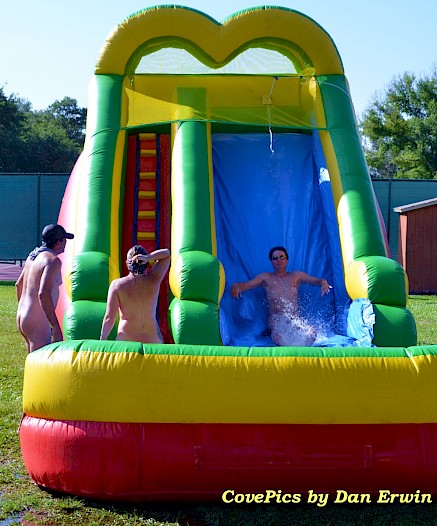 In May 2019, the waterside was a big hit with kids of all ages.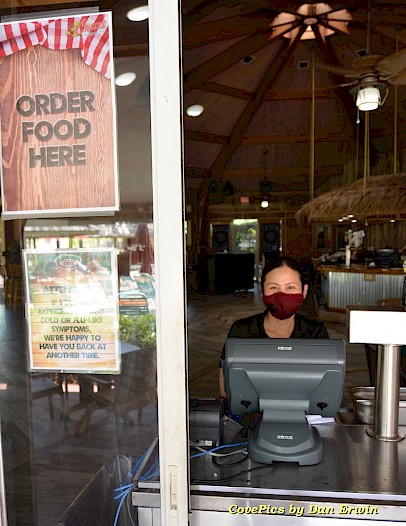 In May 2020, Cheeks was not open due to Covid, but Rose would take your order at the door.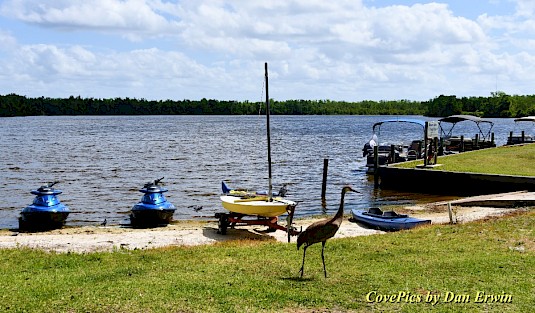 In May 2021, a picture of the lakefront before the new boat dock was installed.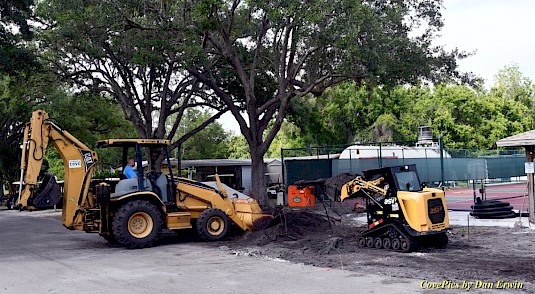 In May 2022, the Cove did beautification projects all around the Cove.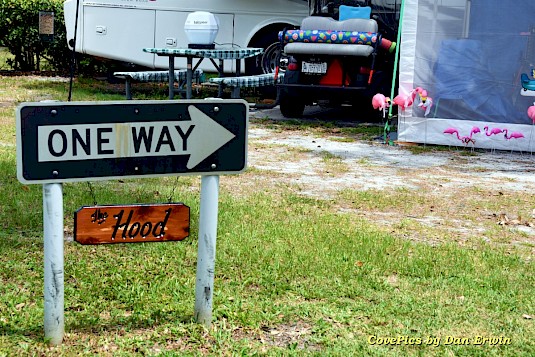 In May 2023, and just like that "The Hood" was back in the campground.
---
"Where Have You
Taken the Cove?"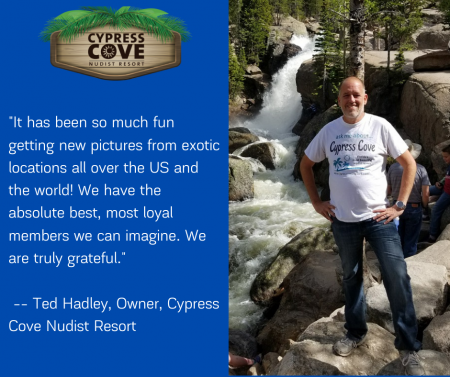 SEND US YOUR PHOTOS!!!
 We want to see where you have worn your Cypress Cove t-shirt, no matter which style it is! Wear it to town, the grocery store, while you are out and about, or at a national monument, and send us a photo! You will be featured in our newsletter or on our social media channels. 
Don't have a shirt yet? Purchase one at the main office or call and order one to show your pride in Cypress Cove! 
Call us at Toll-Free (888) 683-3140.

Send photos to Newsletter@CypressCoveResort.com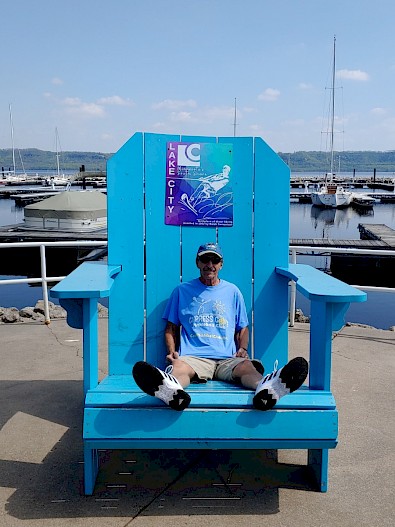 Eric & Kathy stopped in Lake City, MN on the way back to Wisconsin.
Thanks for sending it in!

Where have you worn your Cypress Cove T-shirts?
Send us a photo!
---
Book a Room Today!
It's never been a better time to stay at Cypress Cove! Book Online, Email Reservations, or Call Reservations toll-free at 888-683-3140.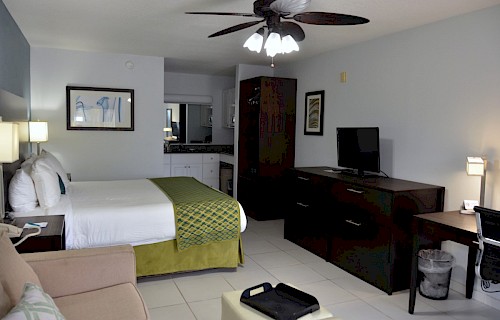 For Special Offers click HERE!
---
Every week we receive great reviews on TripAdvisor and Google; if you have visited or stayed with us, we would love to know about your experience. Click the logos below.