Laugh of the Week
---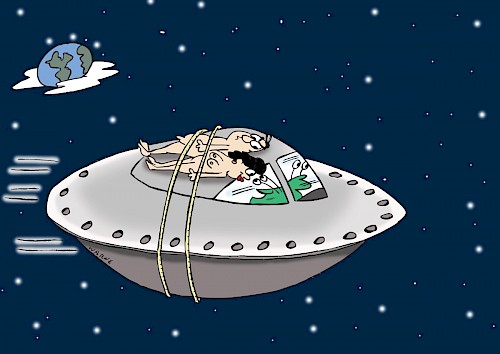 ---
Cove News   
---
AARP Safe Driver Class, May 20
Currently on a WAITLIST!
AARP Driver Safety class will be held on Saturday, May 20 in Scuttlebutts Lounge from 9:00 AM to 3:00 PM. Use the sign-up sheet on Regis' Activities Office door to sign up for the class. Attendance is limited to 20 students, so sign up early! Bring payment to the class in the form of a check made payable to AARP for $20 for AARP members with your membership card or $25 for non-members. No cash accepted. Also, bring your driver's license. Those who complete the class are eligible for a discount on auto insurance. Questions? Call 407-933-3578.
Start the Summer driving season right by learning crash-avoidance tactics and earn a discount on your auto insurance.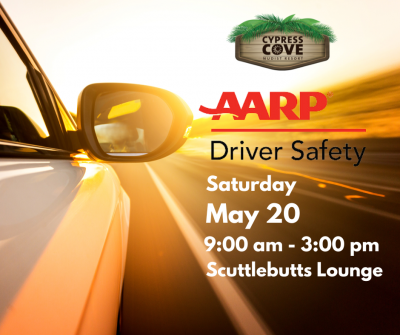 ---
Blood Donations - May 21
OneBlood will be here on May 21 from 11 am to 4 pm to accept blood donations. Appointments aren't required but preferred. You can schedule your appointment here. All donors will receive a $20 eGiftcard, a reusable water bottle, and a wellness checkup.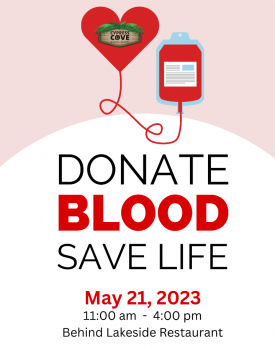 ---
Fig Leaf Boutique 10th Annual Memorial Weekend Fashion Show, May 27
Mark your calendars for Saturday, May 27 at 2 pm around the West Pool for this year's Memorial Weekend fashion show. This year marks 10 years of fashion fun, so come out and see what Fig Leaf has to offer. For those times when you absolutely must wear clothing, we have the most stylish pieces around. Come support your fellow nudist family business at this loved annual event.
NEW HOURS!!
Starting Thursday, May 18, Fig Leaf Boutique will be open Thursday, Friday, Saturday, & Sunday for your Florida wardrobe needs. Stop in and shop!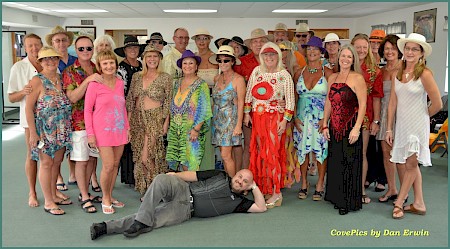 ---
Memorial Weekend Volleyball Tournament, May 26 - 29
Who's ready to kick some grass!? Cypress Cove sponsors this great Co-Ed Triples Volleyball Tournament. Join us on Memorial Day Weekend. The tournament features OPEN/ AA; A; BB; B; Rec divisions. There is a Round Robin on Saturday and Double Elimination on Sunday. The cost is $50 per person which includes day fees for up to 3 days (Fri-Sun) with optional tent camping on the lakefront. Children stay free. Tournament shirts will be available for purchase, order details will be posted on the event page. If you want to sign up for this event please email Jon at eventsnaturally@gmail.com. This is a fun, competitive tournament. We hope to see you there! 
Fun off the court includes:
*** Spikeball
*** Inflatable Slip & Slide
*** Bourbon Slushees
*** Saturday Night Pool Party!!!
*** Bonfire
*** Huge Lake with activities (paddle boats and canoes available)
*** 2 large pools & 2 hot tubs
*** 2 bars (including one poolside)
*** Pool tables, ping pong tables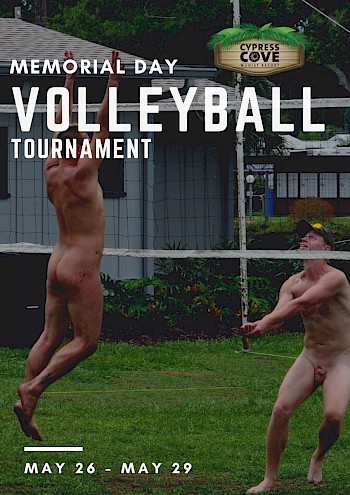 ---
Memorial Day Pickleball Tournament, May 29
It's the official start of summer with the fourth annual Cypress Cove Pickleball Tournament, set for Monday, May 29, starting at 8:15 am.
The event is free and open to all players, and you do not need a partner to enter. Just check in before 8:45 and compete in this coed, round-robin 90-minute tournament, where you'll play every game with a different partner and against different opponents.
For full details, click here or send an email to info@covepickleballclub.com.
See you on the courts!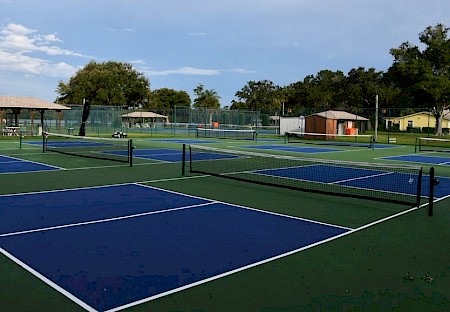 ---
News Outside the Cove
See what's making headlines in nudist news around the world. These things and more are being shared on our social media channels.

Follow us today to stay informed!






(Click one of these links to see the latest news!)
---
How the 'naked' look took over fashion
Who would have thought "nude" would be "in fashion"? Now if only they would understand how freeing going truly nude would be. LOL!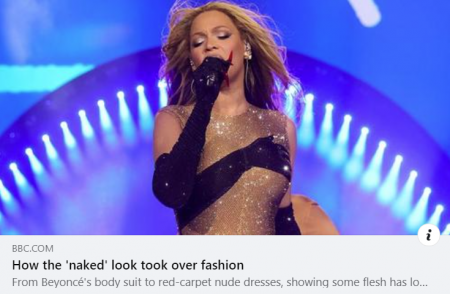 "From Beyoncé's body suit to red-carpet nude dresses, showing some flesh has long been a surefire way to get talked about. But is it always as basic as that, asks Clare Thorp. No musician harnesses the power of an image quite like Beyoncé, so when she kicked off her Renaissance world tour this week, the costumes were as highly anticipated as the set-list. From a futuristic beaded Alexander McQueen catsuit and a black and yellow striped Thierry Mugler "Queen Bee" look, complete with matching antennae, to a color-changing gown by Japanese label Anrealage, they were as striking as expected. " Read the full story & his response HERE.
---
"This was the perfect time to do it": Sandra Bullock Readily Accepted to Get Naked With Ryan Reynolds Despite $250M Actress' Staunch Stance Against On-Screen Nudity
There is always a good reason to be nude. Sometimes it's just the freedom of it all.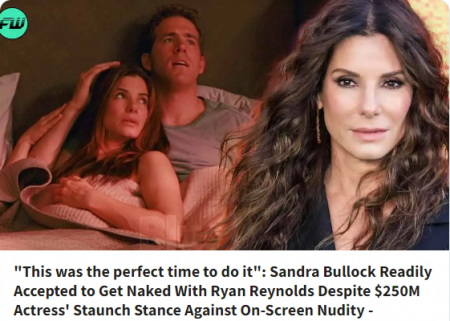 "Sandra Bullock and Ryan Reynolds' 2009 film The Proposal holds a special place in everyone's hearts. The commercially successful rom-com was loved by all for its funny moments and the two actors received a lot of praise for nailing their comedic timing. But there's also another scene that's stuck in people's minds. In a hilarious but awkward scene, Sandra Bullock's Margaret falls on top of Ryan Reynolds' Andrew while both of them are naked. This moment marked the first time Bullock had done full on-screen nudity. Later on, the actress revealed what made her take the bold step for this film after rejecting similar scenes in others." Read the full story HERE.
---
Have You Seen Us Lately?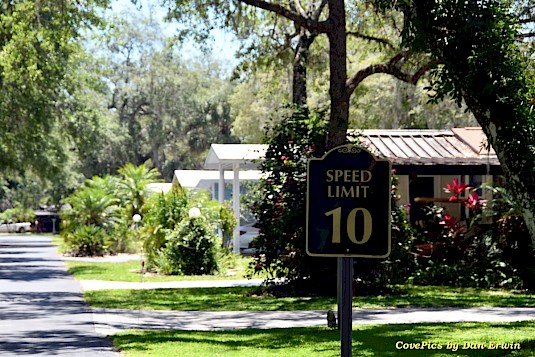 Even the speed limit signs are beautiful at Cypress Cove.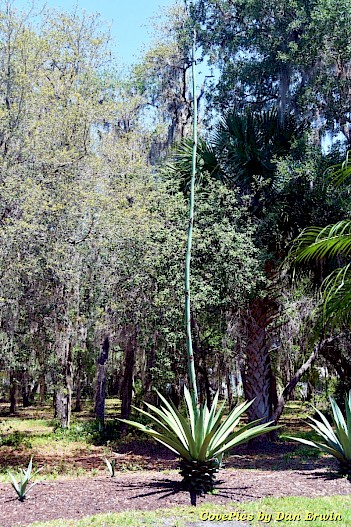 A Centry Cactus in the residential area has driven a flower spike over 20 feet in the air. This only happens after 8-30 years of growth.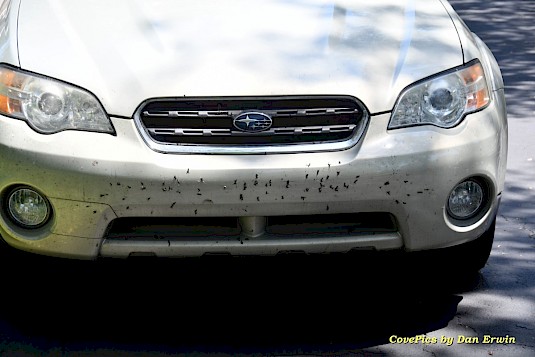 The three most scary words in Florida..."Love Bug Season."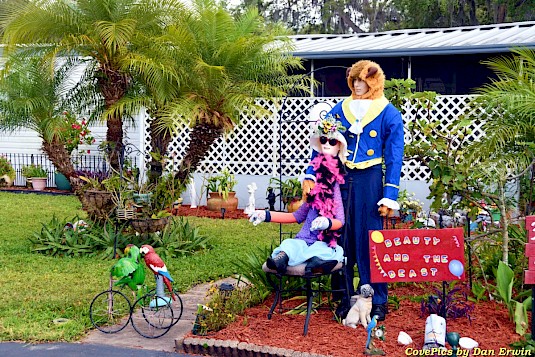 Another fun thing to see on your afternoon walk - Beauty and the Beast.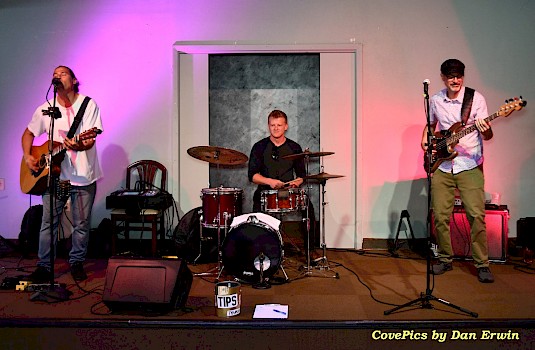 The Rob Seay Band: A great must-hear band was at Lakeside on Saturday night.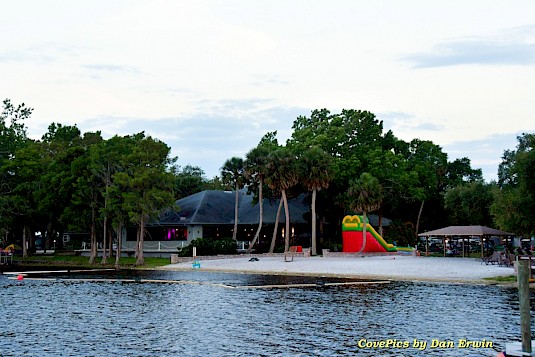 We have such a beautiful beachfront at Cypress Cove.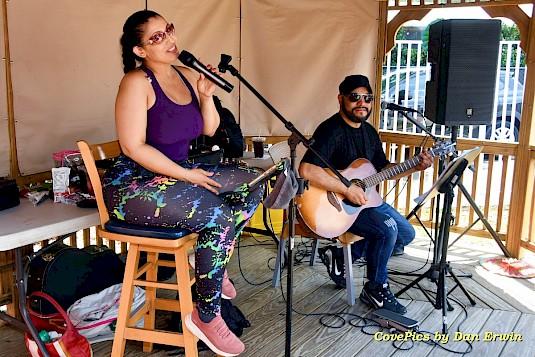 More than Venus is a Cove favorite at the west pool on a Sunday afternoon.
---
"Where Have You
Taken the Cove?"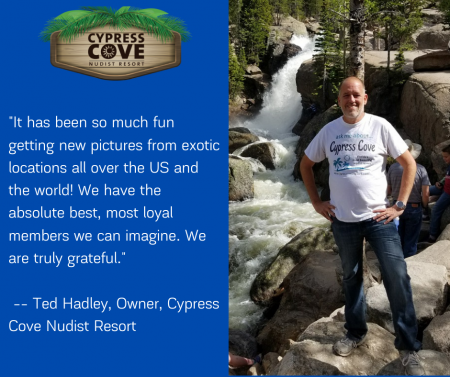 SEND US YOUR PHOTOS!!!
 We want to see where you have worn your Cypress Cove t-shirt, no matter which style it is! Wear it to town, the grocery store, while you are out and about, or at a national monument, and send us a photo! You will be featured in our newsletter or on our social media channels. 
Don't have a shirt yet? Purchase one at the main office or call and order one to show your pride in Cypress Cove! 
Call us at Toll-Free (888) 683-3140.

Send photos to Newsletter@CypressCoveResort.com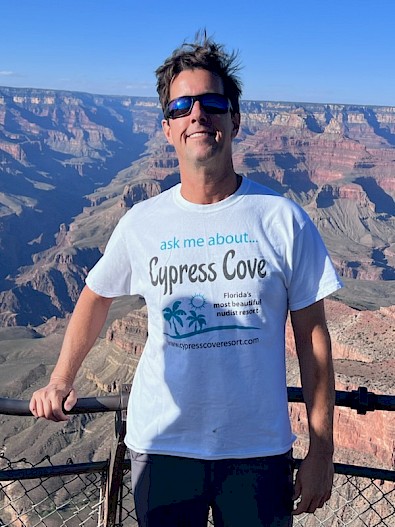 Our very own DJ Dave took Cypress Cove to the Grand Canyon! 
Thanks for sending it in, Dave.

Where have you worn your Cypress Cove T-shirts?
Send us a photo!
---
Book a Room Today!
It's never been a better time to stay at Cypress Cove! Book Online, Email Reservations, or Call Reservations toll-free at 888-683-3140.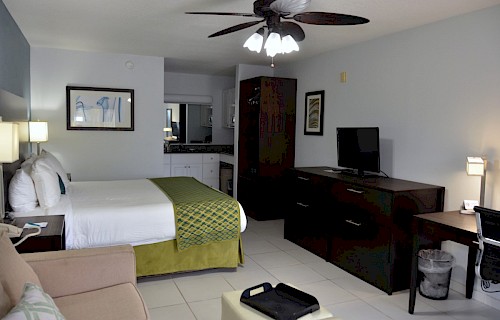 For Special Offers click HERE!
---
Every week we receive great reviews on TripAdvisor and Google; if you have visited or stayed with us, we would love to know about your experience. Click the logos below.