Laugh of the Week
---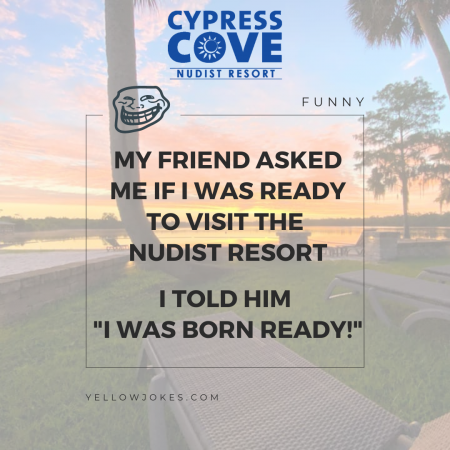 ---
Cove News   
---
Nude Bowling
Our friends at Crossed Oaks Haven have put together another nude bowling gathering at Orange Bowl Lanes in Kissimmee on April 2, from 10 am to 1 pm. The cost for this event is $20 for those over 35 years of age, $10 for 18-35 years, and free for those under 18. Please bring cash for the entry fee and sign in at the table with Crossed Oaks Haven staff. The fee includes the shoe rental and all the games you can bowl. 
Those with the highest cumulative score will take possession of the roving Nude Bowling Champion trophy. Available snacks include Popcorn, soft drinks, and chocolate chip cookies. See you at the lanes! For more information reach out to crossedoakshaven@aol.com.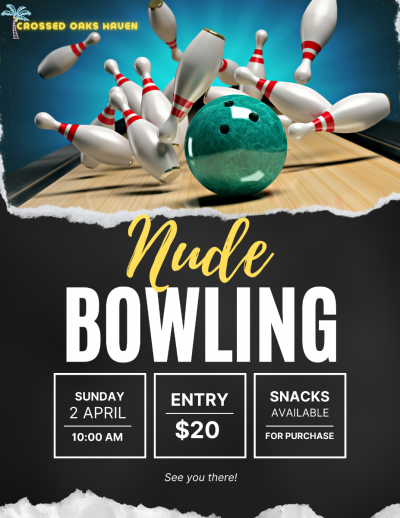 ---
Kid's Easter Egg Hunt
Grab your easter basket and meet us on the Sunning Yard! (Loaner baskets will be available for those visiting us.) Happening on Easter Sunday at 10 am! We are having an Easter egg hunt for the kids. On the terrace, there will be the coloring of Easter-themed pages. Grab a crayon and color or take one home for later.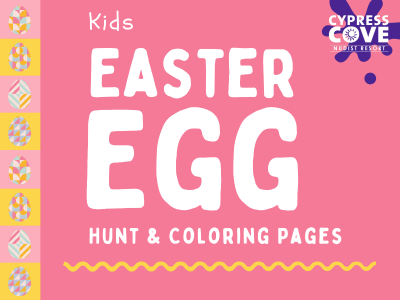 ---
Dive-In Movie is Moving
Beginning on Sunday, April 9 at 8:30 pm the movie will move to Sunday evenings. Join us at the East pool for MOVIE NIGHT!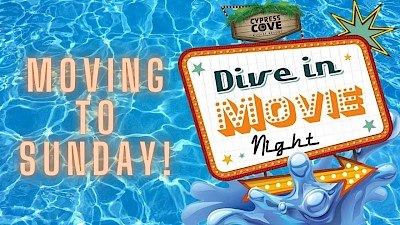 ---
ANNOUNCING: Game Show Night! 
Game Show Night debuts at the West Pool on Monday, April 10 at 7 pm! Join us as DJ Xavier hosts various game shows. Hope to see you there.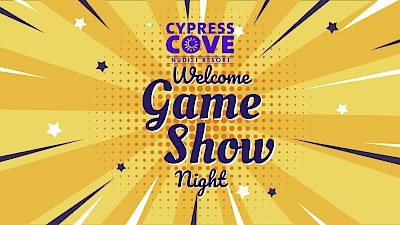 ---
Kristie DeLuca Performs Again
If you were here for International Women's Day, then you probably saw the Kristie DeLuca Band take the stage. If you missed it, HERE IS YOUR CHANCE! She is back by popular demand on Saturday, April 15, at 7 pm.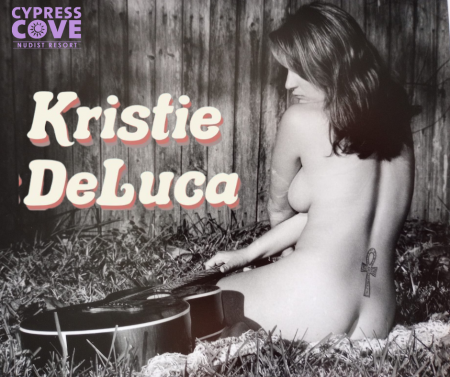 ---
The Residential Spring Contest is BACK
We are heading into the spring season again. What better way to celebrate than with our residential spring clean-up contest? Beginning April 1 thru June 30, 2023, residents of Cypress Cove Resort can submit photos to be considered for one of two categories. Those categories are Most Beautiful Lot and Most Improved Lot. You will also have the opportunity to vote for the category of Most Beautiful Lot to determine the winners. The winners of both categories will be announced and highlighted in the newsletter at the end of each of those three months (April, May, and June).
As an incentive, we will be awarding prizes to the winners of each of those categories. Each of the winners will receive one Lowes gift card worth $250, yes, a $250 Lowe's gift card! And a beautiful yard sign that you can proudly display on your lot during the month that you won.
Please send all photo submissions and votes to nominations@cypresscoveresort.com.
Be sure to clearly include the lot number you are submitting or voting for. There will also be a small box located in the front office where you can write in your vote if you do not have email access. Please only vote once per lot. For helpful spring cleaning and Florida-friendly landscape tips, please click on the links below:
We appreciate everyone's efforts in properly maintaining their lots and hope that this will further motivate everyone to continue taking pride in their homes and lots for the rest of the year.
If you're visiting us from afar, please take a moment to stroll the streets and see the beautiful landscapes that our residents have worked so hard for. 

---
News Outside the Cove
See what's making headlines in nudist news around the world. These things and more are being shared on our social media channels.

Follow us today to stay informed!






(Click one of these links to see the latest news!)
---
That Naked Car Show Is Fine, Everyone
Yeah! What he said...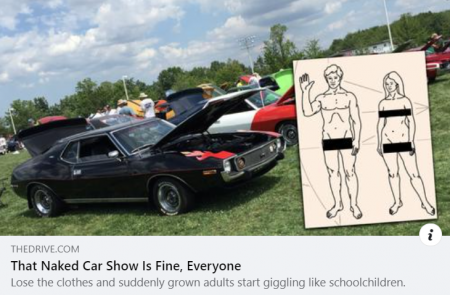 "Car shows can be a great time. You get to stroll around admiring all the fancy metal, making new friends over a shared love of automobiles. It's all good clean fun. Throw some casual nudity into the mix, though, and it seems auto enthusiasts get all giggly. If you haven't already spied the flyer shared by The Naturist Society, the Valley View Recreation Club is hosting a Nude Car Show Aug. 10-13 in Wisconsin. To eliminate any ambiguities, the "Nude" part concerns people stripped down to their bare essentials, not cars. The four-day event includes karaoke, group meals, and varied entertainment, in addition to a parade and awards for the best cars in show." Read the full story HERE.
---
Go vote for us!
We are up for the "Best Naturist Venue—REST OF THE WORLD" category. Please take a moment and cast your vote for Cypress Cove! You don't have to vote for every category. Just put in your email and vote...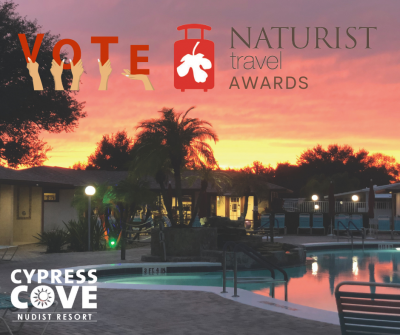 VOTING CLOSES ON MARCH 31!! Vote HERE.
---
Have You Seen Us Lately?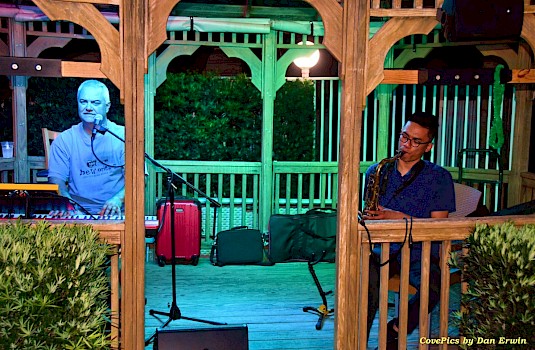 GREAT music at the west pool on Friday night with the Uptown Funk Band.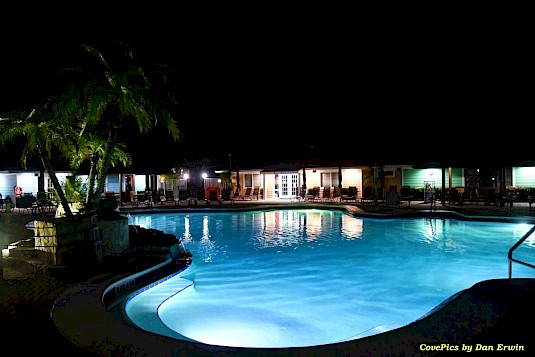 The warm Florida nights make enjoying the pool at night a fun thing to do.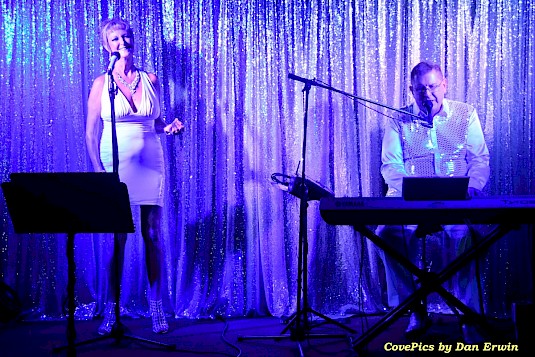 Saturday night the place to be was Lakeside to hear A Taste of Love.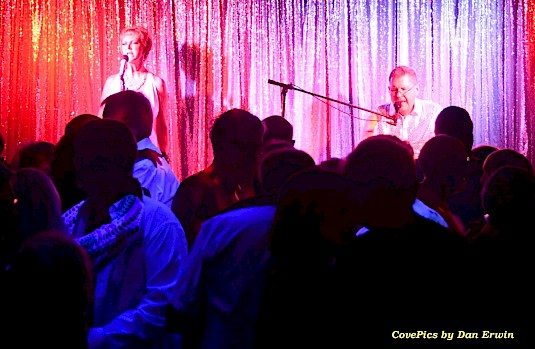 The dance floor was elbow-to-elbow full all night long. Wonderful music and great friends to chat with.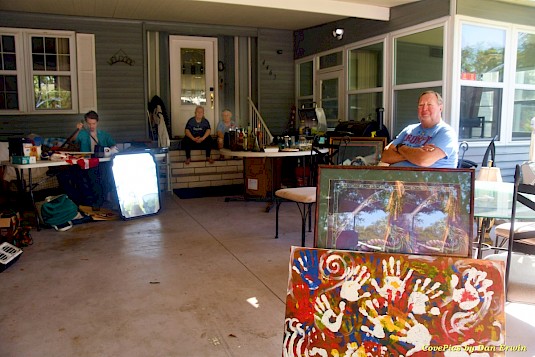 The spring yard sale was fun and a great place to find that special thing you have been wanting at a bargain price.

Sunday afternoon at the West Pool, we had a taste of the Islands with The Conch Man.
---
"Where Have You
Taken the Cove?"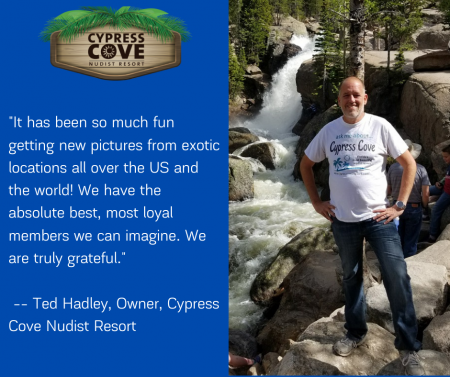 SEND US YOUR PHOTOS!!!
 We want to see where you have worn your Cypress Cove t-shirt, no matter which style it is! Wear it to town, the grocery store, while you are out and about, or at a national monument, and send us a photo! You will be featured in our newsletter or on our social media channels. 
Don't have a shirt yet? Purchase one at the main office or call and order one to show your pride in Cypress Cove! 
Call us at Toll-Free (888) 683-3140.

Send photos to Newsletter@CypressCoveResort.com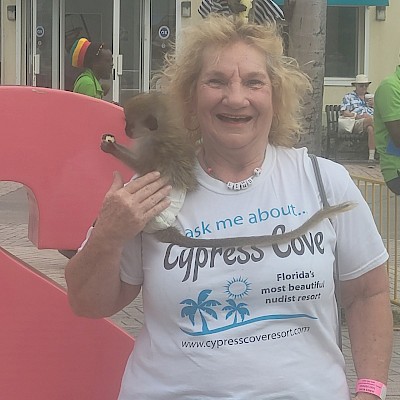 One of our awesome members with the monkeys on St. Kitts.
Thanks for sending it in, Linda!

Where have you worn your Cypress Cove T-shirts?
Send us a photo!
---
Book a Room Today!
It's never been a better time to stay at Cypress Cove! Book Online, Email Reservations, or Call Reservations toll-free at 888-683-3140.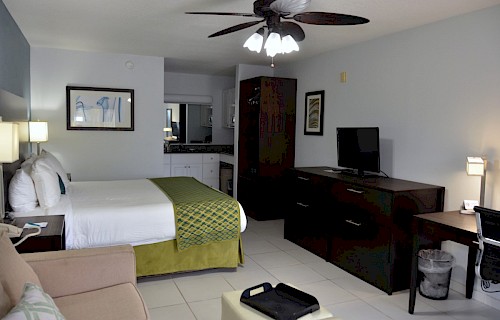 For Special Offers click HERE!
---
Every week we receive great reviews on TripAdvisor and Google; if you have visited or stayed with us, we would love to know about your experience. Click the logos below.