Laugh of the Week
---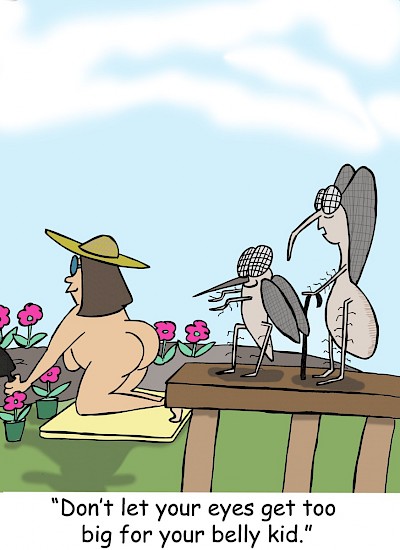 ---
Cove News   
---
International Women's Day 
Join us as we celebrate International Women's Day on Saturday, March 4. Women get in FREE all day, so grab your girlfriends and head over to Cypress Cove for a day of fun. Festivities include a women's yoga on the lawn, guest speakers, lawn volleyball, Urban Sketching, a cooking demo, and a show by the Cypress Cove Women's Chorus, with informational booths by Blind Creek Beach, South Florida Free Beaches, and The Naturist Society.
Headlining the event and taking the stage at 7 pm is Recording artist Kristie DeLuca, an alternative/classic rock female singer-songwriter who plays guitar, violin, fiddle, flute, mandolin, and piano. With over 300 original songs in her arsenal and a new album released Voices in My Head Kristie DeLuca is breaking the music scene wide open. Signed on Solar Music independent label, her latest album was produced by Grammy Nominated Producer Michael Franklin!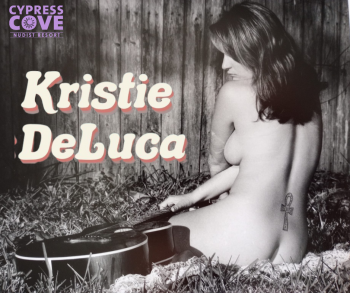 For a schedule of events, speakers, their topics, workshops, and other events happening
CLICK HERE. 
This is a DON'T MISS event.
A perfect event for first-time visitors, so if you know someone who's been wanting to give it a try, bring them out!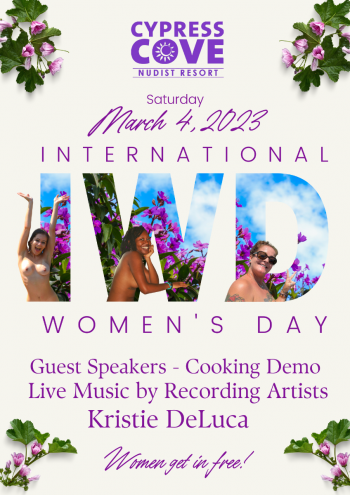 ---
Full Moon Gathering
The Full Moon Gathering will be held on the shores of Lake Brown at the campfire circle. Come join us to celebrate our once-a-month celestial event. If you have a musical instrument to enhance our gathering please bring it. We welcome all newcomers to our event and encourage participation by joining us with your favorite musical instrument to enjoy the rhythms that enhance the experience. Our goal is to expand our circle for all those who love nature and yearn to listen to the native rhythms that fill our souls with happiness and joy. We can always use help getting our fire started before the event depending on the weather conditions.
This month's full moon on Tuesday, March 7 is the Full Worm Moon. The gathering will begin at 6:30 pm. The moon rises at 6:48 pm after the sun sets at 6:30 pm. 
This name is traditionally thought to refer to the earthworms that appear as the soil warms in spring. Alternatively, during his travels in the 1760s, Captain Jonathan Carver wrote that this Moon name refers to a different sort of "worm"—larvae—which emerge from the bark of trees and other winter hideouts.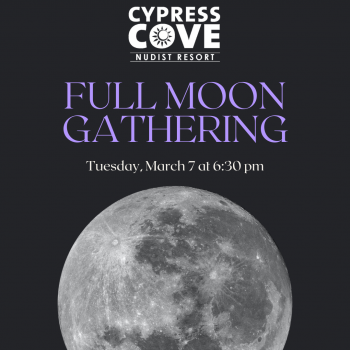 ---
Catch & Release Annual Fishing Tournament
Grab your fishing poles and join the annual fishing tournament! Happening Saturday, March 11 from 9 am to Noon at Brown Lake. Registration is $3 and will be taking place from 8 am - 9 am at the lakefront. All ages are welcome. There are some great prizes up for grabs. Participants will also receive a free hot dog, chips, and soda. Spectators welcome! Food will be available for purchase including hot dogs, chips, and sodas.  
Poles and bait are available on a first-come, first-serve basis. See you there!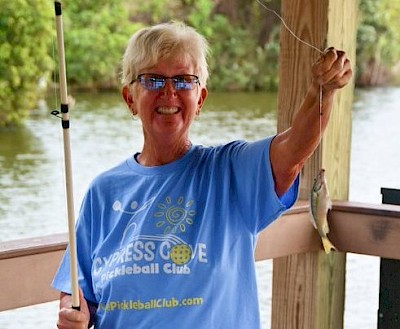 ---
Spring Craft Fair
Come see some unique hand-crafted items at our spring craft fair happening on Saturday, March 11. If you plan on being in town, this is a perfect opportunity to take some handmade specialties back to your friends and family. Crafters only, please no reselling. This is a great place to pick up handcrafted goodies to take home to your friends and family. 
This craft fair is full, so if you are on the vendor waitlist, we will see you next time. Thank you for your patience! 
Come see what talented artists we have at Cypress Cove!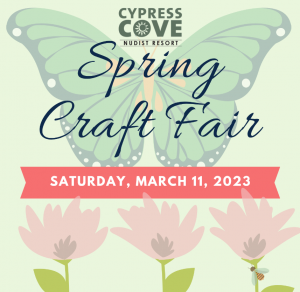 ---
Notables Spring Concert 
Lakeside is opening its doors on Monday, March 13 at 3 pm as The Notables perform their spring concert. Enjoy the beautiful voices with us!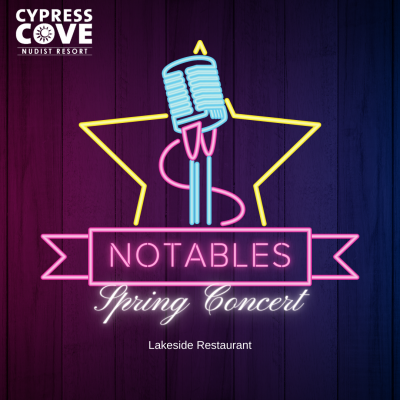 ---
Trailer Trash Block Party
You have heard about it, now, once more you can sample this grand event on Blue Sky Lane on Wednesday, March 15 from 4:30 pm. Rain or shine, you can enjoy your fellow guests & residents of Cypress Cove. Please bring a dish to share for the potluck dinner. Dinner starts at 4:30 pm. Please bring your own beverages and chairs as well. We have Cove talent entertaining us all evening with their favorite tunes.
PLEASE NOTE we will be barricading the street starting about 1 pm to allow for set up. Car parking will not be practical, so please plan accordingly. The neighborhood is looking forward to seeing you back for another great weekend!

---
Tenth Annual Spring Pickleball Tournament Weekend
The biggest pickleball weekend of the year is coming up at Cypress Cove on March 17-19, with 150+ competitors expected to compete in seven events over three days! 
The Tenth Annual Cypress Cove International Nudist Pickleball Open begins with a fun, free event on Friday afternoon, March 17, starting at 1 pm with the ever-popular and super-fun Pickleball Skill Carnival. It's free and fun and open to everyone, and you do not need a partner to participate.
On Saturday, it's Men's & Ladies' Doubles tournaments all day, and Sunday is the big Mixed Doubles competition.
Last year's spring tournament was the biggest ever, and this year's tournament will be held on the all-new, beautifully-upgraded courts and courtside amenity area installed last October. It's by far the best weekend of pickleball in the nudist world, and it's all happening at beautiful Cypress Cove!
For the complete schedule of events, information on registration and fees, and all other details, click here or email info@covepickleballclub.com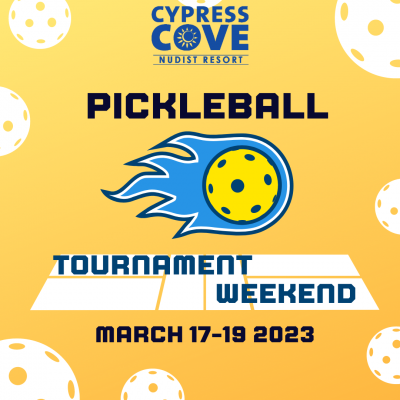 ---
2023 RC Yacht Club Regatta 
Join us on the shore of Lake Brown Brown Lake on Saturday, March 18th. Racing starts at 11 am and will continue throughout the day with a short lunch break at 1 pm. 
A note from the Club Commodore:
"There will be a fleet of super-fast race boats, skippered by a bunch of over-the-hill skippers who really think they know what they are doing. Spectators are invited and welcome to join in the fun. There will also be some serious racing! See you there!"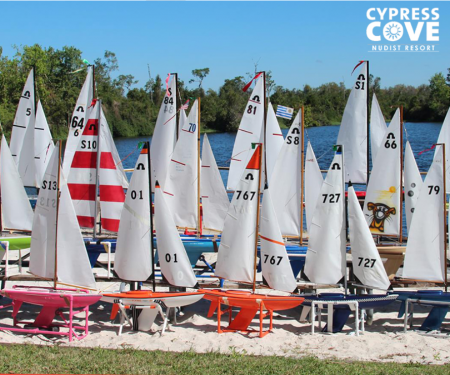 ---
Camera Club Show
The Cypress Cove Camera Club Spring Photo Show is now on display in the Gameroom. The ballots for the People's Choice Awards are there for you to vote for the next couple of weeks. Please cast your vote for your favorite photo in each of the four categories.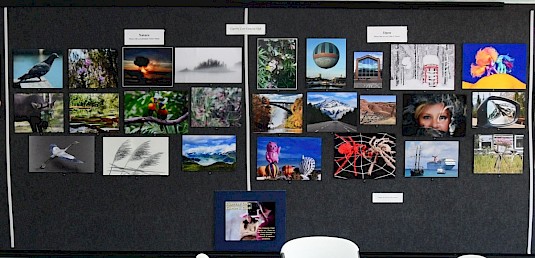 ---
Nude Bowling
Our friends at Crossed Oaks Haven have put together another nude bowling gathering at Orange Bowl Lanes in Kissimmee on April 2, from 10 am to 1 pm. The cost for this event is $20 for those over 35 years of age, $10 for 18-35 years, and free for those under 18. Please bring cash for the entry fee and sign in at the table with Crossed Oaks Haven staff. The fee includes the shoe rental and all the games you can bowl. 
Those with the highest cumulative score will take possession of the roving Nude Bowling Champion trophy. Available snacks include Popcorn, soft drinks, and chocolate chip cookies. See you at the lanes! For more information reach out to crossedoakshaven@aol.com.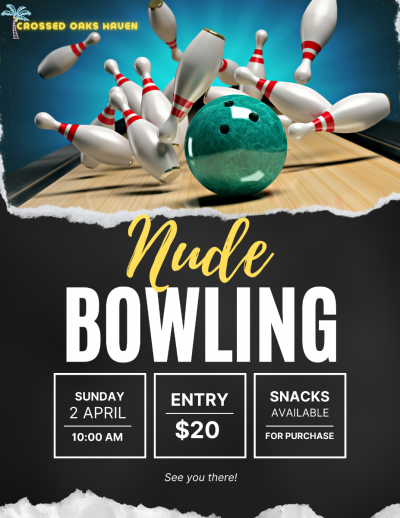 ---
News Outside the Cove
See what's making headlines in nudist news around the world. These things and more are being shared on our social media channels.

Follow us today to stay informed!






(Click one of these links to see the latest news!)
---
'I hate wearing clothes!' Amanda Holden, 51, admits she is 'basically a NUDIST' 
Almost everyone is 'basically a NUDIST'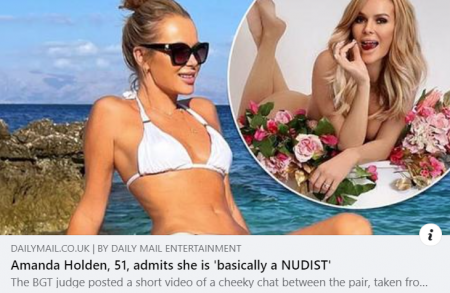 "She's never been afraid to sunbathe naked and share teasers of her antics to social media. And on Friday, Amanda Holden, 51, took to Instagram where she shared a clip of herself and Alan Carr, 46, in which she admits she's 'basically a nudist' and saw lots of naked men when in Corfu. The BGT judge posted a short video of a cheeky chat between the pair, taken from an upcoming episode of her BBC TV show Amanda & Alan's Italian Job. " Read the full story HERE.
---
Divorcee 'liberated' after turning ex's holiday home into a nudist resort
Well, that's one way to have a true retreat!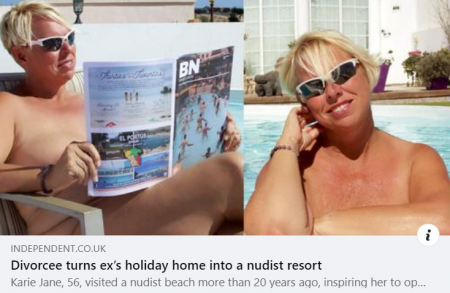 "A happily single divorcee who turned her and her ex-husband's holiday home in the Canary Islands into a naturist resort, where she greets her guests entirely naked, has said the experience is "liberating" but not sexual "on any level". Karie Jane, 56, from Derbyshire, visited a nudist beach more than 20 years ago and has not looked back since, after feeling liberated and free." Read the full story HERE.
---
Have You Seen Us Lately?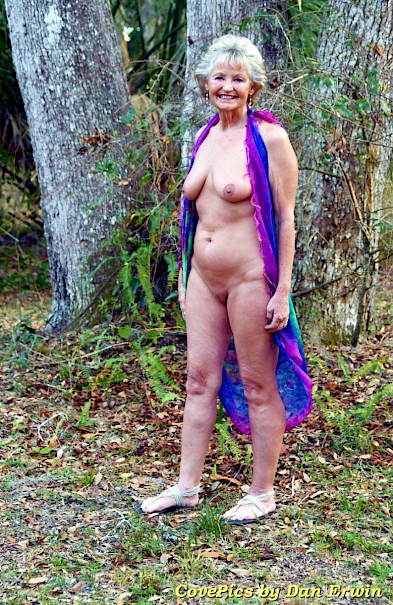 Oak Park is a wonderful spot for a nature walk or to take some photos in a Cove-approved location.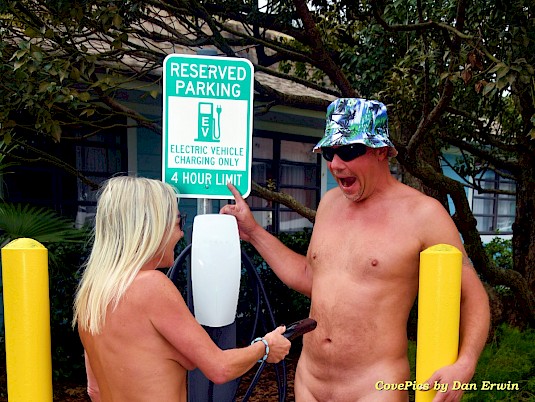 Our maintenance supervisor had to give some much-needed instructions on how & where to plug in the EV charging cable.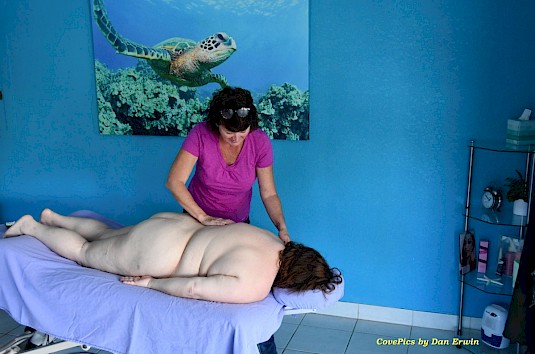 One of the many great reasons to visit Cypress Cove is to have a wonderful massage at Silver Lining Massage.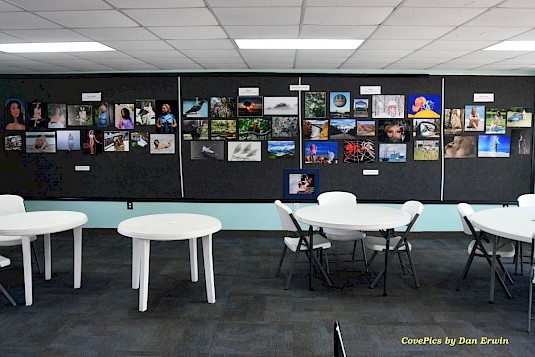 The Cypress Cove Camera Club has a beautiful display of their members' photography in the Gameroom.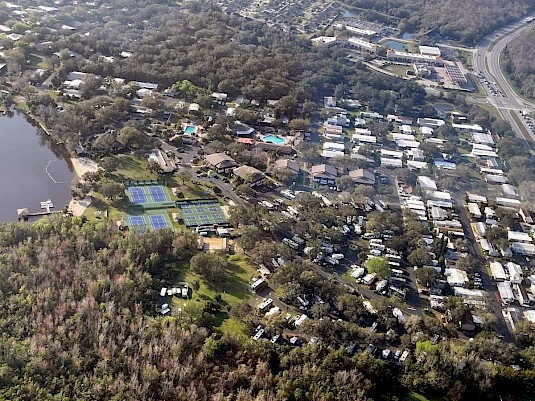 One of our members took this great picture of Cypress Cove from the air.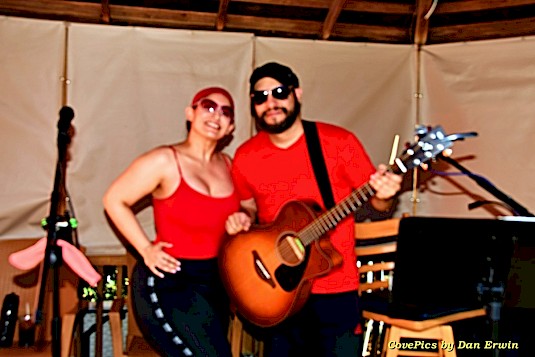 On Sunday afternoon, More than Venus entertained the large crowd at the pool created by the returning Nude Cruise folks and the wonderful weather.
---
"Where Have You
Taken the Cove?"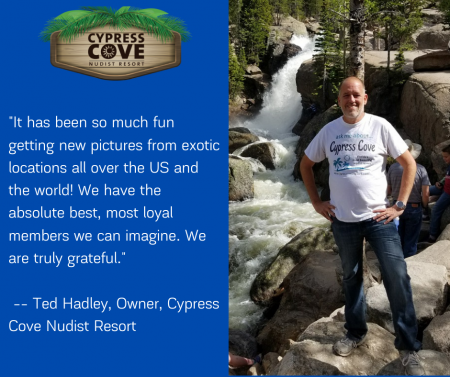 SEND US YOUR PHOTOS!!!
 We want to see where you have worn your Cypress Cove t-shirt, no matter which style it is! Wear it to town, the grocery store, while you are out and about, or at a national monument, and send us a photo! You will be featured in our newsletter or on our social media channels. 
Don't have a shirt yet? Purchase one at the main office or call and order one to show your pride in Cypress Cove! 
Call us at Toll-Free (888) 683-3140.

Send photos to Newsletter@CypressCoveResort.com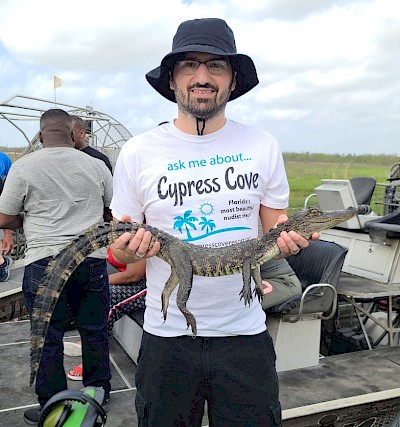 One of our awesome members on a trip to Louisiana. 
Thank you for sending that to us, Justin!
 
Where have you worn your Cypress Cove T-shirts?
Send us a photo!
---
Book a Room Today!
It's never been a better time to stay at Cypress Cove! Book Online, Email Reservations, or Call Reservations toll-free at 888-683-3140.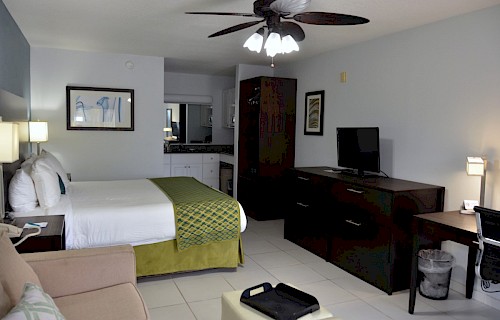 For Special Offers click HERE!
---
Every week we receive great reviews on TripAdvisor and Google; if you have visited or stayed with us, we would love to know about your experience. Click the logos below.