Laugh of the Week
---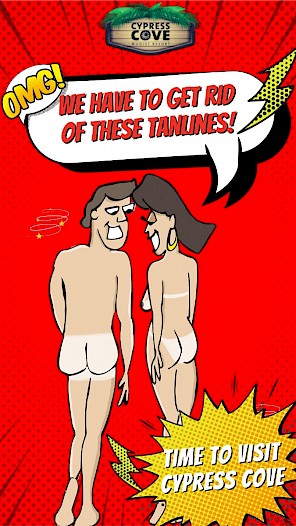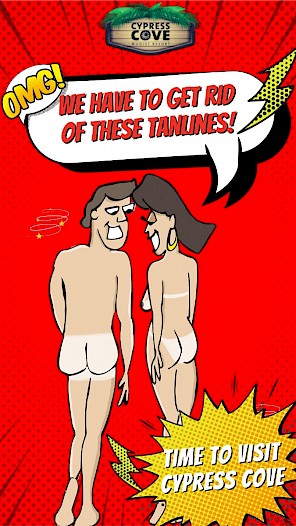 ---
Cove News   
---
We've Done it Again! NATURIST TRAVEL WINNER
Thank you to everyone who took a moment to vote for Cypress Cove in the Naturist Travel Awards this year. Cypress Cove has been named as the Best Naturist Venue: Rest of the World in the 2023 Naturist Travel Awards. We are always honored and grateful to win awards like this.
The awards recognize excellence in the international naturist travel industry. With a focus on venues, destinations, and companies, they have been voted for online by naturists worldwide and were inaugurated in 2021.
The full list of 2023 winners:
BEST NATURIST VENUE - UK: The Naturist Foundation (Kent)
BEST NATURIST VENUE - EUROPE: Costa Natura (Spain)
BEST NATURIST VENUE - REST OF THE WORLD: Cypress Cove (Florida)
BEST MARKETING CAMPAIGN: Grand Lido Negril Au-Naturel (Jamaica)
BEST NATURIST BEACH ­- UK: Studland (Dorset)
BEST NATURIST BEACH - EUROPE: Jandia (Fuerteventura)
BEST NATURIST BEACH - REST OF THE WORLD: Blind Creek (Florida)
BEST NATURIST EVENT: NKD Festival (Dorset)
BEST NATURIST ORGANISATION: American Association for Nude Recreation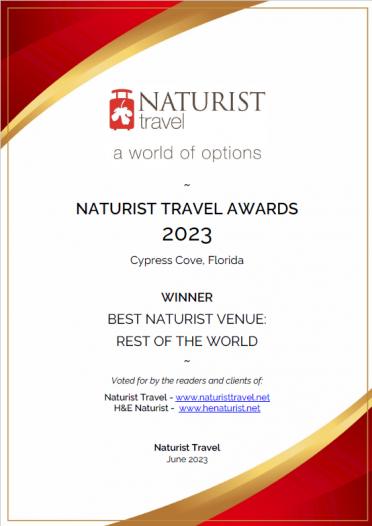 ---
TripAdvisor 2023 Travelers' Choice Winner
Cypress Cove is truly an award-winning resort! Each year, TripAdvisor recognizes travelers' favorite properties around the world, based on reviews and ratings collected over the last year. Your opinions and stories helped us win. Thank you to everyone that has left reviews. This award means we are in the top 10% of hotels WORLDWIDE!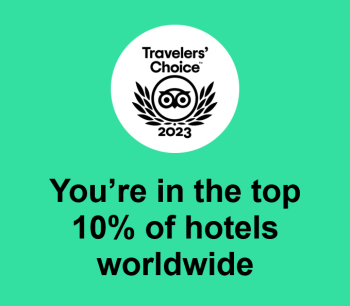 ---
Nude Bowling
Our friends at Crossed Oaks Haven have put together another nude bowling gathering at Orange Bowl Lanes in Kissimmee on August 20, from 10 am to 1 pm. The cost for this event is $20 for those over 35 years of age, $10 for 18-35 years, and free for those under 18. Please bring cash for the entry fee and sign in at the table with Crossed Oaks Haven staff. The fee includes the shoe rental and all the games you can bowl. 
Those with the highest cumulative score will take possession of the roving Nude Bowling Champion trophy. Available snacks include Popcorn, soft drinks, and chocolate chip cookies. See you at the lanes! For more information reach out to crossedoakshaven@aol.com.

---
Residential Cleaning Contest Winners
If you're visiting us from afar, please take a moment to stroll the streets and see the beautiful landscapes that our residents have worked so hard to beautify. We are pleased to announce the much-anticipated winners for the month of May. The winners are (drum roll)…
Most Beautiful Lot of the Month:
Graham and Pat - Lot 381 Ligustrum Lane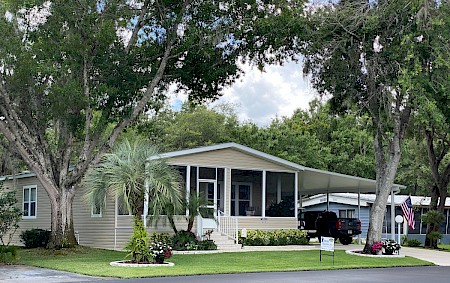 Most Improved Lot of the Month:
Karol - Lot 353 Eagle Point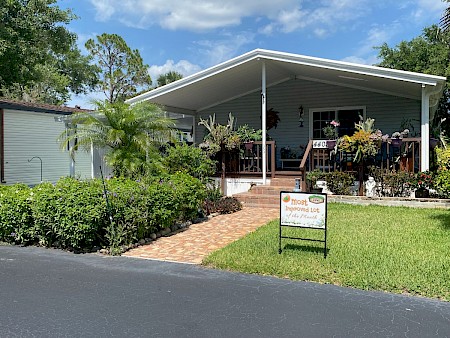 Please send all photo submissions and votes to nominations@cypresscoveresort.com.
Be sure to clearly include the lot number you are submitting or voting for. There will also be a small box located in the front office where you can write in your vote if you do not have email access. Please only vote once per lot.
---
Disposal of Tattered American Flag 
Flag Day is June 14. The day commemorates the adoption of the Stars and Stripes as the official flag of the United States
Many Americans proudly fly the U.S. flag at their homes and places of work, but what do you do with it when it's old and ratty and you're ready for a new one? Don't just throw it in the trash like any other old item — that's considered disrespectful. 
Just as there's etiquette for displaying Old Glory, there's also etiquette for disposing of flags in a dignified manner.
Flag Retirement Ceremonies:
Many state and county government offices and Veterans of Foreign Wars posts have flag disposal boxes outside of their buildings. Police stations also collect them. Once the disposal boxes are full, various organizations such as American Legions, VFWs, and the Girl Scouts and Boy Scouts collect the flags and hold flag retirement ceremonies. The U.S. flag is considered such a sacred symbol that burning it in an undignified manner constitutes desecration. That's why the ceremonies are held in a specific manner.
Every year on June 14, Americans celebrate Flag Day. Not surprisingly, it's considered the most appropriate day to hold flag disposal ceremonies, which are often held at night. 
During an American Legion ceremony, participants stand aligned in two parallel rows about 20 feet apart, facing each other. A small fire burns beyond the rows of members, opposite the Legion commander. 

Other Methods of Disposal:
Flags don't always have to be disposed of with such pomp and circumstance. If you can't drop yours off with one of the aforementioned groups, you can do your own small ceremony — as long as it's still held in a dignified manner.
According to the VFW, you first need to fold the flag in its customary manner. When you start your fire, make sure it's big enough to fully burn the flag before you put the folded flag on it. Next, salute the flag and say the Pledge of Allegiance or hold a moment of silence. Other veterans service organizations say people can also bury the folded flag in a dignified box, or recycle them — an option common for flags made of synthetic or nylon material that can be hazardous if burned.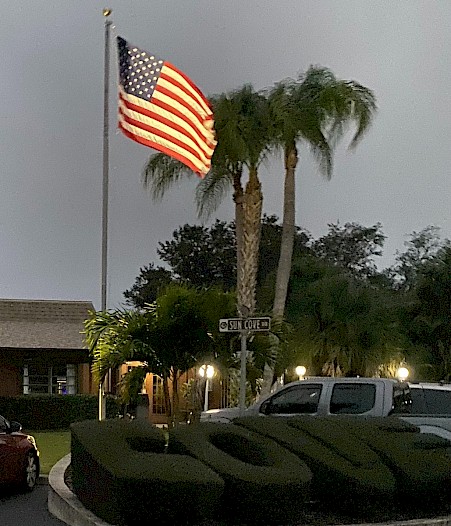 * Source: Department of Defence website. How to Properly Dispose of Worn-Out US Flags
---
Flamingo Adoptions
If you're new to Cypress Cove, you might be wondering what the hoopla is about with pink flamingos all over the place. Every year, a resident-run fundraiser, benefitting the American Cancer Society Making Strides Against Breast Cancer, takes place between Memorial Day weekend and Parrothead weekend. Flamingos are adopted by donors and proudly displayed around the Cove to show support. When you adopt a flamingo, you receive raffle tickets for the PARROTHEAD RAFFLE. These prizes range from things like gift baskets to party wagons full of spirits. 
So, show your support for this great cause by adopting a bird. If you can't display the flamingo, we will find a suitable place for it at Cypress Cove. Be on the lookout for the pink flamingos at the pool complex! This is where you can donate and pick up your tickets. You can also donate here if you'd like.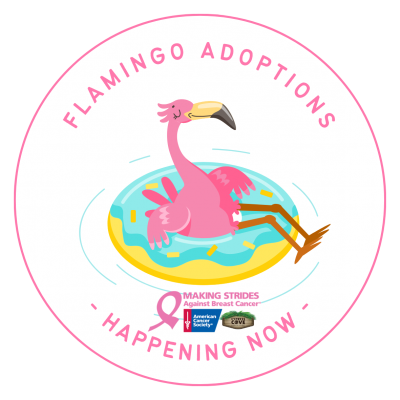 ---
Library Plans for Remodeling
Sometime this summer, The American Nudist Research Library will close for a couple of weeks of remodeling.  As we add more shelves, we must find a new home for our sturdy woodgrain and metal scanning table.  At four feet square, it would make a beautiful dining table for up to six people. 
Stop by to look around any Monday, Tuesday, Thursday, or Saturday afternoon.  Donations of money, magazines, books, videos, or time are always welcome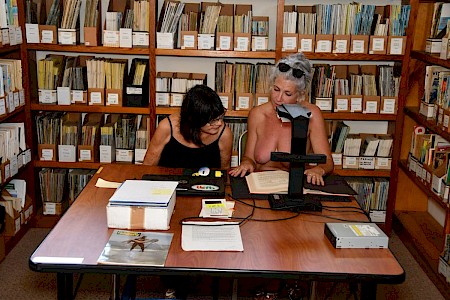 ---
News Outside the Cove
See what's making headlines in nudist news around the world. These things and more are being shared on our social media channels.

Follow us today to stay informed!






(Click one of these links to see the latest news!)
---
Mexico's first 'Naked Day' march leaps forward to normalize nudity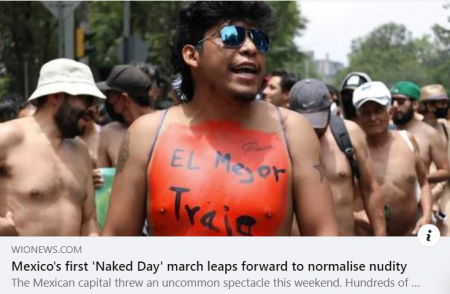 "The Mexican capital threw an uncommon spectacle this weekend. Hundreds of Mexicans took to the streets of Mexico City on Saturday to mark the North American country's first 'Naked Day'. The city residents marched through the capital's main avenue in a bid to create awareness around nudism and stating to normalise human body's natural state of being. " Read the full story & his response HERE.
---
Ricki Lake Shares Nude Photo While Applauding Herself for Having 'Complete Self-Acceptance' at Age 54
We all remember the actress turned 90's talk show host... Good for you Ricki!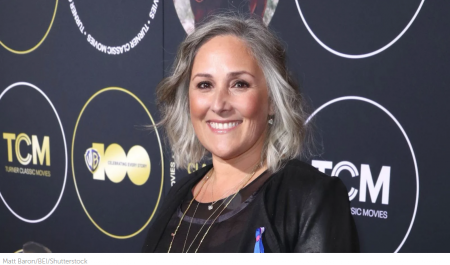 "'Hands down, these days are the best of my life,' the Hairspray actress, 54, wrote via Instagram on Tuesday, June 6, alongside a nude photo. '54 1/2 years old (young!).' In the snap, the former talk show host crossed her arms over her bare chest while sitting in a bathtub in the middle of the woods. She leaned back and had a big smile on her face as she enjoyed the great outdoors with her husband, Ross Burningham." Read the full story HERE.
---
Have You Seen Us Lately?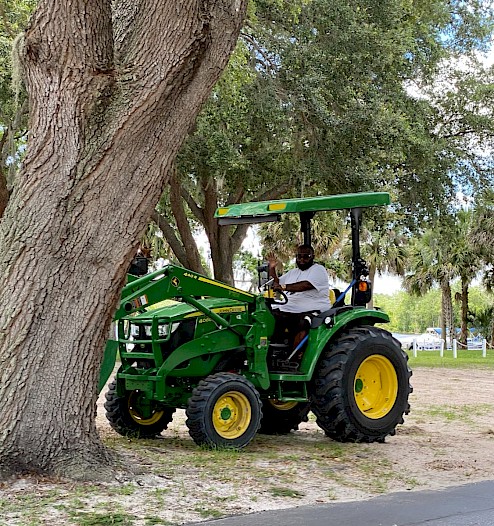 Maintenance team member Tony on the John Deere! Thanks for all you do, Tony!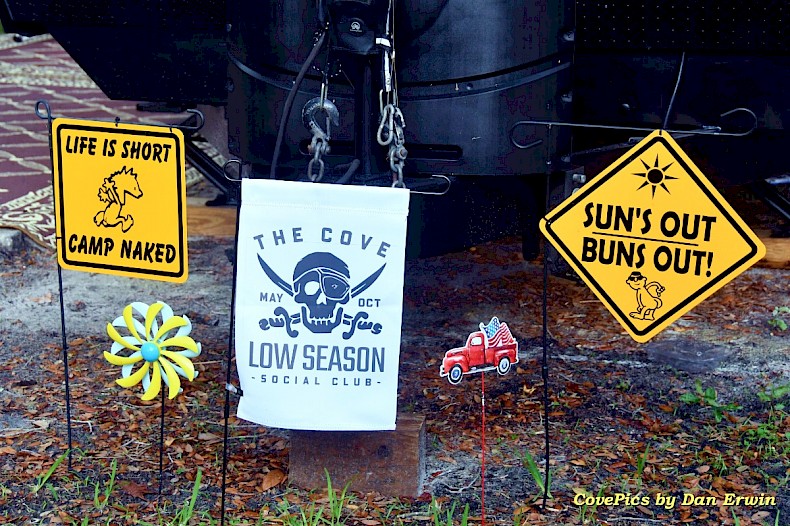 Our summer campers have a fun new nickname and sign - the Low Season Social Club.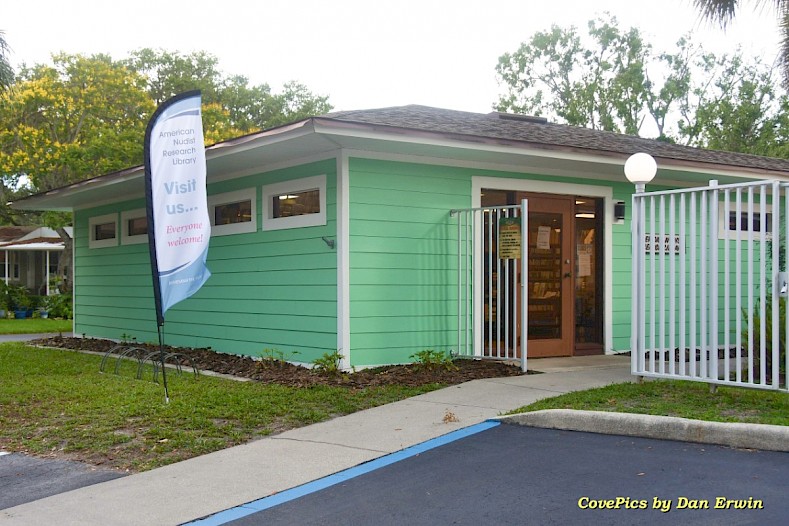 Everyone is welcome to visit the American Nudist Research Library during their visit to Cypress Cove.
You would be amazed at the quality & quantity of nudist information that is available.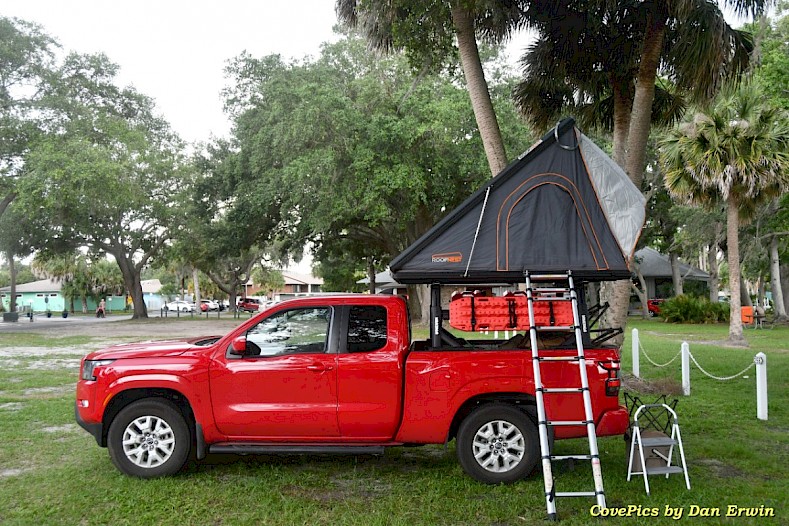 Tent camping has changed a lot over the years.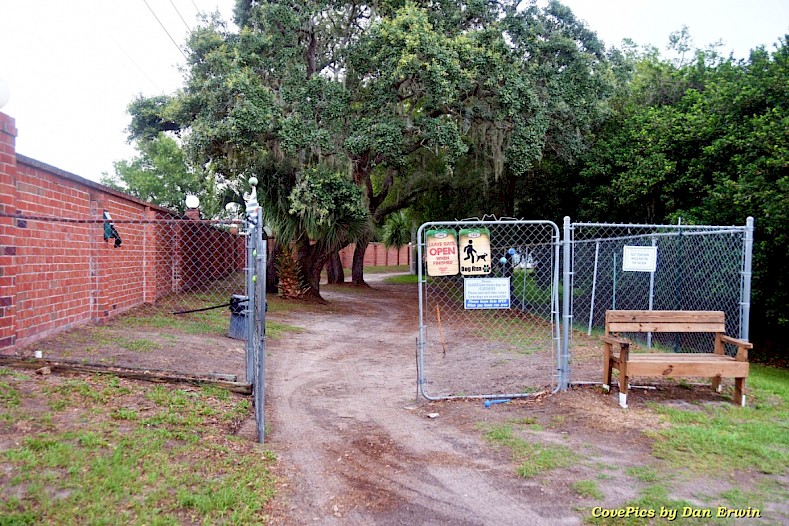 Cypress Cove has a number of dog runs. This one is large enough for you to take your golf cart with you.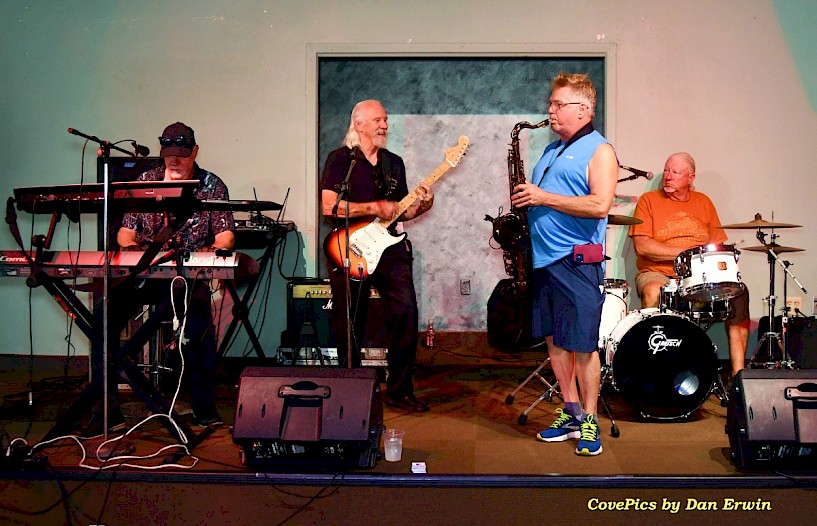 A good time was had at Lakeside on Saturday night, with music by a great band called Silverback.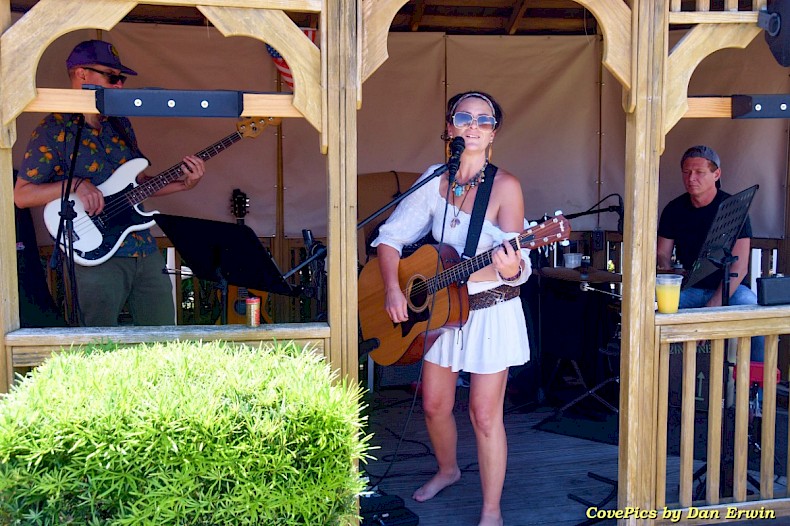 Live Music Poolside with recording artist Kristie De Luca on Sunday afternoon.
---
"Where Have You
Taken the Cove?"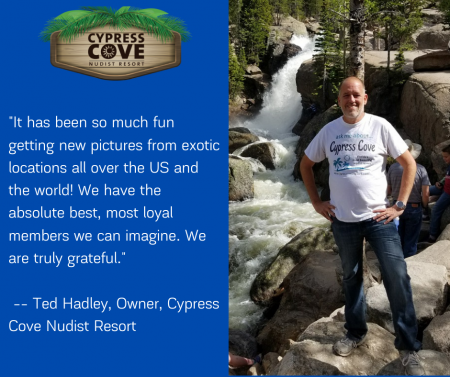 SEND US YOUR PHOTOS!!!
 We want to see where you have worn your Cypress Cove t-shirt, no matter which style it is! Wear it to town, the grocery store, while you are out and about, or at a national monument, and send us a photo! You will be featured in our newsletter or on our social media channels. 
Don't have a shirt yet? Purchase one at the main office or call and order one to show your pride in Cypress Cove! 
Call us at Toll-Free (888) 683-3140.

Send photos to Newsletter@CypressCoveResort.com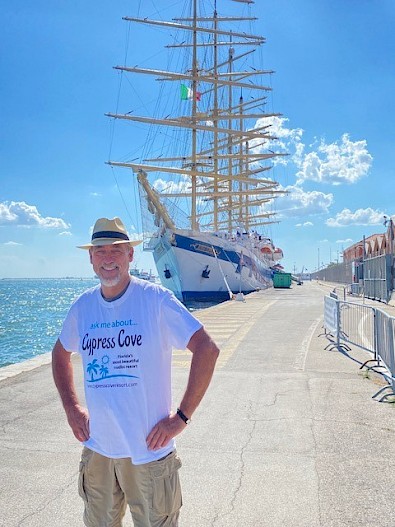 One of our members at Venice Port. The Star Clipper is pictured in the background. 
Thanks for sending it in, Mike!

Where have you worn your Cypress Cove T-shirts?
Send us a photo!
---
Book a Room Today!
It's never been a better time to stay at Cypress Cove! Book Online, Email Reservations, or Call Reservations toll-free at 888-683-3140.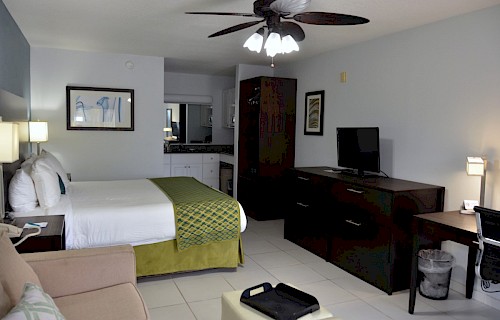 For Special Offers click HERE!
---
Every week we receive great reviews on TripAdvisor and Google; if you have visited or stayed with us, we would love to know about your experience. Click the logos below.