Laugh of the Week
---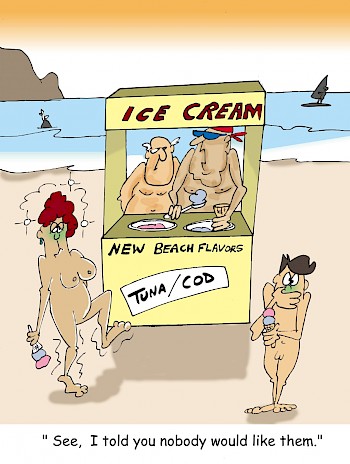 ---
Cove News   
---
Cove Dads Celebrate Father's Day
If you missed it on social media, here is your chance to laugh along with us. Bad dad jokes read to us by Cypress Cove managing dads. Click the image below to see the video or click here. We hope you enjoy it!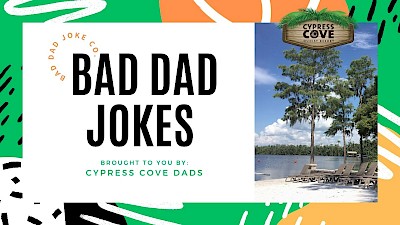 ---
Open House 
BRING YOUR FIRST-TIME FRIENDS AND FAMILY!!!!
As part of Nude Recreation Week —yes, there is a national week for that—Cypress Cove is opening its doors for an Open House event on Saturday, July 8 with guided tours from Noon until 4:00 p.m. What happens at a nudist resort open house? Simply put, Cypress Cove invites first-time visitors so they can see how much fun au natural recreation can be. With complimentary resort tours, food for purchase and music by the pool, and access to all resort amenities, you can bring your curious family and friends to FINALLY introduce them to Cypress Cove. It's free admission ALL day, so come out and see what REAL freedom feels like.  
If you are a frequent visitor, resident, or member of Cypress Cove, we are currently seeking volunteer tour guides. If you are interested, leave your information with the front desk or email Newsletter@CypressCoveResort.com. 

---
Parrothead 2023
Parrothead Weekend ... THE PARTY event of the year at Cypress Cove Nudist Resort! So much fun that we had to extend the weekend to begin on Thursday in order to fit it all in! What's a Parrothead? Parrotheads love Jimmy Buffett's music. Parrotheads love that laid-back island culture... and Parrotheads love to PARTY! Are you READY? Rooms may already be booked, but you can call to check. RV & tent camping may still be available. Call us now at 407-933-5870 to book. 
If you're joining us for Nude-A-Palooza, don't forget that we will announce the band line-up Parrothead Weekend! Come party with us and see who will be entertaining you for Nude-A-Palooza 2023!!!
For a schedule of events and contest rules, visit here.

---
Best of Orlando FINALS
WE NEED YOU! We have done it again, fellow naked friends. We have been nominated for Orlando Weekly's Best of Orlando® 2023 Series. Last year we took home third place. We are shooting for FIRST place this year.
You will find us under Best Attraction That's Not a Theme Park. (<-- Click here to vote!) Just register your email address (used only to prevent voting multiple times) and cast your vote. Show your Cypress Cove pride!! Anyone can vote, so let's show some love to the Cove.
No need to live in Florida & you can choose to vote only in our category. 

---
Possible Olympian in Our Midst 
The possibility is very real that our own Cypress Cove Office Coordinator, Vickie Johnson, could be heading for the Fall USA World Competitions in Italy. Her next two archery events will make the determination. Vickie, a fellow nudist and breast cancer survivor, recently took home one of two spots in the 2023 USA Archery Florida State 50m in the Recurve Barebow 50-70+ category. Please join us in congratulating Vickie on her archery accomplishments. We're behind you Vickie!! 

---
Cypress Cove Welcomes Naked as Created
Join Naked as Created for fellowship & worship during their Christian Naturist Retreat at Cypress Cove. Happening July 9 - 14. Everyone is welcome!
The fourth annual Naked as Created Christian naturist retreat will be a wonderful time of Christian fellowship, great gospel music, testimonies, prayer, and a daily Bible study session. A great vacation in a world-class location as well as a time of spiritual growth and renewal!

During a few of the evenings, there will be special events such as an iced coffee/frappe social, an ice cream social, and a water balloon battle. There are also rumors of a pickleball tournament as well. More information is coming soon. 
For more information or questions, feel free to contact Jim & Kim at: NakedandUnashamed@yahoo.com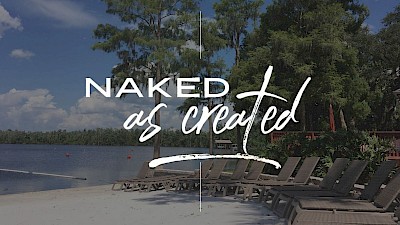 ---
Nature Hair Salon
Don't forget about Nature Hair located at the West Pool. The full-service salon welcomes you for all of your hair, nail & waxing needs. Book your appointment before you travel by calling 407-870-5131. Hours of operation are Tuesday through Sunday: 10:00 am - 5:00 pm, and closed on Mondays. Nature Hair is your nudist-friendly salon and they are offering some fun specials this summer.
June:
A complimentary tote bag with any Gel or Dip manicure. 
July:
A complimentary eyebrow wax with the purchase of a Brazilian or Bro-zilian (that one's for guys) wax.
July 18 - July 23:
A complimentary tote bag with any pedicure, Gel, or Dip manicure.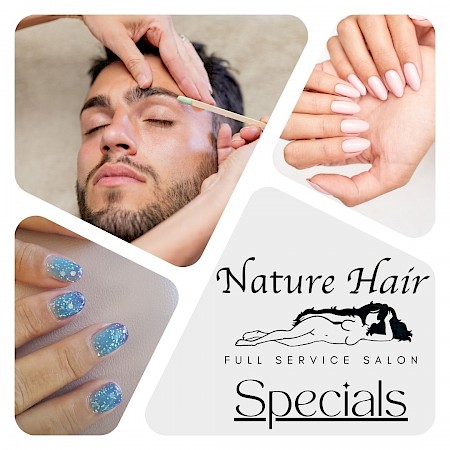 ---
Labor Day 5K
Registration is already open for Cypress Cove's Labor Day 5K! Come out and streak with us at the 10th annual clothing-optional run at Cypress Cove Nudist Resort on Saturday, September 2, 2023. Wear as little (or as much) as you like as you run/ walk around the beautiful 300-acre property. Day fees are included with your race registration and all preregistered runners are guaranteed commemorative race swag with their race packet so sign up early to be guaranteed one. The race starts at 8:30 am with check-in/ late registration from 7:15 am - 8:15 am. Join us for the race after-party around the pool for music, awards, great food, and drink specials.
To register for this year's race visit here. Prices increase after July 1, 2023.

---
Floaty Pens!
Get an exclusive Cypress Cove Floaty Pen before they're gone! These retro-styled pens have been making a comeback, and our version is the BEST! Commissioned exclusively for Cypress Cove, these animated pens feature art by the famous cartoonist Ron Warne. There is a female and a male design of the pen, but why not buy a pair? They're perfect for a souvenir, keepsake, or special gift. If you live at Cypress Cove or are planning a visit soon pick one up in the main office. Give us a call to have one shipped to your house. 407-933-5870. Get one for $7.99 or two for $15. 

---
News Outside the Cove
See what's making headlines in nudist news around the world. These things and more are being shared on our social media channels.

Follow us today to stay informed!






(Click one of these links to see the latest news!)
---
Naked bowling: What you need to know about the 'nude bucket list'
Wait... Did you know there was a Nude Bucket List?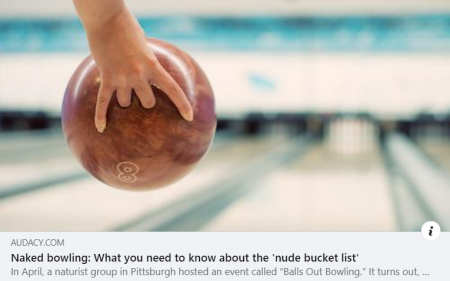 "In April, a naturist group in Pittsburgh hosted an event called "Balls Out Bowling" – and it turns out, naked bowling is not exclusive to western Pennsylvania. The American Association for Nude Recreation, and other regional organizations, hold events year-round. These include bowling, skinny dipping, 5ks, and even chili cook-offs." Read the full story & his response HERE.
---
Gear up (or down) for Naked Hiking Day
It's Naked Hiking Day! Where are you taking your hike? Let us know, and don't forget that we have Oak Park for your hiking needs.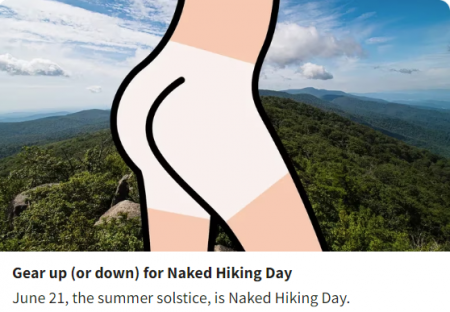 "If you've already heard of Naked Hiking Day, you're probably also already into baring it all in public. You're probably nude right now. For the nude curious, this unofficial holiday falls on June 21, the longest day of the year for soaking your buns in the sun. Some nude-related websites say it's an ancient, summer solstice tradition that goes back for centuries. Others say it was started by thru-hikers of the Appalachian and Pacific Coast Trails as a diversion from the grind of endless miles." Read the full story HERE.
---
Have You Seen Us Lately?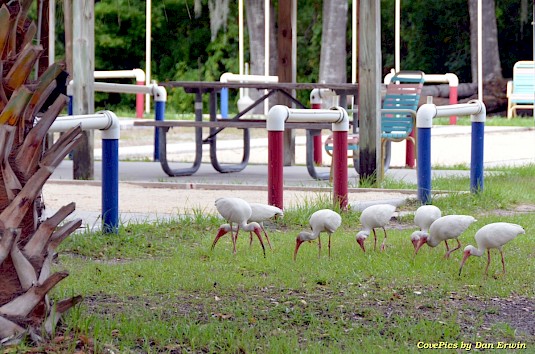 Our amazing team of "grub catchers" are at it again this summer.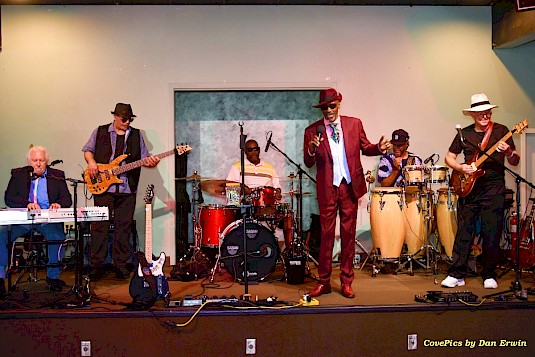 Saturday evening dance with live music by Doc Fu & The Soul Surgeons, at Lakeside.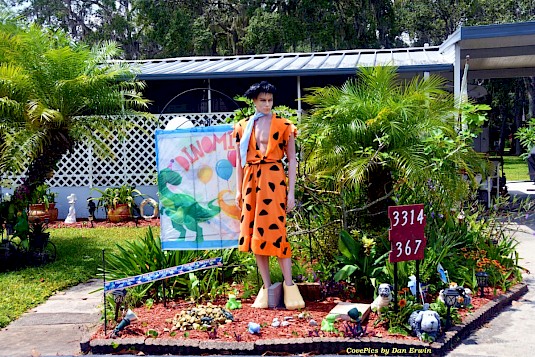 When there is nothing special to celebrate, why not celebrate the Flintstones? Always something fun to see on a walk around the Cove.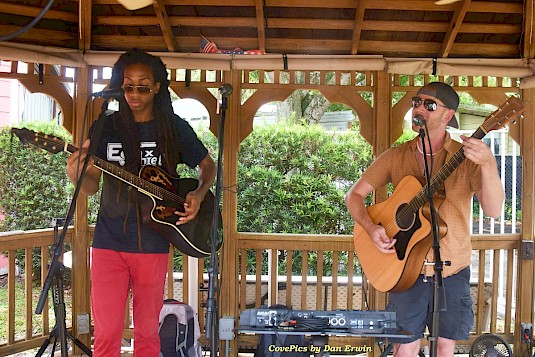 Live Music Poolside on Sunday afternoon with Esh & Schiff.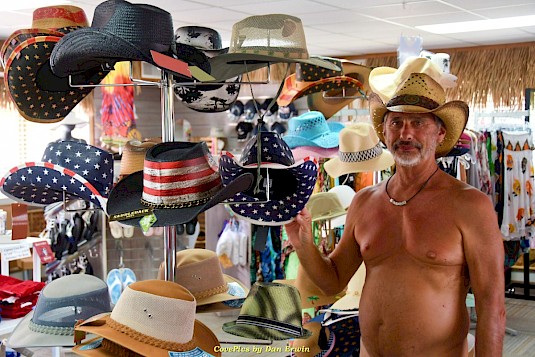 Forget your hat? That's not a problem. The Fig Leaf Boutique has a wonderful selection of hats for both men & women.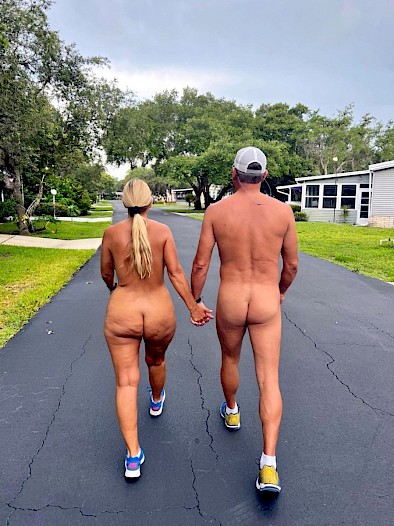 Walking around our beautiful tree-lined streets is one of the most popular activities at Cypress Cove. Photo by Lisa.
---
"Where Have You
Taken the Cove?"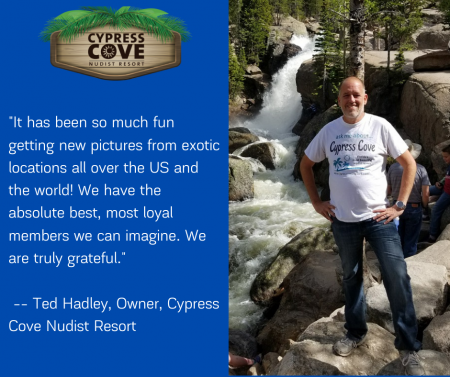 SEND US YOUR PHOTOS!!!
 We want to see where you have worn your Cypress Cove t-shirt, no matter which style it is! Wear it to town, the grocery store, while you are out and about, or at a national monument, and send us a photo! You will be featured in our newsletter or on our social media channels. 
Don't have a shirt yet? Purchase one at the main office or call and order one to show your pride in Cypress Cove! 
Call us at Toll-Free (888) 683-3140.

Send photos to Newsletter@CypressCoveResort.com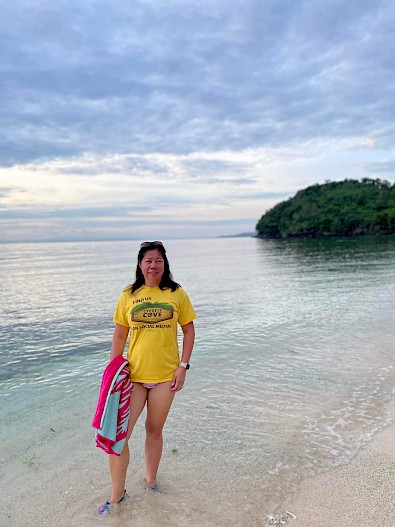 Myra took Cypress Cove to the Philippines! 
Thank you for sending it in, Myra!

Where have you worn your Cypress Cove T-shirts?
Send us a photo!
---
Book a Room Today!
It's never been a better time to stay at Cypress Cove! Book Online, Email Reservations, or Call Reservations toll-free at 888-683-3140.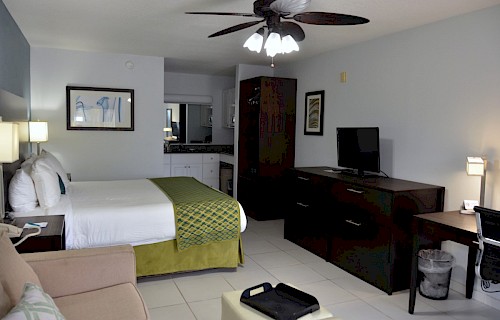 For Special Offers click HERE!
---
Every week we receive great reviews on TripAdvisor and Google; if you have visited or stayed with us, we would love to know about your experience. Click the logos below.