Laugh of the Week
---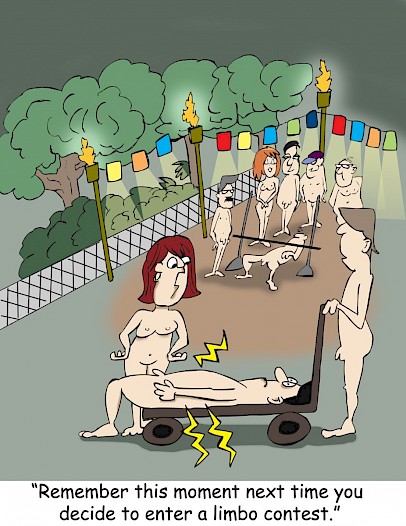 ---
Cove News   
---
Open House 
BRING YOUR FIRST-TIME FRIENDS AND FAMILY!!!!
As part of Nude Recreation Week —yes, there is a national week for that—Cypress Cove is opening its doors to first-time visitors for an Open House event on Saturday, July 8 with guided tours from Noon until 4:00 p.m. What happens at a nudist resort open house? Simply put, Cypress Cove invites first-time visitors so they can see how much fun au natural recreation can be. With complimentary resort tours, food for purchase and music by the pool, and access to all resort amenities, you can bring your curious family and friends to FINALLY introduce them to Cypress Cove. It's free admission ALL day, so come out and see what REAL freedom feels like.  
If you are a frequent visitor, resident, or member of Cypress Cove, we are currently seeking volunteer tour guides. If you are interested, leave your information with the front desk or email Newsletter@CypressCoveResort.com. 

---
Parrothead 2023
Parrothead Weekend ... THE PARTY event of the year at Cypress Cove Nudist Resort! So much fun that we had to extend the weekend to begin on Thursday in order to fit it all in! What's a Parrothead? Parrotheads love Jimmy Buffett music. Parrotheads love that laid-back island culture... and Parrotheads love to PARTY! Are you READY? Rooms may already be booked, but you can call to check. RV & tent camping may still be available. Call us now at 407-933-5870 to book. 
For a schedule of events and contest rules, visit here.

---
Best of Orlando FINALS
WE NEED YOU! We have done it again, fellow naked friends. We have been nominated for Orlando Weekly's Best of Orlando® 2023 Series. Last year we took home third place. We are shooting for FIRST place this year.
You will find us under Best Attraction That's Not a Theme Park. (<-- Click here to vote!) Just register your email address (used only to prevent voting multiple times) and cast your vote. Show your Cypress Cove pride!! Anyone can vote, so let's show some love to the Cove. No need to live in Florida & you can choose to vote only in our category. 

---
Cypress Cove Welcomes Naked as Created
Join Naked as Created for fellowship & worship during their Christian Naturist Retreat at Cypress Cove. Happening July 9 - 14. Everyone is welcome!
The fourth annual Naked as Created Christian naturist retreat will be a wonderful time of Christian fellowship, great gospel music, testimonies, prayer, and a daily Bible study session. A great vacation in a world-class location as well as a time of spiritual growth and renewal!

During a few of the evenings, there will be special events such as an iced coffee/frappe social, an ice cream social, and a water balloon battle. There are also rumors of a pickleball tournament as well. More information coming soon. 
For more information or questions, feel free to contact Jim & Kim at: NakedandUnashamed@yahoo.com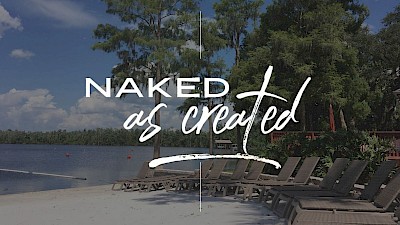 ---
Nature Hair Salon
Don't forget about Nature Hair located at the West Pool. The full-service salon welcomes you for all of your hair, nail & waxing needs. Book your appointment before you travel by calling 407-870-5131. Hours of operation are Tuesday through Sunday: 10:00 am - 5:00 pm, and closed on Mondays. Nature Hair is your nudist-friendly salon and they are offering some fun specials this summer.
June:
A complimentary tote bag with any Gel or Dip manicure. 
July:
A complimentary eyebrow wax with the purchase of a Brazilian wax.
July 18 - July 23:
A complimentary tote bag with any pedicure, Gel, or Dip manicure.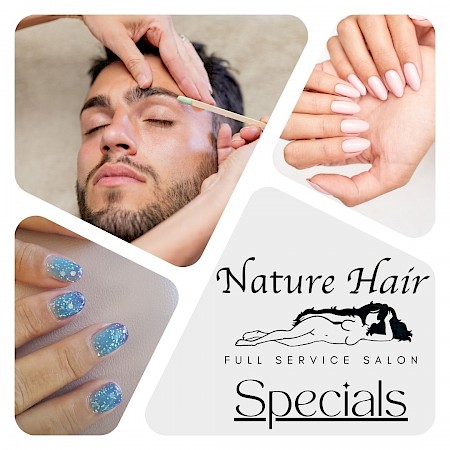 ---
We've Done it Again! NATURIST TRAVEL WINNER
Thank you to everyone who took a moment to vote for Cypress Cove in the Naturist Travel Awards this year. Cypress Cove has been named as the Best Naturist Venue: Rest of the World in the 2023 Naturist Travel Awards. We are always honored and grateful to win awards like this.
The awards recognize excellence in the international naturist travel industry. With a focus on venues, destinations, and companies, they have been voted for online by naturists worldwide and were inaugurated in 2021.
The full list of 2023 winners:
BEST NATURIST VENUE - UK: The Naturist Foundation (Kent)
BEST NATURIST VENUE - EUROPE: Costa Natura (Spain)
BEST NATURIST VENUE - REST OF THE WORLD: Cypress Cove (Florida)
BEST MARKETING CAMPAIGN: Grand Lido Negril Au-Naturel (Jamaica)
BEST NATURIST BEACH ­- UK: Studland (Dorset)
BEST NATURIST BEACH - EUROPE: Jandia (Fuerteventura)
BEST NATURIST BEACH - REST OF THE WORLD: Blind Creek (Florida)
BEST NATURIST EVENT: NKD Festival (Dorset)
BEST NATURIST ORGANISATION: American Association for Nude Recreation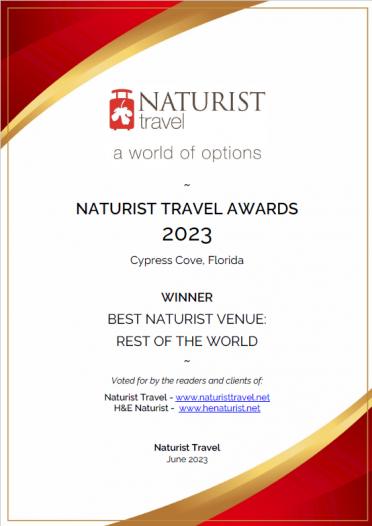 ---
TripAdvisor 2023 Travelers' Choice Winner
Cypress Cove is truly an award-winning resort! Each year, TripAdvisor recognizes travelers' favorite properties around the world, based on reviews and ratings collected over the last year. Your opinions and stories helped us win. Thank you to everyone that has left reviews. This award means we are in the top 10% of hotels WORLDWIDE!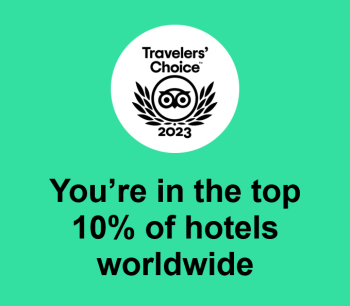 ---
Disposal of Tattered American Flag 
Flag Day is June 14. The day commemorates the adoption of the Stars and Stripes as the official flag of the United States
Many Americans proudly fly the U.S. flag at their homes and places of work, but what do you do with it when it's old and ratty and you're ready for a new one? Don't just throw it in the trash like any other old item — that's considered disrespectful. 
Just as there's etiquette for displaying Old Glory, there's also etiquette for disposing of flags in a dignified manner.
Flag Retirement Ceremonies:
Many state and county government offices and Veterans of Foreign Wars posts have flag disposal boxes outside of their buildings. Police stations also collect them. Once the disposal boxes are full, various organizations such as American Legions, VFWs, and the Girl Scouts and Boy Scouts collect the flags and hold flag retirement ceremonies. The U.S. flag is considered such a sacred symbol that burning it in an undignified manner constitutes desecration. That's why the ceremonies are held in a specific manner.
Every year on June 14, Americans celebrate Flag Day. Not surprisingly, it's considered the most appropriate day to hold flag disposal ceremonies, which are often held at night. 
During an American Legion ceremony, participants stand aligned in two parallel rows about 20 feet apart, facing each other. A small fire burns beyond the rows of members, opposite the Legion commander. 

Other Methods of Disposal:
Flags don't always have to be disposed of with such pomp and circumstance. If you can't drop yours off with one of the aforementioned groups, you can do your own small ceremony — as long as it's still held in a dignified manner.
According to the VFW, you first need to fold the flag in its customary manner. When you start your fire, make sure it's big enough to fully burn the flag before you put the folded flag on it. Next, salute the flag and say the Pledge of Allegiance or hold a moment of silence. Other veterans service organizations say people can also bury the folded flag in a dignified box, or recycle them — an option common for flags made of synthetic or nylon material that can be hazardous if burned.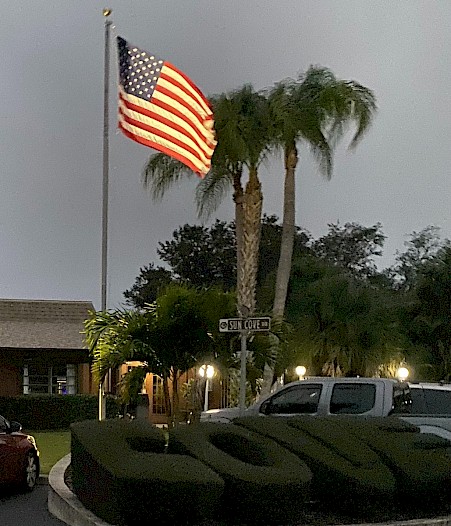 * Source: Department of Defence website. How to Properly Dispose of Worn-Out US Flags
---
Labor Day 5K
Registration is already open for Cypress Cove's Labor Day 5K! Come out and streak with us at the 10th annual clothing-optional run at Cypress Cove Nudist Resort on Saturday, September 2, 2023. Wear as little (or as much) as you like as you run/ walk around the beautiful 300-acre property. Day fees are included with your race registration and all preregistered runners are guaranteed commemorative race swag with their race packet so sign up early to be guaranteed one. The race starts at 8:30 am with check-in/ late registration from 7:15 am - 8:15 am. Join us for the race after-party around the pool for music, awards, great food, and drink specials.
To register for this year's race visit here. Prices increase after July 1, 2023.

---
Flamingo Adoptions
If you're new to Cypress Cove, you might be wondering what the hoopla is about with pink flamingos all over the place. Every year, a resident-run fundraiser, benefitting the American Cancer Society Making Strides Against Breast Cancer, takes place between Memorial Day weekend and Parrothead weekend. Flamingos are adopted by donors and proudly displayed around the Cove to show support. When you adopt a flamingo, you receive raffle tickets for the PARROTHEAD RAFFLE. These prizes range from things like gift baskets to party wagons full of spirits. 
So, show your support for this great cause by adopting a bird. If you can't display the flamingo, we will find a suitable place for it at Cypress Cove. Be on the lookout for the pink flamingos at the pool complex! This is where you can donate and pick up your tickets. You can also donate here if you'd like.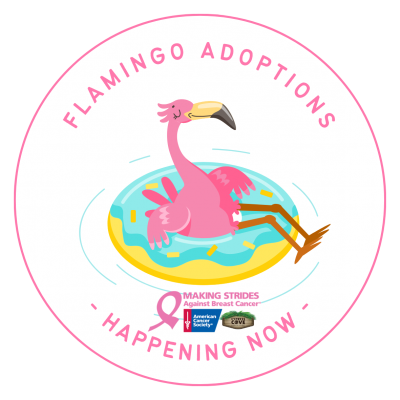 ---
Library Plans for Remodeling
Sometime this summer, the American Nudist Research Library will close for a couple of weeks of remodeling. As we add more shelves, we must find a new home for our sturdy woodgrain and metal scanning table. At four feet square, it would make a beautiful dining table for up to six people. 
Stop by to look around any Monday, Tuesday, Thursday, or Saturday afternoon. Donations of money, magazines, books, videos, or time are always welcome.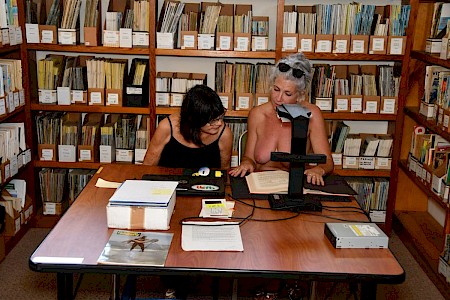 ---
Floaty Pens!
Get an exclusive Cypress Cove Floaty Pen before they're gone! These retro-styled pens have been making a comeback, and our version is the BEST! Commissioned exclusively for Cypress Cove, these animated pens feature art by the famous cartoonist Ron Warne. There is a female and a male design of the pen, but why not buy a pair? They're perfect for a souvenir, keepsake, or special gift. If you live at Cypress Cove or are planning a visit soon pick one up in the main office. Give us a call to have one shipped to your house. 407-933-5870. Get one for $7.99 or two for $15. 

---
News Outside the Cove
See what's making headlines in nudist news around the world. These things and more are being shared on our social media channels.

Follow us today to stay informed!






(Click one of these links to see the latest news!)
---
This Israeli nudist beach is ranked in the top 20 of its kind worldwide
 We never knew, did you?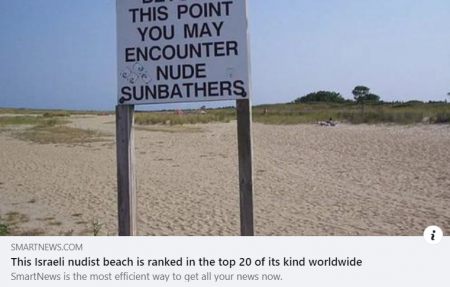 "Being naked isn't the same kind of taboo it was before. The Naturist Society released a list ranking the best nude beaches worldwide - and an Israeli beach made the cut. An Israeli nudist beach has been ranked among the Naturist Society's top 20 nudist beaches worldwide. Leaving your clothes aside and walking naked on the beach is no longer taboo, as it was in the past. The rating, which was published on CNN, was compiled by the Naturist Society. From resorts in South America that prohibit the use of clothing, to the man-made beach strip in Europe, there are many places where you can work on your tan completely naked." Read the full story & his response HERE.
---
Want to try a nudist beach? Consider these waterfront spots.
Check out what Nicky Hoffman Lee, managing director of the Naturist Society Foundation, said about it in this USA Today article.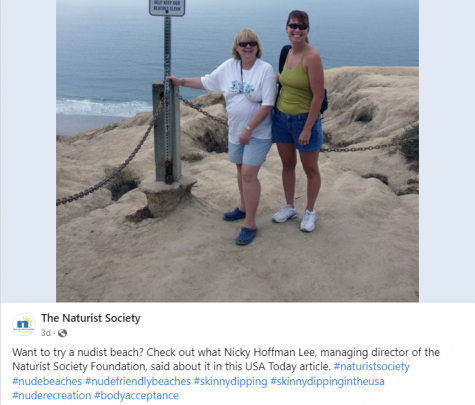 "Some destinations are made for packing light. Pour Moi, a fashion, lingerie, and swimwear retailer, analyzed Google reviews from around the world to rank the top beaches where travelers can leave their bathing suits at home and go au natural. 'Whether it's to avoid pesky tan lines, top up on that vitamin D, cool off with some skinny dipping, or just to try something different, we know there are a whole host of reasons why you may enjoy going in the buff to the beach,' the company said in a post on its website late last month. Here are the top nude-friendly beaches across the globe, according to their findings." Read the full story HERE.
---
Have You Seen Us Lately?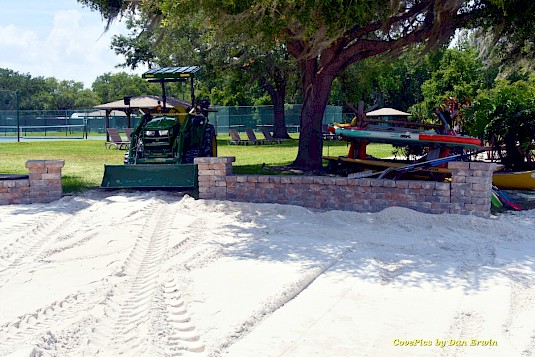 The beachfront was rejuvenated with some fresh sand just in time for the summer fun.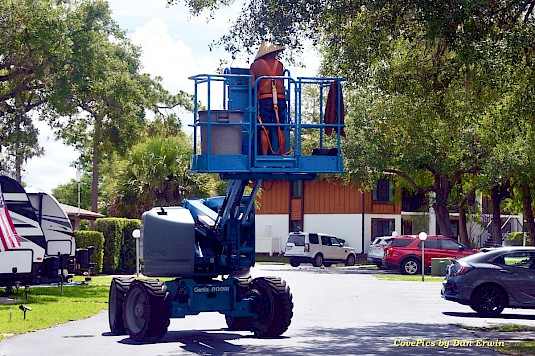 The beautiful trees of Cypress Cove need a trimming every so often.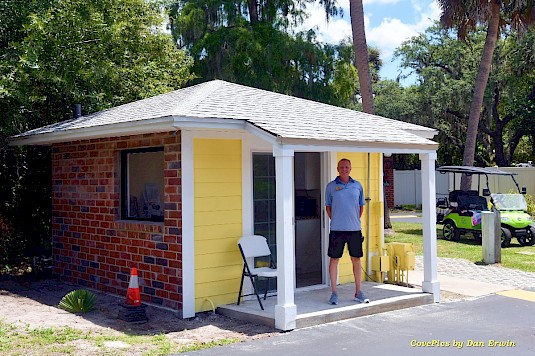 The new gatehouse is looking wonderful and the redesign makes things easier for everyone.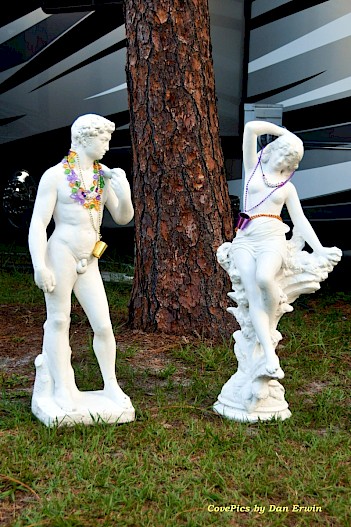 A fun Cove treasure found in the campground.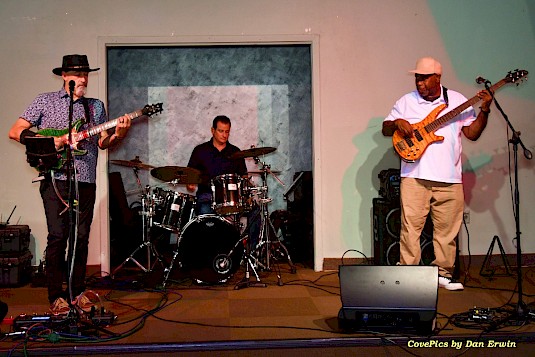 The Saturday evening dance with great music by Hacksaw Hamlin at Lakeside.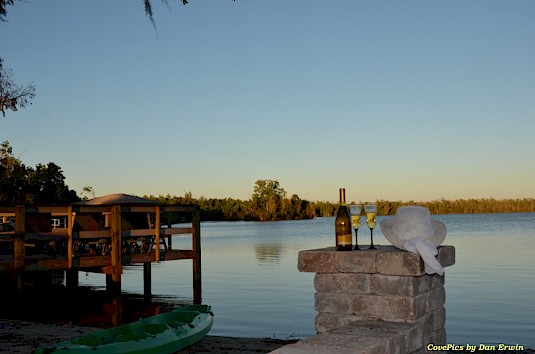 A little celebration on the shores of Brown Lake as the sun sets on another beautiful weekend.
---
"Where Have You
Taken the Cove?"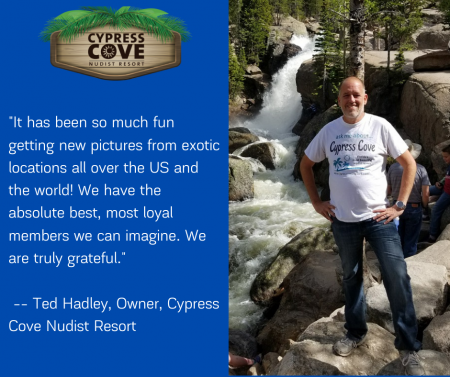 SEND US YOUR PHOTOS!!!
 We want to see where you have worn your Cypress Cove t-shirt, no matter which style it is! Wear it to town, the grocery store, while you are out and about, or at a national monument, and send us a photo! You will be featured in our newsletter or on our social media channels. 
Don't have a shirt yet? Purchase one at the main office or call and order one to show your pride in Cypress Cove! 
Call us at Toll-Free (888) 683-3140.

Send photos to Newsletter@CypressCoveResort.com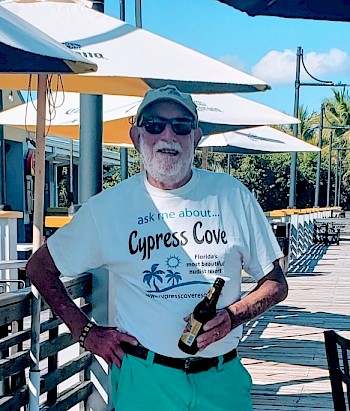 Wayne is in Puerto Rico with his Cove shirt!
Thank you for sending it in, Wayne & Gail!

Where have you worn your Cypress Cove T-shirts?
Send us a photo!
---
Book a Room Today!
It's never been a better time to stay at Cypress Cove! Book Online, Email Reservations, or Call Reservations toll-free at 888-683-3140.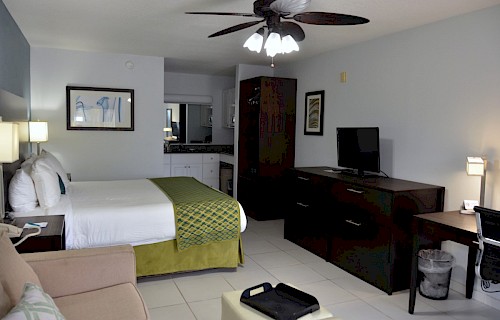 For Special Offers click HERE!
---
Every week we receive great reviews on TripAdvisor and Google; if you have visited or stayed with us, we would love to know about your experience. Click the logos below.