Laugh of the Week
---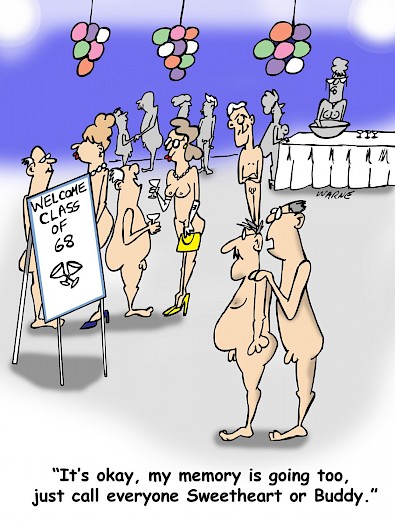 ---
Cove News   
---
Osceola County Chamber of Commerce After-Hours Event
After a 3 year hiatus, we are welcoming the Oceola Chamber of Commerce back for their After-Hours Event on July 12 at 5:30. We are excited to welcome this group back to Cypress Cove!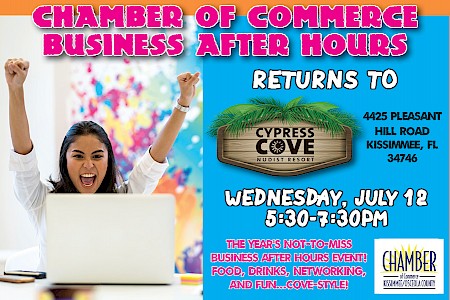 ---
Open House 
BRING YOUR FIRST-TIME FRIENDS AND FAMILY!!!!
As part of Nude Recreation Week —yes, there is a national week for that—Cypress Cove is opening its doors for an Open House event on Saturday, July 8 with guided tours from Noon until 4:00 p.m. What happens at a nudist resort open house? Simply put, Cypress Cove invites first-time visitors so they can see how much fun au natural recreation can be. With complimentary resort tours, food for purchase and music by the pool, and access to all resort amenities, you can bring your curious family and friends to FINALLY introduce them to Cypress Cove. It's free admission ALL day, so come out and see what REAL freedom feels like.  

---
Best of Orlando FINALS
WE NEED YOU! We have done it again, fellow naked friends. We have been nominated for Orlando Weekly's Best of Orlando® 2023 Series. Last year we took home third place. We are shooting for FIRST place this year.
You will find us under Best Attraction That's Not a Theme Park. (<-- Click here to vote!) Just register your email address (used only to prevent voting multiple times) and cast your vote. Show your Cypress Cove pride!! Anyone can vote, so let's show some love to the Cove.
No need to live in Florida & you can choose to vote only in our category. 

---
Parrothead 2023
Parrothead Weekend ... THE PARTY event of the year at Cypress Cove Nudist Resort! So much fun that we had to extend the weekend to begin on Thursday in order to fit it all in! What's a Parrothead? Parrotheads love Jimmy Buffett's music. Parrotheads love that laid-back island culture... and Parrotheads love to PARTY! Are you READY? Rooms may already be booked, but you can call to check. RV & tent camping may still be available. Call us now at 407-933-5870 to book. 
If you're joining us for Nude-A-Palooza, don't forget that we will announce the band line-up Parrothead Weekend! Come party with us and see who will be entertaining you for Nude-A-Palooza 2023!!!
For a schedule of events and contest rules, visit here.
Don't forget the "pre-Parrothead" raffle will take place July 15th at 2:15 pm at the west pool. 100% of the proceeds go directly to The American Cancer Society Making Strides Against Breast Cancer charity. Prizes here will include a tent space, one reserved golf cart space, or one reserved car parking space... all of which come with a rolling cooler full of surprises! Tickets for this raffle will be available on the 14th and 15th from 11 am to 2 pm in the pool complex. 

---
Cypress Cove Welcomes Naked as Created
Join Naked as Created for fellowship & worship during their Christian Naturist Retreat at Cypress Cove. Happening July 9 - 14. Everyone is welcome!
The fourth annual Naked as Created Christian naturist retreat will be a wonderful time of Christian fellowship, great gospel music, testimonies, prayer, and a daily Bible study session. A great vacation in a world-class location as well as a time of spiritual growth and renewal!

During a few of the evenings, there will be special events such as an iced coffee/frappe social, an ice cream social, and a water balloon battle. There are also rumors of a pickleball tournament as well.
For more information or questions, feel free to contact Jim & Kim at: NakedandUnashamed@yahoo.com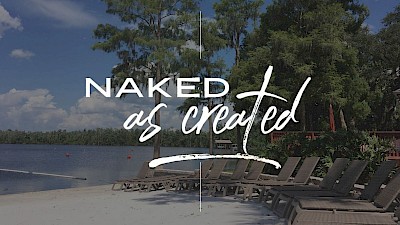 ---
Nature Hair Salon
Don't forget about Nature Hair located at the West Pool. The full-service salon welcomes you for all of your hair, nail & waxing needs. Book your appointment before you travel by calling 407-870-5131. Hours of operation are Tuesday through Sunday: 10:00 am - 5:00 pm, and closed on Mondays. Nature Hair is your nudist-friendly salon and they are offering some fun specials this summer.
July:
A complimentary eyebrow wax with the purchase of a Brazilian or Bro-zilian (that one's for guys) wax.
July 18 - July 23:
A complimentary tote bag with any pedicure, Gel, or Dip manicure.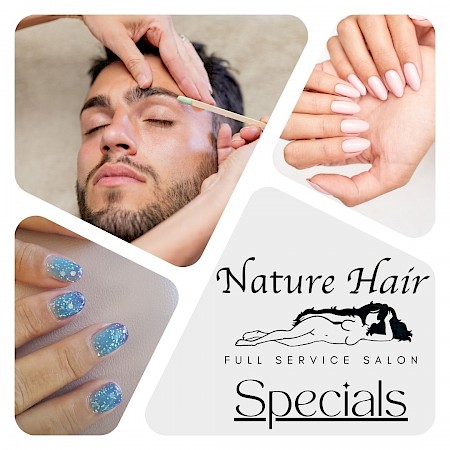 ---
Labor Day 5K
Registration is already open for Cypress Cove's Labor Day 5K! Come out and streak with us at the 10th annual clothing-optional run at Cypress Cove Nudist Resort on Saturday, September 2, 2023. Wear as little (or as much) as you like as you run/ walk around the beautiful 300-acre property. Day fees are included with your race registration and all preregistered runners are guaranteed commemorative race swag with their race packet so sign up early to be guaranteed one. The race starts at 8:30 am with check-in/ late registration from 7:15 am - 8:15 am. Join us for the race after-party around the pool for music, awards, great food, and drink specials.
To register for this year's race visit here. Prices increase after July 1, 2023.

---
News Outside the Cove
See what's making headlines in nudist news around the world. These things and more are being shared on our social media channels.

Follow us today to stay informed!






(Click one of these links to see the latest news!)
---
Salma Hayek, 56, Bares It All, Posing Nude While Showing Off Toned Abs in New Pics
Good for you, Salma! We encourage you to visit us anytime. It's all about self-care.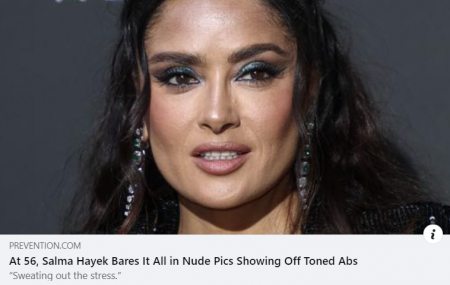 "Salma Hayek is heating things up online with some steamy new photos. The 56-year-old actress is known for her incredible acting skills—and stunning bikini photos. This time the star decided to totally bare it all by posing nude while laying down in a sauna. Fans are obsessed, to say the least." Read the full story HERE.
---
Helen Mirren Has the Best Reaction to Being Called a 'Nudist' at 77
What a fantastic reaction! Visit us anytime, Helen.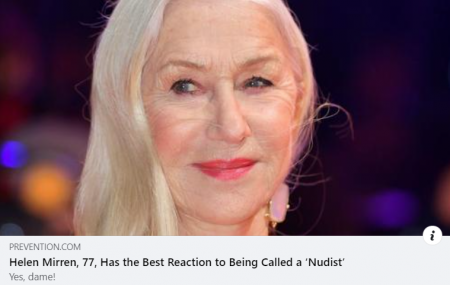 "Fun fact about Helen Mirren: She's number one on this list of celebrity nudists—and when it was pointed out to her in a recent interview, she had the best reaction. "That's great!" she told the Los Angeles Times. 'I'm not the sort of person who goes off to a nudist camp, but the very few times I've found myself naked on a beach or somewhere with a lot of other naked people, it is a fabulously liberating experience.'" Read the full story HERE.
---
Have You Seen Us Lately?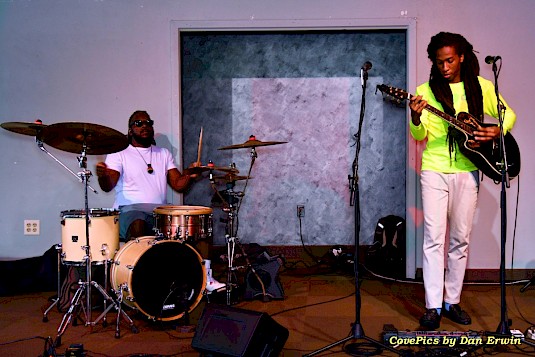 Saturday evening dance with live music by Esh & Schiff, at Lakeside.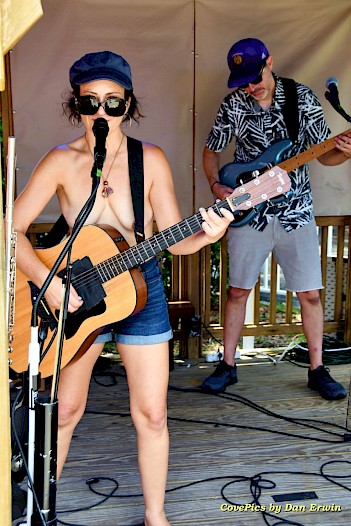 Live music poolside on Sunday afternoon with Kristie DeLuca at the West Pool.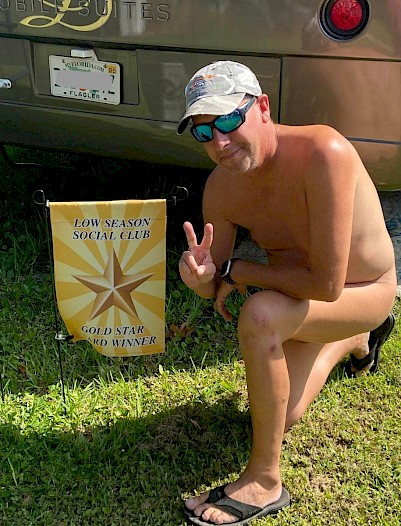 Ian is the first 2-time recipient of the summer campers' Low Season Social Club Gold Star Award, for having the most fun last weekend​​​​.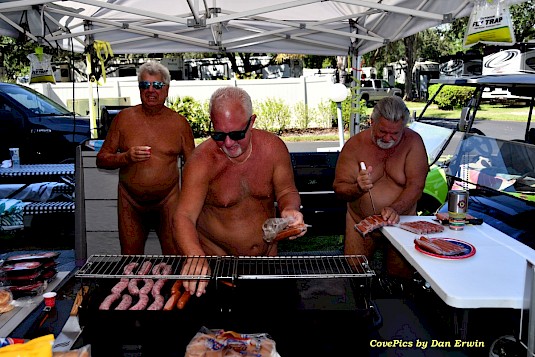 It wouldn't be the 4th of July without a hotdog/hamburger cookout.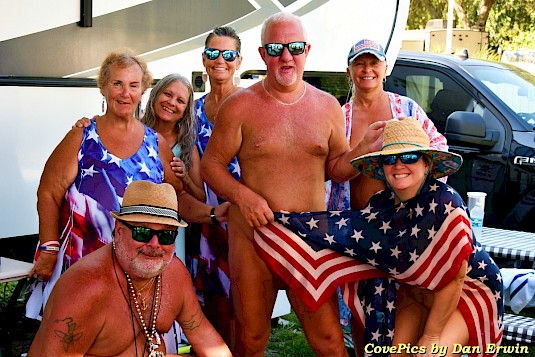 Red, White & Blue were the colors of the 4th of July weekend.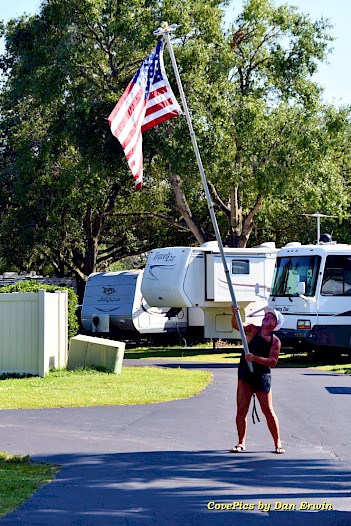 The Stars & Stripes forever.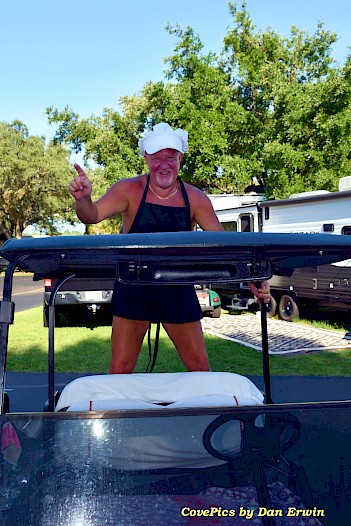 Not a recommended way to ride on a golf cart!
---
"Where Have You
Taken the Cove?"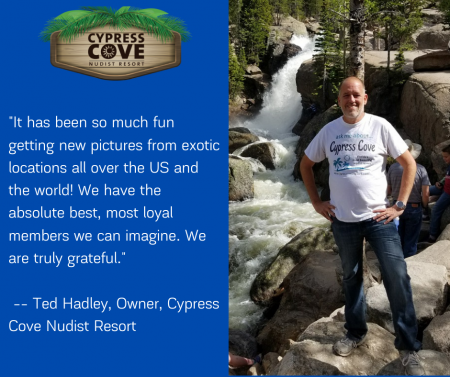 SEND US YOUR PHOTOS!!!
 We want to see where you have worn your Cypress Cove t-shirt, no matter which style it is! Wear it to town, the grocery store, while you are out and about, or at a national monument, and send us a photo! You will be featured in our newsletter or on our social media channels. 
Don't have a shirt yet? Purchase one at the main office or call and order one to show your pride in Cypress Cove! 
Call us at Toll-Free (888) 683-3140.

Send photos to Newsletter@CypressCoveResort.com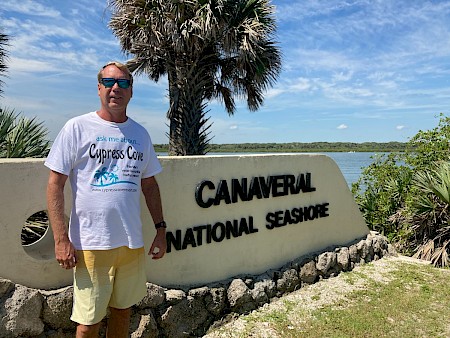 Tom at Canaveral National Seashore.

Where have you worn your Cypress Cove T-shirts?
Send us a photo!
---
Book a Room Today!
It's never been a better time to stay at Cypress Cove! Book Online, Email Reservations, or Call Reservations toll-free at 888-683-3140.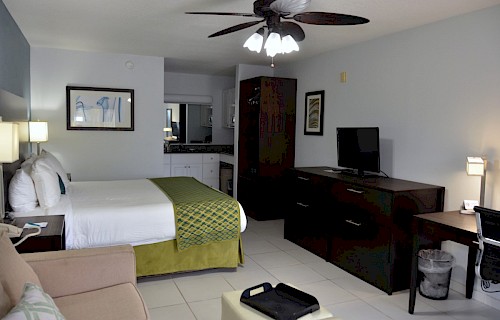 For Special Offers click HERE!
---
Every week we receive great reviews on TripAdvisor and Google; if you have visited or stayed with us, we would love to know about your experience. Click the logos below.