Laugh of the Week
---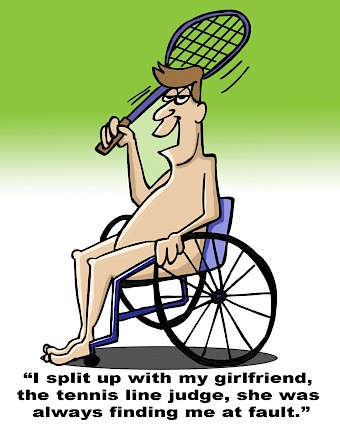 ---
Cove News   
---
Daytona 500 Viewing Party
Meet fellow stock car enthusiasts at Cheeks on Sunday, February 19 for The Great American Race! Coverage starts at 12:30, so grab a drink and have a seat.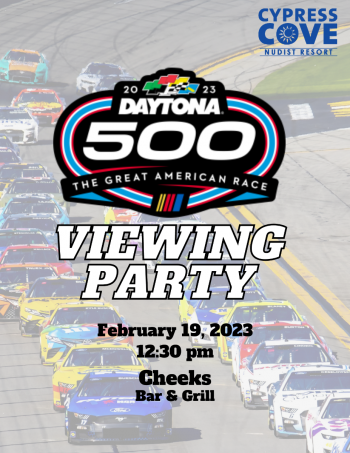 ---
Mardi Gras at Cypress Cove
February 21st is Fat Tuesday and we are planning on celebrating Big! It's time to vote for this year's King & Queen. You can find the Royal Nominations box and forms in the front office. Nominations close at 4 pm on February 17. The nominations will be judged by the write-up, so make it good. You can vote for more than one person but not the same person twice. 
Join us for the Royal Breakfast Buffet happening at Lakeside Restaurant from 8 am - 11 am. Check out the full menu HERE. Receive $1 off your breakfast buffet if you purchase in advance. Get your breakfast tickets at the front desk through the close of business Thursday 2/16! Don't miss the King & Queen Coronation at 10 am during breakfast. Coronation is open to everyone.
The Mardi Gras parade will take place at 1 pm led by our new King and Queen. Decorate your golf carts, cars, bikes, walkers, scooters, or your bodies, and join us in the parade. Please line up at the lakefront beginning at 12:30 pm. Dogs, cats, and drag queens & kings are all welcome! If you're watching the parade, jump on in when the parade passes by, and walk a block or two with us. Check out the PARADE ROUTE HERE. The parade will end at Cheeks where the Mardi Gras Celebration continues with A Taste of Love poolside at 2 pm.
Every hour, on the hour, starting at 3 pm, we will start the drawings for the great big CASH prizes plus lots of great door prizes as well.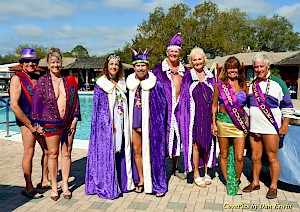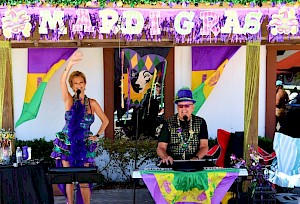 If you plan to participate in decorating a lamp post for the contest, make sure you sign up on the Activities door. The theme for this year is Heart of the Cove. The lamp post needs to be fully finished by noon on Monday, February 20. The judging will take place at that time.

Lamp Post Prizes: 
A sketch of your post by the Royal Artist &
First Place        $200 in Cove Coins
Second Place   $100 in Cove Coins
Third Place       $50 in Cove Coins 
Give it your all, and let's see those lamp posts! The winner will be announced at 4 pm at the West Pool. Please incorporate your number on your post for judging.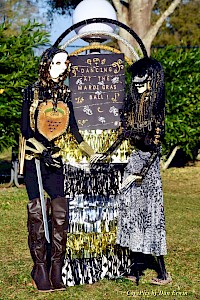 ---
Health Fair 
Join us on Sunday, February 26 from 10 am to 4 pm for the winter health fair. OneBlood will be taking blood donations from 11 am to 4 pm. DayStar Skin & Cancer Center will be performing skin cancer screenings in the Gameroom from 10 am to Noon. Blood donation appointments are suggested. Please signup for your appointment here. For more information on this blood drive, please visit here. All blood donors receive a $20 eGift card, OneBlood Long Sleeve T-shirt, and a wellness checkup.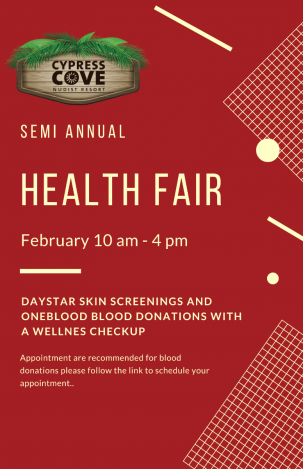 ---
Silver Lining Massage
This a friendly reminder for our massage lovers. This is our busy season, so make sure you book early. We have 5 massage therapists to choose from, Tammy, Elizabeth, Monique, Virginia, and Cori. The kiosk is available outside the entrance to the massage studio, or you scan the QR code to book from your electronic device. Looking to book?
Click HERE and book your session now. 
We also want to introduce our newest massage therapist, Cori. She interned with silver lining massage in October and November. She received her certification in November and her Florida massage license in December. She is now working as an independent contractor with Silver Lining massage. Her passion for massage is undeniable. She's a wealth of knowledge on the anatomy of the body. She incorporates stretching in her massages. Book a massage with Cori in February and receive a $15 discount.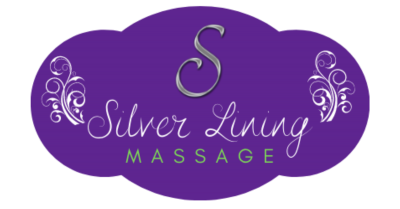 ---
News Outside the Cove
See what's making headlines in nudist news around the world. These things and more are being shared on our social media channels.

Follow us today to stay informed!






(Click one of these links to see the latest news!)
---
Chelsea Handler Explains Why She Loves Skiing Naked
Well, that's definitely some nude recreation, Chelsea!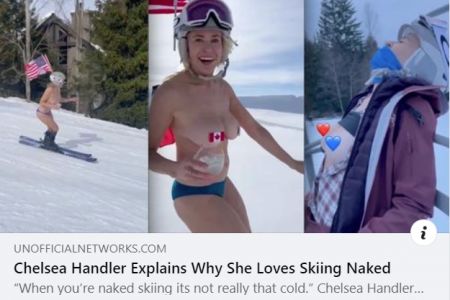 "Chelsea Handler stopped by the ET Canada studios to discuss her new Netflix special and the topic of her annual birthday ski tradition was quickly brought up in relation to her status as an honorary Canadian.  Frostbite is a nonissue for the comedian as she celebrates her independence, singledom, and her love of skiing.  Not for everyone but skiing in your birthday suit is one hell of way to mark another trip around the sun." Read the full story HERE.
---
A naked photoshoot taught me to love my chronically ill body
We shout this from the rooftops! Body image issues are perfect for a place like Cypress Cove.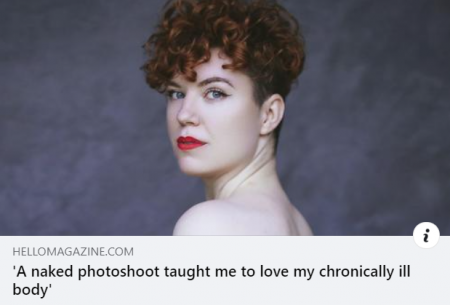 "The ice-cold breeze made every single hair on my body stand on end as I prayed that none of the neighbors could see me awkwardly trying to pose. Sitting for my portrait, outdoors, in February was a bold choice. Especially given the fact that I was completely naked. My relationship with my appearance has been the rockiest one of my life. Forget Ross and Rachel - there has never been an on-off romance quite like the one I've had with my body over the years." Read the full story HERE.
---
Have You Seen Us Lately?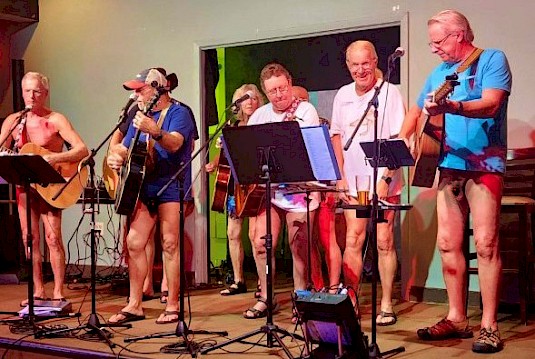 The Open Mic Night was a huge success again with the stage packed full of Cove talent.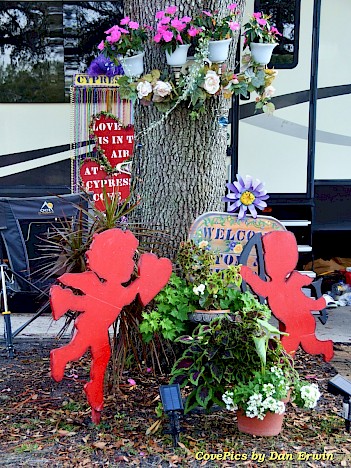 Nothing could be better than being at Cypress Cove for Valentine's Day.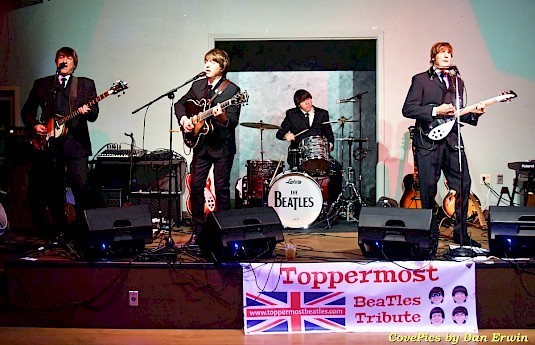 Lakeside was packed with Cove members enjoying & dancing to the music of the Beatles Tribute Band Toppermost.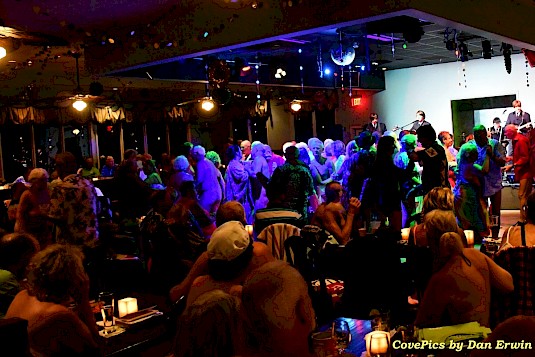 Are we having fun - You bet we were!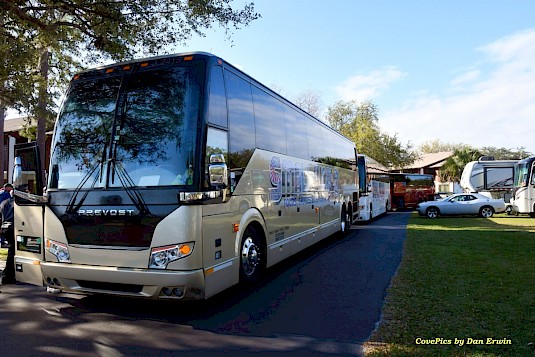 The buses were ready early Sunday morning to take everyone to the Nude Cruise.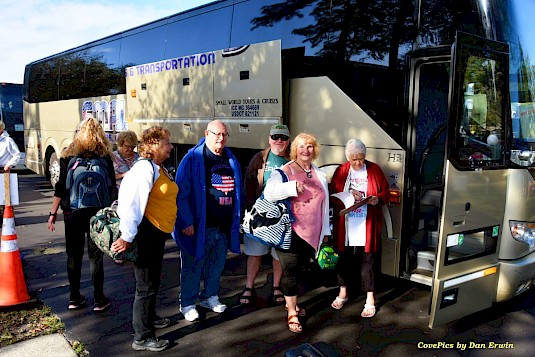 The party started as soon as the buses rolled out.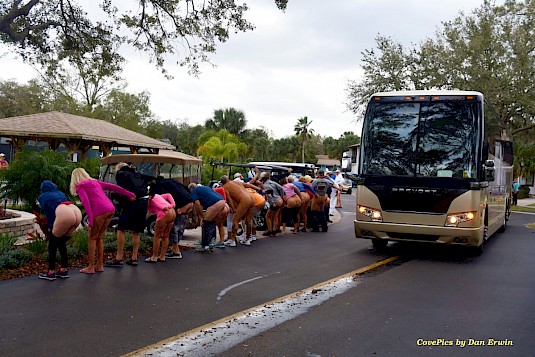 The long-running tradition of waving (mooning) goodbye to the lucky folks on the Nude Cruise.
---
"Where Have You
Taken the Cove?"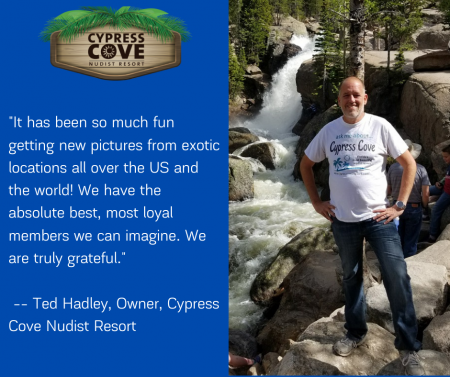 SEND US YOUR PHOTOS!!!
 We want to see where you have worn your Cypress Cove t-shirt, no matter which style it is! Wear it to town, the grocery store, while you are out and about, or at a national monument, and send us a photo! You will be featured in our newsletter or on our social media channels. 
Don't have a shirt yet? Purchase one at the main office or call and order one to show your pride in Cypress Cove! 
Call us at Toll-Free (888) 683-3140.

Send photos to Newsletter@CypressCoveResort.com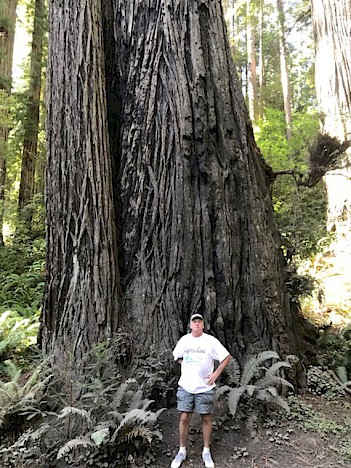 One of our awesome members in the Redwoods National Park Near Crescent City CA
 
Where have you worn your Cypress Cove T-shirts?
Send us a photo!
---
Book a Room Today!
It's never been a better time to stay at Cypress Cove! Book Online, Email Reservations, or Call Reservations toll-free at 888-683-3140.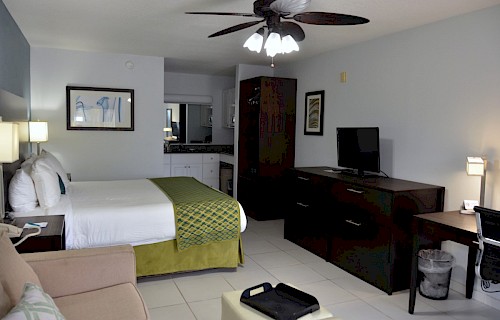 For Special Offers click HERE!
---
Every week we receive great reviews on TripAdvisor and Google; if you have visited or stayed with us, we would love to know about your experience. Click the logos below.