Laugh of the Week
---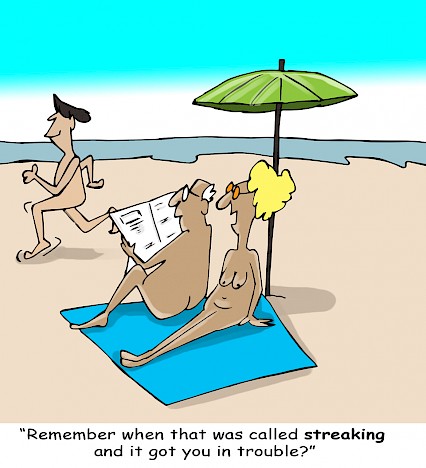 ---
Cove News  
---
Goodies for the Staff
Around this time each year, Tiki's desk is buried beneath a mountain of gifts offered by our amazing members, guests, and residents for staff members to enjoy. These gifts are handed out during our annual holiday party. Many of you have asked if our amazing staff will be having a holiday gathering. The answer is... ABSOLUTELY!
On December 14th, team members will partake in a casual luncheon where gifts will be exchanged alongside other Cove "goodies." For those of you here at The Cove, our front office is happy to receive your gifts. I've also made a link available in our online store (click here) for those who'd rather we purchase something on your behalf, or for those who are between Cove stays.
I cannot express the gratitude I have for all of you who have shown my team so much love and generosity through the years. Cove family is the greatest!

Peter Sewall
General Manager, Cypress Cove Nudist Resort
---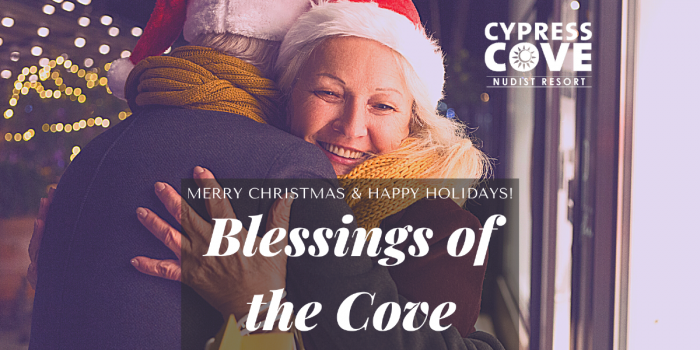 As we round the bend capping off yet another year, we are about to enter a season of gratitude and giving. It is in this spirit that Cypress Cove would like to re-introduce a Holiday countdown of sorts, affectionately dubbed "Blessings of The Cove"— a period of supporting those in our nudist family who have the greatest need in consideration of trying times.
Through the end of the year, we are inviting Cypress Cove residents and members to write to us and tell us of your need. What do you think would help you most during this difficult time? Each week, we will choose a letter and will respond with assistance and support. You can either drop off a letter to the Main Office, care of Peter Sewall or email Peter at CoveBlessings@cypresscoveresort.com.
Cypress Cove has enjoyed a long history of community support both participating in and spearheading, various events ranging in size and reach. It is the members of our naturist community that has enabled growth and success through the years. As such, we thought it was important to finish the year with full focus on this community—those of you "inside the gate." It can be hard to ask for help, but please let us know if you have an exceptional need. It is our goal to make your holiday season a little bit brighter.
We already know that the Cypress Cove nudist community has a big heart and a philanthropic spirit, so we'd encourage those of you who are not in need to lend support to your friends and neighbors during this time. If you'd like to help us expand our efforts, you may do so at this link; simply select Blessings of The Cove Donation. We want "Blessings of The Cove" to spill over into all corners of our amazing community.
With thanks and gratitude, 
Peter Sewall
General Manager, Cypress Cove Nudist Resort
---
Blessing Recipient
We received this email earlier in the week and we wanted to share it.
Dear Peter, 

Coretta Scott King is accredited with saying "the greatness of a community is most accurately measured by the compassionate actions of its members." I'm proud and honored to be a member of the Cypress Cove community for so many years. I've seen my share of residents and employees come and go, but something that never changes is Cypress Cove's unwavering dedication to step in and help when needed. 

I'd like to nominate someone who has been a member of the Cove for several years and served in ways that many don't see or grasp. This member was delt a devastating blow in 2020 as his wife was diagnosed with aggressive breast cancer and had to undergo an immediate double mastectomy and chemo at the age of 50.  

She was on the road to recovery they thought, but in March of this year, they were crushed by another diagnosis. Stricken by the sudden onset of migraines, she went to visit her doctor. She was told it was allergies and was prescribed allergy medicine. On another visit, the physician sent her on her way with a prescription for pain medication. The family knew something was wrong when prescription pain medicine provided no relief. After a trip to the ER and further testing, doctors gave them the diagnosis; the cancer had traveled to her brain. She successfully underwent radiation and chemo and came out with a clean bill of health.  

In August she noticed that her legs started to give out for no reason. They went back to the emergency room and after several tests, they learned that the cancer had spread once again. This time it was in her spine and had taken over nerves that controlled her lower body movements and functions. She was immediately admitted to the hospital where she spent 3 weeks. They treated her every 3 days with radiation and physical therapy daily. She was then transferred to a rehabilitation facility in Altamonte where she spent 2 additional weeks working on leg movements. 

Thanksgiving this year took on a new meaning for them when they welcomed her home on November 25th. She has a long road of chemo and office visits ahead of her, but they are praying for a miracle. Currently, she is immobile and cannot do things for herself. He has to physically lift her several times a day to get her moved from one place to another and tend to her needs. This is taking a toll on him. What I would like to ask Cypress Cove for is a sit-to-stand lift. It is a fairly simple yet expensive device that would assist in standing and moving her. After many tries from the doctor's offices, it's been determined the insurance is unwilling to help. Please help them, as I can't think of anyone who is more deserving.

Thank you,  

Katherine S. 
Katherine, thank you for sharing with our community. We will be reaching out to collect specific information. We expect this lift to be delivered later this week. 
If anyone has additional stories like this please send them our way so we can bring a little holiday magic!
---
NEW YEAR'S EVE at LAKESIDE!!!
Keep your eyes peeled TOMORROW for a special update about New Year's Eve at Lakeside.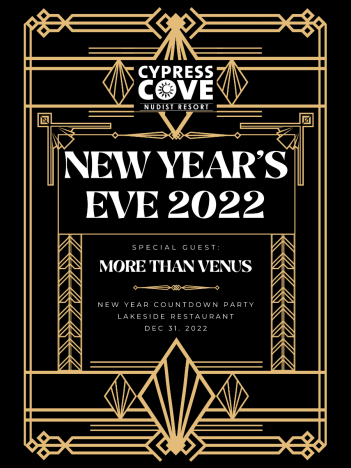 ---
Full Moon Gathering
The gathering begins at 4:45 pm on December 7 at the Lakeside fire pit. The moon rises at 5:06 pm before the sun sets at 5:30 pm
A name used by the Mohawk people, this Moon occurs when winter cold fastens its grip. The Full Moon Gathering will be held on the shores of Lake Brown at Cypress Cove at the campfire near the beach. Come join us to celebrate a once-a-month celestial event. Newcomers are welcome to the event and are encouraged to participate by joining us with their favorite musical instrument. The goal is to expand the circle for all those who love nature and yearn to listen to the native rhythms that fill our souls with happiness and joy. Help is welcome to get the fire started before the event, depending on the weather conditions.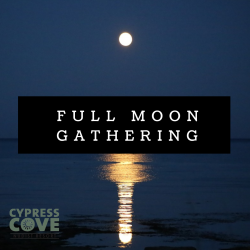 ---
The Notables
Do you want to get into the Holiday Spirit? The Notables (the Cove's auditioned singing group) will perform their annual Holiday Concert on Thursday, December 8th at 3:00 p.m. in Lakeside featuring Sopranos Joy Bromell, Jamie Lynn Williams, and Maureen Trider, Altos Dori Harvey, Jona Seifert, and Pat Mack, and Baritones Jim Seifert, Mike McPherson, and Brad Wahlberg. They are directed and accompanied by Pam Howitt. They are excited to be singing all new Holiday Music.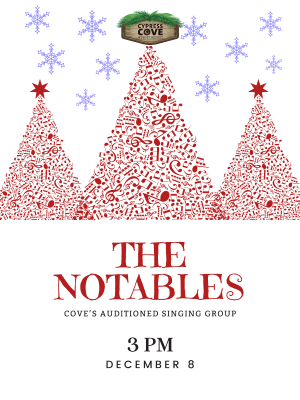 ---
Winter Craft Fair
Save your gas and do your Christmas shopping right here in the Cove. On Saturday, December 10 from 9 am to 2 pm. We are breaking records this time. Not only is the clubhouse full of wonderful crafters, but the area under Old Cheeks is also full! There is something for everyone, so come and experience a craft fair like no other in Cypress Cove's history. In addition to the crafters, Trisha will be at Old Cheeks collecting for Toys for Tots. Please bring an unwrapped toy for her cause. See you all on December 10!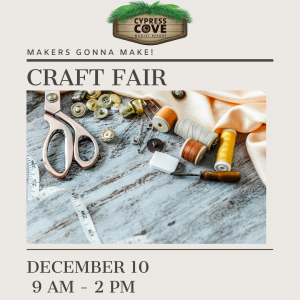 ---
Urban Sketchers Update
The Cypress Cove Urban Sketchers will have a table at the Craft Fair on December 10. Urban Sketchers draw things that interest them in the world around them. At the Craft Fair, they will be selling drawings from several sketchers which have been made into greeting cards and prints for hanging in your home. They will include drawings from a variety of Cove places and activities.  Come and see them and their amazing work. The cards make perfect Christmas gifts for people who have everything (and no space).
The Cove offers many opportunities for Urban Sketchers to find subjects for drawing. It features activities, people, boats, birds, a lake, trees, flowers, holiday decorations, and more. 
If you are interested in participating in the Urban Sketchers group at the Cove, they will be meeting to draw on December 17 at 1:00 PM in the Gameroom. Everyone is welcome. If you have sketching materials, bring what you would like to use. If you need materials, they will have materials to share with you. For more information, contact Anna Rappaport

---
The Sounds of Cypress
Join the Sounds of Cypress on December 15 at 3:00 pm for the annual Sounds of Cypress Holiday program at Lakeside Restaurant. (This is a show only, no food or drinks will be served.) If you're not familiar with the group, it is a community choir made up of Cypress Cove members. We are not professionals, we are volunteers. This year they have 15 enthusiastic singers and two great choir directors with over 70 years of experience between them.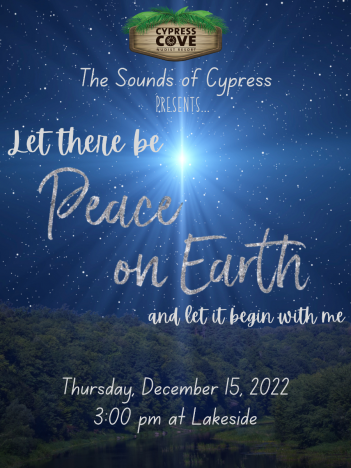 ---
Winter Health Fair
Join us on Sunday, December 18 from 10 am to 4 pm for the winter health fair. OneBlood will be taking blood donations from 11 am to 4 pm. DayStar Skin & Cancer Center will be performing skin cancer screenings in the gameroom from 10 am to noon. Blood donation appointments are suggested. Please signup for your appointment here. For more information on this blood drive, please visit here.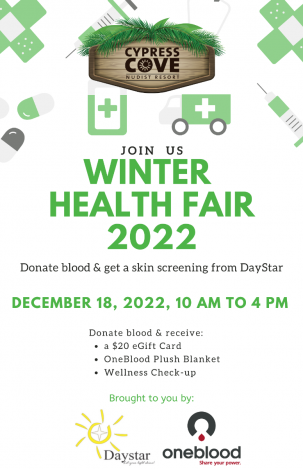 ---
Christmas Eve
Join us on Christmas Eve at Lakeside Restaurant with a special appearance from A Taste of Love. Seating will be first come, first serve, so get there early. The show begins at 7 pm. 

---
Crazy Socks Bowling
Our friends at Crossed Oaks Haven have put together another nude bowling gathering at Orange Bowl Lanes in Kissimmee on January 15, 2023, from 10 am to 1 pm. Don't forget your crazy socks, you might just win a prize! The cost for this event is $20 for those over 35 years of age, $10 for 18-35 years, and free for those under 18. Please bring cash for the entry fee and sign in at the table with Crossed Oaks Haven staff. The fee includes the shoe rental and all the games you can bowl. 
Those with the highest cumulative score will take possession of the roving Nude Bowling Champion trophy. Available snacks include Popcorn, soft drinks, and chocolate chip cookies. See you at the lanes! For more information reach out to crossedoakshaven@aol.com.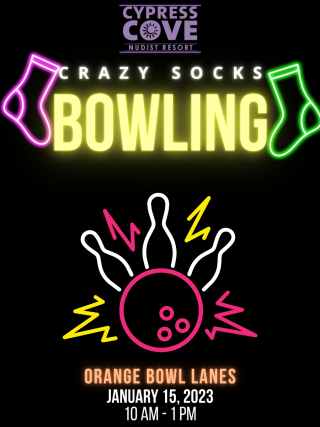 ---
Shop Naked! 
We have some great gifts and stocking stuffers for sale in the Main Lobby! Don't be a Grinch; stop by and pick up some Cypress Cove souvenirs for the wonderful "Who's" in your life!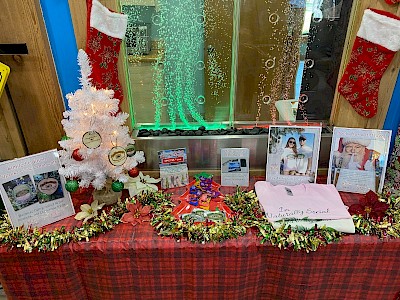 ---
Cypress Cove Glasses/Tech Cleaning Cloth
Perfect for cleaning your glasses, sunglasses, tablets, or phones... Nudists see more clearly! Pick up yours today from our online shop or at the front desk.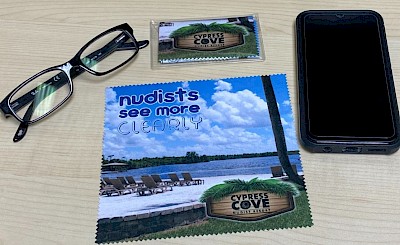 ---
Holiday Gift Guide 2022
We have put together a gifting one-stop shop for any nudist! Check out the Holiday Gift Guide 2022.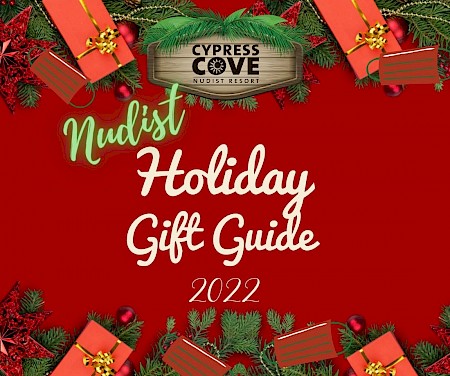 ---
Golf Cart Shop Announcement
I'd like to take this opportunity to thank Carol Kirby for her many years of service to the Cypress Cove community. Those of you who know Carol know that she was very passionate about her business as owner of Kirby's Carts, the golf cart shop that operated onsite for many years. On November 15th, Carol decided to retire (again) with November 30th being her final day.  Please join me in congratulating her as she enters the next phase of her life.
The golf cart shop had provided the community and our guests with an important service; one that we felt was imperative to continue. As such, beginning December 1st, Cypress Cove will provide golf cart rental, repairs, and routine service agreements, as well as limited upgrades. Now, you will be able to reserve a golf cart in the same way you'd reserve a room or RV space.  Our front desk team will take your reservation, input it in the computer, and send you a confirmation page.
Those with existing reservations for golf carts and those with existing service contracts will be honored through Cypress Cove. Watch this space for additional information on service offerings, etc.
Cypress Cove is excited about building this amenity into a seamless portfolio of offerings for our residents, members, and guests. We look forward to serving you as the need arises.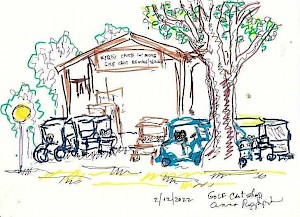 ---
News Outside the Cove
See what's making headlines in nudist news around the world. These things and more are being shared on our social media channels.

Follow us today to stay informed!






(Click one of these links to see the latest news!)
---
Margot Robbie Said She Took Tequila Shots Before Filming a Nude Scene With Leonardo DiCaprio
It's not that big of a deal! Textile vs nudist... sometimes its obvious! LOL!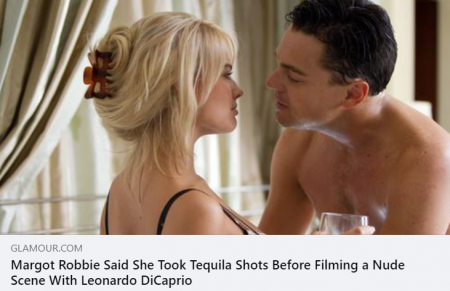 "Margot Robbie needed some liquid courage before filming a certain scene from The Wolf of Wall Street. Robbie spoke about her experience making the 2013 Martin Scorcese drama during a "Life in Pictures" discussion hosted by the British Academy of Film and Television Arts on November 22, particularly a nude sex scene with costar  Leonardo DiCaprio. "I'm not going to lie, I had a couple of shots of tequila before that scene because I was nervous…very, very nervous," Robbie said, per the Daily Mirror." Read the full story HERE.
---
Rita Ora Wore a Completely See-Through Nude Mesh Dress With a Hood
What is the point in this?? Someone help us out!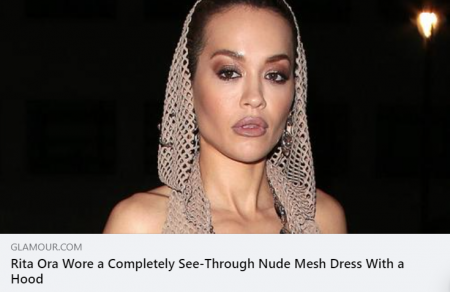 "Rita Ora was a vision in sheer over the weekend. Attending British television personality Vas J Morgan's birthday party at the Miro restaurant in London, the singer wore a floor-length nude mesh dress. The fitted halter flared just a little bit at the ankles. Underneath the completely see-through dress, Ora wore nude pasties and a black thong. She wore the gown's built-in hood on her head and styled the look with chunky black platform boots, gold earrings, lots of chunky bracelets, and a chunky metallic necklace, which fell alongside the deep cowl neckline of the dress. In some photos, Ora is seen wearing a black feathered coat over the dress and holding a silver sequined bag." Read the full story HERE.
---
Have You Seen Us Lately?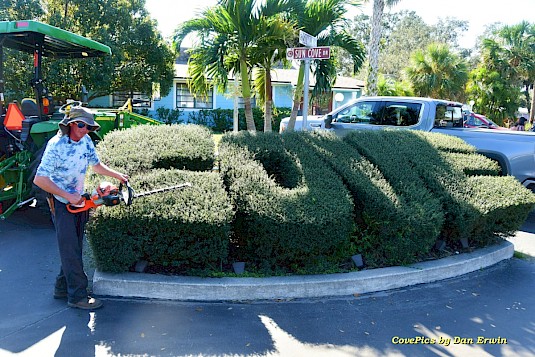 Our great staff keeps the iconic Cove hedge/sign looking perfect.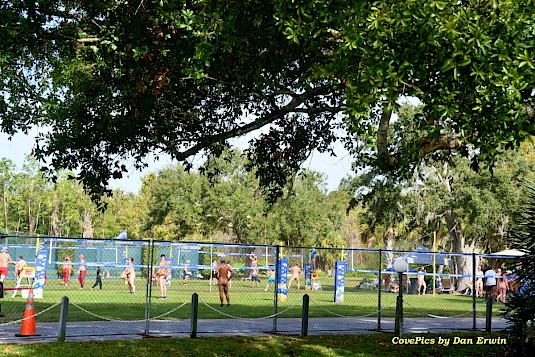 The Hey Nude Volleyball Tournament was great fun. Perfect weather made the event even better.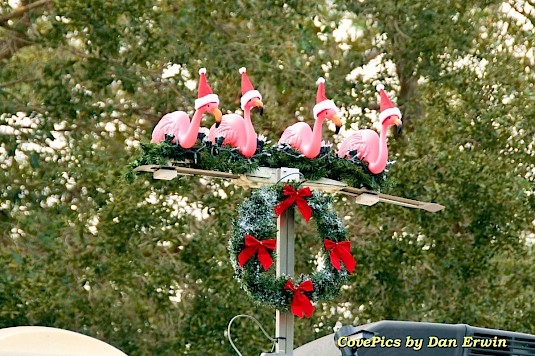 One of our campers welcomes the holiday season and our "snowbirds" in a truly Floridian way.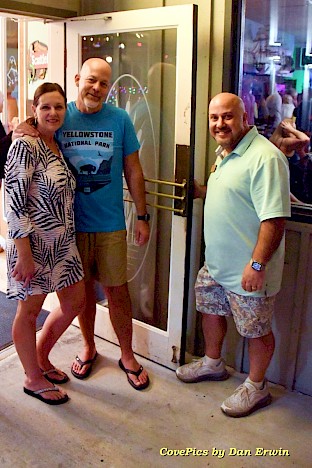 After way too long, it was so wonderful to welcome everyone back to Lakeside Restaurnat for music and drinks.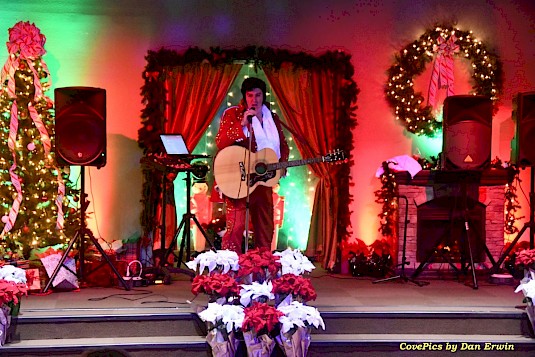 Elvis is in the building! The King was the perfect show for the soft reopening of Lakeside.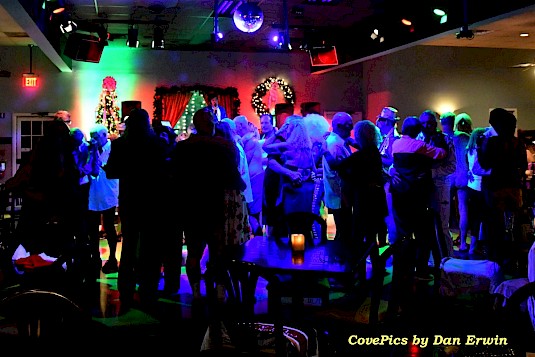 Did we have fun? YOU BET WE DID!
---
"Where Have You
Taken the Cove?"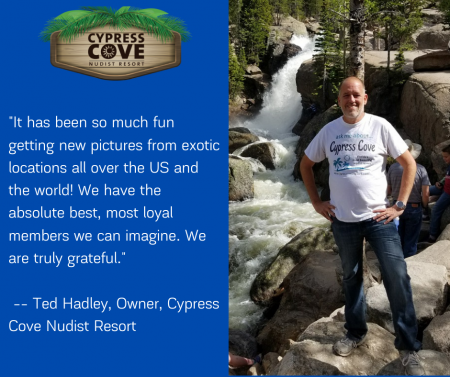 SEND US YOUR PHOTOS!!!
 We want to see where you have worn your Cypress Cove t-shirt, no matter which style it is! Wear it to town, the grocery store, while you are out and about, or at a national monument, and send us a photo! You will be featured in our newsletter or on our social media channels. 
Don't have a shirt yet? Purchase one at the main office or call and order one to show your pride in Cypress Cove! 
Call us at Toll-Free (888) 683-3140.

Send photos to Newsletter@CypressCoveResort.com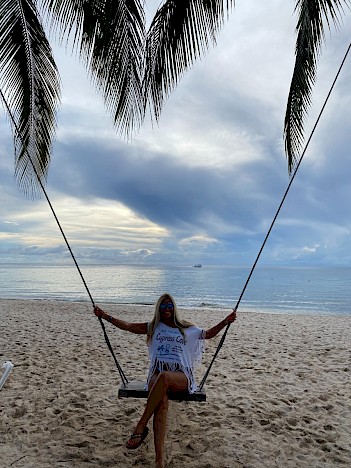 Vickie on her trip to Cozumel Mexico!
Thank you for sending it in Vickie & Jason!!

Where have you worn your Cypress Cove T-shirts?
Send us a photo!
---
Book a Room Today!
It's never been a better time to stay at Cypress Cove! Book Online, Email Reservations, or Call Reservations toll-free at 888-683-3140.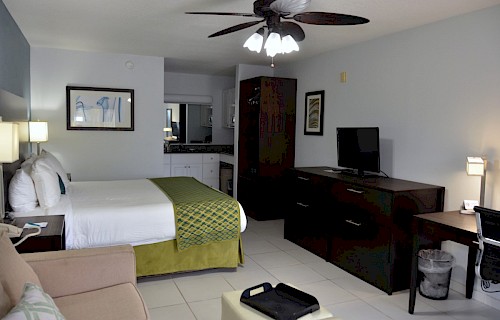 For Special Offers click HERE!
---
Every week we receive great reviews on TripAdvisor and Google; if you have visited or stayed with us, we would love to know about your experience. Click the logos below.