Laugh of the Week
---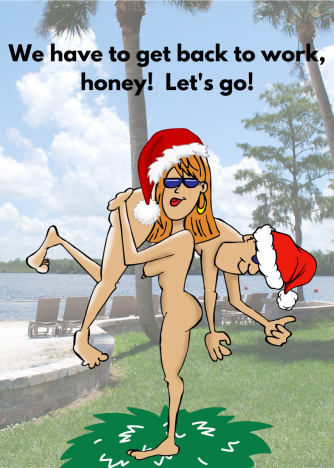 ---
Cove News  
---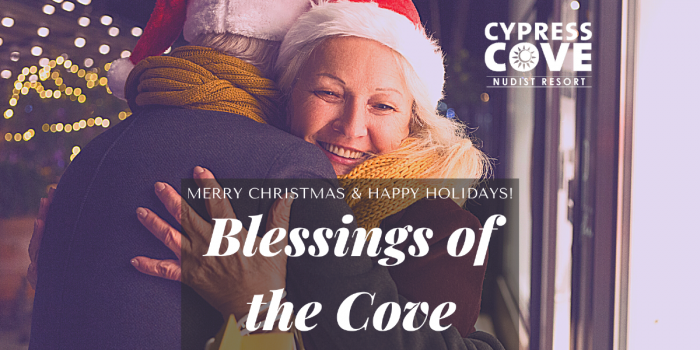 As we round the bend capping off yet another year, we are about to enter a season of gratitude and giving. It is in this spirit that Cypress Cove would like to re-introduce a Holiday countdown of sorts, affectionately dubbed "Blessings of The Cove"— a period of supporting those in our nudist family who have the greatest need in consideration of trying times.
Through the end of the year, we are inviting Cypress Cove residents and members to write to us and tell us of your need. What do you think would help you most during this difficult time? Each week, we will choose a letter and will respond with assistance and support. You can either drop off a letter to the Main Office, care of Peter Sewall or email Peter at CoveBlessings@cypresscoveresort.com.
Cypress Cove has enjoyed a long history of community support both participating in and spearheading, various events ranging in size and reach. It is the members of our naturist community that has enabled growth and success through the years. As such, we thought it was important to finish the year with full focus on this community—those of you "inside the gate." It can be hard to ask for help, but please let us know if you have an exceptional need. It is our goal to make your holiday season a little bit brighter.
We already know that the Cypress Cove nudist community has a big heart and a philanthropic spirit, so we'd encourage those of you who are not in need to lend support to your friends and neighbors during this time. If you'd like to help us expand our efforts, you may do so at this link; simply select Blessings of The Cove Donation. We want "Blessings of The Cove" to spill over into all corners of our amazing community.
With thanks and gratitude, 
Peter Sewall
General Manager, Cypress Cove Nudist Resort
---
Blessing Recipient
We received this email and wanted to share it with you.
Dear Peter,

There are those who have pledged their whole lives in the spirit of helping others. Matt,  the former director of engineering at Cypress Cove, is one of those people. Please read this request from his wife Kaye. They could certainly use some genuine holiday cheer and Blessings of The Cove.

'So many people have asked "if you need anything", "just ask" …. I'm asking!

Matt (55) is a husband, father and a grandfather. He is the most loyal, dedicated and hardworking person I've ever met. He is honest and will never tell anybody he can't help them. He will always find a way to help. Now it is Matt's turn to ask for help.

It was always Matt's dream to open a motorcycle shop. In December 2019 we made that dream come true. Matt and I run the business by ourselves, he was the mechanic and I ran the office and sales.

On September 16, 2022, Matt fell in front of our shop in Lake Alfred (LA Cycles). He was rushed by ambulance to the ER at Winter Haven Hospital. Matt thought he just dislocated his hip when in actuality, his right hip broke due to some unknown pathology. We were told it was some type of cancer… We were devastated, our whole world was just turned upside down and inside out.

We spent the next several weeks undergoing numerous tests, scans, biopsies, a surgery to stabilize the hip and a waiting game for a diagnosis. After an agonizing 8 weeks and two different facilities the biopsy results still came back inconclusive.

On October 27th Matt's hip broke again by simply sliding his legs into bed. Which led us to the Tampa General Hospital Emergency Room and Drs. Victoria Rizk and David Joyce.

There we were able to do another biopsy and finally receive a diagnosis of high-grade osteosarcoma.

Osteosarcoma is a rare type of bone cancer with only 1000 new cases each year in the USA. It is most often found in children and adolescents with less than 1% of new cases being found in adults.

Matt started chemo treatments within a few days of getting the diagnosis, still awaiting a major surgery to remove the sarcoma and rebuild his hip and pelvis. The doctors have prepared us for a possible amputation (hemipelvectomy), but we are hopeful they can save his leg.

It's going to be a long road,

So please, first and foremost pray for Matt and I to have the strength to fight. With hospital stays and treatment also comes bills. If you are able to contribute monetarily on top of your prayers, please do. We need your help with medical bills as our income has stopped with the shop closed during this time.

We have hope for a better tomorrow.'

Patrick M.
Thank you for this submission, Patrick. You will find a host of personal and Cove contributions on the Donor's Page, but today, I'm sending your request to an army of recipients poised to pitch in. Matt has touched so many people through the years, and while I don't usually use this venue to share GFM requests, I felt such a gesture was most befitting someone of Matt's character and service. I know it's just a small gesture, but if I know our community, Matt and Kaye will find some holiday joy this year because of people like you.
---
NEW YEAR'S EVE at LAKESIDE!!!
It's THE party of 2022 happening on December 31 at 8:30 pm. Help us ring in the new year with the special musical guest More Than Venus. Dinner will be served from 6:00 pm - 9:00 pm. Reservations can be made by calling the front desk. Tables are expected to sell out so, please, book early to guarantee your seats. Tickets are $59.95 per person paid at the time of reservation and includes a delicious dinner, champagne toast, party favors, tax & gratuity. Lakeside's doors open to all non-ticket holders at 9:00 pm. Enjoy the dance and a midnight champagne toast with your friends as we ring in the new year. Seating for non-ticket holders will be based on availability. Dinner menu here.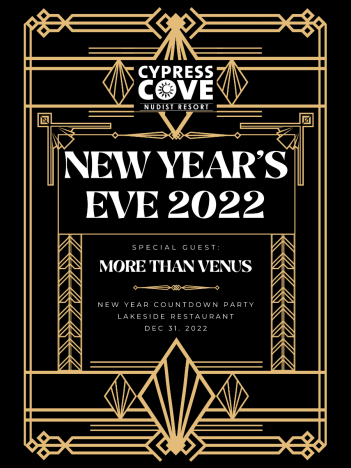 ---
Holiday Hayride
Join us on December 16 at 7 pm for our annual hayride around the Cove. Enjoy caroling while riding around and looking at Christmas lights. Hosted by our resident DJ... Dave! We will see you there.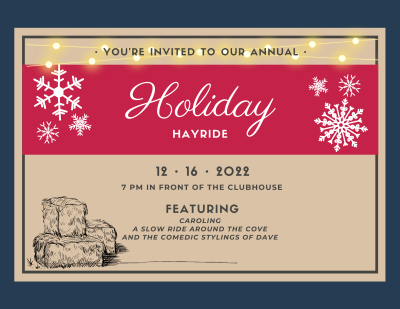 ---
Urban Sketching Meeting
The Cypress Cove Urban Sketchers will meet on Saturday, December 17 at 1:00 PM in the Game Room. Inspired by what happens around us. The Cove offers many opportunities for Urban Sketchers to find subjects for drawing. It features activities, people, boats, birds, a lake, trees, flowers, holiday decorations, and more. Last week was a great opportunity to draw at the Notables Concert and the Craft Fair.
If you are interested in participating, join them on December 17 at 1:00 PM in the Game Room. Everyone is welcome. They will be focusing on journaling, i.e. using a sketchbook to tell the story of what has been happening in our lives.
If you have sketching materials, bring what you would like to use. If you need materials, they will have materials to share with you. For more information, contact Anna Rappaport.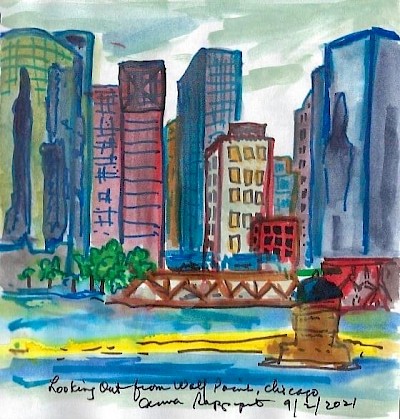 ---
neBlood Donations
Join us on Sunday, December 18 for OneBlood as they take blood donations from 11:00 am to 4:00 pm. Appointments are suggested. Please signup for your appointment here. For more information on this blood drive, please visit here.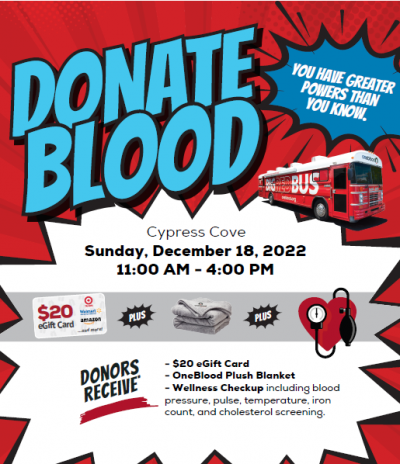 ---
Christmas Eve
Join us on Christmas Eve at Lakeside Restaurant with a special appearance from A Taste of Love. Seating will be first come, first serve, so get there early. The show begins at 7 pm. 

---
Crazy Socks Bowling
Our friends at Crossed Oaks Haven have put together another nude bowling gathering at Orange Bowl Lanes in Kissimmee on January 15, 2023, from 10 am to 1 pm. Don't forget your crazy socks, you might just win a prize! The cost for this event is $20 for those over 35 years of age, $10 for 18-35 years, and free for those under 18. Please bring cash for the entry fee and sign in at the table with Crossed Oaks Haven staff. The fee includes the shoe rental and all the games you can bowl. 
Those with the highest cumulative score will take possession of the roving Nude Bowling Champion trophy. Available snacks include Popcorn, soft drinks, and chocolate chip cookies. See you at the lanes! For more information reach out to crossedoakshaven@aol.com.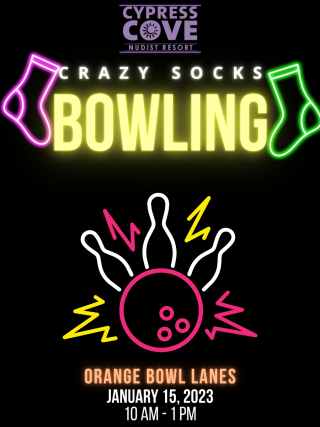 ---
Shop Naked! 
We have some great gifts and stocking stuffers for sale in the Main Lobby! Don't be a Grinch; stop by and pick up some Cypress Cove souvenirs for the wonderful "Who's" in your life!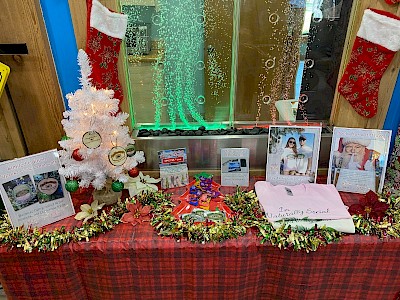 ---
Cypress Cove Glasses/Tech Cleaning Cloth
Perfect for cleaning your glasses, sunglasses, tablets, or phones... Nudists see more clearly! Pick up yours today from our online shop or at the front desk.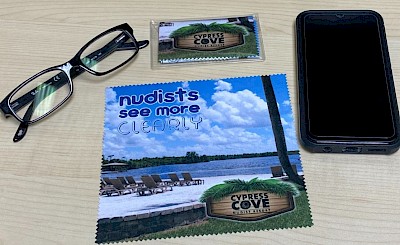 ---
Holiday Gift Guide 2022
We have put together a gifting one-stop shop for any nudist! Check out the Holiday Gift Guide 2022.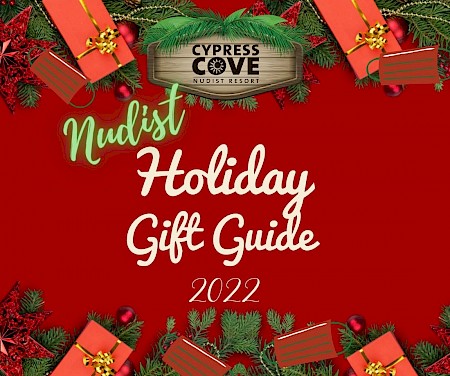 ---
News Outside the Cove
See what's making headlines in nudist news around the world. These things and more are being shared on our social media channels.

Follow us today to stay informed!






(Click one of these links to see the latest news!)
---
Nantucket topless beaches bylaw approved by AG Healey
A victory for topless beaches.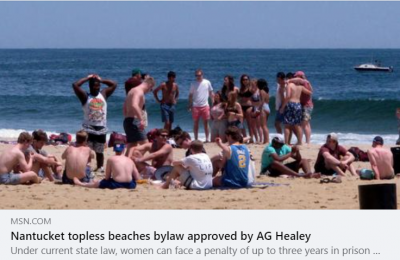 "A bylaw amendment that will allow all people to be topless on Nantucket beaches regardless of gender has been approved by Attorney General Maura Healey." Robbie said, per the Daily Mirror. The determination, addressed to Town Clerk Nancy Holmes, amends the town's Protection of Coastal Areas and Open Spaces bylaws to add: 'In order to promote equality for all persons, any person shall be allowed to go topless on any public or private beach within the Town of Nantucket.'" Read the full story HERE.
---
Mum and daughter spot pair of breasts hidden in Louis Vuitton Christmas display
Some people see nudity in everything. (Hmm…is that good, or bad?)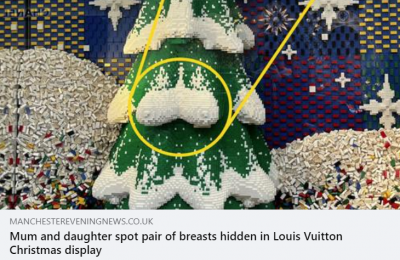 "A mum and daughter were left in stitches after spotting what they claim was a 'pair of breasts' cheekily hidden in a swanky Louis Vuitton Christmas display. Lucille Kavanagah, 33, and Violette Matthews-Stroud, 61, were innocently browsing the famous festive displays on New Bond Street in London on November 20. However, the mother-daughter duo was in for a surprise when, amidst the wholesome family fun, they spotted what appeared to be a pair of breasts on the plastic brick-work Christmas tree in the Louis Vuitton shop front. Lucille, who works as a buyer for a supermarket company, was drawn to the display as its design seemed like an unusually modern choice for the traditional luxury fashion brand." Read the full story HERE.
---
Have You Seen Us Lately?

The Notables Holiday Concert filled Lakeside Restaurant with beautiful seasonal music.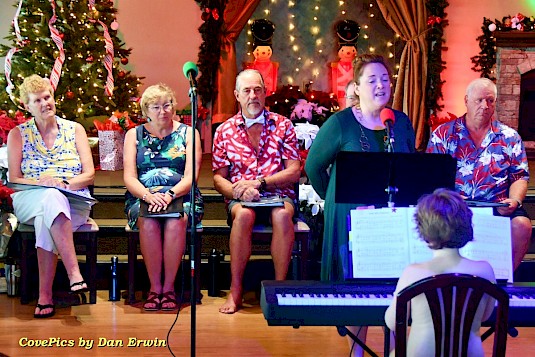 One of our young musicians played as his mother sang. What a Joy it was to enjoy this magical moment.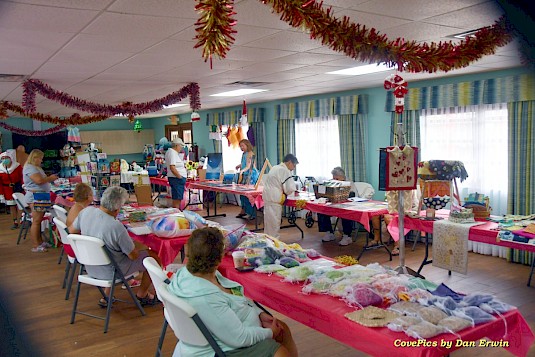 The Winter Craft Fair had lots of great Christmas presents and we did not have to leave the Cove or put on clothes to purchase them.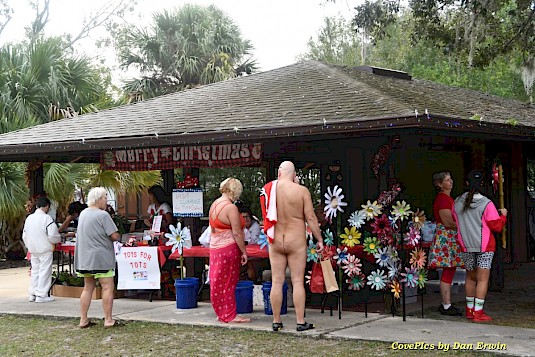 There were so many crafters this year that they had to overflow into Old Cheeks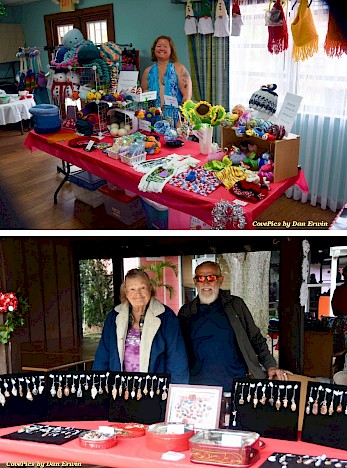 Lots of quality items are available at our craft fairs. We have very talented members.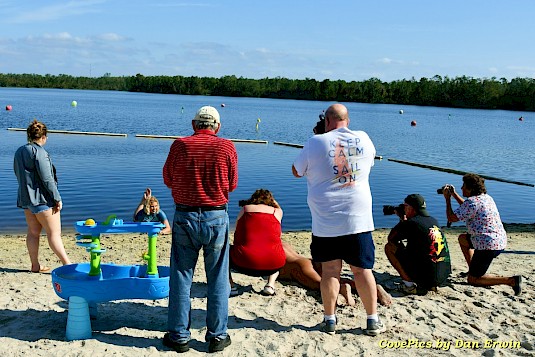 After the Camera Club holiday party, some of the photographers went looking for a picture of the Brown Lake Mermaid.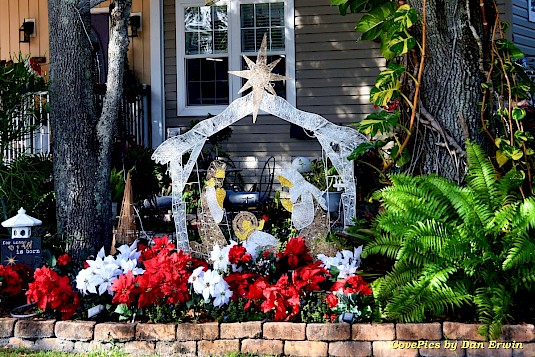 A traditional decoration at Cypress Cove.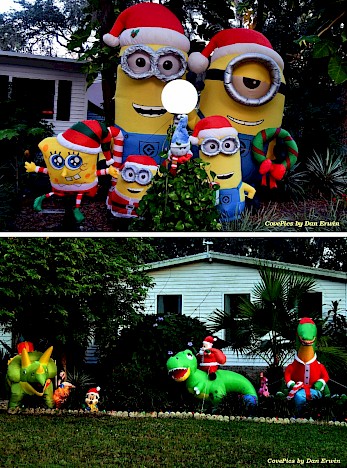 Whimsical decorations at Cypress Cove.
---
"Where Have You
Taken the Cove?"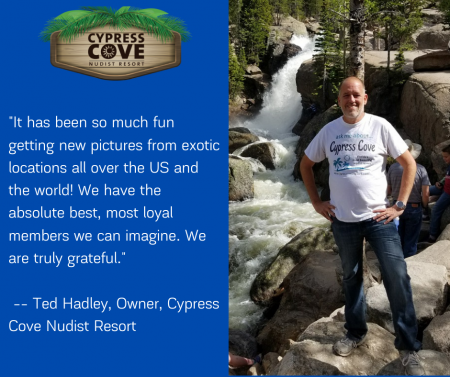 SEND US YOUR PHOTOS!!!
 We want to see where you have worn your Cypress Cove t-shirt, no matter which style it is! Wear it to town, the grocery store, while you are out and about, or at a national monument, and send us a photo! You will be featured in our newsletter or on our social media channels. 
Don't have a shirt yet? Purchase one at the main office or call and order one to show your pride in Cypress Cove! 
Call us at Toll-Free (888) 683-3140.

Send photos to Newsletter@CypressCoveResort.com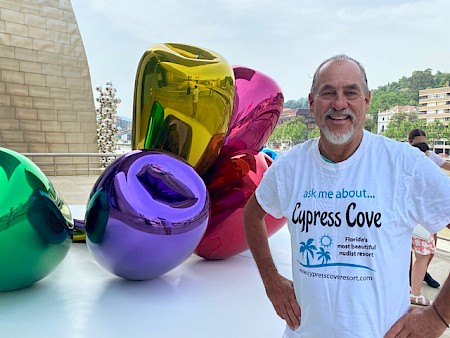 One of our members at Guggenheim Bilbao.
Thanks for sending it in, Mike!
 
Where have you worn your Cypress Cove T-shirts?
Send us a photo!
---
Book a Room Today!
It's never been a better time to stay at Cypress Cove! Book Online, Email Reservations, or Call Reservations toll-free at 888-683-3140.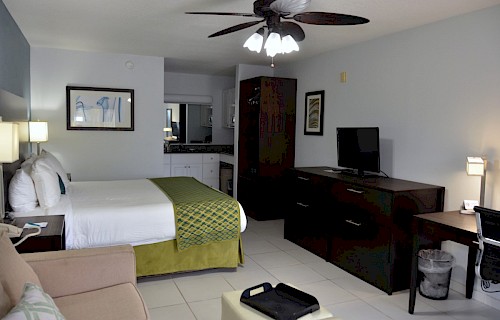 For Special Offers click HERE!
---
Every week we receive great reviews on TripAdvisor and Google; if you have visited or stayed with us, we would love to know about your experience. Click the logos below.