Laugh of the Week
---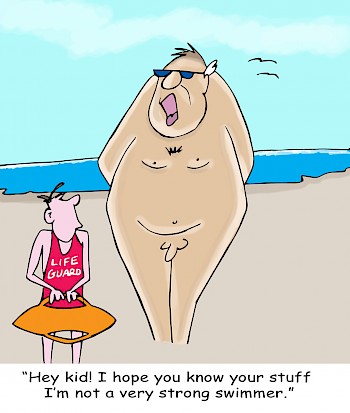 ---
Cove News   
---
Magic with Erick Olson
Join us on Friday, August 11 at 7 pm for Magic with Erick Olson. Erick is back again to dazzle you at Lakeside — a cross between Jay Leno and David Copperfield with amazing magic, comedy, visual gags, and quick one-liners. His show is high-energy, fast-paced, and loaded with audience participation. 

---
Library Closing for Remodeling
At 3:00 pm on Monday, August 14, the American Nudist Research Library will close to the public and remain closed for probably the rest of the week as they move things around. Paul Ruhland built 200 feet of new shelves. Marvin Murray, Eran Shay, and Paul LeValley stained and varnished them. Special thanks go to Peter Sewall who helped plan the remodeling and to the Cypress Cove maintenance staff who will do the heavy lifting.
When they re-open, come in and see the new look.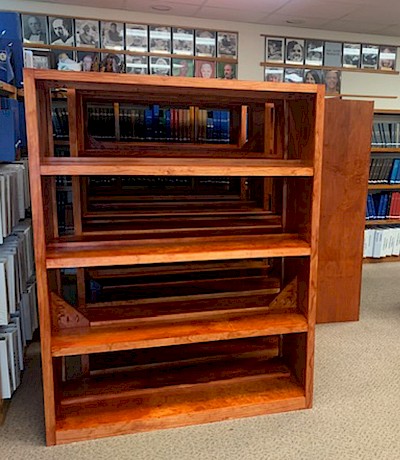 ---
Nude-A-Palooza 2023 TICKETS ON SALE!!!
Here is the official line-up for Nude-A-Palooza 2023 happening on October 21, 2023... It's time to get your tickets! Villa guests will receive up to two event tickets at half-price. This is a change from previous years so that we can maximize charitable donations.

Tickets are officially on sale and can be purchased HERE. Don't forget to book your stay for this big event. We might have last-minute reservation cancelations, so make sure you give us a call! 

---
Cheesecake Bakesale
Herman is baking his heart out for this year's annual cheesecake bakesale. All proceeds go to benefit a breast cancer charity. He will be located in the Gameroom on Saturday, October 14 from Noon to 4 pm. Cash preferred, account charges available. 
If you can't join us in person but still want to help this amazing cause, purchase a virtual cheesecake here! 

---
Labor Day 5K
Registration is already open for Cypress Cove's Labor Day 5K! Come out and streak with us at the 10th annual clothing-optional run at Cypress Cove Nudist Resort on Saturday, September 2, 2023. Wear as little (or as much) as you like as you run/ walk around the beautiful 300-acre property. Day fees are included with your race registration and all preregistered runners are guaranteed commemorative race swag with their race packet so sign up early to be guaranteed one. The race starts at 8:30 am with check-in/ late registration from 7:15 am - 8:15 am. Join us for the race after-party around the pool for music, awards, great food, and drink specials.
To register for this year's race visit here. 

---
Wigs for Kids
September is National Childhood Cancer Awareness Month. Join our friends from Crossed Oaks Haven as we hold our third annual Wigs for Kids benefit. Happening Saturday, September 2. For more information click here.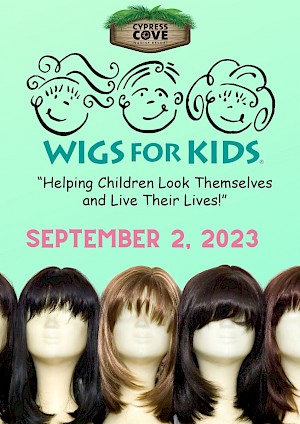 ---
News Outside the Cove
See what's making headlines in nudist news around the world. These things and more are being shared on our social media channels.

Follow us today to stay informed!






(Click one of these links to see the latest news!)
---
'We're nudists, not nuts': Sask. naturist club celebrates 50 years
WAY TO GO!!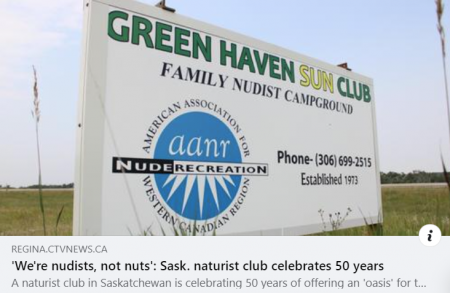 "Nudism. It's a lifestyle that evokes many questions from the general public – and Doug Schick is happy to answer them. 'We're doing nothing wrong here. All we do is if it's too hot, we don't wear clothes. And it's just a normal thing,' he said. Schick is the president of the Green Haven Sun Club, Saskatchewan's only landed nudist club. The organization stylizes itself as an 'Oasis on the Prairies' and that's exactly how Schick came to know of it." Read the full story HERE.
---
I went on a nude cruise with 2,300 strangers — it cured my body image issues
It's not about being seen or seeing. It's about being comfortable in your own skin.
"Suns out, buns — and everything else — out, too. Helen Berriman, 47, found a new sense of self-love after baring it all while vacationing on a nude cruise line. 'I used to struggle with body positivity and confidence, but now I am so different. My body is my vessel,' Berriman told Caters News Agency. Berriman and her husband, Simon, 47, spent a two-week vacation together on their first nude cruise ship, embracing their birthday suits and a judgment-free environment." Read the full story HERE.
---
Have You Seen Us Lately?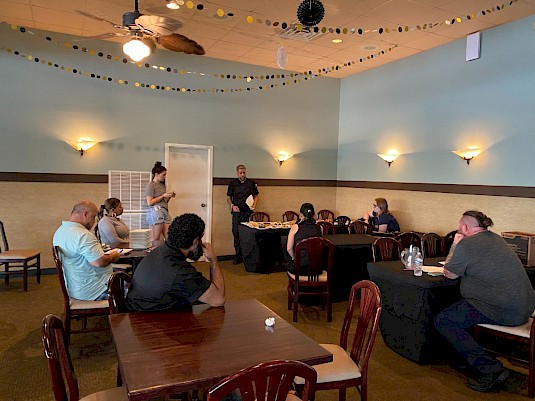 Executive Chef leads a meeting updating some of the staff on menu items.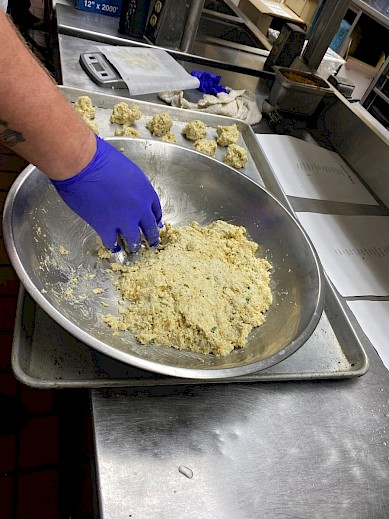 New dishes are being prepped just an hour before the opening. Freshness is key!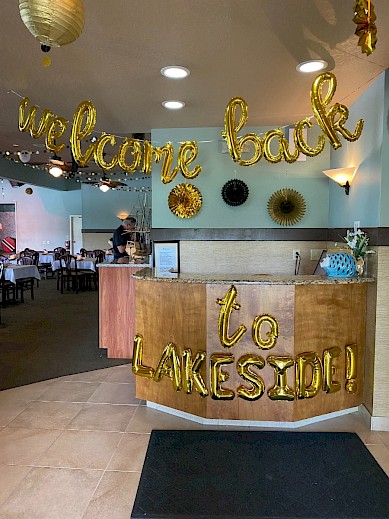 Diners received a warm welcome as they entered Lakeside for Dinner.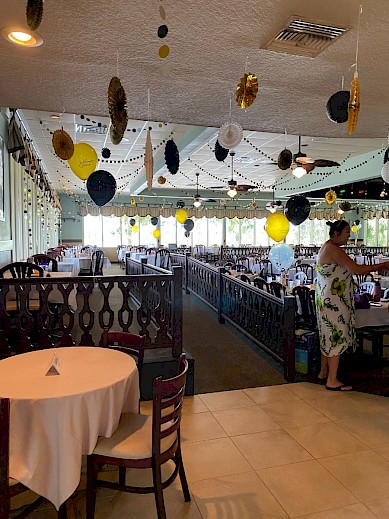 It sure was a celebration! Do you have your dining reservations?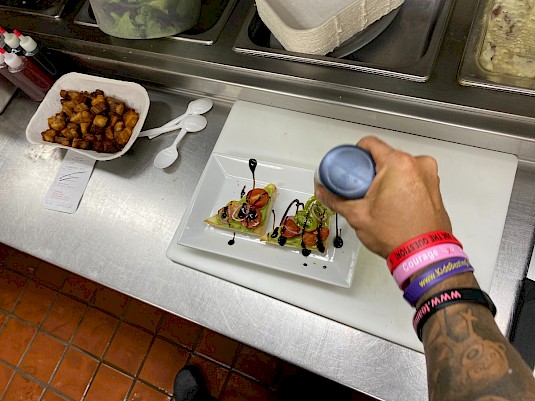 The Lakeside kitchen preps its first tapas leaving this kitchen in over 3 years.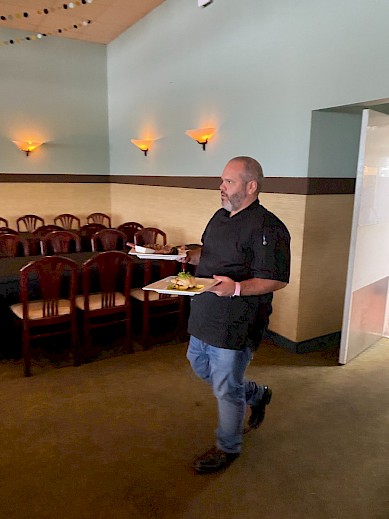 Food & Beverage Director personally delivers entrees to welcome Lakeside Diners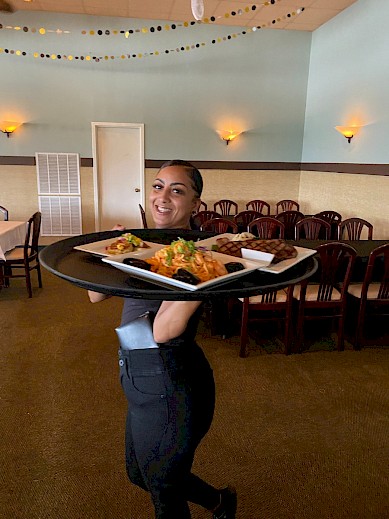 Member of the waitstaff, Christina, stops and smiles on opening night.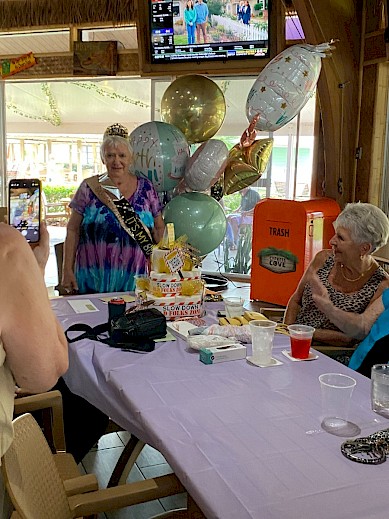 Our beloved Carolyn, a current member of the Activities team, celebrated a milestone birthday.
She felt the love!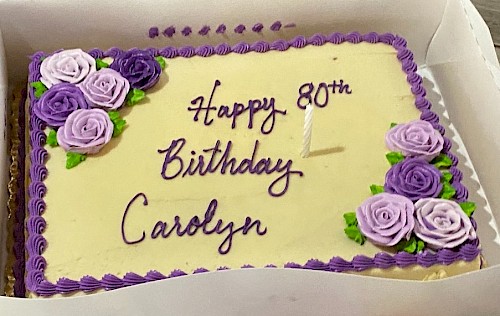 Here's wishing you another wonderful year at Cypress Cove, Carolyn.
Sunday Brunch at Lakeside.
Delicious dishes were served from 8 am - 1 pm.
Happening the first Sunday of the month. Make your reservations now!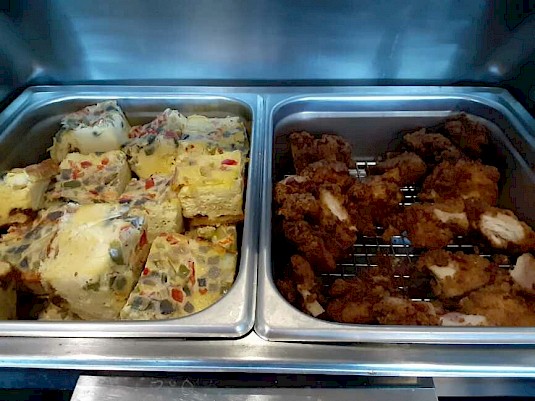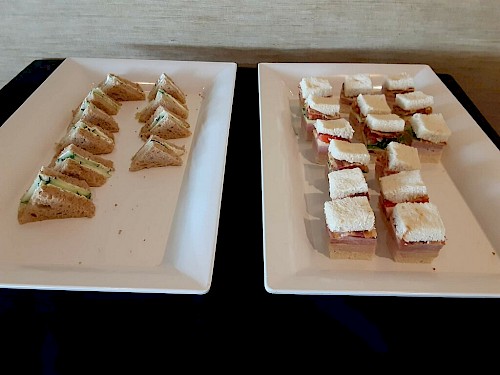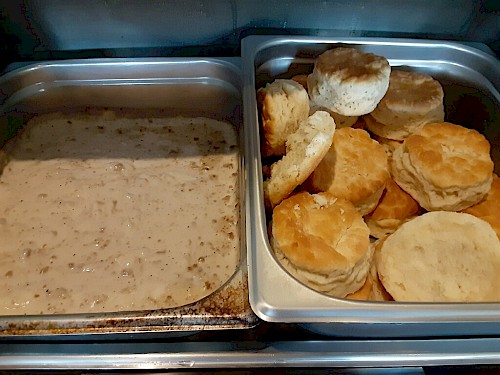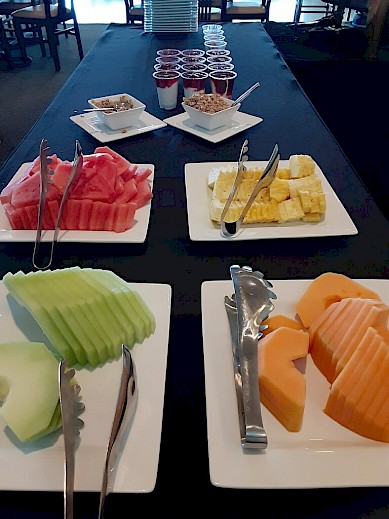 ---
"Where Have You
Taken the Cove?"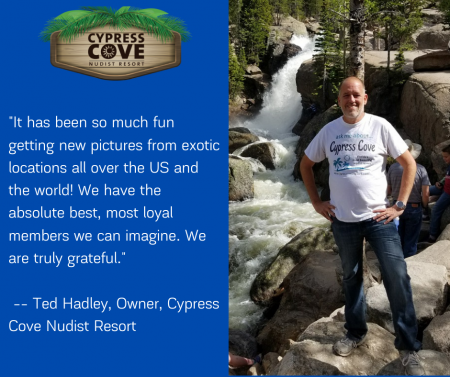 SEND US YOUR PHOTOS!!!
 We want to see where you have worn your Cypress Cove t-shirt, no matter which style it is! Wear it to town, the grocery store, while you are out and about, or at a national monument, and send us a photo! You will be featured in our newsletter or on our social media channels. 
Don't have a shirt yet? Purchase one at the main office or call and order one to show your pride in Cypress Cove! 
Call us at Toll-Free (888) 683-3140.

Send photos to Newsletter@CypressCoveResort.com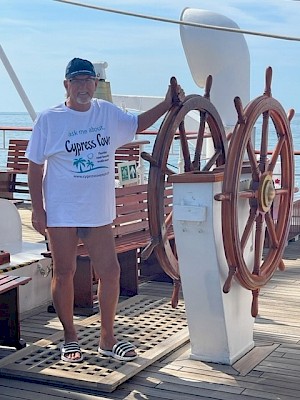 Brian at the largest full-rigged sailing ship in the world, "Royal Clipper".
Thanks for sending it in, Brian!

Where have you worn your Cypress Cove T-shirts?
Please send us a photo!
---
Book a Room Today!
It's never been a better time to stay at Cypress Cove! Book Online, Email Reservations, or Call Reservations toll-free at 888-683-3140.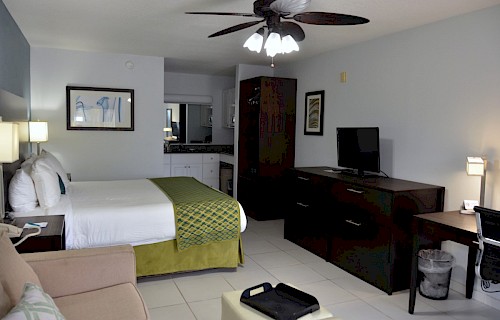 For Special Offers click HERE!
---
Every week we receive great reviews on TripAdvisor and Google; if you have visited or stayed with us, we would love to know about your experience. Click the logos below.