Laugh of the Week
---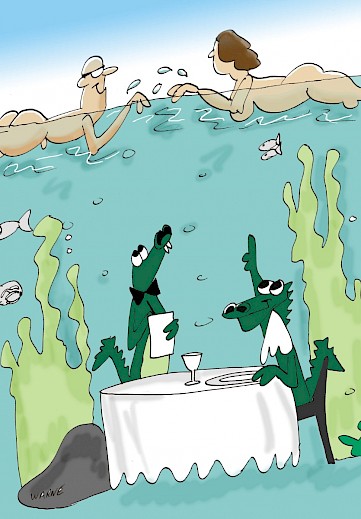 ---
Cove News   
---
Lakeside Grand Re-Opening, Friday, AUGUST 4
For over two decades, Lakeside Restaurant has been an inseparable part of our community. It has witnessed romantic dates, joyous celebrations, honeymoons, and hearty gatherings of friends and families… and soon it'll be ready to resume its rightful place as the culinary beacon of our resort.  In a symphony of anticipation, the moment we've all been waiting for has finally arrived – the grand re-opening of the beloved Lakeside Restaurant on August 4th.
The journey to this grand re-opening has been a labor of love for a number of Cypress Cove teams. Countless hours of meticulous planning, recreating the magic that once graced its premises have been poured into this endeavor. The new menu, a demonstration of culinary excellence, will showcase a fusion of classic favorites and innovative creations. From succulent fresh seafood to decadent desserts, each dish will be a testament to the culinary mastery of Lakeside's kitchen.
The re-opening of Lakeside on Friday and Saturday nights only adds an air of exclusivity and allure. It will be an opportunity for the community to come together and savor the experience on these special evenings, making each visit a memorable event in its own right.
This event marks the beginning of a new chapter, and we cannot wait to fill its pages with laughter, love, and the camaraderie that makes our resort community truly special. So, let us join hands (figuratively, of course) and make our way to Lakeside Friday, August 4, where a warm welcome awaits us. Together, we will toast to the invincible spirit of our community and the revival of this resort gem, knowing that the memories we create within these walls will be cherished for years to come.
Bon appétit!


Peter Sewall,
General Manager
  
---
Sunday Brunch at Lakeside
Ah…the sunrise over Brown Lake, the smell of bacon and hot coffee—what could enhance it but the return of your favorite morning dining experience? Beginning Sunday, August 6, residents and guests can enjoy a monthly breakfast buffet at Lakeside Restaurant! Look for the breakfast buffet every first Sunday of the month from here on out. See you there!

---
Nude-A-Palooza 2023 TICKETS ON SALE!!!
Here is the official line-up for Nude-A-Palooza 2023 happening on October 21, 2023... It's time to get your tickets!
Tickets are officially on sale and can be purchased HERE. Don't forget to book your stay for this big event. We might have last-minute reservation cancelations, so make sure you give us a call! 

---
Cheesecake Bakesale
Herman is baking his heart out for this year's annual cheesecake bakesale. All proceeds go to benefit a breast cancer charity. He will be located in the Gameroom on Saturday, October 14 from Noon to 4 pm. Cash preferred, account charges available. 
If you can't join us in person but still want to help this amazing cause, purchase a virtual cheesecake here! 

---
Labor Day 5K
Registration is already open for Cypress Cove's Labor Day 5K! Come out and streak with us at the 10th annual clothing-optional run at Cypress Cove Nudist Resort on Saturday, September 2, 2023. Wear as little (or as much) as you like as you run/ walk around the beautiful 300-acre property. Day fees are included with your race registration and all preregistered runners are guaranteed commemorative race swag with their race packet so sign up early to be guaranteed one. The race starts at 8:30 am with check-in/ late registration from 7:15 am - 8:15 am. Join us for the race after-party around the pool for music, awards, great food, and drink specials.
To register for this year's race visit here. 

---
Wigs for Kids
September is National Childhood Cancer Awareness Month. Join our friends from Crossed Oaks Haven as we hold our third annual Wigs for Kids benefit. Happening Saturday, September 2. For more information click here.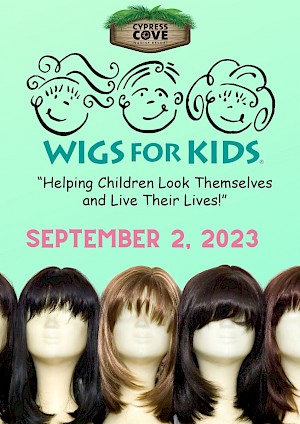 ---
News Outside the Cove
See what's making headlines in nudist news around the world. These things and more are being shared on our social media channels.

Follow us today to stay informed!






(Click one of these links to see the latest news!)
---
Naturists celebrate body positivity with nude golf, despite record-low Darwin temperatures
Nudists don't care about temperatures most of the time.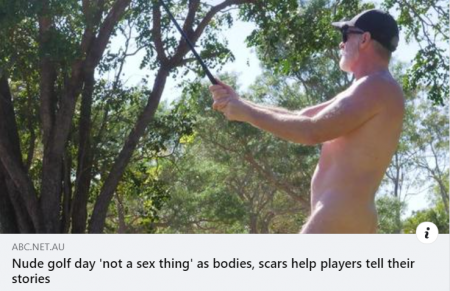 "Naturists have revealed scars, loose skin, and bumps in a celebration of body positivity while playing nude golf at Humpty Doo, just outside of Darwin. On the coldest Darwin day since 1942, when the overnight temperature got down to 13.4 degrees this week, they wore nothing but shoes, socks, hats, and mosquito repellent. For many, it was their first time playing golf and some found themselves in the rough in the buff more than once. The golf course was closed to the public for the day, although players who weren't easily offended were permitted to step on to the fairways." Read the full story HERE.
---
Bare it All at The Best Places to Spend Time Naked in Idaho
These are for our nudist friends in Idaho!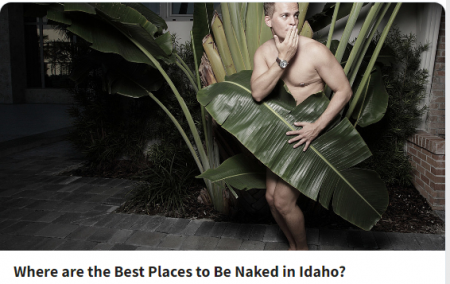 "As the summer continues and the heat continues to rise, it can be a tad miserable at times dealing with the heat. While blasting the air conditioner and lounging in the pool is nice, it sometimes isn't enough, and the only way to truly feel cool enough is to shed the clothes and become a nudist. While being naked can be freeing and comfortable, it isn't exactly legal to roam the streets of Twin Falls or many places in the state in your birthday suit. There are a few places however that you can bare it all without getting a ticket, and here are some of the best places to be naked in Idaho." Read the full story HERE.
---
Have You Seen Us Lately?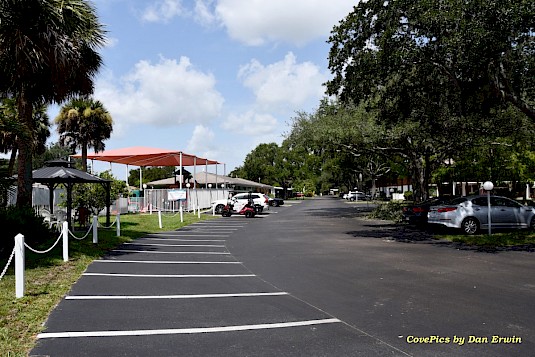 Just a mere 24 hours ago, these streets were filled with Parrothead partygoers.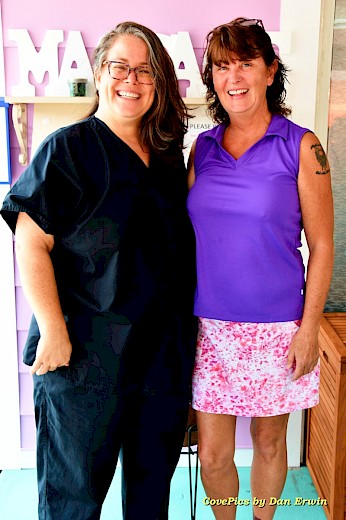 The new owner, Cori (left) of Spa Oasis. Tammy (previous owner, right) will remain on as a massage therapist.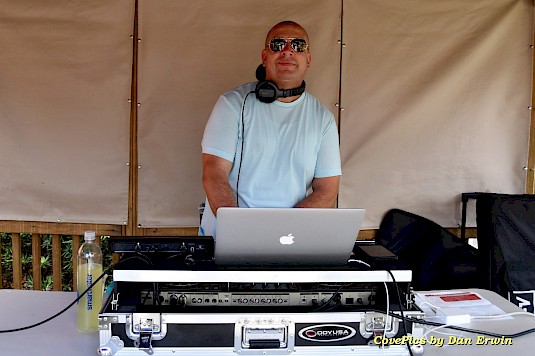 DJ Damon spins your favorite hits at the West Pool.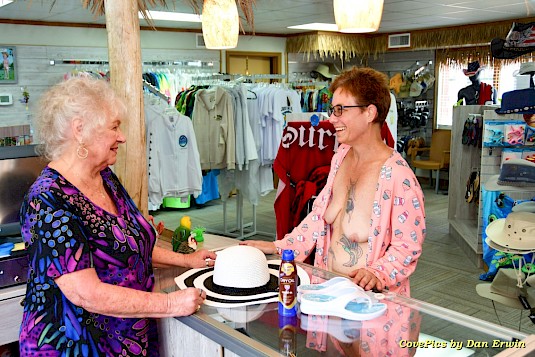 Did you leave your hat and sunscreen at home? Fig Leaf Boutique has you covered for all your vacation needs!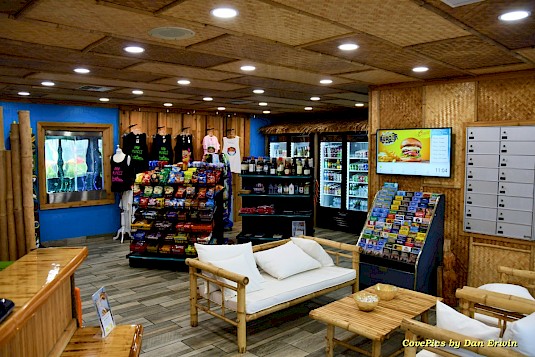 Don't forget about our sundries store. We have fresh ice cream, drinks, snacks, and Cove apparel.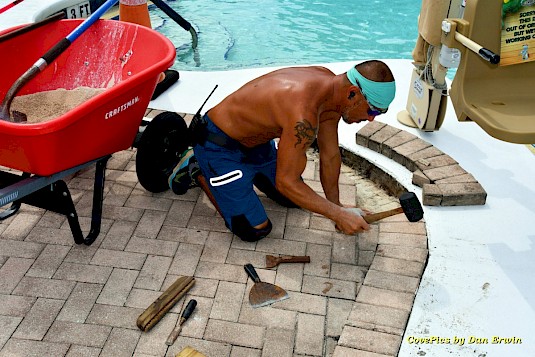 Jason S. works hard to make repairs to the pool deck.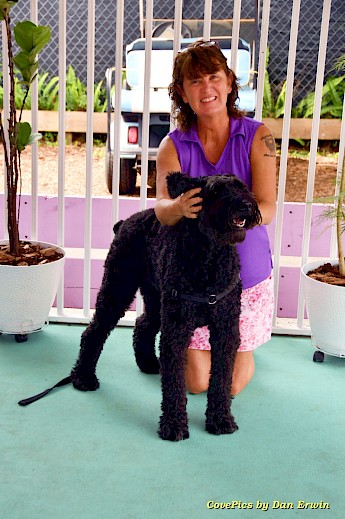 Cypress Cove is pet-friendly! Bring your best friends with you to Cypress Cove. 
---
"Where Have You
Taken the Cove?"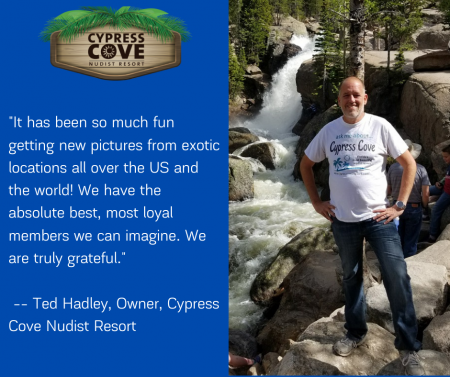 SEND US YOUR PHOTOS!!!
 We want to see where you have worn your Cypress Cove t-shirt, no matter which style it is! Wear it to town, the grocery store, while you are out and about, or at a national monument, and send us a photo! You will be featured in our newsletter or on our social media channels. 
Don't have a shirt yet? Purchase one at the main office or call and order one to show your pride in Cypress Cove! 
Call us at Toll-Free (888) 683-3140.

Send photos to Newsletter@CypressCoveResort.com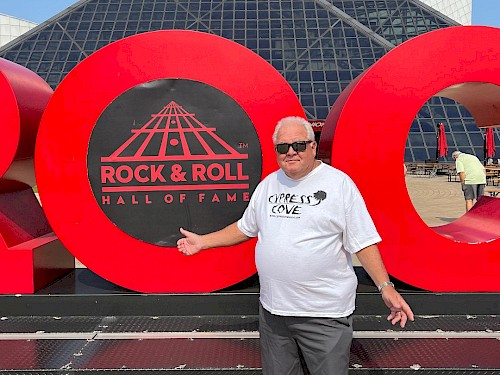 Sky & Joanie took Cypress Cove to the Rock and Roll Hall of Fame in Cleveland.
Thank you for sending it in Sky & Joanie. Hope to see you before Nude-A-Palooza

Where have you worn your Cypress Cove T-shirts?
Please send us a photo!
---
Book a Room Today!
It's never been a better time to stay at Cypress Cove! Book Online, Email Reservations, or Call Reservations toll-free at 888-683-3140.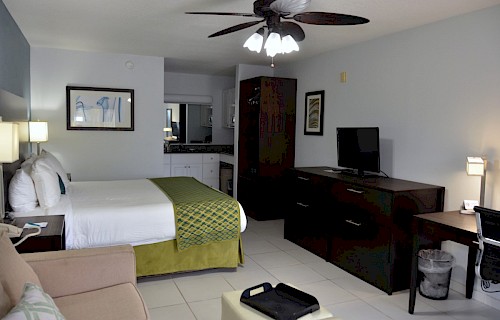 For Special Offers click HERE!
---
Every week we receive great reviews on TripAdvisor and Google; if you have visited or stayed with us, we would love to know about your experience. Click the logos below.