Laugh of the Week
---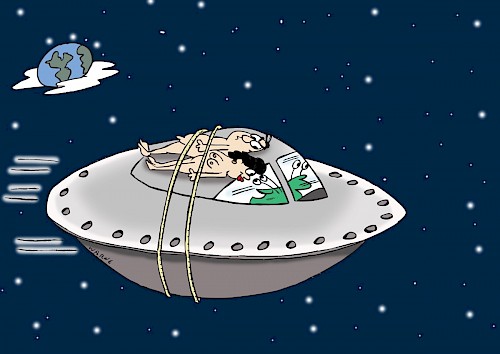 ---
Cove News   
---
Cypress Cove Health Fair 
Our upcoming Health Fair features first-class services for our community. Engage in the noble act of blood donation, contributing to the welfare of others while enjoying the freedom of our environment. Additionally, prioritize your health with comprehensive skin screenings by Daystar, ensuring your outer body matches your inner vitality. For your convenience, blood donation appointments are available here. Come together to enhance your health, foster community spirit, and bask in the liberating atmosphere of our resort. Your well-being, both inside and out, is important. For more information on blood donations, click here.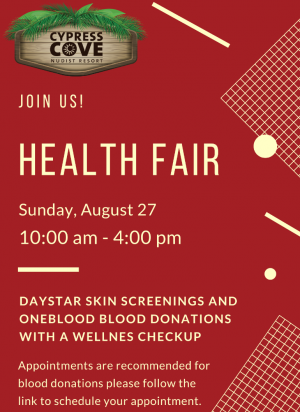 ---
Nude-A-Palooza 2023 TICKETS ON SALE!!!
Here is the official line-up for Nude-A-Palooza 2023 happening on October 21, 2023... It's time to get your tickets! Villa guests will receive up to two event tickets at half-price. This is a change from previous years so that we can maximize charitable donations.

Tickets are officially on sale and can be purchased HERE. Don't forget to book your stay for this big event. We might have last-minute reservation cancelations, so make sure you give us a call!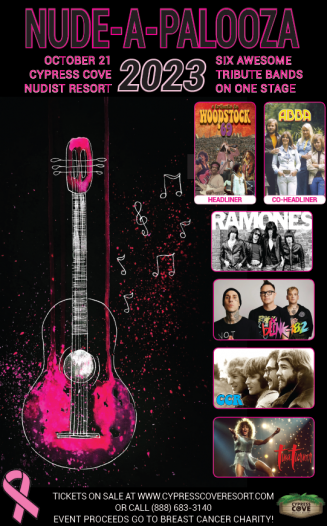 ---
Cheesecake Bakesale
Herman is baking his heart out for this year's annual cheesecake bakesale. All proceeds go to benefit a breast cancer charity. He will be located in the Gameroom on Saturday, October 14 from Noon to 4 pm. Cash preferred, account charges available. 
If you can't join us in person but still want to help this amazing cause, purchase a virtual cheesecake here! 

Make sure you check out the raffle that Herman has set up. He is raffling off this TV and much more. If you'd like to donate something to be raffled, please get with Herman at Cheeks.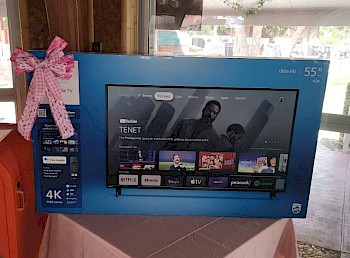 ---
Labor Day 5K
Registration is already open for Cypress Cove's Labor Day 5K! Come out and streak with us at the 10th annual clothing-optional run at Cypress Cove Nudist Resort on Saturday, September 2, 2023. Wear as little (or as much) as you like as you run/ walk around the beautiful 300-acre property. Day fees are included with your race registration and all preregistered runners are guaranteed commemorative race swag with their race packet so sign up early to be guaranteed one. The race starts at 8:30 am with check-in/ late registration from 7:15 am - 8:15 am. Join us for the race after-party around the pool for music, awards, great food, and drink specials.
To register for this year's race visit here. 

---
Library Closing for Remodeling
At 3:00 pm on Monday, August 14, the American Nudist Research Library will close to the public and remain closed for probably the rest of the week as they move things around. Paul Ruhland built 200 feet of new shelves. Marvin Murray, Eran Shay, and Paul LeValley stained and varnished them. Special thanks go to Peter Sewall who helped plan the remodeling and to the Cypress Cove maintenance staff who will do the heavy lifting.
When they re-open, come in and see the new look.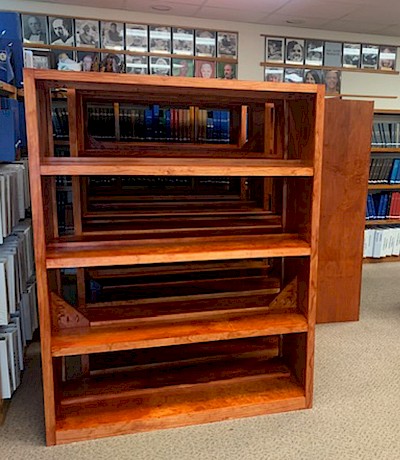 ---
News Outside the Cove
See what's making headlines in nudist news around the world. These things and more are being shared on our social media channels.

Follow us today to stay informed!






(Click one of these links to see the latest news!)
---
NUDISTS WANT CLOTHING BANNED ON BEACH — IT MAKES THEM 'UNCOMFORTABLE'
Nudists in Spain want people to stop wearing clothes on the beach — and they're even asking the government to do something about it.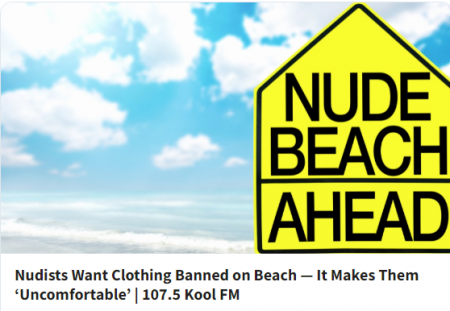 "The Naturist-Nudist Federation of Catalonia sent a letter to Catalonia officials asking them to address 'the discrimination that nudists face on the beaches of Catalonia.' The group is hoping to protect the decades-long tradition that's linked to about 50 of the beaches in the region and has made potential requests including signage for nude beaches and a public awareness campaign for naturism. The beaches are open for all, and the nudists say that people either strip down or stay wearing their swimwear…" Read the full story HERE.
---
Last Nudist Resort in San Diego County Going 'Textile': Clothing Soon Mandatory
So saddened to hear about this resort going textile. Everyone deserves a place to feel the freedom of being nude.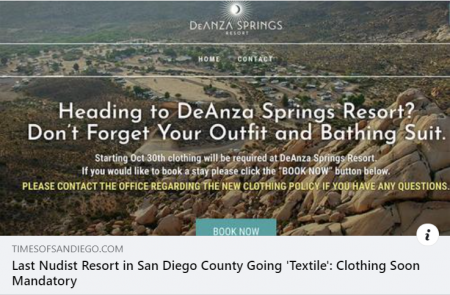 "For nearly three decades, the DeAnza Springs Resort in the high desert community of Jacumba Hot Springs has provided a 523-acre haven for naturists to bare all as one of the nation's largest clothing-optional destinations. But this week, residents received stark news — a letter from the resort's new management informing them of a decision to become a 'textile' park. Starting September 1, clothing will be required in all common areas such as the pool and hiking trails. Then on October 1, nudity will be banned everywhere on the property, including privately owned and leased sites. (The website says Oct. 30.)" Read the full story HERE.
---
Have You Seen Us Lately?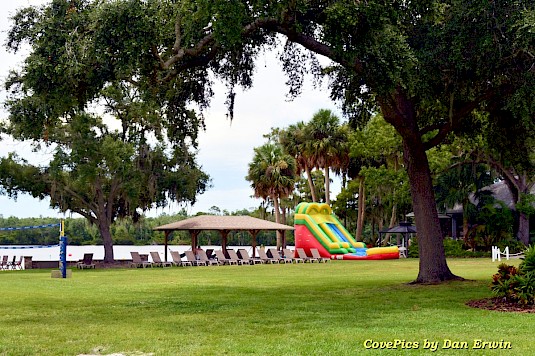 The sunning yard and lakefront are such beautiful parts of Cypress Cove.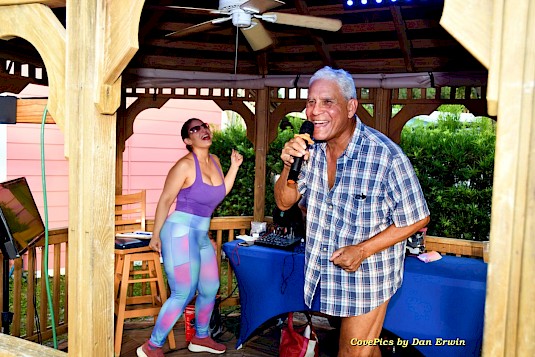 Thursday night Karaoke is always fun.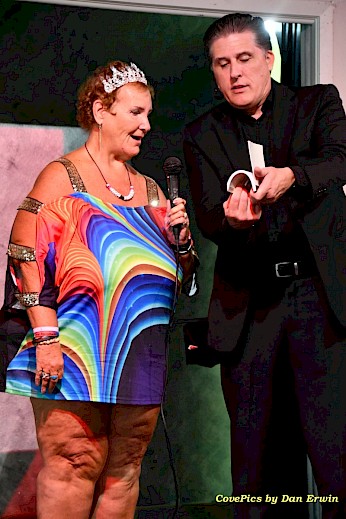 Magician/Comedian Erick Olson at Lakeside Restaurant on Friday night.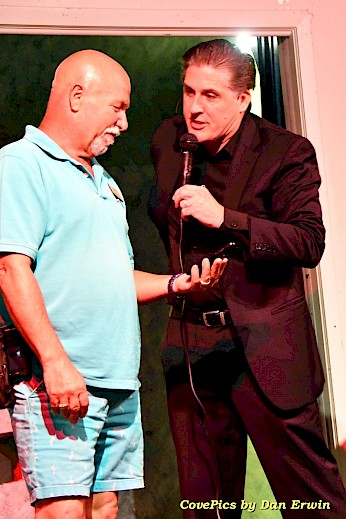 Erick and Charles work together to amaze the audience.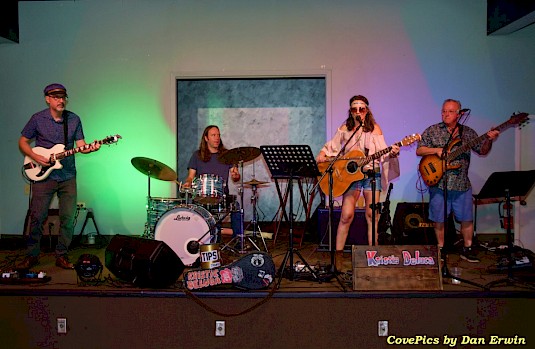 The Kristie DeLuca Band kept the party going on Saturday night at Lakeside Restaurant.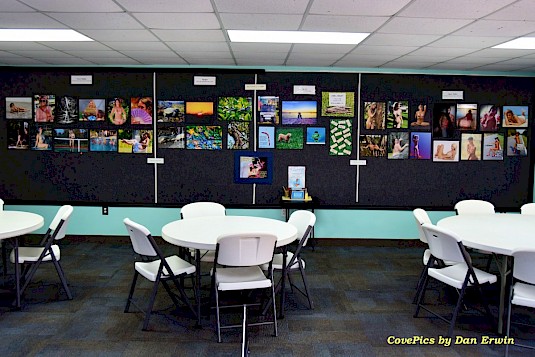 The Camera Club has its fall show up on the wall in the Gameroom. Check it out and vote for your favorite photo in each category.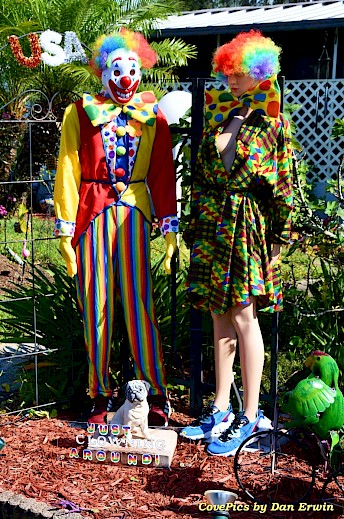 The residents of the Cove love to celebrate -- Happy Clown Month.
---
"Where Have You
Taken the Cove?"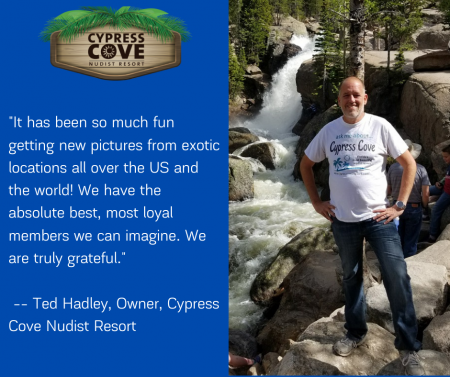 SEND US YOUR PHOTOS!!!
 We want to see where you have worn your Cypress Cove t-shirt, no matter which style it is! Wear it to town, the grocery store, while you are out and about, or at a national monument, and send us a photo! You will be featured in our newsletter or on our social media channels. 
Don't have a shirt yet? Purchase one at the main office or call and order one to show your pride in Cypress Cove! 
Call us at Toll-Free (888) 683-3140.

Send photos to Newsletter@CypressCoveResort.com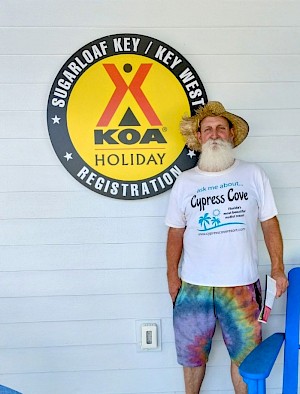 Ray at Sugarloaf Key KOA in Florida.
Thank you Ray for sending it in!

Where have you worn your Cypress Cove T-shirts?
Please send us a photo!
---
Book a Room Today!
It's never been a better time to stay at Cypress Cove! Book Online, Email Reservations, or Call Reservations toll-free at 888-683-3140.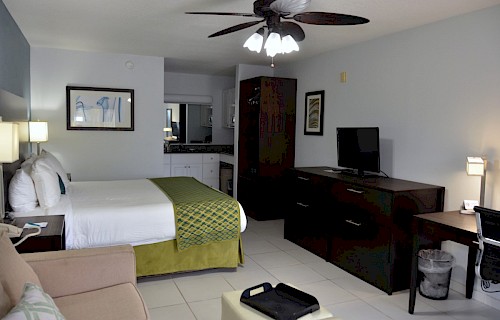 For Special Offers click HERE!
---
Every week we receive great reviews on TripAdvisor and Google; if you have visited or stayed with us, we would love to know about your experience. Click the logos below.