Laugh of the Week
---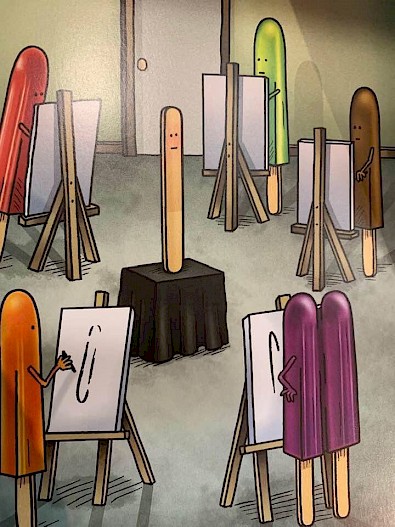 ---
Cove News   
---
Gatehouse Renovations
Things are moving right along with the Gatehouse renovations. The engineering team jumped in and started demolishing (not much of that was needed) and repairing. There is a new sliding glass door that will take place of the old window, allowing the gate attendants to walk out and speak with those checking in, get tag numbers, and facilitate transactions. We will keep you updated!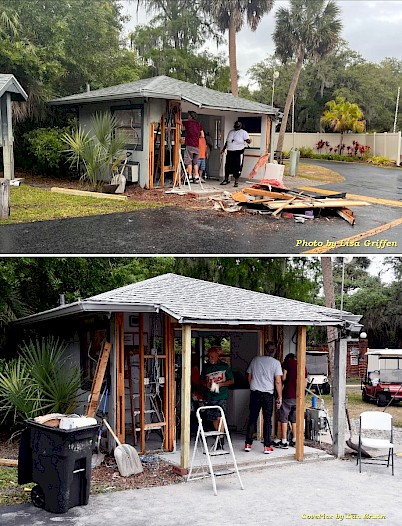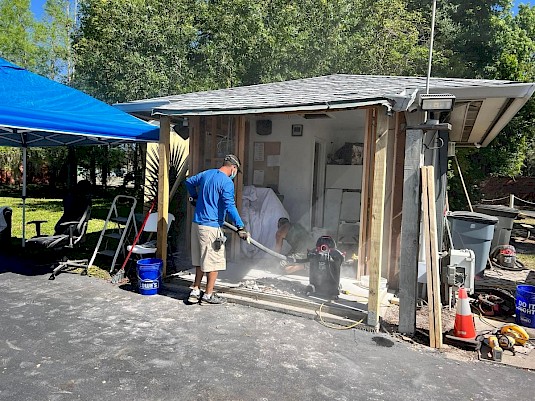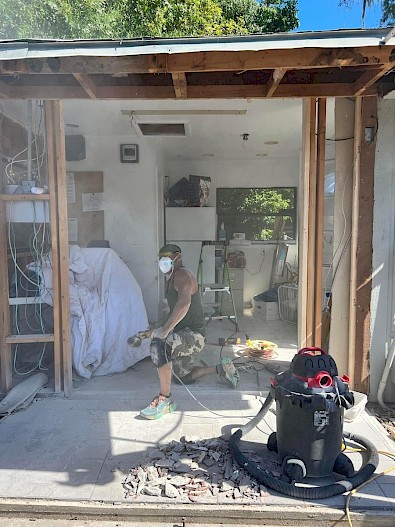 ---
Live Tribute to Paul McCartney - Saturday, April 22
Join us at Lakeside on April 22 at 7 pm as we welcome a Live Tribute to Paul McCartney. Our best bartenders will be pouring your favorite drinks. See you there!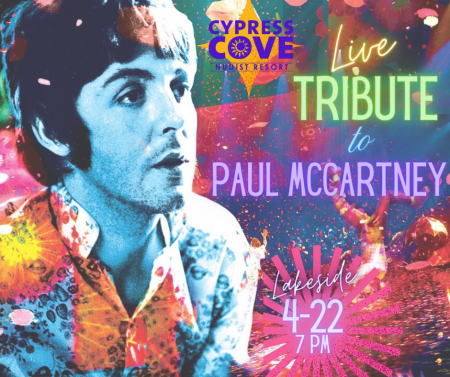 ---
Blood Drive April 23
OneBlood will be here taking blood donations from 11 am - 4 pm. Appointments are not required but are encouraged. If you want to make an appointment, please click here.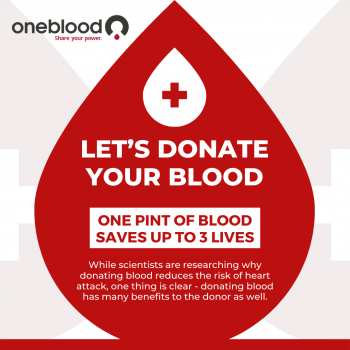 ---
There's More to the Story: National Library Week April 23-29th
Visit the American Nudist Research Library and find out how much more!
National Library Week (April 23-29) tells us there is more to the story of libraries. I remember when my local library contained one book about nudism. The American Nudist Research Library (ANRL) contains shelves of books on the topic. The story doesn't stop there. Within the ANRL are magazines, club newsletters, videos, recordings, photos, and more. Content includes novels, mysteries, histories, movies, movie reviews, book reviews, biographies, art collections, law, health, philosophy, religion, and travel, all pertaining to nudism, and that is just a sample. To experience, enjoy and support this effort, become a Friend of the Library.  Residents and campers, watch for a brand new Library brochure to be delivered to your doorstep in the next few days. Visit during National Library Week, and you'll see there's a lot more to the story. Open Mon-Sat 1:00 pm - 4:00 pm.
Everyone welcome!
- Mark Silverstein

---
Hey, Residents! The Spring Contest is BACK!
We are heading into the spring season again. What better way to celebrate than with our residential spring clean-up contest? Beginning April 1 thru June 30, 2023, residents of Cypress Cove Resort can submit photos to be considered for one of two categories. Those categories are Most Beautiful Lot and Most Improved Lot. You will also have the opportunity to vote for the category of Most Beautiful Lot to determine the winners. The winners of both categories will be announced and highlighted in the newsletter at the end of each of those three months (April, May, and June).
As an incentive, we will be awarding prizes to the winners of each of those categories. Each of the winners will receive one Lowes gift card worth $250, yes, a $250 Lowe's gift card! And a beautiful yard sign that you can proudly display on your lot during the month that you won.
Please send all photo submissions and votes to nominations@cypresscoveresort.com.
Be sure to clearly include the lot number you are submitting or voting for. There will also be a small box located in the front office where you can write in your vote if you do not have email access. Please only vote once per lot. For helpful spring cleaning and Florida-friendly landscape tips, please click on the links below:
We appreciate everyone's efforts in properly maintaining their lots and hope that this will further motivate everyone to continue taking pride in their homes and lots for the rest of the year.
If you're visiting us from afar, please take a moment to stroll the streets and see the beautiful landscapes that our residents have worked so hard for. 

---
News Outside the Cove
See what's making headlines in nudist news around the world. These things and more are being shared on our social media channels.

Follow us today to stay informed!






(Click one of these links to see the latest news!)
---
Got emotional when my friend said he wanted to frame nude photos from my shoot on his wall: Vanita Kharat
Every BODY is beautiful! This is our philosophy...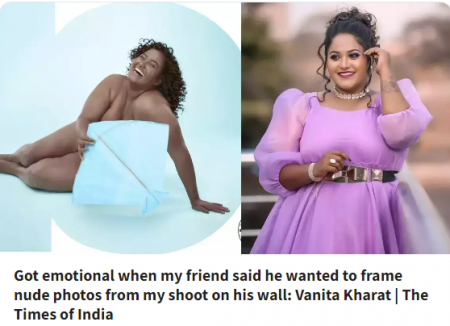 "Marathi actress Vanita Kharat, who rose to fame with the show Maharashtrachi Hasya Jatra, recently poured her heart out in a youtube podcast. The actress spoke about her life stories and personal experiences in the podcast and surprised her fans. Talking about her journey and career in the industry, Vanita said, 'I have done a lot of work in the industry. From small roles to big roles, I have done everything. I love simplicity and love to live with it. Now, I don't want to look back on life. I want to go ahead and do as much as work'" Read the full story HERE.
---
Hilary Swank shares a stunning nude photo from her pregnancy capturing 'one of my favorite moments in time' as she celebrates the arrival of her twins
Sometimes you feel the most beautiful when not wearing a stitch of clothing. And that's perfectly okay!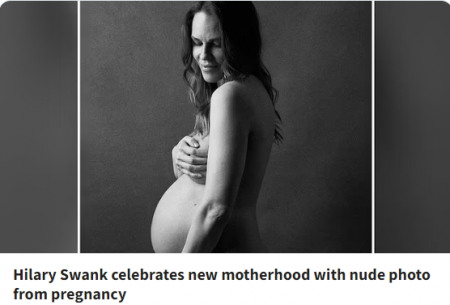 "Hilary Swank has been basking in the joy of new motherhood, but she couldn't help but share one of her favorite photos from her pregnancy with her fans Tuesday. The 48-year-old actress, who announced she had given birth to her twins, a girl and a boy, on Easter day, posted a nude black and white photo that she called 'one of my favorite moments in time,' in the Instagram post." Read the full story HERE.
---
Have You Seen Us Lately?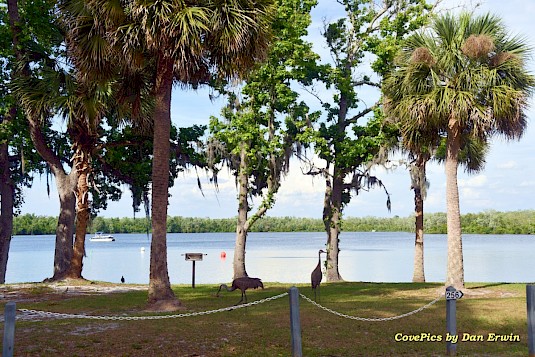 Our sandhill cranes enjoying the beauty of an afternoon at Brown Lake.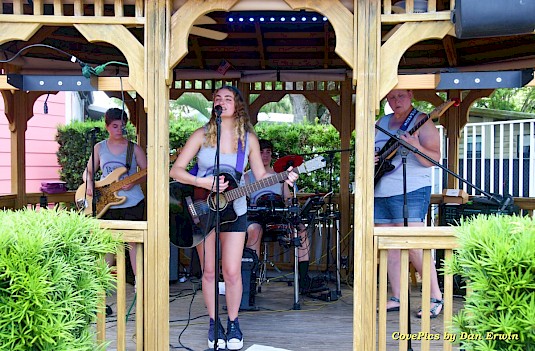 Great music at the Saturday afternoon Pool Party with Blackberry Jam.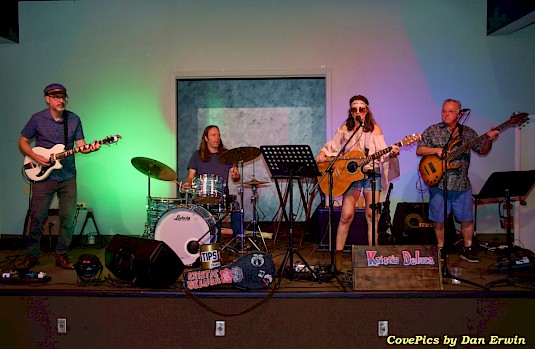 The Saturday evening dance with recording artist Kristie Deluca and her wonderful band.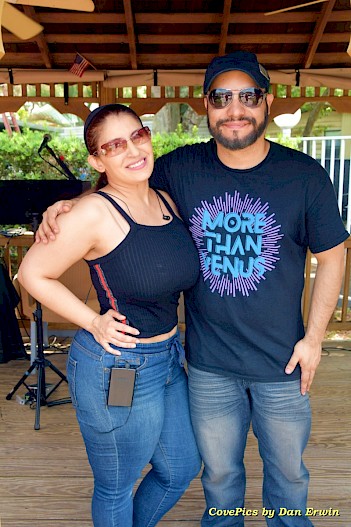 Sunday afternoon pool party with More Than Venus. Great music by a really nice couple.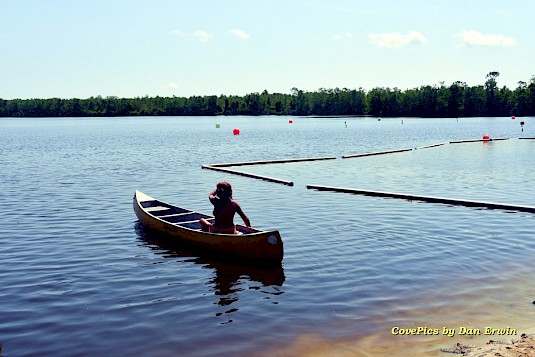 There is always something interesting happening at Cypress Cove.
---
"Where Have You
Taken the Cove?"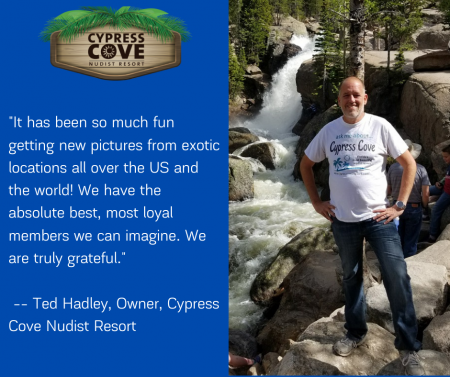 SEND US YOUR PHOTOS!!!
 We want to see where you have worn your Cypress Cove t-shirt, no matter which style it is! Wear it to town, the grocery store, while you are out and about, or at a national monument, and send us a photo! You will be featured in our newsletter or on our social media channels. 
Don't have a shirt yet? Purchase one at the main office or call and order one to show your pride in Cypress Cove! 
Call us at Toll-Free (888) 683-3140.

Send photos to Newsletter@CypressCoveResort.com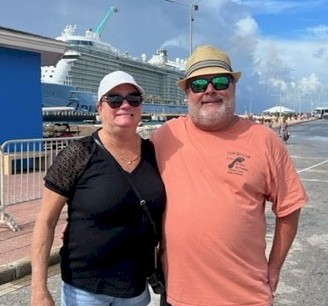 One of our awesome members on the nude cruise! 
Thanks for sending it in!

Where have you worn your Cypress Cove T-shirts?
Send us a photo!
---
Book a Room Today!
It's never been a better time to stay at Cypress Cove! Book Online, Email Reservations, or Call Reservations toll-free at 888-683-3140.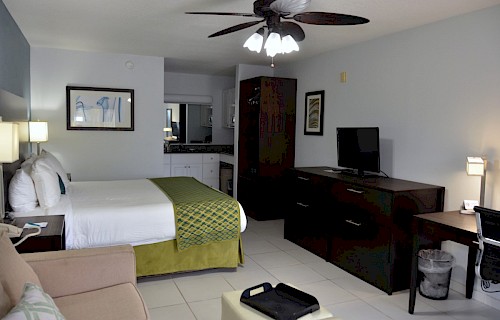 For Special Offers click HERE!
---
Every week we receive great reviews on TripAdvisor and Google; if you have visited or stayed with us, we would love to know about your experience. Click the logos below.