Laugh of the Week
---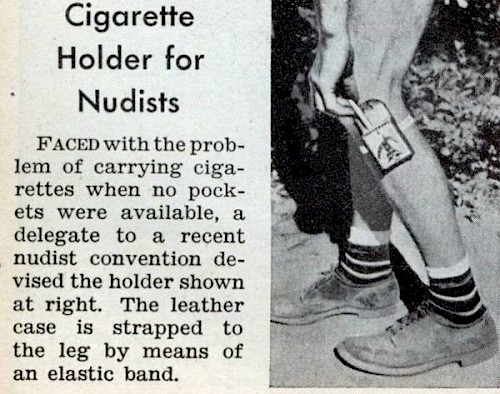 Vintage problems...Vintage solutions!
---
Cove News  
---
Get Tickets Early and  S A V E  $$$!!!
Ticket prices go up on October 1 and rooms are booked solid. Dust off that tent in the garage and grab yourself a tent camping Nude-A-Palooza combo ticket. The weather is always nice in October, so it's a perfect time to camp. Tickets can be purchased HERE. Give us a call at 407-933-5870, we are happy to answer any questions you might have.

Nude-A-Palooza Volunteers Needed!
Cypress Cove is looking for volunteers to work at our awesome Nude-A-Palooza breast cancer charity event on October 22. From parking to gate guards to crowd flow control, we have a job for you. Be a volunteer and get a free ticket to this great all-day concert! Contact Carolyn via activities@cypresscoveresort.com and sign up today!
---
Magazine Photographer Seeking People for Project
A well-known magazine photographer from the UK will be here at Cypress Cove during the week of September 11 - September 17. Laurence Ellis (New York Times, US Vogue, WSG, Financial Times) is seeking people for a photo journal project he is publishing in the Spring 2023 issue of Document Journal ("One of the most influential magazines in the world."—Vogue) with an accompanying essay by Craig Pittman (University Press of Florida)
Ellis would like to explore the stories of the naturist communities of Florida. In a country that often seems increasingly divided, can we find hope and optimism in communities that actively break down aesthetic barriers, creating togetherness and unity through the most simple and natural act of being human in all our natural beauty?
For more information on this project, please visit here.
If you're interested in participating in this project, please send a headshot & contact information (no nude pictures, please) to Newsletter@CypressCoveResort.com. 
---
Fall Craft Fair
It's that time of year when you start to see pumpkin spice everything and the weather starts to turn cool. Our crafters are getting an earlier start this year. Join us for the Fall craft fair happening on October 8 from 9 am to 2 pm. Come out and support your fellow nudists.
For our crafters, if you want to reserve a table, please email Suzanne at Suzanneg541@gmail.com. No resale items. All items must be homemade. We are holding it early this year in order to sell Halloween goods.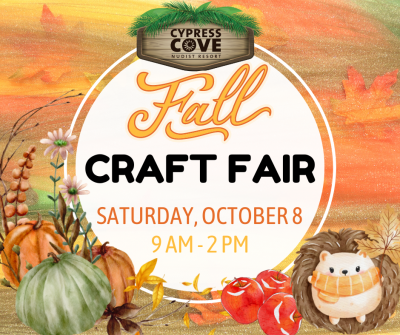 ---
New Tanks for BodyWorks Gym
We have given you a great reason to pick up one of these Stripped & Ripped tank tops! Wear it to the newly renovated gym or out for a grocery run. Show your Cypress Cove pride! They are available at the main office. We can also ship one to you! Give us a call to order one today.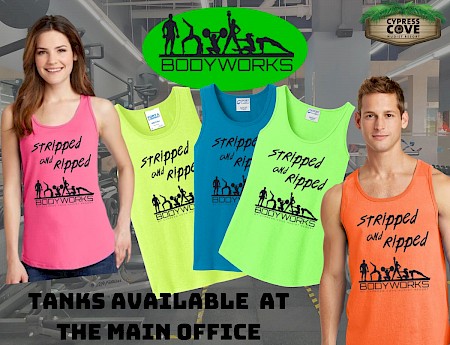 ---
Blind Creek Beach Charter Bus
A group of Cove residents and members is chartering a big luxury motorcoach to take up to 50 Cove beach-lovers to and from Blind Creek Beach on Sunday, October 16, 2022, a week before Nude-a-Palooza, for a day of sun, sand, surf, and fun. The beach is awesome and the ocean will be super nice after warming up for us all summer long. Tickets are just $42.50 each, and you can bring as much stuff as you like to the beach, and not worry about tolls, parking, high gas prices, or traffic.
See full details HERE and then buy your tickets today! Ticket sales close October 1!
Hey TNS members... Cypress Cove is EXCITED to announce a SPECIAL offer for those looking to book a villa stay AND take the ride on the Charter bus. To book your stay call us at 407-933-5870.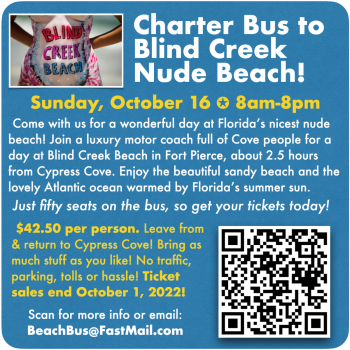 ---
Property Updates
Bodyworks Gym
It is completed! Check out the updated branded gym. Stop by the front desk to inquire about membership and pick up a BodyWorks tank. We will see you stripped & ripped at BodyWorks!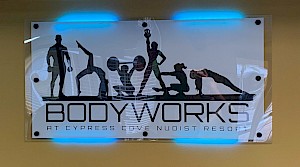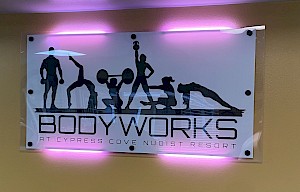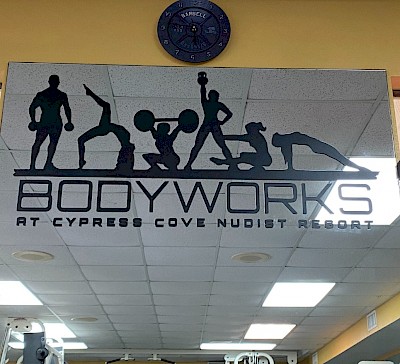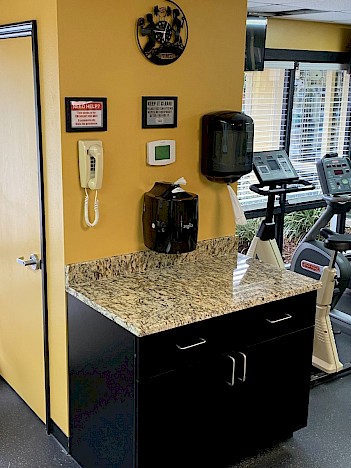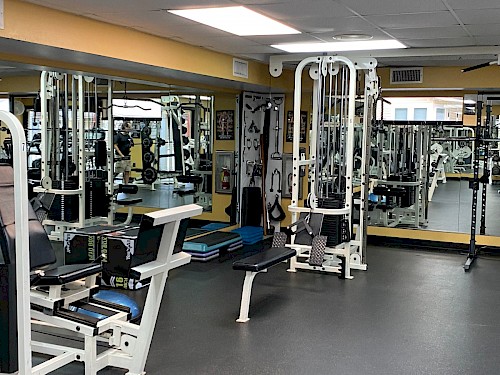 Street Repair & Resealing
We are nearing the end of repairing, resealing and restriping all of the streets within Cypress Cove. If you are visiting with us now through mid-September, please be aware that there will be temporary street closures, but we are still accommodating all guests and you will have access to all resort amenities. 
This will be done in phases and in sections. For more information on the street closure and dates click HERE. We certainly appreciate your patience and cooperation as we continue our efforts to make Cypress Cove Nudist Resort the best nudist resort.
Pickleball & Tennis Courts
Nude pickleball and tennis are really taking off (pun intended) and our courts are well loved. The pickleball courts are currently closed for maintenance. Tennis has re-opened, make sure you check out the Have You Seen Us Lately section. The areas are being repaired, resurfaced, and repainted. Stay tuned for more updates. 
---
News Outside the Cove
See what's making headlines in nudist news around the world. These things and more are being shared on our social media channels.
Follow us today to stay informed!






(Click one of these links to see the latest news!)
---
Pickleball: Florida's EXPLODING Sport
Cypress Cove nude pickleball is featured on the YouTube channel Sunshine State Update! Go check it out. Thanks for the great interview, Mike!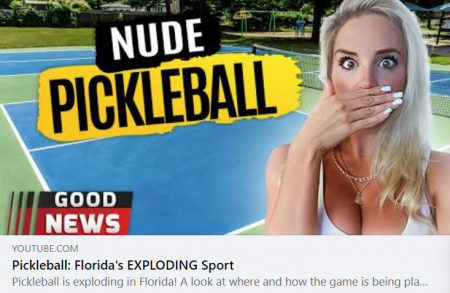 "Pickleball is exploding in Florida! A look at where and how the game is being played throughout the state... Together with an interview with one of the biggest Nude Pickleball clubs in Florida. Plus POSITIVE news from Florida!" Watch the video HERE.
---
Heatwave sparks increased interest in Lincolnshire nudist group, says, founder
The heat will definitely make you want to strip off and cool down!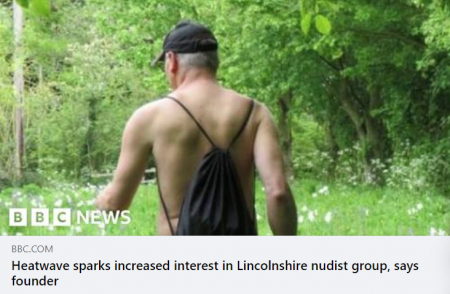 "A nudist group says this summer's record-breaking temperatures have seen its membership almost triple. Naked Lincolnshire said group numbers had gone from 25 to 70 in recent months. Group founder Chris Petchey said: 'The heatwave has been great for us. People are much more inclined to shed clothes when the sun is shining.'" Read the full story HERE.
---
Have You Seen Us Lately?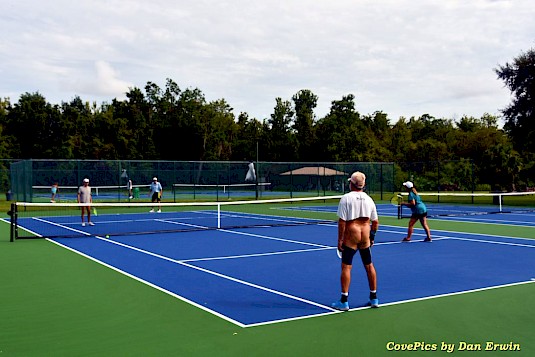 The refinished tennis courts are back open for play and look amazing.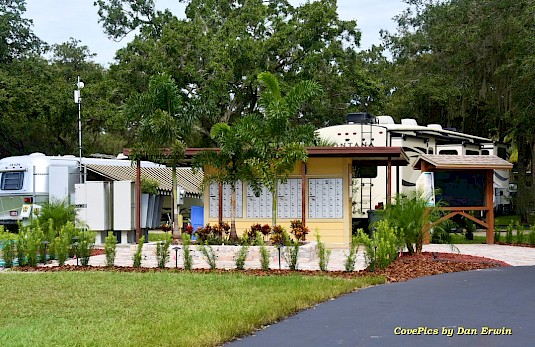 The new beautiful landscaping at the mailboxes.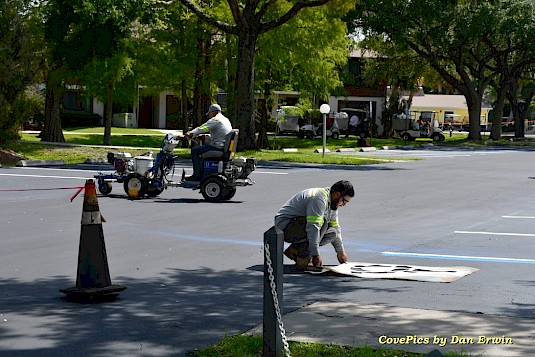 The refinishing of the roads is fun to watch.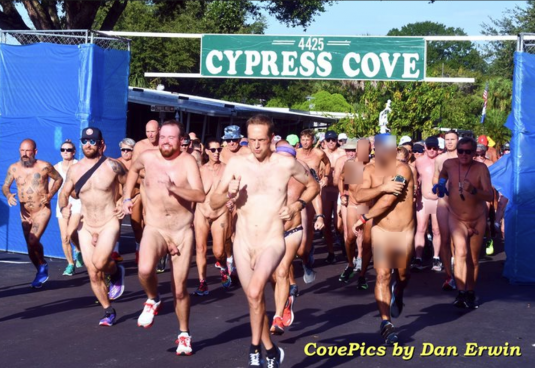 The Cypress Cove's Labor Day 5K Race. Highest attended Cove Labor Day 5K yet with 152 runners.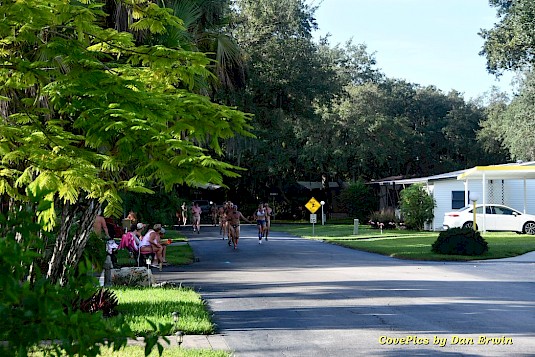 The beautiful tree-lined streets of Cypress Cove made the run a pleasure for the runners and the watchers.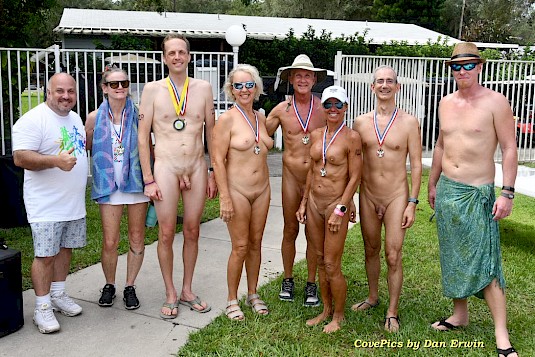 Some of the 5K winners.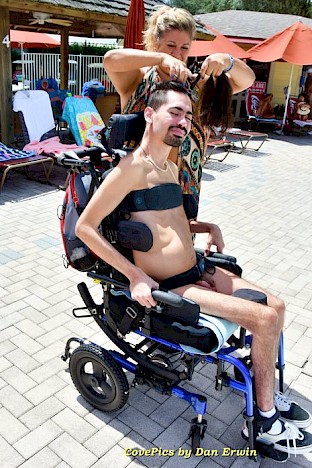 The Wigs for Kinds benefit was a huge success with 5 hair donors and donations of over $900. One of our amazing members had his hair cut by his mom at the poolside to promote the event.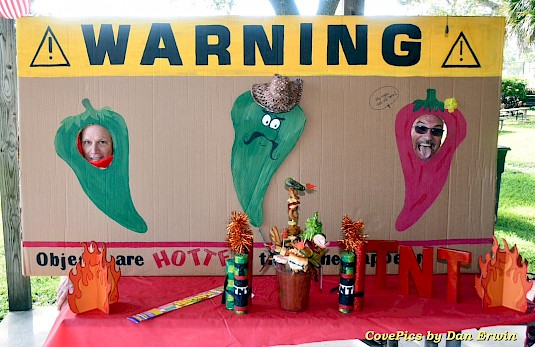 The campground Bloody Mary contest came with a warning - Hot & Spicy!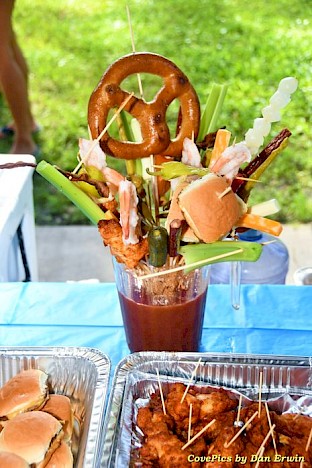 Not your average pitcher of Bloody Mary drinks.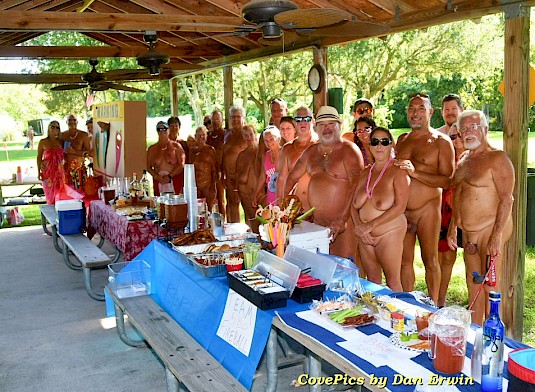 Campers hosted this Bloody Mary contest.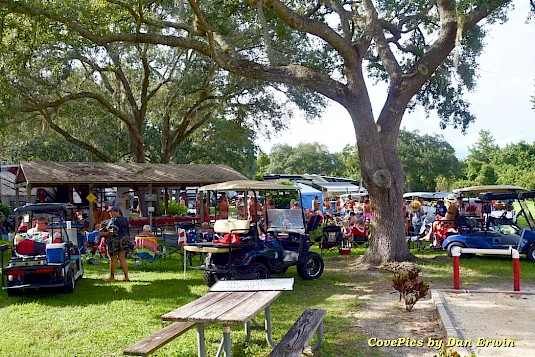 When the campers have a potluck get-together, you know it is going to be a fun time.
---
"Where Have You
Taken the Cove?"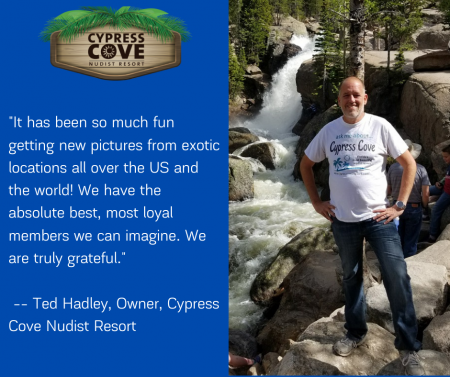 SEND US YOUR PHOTOS!!!
 We want to see where you have worn your Cypress Cove t-shirt, no matter which style it is! Wear it to town, to the grocery store, wear it while you are out and about, or at a national monument, and send us a photo! You will be featured in our newsletter or on one of our social media channels. 
Don't have a shirt yet? Purchase one at the main office or call and order one to show your pride in Cypress Cove! 
Call us at Toll-Free (888) 683-3140.

Send photos to Newsletter@CypressCoveResort.com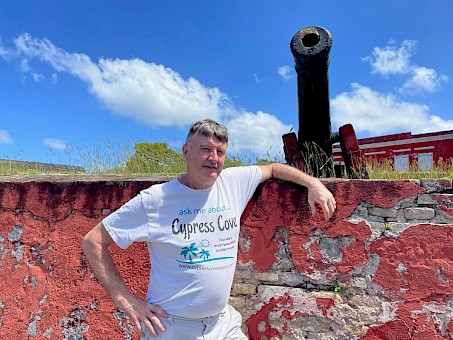 Richard in St. Croix.
Thanks for sending it in Richard!

Where have you worn your Cypress Cove T-shirts?
Send us a photo!
---
Book a Room Today!
It's never been a better time to stay at Cypress Cove! Book Online, Email Reservations, or Call Reservations toll-free at 888-683-3140.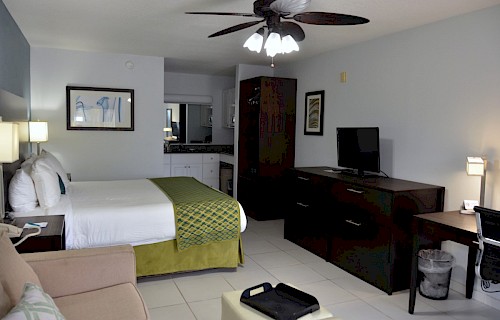 For Special Offers click HERE!
---
Every week we receive great reviews on TripAdvisor and Google; if you have visited or stayed with us, we would love to know about your experience. Click the logos below.