Laugh of the Week
---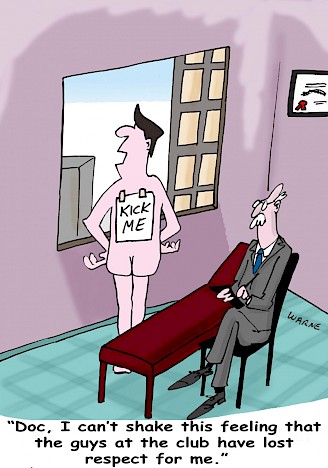 ---
Cove News  
---
Halloween at Cypress Cove
Lots of Halloween events happening this year! Celebrations will take place on Saturday, October 29. Residents, please sign up for the Children's Trick-Or-Treating if you plan to hand out candy. We will be giving out a map of all the houses participating. Sign up on the Activities Door or leave a message on the activities department voicemail at 407-518-2601. You can also email us at activities@cypresscoveresort.com
Saturday, October 29:
12:00 pm - Afternoon Pool party with DJ Conner
4:00 pm - Game Show " Win, Lose or Draw" with Dave at West Pool
5:00 pm - 7:00 pm - Children's Covewide Trick-Or-Treating (Please sign up on the Activities door!)
6:00 pm - Trivia with Dave 
7:00 pm - Live Music Poolside with Hacksaw Hamlin
9:00 pm - Halloween Costume Contest Hosted by Dave - (Win $50 in Cove Coins for the Funniest & Scariest, and $100 in Cove Coins for Best Overall)

---
10th Annual Turkey Smash Pickleball Tournament
Make plans now to be at beautiful Cypress Cove for the Tenth Annual Cypress Cove Turkey Smash Pickleball Tournament! Playing on the six beautiful, newly-resurfaced courts, we have a full weekend of fun and competition planned, with five competition events, a giant prize raffle, and hours of pickleball fun under Florida's delightfully warm sun.
No pre-registration is required, and everyone is welcome. For the full schedule of events, click here or email info@covepickleballclub.com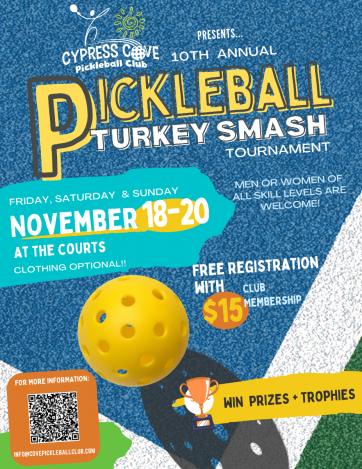 ---
Chili/Soup Cook-Off
Join the Fishing Club as they hold a chili/soup cook-off on Saturday, November 12 from Noon to 2 pm. There will be a 50-50 drawing. Samples will be sold for $1.00 each. Bowls of Chili/Soup will be sold for $5.00 each after 1 pm. Desserts will be $2.00. All votes must be cast by 1 pm and a winner will be announced at 1:30 pm.
Place: Boat ramp area
Beverages: Bring your own!
Proceeds for this cook-off go to feeding the fish of Brown Lake via the automatic fish feeder. Additional donations will be accepted on behalf of the fish. Hope to see you there!
If you would like to enter the competition there is a $10.00 entry fee. With $100.00 for First place. Contact Mike at 545 Red Fox Run or text or call 812-291-0006 to enter. You must be signed up by Friday, November 11. If you would like to donate desserts please contact Susan at 812-291-0007. Spoons, forks, tables, electricity, sample containers, bowls and tablecloths will be provided.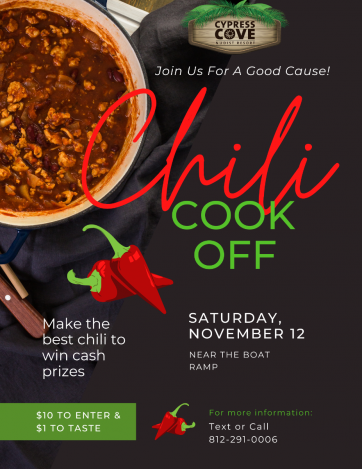 ---
Proceeds Raised
There was a total of $22,051.72 that went to the Florida Cancer Specialists Foundation! Kristie was here on behalf of the foundation to accept the check. Thank you to everyone that participated at Nude-A-Palooza 2022.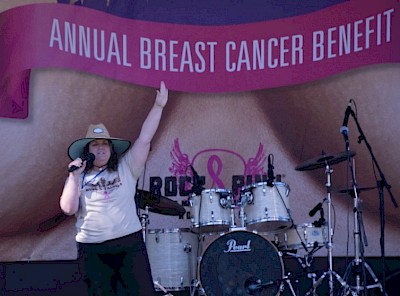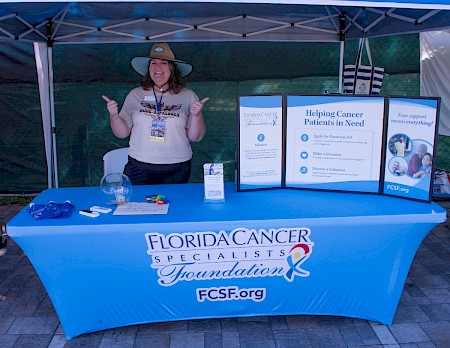 ---
Herman's Cheesecake Bakesale
The results are in and Herman raised $2,016 this year with an overall 11-year total of $25,120. Thank you to everyone that participated in the bake sale or donated online. You are appreciated!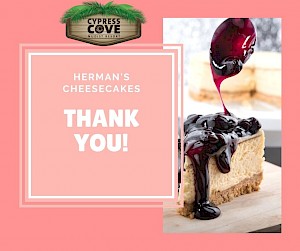 ---
Nude-A-Palooza Raffle Winners
Check those tickets! We have the list of raffle winners here. Your prize could be waiting on you. 
Grand Prize Winner: Ticket Number 00037672 (CLAIMED)
Cypress Cove Gift Basket: Ticket Number 0008285
Kitchen Essentials: Ticket Number 0031700 
Legacy Heating Fire Table: Ticket Number 0008769
Electric High-Pressure Washer: Ticket Number 00037699 (CLAIMED) 
Space Gray Samsung Tablet: Ticket Number 0120478 (CLAIMED)
Rose Pink Samsung Tablet: Ticket Number 0695287 (CLAIMED)
Relax Gift Basket: Ticket Number 0770907 (CLAIMED)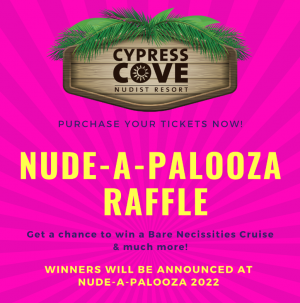 ---
Banner Silent Auction Winners
There was some spirited bidding with this year's banners. Here are the winners. If you haven't already done so, come to the office to claim yours. 
Nude-A-Palooza 2022 Banner: Mike B. for $50
Regis' World Banner: Mike B. for $75
Elvis Banner: George D. for $25
Janis Joplin Banner Susan S. for $175
Joan Jet Banner: Vickie A for $195
George Straight Banner: George D. for $300
Jimmy Buffett Banner: Heidi P for $200
Green Day Banner: Joanne D for $50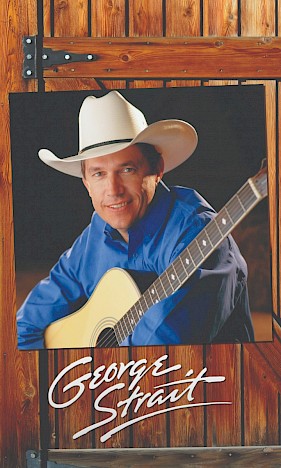 ---
News Outside the Cove
See what's making headlines in nudist news around the world. These things and more are being shared on our social media channels.
Follow us today to stay informed!






(Click one of these links to see the latest news!)
---
After Florence Pugh Freed The Nipple, Olivia Wilde Supported The Movement On New Magazine Cover
Doe sheer or see-through clothing help the free-the-nipple movement or sexualize it? Nudists, tell us what you think.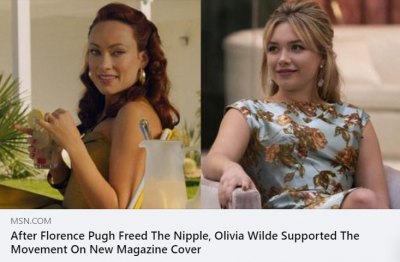 "A few months ago, Florence Pugh rocked a bright pink sheer Valentino dress in an act to free the nipple. The look went viral and the conversation around the free nipple movement came back into the zeitgeist. Now, Olivia Wilde is also speaking up in support of the movement, after she appeared on the cover of Elle wearing a top that covers half her chest. " Read the full story HERE.
---
'It's so Brown': Nudity, controversy, body positivity on campus
"I now view my own body and other people's bodies in a different light. There's something really honest and normal about running around naked." Wow. Is streaking getting mainstream?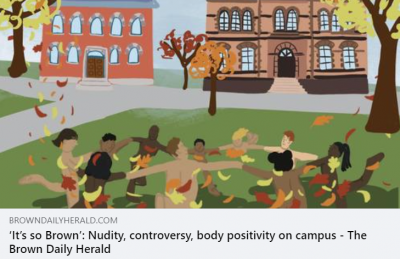 "Each semester, a swarm of students runs nude through the John D. Rockefeller, Jr. and Sciences Libraries, delivering donuts to their peers in the most prominent example of nudity on Brown's campus. The Naked Donut Run is a tradition that has existed for decades, with The Herald first taking note of the sugary streak in 1998. The Naked Donut Run marks just one tradition in a long history of Brown students stripping down. Nudity-related events over the University's history have included visits from Playboy magazine, naked yoga, and a party called Sex Power God which prompted critiques of Brown's culture from Fox News commentators." Read the full story HERE.
---
Have You Seen Us Lately?
Nude-A-Palooza 2022!!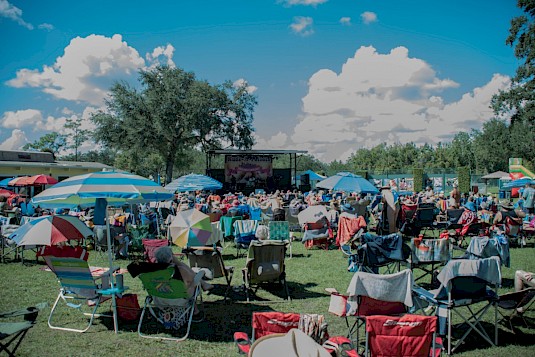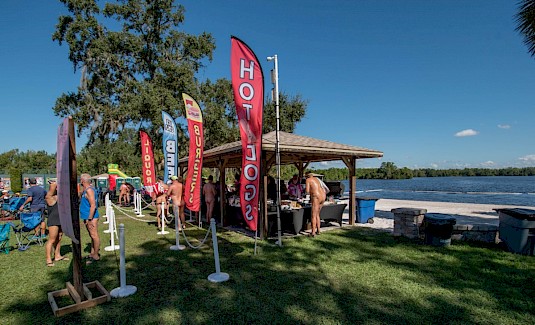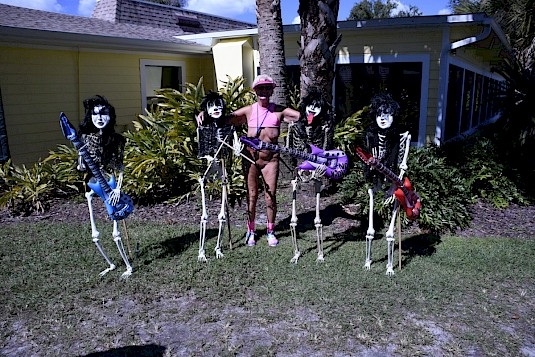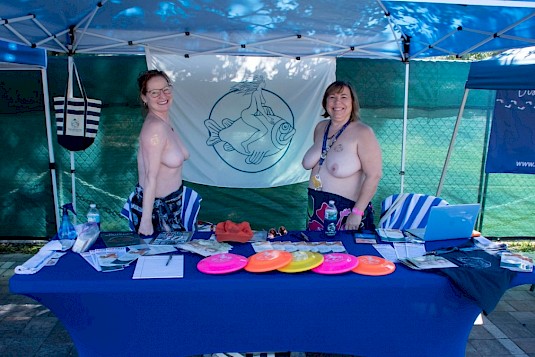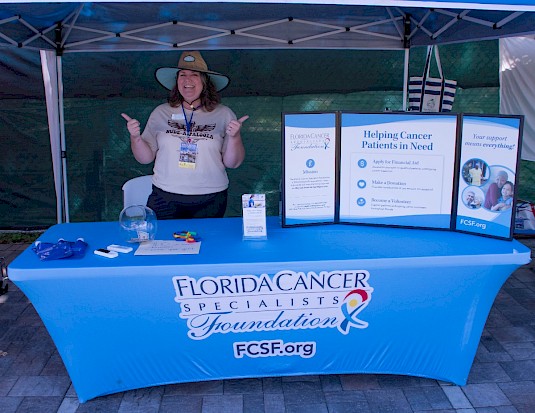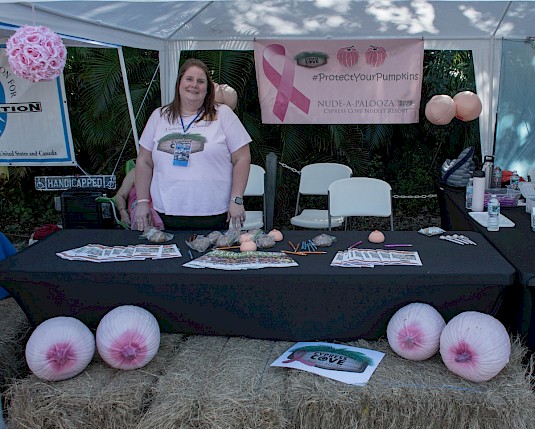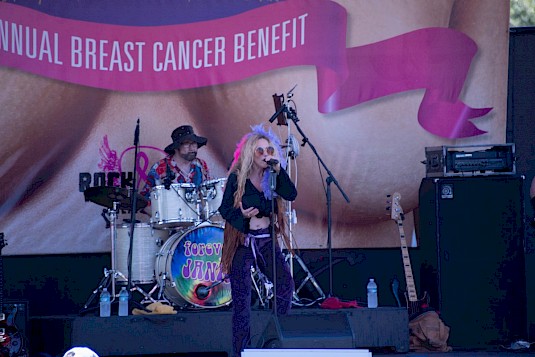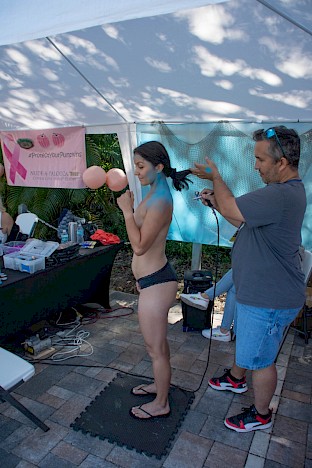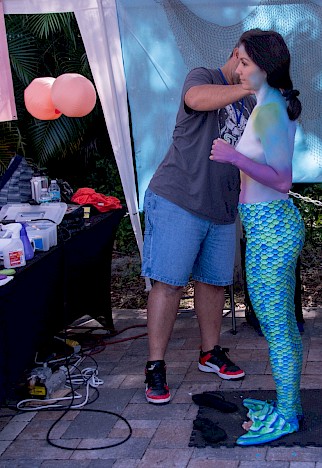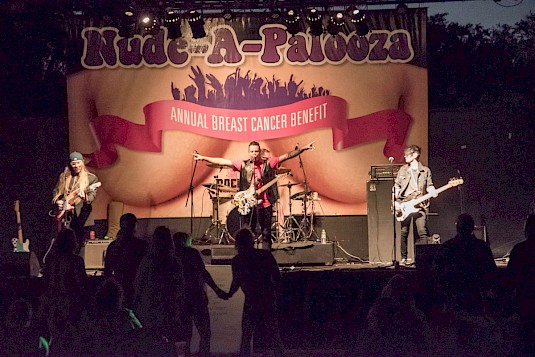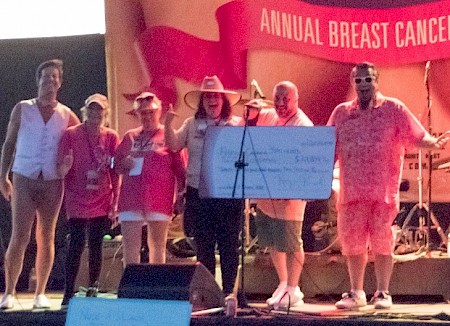 ---
"Where Have You
Taken the Cove?"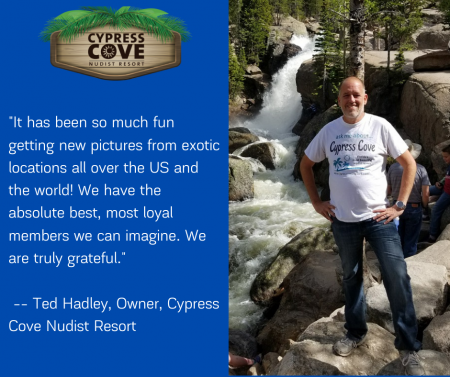 SEND US YOUR PHOTOS!!!
 We want to see where you have worn your Cypress Cove t-shirt, no matter which style it is! Wear it to town, to the grocery store, wear it while you are out and about, or at a national monument, and send us a photo! You will be featured in our newsletter or on one of our social media channels. 
Don't have a shirt yet? Purchase one at the main office or call and order one to show your pride in Cypress Cove! 
Call us at Toll-Free (888) 683-3140.

Send photos to Newsletter@CypressCoveResort.com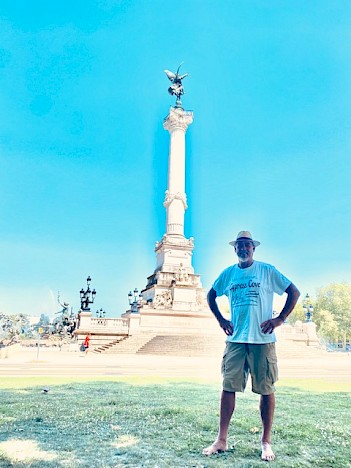 Mike in Lisbon! 
Thank you for sending it to us, Mike!

Where have you worn your Cypress Cove T-shirts?
Send us a photo!
---
Book a Room Today!
It's never been a better time to stay at Cypress Cove! Book Online, Email Reservations, or Call Reservations toll-free at 888-683-3140.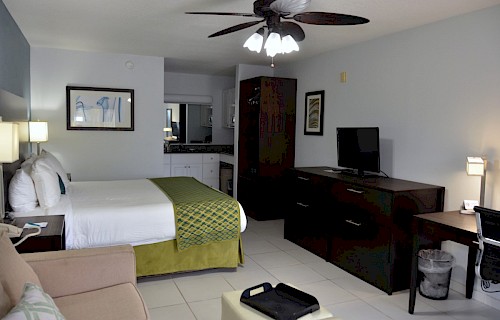 For Special Offers click HERE!
---
Every week we receive great reviews on TripAdvisor and Google; if you have visited or stayed with us, we would love to know about your experience. Click the logos below.