Laugh of the Week
---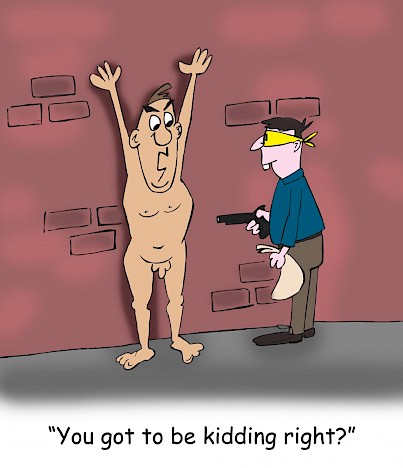 ---
Cove News  
---
Bingo Makes Its Return
Join the Cypress Cove Bingo beginning Tuesday, June 7. The doors will open at 5 pm for first come, first served seating. Card sales start at 6 pm and end at 6:45 pm. After 6:45 pm the doors will be closed.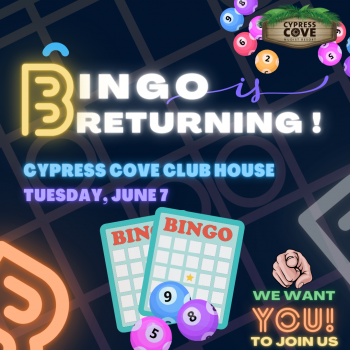 ---
Honoring Herman
If you frequent Cheeks, this fella here might look familiar. This is Herman, a bartender at Cheeks with 15 years of service to the resort. What you might not know is what he does behind the scenes. Herman goes above and beyond the call of duty to support a number of charities and volunteers his time in the name of Cypress Cove. The management team, including owners, honored him with this plaque of Chip's Corner from the AANR magazine, The Bulletin. The inscription at the bottom reads:
"For your years of dedication to Cypress Cove and the naturist community as a whole, the many projects you've undertaken for its benefit, and the countless dollars you've raised in its name. We salute you!"  
Thank you for everything you do Herman! You are appreciated! If you see Herman at Cheeks or around the resort, make sure you say hello!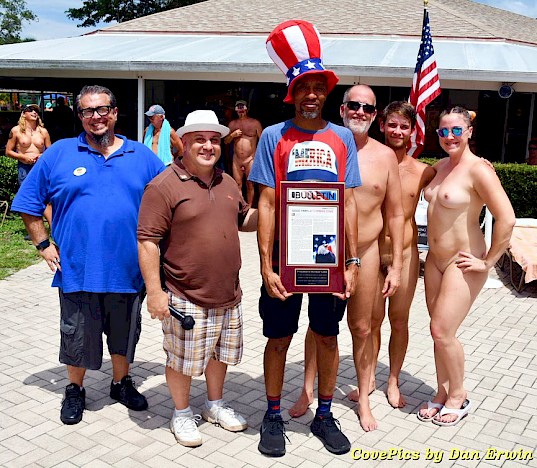 ---
Keeping your Drink Cooler, Longer
Pick up one of these official, made-in-the-USA, Koozie brand can/bottle coolers for your cold beverage today! Find it in the main office for $3.95. 

---
Daily Entertainment at Cypress Cove  
If you stopped by the pool complex this Monday at noon, you are already in the know. Cypress Cove will now have entertainment 7 days a week! For a calendar of this month's activities, click here.
---
New Hours at Cheeks
Don't forget that your favorite bartenders will be serving you longer. Cheeks Bar & Grill hours are as follows:
Cheeks Bar & Grill
Sun-Thur 8 am – 11 pm
Fri-Sat 8 am – 1 am
Kitchen
Sun-Thur 8 am – 9 pm
Fri-Sat 8 am – 10 pm
So stop in and grab a cold drink on the hot summer day. We look forward to serving you longer.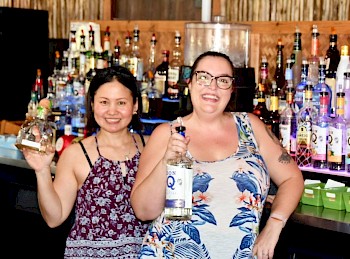 ---
News Outside the Cove
See what's making headlines in nudist news around the world. These things and more are being shared on our social media channels.
Follow us today to stay informed!






(Click one of these links to see the latest news!)
---
You Can Drink at British Pubs in the Nude Thanks to a New Events Company.
Hosting naturist events at popular pubs. Is anyone out there taking notes?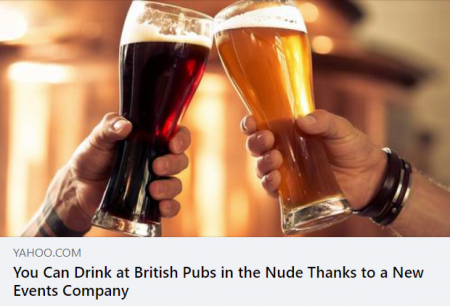 "Nudists enjoy the occasional tipple just as much as those of us who regularly wear clothes, and so a recently-launched events company in the UK has begun hosting events at pubs where naturists are welcome to drink while naked. Nothing On Events bills itself as seeking 'to normalize naturism and social nudity whilst breaking down the negative stereotypes of media-inspired body image and encourage everybody to accept their body as it is.' And on March 26, the group hosted its inaugural event: a clothing-free gathering at The Royal Oak, a small pub outside of Guildford, Surrey." Read the full story HERE.
---
Nantucket residents vote to make all beaches topless
Big news in the fight for topless beaches!!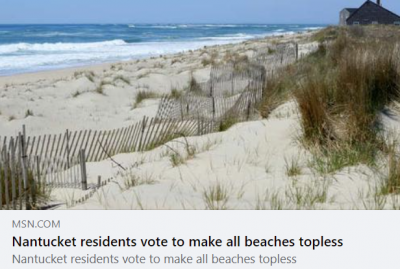 "Nantucket is one step closer to making all beaches on the island topless. There are currently beaches on the island where locals know them as clothing-optional, but residents voted 327-242 Tuesday night to make all beaches topless. The measure is called 'Gender Equality on Beaches" and it reads in part: "In order to promote equality for all persons, any person shall be allowed to be topless on any public or private beach within the town of Nantucket.'" Read the full story HERE.
---
Have You Seen Us Lately?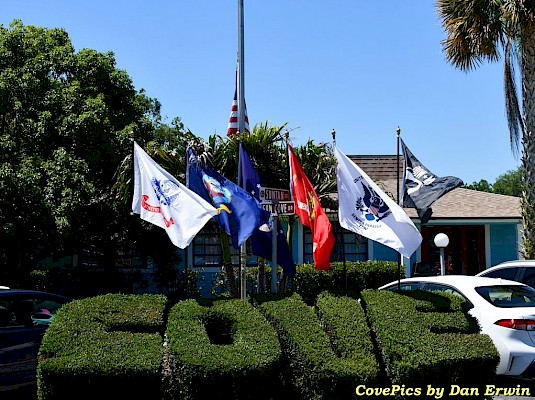 Memorial Day at Cypress Cove.
Honoring those who made the ultimate sacrifice for our freedom.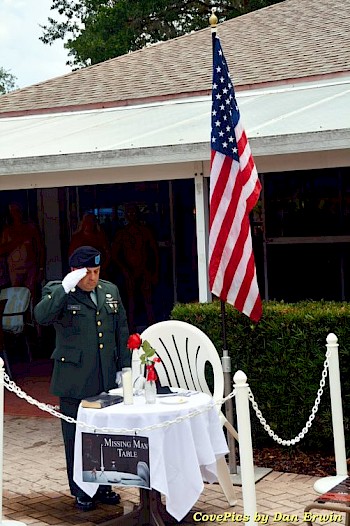 The Missing Man Ceremony.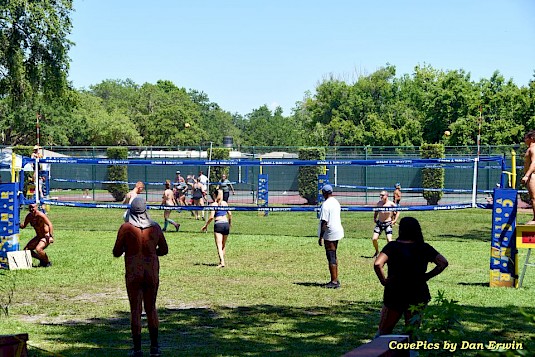 The annual Memorial Weekend Volleyball Tournament is a Cove tradition.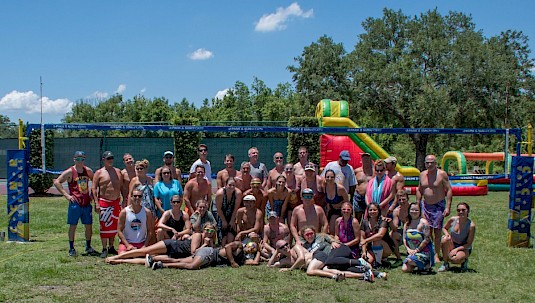 The Memorial Weekend Volleyball Tournament Players.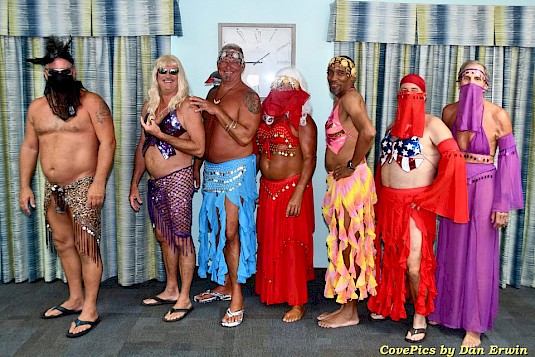 The magnificent seven were a big hit at the Fig Leaf Memorial Day Fashion Show.


The amazing models of the 2022 Memorial Day Fashion Show.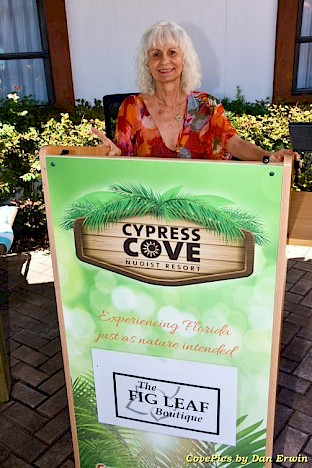 The announcer for the fashion show.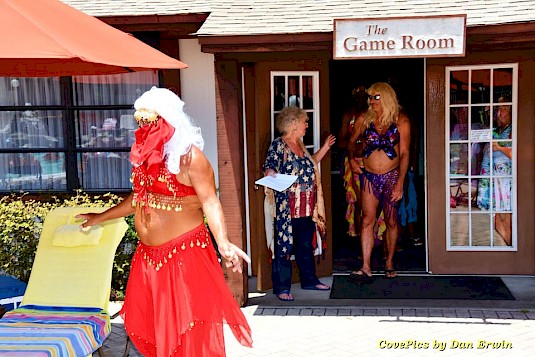 Edda was making sure everything went off without a hitch.
She always does a wonderful job!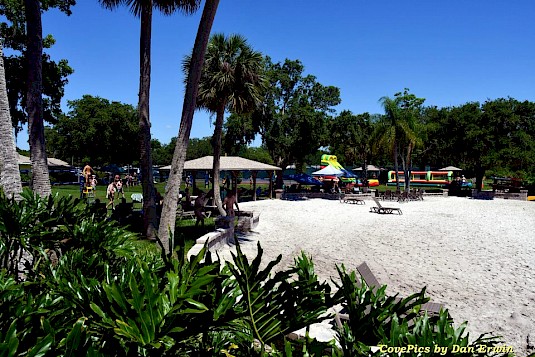 The Sunning Yard and beachfront were the places to be this weekend!
---
"Where Have You
Taken the Cove?"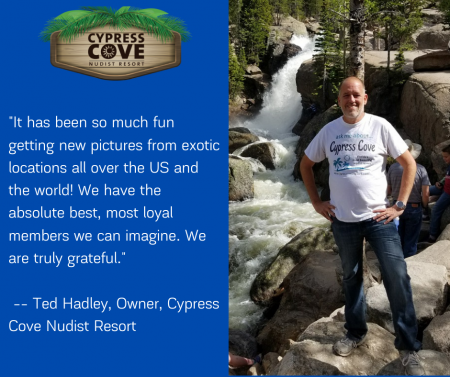 SEND US YOUR PHOTOS!!!
 We want to see where you have worn your Cypress Cove t-shirt, no matter which style it is! Wear it to town, to the grocery store, wear it while you are out and about, or at a national monument, and send us a photo! You will be featured in our newsletter or on one of our social media channels. 
Don't have a shirt yet? Purchase one at the main office or call and order one to show your pride in Cypress Cove! 
Call us at Toll-Free (888) 683-3140.

Send photos to Newsletter@CypressCoveResort.com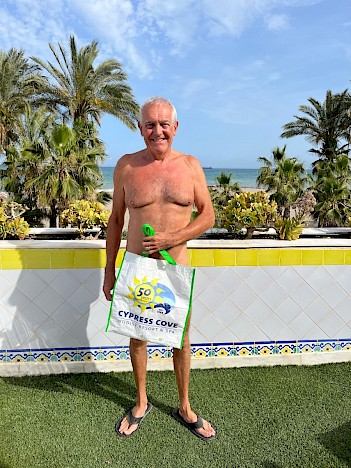 Harry from Scotland UK at Vera Playa in Spain. 
Thank you for the photo, Harry! 

Where have you worn your Cypress Cove T-shirts?
Send us a photo!
---
Book a Room Today!
It's never been a better time to stay at Cypress Cove! Book Online, Email Reservations, or Call Reservations toll-free at 888-683-3140.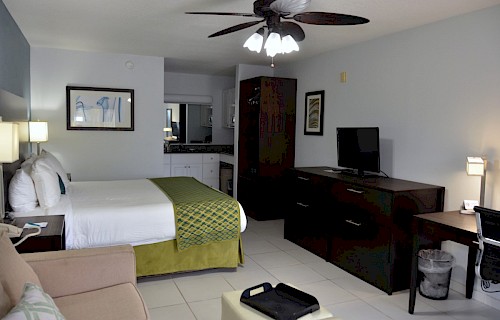 For Special Offers click HERE!
---
Every week we receive great reviews on TripAdvisor and Google; if you have visited or stayed with us, we would love to know about your experience. Click the logos below.