Laugh of the Week
---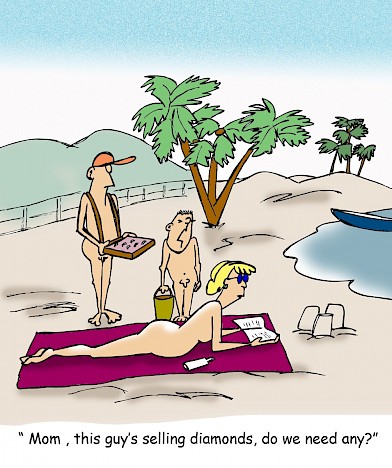 ---
Cove News  
---
Open House 
BRING YOUR FIRST-TIME FRIENDS AND FAMILY!!!!
As part of Nude Recreation Week —yes, there is a national week for that—Cypress Cove is opening its doors to first-time visitors for an Open House event on Saturday, July 9 from Noon until 4:00 p.m. What happens at a nudist resort open house? Simply put, Cypress Cove invites first-time visitors so they can see how much fun au natural recreation can be. With complimentary resort tours, music by the pool, and access to all resort amenities, you can bring your curious family and friends to FINALLY introduce them to Cypress Cove. Stick around and grab dinner & drinks at our poolside bar & grill. Find the menu here. 

---
Vote for Cypress Cove!!
We have done it again, fellow naked friends. We have been nominated for Orlando Weekly's Best of Orlando® 2022 Series. You will find us under Best Attraction That's Not a Theme Park. (<-- Click there to vote!) Just register your email address (used only to prevent voting multiple times) and cast your vote. Once you've cast your vote, send us an email at Newsletter@CypressCoveResort.com for a special photo for you to share on your own social media. Show your Cypress Cove pride!! Anyone can vote, so let's show some love to the Cove.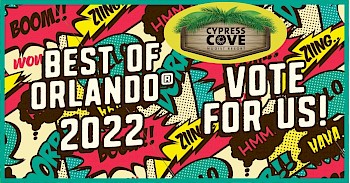 ---
PARROTHEAD WEEKEND
Ahhhhh, Parrothead Weekend ... THE PARTY event of the year at Cypress Cove Nudist Resort! So much fun that we had to extend the weekend to begin on Thursday in order to fit it all in! What's a Parrothead? Parrotheads love Jimmy Buffett music. Parrotheads love that laid-back island culture... and Parrotheads love to PARTY! Are you READY? Rooms for this event fill VERY quickly, so make plans to attend now! Please click here for the schedule, contest rules, and tent spot drawing information. 

---
Pre-Parrothead Raffle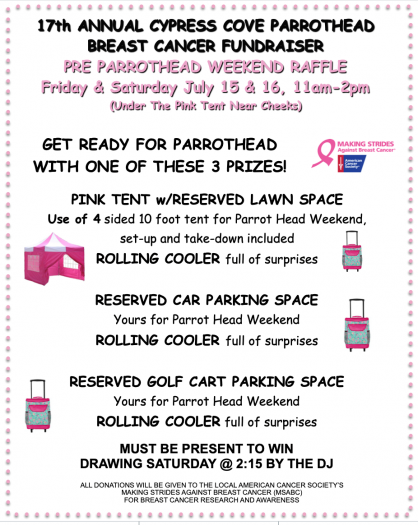 ---
Property Improvements
The Indoor Hot Tub
While we await a new heater for the indoor hot tub, we are converting the sanitizing system from bromine to full chlorine in advance of state regulatory changes. We anticipate the hot tub being unavailable for use for at least 8 weeks while these improvements are being made. We appreciate your patience and encourage you to make use of the outdoor hot tub for your soaking needs.
BodyWorks Treadmill
For you fitness buffs that have been waiting for the number 2 treadmill in BodyWorks to be repaired, we appreciate your patience. We have been waiting for the back-ordered parts to arrive, and are hoping it won't be much longer. In the meantime, thanks for sharing the other treadmill, and remember that the exercycles are also a great way to get in your cardio.
Playground Sunshade
You might have noticed that the sunshade above the playground has been pressure washed. Things are really looking good around the pools.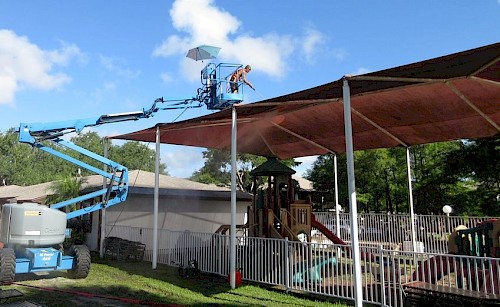 ---
Final Spring Cleaning Contest Winners
Thank you everyone for your participation in the Spring Cleaning Contest this season! The votes are in and we are excited to announce the final winners for the 2022 season. Thank you all for your hard work during the spring contest. We hope you all had a lot of fun with a little competition.
Do you have ideas for next year? Please email Armando at PropertyManager@CypressCoveResort.com. Have a wonderful summer! 
Most Beautiful Lot of the Month!
SCOTT & KIM G.- Lot 397 - Sun Cove Drive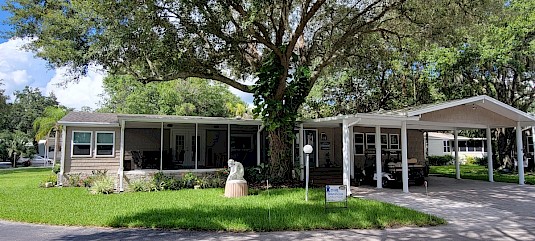 Most Improved Lot of the Month!
JAMES & TAMMY JOYCE - Lot 542 - Sun Cove Drive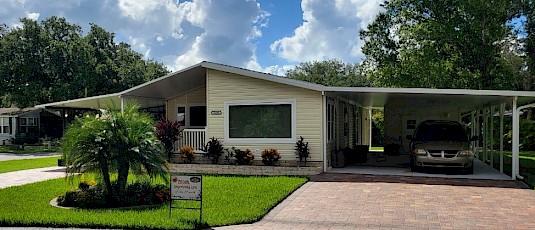 Please do not enter these lots but feel free to pass by and admire from afar, the great work that these residents have done! Until next year...
---
Labor Day 5K
Registration is already open for Cypress Cove's Labor Day 5K! Come out and streak with us at the 9th annual clothing-optional run at Cypress Cove Nudist Resort on Saturday, September 3, 2022. Wear as little (or as much) as you like as you run/ walk around the beautiful 300-acre property. Day fees are included with your race registration and all preregistered runners are guaranteed commemorative race swag with their race packet so sign up early to be guaranteed one. The race starts at 8:30 am with check-in/ late registration from 7:15-8:15 am. Join us for the race after-party around the pool for music, awards, great food, and drink specials. To register for this year's race visit here.

---
New Club Coming to Cypress Cove
Do you like to read? Join the Cove Book Club to share the insights and ideas your reading inspires! Book clubs are a great way to connect with one another, make friends and have lively discussions about books that we might not otherwise read. Our first club meeting will be on Sept 15, 2022, on The Terrace (located behind the Office) from 3:30 pm - 4:30 pm. We'll select our first book, determine our meeting schedule and get to know each other... maybe even enjoy a sweet treat or two. Please email CoveBookClub@icloud.com to confirm your attendance and secure your legacy as a founding member of the Cove Book Club. No email? Call or text Lynn at 386-566-3424. We look forward to seeing you at the Cove Book Club!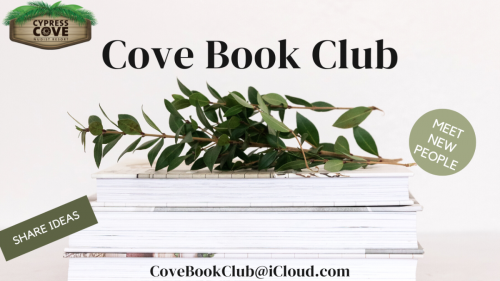 ---
It's Hot Out There!
Keep your drinks cool! Pick up one of these official, made-in-the-USA, Koozie brand can/bottle coolers for your cold beverage today! Find it in the main office for $3.95. 

---
News Outside the Cove
See what's making headlines in nudist news around the world. These things and more are being shared on our social media channels.
Follow us today to stay informed!






(Click one of these links to see the latest news!)
---
Vegan activist Tash Peterson dishes on topless struggles
Do topless protestors get taken more seriously than covered ones? What do you think?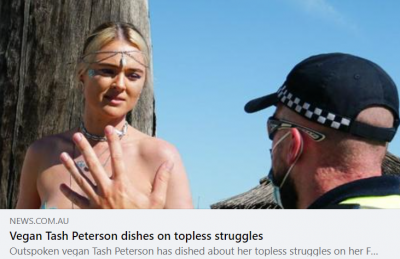 "Outspoken vegan Tash Peterson has dished about her topless struggles on her Facebook page. Well-known for her eyebrow-raising public stunts, Peterson shared two videos this week, one showing her dressed as a mermaid on the beach and the other featuring her grabbing some food at Grill'd. In the first video Peterson, who has a small amount of breast tape over her nipples, made an appearance at Bathers Beach House in Fremantle, Western Australia, and held up a sign that read: 'Fishing murders trillions of fish, dolphins, whales, seals and other marine life." Read the full story HERE.
---
My Toddler Is Starting A Nudist Revolution
"It strikes me as another variation of victim-blaming to believe that children must stay hot and modestly dressed at all times for fear of Bad People with access to camera phones." Yes, let's tackle the real problem.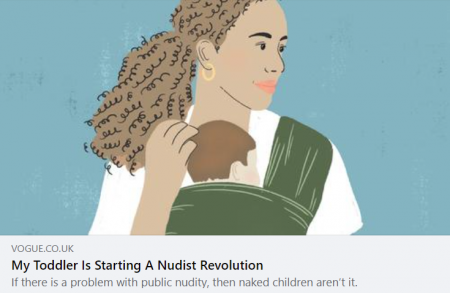 "Like Lady Godiva and that stringy guy with the beard who tried to hike around Britain in nothing but a pair of stout walking boots in the '90s, my son is trying to launch a nude revolution. Picture the scene: we arrive at a busy city square. There are small fountains dotted across the grey concrete piazza. About 20 other children are all there, running through the spray, splashing their siblings, dropping sandwiches, and whipping soggy wet hair through the warm spring air. Every single one of them is either wearing a swimming costume or is just fully dressed. Now, firstly, I genuinely want to know what sort of incredibly organized parent packs a swimsuit to walk around the streets adjacent to one of the city's major train stations." Read the full story HERE.
---
Have You Seen Us Lately?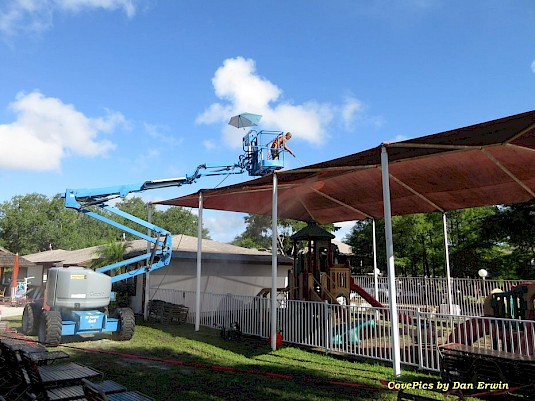 Keeping things clean at the Cove can be a really BIG job.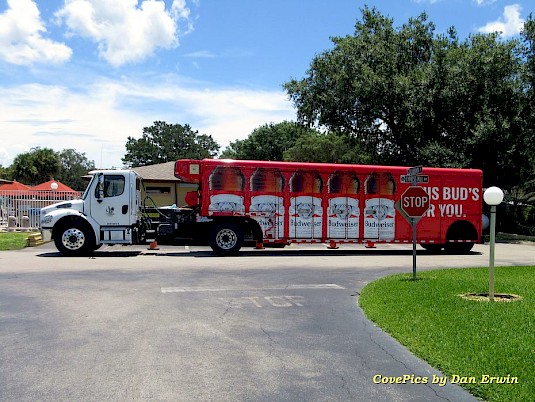 Stocking up for the 4th of July weekend.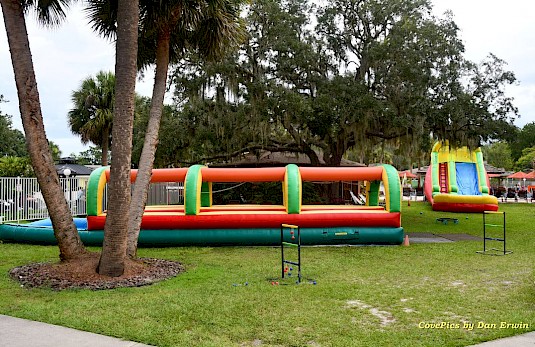 There is always something fun to do at Cypress Cove.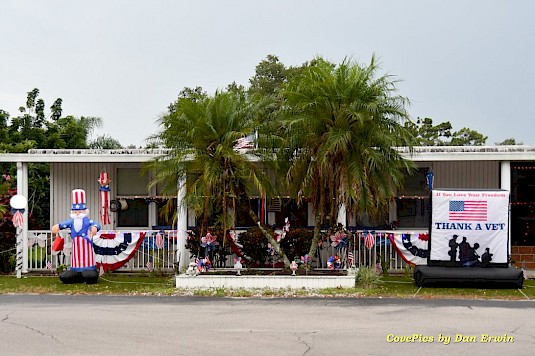 Lots of flags and decorations all around Cypress Cove to celebrate the 4th.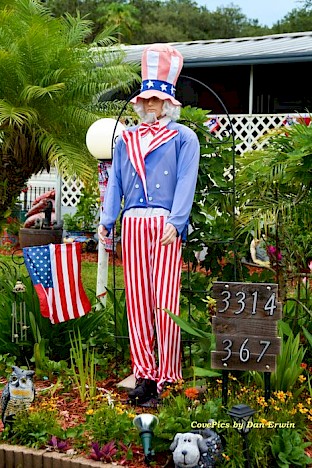 Uncle Sam spent his 4th of July at Cypress Cove.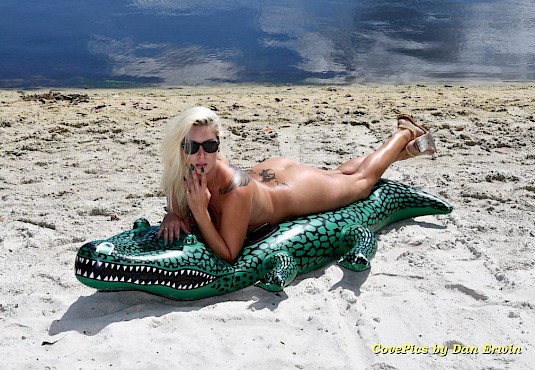 We spotted an alligator on the beach but this young lady took care of it.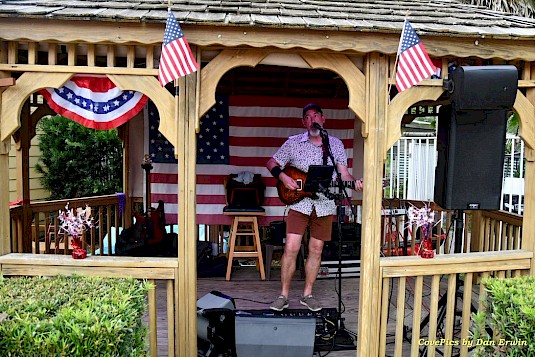 Appropriate music at the West Pool all weekend long.
---
"Where Have You
Taken the Cove?"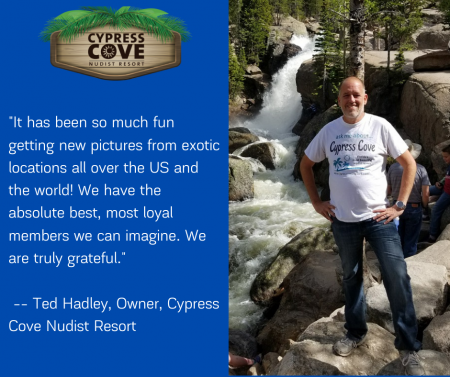 SEND US YOUR PHOTOS!!!
 We want to see where you have worn your Cypress Cove t-shirt, no matter which style it is! Wear it to town, to the grocery store, wear it while you are out and about, or at a national monument, and send us a photo! You will be featured in our newsletter or on one of our social media channels. 
Don't have a shirt yet? Purchase one at the main office or call and order one to show your pride in Cypress Cove! 
Call us at Toll-Free (888) 683-3140.

Send photos to Newsletter@CypressCoveResort.com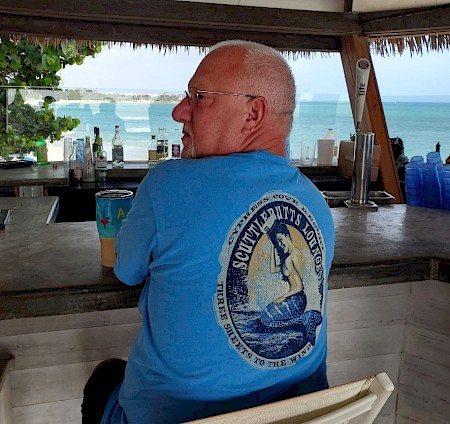 Mike at the Bunker Bar at Divi Tamarijn in Aruba​​​​​​.
Thanks for sending us the photo, Mike!

Where have you worn your Cypress Cove T-shirts?
Send us a photo!
---
Book a Room Today!
It's never been a better time to stay at Cypress Cove! Book Online, Email Reservations, or Call Reservations toll-free at 888-683-3140.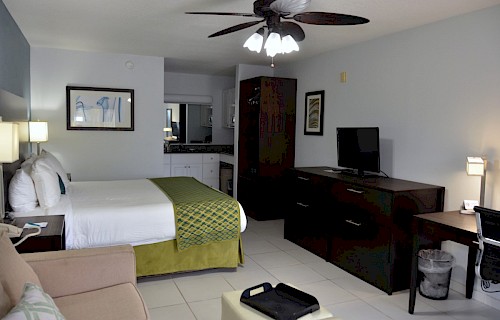 For Special Offers click HERE!
---
Every week we receive great reviews on TripAdvisor and Google; if you have visited or stayed with us, we would love to know about your experience. Click the logos below.