Laugh of the Week
---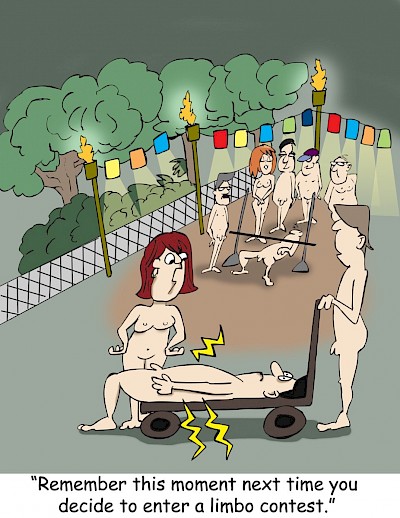 ---
Cove News  
---
NOT PARROTHEAD Weekend!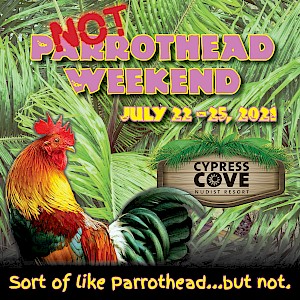 We still have availability for this weekend! Give us a call and book your room now. Download and print the Not Parrothead schedule here. 
Also happening is the 16th Annual Breast Cancer Fundraiser! Check it out below!! 
Reverse Parade Cart Decor Contest Prizes: 
1st place - $200 in Cove Coins
2nd place - $100 in Cove Coins
3rd place - $50 in Cove Coins
REVERSE PARADE OFFICIAL RULES:
Please be registered by 12:30 pm on Saturday

Carts must be parked from 1 pm - 3 pm

Winner announced at 4 pm at the West Pool 

No give-aways or items tossed from the cart

Prizes awarded based on adherence to the theme (Floribbean, think Florida / Caribbean), Creativity, and Implementation.

Must be a golf cart. No trailers unless it is towed by your golf cart. 

Music is allowed but must be low volume not to exceed a 10-foot listening radius. 
PLEASE SIGN-UP BY EMAILING Regis at:    Regis@CypressCoveResort.com
Make sure to stop at the info booth and pick up a copy of Nudism 101 for your friends and family that are curious about nudism. 
The annual Parrothead Group Photo will be taken by Dan Erwin at 12:30 pm in the west pool. The photo will be available for purchase for $10 on Saturday & Sunday afternoon at the pool. Thank you for supporting the Cypress Cove Camera Club.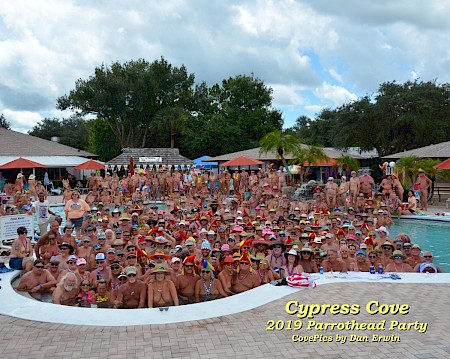 ---
16th ANNUAL BREAST CANCER FUNDRAISER
Raffle Drawing will take place at 2:30 p.m. on Sunday, July 25th at Old Cheeks. You do not have to be present to win! Tickets should be filled out with your first name, last initial, and contact information (Lot or Phone #)
Raffle Prizes can be viewed at your own leisure. Prints of the prize items are currently in the Game Room on the Photo Shoot Wall. Photos & inventories of prizes/baskets are available online HERE. They will also be set up in person in the Club House displayed on tables with tubs for raffle tickets Friday, Saturday, & Sunday, July 23, 24 & 25 from 11 a.m. until 2 p.m. Additional tickets can be purchased Friday & Saturday, July 16 & 17 and Friday & Saturday, July 23 & 24 from 11 a.m. - 2 p.m. and & Sunday, July 25 from 11 a.m. - 1 p.m. (strict deadline) under Old Cheeks. You can also contact Laurel Beattey @ 407-922-7004 or labeattey@me.com
**Please Note: The Clubhouse will be closed from July 22 - July 25 for this event. If you have a club that meets in this room, please make other arrangements for your club's activities on these days. Thank you so much for your consideration & cooperation for this important event for charity. 
ALL DONATIONS WILL BE GIVEN TO THE AMERICAN CANCER SOCIETY'S MAKING STRIDES AGAINST BREAST CANCER (MSABC) FOR BREAST CANCER RESEARCH AND AWARENESS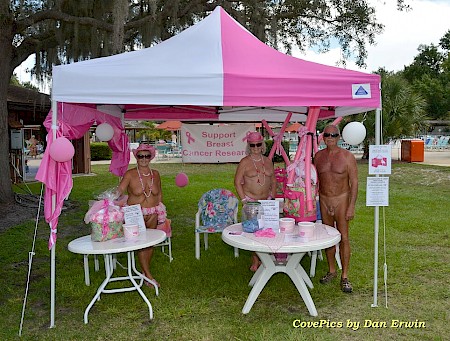 ---
Nude-A-Palooza 2021 Announcements
Make sure you are around the West Pool at the specified times this Saturday because we will be ... ANNOUNCING THE BAND LINE-UP for Nude-A-Palooza!!!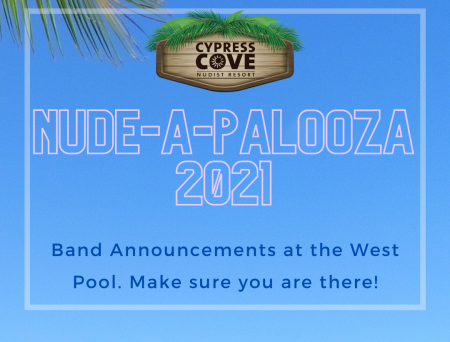 ---
New Automatic Fish Feeder at Lake Brown
The Fishing Club has added an automatic fish feeder at Lake Brown near the covered deck. It is timed to automatically dispense fish food at 7:00 am, 7:05 am, 12:00 pm, 12:05 pm, 5:00 pm, and 5:05 pm. Please stop by and watch the new feeder in action. The club will be having another fundraiser this fall to help supply the feeder with food. Mike S. of the Fishing Club wishes to thank all of those involved with getting this installed.

---
LIMITED TIME OFFER!
We have SPECIAL EDITION Worn Stories T-Shirts. The ONLY way to get one is to purchase 2 of our brand new "Naturally Social" t-shirts and get the Worn Stories shirt FREE! (Licensing agreements with Netflix won't allow us to sell the shirts directly.) Stop by the office and check out the new merchandise!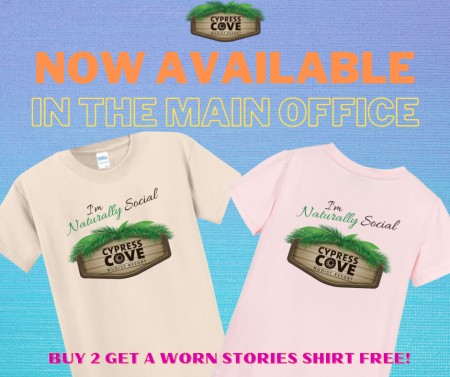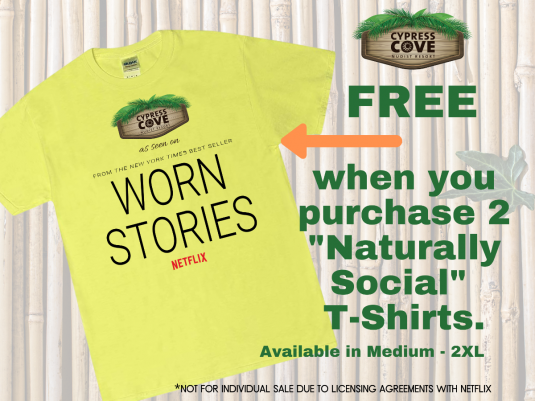 ---
Limited Edition "Ask Me About Cypress Cove"
Kelly has been hard at work designing these various Cypress Cove shirts. New styles are being added daily! Stop by the main office and pick one up while they last.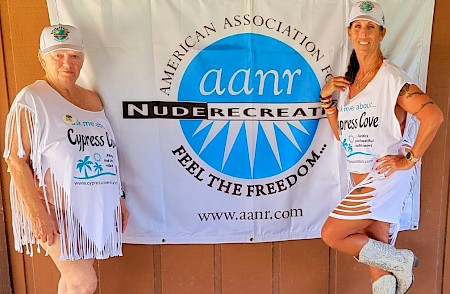 Carolyn and Lisa at Open House 2021.
---
Don't Let the Rain Keep You from Your Naked Time!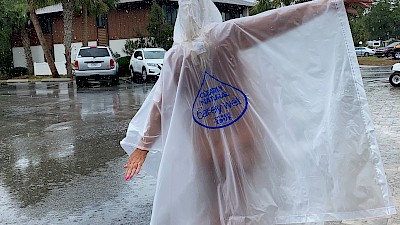 Whether you're planning a trip to Cypress Cove for a day, a weekend, a week, or longer, don't let the possibility of rain keep you away from having your much-needed naked time! There is always something fun to do at Cypress Cove...even if it's raining. With a restaurant, a covered hot tub, billiards, darts, table tennis, the American Nudist Research Library, a day room, a clubhouse, covered lounging spaces, and live music and entertainment, you can wait out a shower or two and still have a great time au naturale! So, although the Florida sun is great, don't discount how fun it can still be to run around naked in the rain. No soggy clothes here! Ponchos are available in our store and online! 
---
Want to Live at Cypress Cove?

Yes! you can live at your favorite vacation spot! Where else can you be naked and free all the time? Live with like-minded people and meet new friends. Check out our availability and start your new resident application by visiting THIS PAGE.
---
Nature Hair - Stop in today!
Looking a little... shabby? It's time for a trim! Stop by for a manicure, pedicure, or haircut today. Please reach out to them at 407-870-5131 or ex 2613 from your villa room.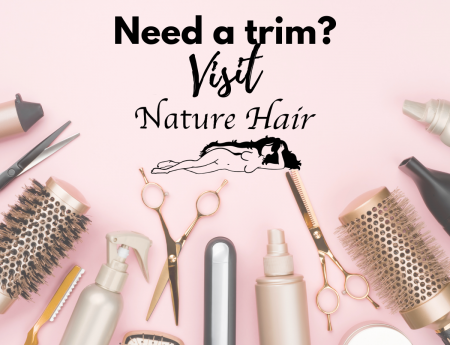 ---
News Outside the Cove
See what is making headlines in nudist news around the world. These things and more are being shared on our social media channels. Follow us today to stay informed!
---
Mysterious carving of naked man discovered near Hadrian's Wall
"Nudity…often signifies heroism." We couldn't agree more!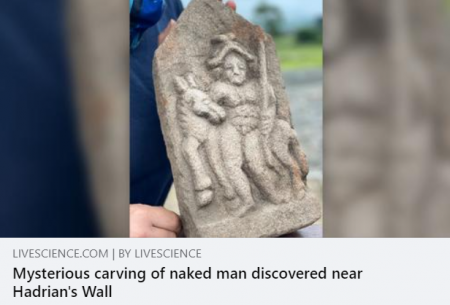 "An ancient carving depicting a naked "mystery horseman" discovered at Vindolanda, a Roman fort near Hadrian's Wall, might be a depiction of a god, archeologists said. The carving shows a man without clothes (except a hat) who is holding a spear and standing in front of either a horse or donkey. This roughly 6-inch-wide by 12-inch-long (16 by 31.5 centimeters) stone would have fit into a recess at the fort,  according to archaeologists at Vindolanda Charitable Trust in the United Kingdom." Read the full story HERE.
---
The art of being nude
Interesting podcast interview with a life model.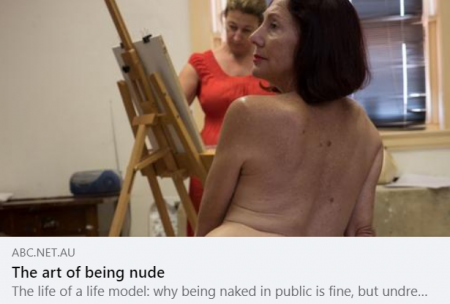 "Most of us are terrified of being naked in public. But some of us are just fine with it. Look at all those people dashing into the Derwent River for the nude swim! And then we've got Adam Crist, who's been a life model and also undraped herself for the purposes of performance. She explains why being naked in public is fine, but undressing in public is really weird." Read the full story HERE.
---
Around the Cove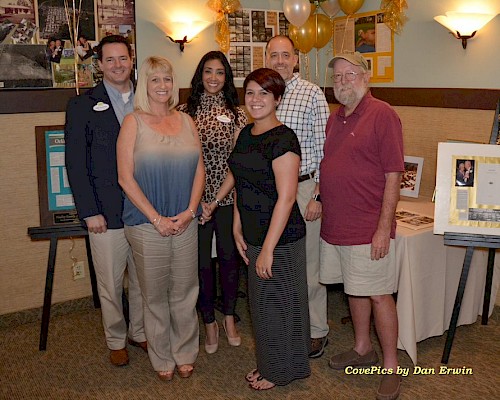 In July 2014, the 50th anniversary of Cypress Cove was an incredible milestone to celebrate.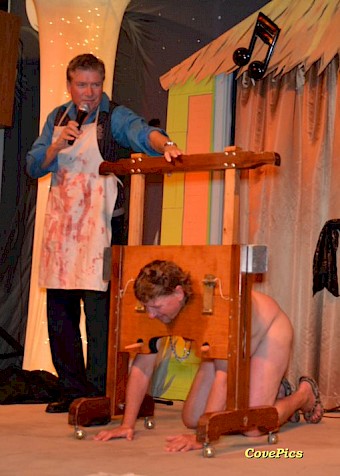 In July 2015, Magician Dan Stapleton demonstrated how much fun you can have with a guillotine and a nude man.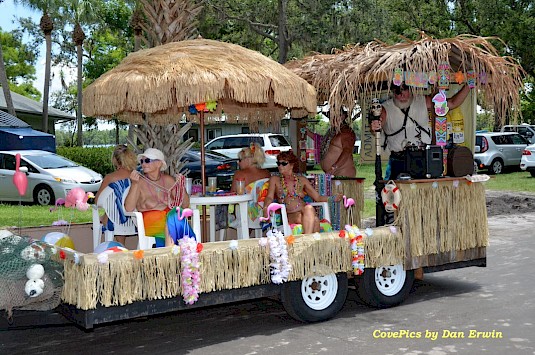 In July 2016, this mobile Tiki bar was the hit of the Parrothead parade.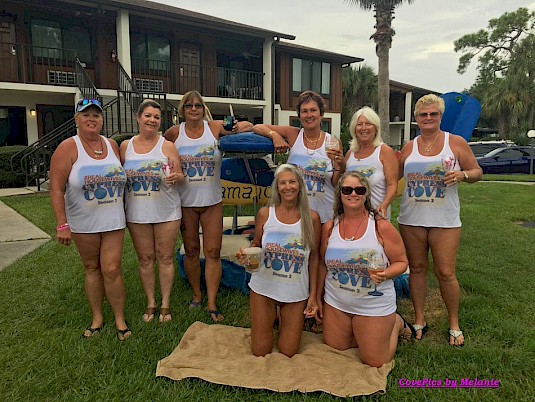 In July 2017, the Real Housewives of Cypress Cove celebrated their Season Two of fun.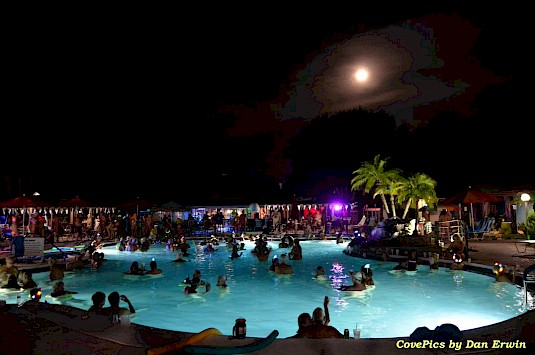 In July 2018, a beautiful picture of the west pool at the Thursday night Parrothead party.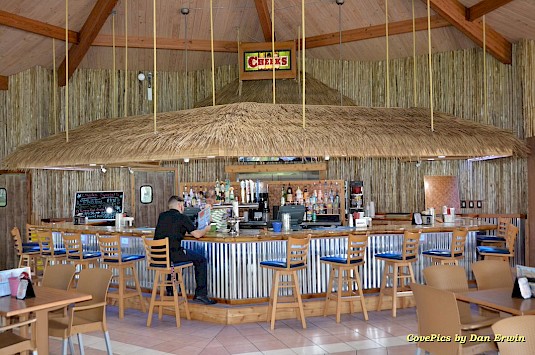 In July 2019, the grand re-opening of the remodeled Check's Bar & Grill was the highlight of  Parrothead weekend.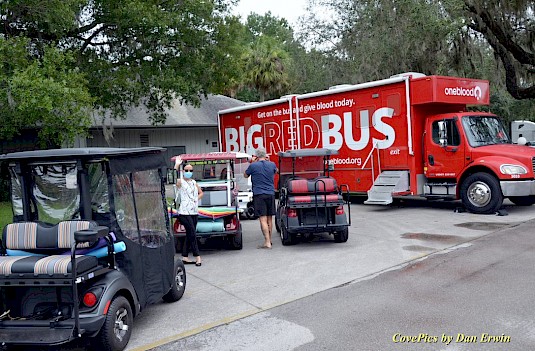 In July 2020, even through the worst of the pandemic, Cove members lined up to give blood.
---
"Ask Me About Cypress Cove!"
Do you have your "Ask Me About Cypress Cove" t-shirt yet? They're priced at just $5 each, so we're not making any money on the shirts. We just want folks to use them to tell the world about Cypress Cove. Wear it to town, to the grocery store, or just wear it while you are out and about. Purchase your new t-shirt at the main office and show your pride in Cypress Cove!
SEND US YOUR PHOTOS!!! Do you have a photo of you in the "Ask Me About Cypress Cove" T-shirt? Send it in now! You could be featured in our newsletter. 
We have added this shirt AND the "Find Us On Social Media" T-shirt to our online store. Pick one up today and show us your photos.
Send them to Newsletter@CypressCoveResort.com   
Visit our online store by clicking HERE!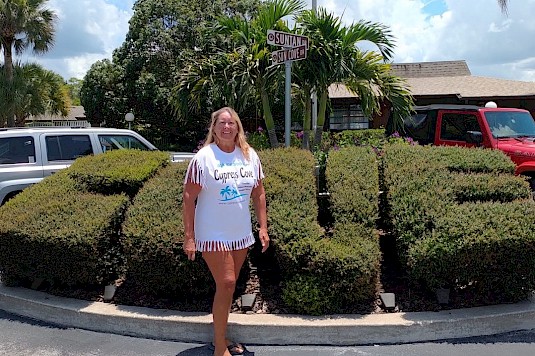 Another happy guest picked up her "shredded shirt" from the front desk! 
 
Where have you worn your "Ask Me About Cypress Cove" or "Find Us on Social Media" T-shirt? Send us a photo!
"Thank you to everyone who has been doing this. It has been so much fun getting new pictures from exotic locations all over the US and the world! We have the absolute best, most loyal members we can imagine. We are truly grateful." -- Ted Hadley, Owner, Cypress Cove Nudist Resort
---
Book a Room Today!
It's never been a better time to stay at Cypress Cove! Book Online, Email Reservations, or Call Reservations toll-free at 888-683-3140.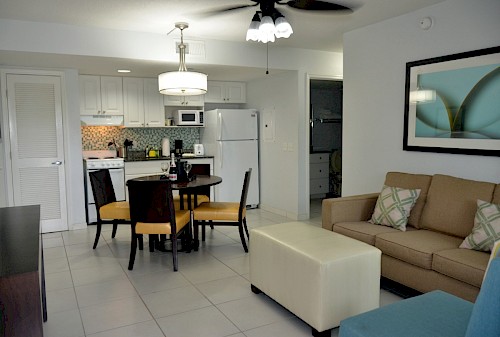 For Special Offers click HERE!
---
Every week we receive great reviews on TripAdvisor and Google; if you have visited or stayed with us, we would love to know about your experience. Click the logos below.
---

Do you have an item for the newsletter? 
Please send all requests for content to newsletter@cypresscoveresort.com.
Send us your photos of you wearing Cypress Cove apparel too!