Laugh of the Week
---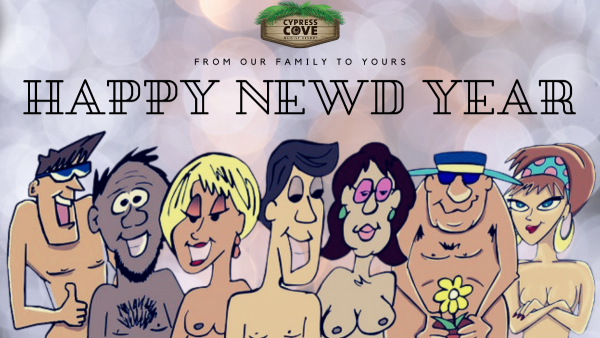 ---
Cove News  
---
Nude Year's Eve Dance Party with DJ Xavier
Join DJ  Xavier for a count down to 2022. The party will be outside Cheeks, so grab friends and head over to say goodbye to 2021. Festivities start at 8:30 pm. See you there!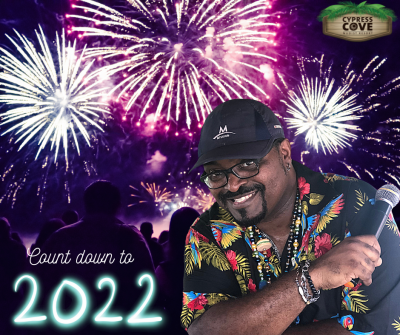 ---
Please Help Us Welcome Jason
You might have seen our previous Director of Engineering, Brian Chapman, with a new friendly face around the Cove before he sailed off into retirement. Brian was helping his team transition into new leadership. Please help us welcome Jason Koczenasz to the management team overseeing the engineering department. Jason comes to us with an impressive resume including twenty years of merchant marine engineering experience and over 3 years personal nudist experience. Last summer was Jason's first visit to Cypress Cove where he fell in love with the resort, the traditional nudist values, and our amazing Cove community. He is currently staying with us in the campground while he shops for the perfect house at Cypress Cove. When you see him around, make sure you say hello and welcome him to our Cove family.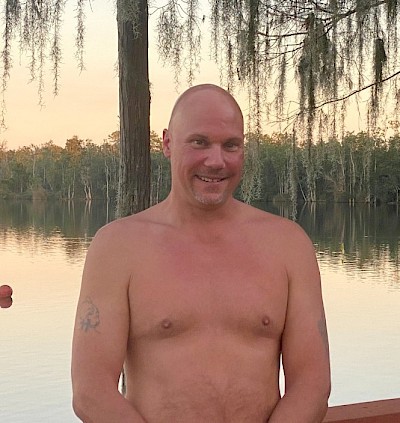 "I am excited to be here and I look forward to working with this amazing team! It's such a great team of people, it really is."
- Jason
---
New Cheeks Menus
Chef Michael has been busy since his return to Cypress Cove. Beginning Monday, January 3rd, new menus will launch at Cheeks. Check out these new menus below.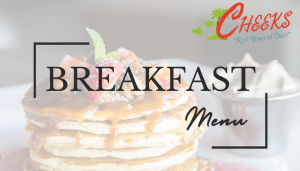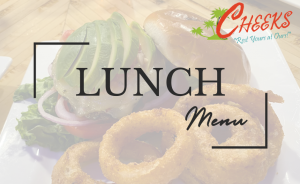 ---
Membership in the New Year
Here's to setting new goals for 2022. We know how much you love your naked time. Let's make this a priority in the New Year! Reach out to Kelly and see if membership is an option for you.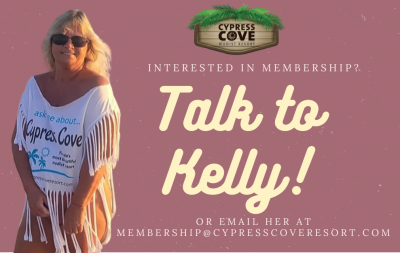 ---
Crazy Socks (Nude) Bowling 
Our friends at Crossed Oaks Haven have put together another nude bowling gathering at Orange Bowl Lanes in Kissimmee on January 16, 2022, from 10 am to 1 pm. Don't forget your crazy socks, you might just win a prize! The cost for this event is $20 for those over 35 years of age, $10 for 18-35 years, and free for those under 18. Please bring cash for the entry fee and sign in at the table with Crossed Oaks Haven staff. The fee includes the shoe rental and all the games you can bowl. 
Those with the highest cumulative score will take possession of the roving Nude Bowling Champion trophy. Available snacks include Popcorn, soft drinks, and chocolate chip cookies. See you at the lanes! For more information reach out to crossedoakshaven@aol.com.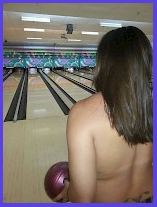 ---
Library Seeks Additional Volunteer Help 
Staffing needs at the American Nudist Research Library have changed over the last few weeks as volunteers have stepped forward.  We could still use:
A treasurer.  Experience preferred.

Someone with people skills to be our Membership Chairperson.

One or more material scanners. (Could be a seasonal resident or visitor)

Someone to locate and physically paste in missing pages. (Could be seasonal)

Regular librarians to run the library one afternoon a week. (Resident or seasonal)
If you would like to help in a worthy cause, please pop into the library on a Tuesday afternoon to discuss your interests and time available with library president, Paul LeValley (paullevalley@peoplepc.com).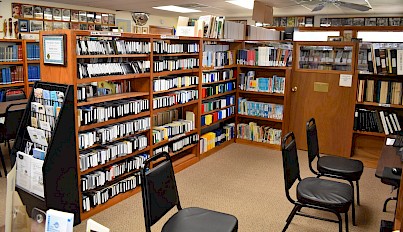 ---
Big Nude Boat 2022
The Big Nude Boat 2022 is right around the corner. Cypress Cove Nudist Resort is proud to serve as your pre- and post-cruise assistant. Why not fly into Orlando, stay at The Cove a few nights, let us tend to your luggage, and we'll even do the driving? Contact our office manager, Tiki, for more information or to reserve your seat on the bus. She can be contacted at tiki@cypresscoveresort.com. Don't miss out, seats are filling up very quickly!
Information on the Bare Necessities can be found here.
Information on staying with Cypress Cove can be found here.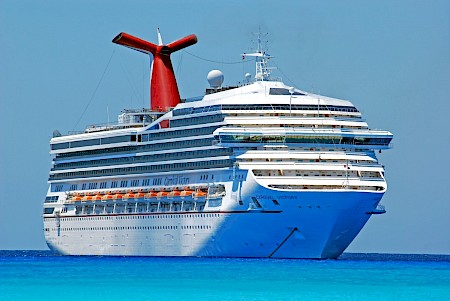 ---
Holiday Hours
While meeting the needs of our guests, we're also giving staff members time to spend with their families during the holidays. Please take note of our adjusted office hours:
Office Hours:
New Years Eve: Regular Hours

New Years Day: Regular Hours
Cheeks Hours: 

---
News Outside the Cove
See what's making headlines in nudist news around the world. These things and more are being shared on our social media channels.
Follow us today to stay informed!






(Click one of these links to see the latest news!)
---
Miss Universe Australia Maria Thattil slams 'double standards' after she was criticized for having 'her nipples out' in sheer frock
"My nipples aren't inherently sexual, they're just a beautiful part of my body. Like my arms, eyes, or feet." Thanks for the body-positive message, Maria!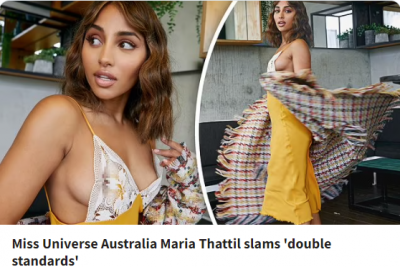 "Miss Universe Australia Maria Thattil has lashed out after she was criticized by a troll for having her 'nipples out' in a photoshoot shared to Instagram. The model, 28, posted the photos, which show her wearing a somewhat sheer crochet dress, to Instagram, alongside the nasty comment, and in a lengthy caption slammed 'double standards' around male and female nipples. The comment, which was sent via direct message, read: 'A real lady would never. You're [sic] whole nipples are out. Aren't you ashamed?' " Read the full story HERE.
---
Paulina Porizkova Posted a Nude Photo to Get Back at a Rude Commenter, 'I'm 56 and Living My Best Life'
"I may be 56, but I'm as fully a woman as I was thirty years ago; in fact, I'd argue, more so." Body positivity at its best. Thanks, Paulina!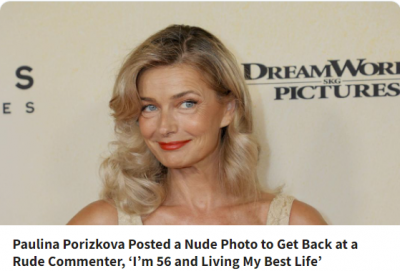 "Paulina Porizkova is done with comments about how women of her age should behave. The 56-year-old supermodel—a longtime critic of anti-aging culture—took an unusual approach to call out one commenter's disrespectful attitude last week. It all started on November 17, when Porizkova posted a screenshot of a rude comment about her approach to life. 'You focused way too much on yourself and your looks,' the commenter wrote. 'At your age, you should be bathing in the love of your kids and your grandkids instead of traveling all over the world, parading around half-naked and acting like a 16-year-old. Move near your kids and grandkids, settle down, get a nice house, making it welcoming for your kids and grandkids, and starting living a life for others.'" Read the full story HERE.
---
Have You Seen Us Lately?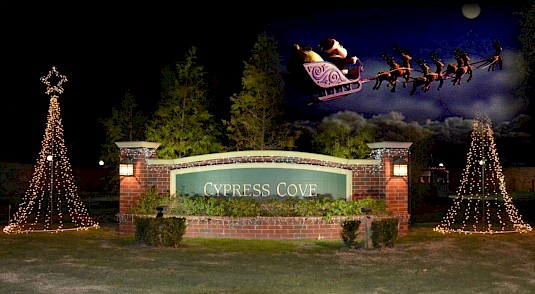 Santa arrived at Cypress Cove just after midnight on Christmas Eve.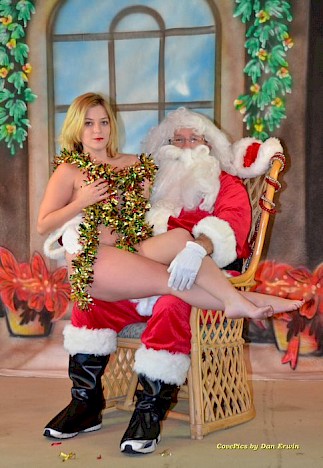 He was able to take a little time and hear one more request.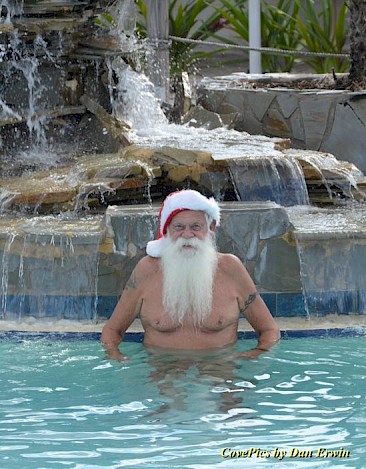 Later, after all his presents were delivered, he was able to spend a little time in the pool and enjoy our mid 80's temperatures.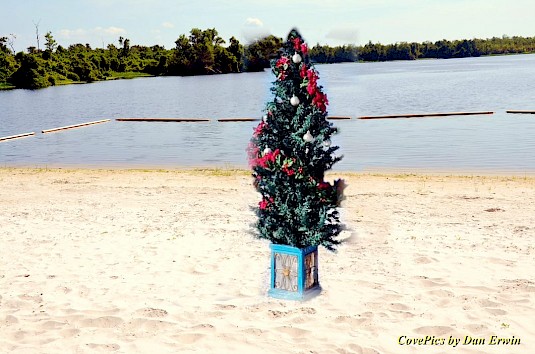 We don't get snow at Cypress Cove, but if you get the light just right the sand looks a little bit like snow.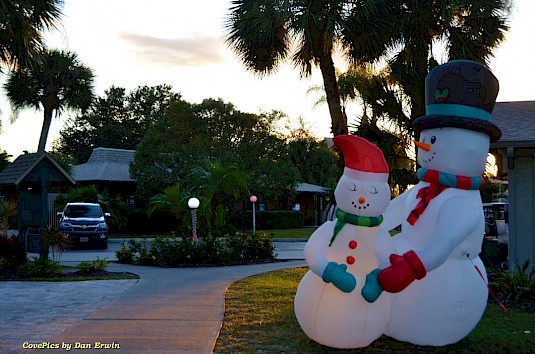 Because of our wonderful winter weather, this is the only kind of snowmen you will ever see at Cypress Cove.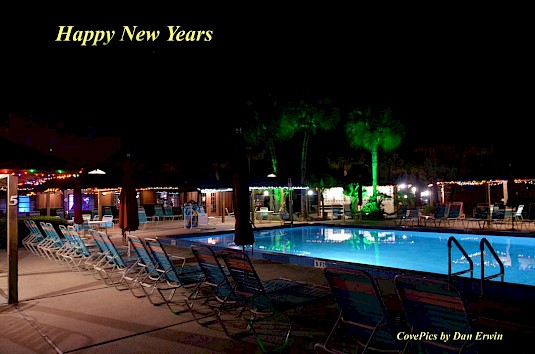 Happy New Year to all and to all a magical year.
---
"Where Have You
Taken the Cove?"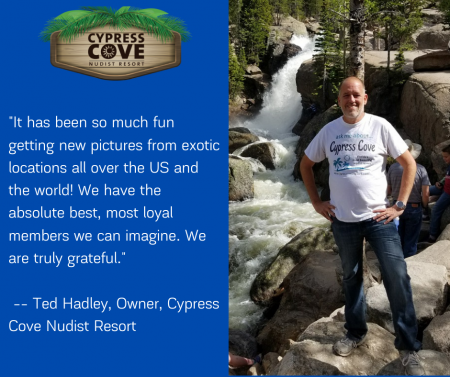 SEND US YOUR PHOTOS!!!
 We want to see where you have worn your Cypress Cove t-shirt, no matter which style it is! Wear it to town, to the grocery store, wear it while you are out and about, or at a national monument, and send us a photo! You will be featured in our newsletter or on one of our social media channels. 
Don't have a shirt yet? We have a few different styles for you to choose from. Purchase one at the main office or online and show your pride in Cypress Cove! 
Visit our online store by clicking HERE!

Send photos to Newsletter@CypressCoveResort.com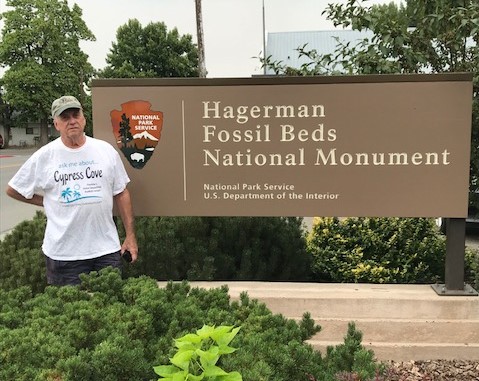 One of our great residents at the Hagerman Fossil Beds National Monument. 

Where have you worn your Cypress Cove T-shirts?
Send us a photo!
---
Book a Room Today!
It's never been a better time to stay at Cypress Cove! Book Online, Email Reservations, or Call Reservations toll-free at 888-683-3140.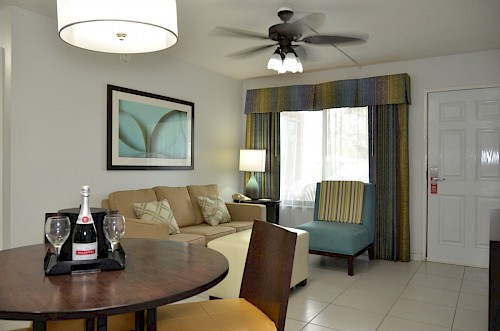 For Special Offers click HERE!
---
Every week we receive great reviews on TripAdvisor and Google; if you have visited or stayed with us, we would love to know about your experience. Click the logos below.