Laugh of the Week
---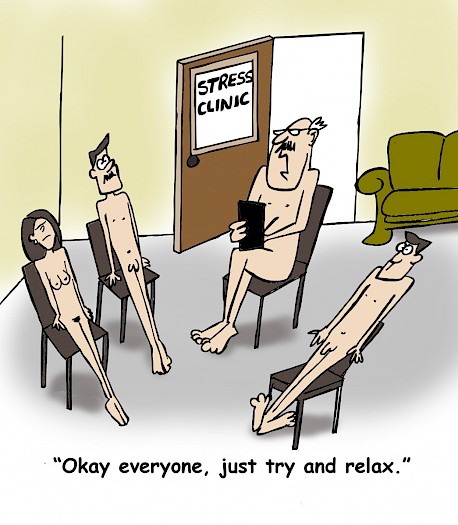 ---
Cove News   
---
Fig Leaf Boutique 10th Annual Memorial Weekend Fashion Show
Mark your calendars for Saturday, May 27 at 2 pm around the West Pool for this year's Memorial Weekend fashion show. This year marks 10 years of fashion fun, so come out and see what Fig Leaf has to offer. For those times when you absolutely must wear clothing, we have the most stylish pieces around. Come support your fellow nudist family business at this loved annual event.
LAST CALL FOR MODELS! 
If you are interested in modeling in this year's show, please see Edda at the boutique. Sign-up is no later than Sunday, May 7. We are looking for volunteer couples and singles of all sizes. Doesn't matter if you are short or tall; large or small; young or just young-at-heart… everyone is welcome. Limited slots are available for first-time models.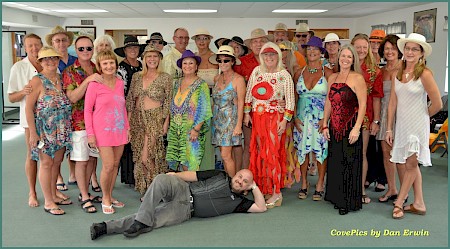 ---
Memorial Weekend Volleyball Tournament
Who's ready to kick some grass!? Cypress Cove sponsors this great Co-Ed Triples Volleyball Tournament. Join us on Memorial Day Weekend. The tournament features OPEN/ AA; A; BB; B; Rec divisions. There is a Round Robin on Saturday and Double Elimination on Sunday. The cost is $50 per person which includes day fees for up to 3 days (Fri-Sun) with optional tent camping on the lakefront. Children stay free. Tournament shirts will be available for purchase, order details will be posted on the event page. If you want to sign up for this event please email Jon at eventsnaturally@gmail.com. This is a fun, competitive tournament. We hope to see you there! 
Fun off the court includes:
*** Spikeball
*** Inflatable Slip & Slide
*** Bourbon Slushees
*** Saturday Night Pool Party!!!
*** Bonfire
*** Huge Lake with activities (paddle boats and canoes available)
*** 2 large pools & 2 hot tubs
*** 2 bars (including one poolside)
*** pool tables, ping pong tables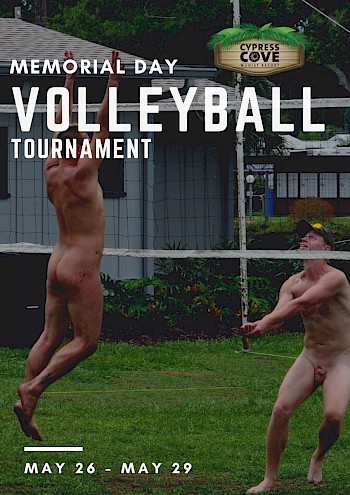 ---
Raw Muscle Shirt
These shirts are in limited supply, so grab one today at the Main Office.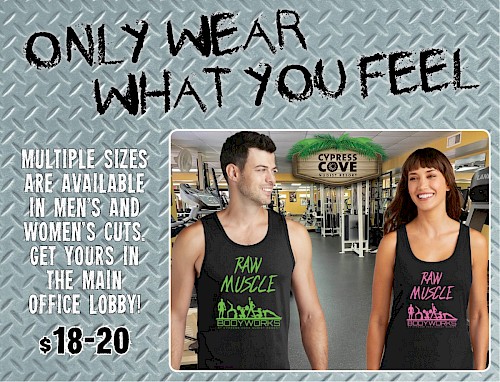 ---
AARP Safe Driver Class
AARP Driver Safety class will be held on Saturday, May 20, in Scuttlebutts Lounge from 9:00 AM to 3:00 PM. Use the sign-up sheet on Regis' Activities Office door to sign up for the class. Attendance is limited to 20 students, so sign up early! Bring payment to the class in the form of a check made payable to AARP for $20 for AARP members with your membership card or $25 for non-members. No cash accepted. Also, bring your driver's license. Those who complete the class are eligible for a discount on auto insurance. Questions? Call 407-933-3578.
Start the Summer driving season right by learning crash-avoidance tactics and earn a discount on your auto insurance. 

---
Resident Spring Contest WINNERS!!
If you're visiting us from afar, please take a moment to stroll the streets and see the beautiful landscapes that our residents have worked so hard to beautify. We are pleased to announce the much-anticipated winners for the month of April. The winners are (drum roll)…
Most Beautiful Lot of the Month:
Lot 599 - Ed & Colleen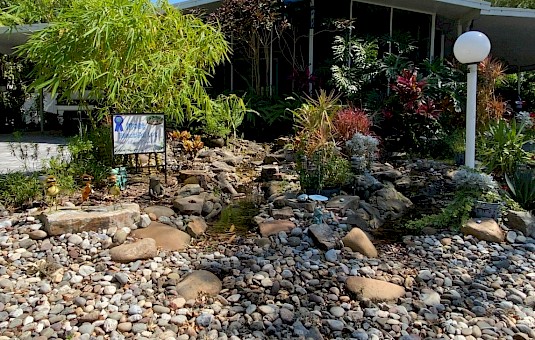 Most Improved Lot of the Month:
Lot 541 – Chuck and Suzanne Gouin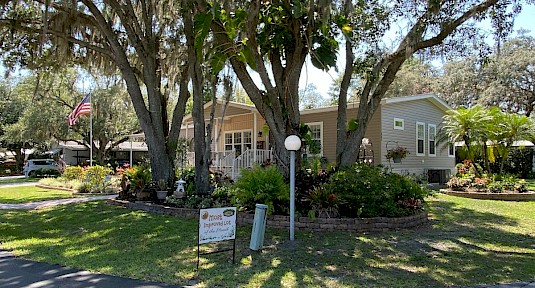 Please do not enter these lots but feel free to pass by and admire the great work that these residents have done!
---
News Outside the Cove
See what's making headlines in nudist news around the world. These things and more are being shared on our social media channels.

Follow us today to stay informed!






(Click one of these links to see the latest news!)
---
Jason Momoa strips naked for workout in wild video
"I actually don't even like wearing clothes anymore." Who does, Jason? We certainly don't!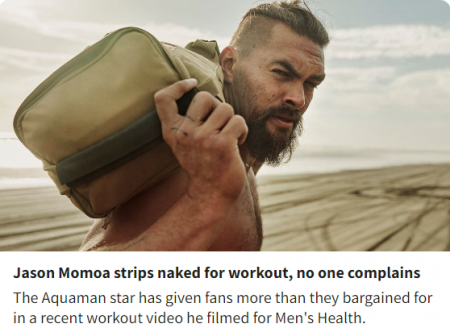 "The Aquaman star has given fans more than they bargained for in a recent workout video he filmed for Men's Health. Jason Momoa has no shame in his game - and why should he? The 43-year-old had his friends from Men's Health pop over to his New Zealand bolthole to discuss his workout routine, which ended with quite a bang." Read the full story & his response HERE.
---
Rachel Brosnahan Wears a Black Mesh Naked Dress at the 2023 Met Gala
LOTS of naked dresses at this year's MET Gala! Are we inching toward widespread acceptance?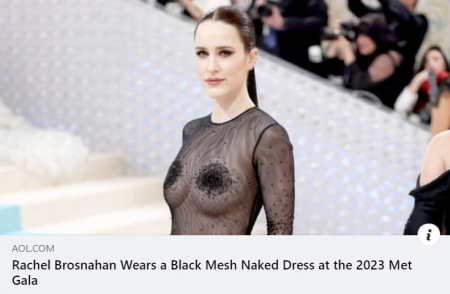 "The Marvelous Mrs. Maisel actress walked the carpet in an eye-catching, gothic look by Sergio Hudson comprised of a long-sleeved top made of sheer black mesh, attached built-in gloves, and a low-rise column skirt. The gown included two strategically-placed sequin adornments on the chest, as well as scattered sequins along the midsection and sleeves." Read the full story HERE.
---
Have You Seen Us Lately?

There are lots of fun ways to get some exercise at Cypress Cove.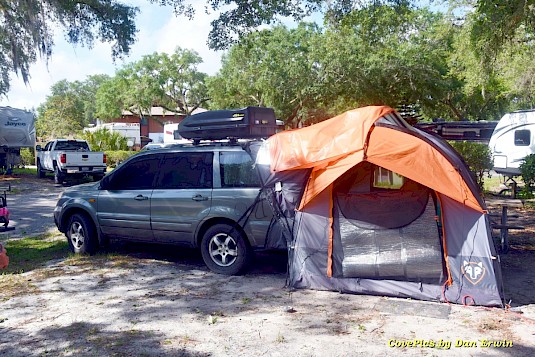 There are so many different ways of camping at the Cove.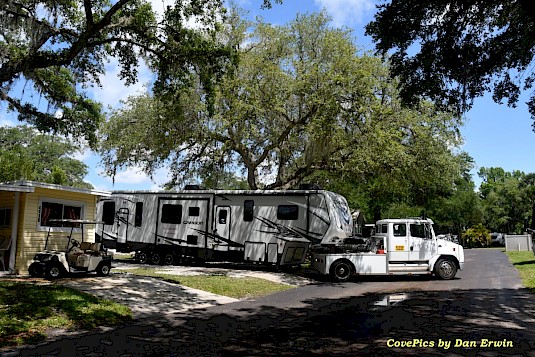 It can be a challenge to get your rig positioned "just right."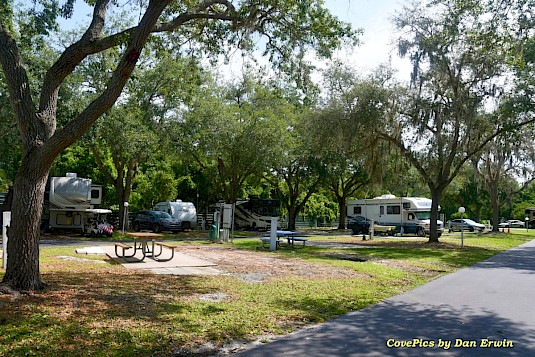 Our snowbird campers have headed back to their northern homes.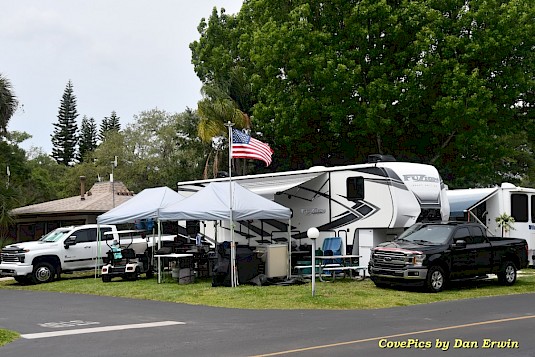 And just like that the Summer campers are arriving.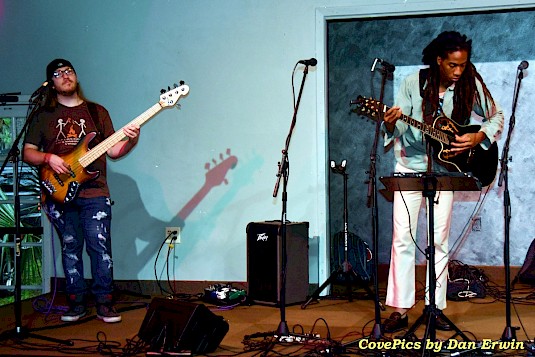 Saturday evening dance with Live Music by Esh & Shiff, at Lakeside.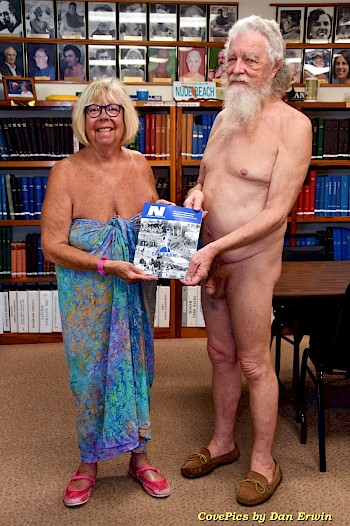 A presentation of The Magazine of Natural Living to the Nudist Library, celebrating the 90th anniversary of SKYFARM nudist resort, to the Nudist Library.
---
"Where Have You
Taken the Cove?"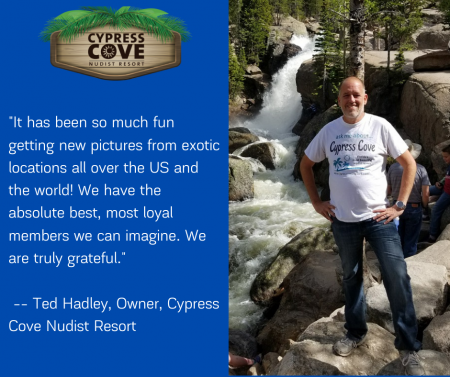 SEND US YOUR PHOTOS!!!
 We want to see where you have worn your Cypress Cove t-shirt, no matter which style it is! Wear it to town, the grocery store, while you are out and about, or at a national monument, and send us a photo! You will be featured in our newsletter or on our social media channels. 
Don't have a shirt yet? Purchase one at the main office or call and order one to show your pride in Cypress Cove! 
Call us at Toll-Free (888) 683-3140.

Send photos to Newsletter@CypressCoveResort.com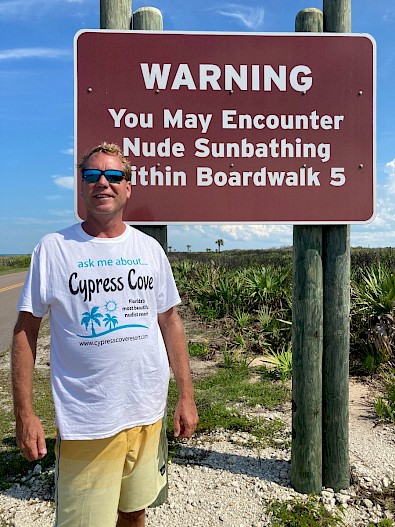 It's beach season! Don't forget to take Cypress Cove with you.
Here's Tom at Apollo Beach.

Where have you worn your Cypress Cove T-shirts?
Send us a photo!
---
Book a Room Today!
It's never been a better time to stay at Cypress Cove! Book Online, Email Reservations, or Call Reservations toll-free at 888-683-3140.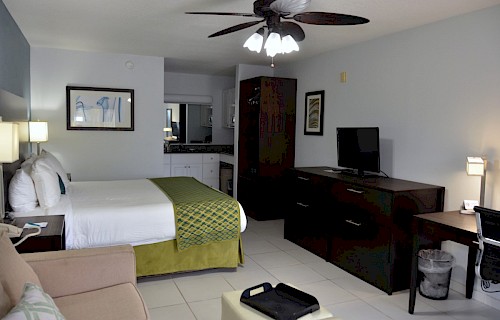 For Special Offers click HERE!
---
Every week we receive great reviews on TripAdvisor and Google; if you have visited or stayed with us, we would love to know about your experience. Click the logos below.