Laugh of the Week
---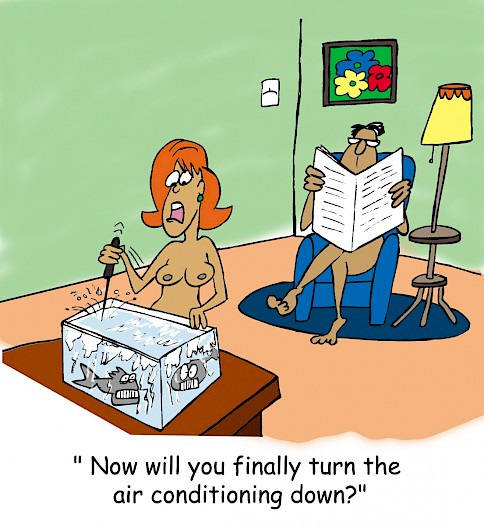 ---
Cove News   
---
AARP Safe Driver Class, May 20
AARP Driver Safety class will be held on Saturday, May 20 in Scuttlebutts Lounge from 9:00 AM to 3:00 PM. Use the sign-up sheet on Regis' Activities Office door to sign up for the class. Attendance is limited to 20 students, so sign up early! Bring payment to the class in the form of a check made payable to AARP for $20 for AARP members with your membership card or $25 for non-members. No cash accepted. Also, bring your driver's license. Those who complete the class are eligible for a discount on auto insurance. Questions? Call 407-933-3578.
Start the Summer driving season right by learning crash-avoidance tactics and earn a discount on your auto insurance.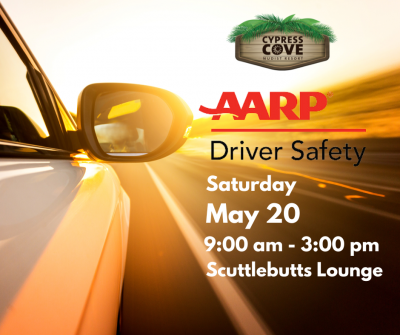 ---
Blood Donations - May 21
OneBlood will be here on May 21 from 11 am to 4 pm to accept blood donations. Appointments aren't required but preferred. You can schedule your appointment here. All donors will receive a $20 eGiftcard, a reusable water bottle, and a wellness checkup.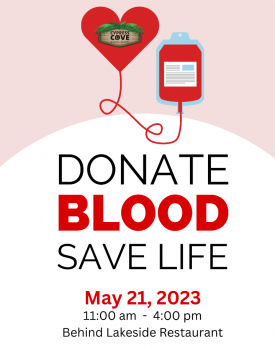 ---
Fig Leaf Boutique 10th Annual Memorial Weekend Fashion Show, May 27
Mark your calendars for Saturday, May 27 at 2 pm around the West Pool for this year's Memorial Weekend fashion show. This year marks 10 years of fashion fun, so come out and see what Fig Leaf has to offer. For those times when you absolutely must wear clothing, we have the most stylish pieces around. Come support your fellow nudist family business at this loved annual event.
NEW HOURS!!
Starting Thursday, May 18, Fig Leaf Boutique will be open Thursday, Friday, Saturday, & Sunday for your Florida wardrobe needs. Stop in and shop! 
A Note to the Models!
If you have signed up to be a model, PLEASE make sure to check in with Edda for your fitting. The sooner the better!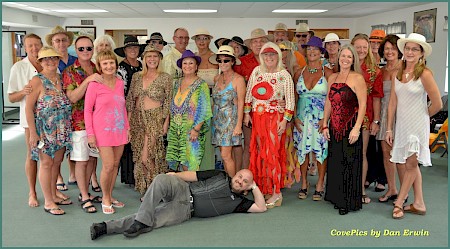 ---
Memorial Weekend Volleyball Tournament, May 26 - 29
Who's ready to kick some grass!? Cypress Cove sponsors this great Co-Ed Triples Volleyball Tournament. Join us on Memorial Day Weekend. The tournament features OPEN/ AA; A; BB; B; Rec divisions. There is a Round Robin on Saturday and Double Elimination on Sunday. The cost is $50 per person which includes day fees for up to 3 days (Fri-Sun) with optional tent camping on the lakefront. Children stay free. Tournament shirts will be available for purchase, order details will be posted on the event page. If you want to sign up for this event please email Jon at eventsnaturally@gmail.com. This is a fun, competitive tournament. We hope to see you there! 
Fun off the court includes:
*** Spikeball
*** Inflatable Slip & Slide
*** Bourbon Slushees
*** Saturday Night Pool Party!!!
*** Bonfire
*** Huge Lake with activities (paddle boats and canoes available)
*** 2 large pools & 2 hot tubs
*** 2 bars (including one poolside)
*** Pool tables, ping pong tables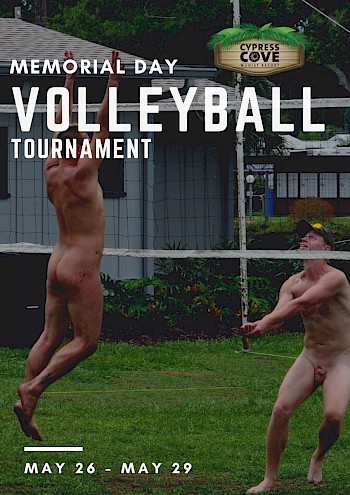 ---
Memorial Day Pickleball Tournament, May 29
It's the official start of summer with the fourth annual Cypress Cove Pickleball Tournament, set for Monday, May 29, starting at 8:15 am.
The event is free and open to all players, and you do not need a partner to enter. Just check in before 8:45 and compete in this coed, round-robin 90-minute tournament, where you'll play every game with a different partner and against different opponents.
For full details, click here or send an email to info@covepickleballclub.com.
See you on the courts!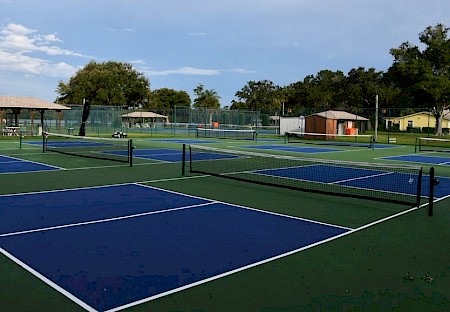 ---
A Note from Silver Lining Massage
There will be an update to the Healthy Reward card system beginning May 15, 2023
Every 10th session is free- valid for 18 months from the origination date.
Your past rewards are being transferred to a new system. If you were due a free session as of May 8, 2023, you will receive it at your next visit. Please be patient as we make this transition. If you have questions, please let us know.
Also, it is time to redeem those outstanding gift certificates! 
Please help us welcome David back to Silver Lining. He will be working mainly Sundays as he begins Nursing School soon. 
We will be closed on Tuesdays during the summer. Hours may vary in the next month due to staffing. We are looking for Florida-licensed massage therapists, send them our way if you know someone.

---
News Outside the Cove
See what's making headlines in nudist news around the world. These things and more are being shared on our social media channels.

Follow us today to stay informed!






(Click one of these links to see the latest news!)
---
Getting naked with strangers helped me combat body shaming culture
Well, that's what we've been shouting from the rooftops for YEARS!!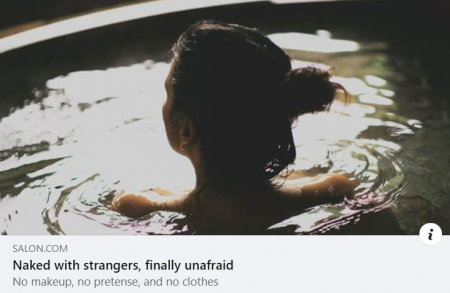 "It was easy getting dressed that morning, knowing that at my destination, I'd spend most of my time naked. From the parking lot, Olympic Spa — the prominent, women-only Korean spa in Los Angeles — looked surprisingly utilitarian. In sweats and a T-shirt, I walked into the building alone and early, ahead of the two friends I would be meeting. We had discussed ahead of time what to expect in a space where nudity was the norm — namely, who was going to shave and how much, and who was going to let the hair down there flow. 'I'm going full beast,' my one friend said, and I agreed to do the same." Read the full story & his response HERE.
---
Houston is among the top U.S. cities for 'nude gardening,' which exists
We just celebrated World Naked Gardening Day. Check it out!! Hey, Houston... did you participate?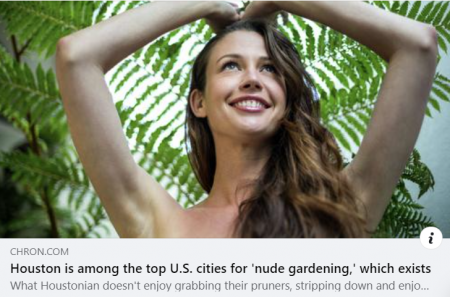 "A recent study of the nation's 200 most populous cities ranked Houston ninth in the United States for naked gardening. The study's creator, Lawnstarter, a lawn care service, based the rankings on nudist population size, indecent exposure laws, garden-friendliness, weather forecasts, access to waxing salons, and sex offender listings." Read the full story HERE.
---
Have You Seen Us Lately?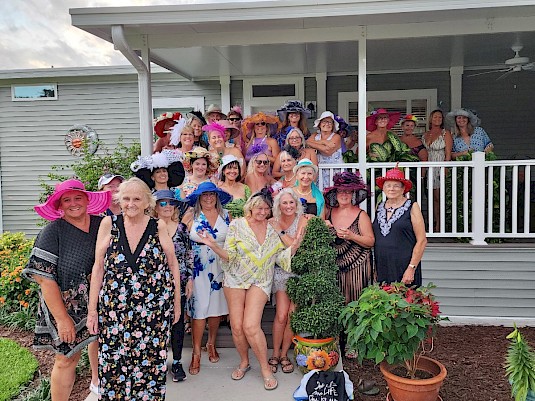 One of our residents hosted a Kentucky Derby Party where they raffled Derby Memorabilia and raised $585 which they donated to the 18th Annual Cypress Cove Breast Cancer Fundraiser with donations going to the American Cancer Society's Making Strides Against Breast Cancer, Team Cypress Cove Parrotheads.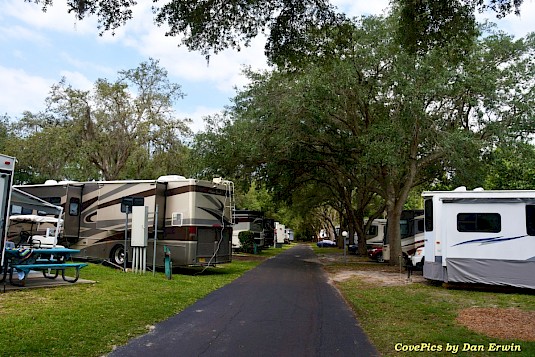 The RV park is already packed with summer guests! Let the summer fun begin!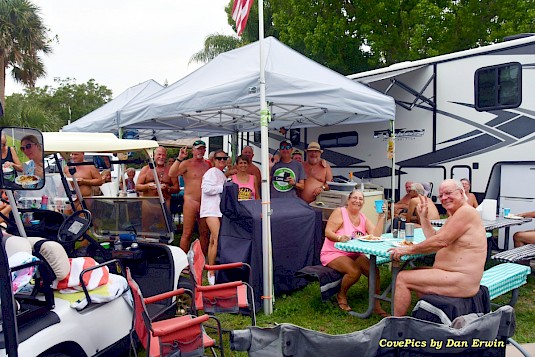 And just like that the Summer campers are having a party.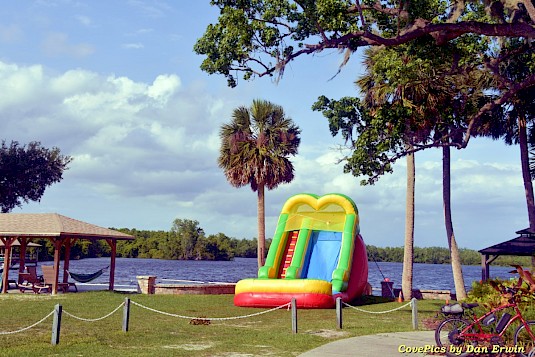 Slide into summer at Cypress Cove!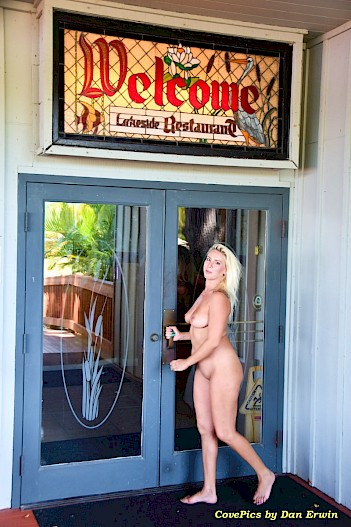 The Saturday night dances at Lakeside are the place to be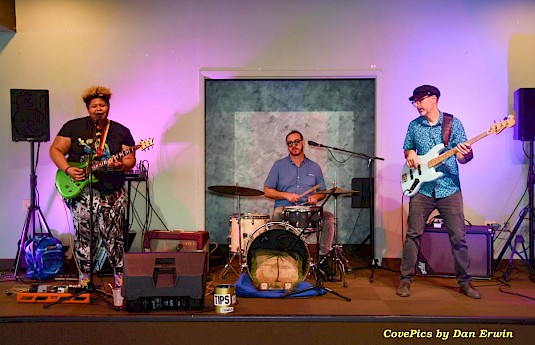 A new band to Cypress Cove, The Derek Engstrom Band filled Lakeside with great music on Saturday night.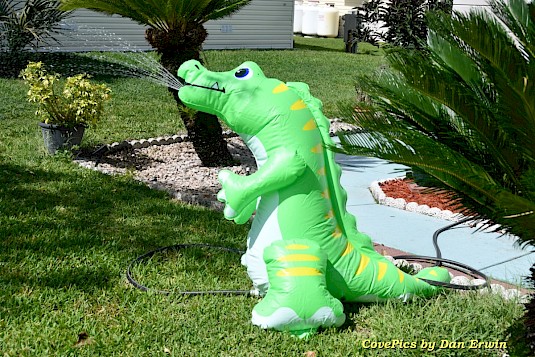 Not all gators can be found at the lake. Look at this cutie.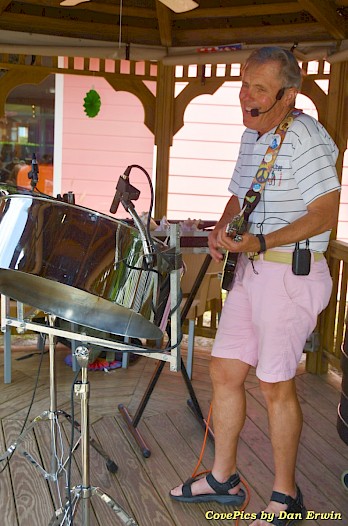 The Conch Man, a Cove favorite, was at the West Pool on a Sunday afternoon.
---
"Where Have You
Taken the Cove?"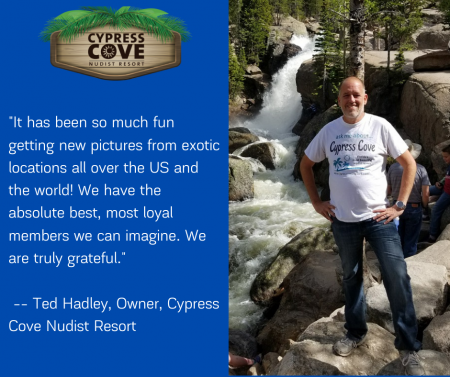 SEND US YOUR PHOTOS!!!
 We want to see where you have worn your Cypress Cove t-shirt, no matter which style it is! Wear it to town, the grocery store, while you are out and about, or at a national monument, and send us a photo! You will be featured in our newsletter or on our social media channels. 
Don't have a shirt yet? Purchase one at the main office or call and order one to show your pride in Cypress Cove! 
Call us at Toll-Free (888) 683-3140.

Send photos to Newsletter@CypressCoveResort.com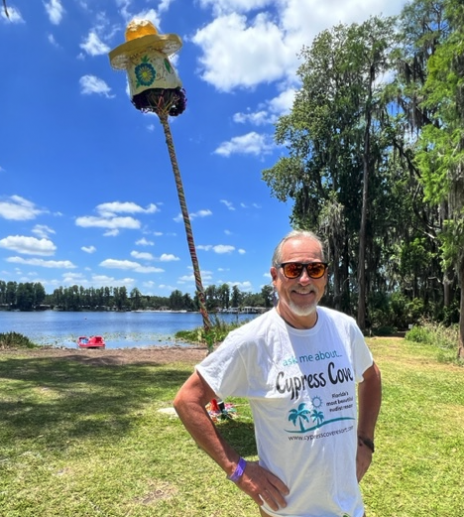 One of our awesome members at the Burning Man Festival at Lake Como. 
Thanks for sending that in to us, Mike. 

Where have you worn your Cypress Cove T-shirts?
Send us a photo!
---
Book a Room Today!
It's never been a better time to stay at Cypress Cove! Book Online, Email Reservations, or Call Reservations toll-free at 888-683-3140.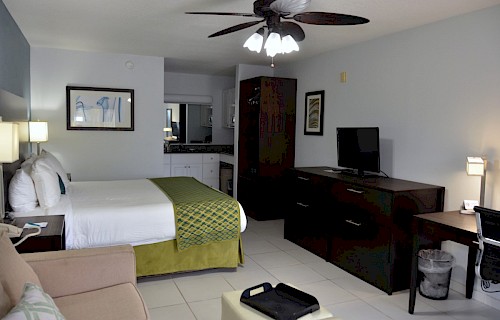 For Special Offers click HERE!
---
Every week we receive great reviews on TripAdvisor and Google; if you have visited or stayed with us, we would love to know about your experience. Click the logos below.