Laugh of the Week
---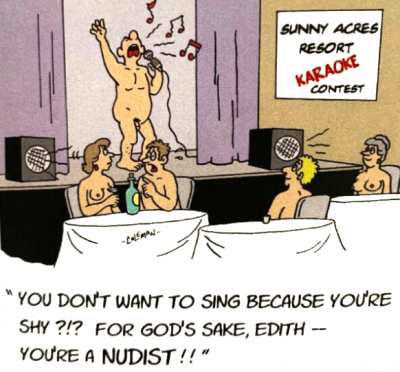 ---
Cove News  
---
Naturist Travel Awards
It's been a difficult couple of years for everybody. So what better way of lifting the spirits than the second annual Naturist Travel Awards - first held in 2021 to recognize excellence in the international naturist travel industry, and voted for by naturists worldwide? The awards focus on venues, destinations, and companies that have proven to be the best of the best. And as the world settles down and travel gets back to normal, they will now become an annual fixture in the naturist calendar.
Make your voice heard, help promote and reward your favorite venues and destinations, and further the cause of naturism as a positive lifestyle choice as an important sector of the international travel industry.
Voting deadline: March 31, 2023
Results announced: May 1, 2023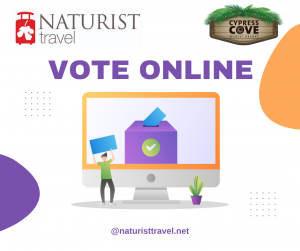 ---
Big Nude Boat 2023
The Big Nude Boat 2023 is approaching fast! Cypress Cove Nudist Resort is proud to serve as your pre- and post-cruise assistant. Tiki has been hard at work, but make sure you are up to date on all information needed to board the ship. Please make sure you register with us by filling out this form and getting it back to the front desk.
Please see this page for additional departure information.
Information on Bare Necessities nude cruise can be found here.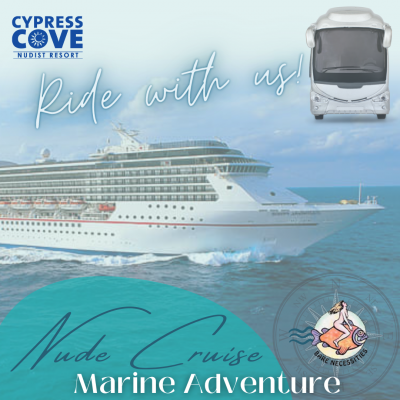 ---
Open Mic Night
We're excited to announce the first Open Mic Night of 2023 at Cypress Cove! DJ Conner will host this event and members of the RBT band will provide backup music and sound. Bring your instrument and talents! Happening Thursday, January 12 from 6:00-10:00 pm at Lakeside Restaurant and continuing on the second Thursday of the month. This is a family-friendly activity for all to enjoy, so come on out and enjoy the evening!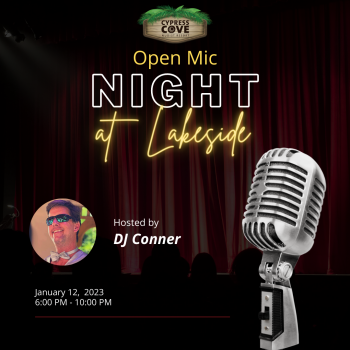 ---
Crazy Socks Bowling
Our friends at Crossed Oaks Haven have put together another nude bowling gathering at Orange Bowl Lanes in Kissimmee on January 15, 2023, from 10 am to 1 pm. Don't forget your crazy socks, you might just win a prize! The cost for this event is $20 for those over 35 years of age, $10 for 18-35 years, and free for those under 18. Please bring cash for the entry fee and sign in at the table with Crossed Oaks Haven staff. The fee includes the shoe rental and all the games you can bowl. 
Those with the highest cumulative score will take possession of the roving Nude Bowling Champion trophy. Available snacks include Popcorn, soft drinks, and chocolate chip cookies. See you at the lanes! For more information reach out to crossedoakshaven@aol.com.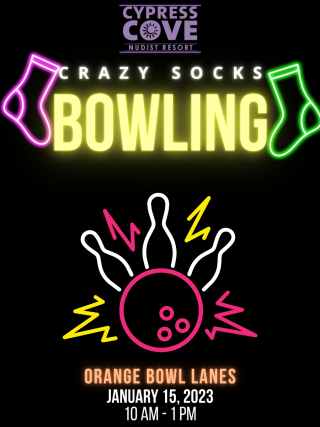 ---
Blood Donation
Join us on Sunday, January 15 for a OneBlood blood drive as they take blood donations from 11:00 am to 4:00 pm. Appointments are suggested. Please sign up for your appointment here. For more information on this blood drive, please visit here. 
---
Book Signing at the Cove Book Club
Cove Book Club will host, for the first time ever, an author signing at our Jan 19, 2023, meeting in the Clubhouse at 3:30. Join us and meet fellow Cove member, Bob Chenoweth, who has written a wild and crazy book about a nudist where even one of our own appears in the pages of the book! Buy a copy of Naked as a Jaybird at the Moon-Your-Mama Bar and Grill and Bob will autograph it for you! Or bring your existing copy, he'll sign that, too!  
Everyone is welcome, even if you didn't read the book, to learn how he discovered his storyline, wrote, and then published his novel. Refreshments will be served. Jan. 19, 3:30 at the Club House.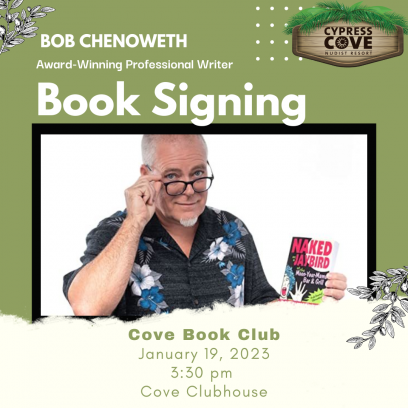 ---
Photojournalist Laurance Ellis' Visit to Cypress Cove
It's been a couple of months since Laurance Ellis visited Florida for an article on nudists. We had a number of volunteers step forward to welcome him with open arms and tell their stories. Laurance was here photographing subjects for an article that appears in the Fall 2022 edition of Document Journal. 
Document Journal is an independent culture, arts, and fashion magazine founded in New York in 2012. Published biannually in the spring and fall, the magazine is printed in book format and distributed globally. Document focuses on American and global culture, and features prominent voices of art, literature, and fashion.
Ellis studied Social Anthropology before embarking on a career as a photographer, initially assisting Mark Lebon in London. Document Journal has been a long-term collaborator of Ellis's. In the past 3 years, they have dedicated a 26-page portfolio in each print issue to his work, with accompanying essays by Nathaniel Rich (New York Times: Losing Earth: The Decade WeAlmost Stopped Climate Change), Peter Gleik (President-emeritus and co-founder of the Pacific Institute) and Daegan Miller (Author: This Radical Land) amongst others.
Check out the full article here.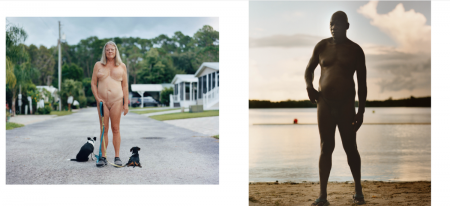 ---
Library Seeks Volunteer Help
The American Nudist Research Library is now open six afternoons a week—like they were before COVID. That is thanks to the efforts of seasonal volunteers. They could use a couple more year-round volunteers to run the library one afternoon each week.
Right now, our biggest need is for volunteers to scan magazines, books, and loose papers—also for people to put those papers in chronological order before scanning.  Seasonal or occasional volunteers are welcome. To find out more, go to the library on a Tuesday afternoon and talk with library president Paul LeValley.
Over the past few months, the library has bought copies of children's books about nudism. They now have every preschool through high school book that they know about.  Their video collection has also grown, and library members can check them out. Go in and see all the new things the library has to offer.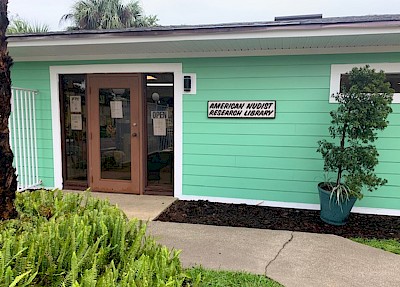 ---
Zumba Gold Chair Class
We are excited to announce Cypress Cove will be having Zumba Gold Chair classes Mondays at 1 pm in the clubhouse. Join Lisa for this awesome workout weekly! These classes will last about 45 minutes. Zumba Chair is Zumba done entirely seated and is suitable for various groups, including seniors and individuals with limited ambulatory ability. It is fun, uplifting, and even healing.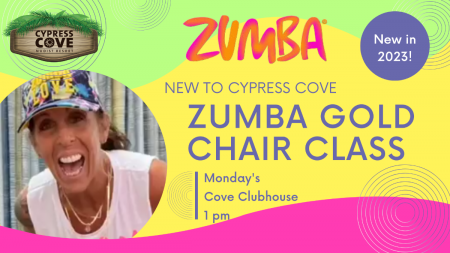 ---
News Outside the Cove
See what's making headlines in nudist news around the world. These things and more are being shared on our social media channels.

Follow us today to stay informed!






(Click one of these links to see the latest news!)
---
Where can you be naked in San Francisco?
Hey, San Francisco! Check out these places where you can enjoy your nude time!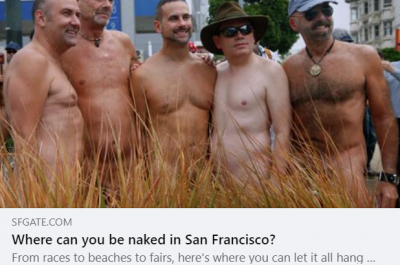 "San Francisco has long been a place to be yourself. If for you that means showing off everything the gods gave you, you're in luck: There are plenty of places you can be nude in San Francisco." Read the full story HERE.
---
At 57, Elizabeth Hurley Is Head-To-Toe Sculpted In A Nude, Bedazzled Bodysuit In IG Pics
You could have stuck jewels to your skin and been more comfortable. Be nude!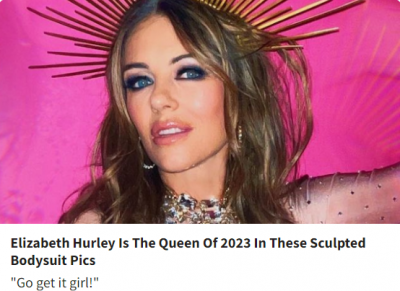 "Elizabeth Hurley knows how to end the New Year with a bang. And that's exactly what she did when she decided to post a slew of photos rocking a nude bodysuit to wrap up 2022." Read the full story HERE.
---
Have You Seen Us Lately?
January through the years...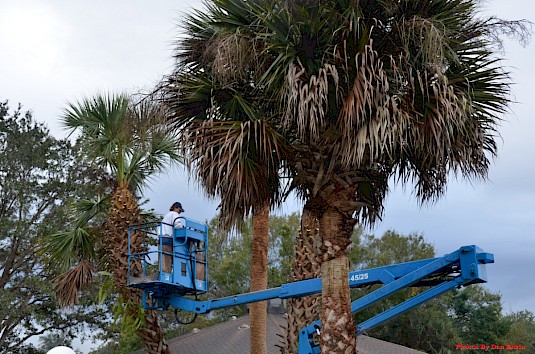 In January 2014, tree trimming was a fun thing to watch on a sunny afternoon at the pool.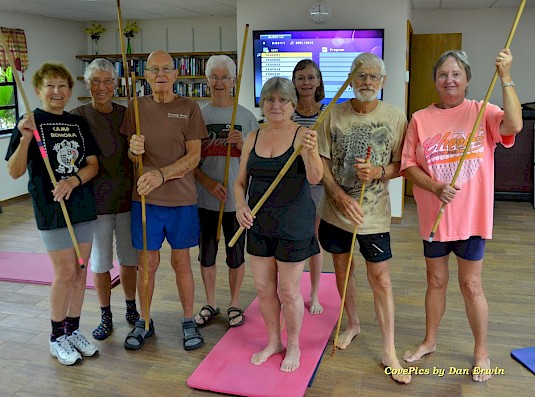 In January 2015, the Chinese Wand club was very active.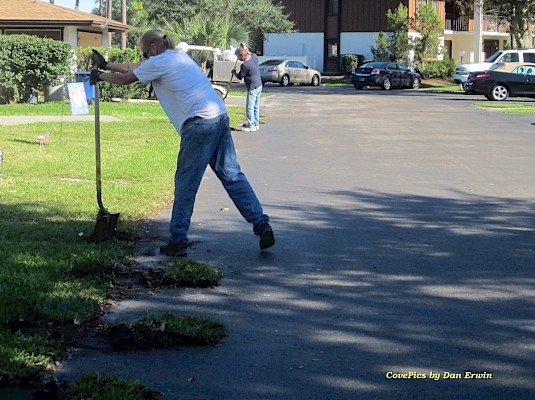 In January 2016, the Cove staff was very busy getting ready for the road paving crew.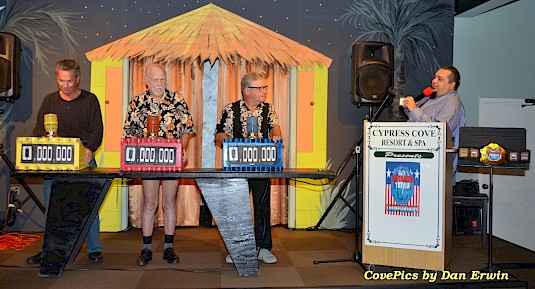 In January 2017, the Cove had the Super Mega Trivia Championships.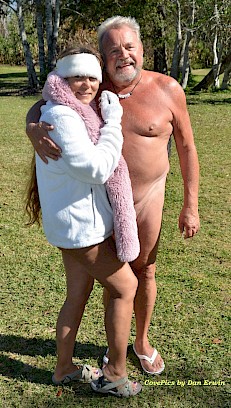 In January 2018, two of our campers modeled what nudist wear on a Florida-cold winter day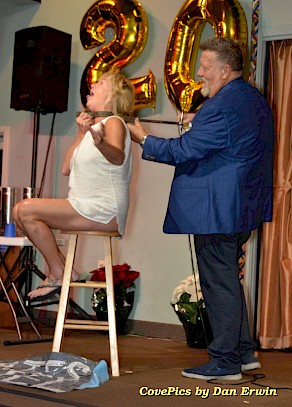 In January 2019, Magician John Ferrrntino pushed a sword through one of our member's neck.

In January 2020, the Anything But Clothes party brought out some interesting attire.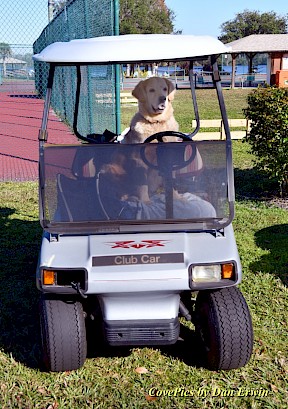 In January 2021, Cypress Cove was having a problem with dogs driving the golf carts.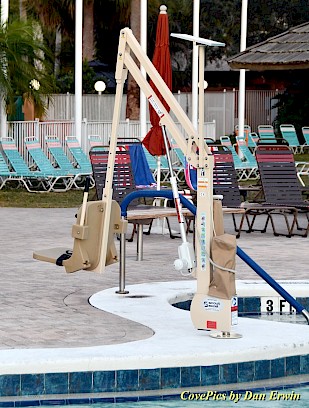 In January 2022, the new chair lifts on the pools & hot tubs were wonderful and an appreciated upgrade.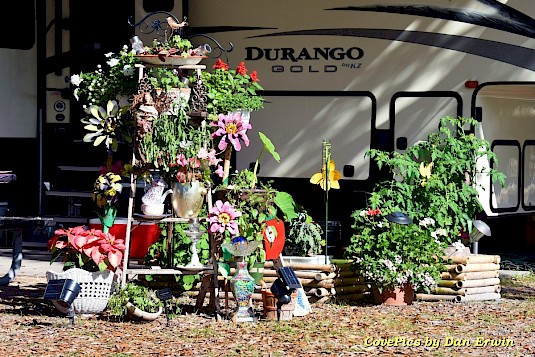 In January 2023, one of our talented campers decorated their site with art, created from found items.
---
"Where Have You
Taken the Cove?"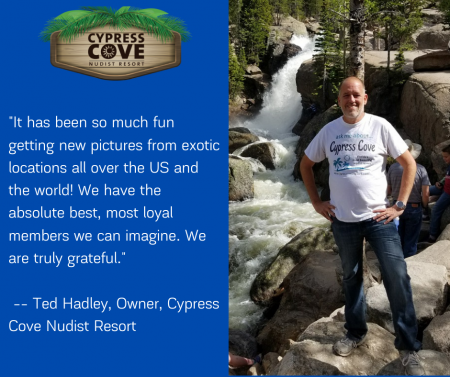 SEND US YOUR PHOTOS!!!
 We want to see where you have worn your Cypress Cove t-shirt, no matter which style it is! Wear it to town, the grocery store, while you are out and about, or at a national monument, and send us a photo! You will be featured in our newsletter or on our social media channels. 
Don't have a shirt yet? Purchase one at the main office or call and order one to show your pride in Cypress Cove! 
Call us at Toll-Free (888) 683-3140.

Send photos to Newsletter@CypressCoveResort.com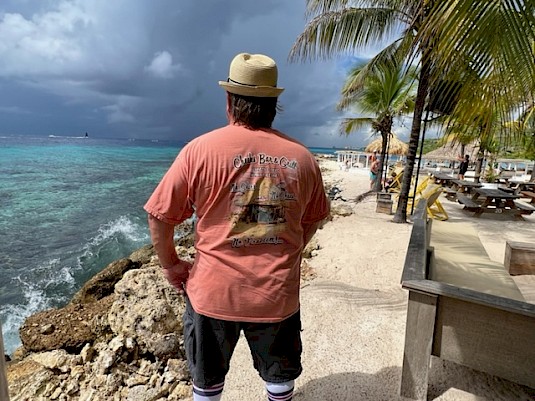 Cypress Cove Parrothead King & Queen were in Curaçao!
Thank you for sending it in, John!
 
Where have you worn your Cypress Cove T-shirts?
Send us a photo!
---
Book a Room Today!
It's never been a better time to stay at Cypress Cove! Book Online, Email Reservations, or Call Reservations toll-free at 888-683-3140.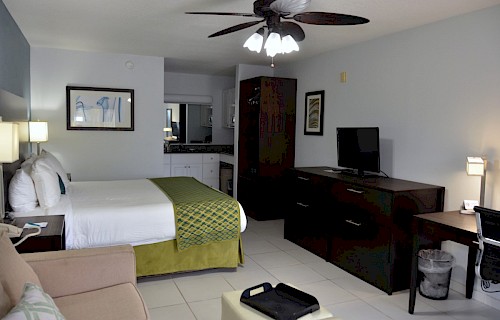 For Special Offers click HERE!
---
Every week we receive great reviews on TripAdvisor and Google; if you have visited or stayed with us, we would love to know about your experience. Click the logos below.