Laugh of the Week
---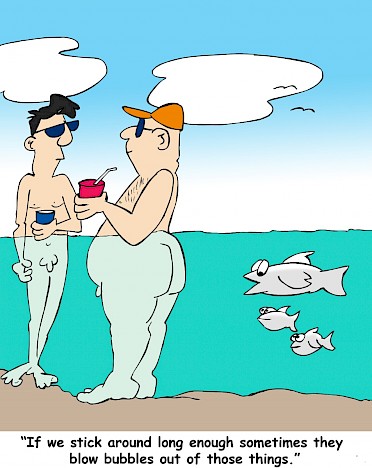 ---
Cove News  
---
Labor Day at Cypress Cove
Summer is winding down, the kids are back to school, and the fall is heading our way. It's a perfect time to take the kids, relax, and enjoy nature. The weather is great and there is plenty of fun things to do with the family here on Labor Day Weekend. 
Additional Events: 
Family-Friendly Dive-in Movie Saturday at 8:30 pm, East Pool
Yard Games on the Sunning Yard on Saturday throughout the day

---
Get Tickets Early and  S A V E  $$$!!!
Ticket prices go up on October 1 and rooms are booked solid. Dust off that tent in the garage and grab yourself a tent camping Nude-A-Palooza combo ticket. The weather is always nice in October, so it's a perfect time to camp. Tickets can be purchased HERE. Give us a call at 407-933-5870, we are happy to answer any questions you might have.

Nude-A-Palooza Volunteers Needed!
Cypress Cove is looking for volunteers to work at our awesome Nude-A-Palooza breast cancer charity event on October 22. From parking to gate guards to crowd flow control, we have a job for you. Be a volunteer and get a free ticket to this great all-day concert! Contact Carolyn via regis@cypresscoveresort.com and sign up today!
---
Property Updates
Bodyworks Gym
It is completed! Check out the updated branded gym. Stop by the front desk to inquire about membership and pick up a BodyWorks tank. We will see you stripped & ripped at BodyWorks!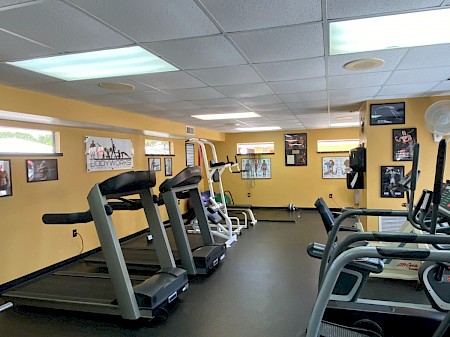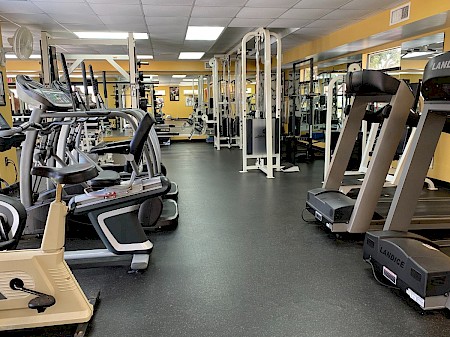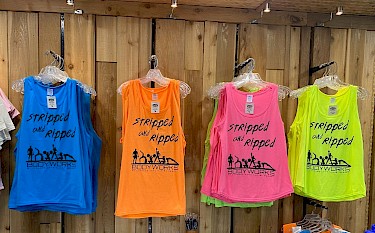 Street Repair & Resealing
We have already begun repairing, resealing, and restriping all of the streets within Cypress Cove. If you are visiting with us now through mid-September, please be aware that there will be temporary street closures, but we are still accommodating all guests and you will have access to all resort amenities. 
This will be done in phases and in sections. For more information on the street closure and dates click HERE. We certainly appreciate your patience and cooperation as we continue our efforts to make Cypress Cove Nudist Resort the best nudist resort.
Pickleball & Tennis Courts
Nude pickleball and tennis are really taking off (pun intended) and our courts are well loved. Currently, the pickleball and tennis courts are closed for maintenance. The areas are being repaired, resurfaced, and repainted. Stay tuned for more updates. 
---
Labor Day 5K - LAST CALL!!!
Registration is still open for Cypress Cove's Labor Day 5K! Come out and streak with us at the 9th annual clothing-optional run at Cypress Cove Nudist Resort on Saturday, September 3, 2022. Wear as little (or as much) as you like as you run/ walk around the beautiful 300-acre property. Day fees are included with your race registration and all preregistered runners are guaranteed commemorative race swag with their race packet so sign up early to be guaranteed one. The race starts at 8:30 am with check-in/ late registration from 7:15-8:15 am. Join us for the race after-party around the pool for music, awards, great food, and drink specials. To register for this year's race visit here.

---
Wigs for Kids
September is Children's Cancer Month. Bring the kids and enjoy a fun-filled afternoon with Crossed Oaks Haven here at Cypress Cove on September 3, 2022, from 10 am - 2 pm to donate your hair for Wigs for Kids! Please come and enjoy the silent auction, games, donation table, backpack sales, and a bake sale (please bring cash!) at the Wigs for Kids benefit. There will be lots of games and fun, so stop by and say hello! For more information click here.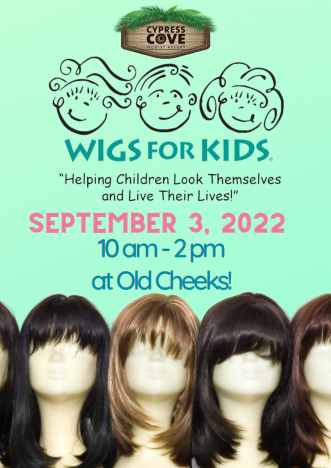 ---
Fall Craft Fair
It's that time of year when you start to see pumpkin spice everything and the weather starts to turn cool. Our crafters are getting an earlier start this year. Join us for the Fall craft fair happening on October 8 from 9 am to 2 pm. Come out and support your fellow nudists.
For our crafters, if you want to reserve a table, please email Suzanne at Suzanneg541@gmail.com. No resale items. All items must be homemade. We are holding it early this year in order to sell Halloween goods.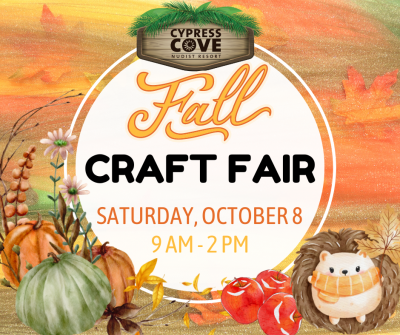 ---
Blind Creek Beach Charter Bus
A group of Cove residents and members are chartering a big luxury motorcoach to take up to 50 Cove beach-lovers to and from Blind Creek Beach on Sunday, October 16, 2022, a week before Nude-a-Palooza, for a day of sun, sand, surf, and fun. The beach is awesome and the ocean will be super nice after warming up for us all summer long. Tickets are just $43 each, and you can bring as much stuff as you like to the beach, and not worry about tolls, parking, high gas prices, or traffic.
See full details HERE and then buy your tickets today! Ticket sales close October 1!
Hey TNS members... Cypress Cove is EXCITED to announce a SPECIAL offer for those looking to book a villa stay AND take the rie on the Charter bus. To book your stay call us at 407-933-5870.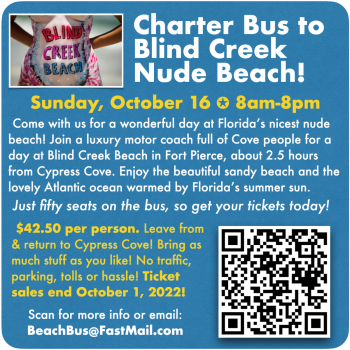 ---
News Outside the Cove
See what's making headlines in nudist news around the world. These things and more are being shared on our social media channels.
Follow us today to stay informed!






(Click one of these links to see the latest news!)
---
Is the Internet Killing the Nude Beach?
Are we really blaming the internet for this? Or does it have something to do with women feeling less safe on nude beaches because people take unauthorized photos or make sexual advances? Weigh in... what do you think?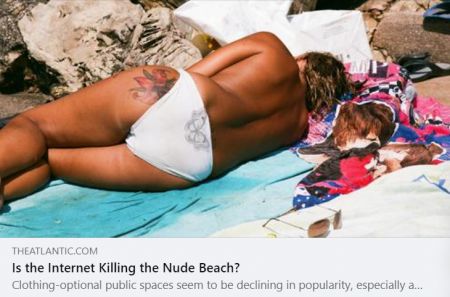 "Clothing-optional public spaces seem to be declining in popularity, especially among young people, whose relationship with nudity has been shaped by a lifetime online. The decline of nude sunbathing, particularly among young women, defies simple explanation. The naturists and historians I consulted for this story offered a variety of possible reasons, such as rising populations of people from cultures and religions that aren't as tolerant of public nudity across both Europe and America and increasing awareness of the risk of skin cancer. But pretty much everyone I spoke with suspects that the internet has something to do with it." Read the full story HERE.
---
"Nudity is not indecent": "Naked Gardens" directors on baring all, even themselves, for documentary
Let us know how you like it if you see this nudist movie.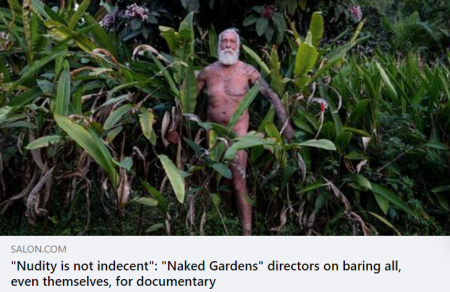 "Naked Gardens," which is having its world premiere at the Tribeca Film Festival, is Patrick Bresnan and Ivete Lucas' immersive, observational documentary about Sunsport Gardens, a Florida naturist community. The filmmakers, who shot the film in the nude themselves, depict the quotidian life of the residents. Men and women of different ages and races are seen cleaning a motorcycle, playing tennis or basketball, and — gasp! — even cooking and using power tools." Read the full story HERE.
---
Have You Seen Us Lately?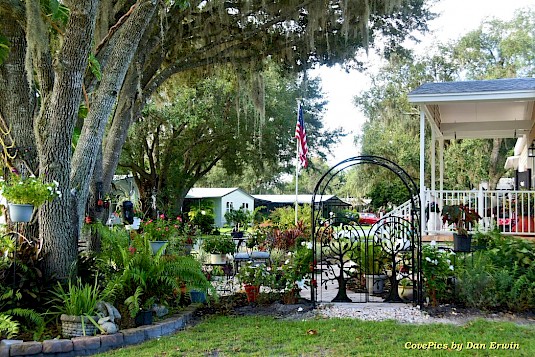 A Gateway to Paradise:  Another beautiful treasure found in the residential area.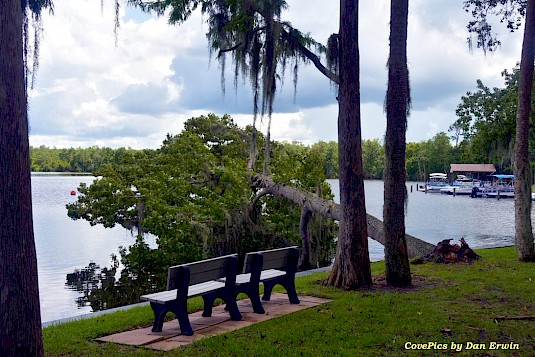 Something you don't normally see, a tree bending over to get a drink from Brown Lake.

Live music poolside by Tim on a beautiful Sunday afternoon.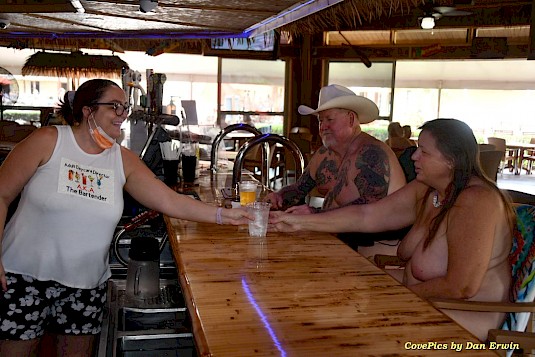 Always time for a tasty drink and a friendly smile from Tabitha at Cheeks.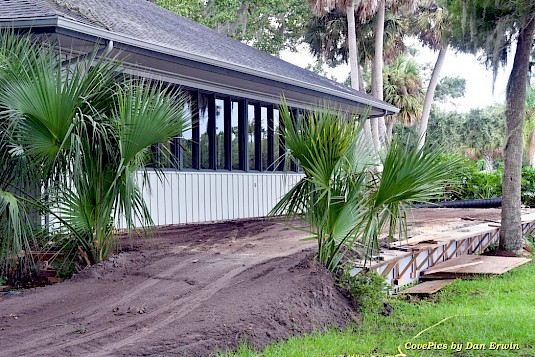 The new deck at Lakeside Restaurant is moving right along.

Saving two baby squirrels that fell from a palm tree as it was being pruned.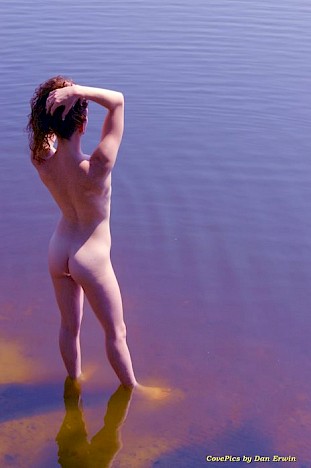 Watching the NASA Artemis Launch from the shoreline of Brown Lake.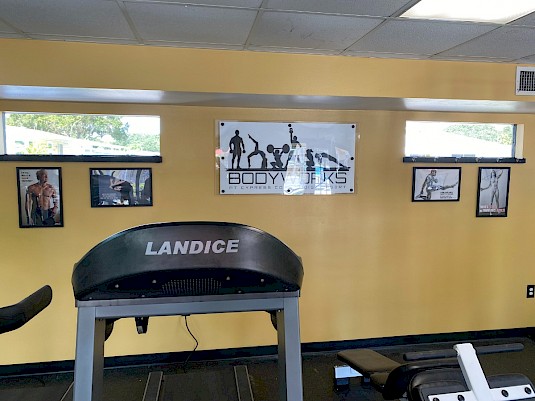 The new BodyWorks sign in the freshly renovated gym.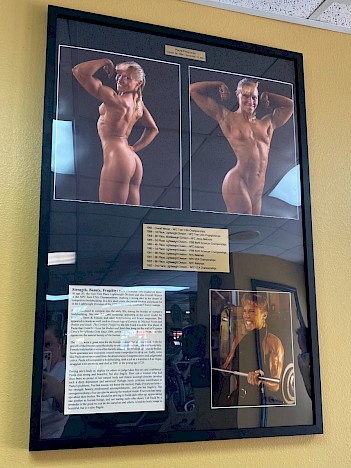 Pick up a membership and check out this tribute to a fellow nudist & bodybuilder.
---
"Where Have You
Taken the Cove?"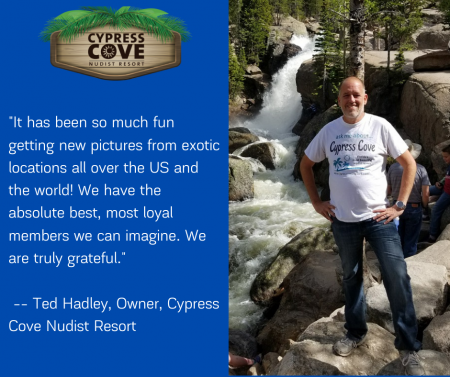 SEND US YOUR PHOTOS!!!
 We want to see where you have worn your Cypress Cove t-shirt, no matter which style it is! Wear it to town, to the grocery store, wear it while you are out and about, or at a national monument, and send us a photo! You will be featured in our newsletter or on one of our social media channels. 
Don't have a shirt yet? Purchase one at the main office or call and order one to show your pride in Cypress Cove! 
Call us at Toll-Free (888) 683-3140.

Send photos to Newsletter@CypressCoveResort.com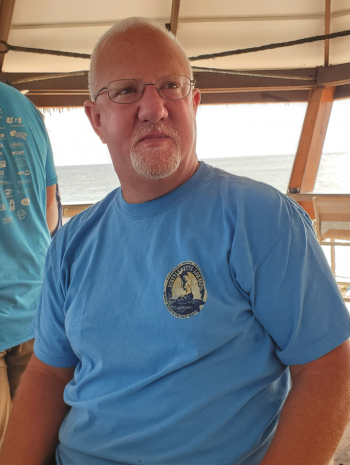 Mike at the Bunker Bar at Divi Tamarijn in Aruba.

Where have you worn your Cypress Cove T-shirts?
Send us a photo!
---
Book a Room Today!
It's never been a better time to stay at Cypress Cove! Book Online, Email Reservations, or Call Reservations toll-free at 888-683-3140.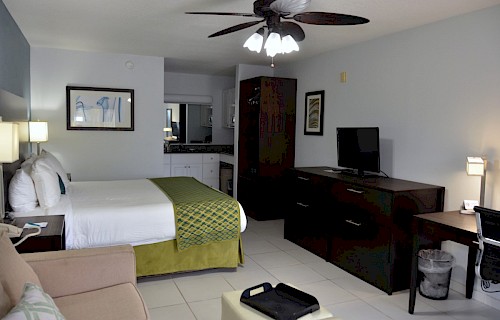 For Special Offers click HERE!
---
Every week we receive great reviews on TripAdvisor and Google; if you have visited or stayed with us, we would love to know about your experience. Click the logos below.