Cypress Cove Nudist Resort Beach Grand Opening Kicks Off with a Volleyball Tournament
16 May 2018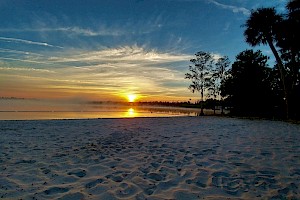 KISSIMMEE, FL, May 16, 2018 – Playing au natural in Cypress Cove Nudist Resort's Lake Brown just became even more fun with the addition of new docks, floating dock slips for boats and pedal boats, and an expanded sandy beach along the 50-acre fresh water lake. Cypress Cove will be showing off the beach enhancement
during a grand opening event on Friday, May 25 at 3:00 pm, which will kick off Memorial Day weekend and the resort's popular summer volleyball tournament.
"Historically, the lake and beach were the center of activity at Cypress Cove in the years before we built the swimming pools and entertainment complex," explained Peter Sewall, Cypress Cove's General Manager. "It's a fun part of the resort that we want to make even more accessible to our guests and residents. With the addition of nearly 400 tons of sand, we expanded the beach from our waterfront restaurant all the way around to the new boat docks. We've also built a covered pavilion at the end of the docks and a separate sun deck that extends out over the water."
The docks and beach expansion were part of a larger project that included new landscaping, lighting, a sitting wall, two large fire pits, an expanded lakefront camping area, and plenty of room for beach activities.
"The lake and beach area have always been popular as quiet relaxation spots," said Ted Hadley, owner of Cypress Cove Nudist Resort. "Many first-time visitors find it to be the perfect place for acclimating to a clothes-free environment. The enhancements will provide more room for that as well as more possibilities for events and water sports."
The first event will be Cypress Cove's popular Memorial Day weekend clothing-optional volleyball tournament and beach party. Held from May 25-28, the Cypress Cove Coed Triples Tournament is a grass co-ed triple (minimum of 1 female player) played on a big court with sideout scoring. Pool play will be on Saturday the 26th followed by double elimination playoffs on Sunday. Divisions are OPEN AA, A/BB, B, and Rec. There is no cost to play in the tournament, but all players and their guests are required to pay a $30 resort fee that includes full resort access and a primitive campsite. Cypress Cove also offers RV and hotel accommodations. For lodging reservations, call 888-683-3140. Tournament pre-registration is not required but appreciated. For more tournament details, contact event coordinator John Babbitt via email at vbswingw@aol.com.
Anyone who wants to attend the tournament or just visit the resort and check out the new beach area is encouraged to check Cypress Cove's website (CypressCoveResort.com) for resort and event information.
Since 1964, Cypress Cove Nudist Resort has been the premier family-friendly, clothes-free vacation destination in Florida for visitors from around the world. Conveniently located in Central Florida near all the Orlando attractions, the 300-acre family-owned resort boasts 84 luxurious villa hotel rooms and apartments, a modern RV park, campsites, a 50-acre lake for water sports, 2 sparkling pools, tennis and pickleball courts, and a residential community. With weekly entertainment, themed weekends, and annual special events there is always something fun happening at Cypress Cove. Enjoy Florida naturally! Visit CypressCoveResort.com or connect with us on Facebook @cypresscove and on Twitter @covenudist.