Big Nude Boat 2019
4 April 2018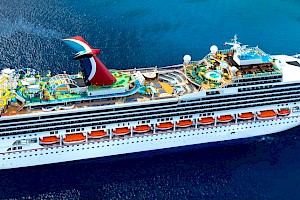 January 25th - February 3rd, 2019
Cypress Cove Nudist Resort is proud to serve as your pre and post cruise assistant. Why not fly into Orlando, stay at The Cove a few nights, and let us tend to your luggage and do the driving?
Welcome Nude Cruisers! Through 2019 is still some time away, as history tells us, it'll be here before you now it. We hope that you'll choose to make Cypress Cove Nudist Resort a part of your nude cruise vacation, so here's some information for your planning:
Guests staying 4 or more nights in the villas will receive round trip bus transportation for two to the port (a $200 value), including gratuities for the bus driver and baggage porters, and complimentary drink tickets for the Lakeside Restaurant "Bon Voyage Meet & Greet Party."
Stay 5 nights and you will also receive two complimentary Cypress Cove Nude Cruise T-Shirts (a $40 value).
Stay 7 nights or longer and you'll also get your 7th night FREE!
How about 2 days at The Cove before the cruise and 3 days after to keep the fun going? That qualifies as a 5 day stay!
Space is limited, so make your reservations today.
Remodeled Hotel Room with a King Size Bed, $164.00 AANR/ $175.00 Non-Member
Remodeled Villa Apartment with a full kitchen, $211.00 AANR/ $226.00 Non-Member
(Rates quoted are per night, plus tax)
Only looking for transportation? We can help with that too! We have several options available to meet your needs.
Free car parking for all bus riders!
To book your pre and post vacation at Cypress Cove Nudist Resort, call us at 407-933-5870 or toll free at 1-888-683-3140. Be sure to tell the reservation specialist that you are going on the cruise. Bon voyage!