Nude-A-Palooza Tickets on Sale!
16 September 2016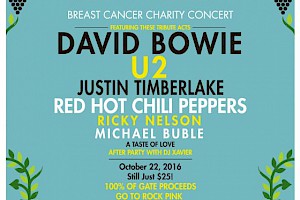 Tickets for Nude-A-Palooza 9, Oct 20th, are on sale now! $25 pp, 100% to Charity, Tributes to: Michael Buble, Ricky Nelson, Red Hot Chili Peppers, Justin Timberlake, U2, and David Bowie!
Nude-A-Palooza is a clothing-optional charity music festival to benefit ROCK PINK and their support of breast health awareness and local breast cancer charities. The event is sponsored by and located at Cypress Cove Nudist Resort in Kissimmee, FL.
Guests are not required to be a member or a nudist to attend. The concert is open to the public and all visitors are welcome. Attendees may dress or undress as they feel comfortable.
Tickets are just $25! If you would like to tent camp for the weekend, a combo ticket is available for $50 pp which includes Nude-A-Palooza and up to 2 nights of primitive camping on the lakefront. Tickets are included for guests staying at least 2 nights in Cypress Cove's hotel.
Purchase tickets online