Nude-A-Palooza 10 Expanded to 2 days!
28 April 2017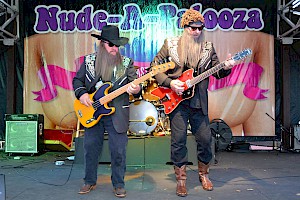 Our Nude-A-Palooza event turns 10 this year!
Nude-A-Palooza is an all day, outdoor charity music festival that we put on every October as part of Breast Cancer Awareness Month. 100% of ticket proceeds benefit Rock Pink and their support of breast health awareness. The show is a series of fantastic tribute artists and has become one of the premiere nudist music events.
In honor of our 10 Year Anniversary, we are expanding the show to 2 days!
The regular Nude-A-Palooza will take place on Saturday with a variety of new tribute acts. Sunday will be a "Best Of" day with some of best acts from the past returning to celebrate the anniversary.
As in past years, stay 2 nights in the hotel and we will pay for your ticket to Saturday's show. Stay 3 nights or more and we will will pay for both days!
We will begin to release the band listing on May 10th, rolling them out week to week until they have all been announced by Parrothead. Stay tuned for more details and the first acts in just a few weeks.