New Doors and Electronic Locks Installed in All Hotel Rooms
25 July 2014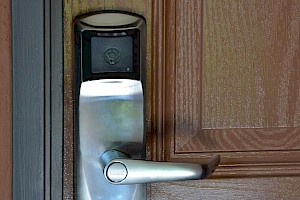 We are excited to announce that we have installed all new doors and electronic locks in the hotel.  The new locks use RFID technology.  There is no mag stripe to swipe (or get erased accidentally), you just wave the key over the lock until you get a green light.  It's super easy to use, the keys never get erased, and it's much more secure than our old metal keys.
Currently all hotel guests receive a small Key Card when they check in.  We have lanyards available to purchase for $2 to make your keys easier to carry.  You can put your money and credit cards in there as well.  You don't even have to take the key out to open the door!
Eventually, I would like to transition to waterproof wristbands.  I have ordered samples from several different manufacturers in different styles.  We will probably end up with a "disposable" wristband that you can throw away at the end of your stay.  Hopefully, we'll also have a nicer version with our logo on it that guests may purchase and re-use every visit.
Stay tuned for updates...