New Website Launches Today!
6 March 2015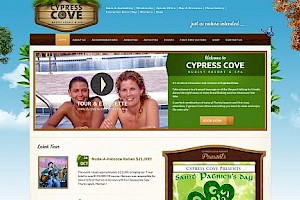 After months of work, we have finally launched our new website!
It's very visual, with tons of large, high quality photos.  It shows a lot of life and activities around the Cove, and shows off many of our members as well.  The idea was to create a design that showcased our natural beauty, fantastic amenities and our many events & activities.  To sum it up, we wanted it to be FUN!
I'd like you to check out a few pages that I'm particularly proud of. For one, the Photo Gallery is amazing with hundreds of full sized, high resolution photos. Also, be sure to check out the Interactive Resort Map. It's an aerial view of the resort area that you can zoom into and click on various features to get more photos and details. You'll see what I mean.
You'll be able to click on any of the Event Posters on the home page for more information. The Online Newsletter, Reservations and Members pages will be themed to match the new design as well.
Check it out and let me know what you think. - Ted