Farmer's Market
11 March 2015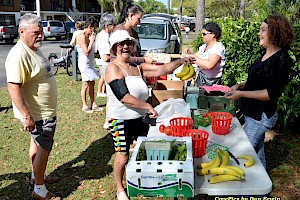 We are excited to announce a new Farmer's Market right here at Cypress Cove. The farmer's name is Millie and she sells fresh fruits and vegetables.
Millie arrived yesterday morning and set up by the basketball courts. In no time at all, she attracted quite a crowd! In fact, she was so thrilled with the response, that she'd like to come twice a week.
Currently, her schedule will be Tuesday and Thursday mornings. If you missed her yesterday, don't worry, she'll be back tomorrow!