Announcing our New Community Channel!
12 November 2014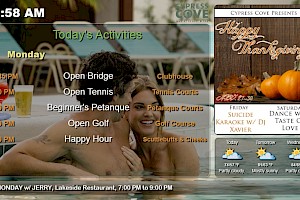 I'm excited to finally announce our new Cypress Cove Community Channel, 732. It should be available on all Brighthouse televisions in the community, including those in the campground and residential park.
You won't find it on your channel guide, so you will have to directly tune the channel. Just punch in 732 on your Brighthouse remote and press 'Select'.  If your TV has a QAM digital tuner, which most now do, you can also receive the channel on 98.1.
The channel will always list upcoming activities & events, any important news, and a weather forecast. You can even set it as your favorite, default, or "wake up" channel, depending on your equipment, so that it always shows up first when you turn your tv on.   :)